Online store children's clothing and products for expectant mothers with a large assortment, free shipping, discounts and promotions.
Online store
Official website
Head Office

650 Castro Street Ste., 120-458, Mountain View, CA 94041

Date of foundation

2014

The owner of the company
Types of support

[email protected]

Feedback form on the site

Live Chat

Help Center

Facebook

Instagram

Twitter

Social media
Languages

English, Chinese, German, French, Portuguese, Spanish, etc.

Bonuses
Payment methods

American Express, Diners Club, Discover, JCB, UnionPay, PayPal, Bank Card (Visa/MC)

Buying on credit
Installment
Store category

Clothing, Footwear and Accessories, Goods for Children

Project Features

Online store children's clothing and accessories for expectant mothers

Additional services
Project regions

The whole world

Shipping methods

Courier delivery, Transportation companies

Transportation companies

Airmail

Delivery time

Until

30 days

Depends on the country

Free shipping terms
Mobile applications
Affiliate Program

Registration

Up to 6% from each paid referral order and 5% for repeat purchases

Benefits

Large selection of children's clothing and shoes

Goods for expectant mothers with great discounts and promotions

Affiliate program and free shipping opportunity

Low prices and fast delivery

Disadvantages

There are problems with delivery (according to online reviews)

Regulatory agencies and laws
Company requisites

Legal name:

Interfocus, Inc.

Legal address:

650 Castro Street Ste., 120-458, Mountain View, CA 94041

Overall assessment
Date of update

14.02.2023
Address
650 Castro Street Ste., 120-458, Mountain View, CA 94041
Map
Subscribe to this company
PatPat is this a scam? Reviews and description
Online store platform
PatPat
will help you find bright, comfortable and inexpensive clothes for children and adults from different manufacturers. The site offers a huge selection of clothing for children of any age, a large selection of accessories and products for mothers-to-be.
Discounts on purchases up to 90%, in addition you will have 30 days after the order to return the clothes if they do not fit. Let's find out if it's a scam. online store PatPat.
Why PatPat?
The PatPat online store was launched in 2014, and the platform's target audience is moms. On the site. patpat.com You can buy a lot of products and accessories for children. Prices on the platform are low, there are constantly bonus promotions, and there is even an affiliate program, through which you can get up to 15% for each attracted customer.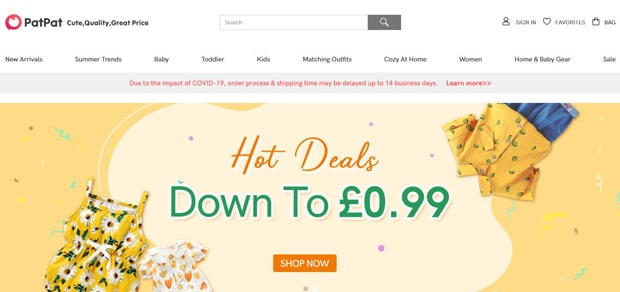 To make ordering more convenient and to be able to immediately find what you want, the company launched its mobile app. One of the pluses of the store, which attracts a large number of customers, is that the site sells themed identical sets for the whole family at once - for example, bathing suits or identical dresses for moms and daughters or T-shirts of any size.

Constant promotions and discounts allow you to fully supply your child's closet, but spend much less than you would if you went shopping. The site of the online store is made in a simple design, with a convenient catalog and clear navigation. The site itself patpat.com and all product descriptions are available in English, Chinese, Spanish and German.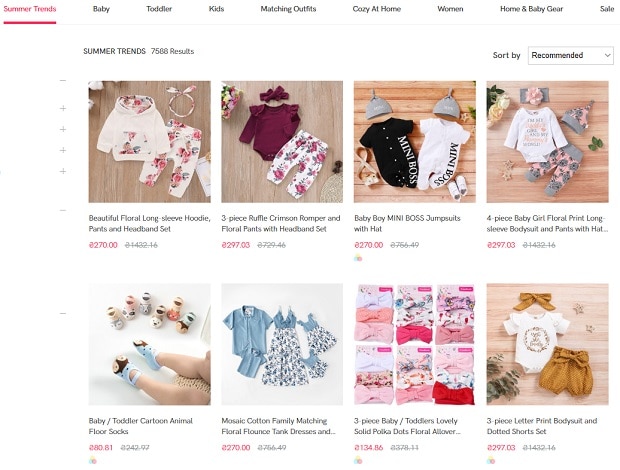 What can I buy at PatPat?
At the PatPat online store you will have the opportunity to buy clothing for expectant mothers and children from one month and up. In addition, the catalog presents clothing sets and related products.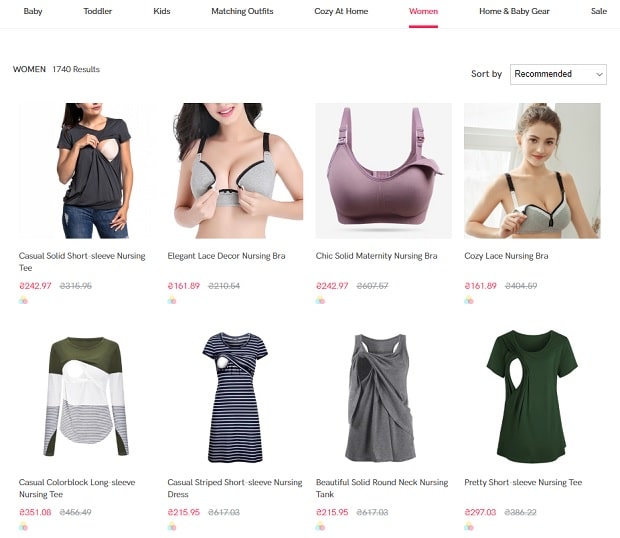 How do I find the right item at patpat.com?
If you haven't been to patpat.com yet and haven't ordered anything there, it's most convenient to use the catalog on the home page. It is divided into thematic blocks. In the top menu of the site there is also a catalog, but it is broken down by collections and offers - bonus, thematic or seasonal.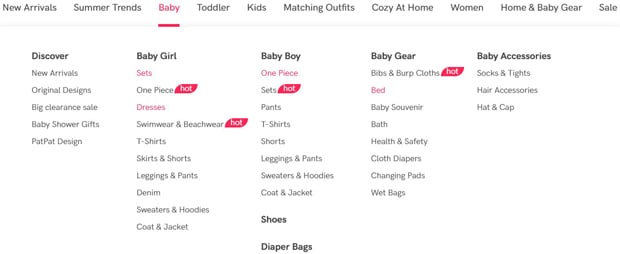 Product card
In the card of each product you can find full information about it: sizes, age, composition, prices and discounts. In addition, on the card of the product you can find links to similar products, customer reviews and other important information for the order.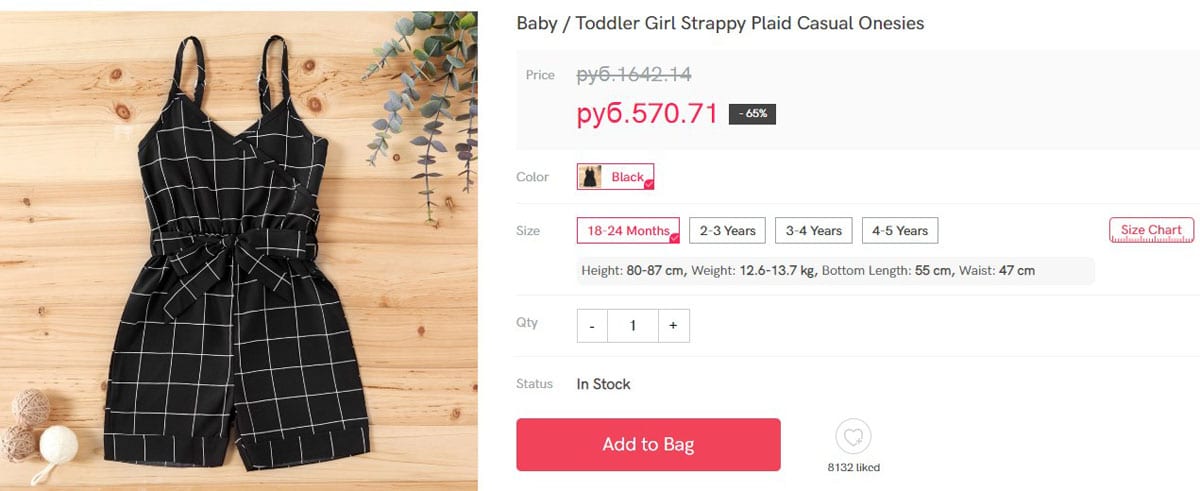 How do I order from PatPat?
In order to place an order on the site of the store you need to register. Then, by logging in to your account, you will be able to select everything you would like to buy, add it to the cart, pay in a convenient way for you, write the delivery address and send the order.
How do I register at patpat.com?
Registration does not take much time, following the instructions of the system, add the e-mail address, password and other registration data in the appropriate fields on the site patpat.com.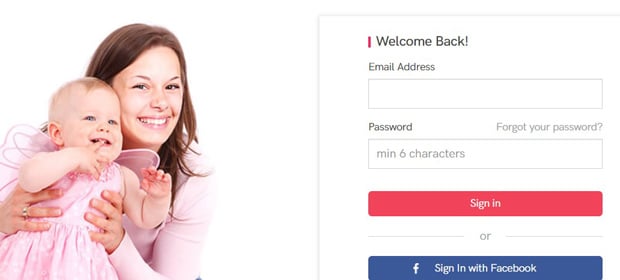 Personal Cabinet
Information about your orders is available in your personal account. Under your account you can track the delivery of your orders, pay for them, and much more.
How do I place an order with PatPat?
You can place an order right after registration. After confirming your account, you form your order by adding selected items to the cart, pay for it, add your delivery address, and send the order to the site.
Additional features
There are no additional features on patpat.com other than shipping, order tracking and newsletters.
Mobile application
PatPat online store has its own mobile app available for download from the store's website, App Store and Google Play. The mobile app of the online store is a catalog of the clothes produced by the company and duplicates the functionality of a personal account with the ability to choose clothes, order and arrange delivery, paying for purchases with a linked card or a mobile wallet.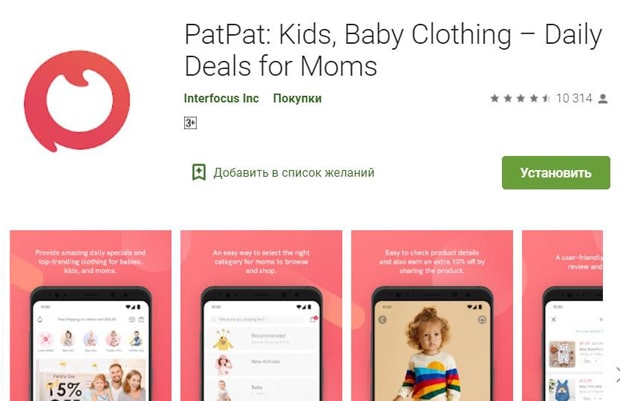 Payment and Shipping at PatPat
On the site of the online store you can pay for selected orders online, via web wallets or with a bank card of any of the payment systems. Depending on the country of delivery, the order is sent by mail.
How do I pay for my order?
You can pay for your order online at checkout with any bank card or web wallet. Please note that the final price of your order depends on the dollar exchange rate. The total cost of the order may be slightly higher than stated on the site.
Shipping methods
The order is sent by mail. As we've written before, the package is shipped by air or surface mail, depending on the delivery address. For orders over $35, delivery will be free for you. You can find more details about shipping costs in the appropriate section on the website.
Ways to return merchandise
You can return a purchased item by mail. After you receive your order, you will have another 30 days to return the item if it doesn't fit you.
PatPat Bonuses
The patpat.com online store has many great offers for both new and regular customers. These include discounts for subscriptions and registrations, promotions for regular customers, seasonal promotions and sales, and much more.
Newbie discounts
The online store's website has ongoing discounts and promotions. You get a discount of up to 10% when you register for the first time, and 5% if you sign up for the company newsletter.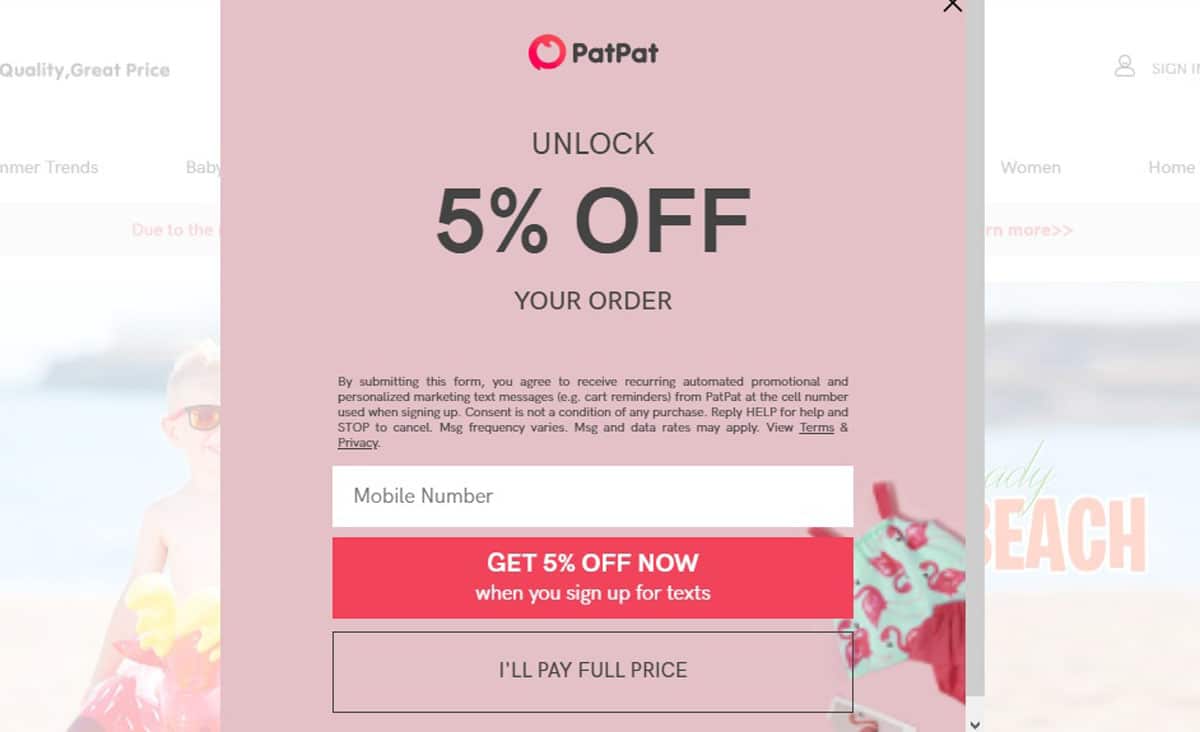 Store sales up to 90%
In addition, PatPat conducts regular sales. Information about all discounts is published on the home page of the site and on social networks.

Free Shipping
For orders of $35 and more, delivery is free.
Referral program
If you want to shop more profitably, the company offers you to participate in its affiliate program. If you register, you will receive up to 15% of income from each customer who made a purchase by clicking on your link. The information about the address, from which the buyer came, is stored for 30 days, which means that even if the buyer did not immediately buy the product, and then returned to the store, you will still receive a commission on his purchase. Also, as part of an affiliate program from the spa chain Admitad you can get up to 6% from each paid referral order and 5% for repeat purchases.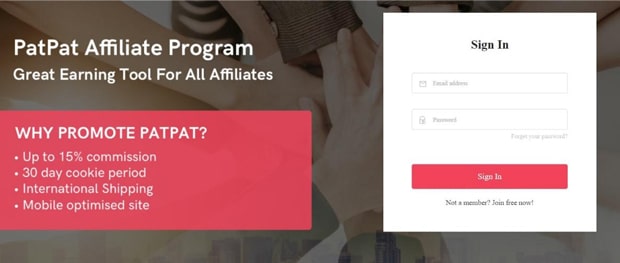 Complaints about PatPat
Feedback on the work of the online store, its delivery and the goods purchased through the site is varied. There are both positive and negative ones. Among the negative ones, customers whose order did not arrive, was lost or came with an incomplete package have left their feedback. But it is worth paying attention to the fact that the support service tracks feedback and tries to help if there are any overlaps. There are also negative reviews concerning the quality of the product, but they are few.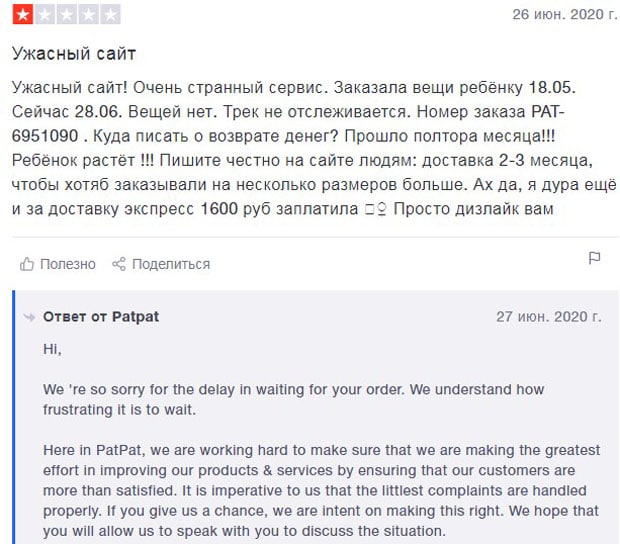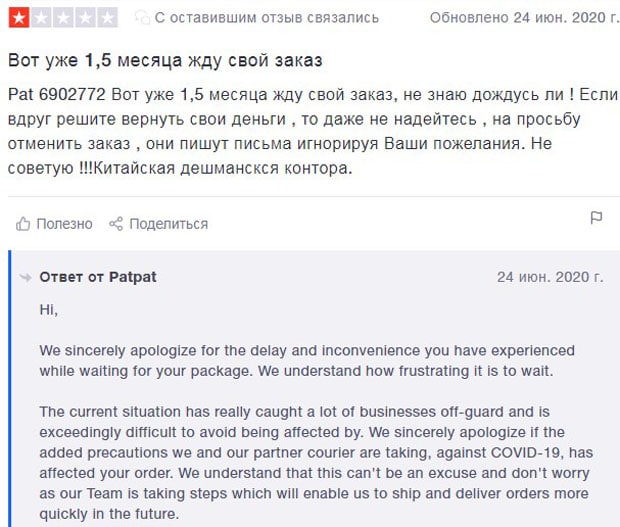 Among the positive reviews write that the order came even faster than it was stated on the site and that pleasantly pleased with the prices, as well as a large selection of products on the site.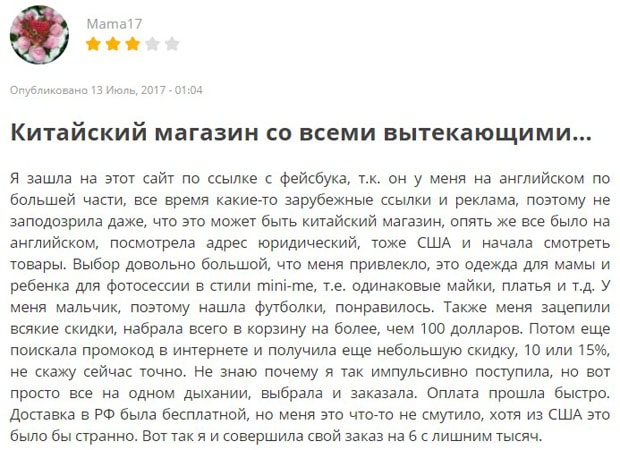 If there are any reviews about PatPat online store, we'll be sure to post the information on social media. Sign up so you don't miss anything!
Please keep yourself informed about news and complaints. We copy the most valuable information to social networks, so please sign up!
Supervisory authorities
The online store is owned by Interfocus, Inc. The company is governed by U.S. law.
Patpat.com User Agreement
When you register at patpat.com, you sign the "Terms of Service" and the "Privacy Agreement.

Like other documents and all information on the site, the agreement is available in English. Any individual over the age of 13 can become a customer of the online store.

The agreement states that if the product was damaged during delivery, you can return it and get a full refund. If you have questions about your order that the customer service department has been unable to resolve, you can send written complaints to the addresses of the company offices at the end of the agreement.
Customer Service
Answers to most questions that arise when working with the online store can be found on the FAQ page. You can contact the support service of the online store via the contact form from the site, by sending an email or via social networking groups. If your message concerns an order already made, the number must be written in the message.
Is PatPat a scam?
PatPat - is a specialized online store, through the site of which you can buy a lot of home goods, children's items and clothing sets for home and leisure for parents with children. The store has been operating since 2014, constantly evolving, expanding delivery areas, website functionality, and filling the catalog with new products.
Having studied how the online store works, its documents, delivery and payment rules, as well as feedback from customers, we can say with confidence that PatPat is not a scam. On the website of this online store you can buy a lot of goods at very good prices. In addition, if you have your own website and you would like to receive additional income, you can become a partner of the company and receive commissions up to 15%.
Conclusion
Online store PatPat attracts attention with bright offers, low prices, great deals, and a convenient mobile application that allows you to order from any device and track the delivery of your parcel. The site of the online store itself is made quite well, brightly, with convenient navigation.
It is possible to subscribe to the mailing list and keep track of new offers. The company's product catalog features a huge selection of products for both the youngest customers and their parents, and everyone will be able to find what they need.
No reviews yet, be the first!
The company in the ratings
Activity
New

0

Resolved

0

Not resolved

0
New companies on the site