Online jewelry store at low prices for engagements, weddings and other significant events with a large selection of products, discounts and promotions.
Read completely
Online store
Official website
Head Office

Area B Room 12308, 23rd Floor Unit 1 Building, 1 Huaqi International Plaza, 99 Chang'an Middle Road, Yanta District, Xi'an, Shaanxi, China

Date of foundation

2016

The owner of the company
Types of support

[email protected]

Feedback form on the site

Live Chat

Help Center

Facebook

Instagram

Twitter

Support by phone
Social media
Languages

English

Bonuses
Payment methods

Bank card (Visa/MC), Western Union, PayPal, American Express, Discover, Maestro, JCB, Credit cards, Debit cards

Buying on credit
Installment
Store category

Jewelry, Beauty and Health, Gifts and flowers, Clothing, shoes and accessories, Goods from China

Project Features

Online store quality jewelry with a guarantee of quality at low prices

Additional services
Project regions

All countries in the world

Shipping methods

Transportation companies

Transportation companies

DHL, FedEx, UPS Express

Delivery time

From

2

To

15 days

Depends on the selected delivery method

Mobile applications
Affiliate Program
Benefits

Large selection of jewelry with free shipping

Secure payment and 1 year warranty on all products

Low prices from the manufacturer

Regular promotions and special offers

Responsive customer service

Disadvantages
Regulatory agencies and laws
Company requisites

Legal address:

Area B Room 12308, 23rd Floor, Unit 1 Building, 1 Huaqi International Plaza, 99 Chang'an Middle Road, Yanta District, Xi'an, Shaanxi, China

Overall assessment
Date of update

15.02.2023
Address
Area B Room 12308, 23rd Floor Unit 1 Building, 1 Huaqi International Plaza, 99 Chang'an Middle Road, Yanta District, Xi'an, Shaanxi, China
Map
Subscribe to this company
Italo Jewelry is this a scam? Reviews and description
Italo Jewelry
offers its customers a large selection of high quality jewelry with a one-year warranty. The company has its own production in China, where each product is made by hand. A team of designers and jewelers works on creating exclusive jewelry.
Thanks to a simple supply chain, every customer of the online store can get their order directly from the factory, which means that Italo Jewelry can offer its customers the best prices, fast and reliable delivery and secure payment. But isn't it a scam online store Italo Jewerly? Let's try to find out.
Why Italo Jewelry
Buying jewelry online is not as popular as, for example, buying clothing or household goods. Many people are simply afraid to buy expensive jewelry without the opportunity to try it on and examine it. But Italo Jewelry guarantees its customers the high quality of its products, because every order is placed there by hand, and finished items go through a multi-step control procedure. The advantages of Italo Jewelry include:
Large selection of jewelry.
Fast shipping.
Secure Payment.
1 year warranty on all products.
Low prices from the manufacturer.
Extended return period.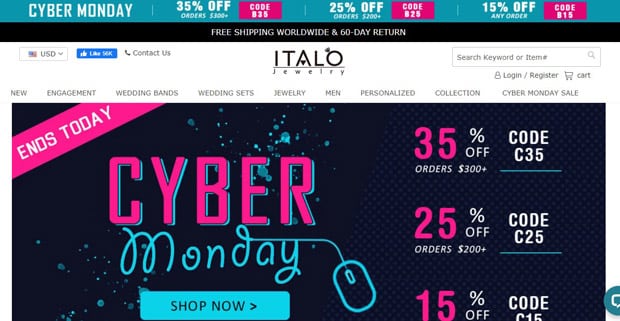 What you can buy at Italo Javelri
Italo Jewelry offers its customers a wide range of handmade jewelry in different materials, the main categories of products:
Engagement.
Engagement Rings.
Wedding Kits.
Jewelry.
Men's jewelry.
Personalized Jewelry.
Collections.
In these categories, you will find jewelry in over 2,000 styles. In addition to ready-made models, on the site italojewelry.com you can order personalized jewelry with your name or initials.

How to find the right product at italojewelry.com
To find the necessary jewelry on the site italojewelry.com you can use the search function, catalog categories or service recommendations. Note, if you want to find jewelry through the search line, you should enter your request in English. But even those who do not speak English can easily find jewelry here in the categories of the catalog or by following the recommendations "Best sells", "New items" and "Sale".
Product card
Choosing jewelry in Italo Jewelry online store you can see its detailed description in the product's card. Click on the product photo on the site italojewelry.com, and you will be taken to a page where you can read information such as:
Detailed product description.
Information about the material of manufacture.
Information about gemstones.
Rating based on customer ratings.
Product Reviews.
Shipping and return information.
In the product card you need to choose a size, and then you can buy a decoration in one click or add to the "Cart".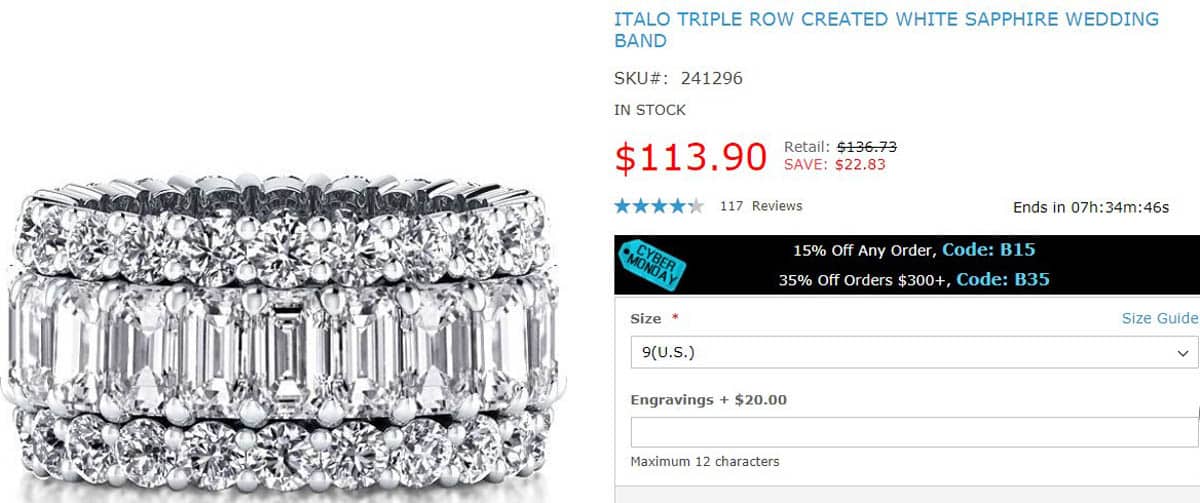 How to order at Italo Jewelry
You can place an order at Italo Jewelry with or without creating an account. Registering will give you additional buyer protection and quicker processing of any order.
How to register at italojewelry.com
You can register on the Italo Jewelry website when making your first purchase by checking the box to agree to create an account. You can also register in advance by clicking on the "Register" button at the top right of the central page. Then click on "Create Account" and fill in all the fields of the registration form. Here you should enter your first name, last name, email address, and come up with a password. After filling in the information, click on "Create account".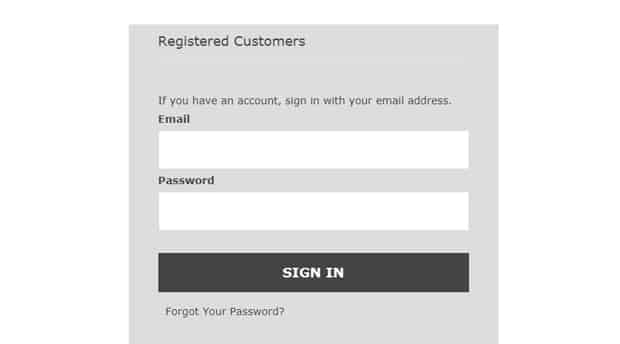 Personal Cabinet
Immediately after registration you will get to your personal cabinet. This is a personal page for managing your orders and personal data. Here you will see the following sections:
My orders. In this section you can always see all the information about your orders and track their status.
Wish List. On this page you can collect items that you are still planning to buy.
Address book. Here you can manage delivery addresses.
Account info. In this section you need to fill in contact information for quick ordering.
Payment methods. Here you can specify the payment data, so that you don't have to choose the payment method every time.
Billing agreement. On this page, enter the billing information in PayPal.
Reviews. Here you can view and edit your reviews of Italo Jewelry products.
Subscriptions. In this section you can manage your subscriptions to news and promotions in the online store.
How to place an order at italojewelry.com
You can place an order in the Italo Jewelry online store with or without creating an account. If you do not want to create an account or you have not had time to register yet, put the product in the shopping cart and go to it to make the purchase. In this case, you need to choose a payment option and fill in your contact information as well as your shipping information. You can then agree to the offer to create an account. If you have already registered on the site, your contact details will be filled in automatically and it will take you no more than a few minutes to place your order. After paying for your order you will be able to keep track of it in your personal account. If you do not want to create an account, you can track the status of your order by the identification number you receive in your confirmation email. Please note, if you can't track your order on the website, you can do it on the carriers' websites.

Additional features
Taking care of each of its customers Italo Jewelry online store is ready to offer the following additional services.
Size chart
When choosing a ring, it is important to choose the right size. In order to make sure you do not make a wrong choice, in the product card for each ring you will find a size chart, as well as clear instructions on how to measure.
Jewelry Care Guide
To keep your jewelry as attractive as the day you bought it for years to come, check out Italo Jewelry's care guide. Here you'll learn how to clean silver, how to care for sapphire stones, and how to properly store your jewelry.
Order Tracking
It doesn't matter if you registered on the site italojewelry.com before your purchase or not, you can always track your order here in the "Order Tracking" tab. To track your order, enter its identification number and click on "Track". You can also track your parcel on the websites of shipping companies, links to which you will find on the same page.
Knowledge Base
In the knowledge base of Italo Jewelry online store you will learn the answers to the most frequent buyers' questions. Here you will learn how to place an order, how to pay for it, how jewelry is created, what the delivery terms are, and what guarantees the service provides.
Warranty service
Italo Jewelry online store guarantees all of its products for one calendar year. If during this year your jewelry item breaks or you find hidden defects, you can always send it to the manufacturer for repair. Please note that all shipping charges associated with warranty repairs are the responsibility of the customer.
Service mailing list
You can subscribe to the newsletter of Italo Jewelry online store either by registering or without creating a personal account. By subscribing to the newsletter service you will receive company news and information about new promotions.
Mobile application
Italo Jewelry does not offer its customers an official mobile app. If you want to shop using your mobile device, you can always use the mobile version of the site.
Payment and Shipping at Italo Jewelry
When you buy jewelry on Italo Jewelry website, you can choose the most convenient payment and delivery option. The online store delivers its products anywhere in the world and offers customers convenient payment methods.
How to pay for the order
When you buy jewelry in Italo Jewelry online store you can pay for your order in the following ways:
Bank cards. Payments are accepted credit and debit cards Visa, MasterCard and Diners Club. When you select this payment method, the system automatically shows the appropriate card options for your country on the checkout page. To complete the payment you will be redirected to a third-party website for payment by bank card.
PayPal. If you have a PayPal account, you can quickly and securely pay for all items in the Italo Jewelry online store. When you select this method of payment, you will be automatically redirected to PayPal to make the payment.
Western Union. If you don't have a bank card, you can always pay for your order using Western Union. Please note that this method of payment is only available for orders of at least $300 USD. Please contact our customer service for more information about this method of payment.
Ways to deliver the product
The goods of Italo Jewelry online store are delivered to any part of the world by DHL and United States E-mail Treasure shipping companies. To date, the online store offers the following shipping options:
Standard shipping. It takes four to six business days and costs $15.
Free Shipping. Within 15 working days, depending on the distance from your place of residence.
Express Delivery. It takes two to four business days and costs $20.
Please note that express and standard deliveries are not made to mailboxes or military addresses.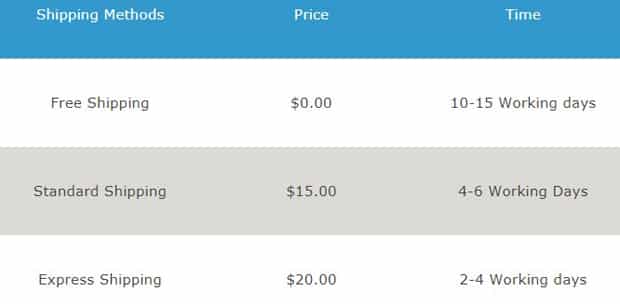 Ways to return merchandise
Italo Jewelry offers its customers a 60-day return policy. On the return and exchange policy. Returns and exchanges require the item to retain its original appearance with no scratches or wear marks. When returning or exchanging items, you must use a shipping method with tracking. A full refund is available if you receive an item that does not match your order or is of inadequate quality.
If you want to return an item due to incorrect size or if you simply change your mind, you can get a refund equal to the cost of the item, not including shipping and return shipping. Please note that engraved, custom-made, and custom-sized jewelry cannot be returned or exchanged. Also, items that have already been used cannot be returned or exchanged. To make a return or exchange, write to customer service explaining the reason for the return. Operators will then give you return instructions, following which you can send your order back. Also keep in mind that you can always cancel your order before it is shipped.
Bonuses at Italo Jeverly
Italo Jewelry regularly pleases its customers with discounts and promotions. At the time of writing this review, the following promotions are available on the site.
Cyber Monday
As part of the Cyber Monday promotion, there is a sale on the website for jewelry with discounts of up to 35%.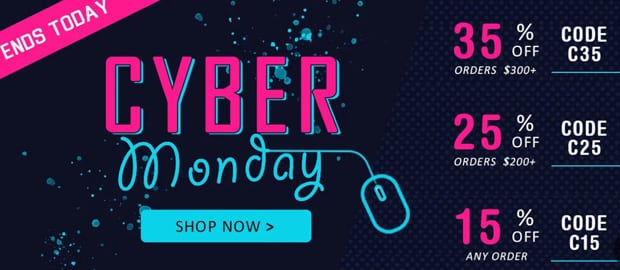 Free Shipping
The online store offers free shipping on all items, but delivery time will be up to 15 days.
Holiday Gifts
Buy gifts for your family and friends for the upcoming New Year's holidays.

Discounts on jewelry
There are discounts up to 20% on many pieces of jewelry.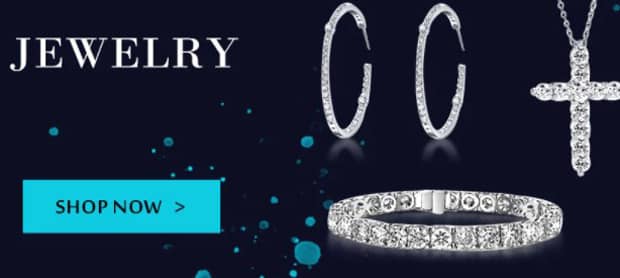 Wedding Rings Discounts Up to 30%
Wedding rings with gemstones and unique designs with grand discounts up to 30%.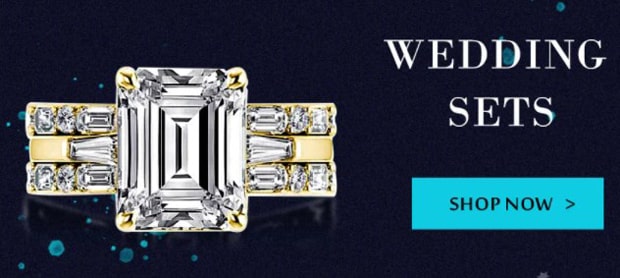 $15 discount for subscription
Submit your email address and receive a $15 discount on your first purchase with no minimum value restrictions.
Coupons
Italo Jewelry promo codes are available on the website as part of ongoing promotions, as well as on the websites of the online store's partners.
Affiliate Program
Italo Jewelry invites all buyers of the online store, who have a blog or a group in social networks, to cooperate. When buying jewelry at Italo Jewelry, you can earn extra money by posting pictures of the products in your group or blog. Send a request to our support service and get the detailed terms of the affiliate program. From the affiliate network Admitad the remuneration is valid: 20% from paid referral orders.
Complaints about Italo Jewelry
Analyzing the reviews about Italo Jewelry online store, we came to the conclusion that in our country this company has not yet gained popularity. Unfortunately, in the Russian-speaking segment of the Internet we did not find any references from customers about this online store. However, in the English-speaking segment of the Internet we found a sufficient number of reviews, 70% of which are positive. The vast majority of customers are satisfied with their purchases and report that they bought a really high-quality product at a reasonable price with fast and free delivery.
But in addition to positive reviews, we also found complaints about Italo Jewelry online store. Some customers complain about too long delivery time, as well as low quality of the jewelry. Dissatisfied customers report that the items are rather low quality and the stones are not natural. To such complaints, the support service responds immediately, offering buyers to solve the problem in the shortest possible time. It should be noted that when you buy jewelry at Italo Jewelry, you should understand that the items are indeed not natural natural stones, but sapphires grown in a laboratory, which is reported on the site. In general, we can say that customers are satisfied with their purchases at Italo Jewelry. From the advantages of the online store they single out responsive support service, regular promotions, beautiful product design, reasonable prices and a huge selection of jewelry.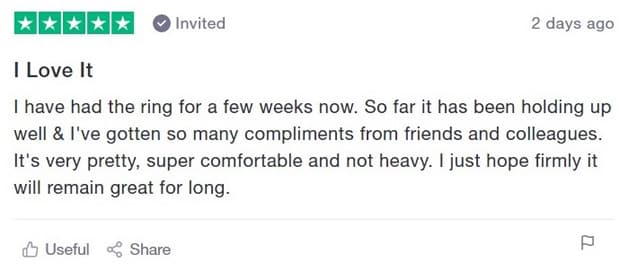 If there are any reviews about Italo Jewelry online store, we'll be sure to post the information on social media. Sign up so you don't miss anything!
Please keep yourself informed about news and complaints. We copy the most valuable information to social networks, so please sign up!
Supervisory authorities
Unfortunately, on Italo Jewelry website we could not find any legal information about the company. According to free sources, the company is registered in China and sends parcels from China, but there is information on the website that the relationship between buyer and seller is regulated by the U.S. law.
Italojewelry.com User Agreement
Italo Jewelry's User Agreement governs the relationship between the seller and the buyer on the site. According to this document, the user may not transmit, reproduce or distribute the content of this site except as authorized by the seller. All materials on this site are protected by copyright law.

Also, under the terms of this agreement, the company disclaims liability for any damages if the products have been damaged by collision or rubbing with hard objects, by wearing the jewelry while swimming or washing your hands with hot water, or by improper care. In this case, these products are not covered by the 60-day return policy.

Customer Service
Italo Jewelry online store offers its customers a variety of methods of contacting customer support. It should be noted that according to customer feedback, customer support responds immediately and any issue is resolved within a few days. Also in favor of customer support service can be specified the fact that on English-language websites customer support always responds to complaints of dissatisfied customers, offering a variety of solutions to the problem. Italo Jewelry support team can be contacted in the following ways:
Phone: +86-177-828-135-72, +1 (864) 713-07-91.
Feedback form on the site.
Chat on the site.
Email: [email protected]
Is Italo Jewelry a scam?
The company Italo Jewelry is engaged in the manufacture and sale of handmade jewelry. On the website of the online store you can buy silver and gold jewelry with artificial sapphires grown in a laboratory. Taking into consideration the rather high price of the jewelry, many users of the Internet wonder if Italo Jewelry is a scam, or is it really possible to buy here high-quality beautiful rings, earrings, necklaces, pendants and other items? Having analyzed the reviews in the Internet, as well as the work of the online store, we can't say that Italo Jewelry is a scam.
Given the numerous positive reviews, we can assume that you can really buy jewelry of the declared quality here. In order to avoid misunderstandings, it is necessary to understand that all the jewelry pieces of the company are made with artificially grown gemstones. In general, the Italo Jewelry online store can be rated at 7 out of 10, considering the presence of complaints and negative feedback. We would like to advise the management of Italo Jewelry online store to provide the most complete legal information about the company, which would significantly increase the trust of the customers.
Conclusion
В Italo Jewelry everyone can buy jewelry at an affordable price. The online store offers a really wide selection of jewelry, and also manufactures jewelry to order according to individual sizes, colors, as well as using personalized engravings and personalized inserts.
The advantages of the online store include frequent promotions and discounts, a wide range of products, responsive customer service, and convenient payment options. Please note that when you buy items here, you may be faced with an extended delivery time, which is clearly stated in the user agreement. That's why if you are buying jewelry for a specific date, our team advises you to place your order in advance.
The company in the ratings
Activity
New

0

Resolved

0

Not resolved

0
New companies on the site