Online hypermarket of goods from China from tens of thousands of sellers with millions of items, low prices and free shipping.
Online store
Official website
Head Office
Date of foundation

2010

The owner of the company

Alibaba.com Singapore E-Commerce Private Limited

Types of support

Chat with a bot consultant

Help Center

VK

Twitter

Facebook

Instagram

Support by phone
Social media
Languages

English, German, Chinese, Portuguese, Vietnamese, Spanish, French, Russian, etc.

Bonuses
Payment methods

VISA, Mastercard, Qiwi, Webmoney, Yandex.Money, WesternUnion, Boleto, iDeal, Giropay, American Express, Mobile Payments, etc.

Buying on credit
Installment
Store category

Goods from China, Clothing, footwear and accessories, Furniture and household goods, Music and sound, Digital and household appliances, Gifts and flowers, Goods for children, Goods for creativity and books, Auto supplies

Project Features

Online hypermarket of goods from China at low prices

Additional services

Newsletter

Information about current discounts, gifts, promotions and news

Project regions

All countries in the world

Shipping methods

Transportation companies, Courier delivery

Courier services

Post delivery

Transportation companies

DHL, FedEx, TNT, ePacket, China Post, HongKong Post, Singapore Post, Russian Air, EMS, Special Line-YW

Delivery time

Until

60 days

Depends on the delivery service, customs clearance and remoteness of the region

Free shipping terms

Free shipping depends on the seller

Mobile applications
Affiliate Program
Benefits

Millions of products on one platform

Easy search with multiple filters

Product reviews from real people

There is a possibility of communication with sellers

Numerous discount promotions

Coupons and gift certificates

Disadvantages

There are failures of delivery

You get low-quality goods

Regulatory agencies and laws
Company requisites

Legal name:

Alibaba.com Singapore E-Commerce Private Limited

Overall assessment
Date of update

14.02.2023
Address
RF, Moskva, Presnenskaya naberezhnaya d. 10, floor 11, room 3, room 17
Map
Subscribe to this company
AliExpress is this a scam? Reviews and description
The company
AliExpress
appeared on the market in 2010. Currently, the company is represented in many countries around the world. The aliexpress.com platform has millions of registered sellers and manufacturers from China, Russia, Spain, Italy and Turkey. As of today
online store
is one of the most popular online marketplaces. According to statistics, AliExpress is one of the top 10 most visited sites in the country, and the mobile application AliExpress is the leader in downloads for iOS and Android platforms. Let's try to find out if AliExpress is a scam.
Why AliExpress?
Aliexpress.com does not make any sales, but only allows sellers to sell their products and buyers to search and buy what they need. That is why on the site aliexpress.com You can find goods at a reasonable price, because there is stiff competition among tens of thousands of sellers. The main advantages are:
Low prices.
Buyer Protection.
Availability of seller ratings.
Availability of product reviews.
The opportunity to get additional discounts.
The ability to offer your price to the seller.
Fast online ordering.
Numerous promotions discounts.
The main advantage of the service aliexpress.com is the availability of products from well-known international brands in the premium category. Among the global brands on aliexpress.com are such companies as Bosch, Huawei, Samsung and others. About half of the sellers on the site are small and medium-sized businesses. Also here you will find products from manufacturers in Spain, Italy, Turkey and China.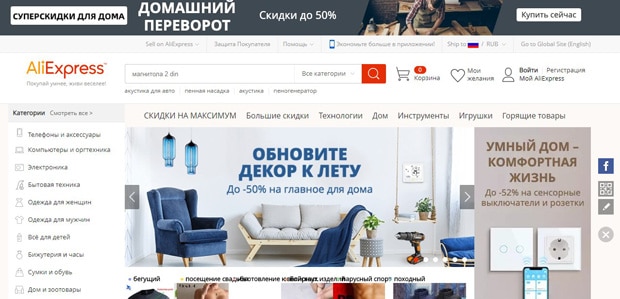 What can I buy at Aliexpress?
The assortment of the online store aliexpress.com has millions of items. Here you can buy almost any product from bijouterie and accessories to technology and electronics. Let's look at the most popular categories of goods.

Phones and Accessories
In the category phones and accessories you can buy cell phones, gadgets, headphones and headsets, sim cards, smartphone cases and phone accessories. Here you can find such famous brands as Apple, Samsung, Huawei, Nokia, etc. There are more than 370 thousand items in total.
Electronics
In this section you can buy portable electronics, smart electronics, TV, audio and video equipment, accessories, spare parts, game consoles, video games, speakers, smart home systems, etc. There are more than 1 million items in total. Category leaders are such brands as Sony, Xiaomi and Panasonic.
Home Appliances
Home appliances on the site aliexpress.com The company has a wide selection of beverage equipment, cooking equipment, home appliances, food choppers, large appliances, and health and beauty equipment. Here you can buy appliances from such world manufacturers as Philips, Xiaomi, Animore and Kbaybo. Today there are about 500,000 items in the category.
Computers and office equipment
This category includes laptops, computers, monitors, office equipment, accessories, components, memory devices and gaming solutions. The category contains more than 700 items from such manufacturers as Xiaomi, Lenovo, Samsung, Huawei and others.
Women's Clothing
The section includes pants, blouses, jeans, homewear, jumpsuits, outerwear, accessories, trends, suits, etc. In total, the category contains more than 1.5 million items. Here you can buy clothes of such companies as Only, EAM COLROVE Simple and others.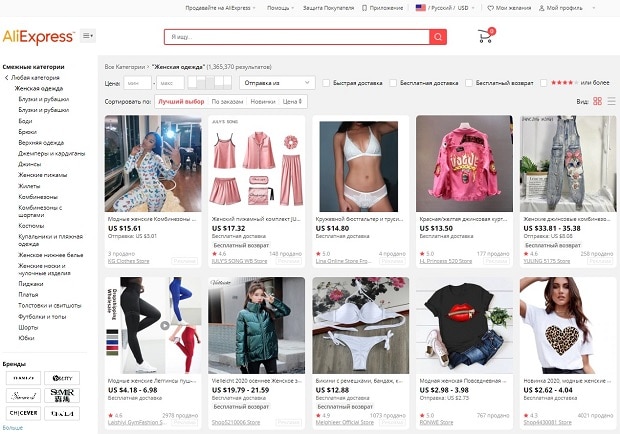 Clothes for Men
Here you can buy everything from underwear to hats and accessories. There are also more than 1.5 million items under this heading, which means that everyone can get the best products for themselves and their families here. Men's clothing is represented by such brands as BONITOS, Simwood, INFLATION and others.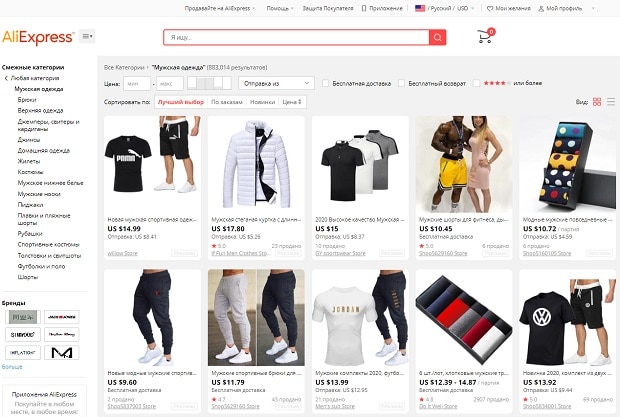 All for kids
Children's products on the site aliexpress.com are represented by clothing for boys and girls, goods for the very young, toys, constructors, as well as tmall goods with delivery from Russia. In goods tmall you will find clothes, children's shoes, toys, children's car seats and other necessary goods, both from famous international brands, and from Russian manufacturers.
Jewelry and watches
In this section you can buy jewelry, jewelry, costume jewelry, men's, women's and children's watches, etc. Here you can find jewelry with and without warranty. Also, the section presents a section tmall with delivery from Russia. In this section you can buy earrings, rings, pendants, necklaces, chains, bracelets, brooches in silver and gold.
Bags and shoes
This category includes women's and men's shoes, women's and men's bags, function bags, suitcases and travel bags, as well as accessories such as umbrellas, key holders, business card holders and more. There are more than 500,000 bags and more than 500,000 models of shoes in the category.
Also on aliexpress.com are such headings as home and pet supplies, automotive products, beauty and health, as well as sports and entertainment. When choosing goods on the site, pay special attention to tmall products. Here you will find products from well-known international brands.
How do I find the right item on aliexpress.com?
Although there are millions of products on aliexpress.com, it is easy to find what you need. The easiest way to find the right product is to enter its name into the search form. Once you have entered in the search form what you want, the system will select all the products you want and offer to fill in additional filters. Also, you can search for items on aliexpress.com by category. To find the goods in this way, you need to put the cursor in the top left corner on the category tab.
After that, you will see available categories in the drop-down menu, which will open additional headings when you put your cursor over them. For example, selecting electronics and hovering over it will open an additional menu with such headings as portable electronics, televisions, video equipment, audio systems and others. Under these headings you can select the type of product you want. For example, under portable electronics you can select portable speakers, MP3 players, e-books or headphones. When you select any category, you will additionally be presented with filters, which will narrow your search considerably and get in the results only those products that really suit you.
The filters on aliexpress.com are located in the left sidebar and above the search results. In the left sidebar you can specify brand and product specifications. Above the search results you can choose to search by price, with free shipping and specify sorting by order, new or best selection. By filling in all the filters in the search results, you will get exactly the products that best fit your requirements.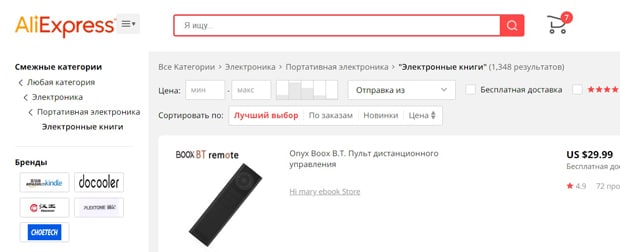 Product card
Once you have selected the product you like, you can go to its card to learn more about its characteristics. Product cards on aliexpress.com are very informative. Here you will see a brief description of the product, available sizes and delivery terms. Lower down, you can read general information, reviews and characteristics. Also here are pictures of the product in good quality, where you can see the quality of the seams and the appearance of the model. In the left sidebar you will see the hits from the selected category in this online store.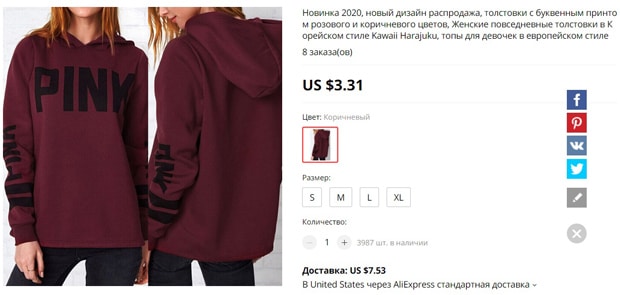 How to order on AliExpress?
To place an order on aliexpress.com you need to go to the product card and select the configuration. After that you will be able to buy the product in 1 click or add it to cart. Note that you can buy an item only after registration. You can add the item to cart without registration on aliexpress.com, but when ordering you will also need to log in to your account or register.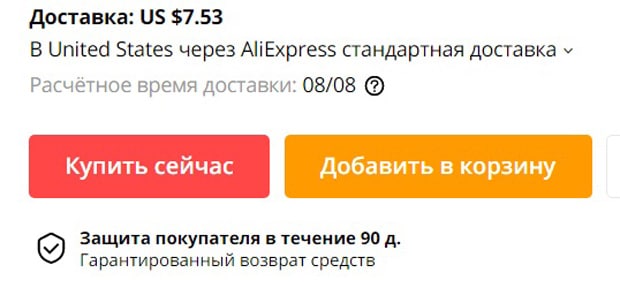 How to register on aliexpress.com?
To register at aliexpress.com, hover over the user icon in the upper right corner of the page. After that, a drop-down menu will open in front of you for registration and login. If this is your first time on the site, click on the "Register" button.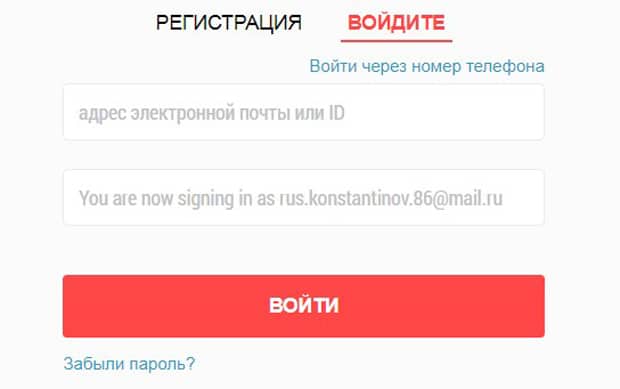 After that the registration form will open in front of you and you need to fill it out. To register on aliexpress.com you need to provide your email address and a password. By registering on the site, you agree to the User Agreement and Privacy Policy. When all the fields are filled in, click on "create my account". You can also register on the site using your social media accounts on Google, Facebook, Twitter, Instagram, etc. After successful registration, an account will be created for you, and you can immediately go to your personal account.
Personal Cabinet
Logging into your account on aliexpress.com, you need to specify your country of residence, language and currency. You can also specify the city of residence. After that, all prices of the products will be displayed in the currency of your country.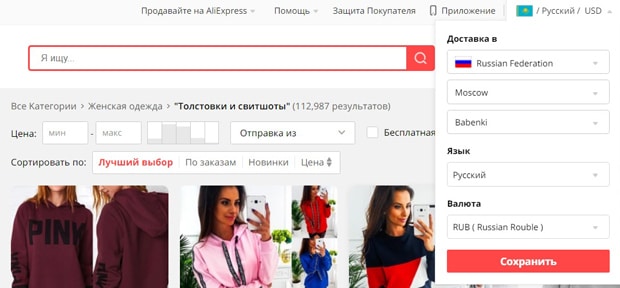 After that, you can see all the features of your personal account. To log in to your account, click on the user icon in the upper right corner of the page. After that you will get into personal account, where you can easily manage your orders. Let's take a closer look at the features of personal account on aliexpress.com.
My orders
This tab will store all your current and completed orders. Here you will be able to track the status of your order, find out delivery details and contact the seller of the goods. If you don't receive the goods on time, or if you receive items of inadequate quality, you can also open a dispute with the seller here. The menu of my orders includes the following items:
All orders.
My surgeries.
Payment for mobile communications.
Returns and disputes.
Remote orders.
Transaction Evaluation.
Cards & Bank Accounts
My coupons
My special coupons
My certificates
Shipping addresses
With these tabs you can easily manage your orders, as well as keep track of all promotions and discounts. To find the desired order, simply enter the number and name of the item in the appropriate fields. You can also search for an order by entering the store name, tracking number, order status and period.

Message Center
In this tab you can see all service notifications. You can also set up a blacklist and manage messages here. When you place any order in the message center, a notification will immediately appear that you can change order information. To change order information, you need to send a note to the merchant. To write a message, simply select the store where you placed the order and enter the message text in the appropriate field.

My Wishes
This page displays all the products that you have added to your favorites. Here you can add an unlimited number of products, which you can then easily find for checkout. Here you can create individual wishlists and set up notifications. In the notification settings you can specify the need to receive messages when the prices of goods in the "My wishes" category are reduced.

Favorite stores
Traveling through the site aliexpress.com, you can add to your favorites not only things, but also stores. It is on this page that your favorite stores will be displayed, where you can follow the seller's promotions and the appearance of new assortment. This feature is especially convenient for those who prefer to buy goods of the same brand.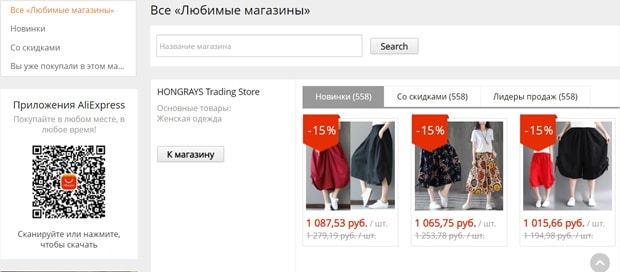 Profile settings
In the profile settings you can tell about yourself, upload photos, edit security settings and set up notifications. Overall, aliexpress.com personal account is intuitive and straightforward. Here you can easily manage your orders, which will make your shopping more enjoyable and easier.
How to place an order?
After creating a personal profile on the site aliexpress ru you can quickly place any order. To place an order, without leaving your profile, go to the shopping cart. Here you will see previously pending items. Select a product, and click on "Order from this seller.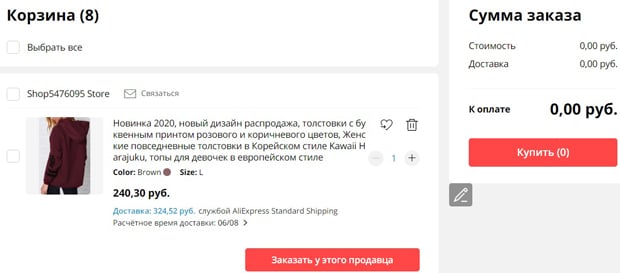 After that you will be redirected to the checkout page, where you must specify the shipping address and payment method. After filling in these details, check for special coupons and aliexpress coupons or enter a promo code. Then you will see the final amount to pay. After that, click on the "Checkout" button. Also note that at checkout you can review the available shipping options, as well as add a comment to your order.
Additional features
In addition to searching and buying products, you can also become a seller on the platform. To sell on aliexpress.com you need to register as a seller. To register, you will need to provide your store data. A special advantage for sellers aliexpress.com is no commission for 6 months or the first 100 orders. Sellers also have the advantage of a fast withdrawal at any time. Consider what additional features aliexpress.com gives buyers.
Buyer Protection
The aliexpress.com platform provides every buyer with reliable protection. The platform guarantees that your product will be delivered on time and that it is exactly as described, otherwise you can get your money back. Your purchases are protected if:
The product was purchased on aliexpress.com.
The item was damaged or came with a defect.
You did not receive your order for reasons beyond your control.
You requested a refund by opening a dispute.
The goods were returned to the seller due to non-payment of customs duties.
In all these cases, having an account on aliexpress.com you can get your money back within 15 days.
Notifications about discounts and promotions
By adding an item to your wishlist or store at your favorite stores, you can keep track of discounts and promotions offered by the seller. Given the huge range of products on the aliexpress.com platform, it is not always possible to keep track of when a discount will appear on the product you want, and this feature helps shoppers to purchase items at a better price. To receive notifications you just need to add products and stores to the appropriate categories and check the box to receive notifications about discounts in the mail.
Mobile application
The AliExpress mobile app can be downloaded for iOS or Android devices. The mobile app allows you to make purchases with just one click. Here you can track promotions and discounts. In the hypermarket aliexpress.com you will find health products, smartphones and laptops, advanced electronics, cool toys, stylish clothes and shoes, as well as products for the home. With the application, your product search can become much faster and more efficient. Here you can search for items by image. All you need to do is take a picture of the item you want to buy or upload a photo from the internet. The app supports 8 currencies for payment and 18 languages.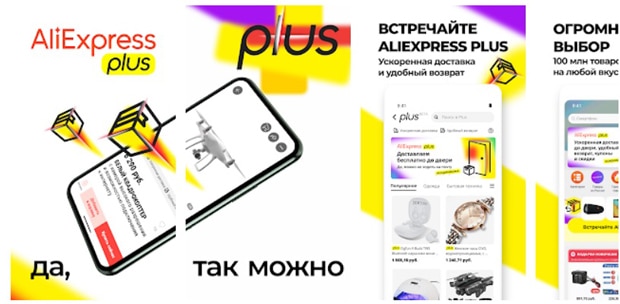 Payment and Shipping at AliExpress
Shopping site aliexpress.com offers its customers a variety of methods of payment and delivery. Thanks to this each buyer can buy a product and receive it in the shortest possible time. Throughout the delivery you will be able to track the location of your goods, regardless of what shipping company you have chosen for delivery.
How do I pay for my order at aliexpress.com?
Buying on aliexpress.com, you can pay for your purchases in any convenient way. To date, payment on the site is available in the following ways:
Payment by bank card. At aliexpress.com you can pay your purchases by Visa, Mastercard, etc.
QIWI Wallet. With QIWI vallet account you can easily pay for your purchases at aliexpress.com. All you need to do is enter your cell phone number and confirm it. After confirming the number you will be able to make the payment in one click.
WebMoney. When paying for purchases through the WebMoney system, all transactions are made in USD. If you do not have a suitable WebMoney wallet, you can use WebMoney Purse to pay, and your currency will be automatically changed to USD on the WebMoney website.
You can also pay for part of your purchase with special coupons, coupons from AliExpress or a promo code. All available payment methods: Visa/MasterCard/Maestro, Wire transfer, WebMoney, Western Union, QIWI, DOKU, MercadoPago, Boleto, bancontact, TEF, Ideal, Giropay, Sofort Banking, Przelewy24, American Express.
Ways to deliver the product
Each seller on aliexpress.com offers their customers certain shipping methods. You can see the available delivery methods in the product card. Currently, the sellers of aliexpress.com can offer the following shipping options: UPS, FedEx, DHL, TNT, EMS, TOLL, e-EMS, ePacket, China Post Registered Air Mail, China Post Air Parcel, China Post Ordinary Small Packet Plus, HongKong Post Air Mail, HongKong Post Air Parcel, Singapore Post, Swiss Post, Sweden Post, Russian Air, Special Line-YW, DHL Global Mail and S. F. Express, etc.
Return Policy at aliexpress.com
If you haven't received your order or if the product doesn't match your order, you can get a refund within 15 days after submitting your order. To receive a refund, you must:
Contact the seller. First, go to your order history and select an item. Write to the seller and discuss the problem with them in order to find a mutual solution.
Apply for a refund. In case you have not reached an agreement after contacting the seller, you can open a dispute within 15 days after delivery of your order or after the specified delivery time has expired. You can also open a dispute in the order history by selecting an item and clicking on open dispute.
Get your money back within 15 days. Most aliexpress.com sellers will refund your money after 15 days. If you have not received your money back, contact the service administration from the order details page to escalate the dispute.
In addition, you have a free refund option when you purchase items from aliexpress.com. This return option is available if the product information page has a "Free Return" icon. In this case, you can return your purchase within 15 days of receiving it if it has not been used and is in original condition. To receive a free return, you must obtain a return code or label, wait for the parcel to arrive or bring it to the specified delivery point, and wait for confirmation from the warehouse that the item has been received. Then you need to open a dispute and choose to return the items. The money will be refunded to your account as soon as the parcel has been checked by the seller.
If you purchase from sellers in Italy, you will be able to use the "Local Returns" service. This service is available if the seller has a warehouse in your country. In order to apply for a local refund, the product must be unused and in its original condition and in its original packaging. In this case, the seller will bear the cost of returning the item. You can see information about the possibility of a local return on the product information page.
Bonuses at AliExpress
One of the main advantages of the trading platform aliexpress.com is a huge number of discounts and promotions. Here every buyer will be able to buy goods at significant discounts and take advantage of hot offers from sellers. Consider some discounts and promotions.
Items up to $5
AliExpress also gives its users the opportunity to buy the best products up to $5. The online store offers the best price of goods for the last month in this price range.
Coupons
There are several types of coupons on aliexpress.com:
AliExpress coupon. Such coupons can be used on all products on the site in the app. The exception is some products from the Mall section.
Seller coupons. These coupons are distributed by retailers. The coupon can only be used at the store that issues it.
Special coupons. These coupons can be used in certain stores on aliexpress.com and in the app. Goods for which these coupons apply are marked with a special icon.
Certificates
Currently, aliexpress.com gift certificates are available in $10, $20, $50, $100 and $150 denominations. The purchased denomination is immediately credited to your gift certificate balance. You can use gift vouchers to pay for your products. Gift voucher holders get refunds faster than usual.
Discounts from vendors
Add your favorite stores to your favorites, and you'll be able to keep track of all the discounts the store offers on its products. With these discounts, you can find items for as little as 10% off their original price. To view all the discounts on aliexpress.com, go to the "Hot Items" tab and you will see a page with all the available discounts to date.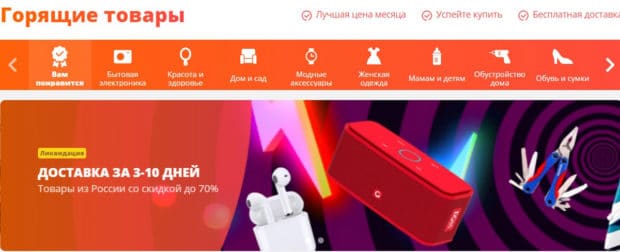 Coupons
Aliexpress.com promo codes can be obtained from sellers during special promotions, as well as from third-party resources collaborating with the hypermarket. You can apply the promo code you received during checkout in the shopping cart by entering it into the appropriate field. After checking the promo code, the price of the product will be recalculated taking into account the discount.
Seasonal discounts
On the site of AliExpress there are always promotions and sales. At the time of writing the review there were also offers, here are just a few of them:
Maximum discounts. Discounts of up to 70% with coupons on popular brands.

Update your decor for summer.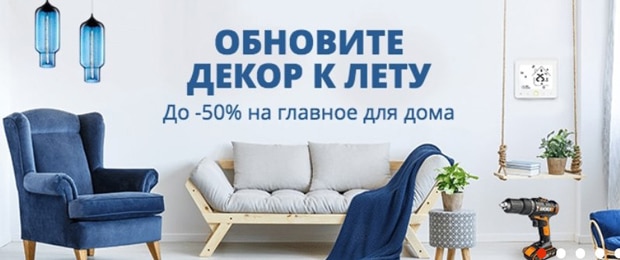 Referral program
Many sellers on aliexpress.com are willing to pay to attract traffic to their stores. They offer referral links, which you can place in your social networking groups or on your sites. For each new buyer, you will receive a reward determined by the terms of the referral program. To participate in the referral program, you can request a referral link from the seller, or sign up for an affiliate program ePN. For example, there are 0.40%-69% for new applications and 3%-69% for hot promotions. 6.90% for interior accessories, men's clothing - 6.90%, women's clothing - 6.90%, cell phone accessories - 6.90%, etc.
Complaints on AliExpress
To date, AliExpress is one of the most visited sites in the Russian-speaking segment of the Internet. Tens of thousands of users shop here every day, and the platform's turnover is measured in millions a day. Most complaints relate to the long delivery of goods. Indeed, delivery from aliexpress.com can take up to several months in some cases, here's an example of one buyer wrote that this site has two drawbacks. The first is the delivery time of goods. The goods can go for 2 months and it is absolutely unclear when they will arrive exactly. The second disadvantage the buyer considers the fact that it is of course possible to get the money for the goods that have not reached you, but it is also quite a long time. First, you will wait for the delivery of the goods for 2 months, and then the re-delivery of the goods for another 2 months, and if the second time the product does not come, then you can already demand a refund, which in total can take up to six months.
Regarding the feedback about the platform itself, we can say that buyers are happy with the site, especially with the fact that every customer is protected here. If there are any problems with the goods or with the seller, you can write to the support service, and they will definitely help you. In general, customer reviews on aliexpress.com are positive. Users note the rich selection of products and low prices. Buyers also note among the pluses of aliexpress.com platform the prompt support service, safety and reliability of the platform, as well as the opportunity to get their money back if a low-quality product is received.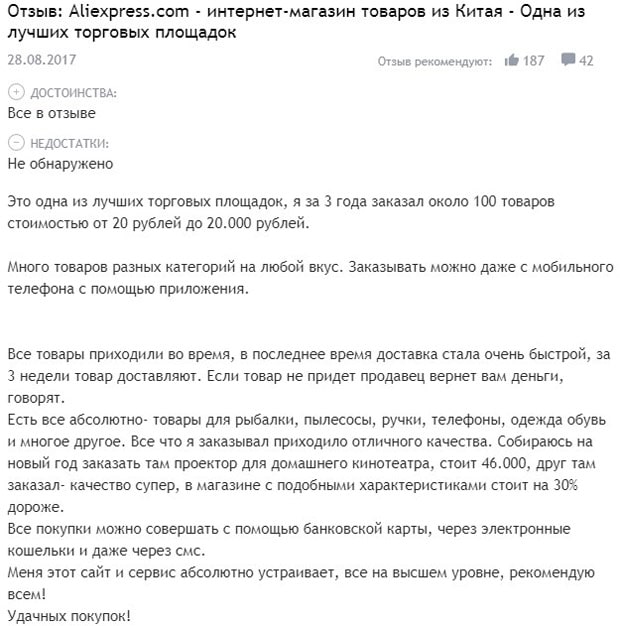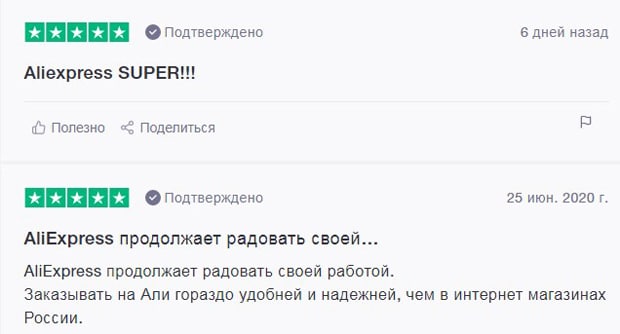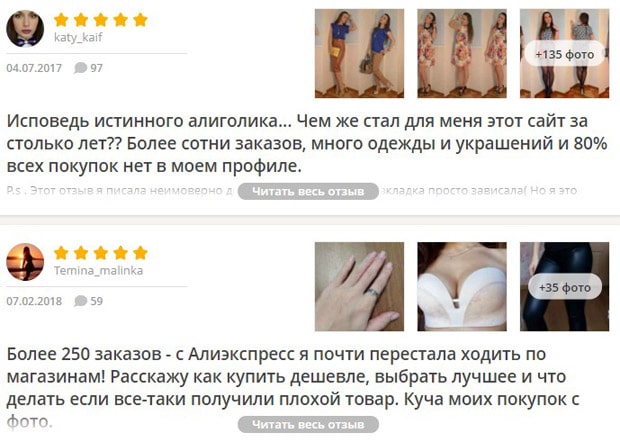 If there are any reviews about the AliExpress online store, we will be sure to post the information on social media. Sign up so you don't miss anything!
Please keep yourself informed about news and complaints. We copy the most valuable information to social networks, so please sign up!
Supervisory authorities
Website aliexpress.com is officially owned by Alibaba.com. This is the official representative office which is registered at: Singapore. The relationship between the administration of the site aliexpress.com and buyers is regulated by several documents, including the user agreement.
Aliexpress.com User Agreement
Before registering on the site the administration of the service strongly recommends that users carefully read the terms and conditions. This user agreement defines the conditions for access and use of the aliexpress.com website, mobile versions and mobile applications.
According to this agreement, users of aliexpress.com are prohibited from copying, reproducing, downloading, republishing, selling, distributing any information, text, images and other materials on the site for commercial use.

When shopping on aliexpress.com, remember that the platform only provides sellers and buyers with solutions for interaction. The company declines all responsibility for any losses incurred as a result of using the service.

Before registering on aliexpress.com service administration strongly recommends that you read the following documents:
General Agreements.
Privacy Policy.
Contract for transactional services.
Free Participation Agreement.
User Agreement.
General terms of delivery and customs declaration.
Registration on aliexpress.com confirms that you agree with all of these documents and rules, and therefore you are fully responsible for all activities carried out on the platform.
Customer Service
Online customer support is implemented with the help of a bot named Eva. It is she who will help you get used to the site and solve all your questions. It should be noted that Eva really knows the answers to all questions and helps each user to solve his problems. But of course, you should understand that behind Eva are dozens, and even hundreds of consultants who are working every day to provide the highest quality service and support for customers aliexpress.com. The site also has a section with questions and answers.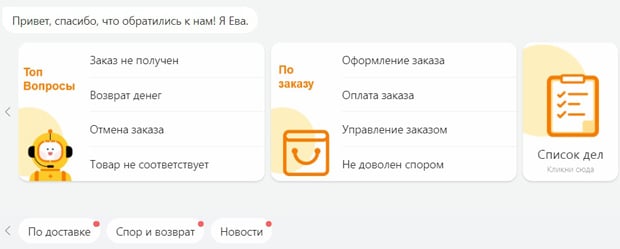 Is AliExpress a scam?
Online Hypermarket AliExpress - is tens of thousands of stores and millions of products. Here you can buy literally everything: from underwear to sophisticated home appliances. The main feature of aliexpress.com is the tmall section. This is where the brand stores with a well-deserved reputation are located, where you can buy a truly branded quality things with a guarantee. Some dissatisfied users have made one unsuccessful purchase on aliexpress.com write in their reviews that aliexpress.com is a scam. However, our team conducted a serious monitoring of the site and concluded that aliexpress.com - is not a scam, and really is a convenient platform for online shopping. Of course, on the site come across not very conscientious sellers, but to avoid meeting with them, the buyer only need to follow a few simple rules, namely:
Always look at the seller's rating.
Always read product reviews.
Contact the seller with any questions.
Avoid offers with severely undervalued.
Avoid buying from a store with a low rating.
Avoid buying a product for which there are no reviews.
If you follow these simple rules, you can always choose on the site aliexpress.com high-quality and inexpensive products, both from foreign and domestic manufacturers.
Conclusion
One of the most convenient sites to buy inexpensive and quality goods is AliExpress. Here you will find millions of offers from sellers from all over the world. The site presents not only Chinese sellers and manufacturers, but also Russian and European brands. The main advantage of aliexpress.com is the fact that purchases here are made in just a few minutes, and each buyer is provided with reliable protection.
Many sellers are willing to meet the buyer's needs, not only for a refund or to resend the item you did not receive, but they can also give you personal discounts on request. Not many people know that on aliexpress.com you can actually bargain with the seller. To get an additional discount just write to the seller from your personal cabinet and be sure that 99% sellers will meet you halfway. But, of course, when buying, you need to follow the simplest safety rules in order to buy a really good quality product. Be careful and then your purchases will forever make you and your loved ones happy.
The company in the ratings
Activity
New

0

Resolved

0

Not resolved

0
New companies on the site