A reliable forex broker with accurate quotes, stable terms of cooperation and a wide range of assets, instruments and services.
Forex broker
Official website
Social media
Date of foundation

1996

Head Office

Ch. de la Crétaux 33, 1196 Gland, Switzerland

The owner of the company

Swissquote Bank Ltd. as part of Swissquote Group Holding Ltd.

Types of support
Support by phone
Languages

English, French, Spanish, Italian, German, Chinese, Arabic, Russian, Czech

Terminals

MetaTrader 4, MetaTrader 5, Advanced Trader, Master Edition

Min. first deposit
Broker fee
Lot volume
Leverage
Spreads
Free Demo Account
Adjustable
Regulators
Licenses
Types of accounts

Demo, Standard, Premium, Prime, Professional

Margin call / Stop out
Execution of orders

Instant Execution, Market Execution, Limit Orders, Stop Orders

Methods of replenishment

Bank Transfer, Bank Card (Visa/MC)

Withdrawal methods

Bank Transfer, Bank Card (Visa/MC)

Number of assets
Types of assets
Account currencies

EUR, USD, SGD, CAD, AUD, GBP, JPY, CHF, TRY, PLN, CZK, HUF, SEK, NOK, XGD

Liquidity providers

Reuters, CNBC, Bloomberg, Financial Times

Mobile Trading
Weekend trading
Tournaments / contests
Trader training

Webinars, training center

Contract Difference Commission
Swaps
PAMM trading
Analytics

Analytical platforms, market scanners (Autochartist), expert analytics

Margin Trading
Affiliate Program
Benefits

Reliable company (Swiss bank)

A huge base of analytics, free tools

Large selection of assets and types of currencies

Operational work of technical support

Quick video verification, takes no more than 10 minutes and requires only a passport and phone

Disadvantages

No bonuses or tournaments

Company requisites

Legal name:

Swissquote Bank Ltd.

Legal address:

Ch. de la Crétaux 33, 1196 Gland, Switzerland

Date of update

12.02.2023

Overall assessment
Address
Ch. de la Crétaux 33, 1196 Gland, Switzerland
Map
Subscribe to this company
Swissquote is this a scam? Reviews and description
Commercial Service
Swissquote
is owned by Swissquote Bank Ltd. as part of Swissquote Group Holding Ltd. - a leader in financial and network trading services in its region.
It began its activities in 1996, broker already in 2000 it was listed on the largest stock exchange SIX Swiss Exchange (SQN) in Bern. Today the organization operates all over the world and has branches in Zurich, Dubai, Hong Kong, London and Malta. How suitable is this operator for Russian users? Swissquote - a scam or an honest broker? That's what we will try to find out now.

Terms of trade with Swissquote
Swissquote provides 4 types of accounts for forex trading:
"Standard" - with a minimum deposit of one thousand dollars.
"Premium" - with an entry amount of $10,000.
"Prime" - with a down payment of $50,000 or more.
"Professional" - individual conditions.
The minimum deal size for each of them is 0.1 lot, which allows you not to "plummet" all at once, and build up trading on small amounts. Floating leverage is also provided, which is adjusted taking into account the strategy to the maximum of 1:100, and stop-out at the fall of assets to 30% from the initial level. By the way, these figures demonstrate the broker's desire not to lead the client to a quick bankruptcy, but to provide conditions for smooth "ups" and "downs".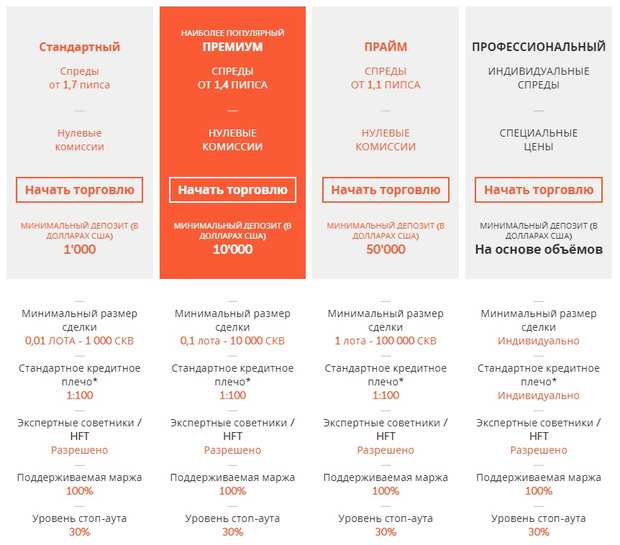 There is multi-lingual support (unfortunately, only English-speaking specialists are available for Russian users) and a lot of help materials. You can use a free demo account for training, although you still have to pay for the use of the terminal. Swissquote has two main directions: the independent trade (STP, ECN, DD) and the use of automated trading robots (automatic trading with Robo Advisor). The latter is also possible to evaluate in the demo, you only need to register on the site swissquote.com. An advanced algorithm calculates the optimal sequence of actions based on the strategy.
It should be noted that the broker has PAMM accounts. In total, the trader is given just over 130 types of assets to choose from: CFDs (precious metals, commodities, stocks, stock prices, futures), currency pairs, options, etc. There are 15 supported currency units: from the most common (US dollar, euro, Japanese yen, British pound) to the less common (Singaporean dollar, Polish zloty).
There is no commission for the deal as such, but there is a margin requirement (minimum deposit before the deal) of 1%-4% of the total balance. And of course there are swaps: for example, for AUD/CAD -0.00000649 to sell (Short Base) and 0.0000295 to buy (Long Base). Everything is transparent and clearly displayed on the official website swissquote.com. If desired, traders can create a savings account in euros, Swiss francs, American dollars or British pounds sterling and receive up to 0.50% per year on the balance.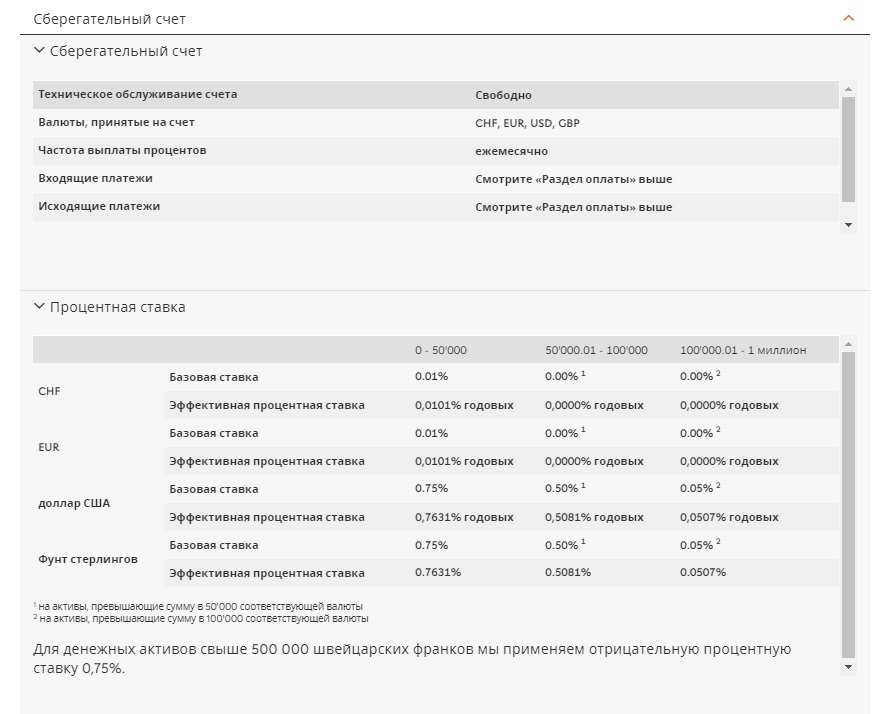 Platform swissquote.com
Broker swissquote.com works with four terminals: MetaTrader 4, MetaTrader 5, MetaTrader Master Edition and Advanced Trader. The first three are different modifications of the same popular high functionality platform:
Trading on all types of assets.
2000+ free custom indicators, 30+ standard and 700+ commercial indicators.
Ability to create your own indicators.
24 trend objects (lines, channels, Ishimoku, Fibonacci, arrows, shapes, etc.).
Customizable charts with indicators, oscillators, timeframes.
Online chat to communicate with other traders and expert support.
Automated trading with the help of robots and trading advisors.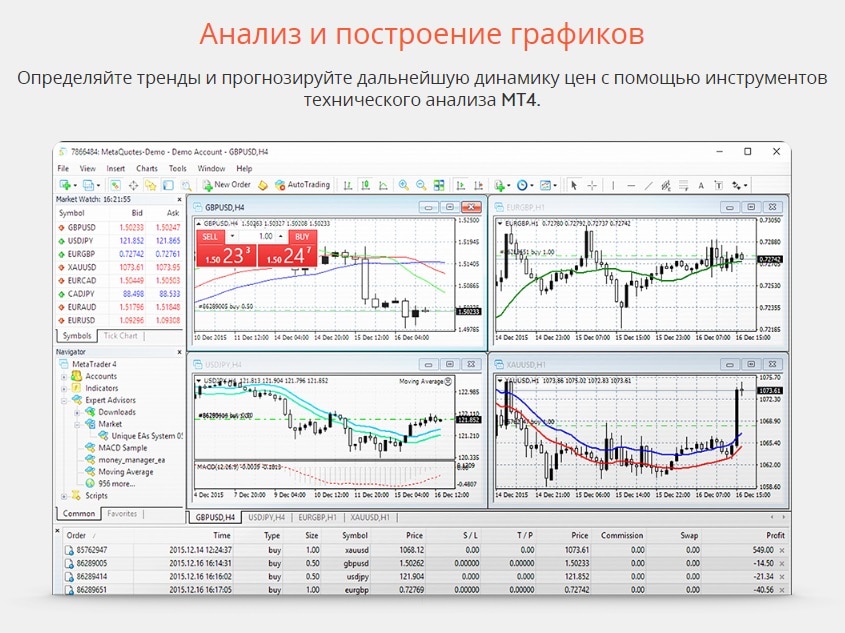 The latter is developed by Swissquote and is equipped with 17 indicators (Overlay, MACD, RSI Stochastic, etc.) to analyze charts and predict the movement of quotations, helps in analyzing graphical patterns.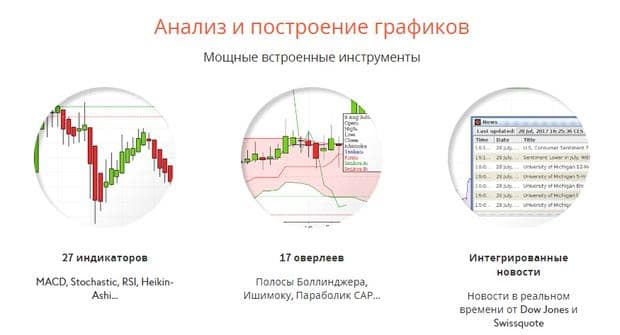 Additional tools embedded in the platforms:
The Trading Central plugin for MT4 and MT5 consists of 3 indicators overlaid on charts in online mode. Displays forecasts, key levels, patterns, sends technical signals to help increase the efficiency of instant orders.
FIX API connects directly to the interbank market and allows you to work with liquidity providers without intermediaries.
Autochartist risk calculator, event impact analyzer with a summary of the economic situation in a particular region, as well as early pattern identification.
Security of users and transactions is carried out in accordance with international requirements, using encryption protocols and a two-level system of user identification. All data is stored on Tier 1 data center servers.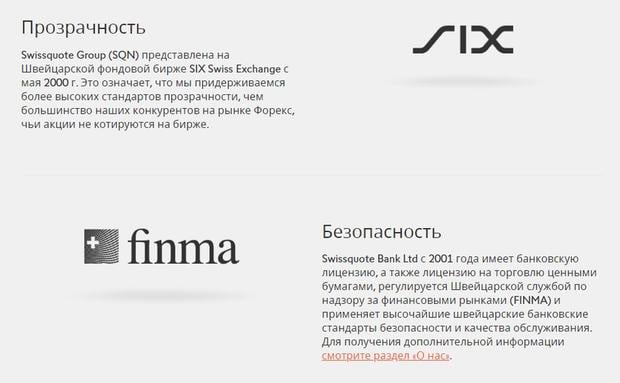 Swisquot broker quotes
Swissquote has the status of a bank, so the quotes here are accurate - other liquidity providers and media organizations are guided by them: Reuters, CNBC, Bloomberg, Financial Times, etc. It is also worth noting that Swissquote Group is listed on the SIX Swiss Exchange in Switzerland. This is another indicator of the transparency of the organization's policy. The honesty of the broker in terms of exchange rates is confirmed by the majority of users.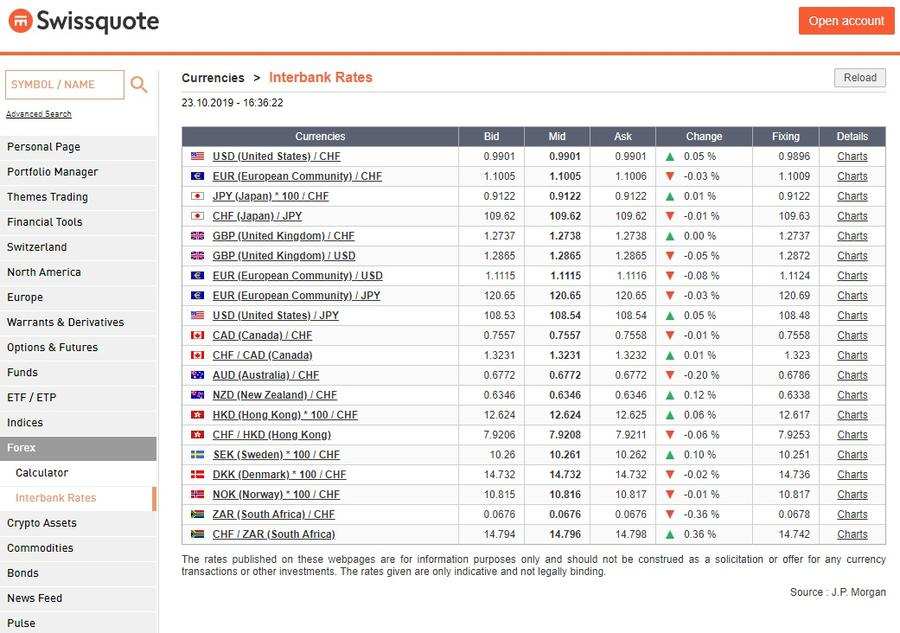 Swissquote Demo Account
For beginners, there is a free demo account, which opens in virtual currency (Forex Trading Training). The user registers and installs one of the trading platforms (MetaTrader 4/5 or Advanced Trader), selecting Swissquote Bank Ltd. as the operator. Important moment: a commission may be charged for working with the terminal. In the future it is possible to connect a trading account of another type to the opened profile - Standard, Premium, Professional or Prime.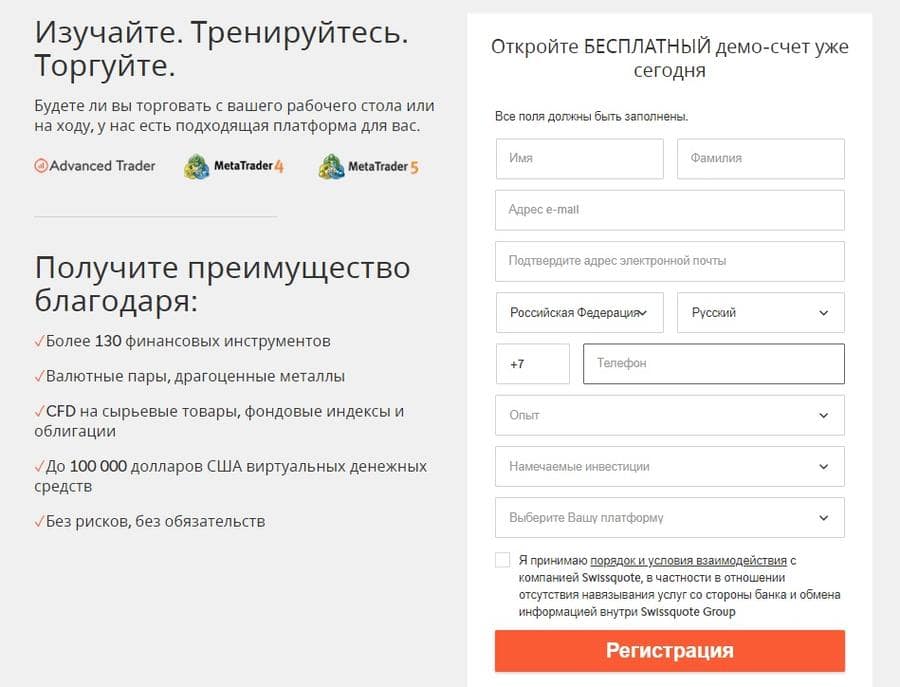 Swiskot mobile app
In addition to trading in the mobile application of Advanced Trader and MT4/5 terminals, Swissquote has its own software for tablets and smartphones. It is supported by Android and iOS mobile devices and can be downloaded for free from Play Market and App Store. The main features of Swissquote Trading Mobile:
View quotes, charts, and financial information.
Creating an account and accounts.
Asset trading.
Notifications about changes in the market, news and closing orders.
Technical and financial analysis.
Filters and creating selections of your favorite products.
Trade ideas.
The app is rated 4.2 out of 5 by Apple phone owners and only 3/5 by Android device users. The main reason for criticism is the occasional technical glitches and slowdowns.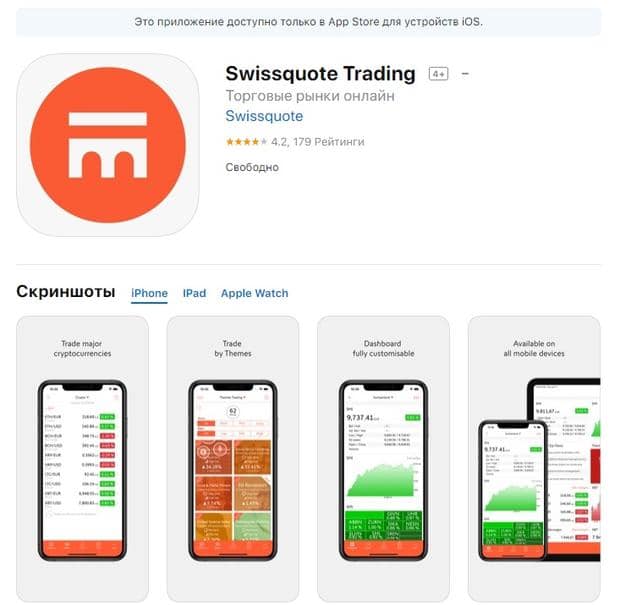 Bonuses at Swissquote
There is no detailed bonus program at Swissquote. Perhaps, this is due to the fact that the broker does not have problems with the flow of clients and the establishment of partnerships. But the fact remains that the broker does not offer cashback on the deposit, a loyalty program, contests and tournaments. The only promotion that the broker offers is "Flat Rate Rates":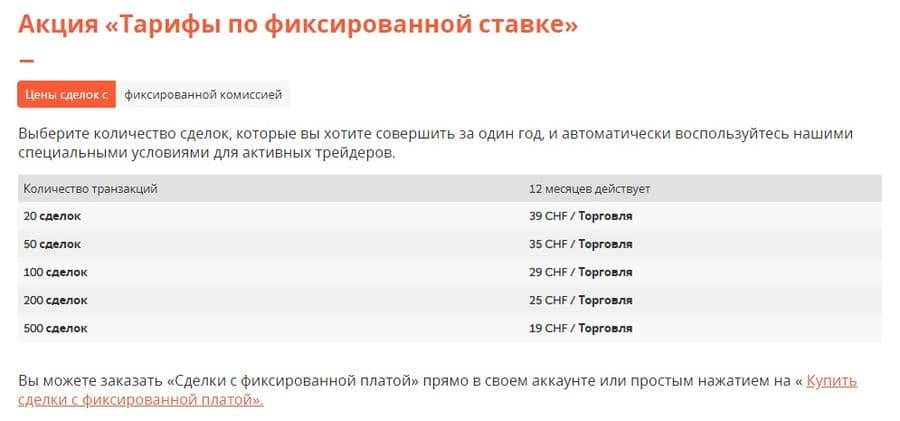 The terms and conditions of the price of fixed commission transactions: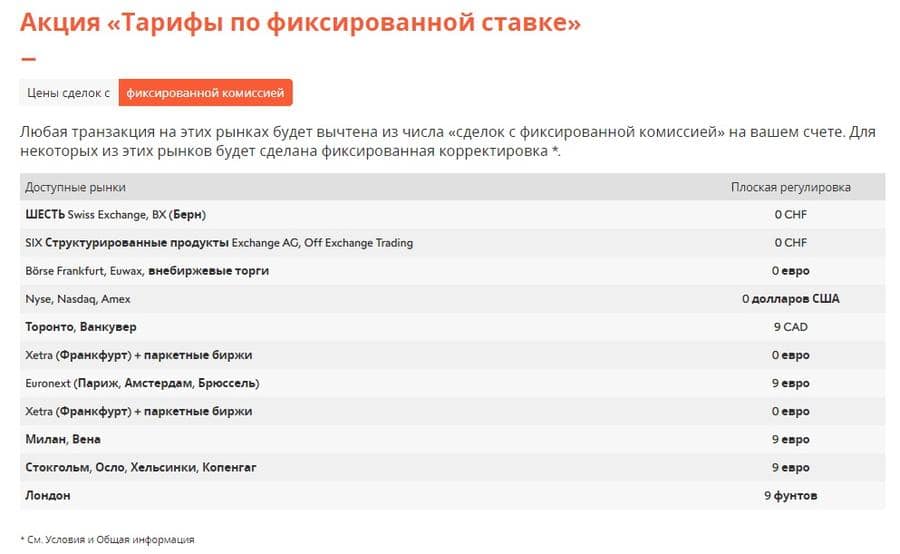 Deposit and withdrawal
Depositing funds to the trading account and withdrawal of earnings from Swissquote is carried out only through the bank: by international transfers via details (SEPA, IBAN) and online banking. Which is logical, given the status of the organization. Transactions are carried out with a conversion fee (within 0.8% of the amount) and service of the transaction - fixed or also as a percentage.
To withdraw money to the bank account from which you made a deposit, you will need to go through the verification procedure - up to 3 banking days. The transfer itself usually takes another 1-3 business days. Supported 15 types of currencies: EUR, USD, GBP, JPY, CHF, TRY, CAD, AUD, PLN, SEK, NOK, SGD, XGD, HUF and CZK. All except the dollar and euro are convertible to Swiss francs.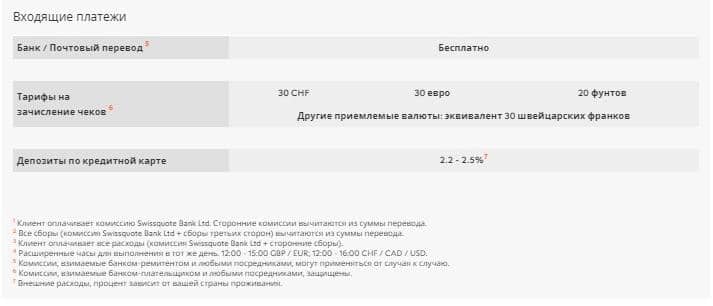 Important point: the details to which you withdraw earnings, must match those that were recorded when registering and depositing.
Complaints about Swissquote
Among the visitors of Internet sites and forums there are many dissatisfied with the work of Swissquote. They complain about the delayed withdrawal of earnings and uncomfortable terms of cooperation. For example, with regard to liability for loss of assets due to server failures.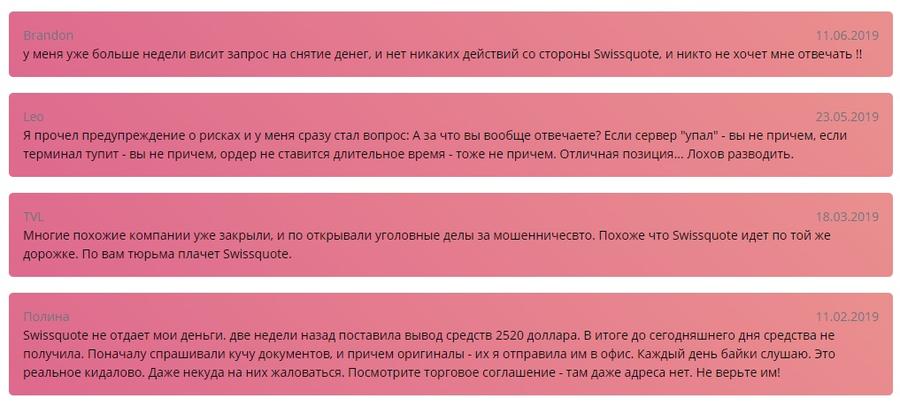 Or pricing policies.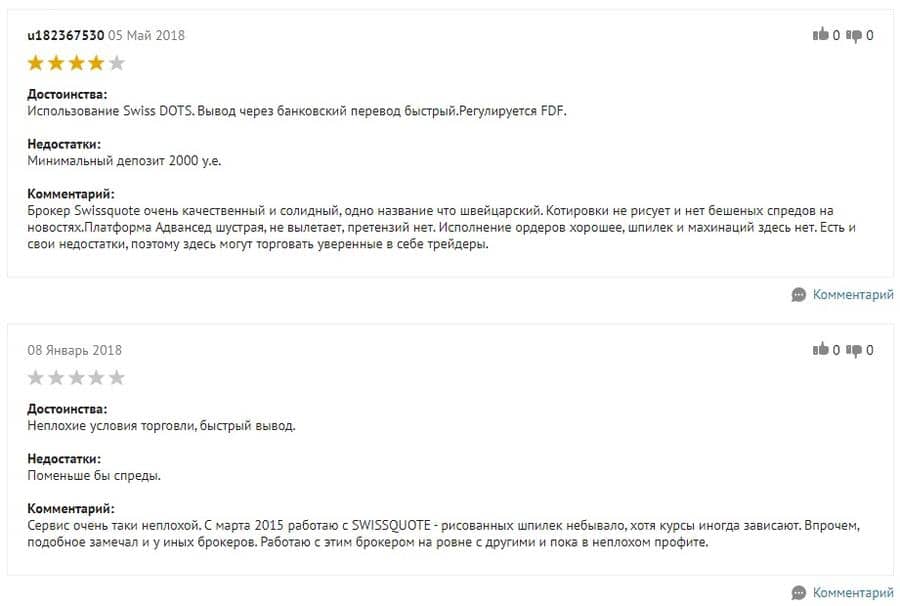 Among the traders there are also those who have problems with creating an account due to the fact that the broker is located abroad (this complicates the bureaucratic aspects). And ignorance on the part of the technical support.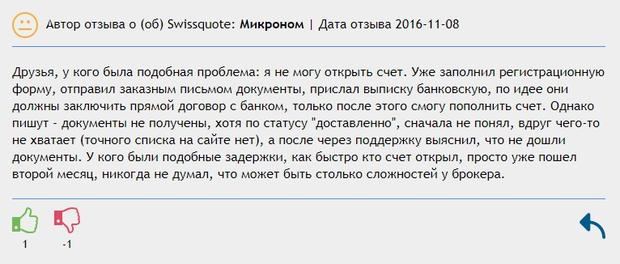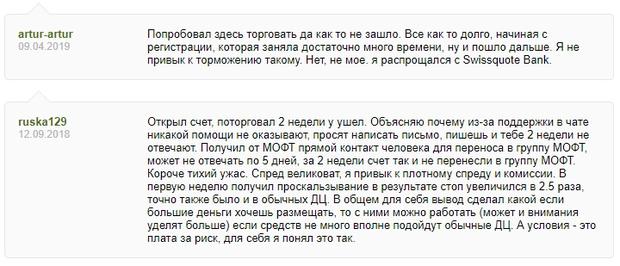 Swissquote's performance is also positive. Traders praise the provider's coding accuracy and high speed of order execution. However, there are more negatives.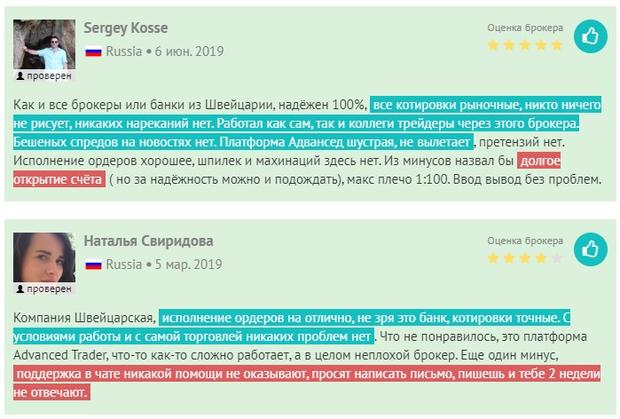 If there are any complaints about Swissquote, we'll be sure to post them on social media. Sign up to make sure you don't miss anything!
Please keep yourself informed about news and complaints. We copy the most valuable information to social networks, so please sign up!
The regulator of the broker swissquote.com
Swissquote Bank Ltd. (part of Swissquote Group Holding Ltd.) is regulated by the Swiss supervisory authority FINMA. And is on the register of the Financial Commission. Licensed organizations are not assigned numbers, but you can check if they are on the list of authorized organizations. You can do this by clicking on the link below.
Swiskvot User Agreement
Its role is performed by the document "General Terms of Business and Storage Policy". Let's consider several paragraphs of the policy, which, in our opinion, are worth special attention. For example, paragraph 6 states that the information on quotes and exchange rates are reports, not recommendations for investment. The trader makes the decision, and he alone is responsible for the consequences.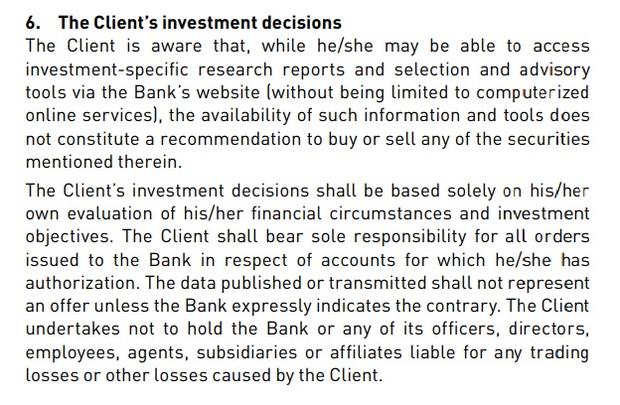 The user alone is responsible for the fulfillment of financial and tax obligations when making international transactions and informing the authorities of his earnings. Swissquote Bank Ltd. does not even advise on such matters (clause 7).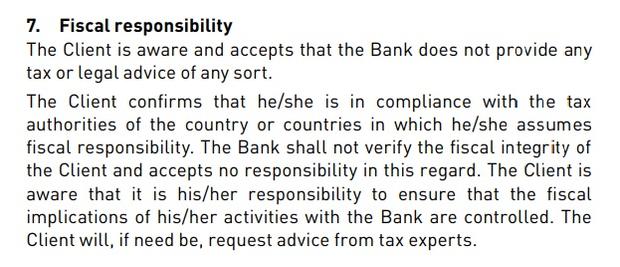 Once the client has opened an order, he can no longer cancel it. Especially if the money has already been debited from the account. In the case of insufficient funds for the transaction, they are returned (clause 11).

The Client shall be solely responsible for any consequences (including loss of funds) due to the use of his identification data (login, password) by third parties (clause 14).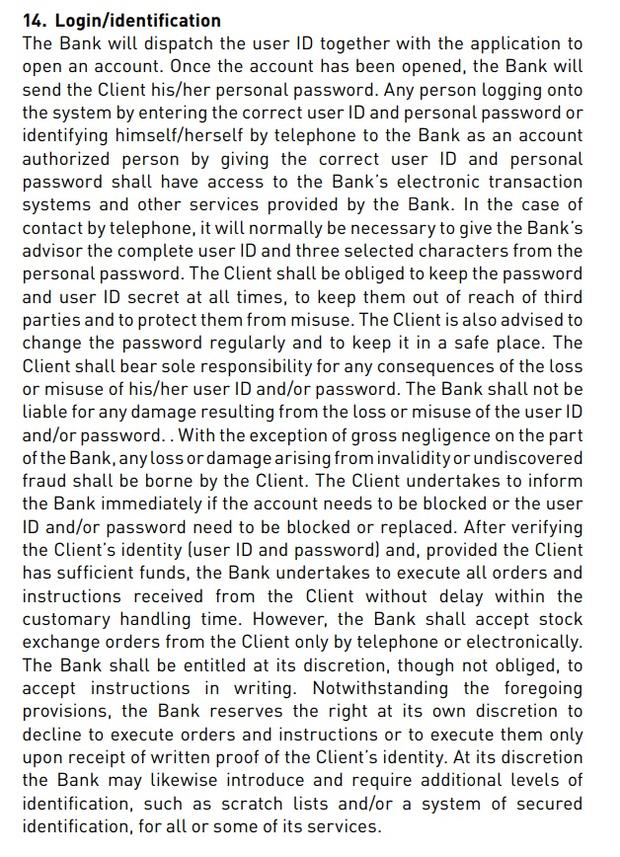 All actions taken from the account are considered initiated by the account owner (clause 15).

The Bank declines all liability for damages due to data transmission errors, poor software quality, malfunction of telecommunications equipment and user's personal devices, viruses, unauthorized actions of third parties (clause 18).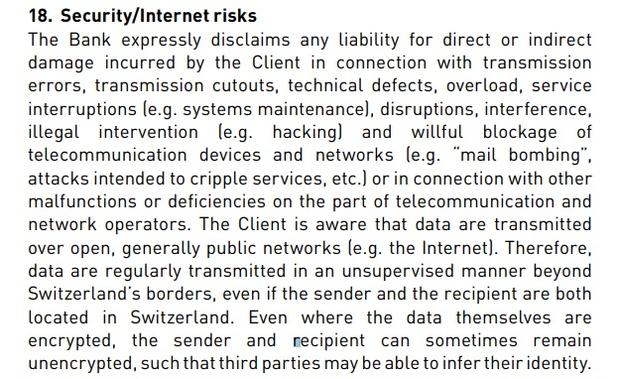 Swissquote, according to clause 24 of the "General Conditions..." and in order to comply with the Swiss Federal Financial Sector Anti-Money Laundering and Counter-Terrorist Financing Act..., is entitled to request documentary proof of any transaction and not to execute it until the trader provides it.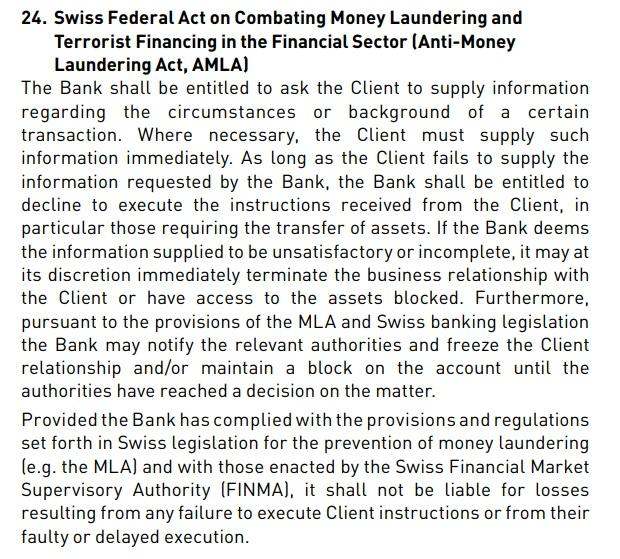 The client is also obliged to notify about all changes in the data provided when connecting the account and drawing up an agreement with the broker (clause 31).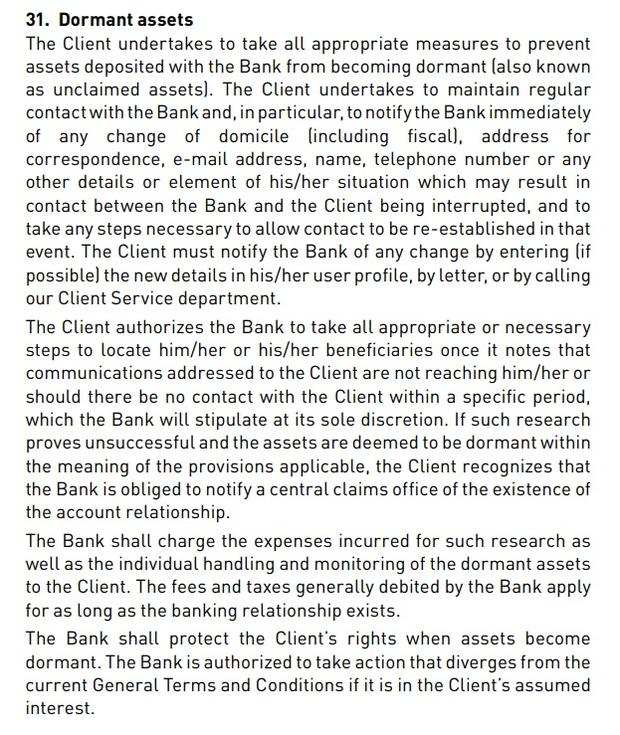 Assets on your account, the operator may use as collateral for transactions of other traders and to repay possible debts and commissions (clause 36).
Interest and commissions published on the site can be changed by the broker unilaterally (clause 38) Inform users about this through the site, by e-mail or notification in the personal cabinet (account).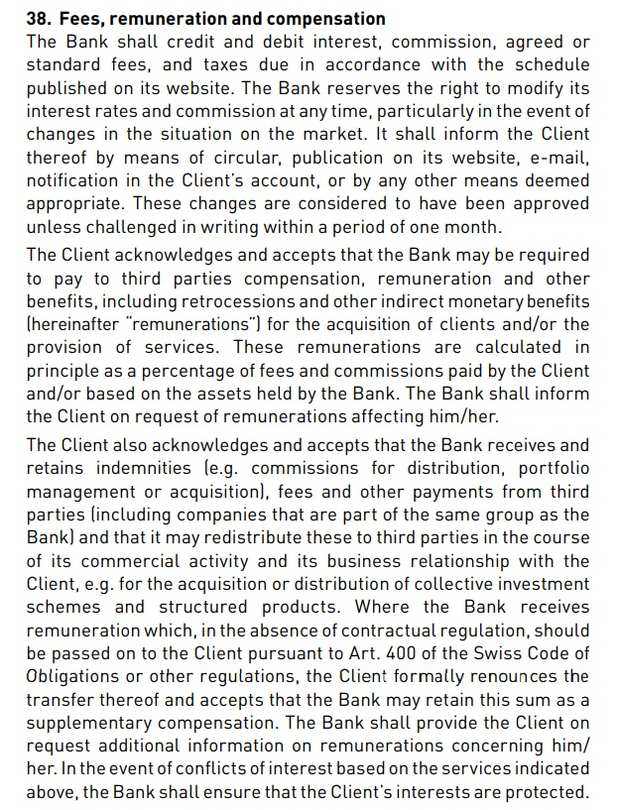 If the damage caused to you while using Swissquote resources was not intentional (or is not proven), the broker does not have to compensate you (clause 45).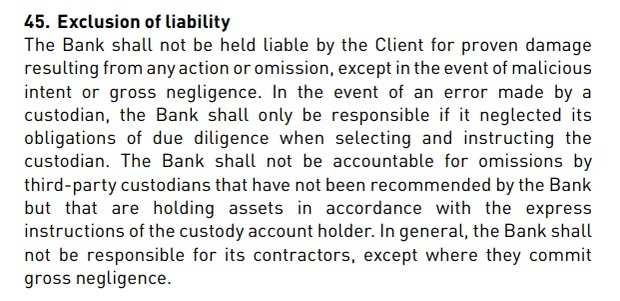 Is Swissquote a scam?
Swissquote has generally shown itself to be a reliable broker with accurate quotes, stable terms of cooperation and a wide range of assets, instruments and services. Traders are provided with account insurance and the opportunity to test product demos for free. Of the minuses:
Wide spreads, availability of margin requirements.
There are no bonuses or tournaments.
Swissquote is not a scam, but the provider, in our opinion, does not have the most favorable conditions on the market. Although for many people this is compensated by the stability of the organization.
Conclusion
Swissquote, in our opinion, is more focused on the European market: high conversion and withdrawal fees, bureaucratic difficulties, lack of Russian-language support - all this creates difficulties in asset management for Russian traders. And, although officially forex trading via broker's resources is forbidden only for US residents, users on many continents cannot trade on them to the fullest extent.
However, there is no need to speak of the dishonesty of the service provider: the advanced verification system, compliance with international financial and investment standards, a good legal framework and a license from a respected regulator demonstrate a high level of reliability and transparency. We recommend Swissquote to traders who are not afraid of the complexities of international communication and the need to understand the intricacies of a foreign organization.
The company in the ratings
Rating of reliable brokers
Activity
New

0

Resolved

0

Not resolved

0
New companies on the site