Netology is one of the most famous educational sites on the Internet, which focuses on remote education in modern professions in the IT-sphere.
Read completely
The company
Official website
Head Office

Russia, 117105, Moscow, Varshavskoe sh. 6, office 103A

Date of foundation

2011

The owner of the company
Types of support
Support by phone
Social media
Languages

English, Russian

Cost of training

Paid, Free

Prices

Interface design

/

From

3325

RUB

per month

Full price -57,000 rubles without discounts

Internet Marketer

/

From

4162

RUB

per month

Full price - 166,500 rubles without discounts.

Bonuses
Methods of replenishment

Webmoney, Alfa-Click, Cashless transfer for legal entities, Bank card (Visa/MC/MIR), UMoneu

Buying on credit
Installment

Installment is available for 6 or 12 months by Tinkoff Bank and Sberbank

Categories of training programs

IT and digital courses, Marketing and sales, Creativity and art, Business courses, Intellectual development, Beauty and health

Specialties

Internet Marketing, Web Development, Testing, Web Design, Interior Design, Big Data, HR and HR Management, Product manager, Accountant, Confectioner, Fitness Instructor, Target Advertising, Photographer, SEO Promotion, Financial Manager

Programming languages

Python, Javascript, Java, C++, SQL, Unity, 1C, Go, Learning C from scratch

Project Features

The official educational platform, registered with the Ministry of Science and Higher Education of the Russian Federation and the Ministry of Education of the Russian Federation

Number of courses
Course Types

Short-Term, Medium-Term, Long-Term

Additional education

Webinars, Video lessons

Additional services

Corporate training

The cost depends on the course and the number of people

Offline training

The price depends on the exchange rate

Gift certificates

/

From

5000

RUB

Starting the training

According to the calendar

Course completion documents

Certificate, Diploma

Age restrictions
Mobile applications
Affiliate Program

Registration

17% for the paid course (but no more than 30,000 rubles), 16% for the Free Course categories (but no more than 30,000 rubles), 10% for the Digital MBA categories, 2% for the Higher Education categories

Benefits

Training from the best experts in Russia

Practical teachers with extensive experience

Graduates receive an official document of established form

Training takes place remotely (online) or in-person (at the Moscow campus for a number of programs)

Flexible payment terms - installment, credit and payment by legal entity available

Live communication with experts and other students, networking

During the training, real projects and cases are analyzed

All assignments are posted online, access to them is not restricted, and feedback is given on the results of homework checks

Supervision of the methodology and learning process by a teacher and supervisor, dedicated customer service

Assistance in writing a thesis and a detailed commentary on the results of its implementation

Constant opening of new areas of courses

Each graduate receives personal HR-consultation - preparation of resumes, selection of suitable vacancies and internships from a constantly growing database

Disadvantages

There are failures in the organization of the educational process

Regulatory agencies and laws

Ministry of Education of the Russian Federation

Department of Education and Science of Moscow

Russian Federal Tax Service Inspectorate No. 26 in Moscow

local laws

Company requisites

Legal address:

Russia, 117105, Moscow, Varshavskoe Shosse d. 1, p. 17, W Plaza-2, offices 308-B, 105-A

Overall assessment
Date of update

24.01.2023
Address
Russia, 117105, Moskva city, sh. Varshavskoe, d. 1, str. 6, ofis 103A
Map
Subscribe to this company
Is this a scam? Reviews and description
With promo code etorazvod5 there is a 5% discount on all online courses except MBA, Self-development and Hobby, Higher Education and Director of Internet Marketing courses. The discount is valid from the current price and is combined with current discounts on the Netology website.
Educational online platform Netology has been operating since 2011. The main advantage of the platform is the remote training format, which allows students to choose their own training schedule. During the course the student receives full support from the teachers, who provide quality feedback on any questions that arise.
On this online platform, you can take both paid video courses and free introductory lessons. For successful learning, students are encouraged to do their homework, and if you don't do it, you may not be allowed to take the final diploma exam. Online School Netology offers training in more than 15 professions. Practical classes are held on real teachers' projects.
Why Netology?
The educational platform Netology is an officially registered educational organization that operates on the basis of a state license. Upon successful completion of any of the courses, the graduate receives a diploma on the obtained specialty. Successful students receive a job offer from the Netology Center. Advantages of the online platform:
Practical teachers with extensive experience.
Graduates receive an official document of established form.
The training takes place remotely (online) or face-to-face (at the Moscow campus for a number of programs).
Flexible payment terms - installment payment, credit and payment from a legal entity are available.
Live communication with experts and other students, networking.
During the training, real projects and cases are analyzed.
All assignments are posted online, access to them is not restricted, and feedback is given on the results of the homework check.
Supervision of methodology and learning process by teacher and supervisor, dedicated customer service.
Assistance in writing a thesis and extensive commentary on the results of its implementation.
Each graduate receives personalized HR consultation - preparing a resume, selecting suitable jobs and internships from an ever-growing database.
Netology diploma is highly valued by employers of Runet. Over the years, the platform has graduated more than 31,000 specialists, many of whom have found prestigious jobs at their dream companies. You don't need to take entrance exams to study. You can take both free courses and enroll in paid comprehensive programs. At the end of each program you will receive a certificate that will allow you to find a prestigious job.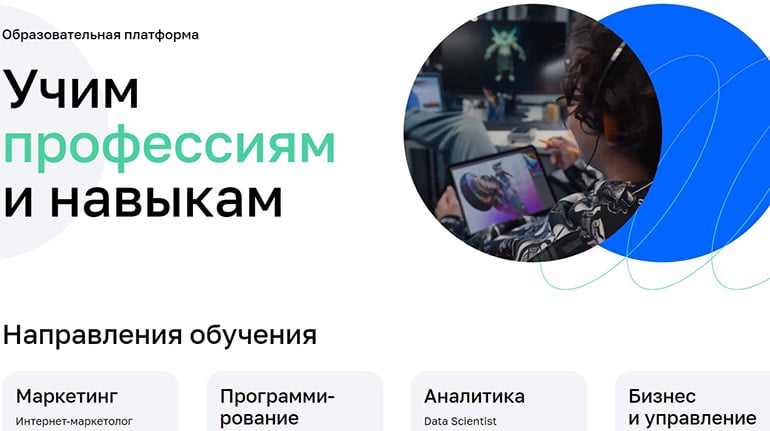 How to study online at netology.ru?
On the site netology.ru there are two formats of online training. You can subscribe to a comprehensive training program or video courses. Let's look at the differences between these training formats.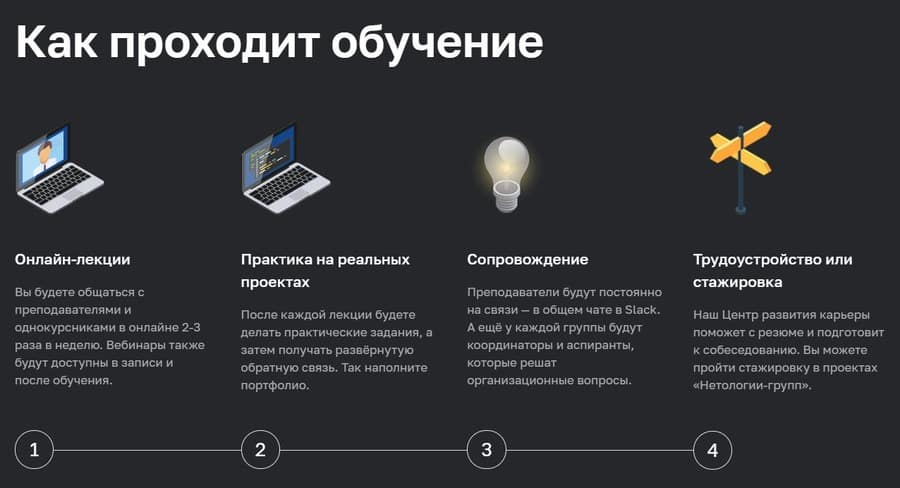 Video courses
Video courses are a set of video lessons that you can watch at any time. As a rule, video courses do not exceed a few hours in length. The course consists of a theoretical part and homework. Video courses are suitable as introductory lessons to the profession. The disadvantage of video courses is the lack of opportunity to study all the nuances of the specialty. Most often they are suitable for advanced training. Before you buy a video course, you can watch free introductory lessons that will give you an idea of the profession.
Training program
The training program includes comprehensive classes that are conducted online. Such a course can last several weeks or even months. You can connect to the program on the official website. The main difference between a training program and a video course is the ability to communicate with the instructor and fellow students during the class. If you didn't manage to catch the broadcast, you can watch its recording at any convenient time. In this case, you can ask your questions to the teacher in your personal office. Students need to complete all homework assignments, which are carefully checked by the instructor. If you do not do your homework correctly, the specialist will point out the mistakes and explain how to correct them. By purchasing any intensive, the student gets full feedback, access to all classes, homework to reinforce the material learned, homework check, grade, end-of-course testing, online defense of the thesis, and receiving the diploma.
Netology Personal Cabinet
In order to enroll in a training program from Netology, you need to register on the official website. To do this, go to the home page of the site and click "Login" in the upper right corner of the page. On this tab, you will open a registration form, in which you need to click "Create an account. You will then be prompted to enter your first and last name, email address, and phone number. You can create your account through VKontakte and Facebook services.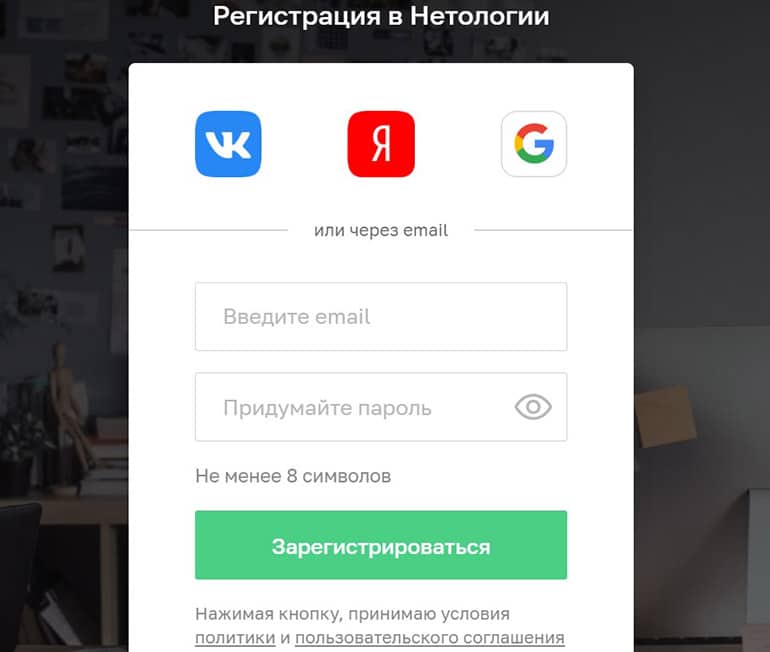 After completing all the registration information, a personal account will be created for you, where you can select courses, view your course schedule, pay for classes, participate in an affiliate program, and receive gifts. After logging in to the site, go to the "Settings" tab in your personal account. Here you need to correct your personal data and attach your scanned passport and education documents. These actions are necessary for you to be successfully enrolled in the course, and at the end of the course a certificate was issued.

Netology mobile app
The educational online platform does not have a mobile app, but there is a mobile version of the site. It has the same functions as the official site netology.ru. In the mobile version you can view video lessons, choose programs, and pay for courses. You don't need to install any additional software to run the mobile version. To work in the mobile version of the site you only need an Internet connection. Authorization in the mobile version of the site is done by your login and password.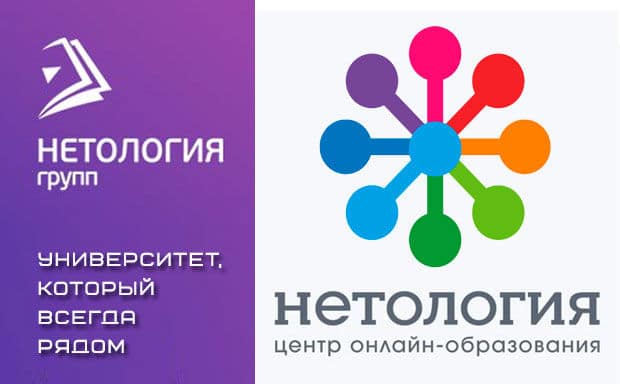 Courses at netology.ru
Netology has a broad line of programs for every segment:
"NEO". For those who want to change their profession and learn it from scratch.
"PRO." For those who want to grow as a specialist and strengthen their position in their current profession.
"TOP". For top managers and executives who want to develop leadership skills and find points of growth in team and business management.
There are several types of products:
"Course". A program aimed at improving already existing knowledge/ acquiring new knowledge within the framework of a professional activity.
"The Profession. A program aimed at mastering a new type of professional activity.
"Specialization." A program aimed at deepening knowledge in professional activities.
Consider courses for the most in-demand professions on the Netology website.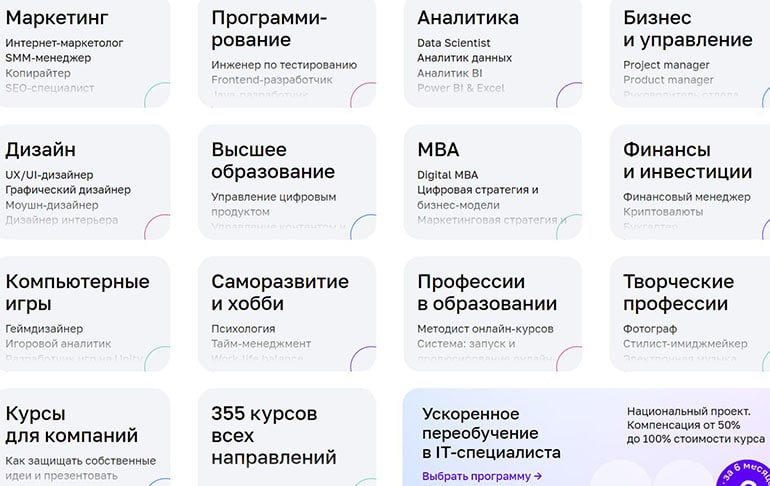 Copywriting
At Netology, you can learn the in-demand profession of commercial editor/copywriter. On the course you will learn how to create full-fledged information products for solving business problems with the help of content. You will also learn the main skills of an editor: working with text and images, typography and layout, and team management. The course includes three modules for beginners and experts. The training period is 6 months, during which you will get 90 hours of practice.
If you are just beginning to learn the profession of copywriting, you should start with the first module. The first module helps you learn the basics of working with text and systematize your skills and knowledge in copywriting. More experienced students can start immediately with the second module. The second module allows you to create multimedia materials instead of just text. The third module of the program allows you to become not just a good editor, but also to manage a whole team of specialists. This training program is suitable for copywriters, journalists, marketing and PR specialists.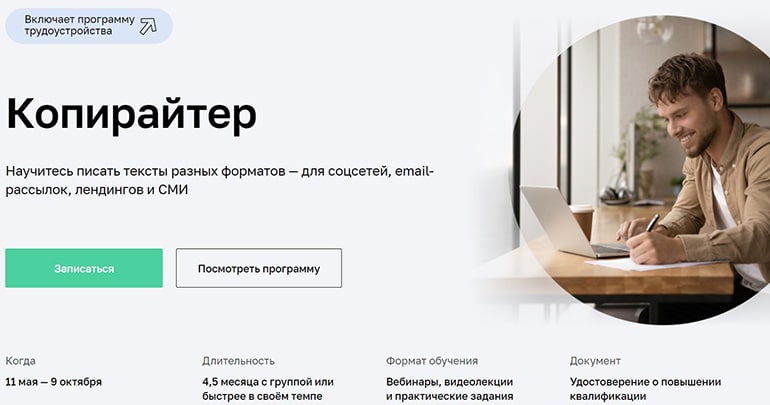 Programming
On the site netology.ru There are 18 courses in programming. You can start your career in the programming profession from scratch. You can choose such directions as "Android Developer from scratch", "iOS Developer from scratch", "Web Developer from scratch", "Start in Programming" and others. If you choose a course for yourself, you can get not only quality knowledge, but also all the tools for work. Online courses in programming are a great opportunity to learn a new profession. In the classes you will get a great practical base and you will be able to make your personal first portfolio. After completing the programming courses, the service helps students in further employment. Distinguished students get internships in projects of Netology Group, as well as in leading companies of Runet.
Once you have completed the initial training program, you can proceed to the advanced courses. Advanced courses allow you to upgrade your skills and deepen your knowledge of the profession. After completing an advanced course you will become a professional with an extensive portfolio. Netology's programming courses are highly regarded by employers. Once you get your degree, it's easy to find a high-paying job.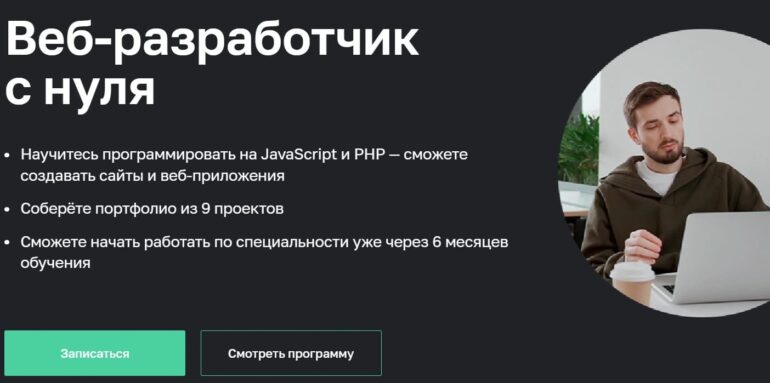 Finance
You can find courses on financial management in the "Business and Management" section. These courses are suitable for managers, business owners, product managers, etc. Business programs have been developed in conjunction with industry leaders and with the support of Russia's leading educational platforms. One of the most popular courses is the "Finance for the Entrepreneur" training program. By enrolling in this course, you can understand taxation, learn to enter into contracts and do accounting. You'll also learn how to build business processes and manage your finances. During the training you will get all the necessary tools and knowledge to run your own business.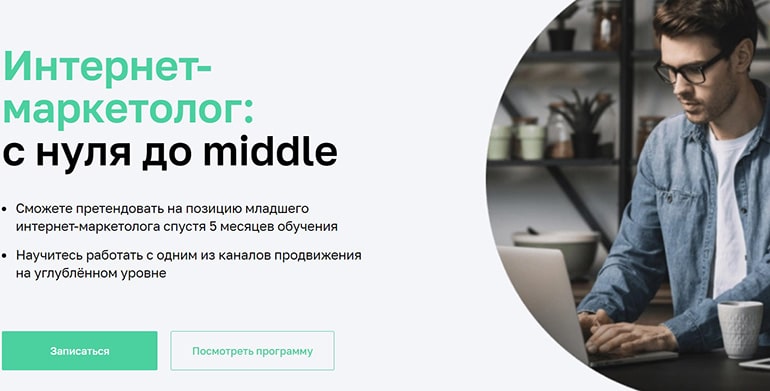 This course is suitable for executives and business owners, directors and managers, as well as anyone who wants to open their own business or buy a franchise. At the end of the program you will understand how to calculate the profitability of your business and in what vector to develop it. You will learn how to work with all financial statements, analyze them and make decisions about your business based on the results of the analysis.

Photo by
This course will teach you how to work with a camera professionally. If you already have camera skills, this is a great chance to turn your favorite hobby into a high-paying job. You will also learn the most popular computer programs for photo processing. In the course, which lasts 6 months, students will have the opportunity to create about 30 works for their portfolio.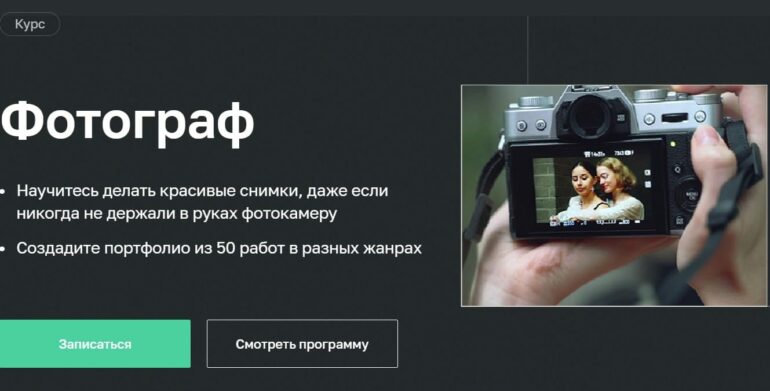 Illustration and interactive graphics
This course is suitable for beginners without experience and graphic designers who want to expand their arsenal of artistic techniques and tools. In one year you will become a multidisciplinary specialist with an author's handwriting. The program consists of 104 hours of practice, 123 hours of theory and weekly workshops and webinars.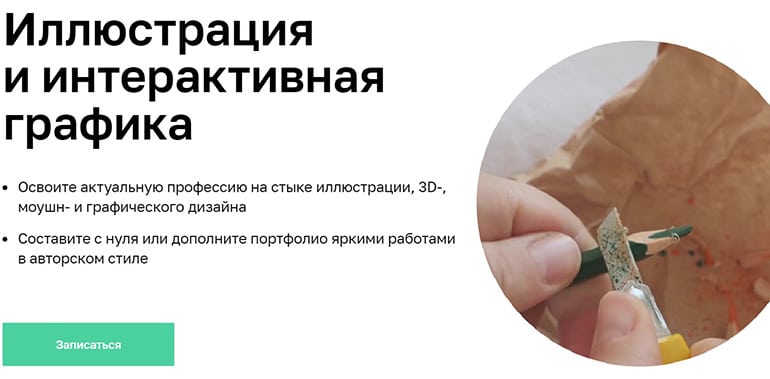 Systems thinking for solving business problems
This course is authored by Joseph O'Connor, a leading theoretician of coaching and systems thinking. The course is useful for anyone interested in improving the effectiveness of process management.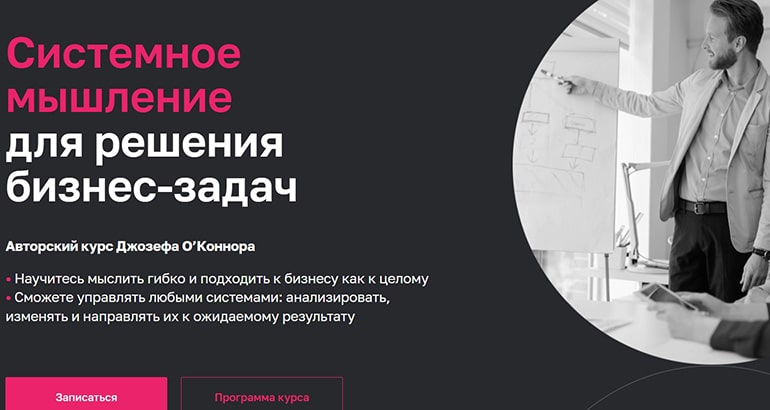 Free Netology courses
There are more than 15 free classes and 5 free courses available on the Netology website:
Design Lecture Hall.
Digital Start.
Yandex.Direct
Basics of HTML and CSS.
The basics of Google Ads.
Free classes can help you learn more about your chosen field, figure out how to develop and where to grow next, who you can work in marketing, etc. Most often beginners choose free courses and classes to get to know a new profession better and to understand exactly whether they need a paid course. New free courses and classes are constantly being added to the site.

Additional services Netology
Guidance
Career guidance is available to any student who has completed a Netology course. At the Career Development Center, students develop as professionals, hone their practical skills, and meet employers. Every student can find interesting projects and job openings here.
Corporate training
Netology offers over 80 courses for corporate training. The cost of the courses depends on the number of students in the group and the program. More than 1,000 companies have already taken the corporate courses, providing their employees with advanced training.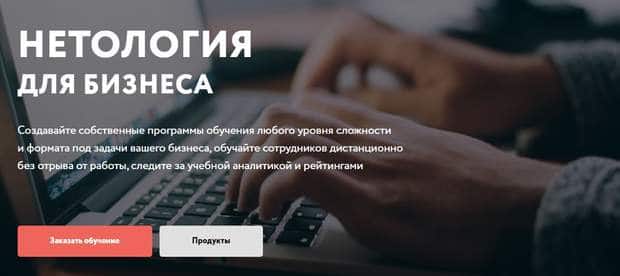 Offline training
Training at the campus of the educational site Netology. The cost and duration of training depends on the course. Off-line training is suitable for residents of Moscow and the Moscow region.
Gift Certificate
On the Netology website you can order a gift certificate and give it to your loved ones. The certificate can be purchased for a certain amount or for a course. The certificate can be activated for one year and is valid for all paid programs. The minimum denomination of the certificate is 5000 rubles.
Training costs on the Netology website
Tuition depends on the program. Installment payments or one-payment payments are available for each program. Let's look at the prices of the most popular courses at Netology:
Internet Marketer. If you pay for this course in one payment, you will pay 64,800 rubles, including discounts. Paying for the course in installments will cost 2,700 rubles per month.
SMM manager. If you buy the whole course, the program will cost 45,900 rubles. If you pay by installments, you will need to pay 3,825 rubles monthly.
Interface Design. The full cost of the course is 39,900 rubles. If you pay in installments, each payment will be from 3325 rubles per month.
How do I pay for my studies at netology.ru?
To pay, select a course or program of study and click on the "Pay tuition" button. If you are paying in a single payment, choose to pay by bank card or invoice from a legal entity. You can also make a single payment through the system Webmoney, Yandex.Money or Alfa-Click. When making installments, choose to pay in installments from Sberbank or jar Tinkoff. After selecting the payment method, click on the "Pay" button.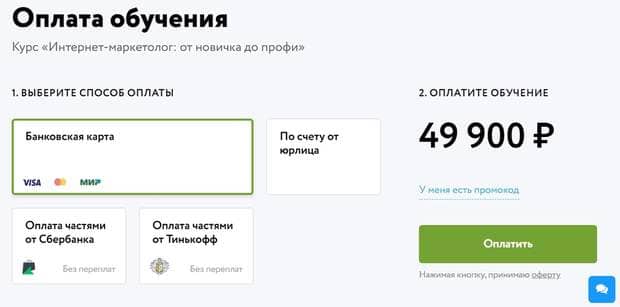 Paying for training in your personal account
To pay for training in your personal cabinet, you need to save the courses you are interested in in your profile. Then in your personal cabinet you need to go to the tab "My profile and programs", select the saved course and pay for it online. If you pay in your personal cabinet you will immediately get access to the training program after making the payment. Also in your personal cabinet will be saved all the data on your payments and purchased training programs.

Other ways to pay for online courses
When you buy any of the courses, you can pay for them in installments without overpaying. When paying for the program in installments, you must sign an installment agreement with Sberbank or Tinkoff Bank. Payment in installments for training is issued for 6 or 12 months, and the overpayment is fully compensated by a discount from Netology.
Tuition installment payments are made online, and after your request, a response from the bank will arrive within minutes. After checking your credit history, the bank will ask you to fill out a simple questionnaire about your income and registration. Only citizens of the Russian Federation who are 21 years of age or older at the time of the loan can apply for installment payments. Borrowers over the age of 65 are not eligible for installments.
Sberbank grants installments for training if you have a valid debit card Sberbank and you are registered with Sberbank Online. Also, one of the main conditions for obtaining an installment payment is having a permanent or temporary registration in the Russian Federation. Payment by installments from Tinkoff Bank is available to citizens of Russia at the age of 18 to 70 years.
Netology bonuses
The online education site Netology offers promotions and discounts for students.
Discounts
There are regular discounts and special offers on the Netology website. Right now, for example, there are discounts of up to 60% on a number of courses. Hurry up and sign up for a course while this special offer is still valid!
Partner offers
In my personal cabinet in the "Gifts" section there are offers from partners of Netology. As gifts, partners of the educational site offer discounts and nice bonuses. For example, here you can get 30% discounts for any package - promotion in Instagram, free access to Pixel Tools for 14 days, 10% discounts for the first purchase in Megaplan, etc. To keep up to date with current promotions and contests, subscribe to Netology's newsletter and get all news about discounts, contests and promotions in your inbox. You can also follow all the promotions on the pages of the official Netology groups in social networks.
Referral program
Each registered user can participate in the referral program. When you register on the Netology site in your personal cabinet, you will have access to advertising materials to attract your friends and acquaintances to the site. Any interested user of the Netology website can take part in the affiliate program. You can involve your referrals in social networks, personal blogs and other methods. For each course purchased through your link, you will be credited a certain percentage of the cost of the program. You can also cooperate with the company through the CPA network Adv.Cake. By cooperating with an affiliate network, you can be rewarded for a paid course with the following conditions:
17% for the paid course (but no more than 30,000 rubles);
16% for Free Course categories (but no more than 30,000 rubles);
10% for Digital MBA categories;
2% for Higher Education categories.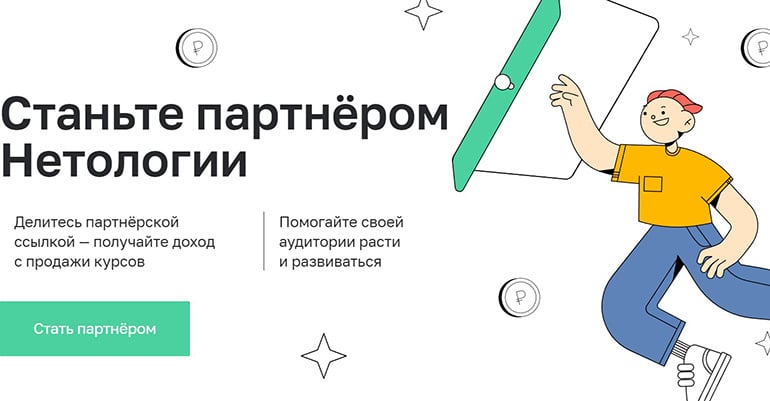 Complaints about Netology
Having analyzed user reviews about the educational service Netology, we have not found any complaints about this educational platform. All the students who have already managed to get education here note that the site is an excellent service for learning a new profession or improving qualifications. Students state that the well-thought-out organization of the learning process allows them to study all the material in their free time, and constant communication with the teacher helps solve many questions that arise.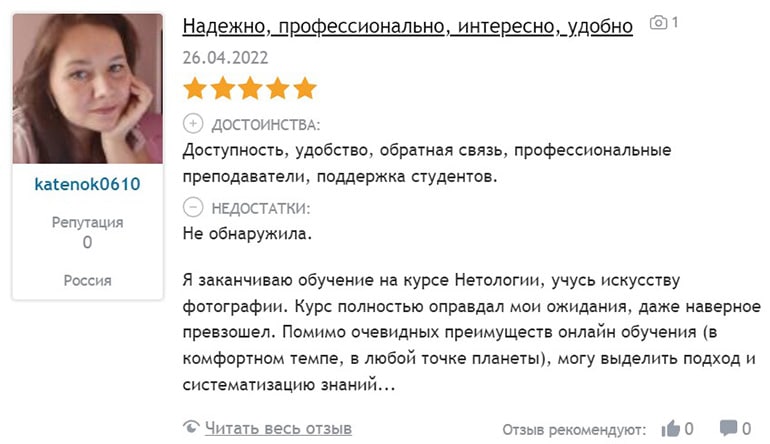 We found many testimonials on the Internet about how Netology helped students find jobs. People note that they were able to find high-paying jobs in the best companies in Russia. Of the main pluses of online learning at Netology, students point out:
Receiving an official diploma of course completion.
A wide range of training programs.
High quality teaching.
Internship.
Employment.
The possibility of staggered payment.
In general, Netology students are completely satisfied with the quality of education. However, some users state that prices at Netology are slightly higher than at other educational centers.

If there are any reviews about Netology's online education site, we'll be sure to post them on social media. Sign up so you don't miss anything!
Please keep yourself informed about news and complaints. We copy the most valuable information to social networks, so please sign up!
Regulatory agencies and laws
Center for Online Learning Netology Group conducts educational activities on the basis of state license № 037356 from April 06, 2016. This means that the company's activities are regulated by the Ministry of Education of the Russian Federation, the tax authorities of the Russian Federation and other regulatory authorities.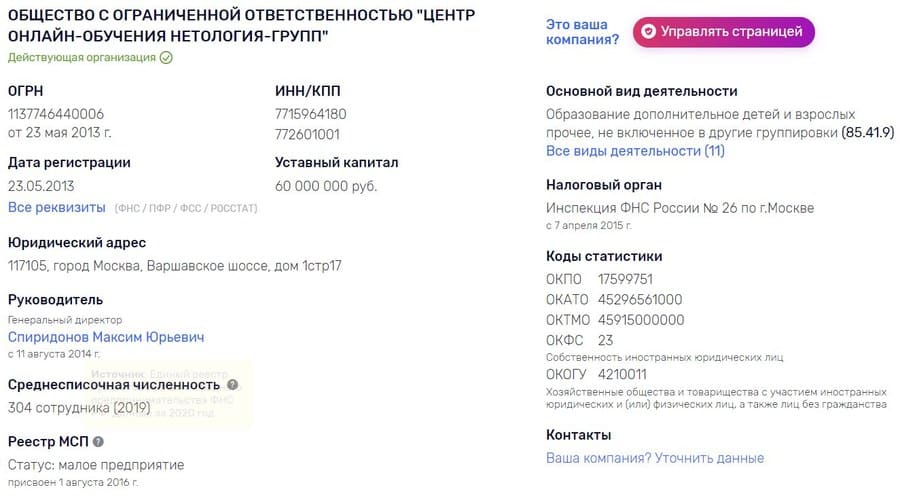 User Agreement netology.ru
User Agreement of the site Netology published in the section "Legal Information" and is a public offer in accordance with the Civil Code of the Russian Federation. Please note, if you do not agree with the terms of the user agreement, do not register on the site and do not use its services. Active user registration is a confirmation of agreement with the offer.
The subject of the agreement under this document is the right to use the site, personal account and services of the site for their intended purpose. The administrator provides services to the site user to provide access to video courses, training programs, free classes and other content for the purpose of self-study of the profession. By using the site, the user acknowledges that all content and the content of the site is the intellectual property, the exclusive rights to which belong to Netology Group. The user is prohibited from copying and distributing the materials of the site, as well as training programs.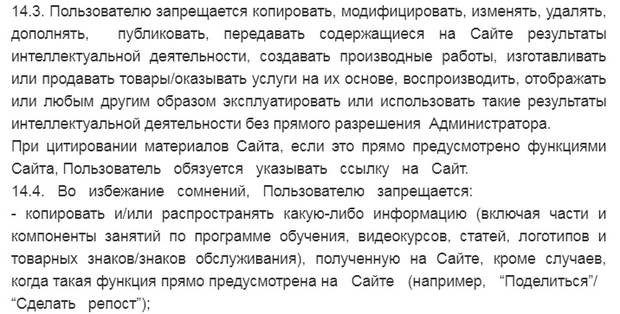 In case of violation of any of the items described in the user agreement, the service administration has the right to block or delete the user's account, restrict its access to the site by credentials, as well as to cancel training programs, courses and free classes ordered by the user.

The service administration reserves the right to unilaterally change the terms of the user agreement at any time. Responsibility for reading the changes lies entirely on the user. If the user does not agree with the changes in the user agreement, he must stop using the site.
Support service netology.ru
According to user feedback, the support service of the site Netology promptly resolves any issues. You can get in touch with the support service via the feedback form, in the chat on the site or on social networks. You can also contact the support operators by calling the toll-free number in Moscow.
You can contact your support person, who will help you understand the training system and give you the necessary advice for effective self-education. When contacting the support service, you should formulate your question as clearly as possible and state the problem you have. Most of the time the helpdesk contacts students at the phone number listed on the questionnaire.
Security
The security of the Netology site has been confirmed by experts and search engines. The site uses a reliable multi-level data encryption system. When you pay for online courses at netology.ru, you don't have to worry that your bank card numbers or other payment data will get to third parties.
Is Netology a scam?
Netology - is an online educational platform that offers training in modern professions. Upon completion of the chosen course, the student receives a certificate of established form. The company is an officially registered and licensed educational institution that provides educational services in accordance with the legislation of the Russian Federation.
There is an opinion that Netology is a scam. Some users claim that the educational programs on the site are many times more expensive than those of competitors. But if you consider that the school is taught by the best experts, who build the training program on practical lessons, and that after training you will receive a certificate, which is highly valued by employers, it becomes clear that the prices for the courses are completely adequate.
Netology is not a scam, it is an official educational online resource that is registered with the Ministry of Science and Higher Education of the Russian Federation and with the Ministry of Education of the Russian Federation. The license to carry out educational activities is issued by the Department of Education of the city of Moscow. Under this license, the limited liability company Netology Group has the right to provide educational services, implement training programs and issue certificates.
Conclusion
Online School Netology offers its students training in modern professions: programmer, copywriter, marketer, etc. The service is designed as a platform for self-education. Here no one will force you to take a training program or control attendance. Only you decide when and how you will pass your chosen program, but remember that each module of the training program includes a final test, without passing which you can not go to the next module and get a certificate of education.
After completing the training program, you can sign up for internships and professional development. You will also receive possible assistance in finding employment in the leading firms of the Russian Federation. Netology Online School is recognized as a reliable source of training.
If you have decided to change your profession or gain additional knowledge, feel free to go to the Netology website, choose a program and in just a few months you will be able to completely change your life for the better. The site offers training programs in the most in-demand Digital professions, which are highly valued in the market of employers of the Russian Federation. You can choose your profession by watching free introductory lessons.
The company in the ratings
Job Search on the Internet
Activity
New

1

Resolved

0

Not resolved

1