FutureLearn is an online educational platform with more than 900 courses taught by current teachers from the world's top schools, discounts, and free courses.
Read completely
The company
Official website
Head Office

1-11 Hawley Crescent, Camden Town, London, NW1 8NP, United Kingdom

Date of foundation

2013

The owner of the company
Types of support
Social media
Languages

English

Cost of training

Paid, Free

Prices

Online courses

/

From

36

USD

per month

The cost depends on the chosen course

Bonuses
Methods of replenishment

Bank card (Visa/MC), PayPal

Buying on credit
Installment
Categories of training programs

IT and digital courses, Business courses, Creativity and art, Intellectual development, School and academic disciplines, Foreign language studies

Languages being studied

English, Chinese, Irish, Norwegian

Specialties

Business, CRM and email marketing, Data Science, Data Analysis, HR and HR, Marketing and Sales, Project Manager, SEO promotion, Web analytics, Cooking, Photographer, Writer, Programming, Web Development, Game Developer, Cyber Security Specialist, Nutritionist, Sports, Pedagogy and Teaching Methodology

Programming languages

Python, R, Java

Project Features

An online school with a wide range of courses from the world's leading universities

Number of courses
Course Types

Long-Term, Short-Term, Medium-Term

Additional education

Articles, Seminars, Educational Videos

Additional services
Starting the training

By calendar, At any time (you can join at any time for the course)

Course completion documents

Certificate, Diploma

Age restrictions
Mobile applications
Affiliate Program
Benefits

More than 900 courses covering the sciences and humanities are available on the site

The courses are taught by current instructors from the world's leading educational institutions

User-friendly informative website

Convenient training schedule

International certificates are issued after the training

There are discounts and a free test period

Disadvantages

There are complaints about the low level of free courses

Regulatory agencies and laws
Company requisites

Legal name:

FutureLearn Limited

Legal address:

1-11 Hawley Crescent, Camden Town, London, NW1 8NP, United Kingdom

Overall assessment
Date of update

12.02.2023
Address
1-11 Hawley Crescent, Camden Town, London, NW1 8NP, United Kingdom
Map
Subscribe to this company
FutureLearn is this a scam? Reviews and description
Learning platform FutureLearn The platform was launched in 2013, offering students courses created in partnership with universities in the United Kingdom. The creators of the platform were tasked with providing a comfortable and effective learning experience for students from all over the world, and this task was accomplished. Today, the platform has students from 190 countries and 2,000,000+ subscribers. The platform offers paid and free training programs, after passing which an internationally recognized certificate is issued.
In this review, we will analyze in detail the benefits and features of the platform, and answer the question, FutureLearn - is it a scam?
Why FutureLearn?
FutureLearn offers training courses from 300+ global universities and specialized organizations. The project partners include Birmingham University, Coventry University, Glasgow University, Royal Holloway and other higher education institutions from around the world. It is an opportunity for students to receive additional education, which not only has value for the employer, but also allows you to get up-to-date knowledge. Advantages of FutureLearn :
Free courses.
Quality Education.
Convenient training schedule.
International certificate.
Large selection of short-term and long-term programs.

After completing the course, you can participate in quizzes, problems, and tests to reinforce what you've learned. Study with world-class universities, upgrade your skills, learn a new profession, and earn an international diploma.

How do I study online at Fuchelen?
To start training for the online educational platform you need to register on the platform. Click on the "Register" button at the top right of the page. Fill out the registration information:
Name.
Surname.
Age.
Email address.
Password at least 10 characters.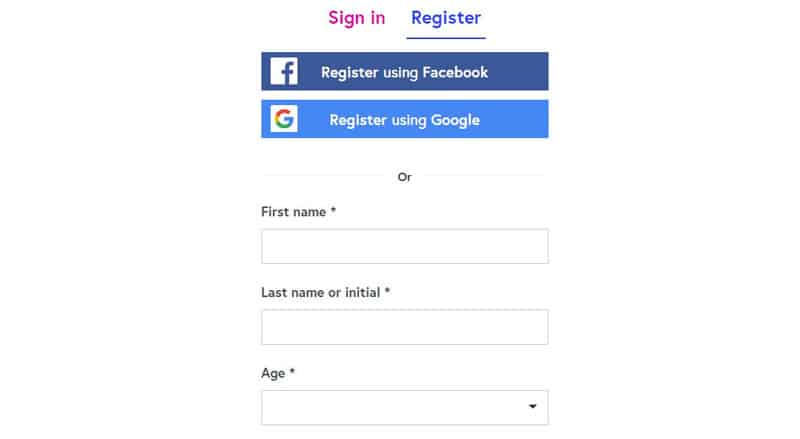 All fields are required. After entering your personal information, give your consent to the mailing list and click "Register. After registering, choose a course and start learning. Learning on the platform is in the format of video lessons and lectures. After each lesson, the listener must complete the homework and send it to the instructor for review. After completing the assignment, click on "Next Step" to access the next lesson. Please note that the assignment may not be checked, but it will not affect your further learning. After you have completed the course, you must take a test. If you pass the test with a 70+ score, you will receive a certificate or diploma. You can learn what document is issued after the course in the program description. The certificate is issued electronically, as well as sent by mail in hard copy.
Personal account futurelearn.com
The FutureLearn Personal Profile is a personal page where you will take your training. After registering, set up your profile and select a course. In your personal profile you will see five tabs:
Training. Active courses will be displayed here. Learning materials, tests, assignments, and quizzes will be available on this page.
Wish List. Here you can collect a list of courses that you intend to take in the future. You can also add programs to your wish list that haven't started yet.
Profile. Here you can edit personal information. Viewing the profile is available to registered users of the platform.
Settings. Here you can configure notifications and subscriptions, as well as set the time zone. After setting, click the "Save" button.
Account. On this page you need to fill in personal information that will not be displayed in the profile. This data is not available to other users.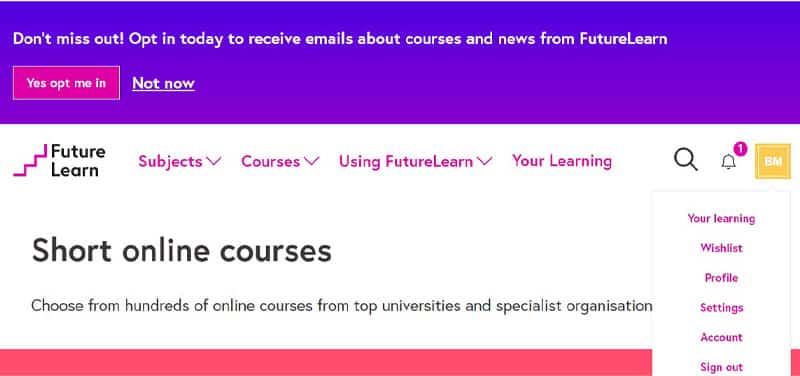 Fuche Len mobile app
At the platform futurelearn.com There is no separate mobile app, but studying is available on any device with an Internet connection. You can study from your PC, tablet, laptop, smartphone, etc.
Courses on FutureLearn Com
There are 990+ courses available on the FutureLearn platform. Programs are categorized by subject. To find a course, select a subject and browse the available training programs. Each course has a detailed description with course length, university, certificate type, price, and syllabus. Courses by subject are available on the site:
Business Management;
Creative Arts and Media;
Nature and Environment;
Politics and Society;
Literature;
Health and Medicine;
Science, Engineering, and Mathematics;
Law;
History;
IT and Computer Science;
Training;
Language;
Learning Skills;
Psychology and Mental Health.
Here you can upgrade your qualifications as well as get a bachelor's or master's degree from one of the prestigious universities. The language of instruction is English.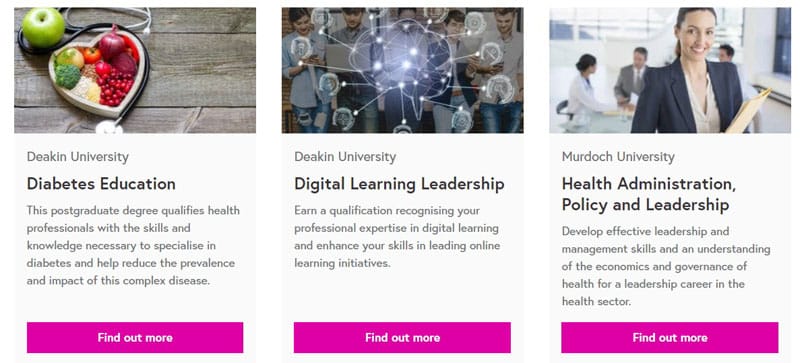 Free Fuchelen Courses
Platform futurelearn.com offers free tutorials on all subjects. These are short online courses. You can get access to the free lessons for 14 days from the moment you connect. The platform also offers an unlimited trial period of 7 days. At the end of the trial period, you will need to subscribe or join a paid undergraduate or graduate program.

Additional services Future Learn
FutureLearn offers online courses at the best universities in the world. In addition to training programs, the platform also offers additional services.
Blog
The FutureLearn blog features articles and career-building tips. Here you'll learn how to learn a language effectively, find out the latest trends in the job market, and get tips for online learning.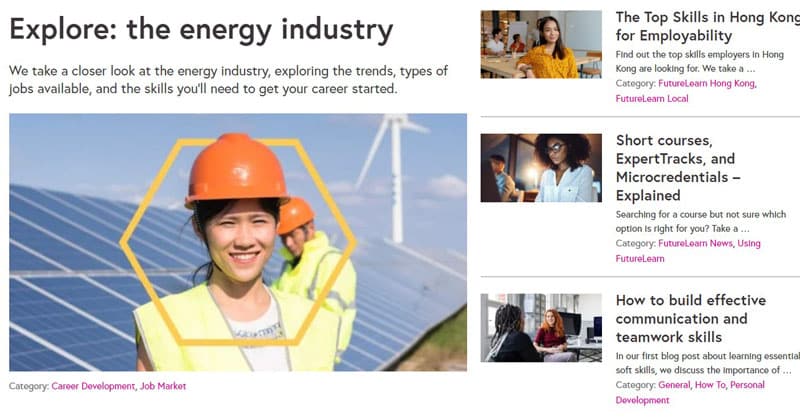 Study Guide
This free, sixty-page book is your guide to higher and further education. It contains the best tips for effective study and educational planning. Download the guide at futurelearn.com.
Knowledge Base
On the Q&A page, you'll find instructions and tips on how to get started. Here you'll learn how to create an account, select a training program, enroll, and receive your certificate.

Guide for Kids
Children from the age of 13 can be trained on the platform. For young students, the administration of the service has created a safety guide. Here children learn how to behave while studying, why personal information should not be disclosed, and where to complain about violations.
Partnership
The platform invites partnerships with universities, educational and specialized companies. Under the guidance of the service's administration, partners create their own training courses, which are then published in the online school.
Employment
At futurelearn.com the company's vacancies are published. Here you can find a job as a programmer, marketer, designer, manager, etc. Follow the "Jobs at FutureLearn" page to choose a vacancy and send your resume.
Career Tips
Career advice can help you choose or change careers. Here you will find information about the skills needed for a certain profession and a selection of courses from easy to difficult. With futurelearn.com you can become a psychologist, musician, nutritionist, developer, etc.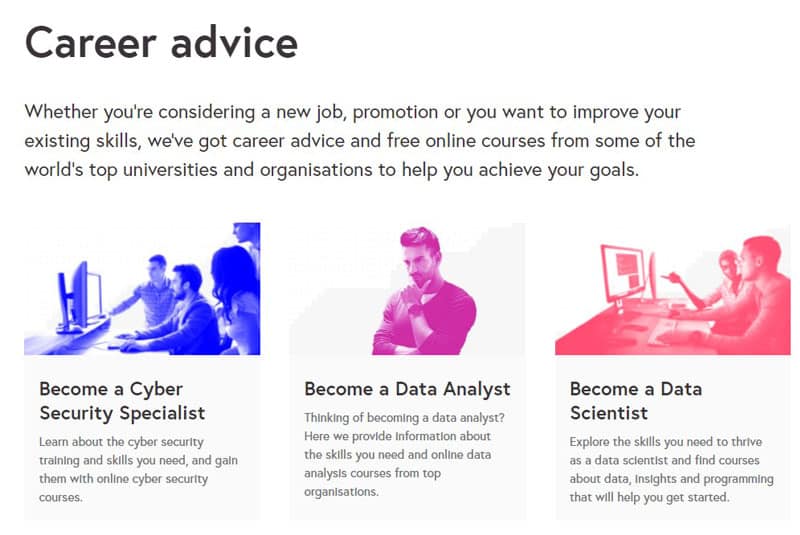 Newsletter
Sign up for the futurelearn.com newsletter and receive new courses and special offers in your inbox, every week. You can unsubscribe from the newsletter at any time in your personal cabinet.
The cost of training on the website of Futche Len
The cost of studying at futurelearn.com depends on the program and subscription you choose:
Subscription rate "Unlimited" - price 189.99$ per year. Subscription includes access to all platform courses with certificates. The subscription allows you to independently determine the pace and schedule of your studies.
Monthly subscription - price £36 per month. The subscription gives you access to career change courses. You can extend or cancel your subscription at any time.
Study without a subscription - price from 39$ per month. The price of the course without a subscription is published in the program description. Buying the course gives you access to the program at the recommended pace of study.
Degree completion - price from 5000$ per year. Subscription gives access to a bachelor's or master's degree program. The term and price are published in the course description. The university has the right to change the cost of study in subsequent years.
Free courses. You don't need a subscription to take the free programs. But if you plan to get a certificate after training, it will cost 49$.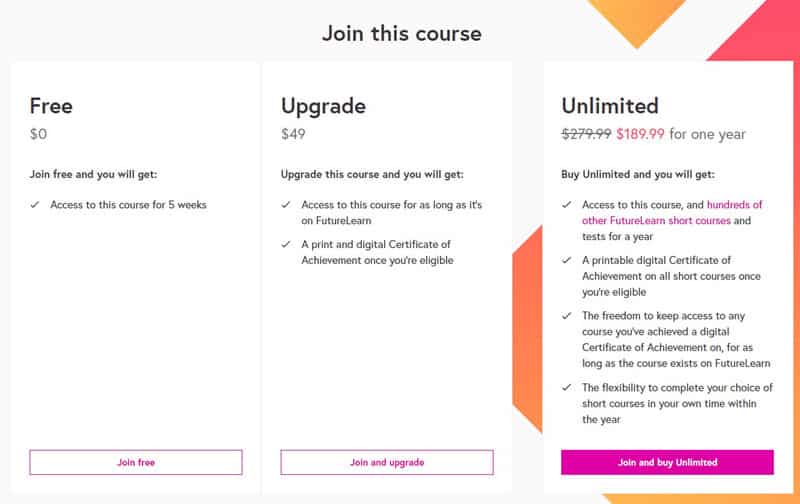 How do I pay for FutureLearn?
The FutureLearn platform determines the payment currency by the IP address of the listener. This is the currency of the invoice. The billing currency cannot be changed. Once billed, you can pay for your studies in two ways:
Bank card Visa, American Express.
By confirming your desire to receive an invoice for payment, you agree to the terms of cooperation and undertake to pay the invoice.

Fuchelen Bonuses
Users who subscribe to the service's newsletter receive special weekly offers from the online school. These are personal discounts on courses, promo codes, invitations to participate in contests and quizzes. For others, general promotions are available.
Free period of 7 days
When you sign up for a career change course, get a free test period of 7 days. During this time, study the courses and start learning a new profession.

30% discount on unlimited tariff
Sign up for a one-year unlimited subscription and get a 30% discount. The discount is available to new users as well as to those who haven't signed up for the plan yet.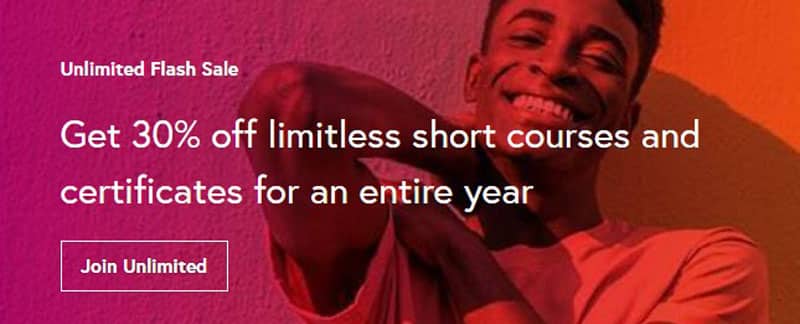 Affiliate program futurelearn.com
FutureLearn's affiliate program can be found in major CPA networks. In the affiliate network Admitad there is an online school offer with affiliate rewards up to 41.6%. Anyone can connect to the offer, and online school can be promoted without reference to the region.
Complaints about Fuche Len
Despite the fact that FutureLearn Online School is taught in English, we found a lot of reviews about the platform on the Internet. Based on the analysis of these reviews it became clear that the online school is recommended by 90+% trainees. Listeners praise the quality of the training programs on the site and call the platform the best for self-study.
We also checked the reviews on English-language platforms. There we found not only positive reviews, but also complaints about FutureLearn . Students are dissatisfied with the quality of the free programs. According to them, they expected more from the course than they got. Also, some students are unhappy about having to pay to get a certificate. The percentage of positive reviews on English-language platforms was 85+.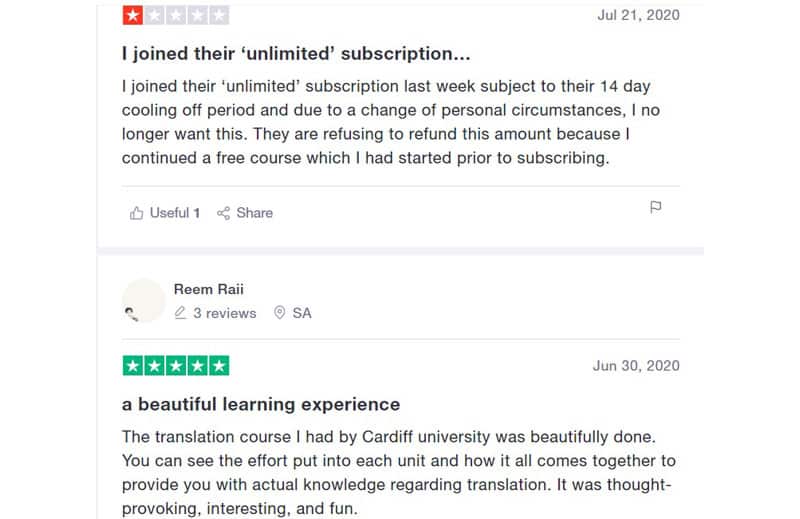 If there are any reviews about FutureLearn's online learning service, we will be sure to post the information on social media. Sign up so you don't miss anything!
Please keep yourself informed about news and complaints. We copy the most valuable information to social networks, so please sign up!
Regulatory agencies and laws
The online school is owned by FutureLearn Limited, officially registered in the UK with registration number 8324083. The company has licenses for partner courses.
FutureLearn Com User Agreement
The FutureLearn User Agreement is called the Terms and Conditions. The document is freely available. Read the agreement carefully before joining the training program. According to its terms, the user can use the platform for personal purposes.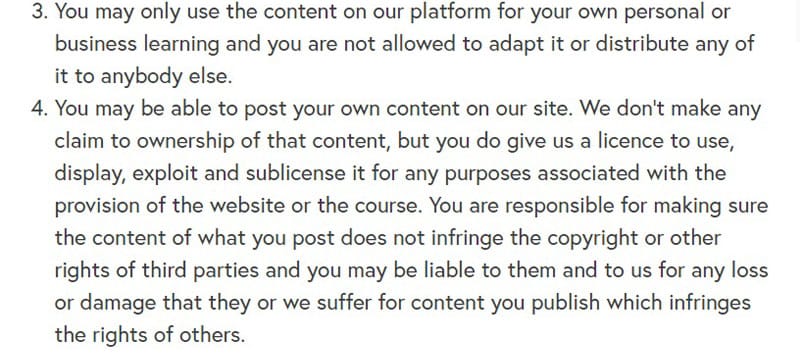 Disputes and disagreements arising out of the use of the platform will be resolved by negotiation. If the parties are unable to resolve the dispute through negotiation, it will be referred to the courts of England.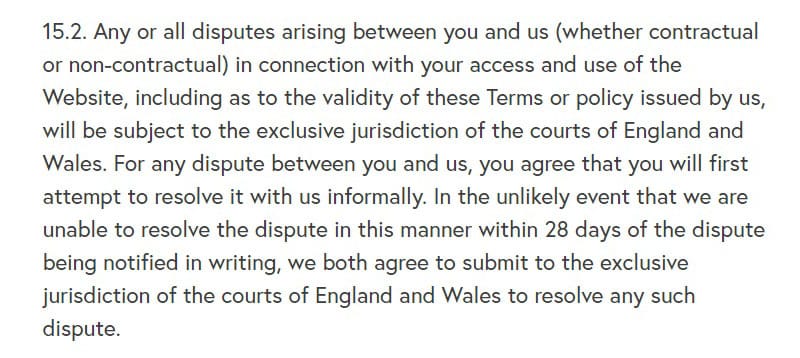 Fuche Len Customer Service
The FutureLearn support team can be contacted via online chat or a feedback form. The online school's helpdesk accepts and responds to inquiries in English. Before contacting support, look for answers to your questions in the Help Center section.
Security
Security of using futurelearn.com is ensured by observing the privacy policy. Personal data is stored in a secure directory of the service and is not shared with third parties. The platform does not accept online payments, which means that payment data cannot be stolen.
Is FutureLearn a scam?
FutureLearn - a UK-based distance learning platform. Here you can take professional development courses, learn new skills, learn a new profession, or obtain bachelor's and master's degrees. Having analyzed the online school, the legal information, and the feedback of trainees on the work of the helpdesk, we came to the conclusion that FutureLearn is not a scam. But when signing up for a free course, remember that it is only an introduction to the profession. It will not give professional knowledge and is suitable for deciding on a choice. If you want to get serious knowledge, change careers, or get a degree, subscribe for a fee.
Conclusion
Online School FutureLearn offers training programs created in collaboration with global universities. Among the platform's partners are 100+ universities around the world, whose degrees are valued by employers. If you want to gain knowledge and are ready to learn on your own, as well as speak English, FutureLearn will be useful.
The company in the ratings
Job Search on the Internet
Activity
New

0

Resolved

0

Not resolved

0