The popular CFD broker offers profitable trading, low commissions and spreads, innovative platform, more than 1000 assets, etc.
Forex broker
Website
Social media
Date of foundation

2016

Head Office

U0064, 3rd Floor, Jalan OKK Awang Besar, 87000 Labuan FT, Malaysia

The owner of the company
Types of support

Chat

Help Center

WhatsApp

Telegram

Support by phone
Languages

English, Russian

Terminals

MetaTrader 4 (PC, Web, Mobile)

Min. first deposit

From

1

USD

Depends on the account

Broker fee
Lot volume
Maximum open positions
Leverage

To 1:300

Плавающее, в зависимости от типа счета

Spreads
Free Demo Account
Adjustable
Regulators
Licenses

Licensed

Регистрационный номер LL12180, лицензия номер MB/15/0007

(Active)

Types of accounts
Margin call / Stop out
Execution of orders

Market Execution (по рыночной цене), Instant Execution (точное исполнение), Partial Execution

Methods of replenishment

Neteller, Skrill, Банковский перевод, Банковская карта (Visa/MC), Криптовалюты, Perfect Money

Withdrawal methods

Bank wire transfer, Skrill, Payeer, Neteller, Tether USDT

Types of assets
Account currencies

USD

Liquidity providers

Admiral Markets, Advanced Markets Ltd, Sucden Financial Ltd, Exante (XNT Ltd), Equiti Capital UK Limited, GC Exchange Limited

Mobile Trading
Weekend trading
Tournaments / contests

Genesis and Genesis Prime contests

Trader training

Personal manager for deposits over $5000

Contract Difference Commission
Swaps
PAMM trading
Analytics

The relevance of the materials is marked by users

Margin Trading
Affiliate Program

Registration

The amount of remuneration depends on the amounts of users' funds

Benefits

Guarantees of lack of interest in the trader's loss

The ability to trade on real STP- and ECN-accounts from the leaders of Forex technology

The investor has the opportunity to choose high-quality and transparent accounts for investment

Investor's capital is protected by multifunctional risk management system

Transparency of the company and its investment service

Expanding the range of trading instruments, elaboration of new promotions

Disadvantages

Delayed withdrawal of funds

The trading platform is slowing down

Company requisites

Legal name:

ICE FX Markets Limited

Legal address:

U0064, 3rd Floor, Jalan OKK Awang Besar, 87000 Labuan FT, Malaysia

Date of update

26.07.2022

Overall assessment
Address
U0064, 3rd Floor, Jalan OKK Awang Besar, 87000 Labuan FT, Malaysia
Map
Subscribe to this company
ICE FX is it a scam? Reviews and description
ICE FX has been operating in the financial market for about 5 years. It is managed by ICE FX Markets Limited. The project is registered in Malaysia and holds a local license. Although it has chosen an offshore registration area, nevertheless, it attracted many clients for a short period of its activity due to the high level of transparency. Establishment of a broker started in 2015. A large period of time was spent for setting up the operability of all systems, obtaining a license, and the process of building relationships with liquidity providers. Therefore, the actual start of ICE FX took place in 2016.
When choosing any broker for cooperation in the financial market, each user always asks a question: how reliable is the project? Could it be another scam, since there are quite a lot of them now? All of this can be addressed to ICE FX, as well. A detailed review will assist in understanding all the intricacies.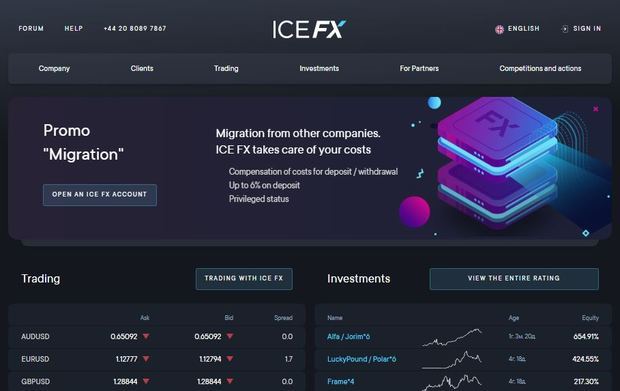 Trading conditions with ICE FX
The project developers focus on the fact that, unlike many competitors, their offspring is not a «Forex kitchen». To ensure that the allegations do not seem unfounded, they shall be argued with solid evidence, providing the liquidity providers. This principle of openness distinguishes ICE FX from other Forex brokers in many ways.
The fact that all its open transactions are hedged by external counterparties, the user can verify in the company's back-office, which is an analogue of the ICE FX personal account for counterparties. To view the required information you need to contact technical support. However, you should be aware that demonstrating of the withdrawal of trading positions can only be implemented on the STP-type accounts. The liquidity provider that executed the order is known in this case. Transactions on the ECN accounts are processed anonymously. AMTS company deals with it.
The clients can independently conduct speculative transactions using 5 asset classes consisting of 95 trading instruments. Access to them is round-the-clock except for Saturday and Sunday. Cryptocurrency contracts can be traded 7 days a week. Quotations for currency pairs are five-digit ones. The stop out level is 50%.
The project provides CFD to traders from several markets and industries (CFD brokers rating list). Using them, the traders can diversify their portfolio and manage risks better. The minimum starting deposit amounts to USD 30. This is a very reasonable amount, even for beginner speculators. And availability of demo and cent accounts in the company will make it possible to stay afloat for a long time and gain further trading skills. If desired, clients can use a trading robot or arbitrage trading (to receive profit on the price difference between two or more interrelated assets). The project offers a choice of several trading accounts for users:
It is designed for independent trading. The product made by Soft-FX company, the so-called liquidity aggregator, helps to optimize monitoring of counterparty volumes and prices Currency pairs, metals, as well as CFDs (for stock indices, raw materials and cryptocurrencies) are available as tools. Execution of orders is market one. A commission of 0.0025% (currency and metals), 0.005% (contracts on stock indexes and raw materials), 0.25% (cryptocurrency contracts) will be charged for opening positions.
STP-US is a managed account. This is a modification of STP. It is a hybrid of social trading, trust management and the MAM system. It differs from the previous type in a larger commission, a larger deposit amount and a mandatory fulfillment of the risk management conditions. Commission for opening positions: 0.004% (currency and metals), 0.006% (contracts on stock indexes and raw materials), 0.25% (cryptocurrency contracts);
STP Demo Account.
Trading on a cent account, a beginner gains experience using real funds without fear of big financial losses. Experienced speculators can check out a trading advisor here.
A liquidity aggregator developed by AMTS Solutions is used.
ECN-US is a managed account. The ECN modification manages the investor funds. The number of liquidity providers is more than STP. Commission for opening a position amounts to 0.004%.
ECN demo account.
On average, spreads for currency assets on the ECN accounts are smaller than those on STP accounts. Analysing groups of FxMain tools, it is apparent that the difference is from 1 to 5 points in the fifth digit. In addition to the ability to conduct trading on their own, the broker offers good prospects for investing in accounts managed by the experienced traders. The classification of accounts is presented according to the level of professionalism. Investor capital is well protected. Investment transparency is ensured by the investor statistics, independent trade monitoring and closed transaction history. More detailed information can be found on the website. To open a managed account, the minimum deposit should amount to USD 500. Those interested can become partners of the project. There are several programs; rewards can be obtained for various activities. The project offers participation in various contests and promotions. Advantages of a broker:
Working with ICE FX, the Forex trader has guarantees that there is no interest in his/her loss, as well as the possibility of trading on real STP- and ECN-accounts from leaders of Forex technologies;
For the first time in the history of Retail Forex, an investor has the opportunity to choose high-quality and transparent accounts for investments. Moreover, investor capital is protected by a multifunctional risk management system, and it is possible to increase potential profitability through the use of multiplication accounts (from «x2» to «x6»);
ICE FX has tremendous advantages among Retail Forex brokers. The reason is the transparency of company's activity and its investment services, as well as demonstration of a full withdrawal of all trading orders to external counterparties. Taking into account both trading and investment opportunities of the project, its partners not only do not worsen their reputation, but also have a steadily growing income.
The website ice-fx.com is perfectly designed. Transitions across all sections are intuitively clear. Having entered the «knowledge base», the user immediately receives comprehensive information on any issue of interest to him.
ice-fx.com platform
ICE FX uses the MT4 trading platform, which is popular and trusted in the trading environment. Secure encryption enables making of secure transactions of speculators. The indicators built into the terminal enable users to more thoroughly research the market on various timeframes and find the optimum entry and exit points from it. In any case, the skilful use of applied tools in combination with proven trading strategies enables traders to make good profits (Forex strategies).

Working according to the A-book model, the project brings all the positions of speculators to liquidity providers. Such a model completely eliminates the conflict of interests between the client and the company. In this case, the project does not in any way appropriate the users' funds, but only makes profit on commission deductions. Moreover, the company does not worsen trading conditions and does not cancel profitable transactions for successful traders.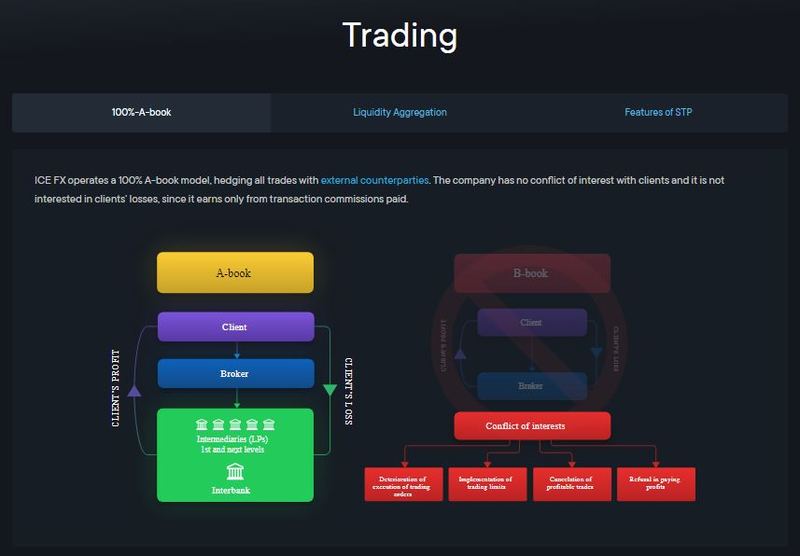 Using the TradeBox functionality, the speculator observes the sizes of current and average spreads for any period of time. Competitive spreads are obtained due to quality liquidity. TradeBox is a program that provides the trader with all necessary information about trading tools and the costs relating to trading.
ICE FX broker quotations
Timely information on quotes enables any trader to take the best decision about entering or leaving a transaction. Providing speculators of liquidity providers, the quotes come, as they say, in the «freshest» state. The following reputable companies are liquidity providers for STP accounts: Advanced Markets Ltd, Sucden Financial Ltd, Exante (XNT Ltd), Equiti Capital UK Limited, GC Exchange Limited. The communication takes place via Soft FX. Since the investment system is based specifically on STP accounts, any user can easily check their transactions through the so-called "desktop" demo. Even if one of the clients does not trust this process, he can turn directly to the liquidity providers themselves with a request to confirm the information. AMTS Solutions development is applied for ECN accounts. Admiral Markets is the liquidity provider in this case. Exante (XNT Ltd.) is the liquidity provider for ECN-Crypto. Moreover, the number of contractors is constantly increasing.
ice-fx.com demo account
A demo account is provided to clients of many brokerage companies. It is intended for acquiring skills in working with a trading terminal, choosing comfortable trading tools and practicing the selected trading strategies. The trader uses virtual ones instead of real funds. ICE FX just gives clients this opportunity, both on STP and ECN accounts. Beginner speculators get initial knowledge and experience on Forex here, and experienced traders check the trading conditions and adjust their trading tactics. The size of the demo amounts to USD 10 thousand (virtual dollars). You can create a virtual account through the MT4 terminal or in your personal account.
ICE FX mobile application
The availability of a mobile application in any brokerage company undoubtedly gives it certain advantages. A trader, adopting such a software package, gets complete freedom. In this case, it is not necessary to be attached to the screen of a computer or laptop. Trade is made from anywhere in the world with the Internet. ICE FX offers users the MetaTrader4 mobile application for portable systems iOS 7.1 and higher, as well as an application for devices running Android 4.0 and higher. Advantages in using mobile software systems are as follows:
A simple and intuitive interface enables even beginner speculators to adapt quickly.
The ability to use orders of any kind.
Quotation chart with the required attributes and historical data for full-scale trade.
Minimum traffic consumption.
The popularity of using mobile applications is increasing due to convenience of their use. Switching to older time frames, the speculator can keep open positions under control, observing the chart two to three times a day.
ICE FX bonuses
The trading firm uses bonuses to increase the number of its clients. Therefore, the demand for any project depends substantially on the variety and availability of the presented rewards. ICE FX Markets Limited provides bonuses to traders, but only to bidders of Genesis and Genesis Prime. The main goal of competitions for the broker is to search for successful and stable managers. Moreover, the most important criterion for evaluating their activities is not only profitability. The competitor must strictly adhere to risk and money management, as well as demonstrate the consistency of trading. To compete in Genesis contest, it is not necessary to deposit funds, however replenishment of the deposit gives the right to receive a bonus. A condition for participation in the contest Genesis Prime is the size of deposit of at least USD 1 thousand. A bonus is also given here. More detailed information with all the requirements for participants and the amount of remuneration can be found on the project website.
An additional Rebate-bonus for users who have completed the «migration» procedure is an opportunity to return part of the commission deductions they paid to the broker (including for investors). The reward is available only to the clients who have confirmed availability of an account in the donor project. A video or an online demonstration should be provided for this purpose.
ICE FX understands importance of the work of a financial adviser. There is a special bonus program as an additional stimulation of partners. It consists in their promotion for newly attracted clients. The amount of remuneration depends on the amount of user funds involved in the trade. If the total capital of referrals exceeds USD 100 thousand, the partner who has achieved such results will receive the PRO partner status.
Deposit and withdrawal
This is generally one of the most important criteria for choosing a broker for cooperation. Efficiency in the withdrawal of profits largely characterizes the company transparency. ICE FX offers clients the following options to replenish deposits: bank transfer, Visa/MasterCard, WebMoney, Neteller, Skrill. Replenishment and withdrawal of money for users from the European Union through Neteller and Skril are not available. The project also compensates the commission for replenishment and withdrawal of funds, depending on the replenishment and withdrawal method. Detailed information is posted on the website in the «Compensation of commissions» subsection.

Clients' funds are transferred to a separate segregated account, without mixing with the broker's money. This circumstance makes it possible to use the user funds only for its intended purpose, namely for margin collateral in the trading accounts of liquidity providers – Advanced Markets Ltd, Sucden Financial, Equity Capital UK Limited and EXANTE. In other words, customer funds are used only for trading or investing. A segregated account is also a reliable protection against any corporate needs. The main operational bank ICE FX is one of the world's largest financial institutions – The Standard Bank of South Africa Limited, which, of course, enhances the image of the project.
Complaints against ice-fx.com
Feedback on ice-fx.com online vary. There are positive comments. However, there is negative ones, as well. Some users have noted cases of a sudden drain of a deposit or suspension of a trading platform at the most crucial moment. But there are several reasons for terminal «freezing». This may be caused by the outdated computer software, incorrect configuration of the terminal itself, using of scripts and advisers that contain errors, an excessive number of connected and used indicators, as well as other technical reasons (complaints from traders).
The reasons for a sudden or quick drain of funds on a deposit are common mistakes of the trader: unwillingness to learn, irresponsibility, lack of consistency in trading, neglect of risks. But in this case, one cannot exclude possible elements of fraud on the part of the broker's staff. In any case, the project values its reputation and the responsible persons on the forums try to respond quickly to customer complaints about this situation, eliminating the shortcomings. Delays in the withdrawal of funds from the trading account, referred to by some users, also occur, but they are often caused through no fault of the broker, but due to incorrect operation or failure of payment systems. Most users still highlight the positive aspects of cooperation with the project:
Availability of license and regulation.
Bringing all positions of traders to the reputable liquidity providers.
Transparency of activities in relation to clients.
Publicity of the administration and the desire to contact users.
Expansion of the range of trading instruments, development of new promotions.
ice-fx.com broker regulator
Availability of a license and regulation of any brokerage company only increases its image in the financial market. This factor is also crucial when choosing a broker for cooperation. ICE FX regulator is the Malaysian Labuan Financial Services Authority (Labuan FSA). The company received a license MB/15/0007 for brokerage in this very country. Although Malaysian jurisdiction is offshore, however, its reputation is quite high. Local supervisors impose very stringent requirements for brokers. Checks are regular and quite real. Recently, the regulator has been systematically tightening its policy with regard to brokerage companies. The amount of the minimum required equity in companies is gradually increasing. Such requirements result in an increase in the level of insurance for commitments to clients.
ICE FX User agreement
Many beginning speculators, registering with a broker do not read the user agreement at all, apparently having no idea of the document importance. That very circumstance subsequently gives rise to many unpleasant surprises for traders, since some details of cooperation by the speculator are interpreted in their own way, and not as prescribed in the agreement. Therefore, this document should not only be read, but also it is necessary to examine in detail its specific clauses. ICE FX calls such an agreement as a client agreement and it is located in the «Documents» section. The company notifies the client that by registering on the website and selecting a trading account, the zero balance should not exceed the 3-hour limit.

The project indicates in section 11 the fact that user funds are stored in separate segregated accounts, they are separated from company money and protected by EU law. This is in line with the regulator rules.

Section 12 of this agreement governs the withdrawal of funds from the trading account. It states that the client is entitled to withdraw funds that are not used to maintain margin. The withdrawal process should be made in the same way that was used for crediting money.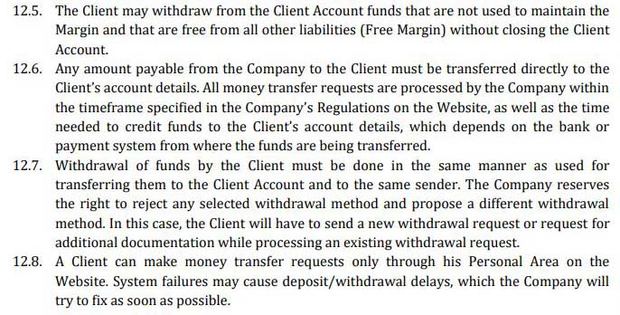 In some cases, the broker reserves the right to close the trader's trading positions, starting with the most unprofitable ones. This can happen when the margin level drops below 60%.

Force majeure circumstances and the parties' liability in case of force majeure are specified in a dedicated section.

Is ICE FX a scam?
ICE FX is a young company since it has been providing brokerage services for about 5 years. The project differs from most competitors in the openness of its activities. Bringing of transactions to liquidity providers is a strong evidence of the lack of «kitchen» of this broker. ICE FX features a fairly reliable Malaysian regulation and is licensed. Users are provided with two ways of earning money to choose from: system of managed accounts and indices. The first option provides trust management and rather flexible work of the project in this area. The second option is a grouping of the most promising accounts (managed ones). In this case, each index is an analogue of a ready-made investment portfolio. Transparency of the project is stipulated by the fact that a trader can observe any transaction, almost online.
Liquidity providers are also credible. Each user can ask for a transaction demonstration process by contacting the customer support service. It is quite possible to confirm the information with the liquidity provider, if required. Trading conditions of the broker are attractive. Barrier to entry is quite low – only USD 30. Such funds are affordable for any beginner speculator. The website is full of necessary information. It is even slightly oversaturated with it, since it is difficult for a beginner trader to single out what is the most necessary to implement trading for the first time.
However, you should do not idealize the project. Like any organization of this type, it has its drawbacks. Some users attribute the focus on large investors to ICE FX disadvantages. Offshore registration is nevertheless associated with certain inconveniences, since it is unlikely to settle comfortably the conflict situations in Malaysia. There are no guarantees for payment of all funds in case of the company bankruptcy. Unfortunately, such cases occur, moreover, the bankruptcy may be intentional. Ultimately, all disadvantages of the company overlap its advantages. Answering a question if ICE FX is a scam, you can say a firm «no». Signs of fraud can be demonstrated by only individual employees of the company, while pursuing only their own selfish goals. But not one of the brokers is safe from this.
Summary
Despite its youth, ICE FX company has managed to win many of its adherents. Openness and transparency of activity is a main key to success in the project development. Availability of regulation and a license only increase confidence in it. Cooperation options, partnership programs and promotions – all this contributes to an increase in the client base. Unlike many of its competitors, the company pays. It can be safely recommended for cooperation.
Rating of reliable brokers