The online store offers to buy access to digital keys to games for PC and Mac from leading developers and partners.
Online store
Official website
Head Office

Mutual House, 70 Conduit Street, London W1S 2GF

Date of foundation

2010

The owner of the company
Types of support

[email protected]

Tickets in my personal cabinet

Help Center

Forum

Facebook

Instagram

Twitter

Support by phone
Social media
Languages

English, German, French, Italian, Korean, Japanese, Russian, etc.

Bonuses
Payment methods

Mastercard, Maestro, VISA, PayPal, UnionPay, Sofort, JCB, American Express, Paysafecard, etc., Credit Cards, Debit Cards

Buying on credit
Installment
Store category

Software and Games

Project Features

Online store of digital access to PC games

Additional services

Base of publishers and developers of games for cooperation

Reviews, ratings, streamers, forum discussions

Project regions

All countries in the world

Shipping methods

Electronic delivery

Mobile applications
Affiliate Program
Benefits

Many bonuses, gifts, contests

Big discounts on digital versions of popular games

Gaming news, reviews, ratings, webcasts, forum discussions

Ease of use and favorable conditions

Disadvantages

The site is not fully translated into all languages

Prices are not always the lowest

Regulatory agencies and laws

European Commission Online Dispute Resolution platform

local laws

Company requisites

Legal name:

Green Man Gaming Limited

Legal address:

Mutual House, 70 Conduit Street, London W1S 2GF

Overall assessment
Date of update

14.02.2023
Address
Mutual House, 70 Conduit Street, London W1S 2GF
Map
Subscribe to this company
Green Man Gaming is this a scam? Reviews and description
Playground
Green Man Gaming
has been in operation for about 10 years. The site's four formats are available to users from 195 countries and offer tangible discounts on favorite games such as Far Cry, Assassin's Creed, FIFA, Horizon Zero Dawn and Death Stranding (this year's sensation).
Can the digital goods provider be trusted and aren't its low prices just a lure for naive visitors? Online store Is Green Man Gaming a scam or real access to games, and what else will we be offered? Let's find out.
Why Green Man Gaming
Green Man Gaming has collected game collections of well-known manufacturers: Ubisoft, Kojima Productions, Guerrilla, Techland, Codemasters and others. In addition, the site greenmangaming.com is run by a studio that collaborates with developers and publishers and produces independent digital products.
Here you can buy access at a discount of up to 86% not only on old games, but also on new ones. As proudly proclaimed the owners of the site, during its existence, they helped to save their customers 26 million dollars.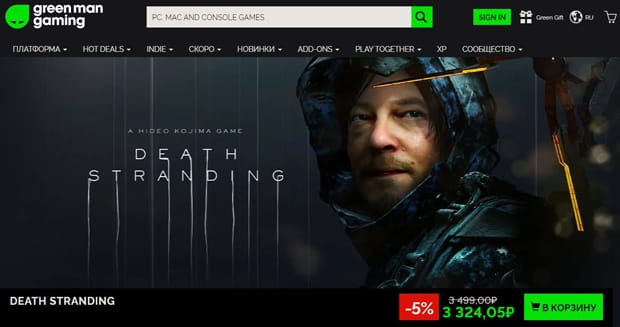 Of course, not everything is presented, but there is a lot to choose from. In addition, there is an opportunity to try out most of them for free by passing the demo. And get acquainted with the plot, missions, weapons types and other important features by reading the numerous news, ratings (lists of the best) and reviews (analysis of the games), watching streams or taking part in the discussion on the forum. Do not forget about the richest bonus program of the supplier: in addition to the standard discounts, he provided for participation in competitions and earning loyalty points (cashback from every purchase), as well as a good loyalty program.
What you can buy at Green Man Gaming
The catalog of the online store contains only digital keys for PC and Mac games (regular and VR-enabled: HTC Vive, Oculus Rift, and Windows Mixed Reality). The collection includes about 5,700 games from the 2000s in all sorts of genres: action, indie, adventure, strategy, simulation, RPG, shooters, racing, sports, puzzles. And add-on packs to them. Famous franchises are present - Tomb Raider, Final Fantasy, FIFA, Fallout and Borderlands. Not everything is available - some are only available by pre-order.
How to find the right product at greenmangaming.com
The search for a product in the store catalog is greatly simplified by filters:
Platform. Where the user plans to install the game - on PC or Mac.
Genre. As we wrote above, action, indie, adventure, strategy, simulation, RPG, puzzle, racing, shooter, and sports games are available.
Franchise. You can put out just a few popular ones: Train Simulator, Awesomenaut, Borderlands, Talisman, Tomb Raider, Tropico, Sid Meier's Civilization, Final Fantasy, Fallout, LEGO. Whereas there are many more in the library.
VR support. There are 3 models of glasses: HTC Vive, Oculus Rift and Windows Mixed Reality.
Release (out) status. Already released, pre-ordered, and pending.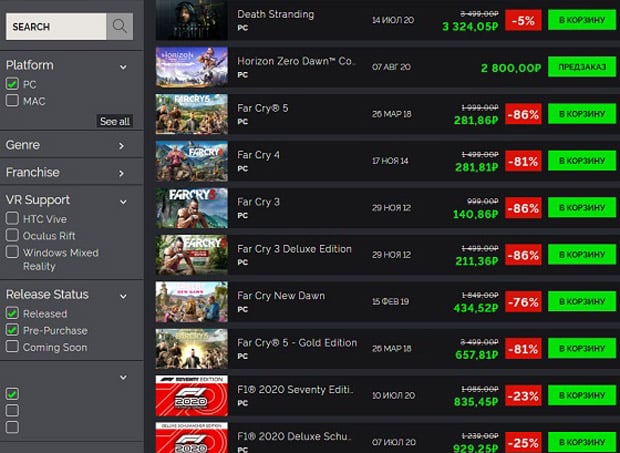 Another filter is displayed incorrectly for some reason - we could not figure out what features it reflects. To find the desired game key, you can also use the keyword entry bar: the name of the product, studio (developer) or genre. In addition, the top menu added special sections. Thus, all recently released games are collected in the section "Novelties", expected games - in the section "Soon", with the largest discounts - in Hot Deals.

Product card
Cards with game descriptions on the site greenmangaming.com very, very detailed. In addition to a gallery showing gameplay scenes, costumes, and graphics (and, if we're talking about a remake, a comparison of the graphics of the old and new versions), as well as promos, it contains:
Information about supported platforms, DRM (which platform is given access), publisher, developer, genre, release date.
Mandatory and recommended technical requirements (OS, processor, amount of RAM and disk space, graphics editor).
Brief plot description.
Links to Twitch streams and forum discussions.
Feedback from customers who bought access.
There is an option to add a product to your wish list (so you can possibly buy it later). And, of course, you can place an order/pre-order.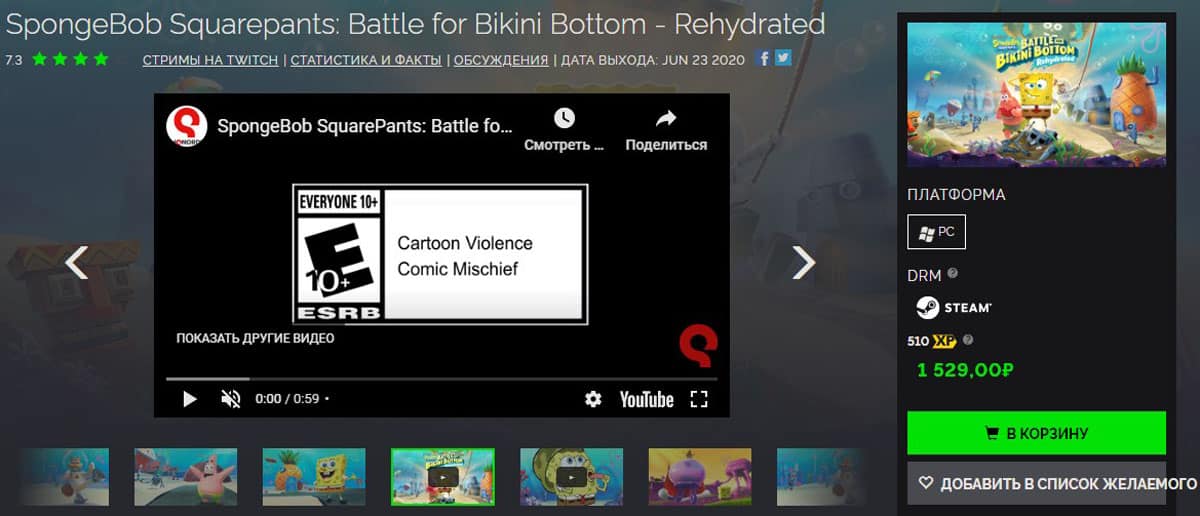 How to order from Green Man Gaming
All purchases, including games that are available for pre-order, on Green Man Gaming are made by adding items to cart. It is not necessary to register: even for unauthorized users the information on interrupted purchases and favorites is available - all you need to do is add and confirm your email. However, having an account allows you to view the history of purchases and accumulate bonuses.
How to register at greenmangaming.com
If you decide to register on the site greenmangaming.comThe first thing to do is to click on the user icon in the header of the site (to the right of the search bar) and in the Pop-up window that will open, click on the "Registration" tab. You can confirm the procedure with the help of messengers (Viber, WhatsApp) or social networks (Facebook, Twitch), providing access to profile information, or go the standard way and fill out a form: enter user name, password, e-mail, date of birth and accept the service policies. Then you need to activate your account by clicking on the link in the e-mail sent to the specified address. Now we have access to a personal account.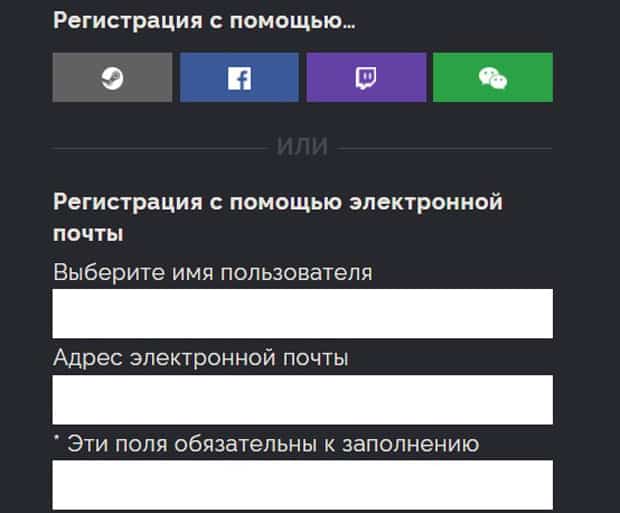 Personal Cabinet
Personal cabinet user Green Man Gaming is divided into the following sections:
"Review.". Field to fill in information about yourself, game statistics and activity (what you played more often and longer), add game reviews.
"Wish List." (Wishlist). It displays items that have been added to Favorites. Does not always work correctly, often displays an error.
"Game Library." (Game Library). A list of connected products from Steam.
"User Activity." (Community Activity). Status and accumulated points in the loyalty program (we'll come back to it later).
"Your Shopping.". A list of what you have purchased from the site and the history of in-game gifts.
"Purse.". Current balance and gift card activation function.
"Settings.". Enable/disable notifications, set user status ("Open" - visible to all, "Closed" - visible only to you), link profiles from social networks, add details, select menu language and edit personal information (email address, login, password, date of birth).
"Friends.". Still in beta, but promises to be handy - especially for those who play multiplayer games online.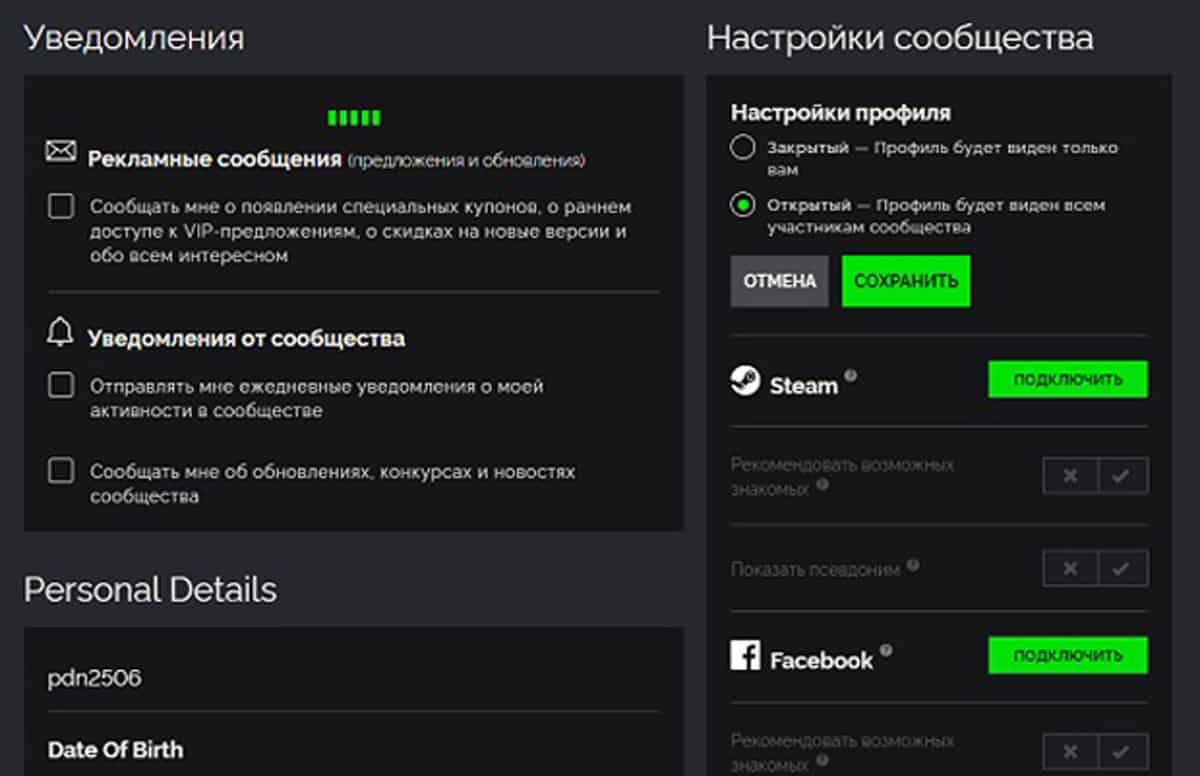 How to place an order?
When placing an order, as mentioned above, you simply add the selected product to the cart and pay for it. To reduce the cost, you can use a promo code or a gift card, the number of which is entered in a special field of the form. At this, in fact, all. Pay and go to "Your purchases" section of your personal cabinet or open your mailbox (for customers who decided not to create an account) to see instructions on how to access the game products.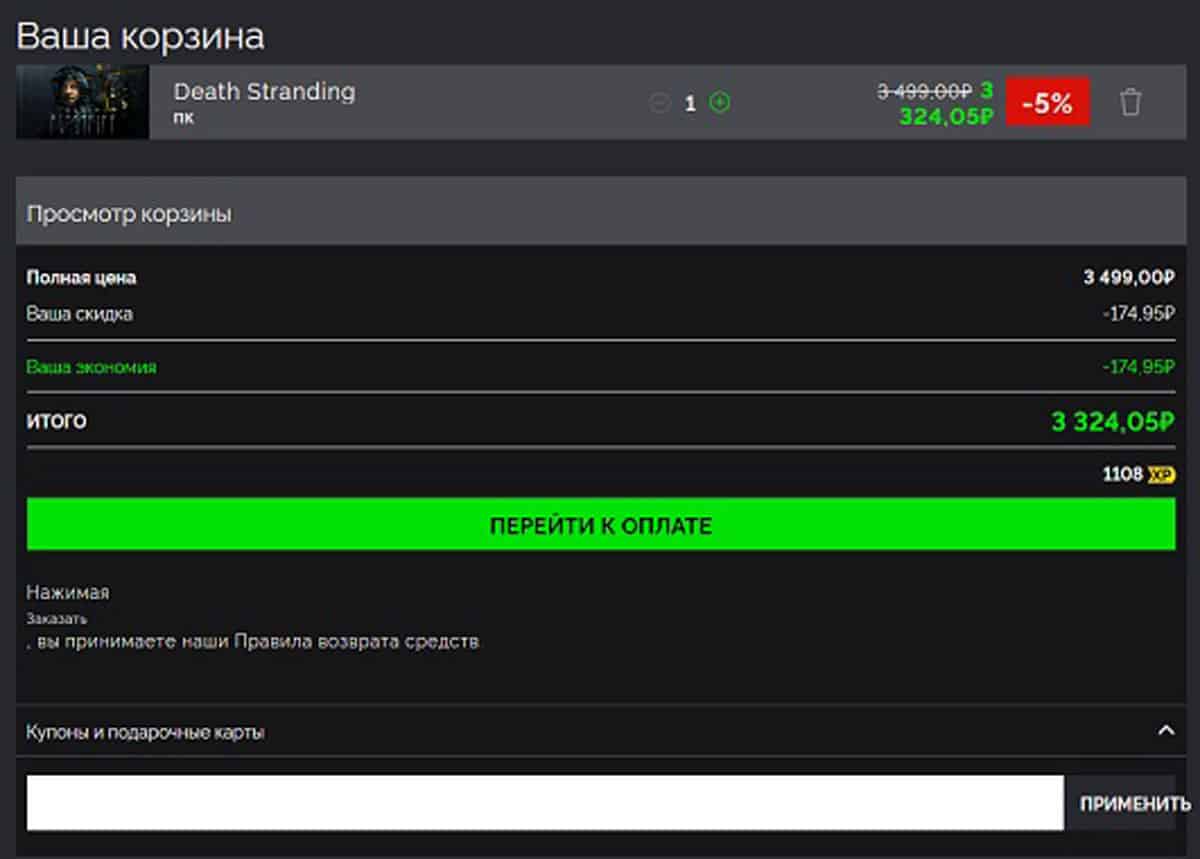 Additional features
On the site greenmangaming.com many useful features: free game demos, news and reviews, a feature to add friends to play together online, newsletters, a database of publishers and developers (help in finding a partner). Let's talk about each one individually.
Game demos
In the "Free to play" section of the footer (bottom menu) of greenmangaming.com you will find a selection of games with a free demo. In most cases this is a small episode or a mission which allows you to evaluate the gameplay, mechanics, graphics and other features before making a purchase. The selection is not sorted by genre, but the latter are highlighted by a red flag for easy navigation. To run the demo, open the game review (Read more) and on the page with the description click Play now for free (gray button to the right of the cover with the title).
Reviews, ratings, discussions and news
You can also decide whether a game is right for you based on the information provided by the company and the user community. For this purpose, in the description of each digital product there are links to streams, reviews and discussions on the internal forum of the site. And in the Community section (accessed from the top menu of the online store) there are good reviews (parses), ratings (lists of the best) with filters and keyword/phrase searches and news. By subscribing to the company newsletter, you will receive the above mentioned materials to your email as soon as they are released.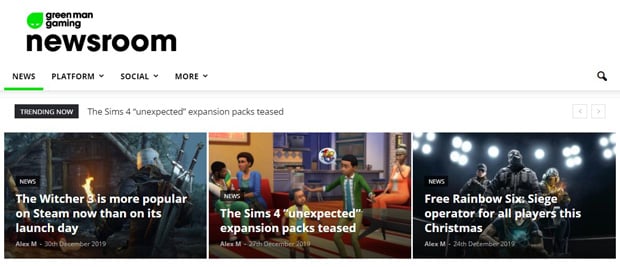 Publisher and Developer Database
Green Man Gaming serves as an intermediary between game developers and publishers, allowing newcomers to gain a foothold in the market and make connections. Participants of the special program get acquainted with the company's B2B partners. To participate you have to fill in an application form in the appropriate section: Developers Seeking Publisher (for publishers) or Publishers Seeking Publisher (for developers).
Mobile application
There is no mobile app for Green Man Gaming, but the site is adapted to work on devices with any resolution. Anyway, taking into account that you will play from a computer or tablet, you will need the site only for ordering. And in the downloadable software on your phone is unlikely to be an urgent need.
Payment and Shipping at Green Man Gaming
Payment for digital products on greenmangaming.com is available in many ways (their list varies depending on the country where the user is located): VISA, MasterCard, Maestro, American Express, BoaCompra, Discover, JCB, PayPal, PaySafeCard, SOFORT, Alipay, WeChat Pay, GPay. Goods are provided on a full prepayment basis. After the supplier confirms the transaction, he sends you the data to activate the purchased version. There is no physical delivery of the games (they are electronic products), so it makes no sense to mention the standard ways (shipping companies, courier services).

How do I pay for my order?
Clients of the online store proceed to payment after adding an item to cart and (if available) using bonus codes/cards. Then it remains to choose the appropriate method and enter the details and address where you are registered. The system will check the correctness of the specified information and confirm/reject the payment.
Shipping methods
Since all products are digital, there is no question of delivery (physical delivery). Customers who make a purchase are sent an electronic key, which they enter to access the digital version of the game. The data is accessible at any time - there are no time restrictions on logging in to the game.
Ways to return merchandise
Purchased digital key can be returned if it does not work. To do this, you need to contact the support service of Green Man Gaming by phone or by e-mail. If the problems occurred through no fault of your own, you will get a refund. If the decision is unsatisfactory for you you have the right to appeal with a complaint to the European Commission - European Commission Online Dispute Resolution platform.
Green Man Gaming bonuses
Bonuses in Green Man Gaming are very different: standard discount promo codes, sales, loyalty program, gift cards, special conditions for students (discounters), referral program. Let's dwell on each of them.
Discount coupons
The company regularly distributes discount vouchers (coupons) to customers and publishes them on partner sites. These are unique codes consisting of numbers and Latin letters, which are entered before order confirmation. With them you can further reduce the amount of your purchase.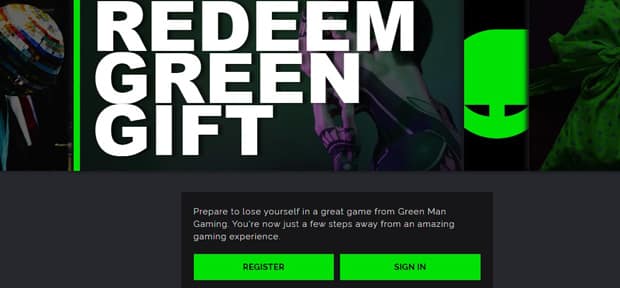 Student discount
This promo is not valid for users from of all countries. Customers from other countries who provide proof of their status (by filling out a short questionnaire) are given a discount on all products in the online store.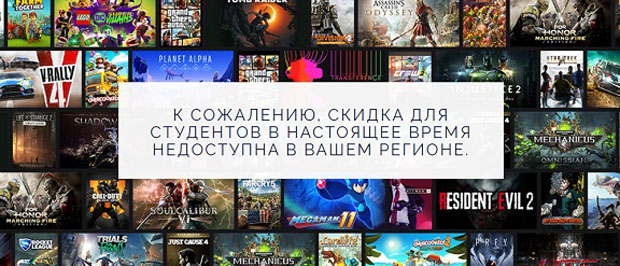 Gift cards
You can buy special cards as a gift. In fact, they are standard certificates for a certain amount, with which you can pay for goods. The difference is that the unspent balance does not "burn out", but is credited to the game account. It is not possible to withdraw this money, but it is possible to pay with them a part of the amount of the subsequent order.
Sales
In addition to the fact that the service specializes in discounts on digital products, it also has room for sales by the studios themselves. This allows you to save up to 86% of the original cost.

Loyalty Program
Green Man Gaming's loyalty program, XP, offers standard cashback in the form of bonus points on every purchase made by the user. These points influence the status ("Bronze", "Silver", "Gold"), which opens additional privileges and are spent on subsequent purchases. Status checks (and the corresponding awarding/withdrawal of benefits) are conducted annually.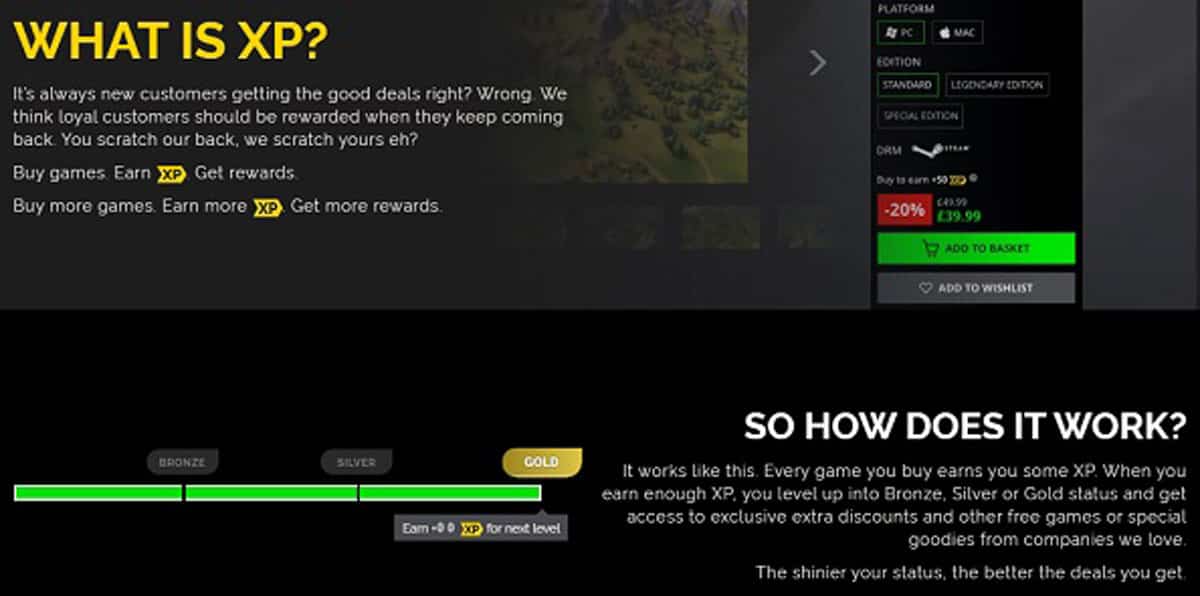 Referral program
The program is available in two formats:
You collect referrals (new users who come and register based on your recommendation) using a unique affiliate link.
You cooperate in the role of a partner, not just attracting, but encouraging purchases.
In both cases, you are entitled to a commission of 5% of the amount of trades made by the attracted gamers. However, the second option also provides a system of incentives that takes into account your performance. You can also get 5% from each paid order. The service cooperates with CPA networks. Admitad, there is a reward on each paid order.

Complaints about Green Man Gaming
Users published many comments on the digital subscription store. They give the latter an average score of 4.5 out of 5, noting its convenience and favorable conditions. As for the complaints, they are mainly related to the denial of refunds for already activated products (recall that compensation is only available for faulty keys - if the customer mixed up/unread something, the company will not meet the challenge) and problems with account hacking, due to which purchases were made by third parties with the saved user card.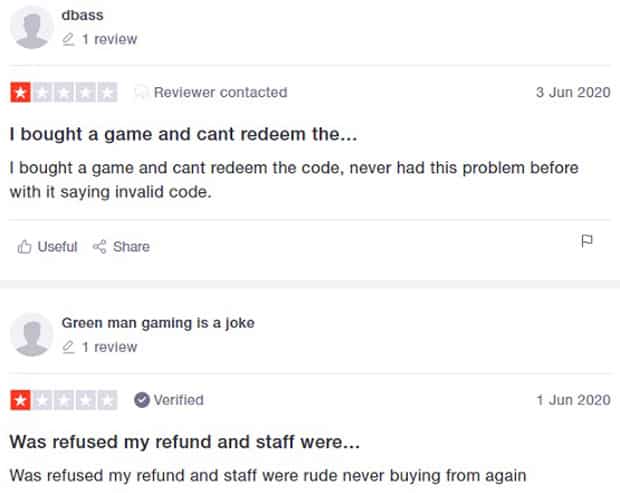 If there are any reviews about Green Man Gaming online store, we'll be sure to post the information on social media. Sign up so you don't miss anything!
Please keep yourself informed about news and complaints. We copy the most valuable information to social networks, so please sign up!
Supervisory authorities
The Internet resource is managed by Green Man Gaming Limited, a company registered in Great Britain. The activity of the legal entity on the territory of the country of location is regulated by the European Commission Online Dispute Resolution platform (ODR). In fact, greenmangaming.com is not on the "black" lists of the regulatory authority.
Greenmangaming.com User Agreement
The Green Man Gaming User Agreement (Terms and Conditions) sets out the rights and obligations of users and owners of the resource to each other. So, among other things, it says that when registering you must provide true and current data about yourself. And you can not create more than one account for one person. The company is not responsible for the security of your username and password. Accordingly, any actions performed from the Personal Area are considered to be initiated by its owner. The site may contain links to third-party sites. If you follow them, the provider is not responsible for any resulting losses, the relevance of the information you receive, interruptions and delays in access, as well as other consequences (paragraph 6).

If you violate the rules of the service, you can limit or permanently block access to it (clause 7).

The Company compensates the client only for foreseeable losses and costs resulting from violations by its employees/partners of the rules of the contract and/or the law (clause 18).

Customer Service
Users can get support in the following ways:
By phone (+44-0-330-500-1515 - UK, +1-888-683-49-19 - USA).
By e-mail by sending an e-mail to: [email protected]
Create tickets (tasks for the support team) through the Help & Support Portal.
On the forum (in the service community).
Through the company's official Facebook, Instagram and Twitter groups.
Answers to the most pressing questions are given in the knowledge base of the resource (FAQ).
Is Green Man Gaming a scam?
Greenmangaming.com - an officially active resource, operated by a company registered in the UK. The user agreement (as well as other documentation) of the site is drafted sensibly, without kinks: it does not contain any bondage clauses that put the client in a limited position.
Reviews of the service are mostly positive. The few criticisms that exist are mostly connected with circumstances that do not depend on the provider of digital services (for example, hacking of the user's account or inability to get a refund for the wrong product). Thus, we can say with a certain degree of confidence: Green Man Ganibg - it is not a scam, but quite convenient, reliable and, most importantly, allowing you to save money on buying games.
Conclusion
Although the prices of Green Man Gaming Not always the best, the service still gives good discounts on many popular games (including "gold" editions). And the choice is simplified by the presence of reference and analytical materials: reviews, lists of the best (ratings), streamers - and reviews of gamers. Plus, most titles offer access to a free demo version.
There are also a lot of bonuses, discounts and gifts. And a very profitable loyalty program. And reasonable user policies. All this explains why the site has such a good reputation.
The company in the ratings
Activity
New

0

Resolved

0

Not resolved

0
New companies on the site