Emirex is a licensed cryptocurrency exchange for spot trading with input and output via fiat, with support for over 50 cryptocurrencies, contests and referral program.
Read completely
Cryptocurrency exchange
Website
Social media
Date of foundation

2014

Head Office

Peterburi tee, Lasnamäe linnaosa, Harju maakond, Tallinn, Estonia

Types of support

Chat

FAQ

Tickets in my personal cabinet

Office

Facebook

Instagram

Twitter

Telegram: @emirex_official

Languages

Russian, English, Chinese, 30+ languages

Founder

Grigory Rybalchenko, Irina Hiver

The owner of the company
Maximum input amount

Verified

Fiat

to 1 000 EUR / For verified Starter level clients
to 15 000 EUR / For verified Expert level clients
EUR No restrictions for verified Master clients

Minimum withdrawal amount

Verified

Cryptocurrency

From 0.002 BTC
From 0.04 BCH
From 0.14 LTC
From 0.04 ETH
From 20 USDT
From 1 000 RUB
From 20 BUSD
From 1,600 CRAD

Maximum withdrawal amount

Verified

Cryptocurrency

to 1 000 EUR / For verified Starter level clients
to 15 000 EUR / For verified Expert level clients
EUR No restrictions for verified Master clients

Exchange Commission

Trade Commission:

0.3

% / For EMRX/USDT, EMRX/BTC, EMRX/USDT pairs

0.25

% / For T69/UDST

0.1

% / For other pairs

Fiat replenishment fee:

3.2

% / Percent plus 1 EUR/USD/AED when depositing from the card. No charge for cryptocurrency

Withdrawal fee:

2

EUR / For SEPA /

0.02

BCH / For cryptocurrency wallets /

0.001

BTC / For cryptocurrency wallets /

10

BUSD / For cryptocurrency wallets /

0.07

LTC / For cryptocurrency wallets /

20

DAI / For cryptocurrencies /

6

UNI / For cryptocurrencies

Terminals

Author's platform, TradingView

Age restrictions
Trading volume per day
Number of users
Number of cryptocurrencies
Margin Trading
Tokenized assets

EMRX, ZPAE, SNX, THETA, FTT, ANT, T69, BAT, FREDx, IPX

Free Demo Account
Types of accounts
Execution of orders

Market Execution (at market price), Limit Orders

Methods of replenishment

Cryptocurrency wallet, Bank card (Visa/MC), Sepa, SWIFT

Withdrawal methods

Cryptocurrency wallet, Bank card (Visa/MC), Sepa, SWIFT

Account currencies

ETH, USDT, BCH, LTC, USDC, TUSD, BSV, BIPS, MTL, LEAD, MATIC, CHZ, CTRO, NPXS, ENJ, RCN, RLC, 75 kinds of currency

Types of cryptocurrencies

Bitcoin, Bitcoin Cash, Litecoin, Ethereum, 0x, Bitether, yearn.finance, KyberNetwork, Loopring, Maker, DFI.Money, 50+ cryptocurrencies

Licenses

Licensed

No.FRK000909 issued by the Estonian police and border guards Politsei - ja Piirivalveamet

(Active)

No. FVT000400 issued by the Estonian police and border guards Politsei - ja Piirivalveamet

(Active)

Mobile applications
Trader training
A way to store cryptocurrencies
Fiat accounts
Scalping
Stop Loss and Take Profit Function
Exchangeability for fiat currencies
Basic verification
Extended AML verification

3 verification levels: Starter, Expert, Master

Regulatory laws

International data protection law

FATF (Financial Action Task Force)

API
Bonuses
Affiliate Program

Registration

1-5% of the transaction amount of the attracted referral

Benefits

More than 50 cryptocurrency units and 5 types of fiat

Several levels of verification

Quick exchange from your storage or storage on the platform, as well as trade in the terminal

Replenishment by card, SWIFT or cryptocurrency wallet

No deposit or withdrawal fees for cryptocurrency

Profitable referral program and raffles with a huge prize fund

DeFi Emicomp service for placing investments with an average return of 18 to 48% p.a. depending on the investment asset

Disadvantages

Most of the conditions are spelled out in the FAQ, they are hard to find

You need to provide a lot of data about yourself in order to use all the functionality of the exchange

Slow withdrawal - up to 24 hours for fiat, up to 48 hours for cryptocurrency

I can't find any reviews about the exchange on the web

The user agreement contains the company's refusal to compensate the customer for losses caused by negligence or violations on its part

Company requisites

Legal name:

BME Technologies OÜ

Legal address:

47, Peterburi tee, Lasnamäe linnaosa, Harju maakond, Tallinn, Estonia, 11415

Overall assessment
Date of update

08.07.2022
Address
Peterburi tee, Lasnamäe linnaosa, Harju maakond, Tallinn, Estonia
Map
Subscribe to this company
Emirex is it a scam? Reviews and description
Emirex - licensed exchange, into which the exchange of the same name grew, created in 2017. The company itself has existed for 3 years longer. The founders are Grigory Rybalchenko, a specialist in IT and blockchain technology, and Irina Hiver, a doctor of law and also an industry expert. Their goal was to develop a platform equally useful for beginners and experienced traders.
Did the crypto-exchange manage to implement it? And is it possible to use the service without the risk of getting nothing, or is Emirex a scam? Let's try to find out based on facts.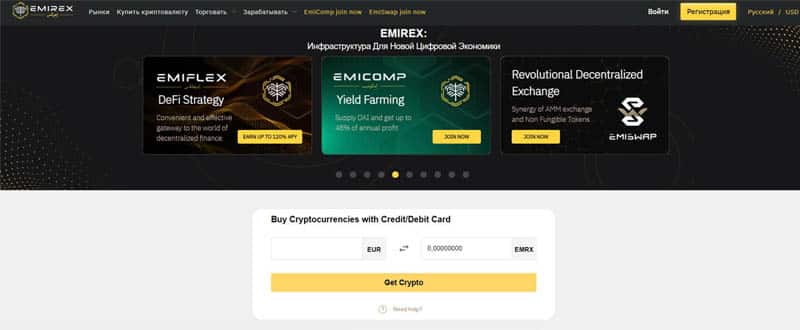 Use a referral promo code when registering ID878F0E61F8
Why Emirex?
Emirex offers terminal trading and quick exchange (spot transactions) of 50+ cryptocurrency units and five fiat ones. The main advantages of the cryptocurrency exchange:
Availability of a license to operate a virtual currency service.
Several levels of verification, each of which opens new opportunities for the user. Starter allows depositing and withdrawing assets via cryptocurrencies. Expert - use bank cards (and switch to margin trading in the future - option under development). Master - remove monthly restrictions on the maximum deposit/withdrawal amount.
Zero commission for depositing in crypto and - almost always - for its withdrawal. Exception - 7 units: BCH, BTC, BUSD, LTC, DAI, PAX, UNI.
Beneficial referral program with a rate from 1 to 5% of the exchange amount.
DeFi Emicomp service for placing investments with an average return of 18% to 48% per annum (depending on the investment asset). Profits within the contract are fixed automatically. Funds can be withdrawn instantly.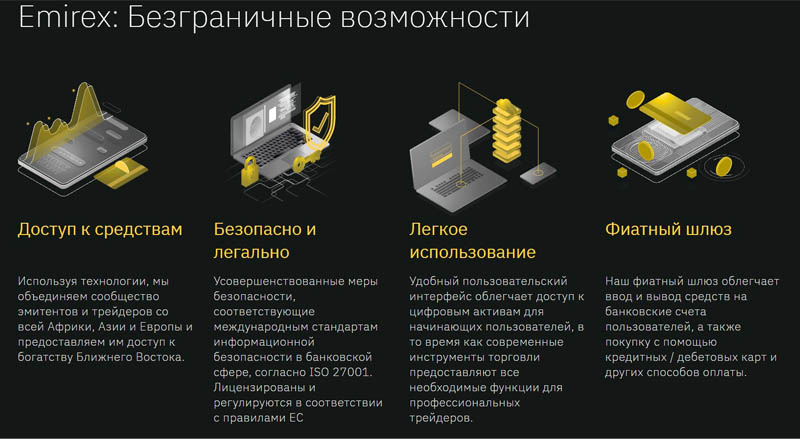 How to exchange cryptocurrency on the Emirex platform?
To buy and sell cryptocurrency on crypto exchange Emirex, you need to be a registered user of the system. Therefore, click on the button "Registration" in the upper right corner of the site, go to the tab with the same name and fill in the form fields: e-mail, password (and its confirmation), promo code. We agree to the terms of service and pass a simple captcha.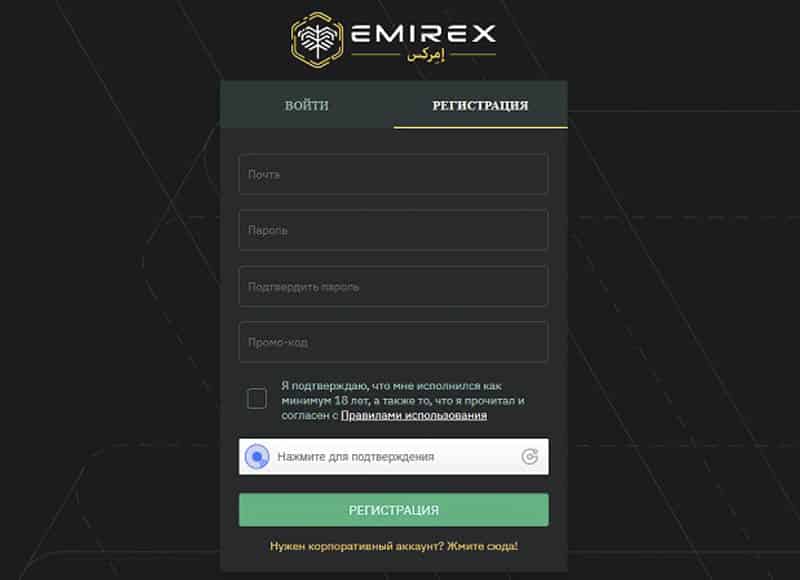 The system will ask you to confirm your email address. To do this, follow the link in the email that will be sent to the email address specified in the registration form. This completes the procedure. All that remains is to log in. And you can start trading. There are two ways to do this: spot trades and trading through the terminal. The first is done in the "Buy Cryptocurrency" section. Depending on the level of verification (we'll come back to them later), fast (spot) transactions may be available with funding from a bank card, SWIFT or SEPA transfer, cryptocurrency wallet. The list of assets (fiat and cryptocurrencies, in which the Emirex account is opened and funded) is available in myAlpari.
The Emirex trading platform offers limit and market orders, 6 types of charts (line, baseline, Haken Ashi, empty candles, Japanese candles, area), 11 timeframes (1M, 5M, 15M, 30M, 1H, 2H, 4H, 6H, 12H, 1D, 3D), over 70 indicators and all basic settings:
Color schemes.
Scrolling and zooming.
Change of time zone and session.
Markers and Scales.
Screenshot of the graph.
Analytics is streamed from the service TradingView.
To place an order, you need to select a currency pair and trade type (buy/sell, limit/market), set the number of units and possible limits. And then confirm your actions by clicking "Buy" or "Sell" - depending on the selected type. Active and completed orders are displayed in the bottom panel of the terminal.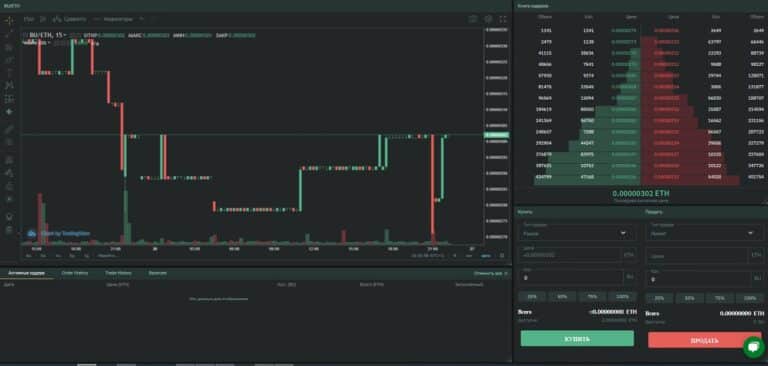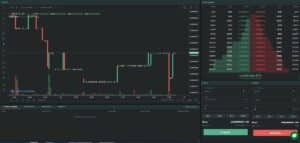 Verification on the emirex.com platform
At the registration stage, the user is only offered to confirm the e-mail address by clicking on the link in the letter (we have already told you about this). Further verification determines the list of restrictions and opportunities when working with the service:
Starter. Allows depositing and withdrawing cryptocurrency and fiat currency, as well as trading all types of assets. Monthly deposit and withdrawal limits are up to 1000 EUR (for EU citizens they are higher, but Russian clients do not belong to them). To obtain it you should fill in a profile, indicating your full name, citizenship, country of residence, phone number (you will also need to confirm it with a code from SMS). And take a photo, giving the system access to the camera of your device or using a mobile application for verification.
Expert. Allows depositing and withdrawing c.u. from bank cards (up to 15 000 EUR/month). In the future it is planned to connect margin trading at this level. To receive it, you need to confirm the address of residence by uploading photos of payment receipts for housing and utilities, telecommunication services, etc.
Master. It opens access to unlimited deposits and withdrawals via bank cards. It is planned to connect over-the-counter trading for this level. To get it, you need to go through AML-procedure by uploading a photo/scan of ID and taking selfies with it.
In addition, to protect yourself from fraudulent actions with the account, the site emirex.com You need to set up two-factor authentication (2FA) through the Google or Apple app - depending on which OS your mobile device has. Without this procedure you won't be able to send a withdrawal request. It assumes that you will enter a one-time password to confirm each financial transaction - it will be displayed in the app.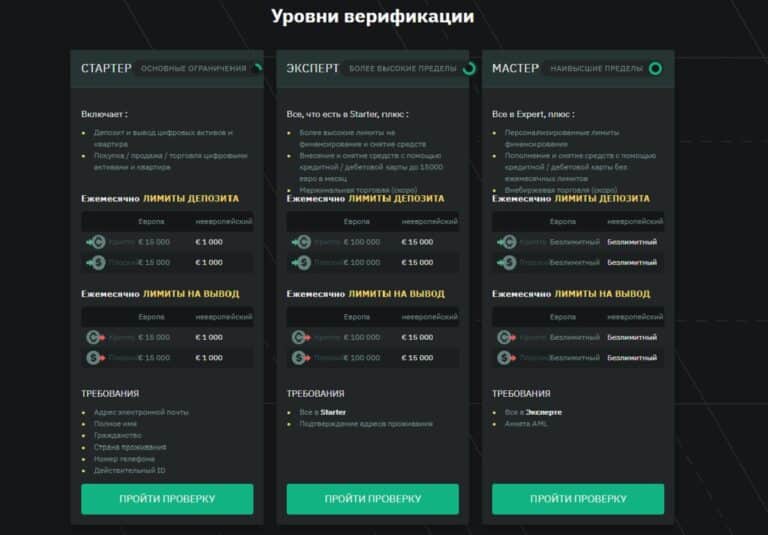 Deposit and withdrawal
In the "Assets" section of the personal cabinet, in addition to the list of available digital and fiat currencies, you can deposit your account and send withdrawal requests. Cryptocurrency wallets, bank cards of VISA and MasterCard systems and banking (SEPA, SWIFT) are used taking into account the verification level. Terms of crediting assets to the account are not specified. Withdrawal time is up to 12 hours for crypto and up to 24 hours for fiat. And it doesn't take into account the processing time of the support team. What is the minimum amount of deposit in Emirex, becomes known only after passing the verification level Starter. At the same time, the user has access to exchange and trade. But the upper limit of the deposit amount (as well as payout) is known in advance. It is set depending on the same verification:
For the Starter level - 1000 EUR per month.
For Expert level - 1500 EUR per month.
For the Master level - no restrictions.
If you want to request a payout, its amount must be no less than 0.002 BTC, 0.04 BCH, 0.14 LTC, 0.04 ETH, 20 USDT, 1000 RUR, etc. (the full list is in the table. (full list is in our table).
Commission of Emirex.com crypto exchange
When depositing an exchange account in crypto you pay nothing to the provider. And depositing in fiat currency is subject to a fee of 3.2% of the amount plus 1 EUR/USD/AED. The trading fee at Emirex is set depending on the specific currency pair:
0.3% for EMRX/USDT, EMRX/BTC, EMRX/USDT.
0.25% for T69/UDST.
0.1% for the rest.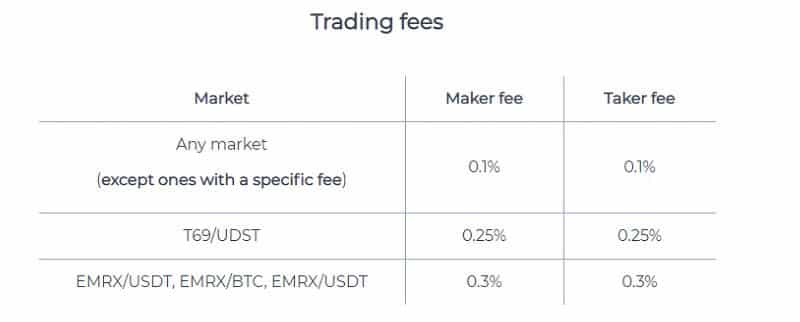 Withdrawal fee
Exchange Commission emirex.com for withdrawal - it is 2 EUR when transferring via SEPA (to card or p/c) and 0.02 BCH/0.001 BTC/10 BUSD/0.07 LTC/20 DAI/20 PAX/6 UNI when transferring to cryptocurrency vault.
Emirex Com Bonuses
The Emirex bonus program offers seasonal gifts and special prices for tokens, as well as a referral program for registered users. Let's say a few words about each direction.
Zeroing the commission
From March 15 to April 15, 2021 there are zero trading fees for all assets on the exchange. This information was published by the service administration in the section devoted to fees and in the blog.emirex.com.
Special price for EMRX token
The exchange's tokenized currency, EMRX, is offered to exchange users at a reduced initial cost of $0.4 flat. In addition to USD, the exchange accepts: USDT, EUR, GBP, USDc, LTC, BCH, BTC, ETH. To participate in the promotion you need to apply on the page with its description.
Contests Emirex Com
At the start of its existence Emirex held an unprecedented raffle: it gave away 100 prizes in bitcoins and EMRX, equal to 1500-20 000 US dollars (when converted to this currency). To participate it was necessary to register at the exchange by invitation - referral link. And to enter your unique referral code in the Personal Area. Then one had to earn tikets (tickets, which participated in the drawing) by simple actions - activity in social networks, fulfilling the tasks in the profile, etc. On the date the results were summed up, the system randomly selected the winners. Since then, new and new rounds are held. The prize fund remains the same - 200 000 USD. Information about the start of new rounds appears in Emirex communities in social networks.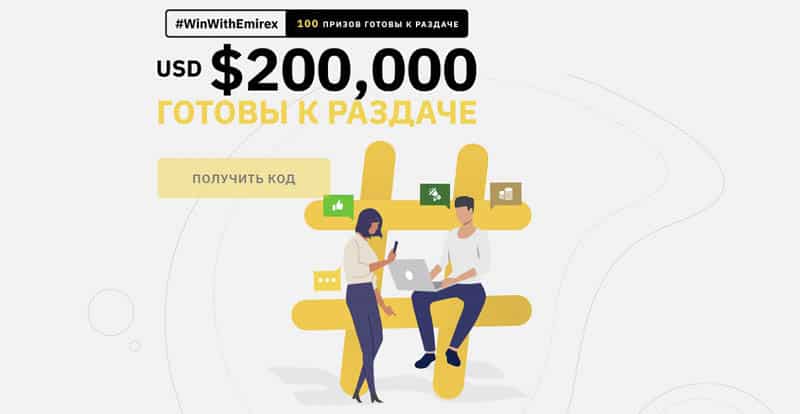 Emirex referral program
Registered User emirex.com automatically becomes a member of the exchange's referral program. And you can earn a percentage of trades made by other traders. The rate depends on the volume of EMRX token on his balance and varies between 1-5% of the attracted referral's transaction amount.
Complaints about Emirex
Despite the fact that the exchange has existed since 2019, we were unable to find any reviews about it online. The exception: communities and forums where Emirex has created topics. There are several positive comments published there whose authors praise the platform, but do not specify why. There are no statements about emirex.com on other platforms. We will keep an eye out for changes. And we will update this review when new information becomes available.
If there are any complaints about Emirex , we will be sure to post on social media. Sign up so you don't miss anything!
Please keep yourself informed about news and complaints. We copy the most valuable information to social networks, so please sign up!
Crypto exchange regulation
The cryptocurrency exchange belongs to BME Technologies OÜ, a company registered in Estonia. The registration number (registration code) is 14710805. The status of the legal entity can be checked in the official register of E-Business Register (the link is attached below). The site says that the exchange operates on the basis of two licenses - for virtual currency exchange services and cryptocurrencies storage (numbers FRK000909 and FVT000400). The documents were issued by the Estonian police and border service Politsei - ja Piirivalveamet. However, on the website of the registration authority, MTK, there is a record of only one license - to operate a virtual currency service. It was issued on 16.02.2020.
Emirex.com User Agreement
User Agreement emirex.com, "Terms of Use", establishes the rules for working with the company's services, as well as the responsibility of exchange users and its administration (staff) to each other. Let's look at examples. It is allowed to create an account on the exchange site for legally capable adults who have not been previously denied access to the platform. It is also prohibited to create more than one account for one person and trade on the exchange, if it is prohibited by the laws of the country of registration / residence of the user.

An account on the site can be used only for non-commercial purposes. In addition, you must provide true, complete and accurate information about yourself.

The Company has the right to cancel any transaction if it was made in error (malicious or as a result of a failure).

If a user's actions are suspected, the company may temporarily or permanently block the user's account, reject transactions, or "freeze" funds in the account.

Emirex basically has the right to suspend access to the site of any client, close his positions and block his account without prior notice and without giving reasons.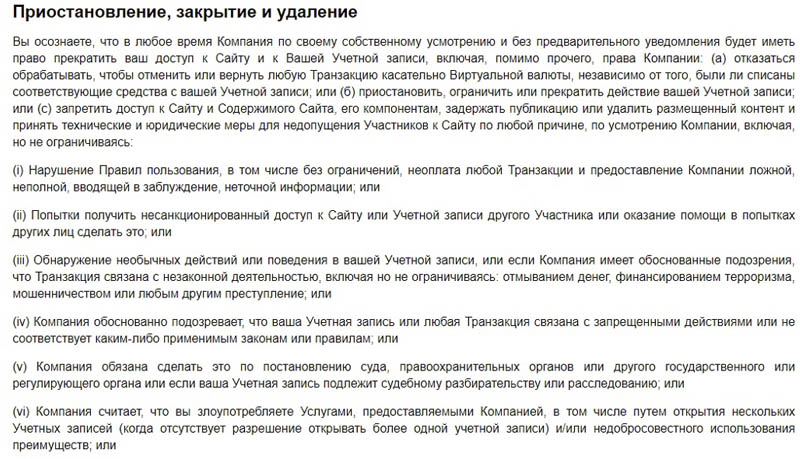 The company also disclaims all liability for traders' losses, even if they arise from negligence or irregularities. Emirex services are provided on an "as is" basis.

Disputable situations between the user and the exchange are first resolved through peaceful negotiations (up to 30 days). If in the course of such negotiations the problem cannot be solved, it is referred to the arbitration proceedings in the Estonian court. The process is conducted in English. The verdict rendered cannot be disputed.

Support service Emirex.com
Customer support is provided at Emirex:
By e-mail - you can send an e-mail to [email protected] or leave a request through the feedback form on the website.
With the help of tickets, which are created by an authorized user of the system in the personal cabinet.
Via online chat in the trading terminal.
At the physical office of the company (for those who live in Estonia).
In Emirex communities on social networks (through administrators).
Is Emirex a scam?
Emirex - Exchange with a license obtained from the Estonian regulator, owned by a legal entity registered in the same country. This is confirmed by the records in the registers of official bodies. We did not find any reviews about it in the network (except for those published in the threads created by the service provider itself). Which, given the many years of work, looks strange. Unpleasant impression is also left by some of the wording of the service's user agreement.
For example, it is said that the company is not obliged to compensate the user for losses, even if they arose as a result of negligence or violations on the part of Emirex representatives. The possibility to block a client's account at any time and without giving a reason also raises concerns. Of course, based on all this, it is impossible to say unequivocally that emirex.com is a scam. Still, it's recommended to start trading on the crypto exchange with small volumes.
Conclusion
Emirex opens access to trade in 50+ cryptocurrency units and 5 types of fiat currency. Quick transactions from a card or cryptocurrency wallet are possible, as well as buying and selling currencies through the company's terminal. There are several levels of verification, each of which gives access to a certain set of features. But in any case, you will have to provide quite a lot of data - from contacts to a scan of your ID card.
Even at the first verification level (Starter) the system asks for your photo.Among the pluses of the exchange, we can note the presence of a license, the service of investing in tokenized currency and interesting bonuses, which "revolve" around the referral program. From the minuses - almost zero reviews, the lack of responsibility of Emirex for any of its mistakes and the right of the company to block client accounts (and hence the funds on them) at its discretion.
Robots for cryptocurrency