CoinSmart is a cryptocurrency exchange with simple and advanced trading, a number of additional services and different types of orders. Fast deposit/withdrawal guarantee. Verification on the day of registration.
Read completely
Cryptocurrency exchange
Official website
Social media
Date of foundation

2018

Head Office

1075 Bay Street, Unit 403, Toronto, Ontario, M5B 2B2

Types of support

Online Chat

Feedback form

Knowledge Base

Twitter

Facebook

Instagram

Languages

English

Founder

Simply Digital Technologies Inc.

The owner of the company

Simply Digital Technologies Inc.

Manager
Subsidiaries
Minimum entry amount

Unverified

Cryptocurrency

Not available

Maximum input amount

Unverified

Cryptocurrency

Not available

Minimum withdrawal amount

Unverified

Cryptocurrency

Not available

Maximum withdrawal amount

Unverified

Cryptocurrency

Not available

Exchange Commission

Trade Commission:

From

0.2

To

0.3

% for maker /

From

0.2

To

0.3

% for taker

Deposit fee:

From

1.5

To

8.75

% / Commission for deposit in fiat

Withdrawal fee:

0.00025

BTC /

0.007

ETH /

0.001

LTC /

50

USDC

Terminals

Author's platform

Age restrictions
Number of cryptocurrencies
Number of trading instruments

20+

Free signals, graphical tools

Margin Trading
Tokenized assets
Free Demo Account
Types of accounts
Execution of orders

Market order, Limit order, Stop-Loss

Methods of replenishment

Cryptocurrencies, Bank Card (Visa/MC), Bank Transfer (SEPA)

Withdrawal methods

Bank Transfer (SEPA), Bank Card (Visa/MC), Cryptocurrencies

Account currencies

USD, EUR, CAD, Cryptocurrencies

Types of cryptocurrencies

BTC, ETH, SOL, DOGE, LTC, etc.

Licenses

Licensed

OSC license to work with cryptocurrencies

(Active)

Mobile applications
Trader training

Useful articles, instructions, information on cryptocurrencies

A way to store cryptocurrencies

Cold:

Yes

The cold wallets hold 80% of assets

Hot:

Yes

Hot wallets hold assets for daily turnover

Fiat accounts
Scalping
Stop Loss and Take Profit Function
Exchangeability for fiat currencies

An exchange is possible in the course of bidding

Smart Guarantee

Insurance allows you to get compensation for delays in depositing/withdrawing funds and verification

Smart Pay Invoicing

Billing system and prema cryptocurrencies as payment

Smart Pay Auto-Sell

Automatic sale of cryptocurrencies

OTC

A system for serious market players with additional instruments, narrow spreads and execution of large deals

CS Premium

Platform for premium clients trading from $25,000, with preferential commissions and payout on the day of transaction

Crypto Calculator

Calculator of cryptocurrencies with real-time prices

Secure Password Generator

Strong password generator

Bitcoin Mining Calculator

Bitcoin mining calculator

Basic verification
Extended AML verification

Requires uploading an ID and a selfie video

Regulatory laws

Canadian law

International data protection law

FATF (Financial Action Task Force)

API
Bonuses
Affiliate Program
Benefits

Support for popular cryptocurrencies

Trading without trading pairs

Availability of additional services

Service guarantees for deposit/withdrawal and verification

Disadvantages

There are delays with the withdrawal of money, high commissions for fiat withdrawal (according to online reviews)

Company requisites

Legal name:

Simply Digital Technologies Inc.

Legal address:

1075 Bay Street, Unit 403, Toronto, Ontario, M5B 2B2

Overall assessment
Date of update

04.02.2023
The address is
1075 Bay Street, Unit 403, Toronto, Ontario, M5B 2B2
Map
Subscribe to this company
CoinSmart is a scam? Reviews and description
CoinSmart
- licensed Canadian
cryptocurrency exchange
. The company has been operating since 2018, offering
cryptocurrency trading
on desktop and mobile devices. Trading on the platform is comfortable for both beginners and professionals. The company offers a simplified interface and advanced trading. You can start trading on the day of registration, because identity verification takes only a few minutes.
The platform promises traders a high level of security and storage of funds in cold wallets. In this review, let's take a detailed look at available crypto exchange functions, terminal features, trader reviews and legal documents to understand whether CoinSmart is a scam or a really reliable cryptocurrency exchange for safe trading.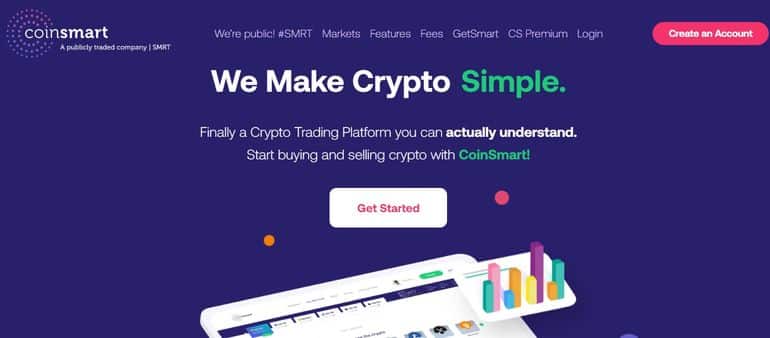 Why CoinSmart?
CoinSmart - is one of the few cryptocurrency exchanges with a license. The company has permits for cryptocurrency trading in Canada, the U.S. and Estonia. The platform provides training for novice traders. Here you will find useful articles and practical guides on cryptocurrencies and trading. For experienced users, the company offers advanced trading with the use of graphical tools and smart contracts. The exchange also allows you to generate reports to submit to the tax authorities.
The cryptocurrency exchange offers trading in 16 popular cryptocurrencies, including Bitcoin, Ethereum, Litecoin, Dogecoin, Solana etc. The crypto exchange offers not only active trading, but also additional services:
Smart Guarantee - is insurance for crypto traders. It covers crediting of deposits within 24 hours, processing of withdrawal requests within 5 days and verification of the account on the day of registration. If any of these conditions are violated, the user will receive a guaranteed compensation.
Smart Pay Invoicing - By connecting to the system, you can quickly and easily bill your customers and accept payment in cryptocurrencies.
Smart Pay Auto-Sell - Instant sale of cryptocurrencies coming to you from your customers' accounts. Tokens are sold as soon as they come into your wallet, and the money is automatically transferred to your bank account.
OTC - The OTC department of the platform offers large market players additional tools, tight spreads and execution of large transactions.
CS Premium - a platform for premium clients trading at 25,000 USD and more. Here you will find preferential prices, high liquidity and withdrawal of funds on the day of transaction closing.
Crypto Calculator - cryptocurrency calculator allows you to track the price of tokens in real time.
Secure Password Generator - password generator allows you to create secure alphanumeric codes for your online accounts.
Bitcoin Mining Calculator - The mining calculator will help you determine the exact amount of profit from bitcoin mining. You can calculate the income per day, per week, per month and per year.
The platform's main terminal is designed for beginner traders. Here to make a transaction, you just need to select cryptocurrencies and make an exchange. Buying and selling is done in one click. You can trade any cryptocurrency, without the need for a primary exchange to Bitcoin or Ethereum. For experienced traders, the company offers an advanced proprietary terminal with free indicators, graphical tools, order book and different types of orders.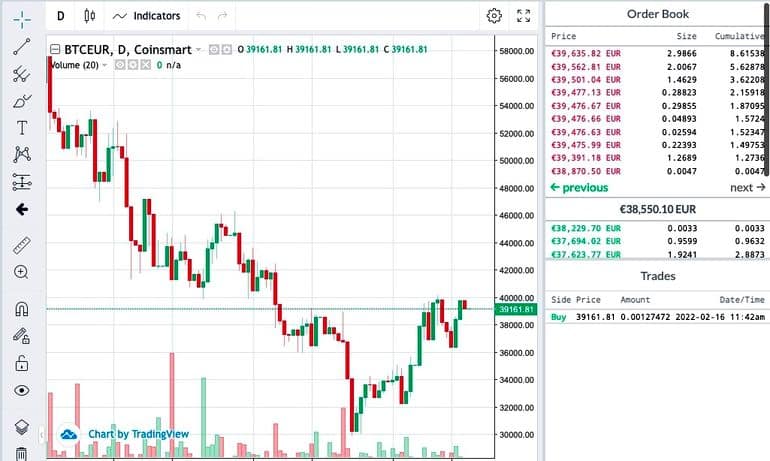 How to exchange cryptocurrency on the CoinSmart platform?
Cryptocurrency exchange on the platform is done in one click. There is no built-in exchangerbut there is a simplified terminal, where you can choose currencies for sale and purchase. The exchange is made at the market price.
Verification on the coinsmart.com platform
Before you start working on the platform, you need to register and undergo a mandatory identity verification. The verification is performed by Sumsub and the identification process takes a few minutes. To create an account, click on the "Create account" button at the top right of the page. In the form that opens, fill in the initial data: first name, last name, email address, password, country of residence.
The next step is to confirm your email address. Go to your mailbox and click on the confirmation link in the email from coinsmart.com. Next, you need to confirm the phone number. To do this, specify the phone number and enter the confirmation code received in the sms. The next step is to fill out the form. Here you need to specify: name, surname, date of birth, address, country of residence, city and other information. After filling in the data, an account will be registered for you.
After registering, you need to verify your identity. You can do it immediately or later. But, without verification you will not be able to deposit and trade on the exchange. For verification, select your country of residence and upload your ID document. This can be an ID, passport, driver's license or ID card. Upload your document and a selfie video. After verifying your documents, you will be able to start bidding.
Deposit and withdrawal
Deposits are available both in cryptocurrencies and fiat (CAD, USD, EUR). The platform supports several types of payment systems, including: Interac Money Request, SEPA. To deposit funds, go to the "Deposit" tab of your account. Choose the currency and method of deposit. Follow the instructions of the service.
To withdraw funds, go to the "Withdrawal" tab. Select the currency and withdrawal amount. Select the method of transfer and follow the instructions of the system. Withdrawal of fiat money is available to the bank account. Cryptocurrencies are withdrawn to cryptocurrencies.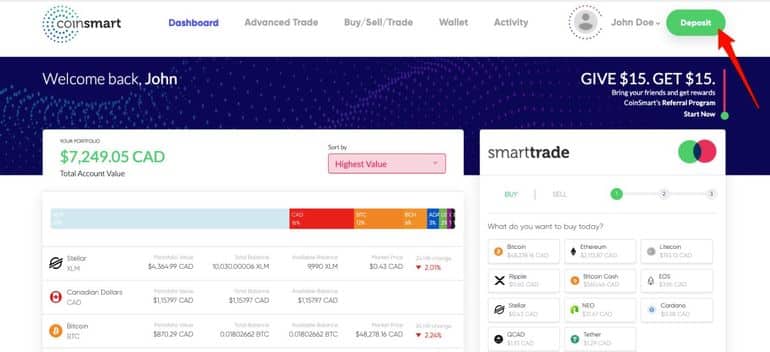 Cryptoexchange Commission
There are 3 types of commissions at the crypto exchange: commission for deposit, commission for withdrawal and trading commission.
Deposit fee
The deposit fee is charged when using the Interac e-Transfer payment system or credit card. When depositing by credit card the commission is 8,75%, but not less than 15 USD. When depositing via the Interac e-Transfer payment system the commission is 1.5% if the deposit amount is less than 2 000 USD. The commission is not charged for the deposit in cryptocurrencies.
Withdrawal fee
The amount of withdrawal fee depends on the currency and payment method. Fiat withdrawal via EFT system - 1%, but not less than 15 USD, via Wire system - 1%. When withdrawing cryptocurrency, commission is charged depending on the type of token, for example: BTC - 0.00025, ETH - 0.007, LTC - 0.001, USDC - 50. The minimum withdrawal amount must not be less than the commission.
Trade commissions
Trading commissions at the cryptocurrency exchange are equal for makers and takers. The amount of commission is calculated based on the type of transaction. So, for a single transaction (fiat cryptocurrency, cryptocurrency-BTC) commission will be 0.2%. For double transaction (cryptocurrency not BTC-cryptocurrency not BTC) commission will be 0.3%.
CoinSmart Bonuses
The CoinSmart platform regularly organizes contests and quizzes for its customers, and also allows them to earn from affiliate programs.
Quiz
Participate in the service quiz and get 4,000 CAD in BTC on your account. To get the money you need to answer all questions correctly within 24 hours.

Referral program
CoinSmart platform offers users a referral and affiliate program. Every user of the crypto exchange can take part in the referral program, earning 15 CAD for each referral. To participate in the affiliate program you need to register as an affiliate in addition. Remuneration of the affiliate program is 50 CAD for each referral deposited.

Complaints about CoinSmart
Given the popularity of CoinSmart crypto exchange in Canada and European countries, we found many reviews of the platform on English-language resources. In general, traders are satisfied with the platform, noting the responsiveness and friendliness of the support service, transparent trading conditions and fast transactions.

We also found customer complaints. Some users have encountered delays in withdrawals and irrelevant prices here. Traders also complain about high commissions when withdrawing fiat money to a bank account.
If there are any complaints about CoinSmart, we will be sure to post the information on social media. Sign up so you don't miss anything!
Please keep yourself informed about news and complaints. We copy the most valuable information to social networks, so please sign up!
Regulation of CoinSmart crypto exchange
The regulation of a cryptocurrency exchange is an important safety point for a trader. Centralized platforms ensure the safety of users' funds and offer transparent trading conditions. Let's consider who regulates the activities of coinsmart.com.
Regulator
The cryptocurrency exchange is managed by Simply Digital Technologies Inc. officially registered in Canada. The company has cryptocurrency permits in Canada, the U.S. and Estonia. Documents coinsmart.com:
Coinsmart.com User Agreement
Registration on the website of the crypto-exchange is available to persons of legal age in their country. It is forbidden for user to transfer or assign his account to third parties without written consent of the service administration. At the same time, the company reserves the right to transfer your account to third parties on legal grounds without your consent (by court decision).

If disputes and disagreements arise, the parties must resolve them through pre-trial proceedings. If the dispute cannot be resolved, it will be referred to the courts of your jurisdiction: for Canadian residents, Ontario, Toronto; for U.S. residents, Wyoming, Sheridan; for residents of other countries, Tallinn, Estonia.

Customer Service
The resource's support service is available 24 hours a day. The support team can be contacted through the following channels:
Chat on the site.
Feedback form.
Facebook.
Twitter.
Instagram.
You can also search for answers to your questions in the knowledge base of the service. Useful articles, instructions, and answers to frequent user questions are published here.
Is CoinSmart a scam?
CoinSmart - a multifunctional Canadian cryptocurrency exchange that offers traders trading in popular cryptocurrencies and additional services. According to its website, the company has cryptocurrency licenses in Canada, the U.S. and Estonia. After analyzing the platform's performance, user reviews, and the company's legal documents, we came to the conclusion that CoinSmart is not a scam. Despite the fact that the platform has delays with withdrawal of funds, according to user reviews, the crypto exchange fully meets its obligations to customers.
Conclusion
Cryptocurrency exchange CoinSmart - is a portal where trading cryptoassets is simple and convenient. Here you don't need to think about trading pairs, because you can choose which assets to trade. The platform offers fast and advanced trading, additional services and necessary tools for trading. 80% of users' assets are stored in cold wallets, and the security of hot wallets is ensured by reliable protection. The company has recently entered the global market, but already has chances to get into the top cryptocurrency exchanges. Register on the website and trade cryptocurrencies on your terms.
No reviews yet, be the first!
The company in the ratings
Robots for cryptocurrency
New companies on the site