An online service that offers insight into nonfiction book highlights in audio and text format, podcast summaries, and full-length audiobooks.
Read completely
Online store
Official website
Head Office

Sonnenallee 223, 12059 Berlin

Date of foundation

2012

The owner of the company
Types of support
Social media
Languages

English,

Bonuses
Payment methods

Bank card (Visa/MC), PayPal, American Express

Buying on credit
Installment
Store category

Creative goods and books

Project Features

The service provides access to audio and text materials with the main ideas of popular non-fiction books

Additional services

Collaboration with business

Project regions

All countries in the world

Shipping methods

Electronic delivery

Mobile applications
Affiliate Program
Benefits

Large selection of non-fiction bestsellers (4,500+ books in 27 categories)

Discount with a paid subscription to all books

15-minute book excerpts with basic ideas

Ability to switch between audio and text format

1 free book daily for unsubscribed users

Simple interface of the web version of the platform

Adding 40+ new content each month

Free access for 7 days as a gift

Disadvantages

High subscription fee (according to online reviews)

Regulatory agencies and laws

Trade Register of the District Court of Berlin-Charlottenburg: HRB 144222 B VAT-ID No.: DE-285882413

Company requisites

Legal name:

Blinks Labs GmbH

Legal address:

Sonnenallee 223, 12059, Berlin

Overall assessment
Date of update

15.02.2023
Address
Sonnenallee 223, 12059 Berlin
Map
Subscribe to this company
Blinkist is this a scam? Reviews and description
Blinkist
- a project with writers, designers, and developers from 40 countries. The service allows you to find time to study by helping you explore the main ideas of popular science works. Here you can listen to or read analytical reviews of non-fiction bestsellers in 15 minutes using the platform materials, extract key ideas from podcasts in short broadcasts, or discover full-length audiobooks. Expand your knowledge with the latest ideas in business, personal growth, psychology, relationships, and more.
The platform has a web version and mobile apps for iOS and Android. You can buy books or subscribe for a month or a year to listen to "blinks", short podcast broadcasts, and buy materials at a discount. While all materials are presented in English and German, but the team promises to expand these opportunities. Reviews about the project a little, there are positive comments, and complaints about the high cost of subscription and a small test period. Let us also look at the work of the platform to find out if Blinkist?
Why Blinkist
Blinkist is a platform that has full versions of books and short excerpts of them in audio and text format with basic ideas. If you want to improve your professional skills or explore new subjects you didn't know about, you'll find scholarly books, authors, and podcasts on Blinkist. An editorial team selects the best ideas in non-fiction and podcasts and turns them into "Blinkies" and "Short Broadcasts" - meaningful packages of ideas.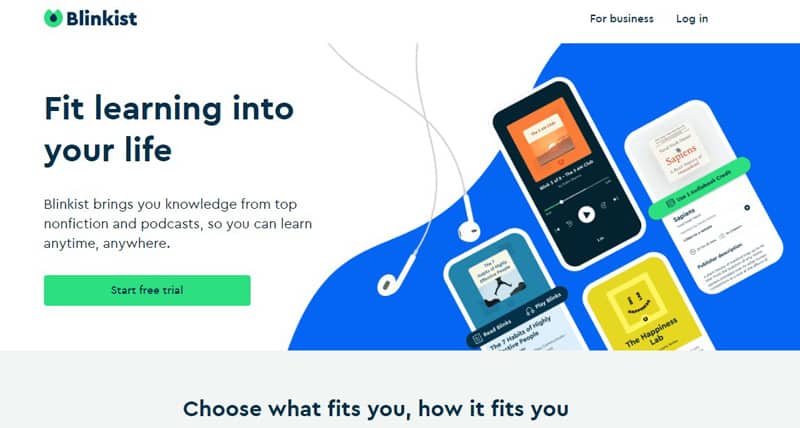 "Blink" is one of the key ideas of the book. It collects in 200-300 words one memorable idea from the original. It's like a news digest you can read on your phone: brief but packed with information. "Short Broadcasts" are pancakes from podcasts. Pros of the service:
4,500+ books in 27 categories.
Ability to listen to audiobooks and read them in text format with switching between different versions at any time.
Discount with a paid subscription for all books.
1 free book daily for users without a subscription.
Handy apps.
Simple interface of the web version of the platform.
7-day trial period.
Adding 40+ new materials every month.
Service site blinkist.com simple. Once logged in, you'll be taken straight to the library page with the books you're reading and have already finished. Also from the main page you can go to the app stores and the catalog with books. The "Go Premium" button takes you to a section with a selection of rates. In addition to the catalog and library, there is a "Highlights" item on the menu. In it you can save the ideas and thoughts that you liked the most. Sorting by date and books is available in the section.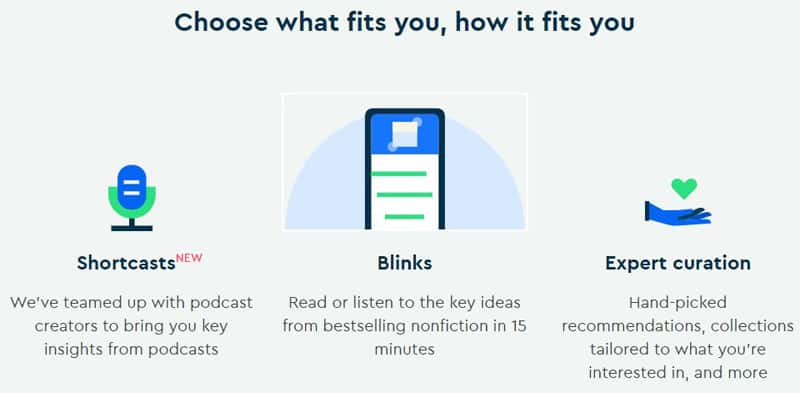 What can I buy at blinkist.com?
The content that Blinkist offers:
"Pancakes." - summarize and combine key ideas from popular science books and put them into a 15-minute format that you can read or listen to.
Audiobooks - suitable when there is more time and you want to delve deeper into a topic. Full-length audiobooks are offered at a special price for Blinkist Premium members, so you can find all your knowledge in one place.
Short Broadcasts - are "pancakes," but for podcasts. They add new ideas and fresh points of view to the key ideas from the podcast episode and combine them into 15-minute listening material. They are created in collaboration with the creators of the original podcasts. The broadcasts are available on a Blinkist Premium subscription.
Bedtime Biographies. Inspiring stories are complemented by a creative sound design that allows you to relax. They are available as part of your Blinkist Premium subscription.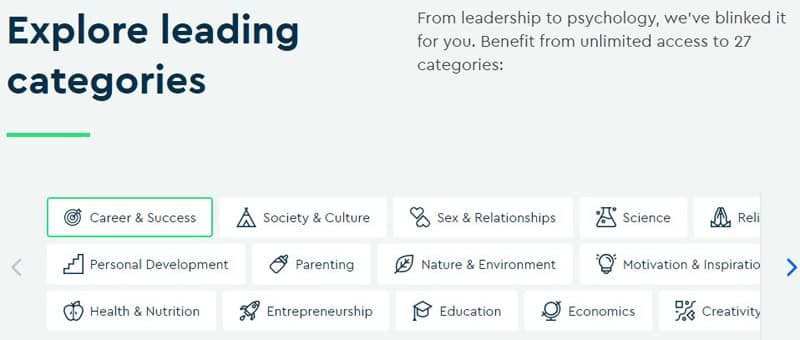 All audio materials are published under the "Explore" menu item. The catalog includes 3 sections.
By category
The page has books on such topics:
Entrepreneurship. Everything you need to know about how to succeed on a limited budget, make your first million and hire employees.
Politics. Works on different forms of government, current and past political events.
Marketing sales. Experts talk about content marketing strategies and sales in the 21st century.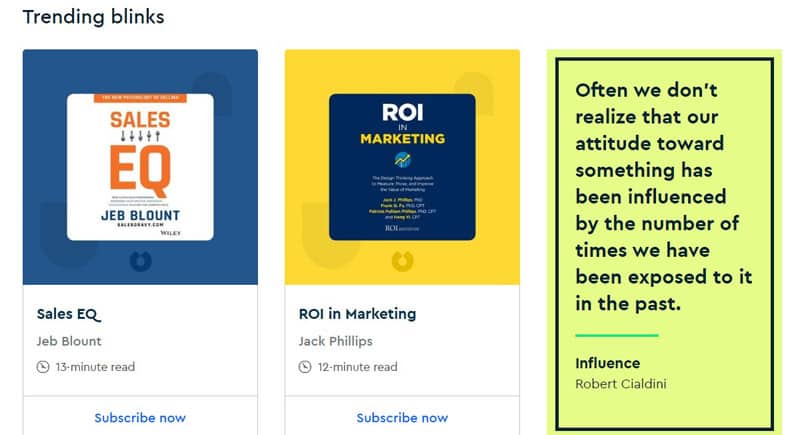 Science.
Health and Nutrition.
Personal development. There are also materials on how to get rid of bad habits.
Economics.
History.
Communication Skills. Books on public speaking, body language and social IQ.
Corporate Culture.
Management and Leadership. Secrets of leaders and famous managers.
Motivation and inspiration.
Money and investments.
Psychology. Expertise and scientific research.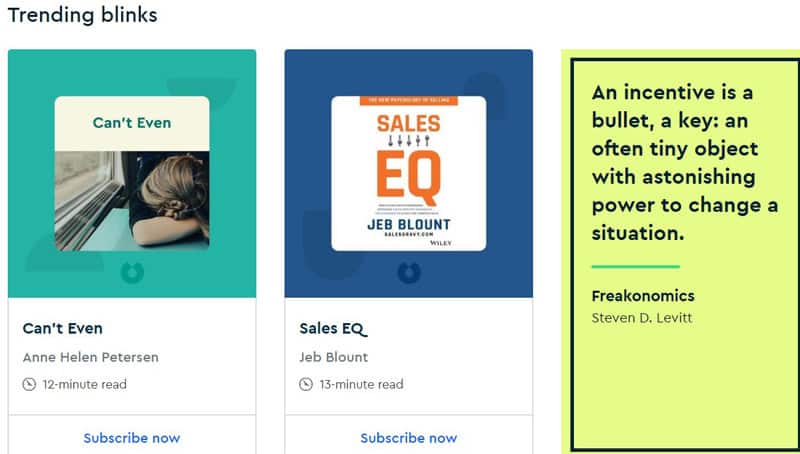 Productivity.
Sex and relationships.
Technology and the future. Artificial Intelligence, Fake News and the Future of Technology.
Awareness and happiness.
Parenting. From pregnancy to raising teenagers - all materials for parents.
Society and Culture. Books about cultural identity, pop phenomena, and society's struggle for justice.
Nature and Environment.
Biography and Memoirs.
Career and Success.
Education.
Religion and Spirituality. Everything you need to know about the three monotheistic world religions, Buddhism, spirituality and more.
Creativity.
Philosophy.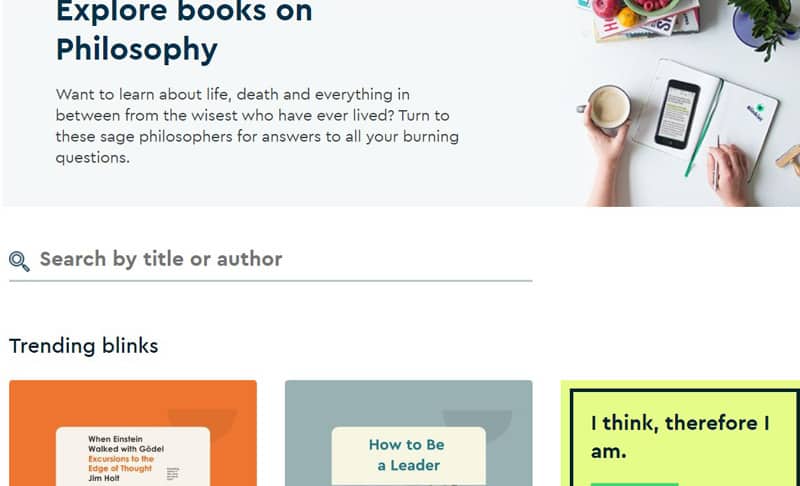 Recently added
This page contains books that have recently appeared in the Blinkist catalog.
Popular names
In the section you can select a book from the list of materials that are read and listened to most often.
How to find the right product in Blinkist
You can find books in the catalog by opening the desired topic, lists of recently added and popular books. There is a search bar on the home page blinkist.com and in each category with products.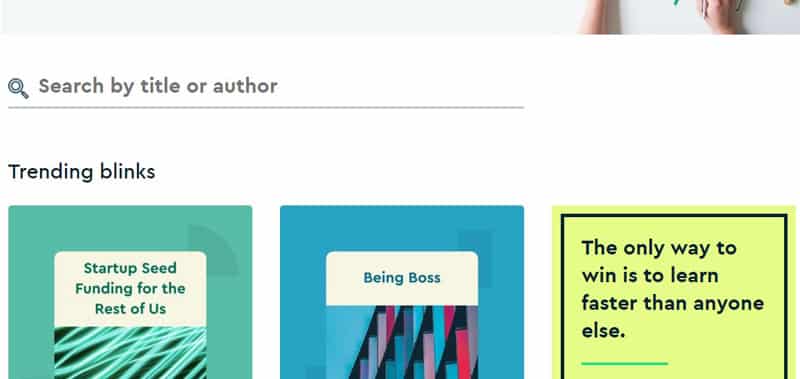 Product card
Books are collected as a photo gallery with title, author, reading time, and a "Subscribe Now" or "Select" button (for those who have Blinkist Premium). When you open the book card, you can read a short description, information about the author and choose one of the options: buy the book (directs to Amazon), read and send to Kindle. The last 2 options are only available to readers with a Premium subscription.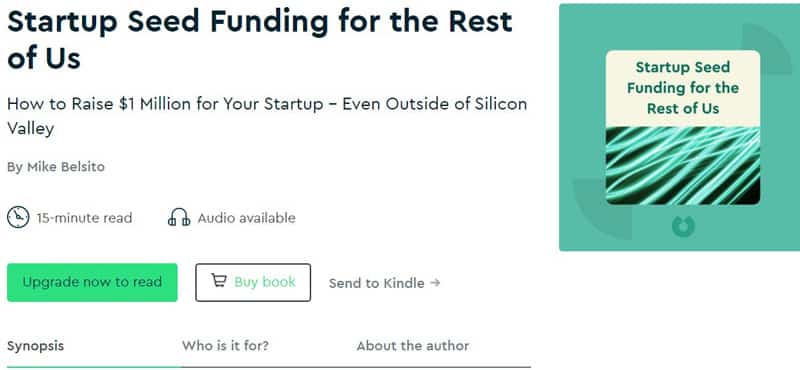 How do I order from Blinkist?
To use the service, you can buy books or subscribe to listen to "blinks" for free and get discounts on full formats. At blinkist.com Blinkist Premium monthly and annual subscriptions are available. With them you get:
Unlimited access to 4,500+ best-selling popular science books, in audio and text format, on the web version of the platform and in the app.
Exclusive analysis from podcasts.
Download for offline access.
Selecting and synchronizing notes with Evernote.
Sending reading to Kindle.
Access to original short films (in-app only).
Discount on all audiobooks (in-app only).
There are two subscription options:
For a month. The package costs €12.99. This rate does not include a trial version.
Annual. The cost is 79,99 euros per year. The package includes a 7-day trial version.
You cannot switch between annual and monthly plans before the annual plan ends. But you can switch from the monthly plan to the annual plan at the end of the current month. You can use one subscription on any number of devices. When you download the app to your smartphone or when you sign in through the website, make sure you are using the same Blinkist account. Your reading history and library will sync across devices.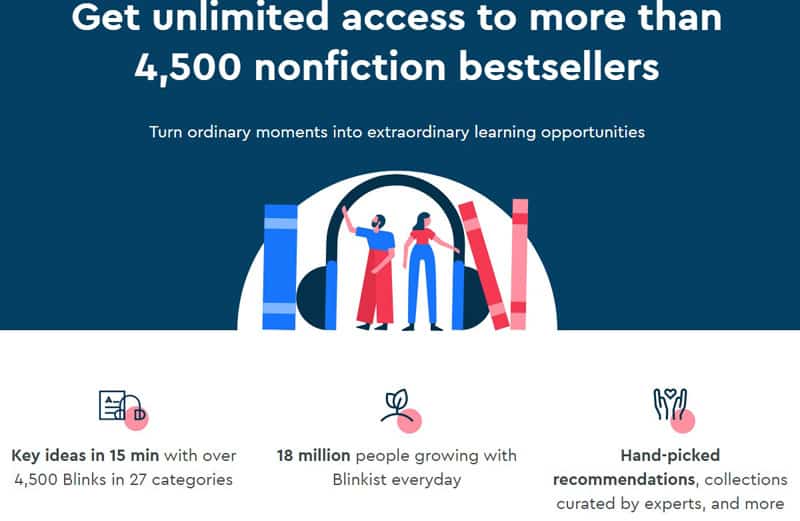 Subscriptions renew automatically after each billing period (monthly or annually, depending on the plan). If you purchased a Premium subscription and sent books from Blinkist to Kindle or synced highlights with Evernote, they will remain in your accounts for those services even if you cancel your Blinkist subscription. There's a button in the product card for buying books. It redirects to the Amazon site, to the catalog with the selected item.
How to register at blinkist.com
The registration procedure is simple. You only need to enter your email and password. Immediately after that, the user will get access to the 7-day free version.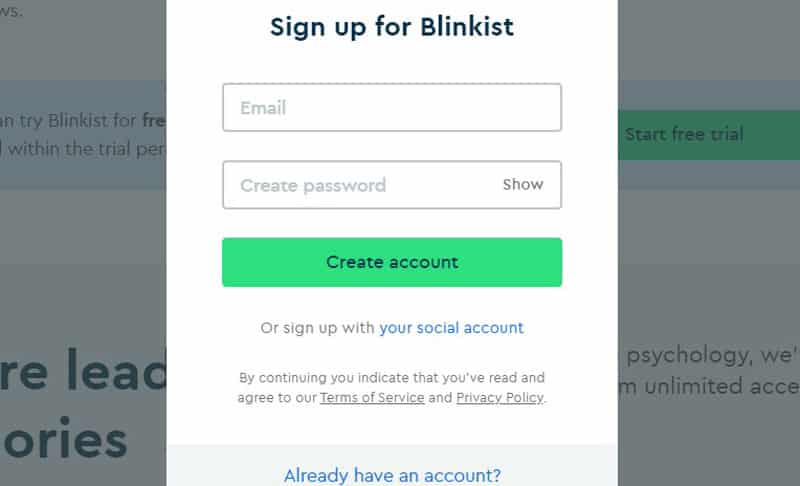 Personal Cabinet
There are several sections in the personal cabinet:
Invite friends. This page offers a referral link to attract users.
Wish List. You can add books to it that you want to read later.
Settings. Subscription information, language selection, and connecting Evernote and Kindle. The latter feature is only available with a Blinkist Premium subscription.
Help & Support. The button redirects to the site with articles about the service.
How do I place my order at blinkist.com?
To subscribe, you can open the "Prices" section, click on "Subscribe Now" under the book title in the catalog, "Raise Now" in the item card, or "Raise to Premium" at the top of the browser page. A page will open in front of you with information about subscriptions and the option to select one of them. After selecting the tariff, a payment form will appear. In it you need to select PayPal or credit card and fill in the fields with payment information.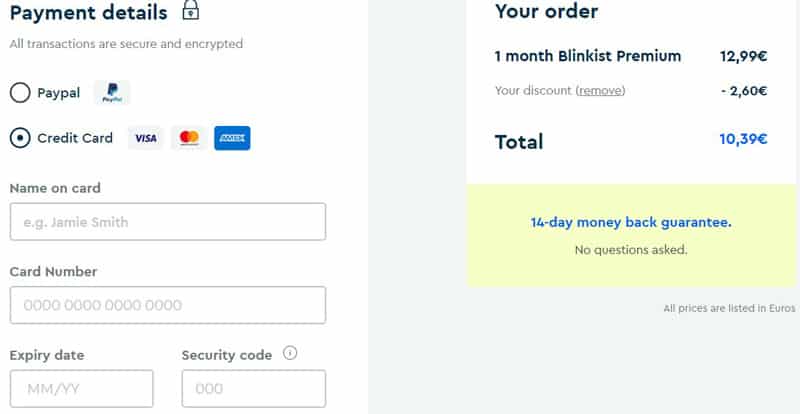 Additional features
Blinkist offers several additional services.
Employment Opportunity
The site has a careers section with job openings for which people from all over the world are looking. Blinkist gives you the opportunity to work from home, take advantage of a corporate training budget and an annual stipend for training. There is also a 30-day vacation, and job seekers who work in the office receive transportation tickets, game participation and a healthy lunch. Each position has its own page that describes the working conditions and requirements for the prospective employee. At the bottom of each page there is an "Apply" button that you can use to submit your information.
Blinkist for Business
More and more companies are using Blinkist to help their teams learn new skills and improve their productivity. With Blinkist for Business, the service offers a convenient self-pay option for teams of 5 to 200 people. After you purchase, you'll receive a unique code that you can share with team members to activate your Blinkist membership. The platform includes all premium features, meaning unlimited access to a library of audio and text, original short broadcasts, discounts on all audiobooks, Amazon Kindle support, and syncing with Evernote. For these subscriptions, the service has developed a user analytics dashboard that shows how the team is reading and what they are interested in.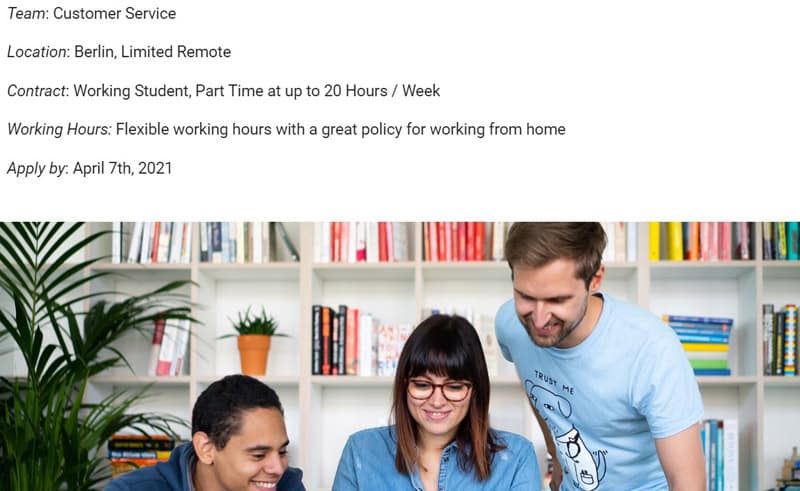 Premium as a gift
To buy a Blinkist Premium subscription as a gift for multiple people without buying a business plan, send an email to: [email protected] The minimum purchase order is $1000.
Articles
The "Articles" section has several pages where materials on various topics are published:
Book lists. The Blinkist team publishes selections of the most interesting works on various topics.
What is non-fiction. A detailed description of non-fiction.
What to read. Tips for choosing books.
The benefits of reading. 7 reasons why you should read or listen to audiobooks.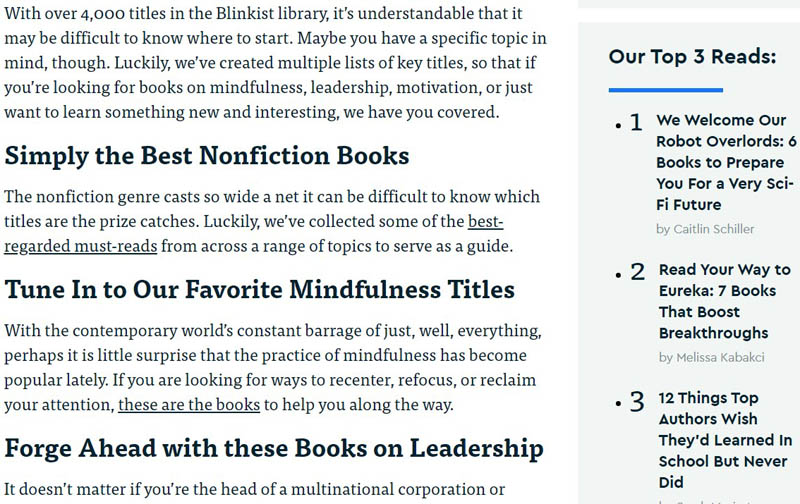 Mobile application
Mobile apps include content and features that are not available on the site. These include: short broadcasts, full audiobooks, an action feed, adding a title to your favorites, sorting titles, and viewing selected collections. Using the Blinkist mobile app, you can share direct quotes from materials by selecting an excerpt, tapping the screen for a few seconds and trimming the excerpt. Whole "pancakes" can also be shared while reading by tapping the three-dot symbol in the top right corner of the reader. This action opens a selection of sharing options. In the mobile app for smartphones and tablets, you can read offline. To read offline, add the book to your library while you have access to the Internet.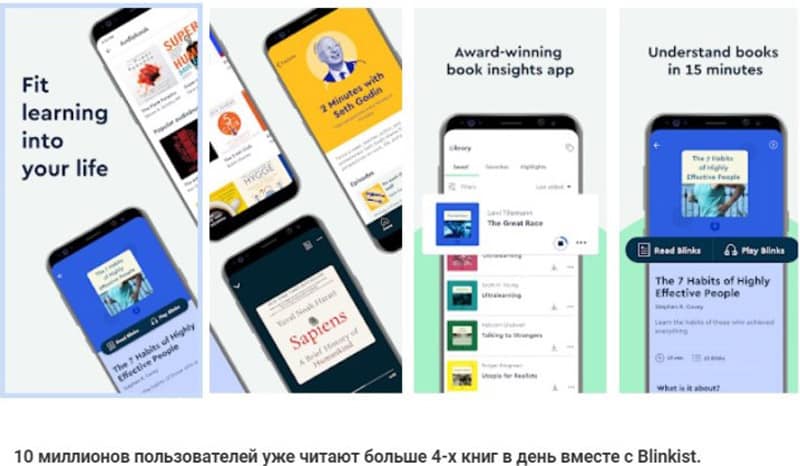 Payment and Shipping at Blinkist
You can pay for your subscription or purchase online.
How do I pay for my order?
The service accepts PayPal and credit cards Visa, MasterCard, American Express.
Shipping methods
After paying for a subscription, the customer gets access to all the books in the catalog. After purchasing a book, the user can read it without restriction.
Ways to return merchandise
If you purchased a subscription but decide Blinkist isn't right for you, email the service administration within the first 14 days. Customer Service will cancel your subscription and refund your money. The 14-day money-back guarantee only applies to payments made on the site or on Google Play, and not to renewals. If you purchased a subscription from the Apple App Store, you need to contact Apple Support to request a refund. There are no refunds for audiobooks.
Blinkist Bonuses
Blinkist offers participation in an affiliate program and other bonuses.
Free Book
Anyone can read 1 book daily without a subscription.
Discount coupons
When you subscribe, you can use a discount coupon. There is a special line for entering a combination of characters.
7 days as a gift
Referring friends with a referral link, you can get 7 additional free days of use of the service. The referred user will also get 7 days as a gift.

Affiliate Program
Blinkist offers participation in an affiliate program. Anyone can register on the site and receive 20% in the form of remuneration from all payments of the attracted users. Payments are made 30 days after payment. From the affiliate network Admitad the following reward applies: 30.7% per subscription.
Complaints about Blinkist
Most users call the platform and its mobile app a convenient service for getting to know the main ideas of popular nonfiction books. Readers note that it not only provides a quick overview of key points from different books, but also an opportunity to improve your English or German. If they find the idea of the project itself and its implementation interesting, many users do not like the prices of subscriptions. They consider them overpriced. Also, not all customers have time to turn off a paid subscription in time, because of which the card is automatically debited.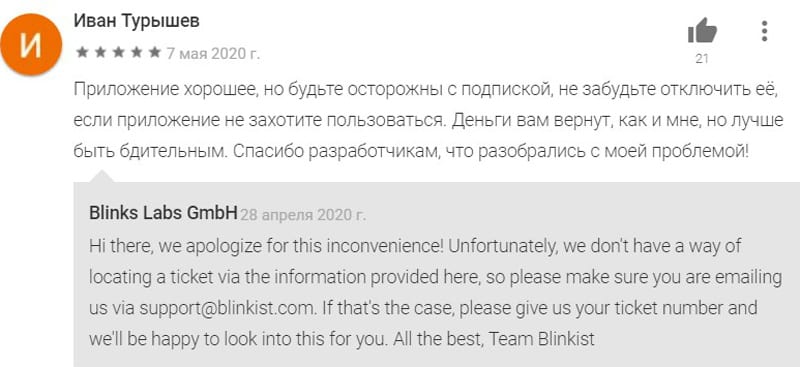 If there are any reviews about Blinkist online store, we'll be sure to post the information on social media. Sign up so you don't miss anything!
Please keep yourself informed about news and complaints. We copy the most valuable information to social networks, so please sign up!
Supervisory authorities
Blinks Labs GmbH is registered in the Commercial Register of the District Court of Berlin-Charlottenburg under Commercial Register Number: HRB 144222 B VAT -ID: DE-285882413.
Blinkist.com User Agreement
The site of the service has a disclaimer, terms of use, and privacy policy. The document "Terms of Use of Blinkist" plays the role of the user agreement. It has paragraphs about the services of the project, registration, signing a paid subscription agreement, information about the trial version, audiobooks, cancellation policy, refunds and payment methods, the term of validity and cancellation of the contract. Information about gift certificates, liability, and changes in terms is also published.

Customer Service
To contact technical support is e-mail: [email protected] and the opportunity to create a ticket appeal through the feedback form on the site.
Is Blinkist a scam?
Blinkist - is a service that offers "blinks," non-fiction book highlights, podcast short broadcasts, and full-length audiobooks. For those who want to use the platform for free, 1 free book per day is available. For full access to the materials of the project there are two options for subscription - monthly and annual (in this tariff there is a 7-day free version to test Blaknist features). You can read or listen to books in the web version of the site or in the applications for iOS and Android. For now, materials are available in English and German.
The website of the platform is simple and easy to use. Books can be read and listened to on any device, switching between audio and text at any time, the library is saved. Reviews about the convenience of the service and materials are positive. Customers do not like the high cost of subscription and its automatic renewal (not everyone has time to cancel in time if they want to give up the Premium). Given the positive comments, the availability of the necessary documents on the site, we can conclude that Blinkist is not a scam.
Conclusion
Having studied the work of the service Blinkist and reviews about it, we can recommend it to those who do not have time to read full-length books in English or German. In just 15 minutes a day you can learn the main ideas of popular non-fiction books, watch short podcast broadcasts. You can also buy full versions of audiobooks. The only downside is the high subscription price. If you don't want to buy it, you can use the opportunity to read 1 "blink" for free every day. If you have read or listened to books on Blinkist, share your opinion about the project. Maybe you noticed some other minuses or pluses in its work.
No reviews yet, be the first!
The company in the ratings
Activity
New

0

Resolved

0

Not resolved

0
New companies on the site