Bitsten is a crypto exchange that offers cryptocurrency trading and digital asset exchange. There is a service token, whose holders can receive discounts on commissions.
Read completely
Cryptocurrency exchange
Official website
Social media
Date of foundation

2018

Head Office
Types of support
Languages

English

The owner of the company
Minimum entry amount
Maximum input amount
Minimum withdrawal amount

Verified

Cryptocurrency

From 100 WBST
From 0.001 BTC
From 0.05 LTC
From 0.01 ETH

Unverified

Cryptocurrency

From 100 WBST
From 0.001 BTC
From 0.05 LTC
From 0.01 ETH

Maximum withdrawal amount

Verified

Cryptocurrency

to 100,000 WBST
to 0.1 BTC
to 5 LTC
to 5 ETH

Unverified

Cryptocurrency

to 100,000 WBST
to 0.1 BTC
to 10 LTC
to 5 ETH

Exchange Commission

Trading commission:

From

0.02

To

0.3

% for taker / depending on the monthly volume of transactions

Withdrawal fee:

20

WBST /

0.0005

BTC /

0.02

LTC /

0.02916

ETH

Terminals

Author's platform

Age restrictions
Trading volume per day
Number of users
Number of cryptocurrencies
Margin Trading
Tokenized assets
Free Demo Account
Types of accounts
Execution of orders

Market order

Withdrawal methods

Cryptocurrencies

Account currencies

Cryptocurrencies

Types of cryptocurrencies

BTC, USDT, LTC, ETH, BST, WBST, IDRT, ALT, XRP, DOGE, BNB, TRX, ZRX

Mobile applications
Trader training
A way to store cryptocurrencies
Fiat accounts
Scalping
Stop Loss and Take Profit Function
Exchangeability for fiat currencies
Basic verification
Extended AML verification
Regulatory laws

International data protection law

FATF (Financial Action Task Force)

API
Bonuses
Affiliate Program
Benefits

Quick exchange via the form on the site

Discounts for token holders

Disadvantages

No Russian-language support

Company requisites
Overall assessment
Date of update

21.02.2023
Subscribe to this company
Bitsten is this a scam? Reviews and description
Bitsten - exchange platform cryptocurrencies with a simple user interface for trading. A quick exchange form is available, a service token, whose holders get discounts, the ability to get coins for free. To find out if Bitsten is a fraudulent scheme, we compiled an overview of how it works.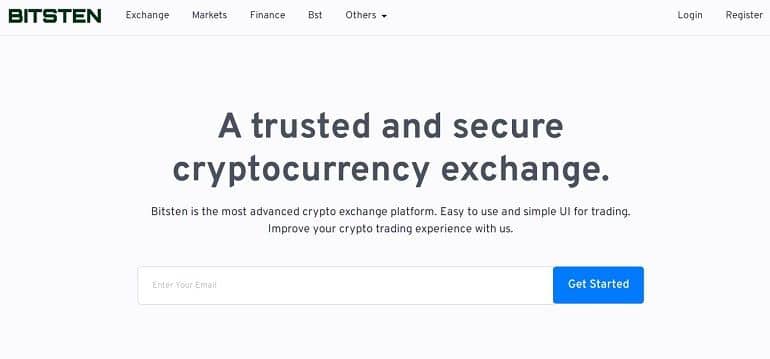 Why Bitsten?
Bitsten - crypto exchange with a simple trading terminal and the ability to exchange assets. The company has a BST service token. Coin holders receive a 25% discount on the trading commission and a 50% reward for each transaction.
The exchange also offers a free small amount of cryptocurrency available for request every minute. On average, the user receives a reward of 0.1 cents every minute. If you want to increase it, you can invite a friend to use the service and get 100% from the referral's reward. Keeping 1,000 BST in your account, you can get a bonus of 100% for each use of the service. There is a special section with information about available coins for this purpose.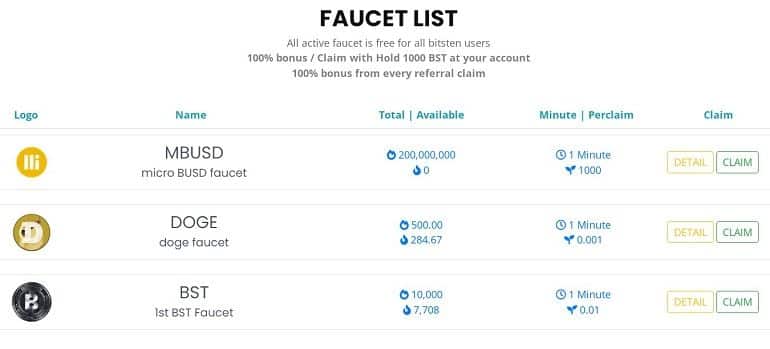 There are many sections in the site's menu, which should describe detailed information about trading on the exchange. But most of them were not open at the time of the review. Therefore, it is difficult to judge many of the details of cooperation. If you do decide to trade on BitstenIt is better to clarify all the details with the service support.
How to exchange cryptocurrency on Bitsten platform?
The site has an "Exchange" section where the trading terminal is available. It has charts, prices, available pairs for trading. It is possible to create an order to buy and sell the desired assets.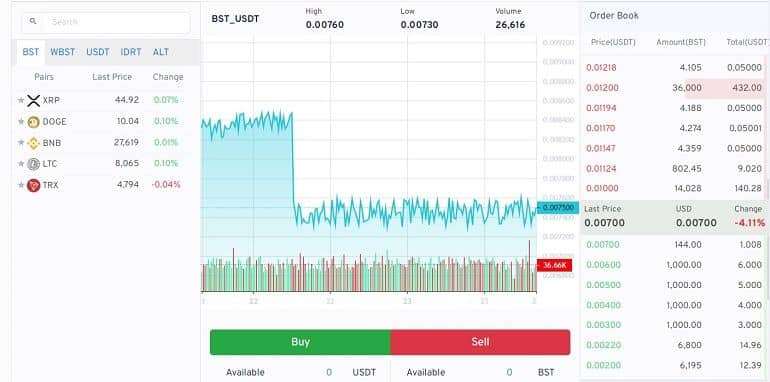 A quick and easy conversion between assets is also available. For this there is a separate page with a form to be filled out to exchange funds. You can exchange USDT, USD, TRX, BST, WBST and BUSD to USD, TRX or BUSD. In the proposed fields, enter the amount to be exchanged and the address to receive funds. Following the instructions of the service, you can quickly complete the transaction procedure.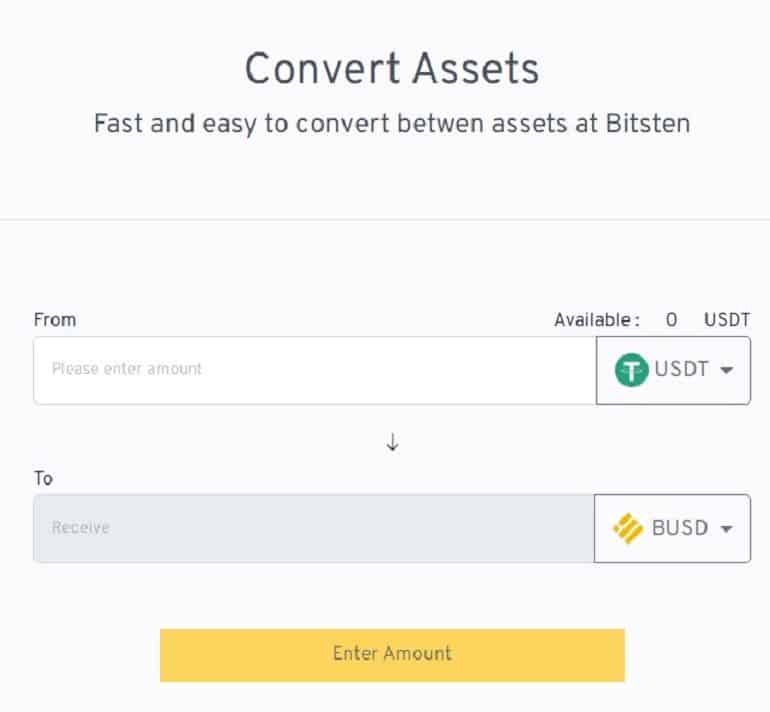 Verification at bitsten.com
First, you need to register an account on the site bitsten.com. To do this, use the corresponding button to go to the form for creating an account. In this form, enter the email and password. The e-mail should ask for a code, which will activate the creation of an account. After registration, you will have access to your personal account. It has a section with a purse for deposit and withdrawal, data for attracting referrals, you can change personal information and enable two-factor authorization. There is no information about verification.
Deposit and withdrawal
You can deposit the account through the wallet in your personal cabinet, following the instructions of the service. As for the withdrawal, on the page "Commissions", there is information about the minimum and maximum amounts for withdrawal. They depend on the cryptocurrency. Minimum amount for withdrawal Bitcoin - 0.001 BTC, for Litecoin - 0.05 LTC, for Ethereum - 0.01 ETH, for Wrapped BST - 100 WBST. Unverified users can withdraw a maximum of 0.1 BTC, 5 LTC, 5 ETH and 100,000 WBST. Customers who have verified their identity can withdraw up to 10 LTC. For Bitcoin, Ethereum and Wrapped BST the maximum amount does not change depending on verification.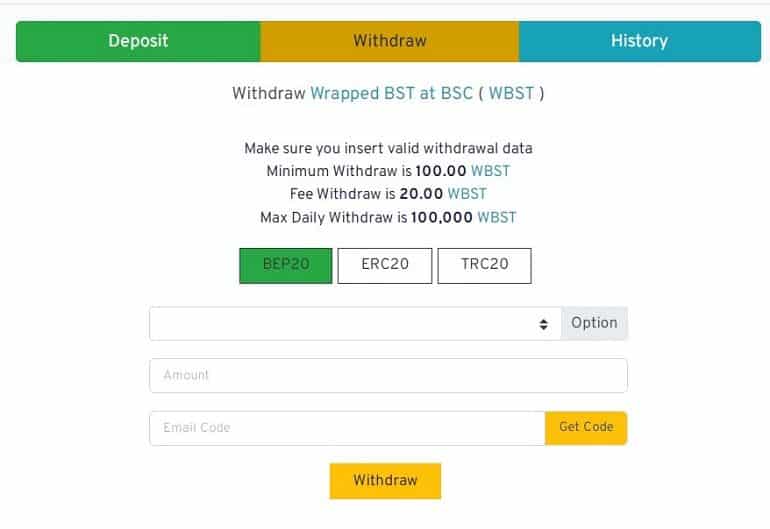 Cryptoexchange Commission
The exchange does not charge a commission from makers. The amount that makers pay depends on the monthly trading volume:
0-100,000 USD - 0.2-0.3%;
10,000-1,000,000 USD - 0.1-0.2%;
from 1,000,000 USD - 0.02-0.1%.
There is also a withdrawal fee. It depends on the cryptocurrency. So, for Bitcoin it is 0.0005 BTC, for Litecoin - 0.02 LTC, for Ethereum - 0.02916 ETH, for Wrapped BST - 20 WBST.
Bonuses bitsten.com
The company offers discounts for token holders and participation in a referral program.
Discounts for token holders
BST crypto exchange service token holders receive a 25% trading commission discount. For this, there must be at least 10,000 coins in the account. There will also be a 50% reward from the transaction fee of Bitsten Exchange users as a bonus.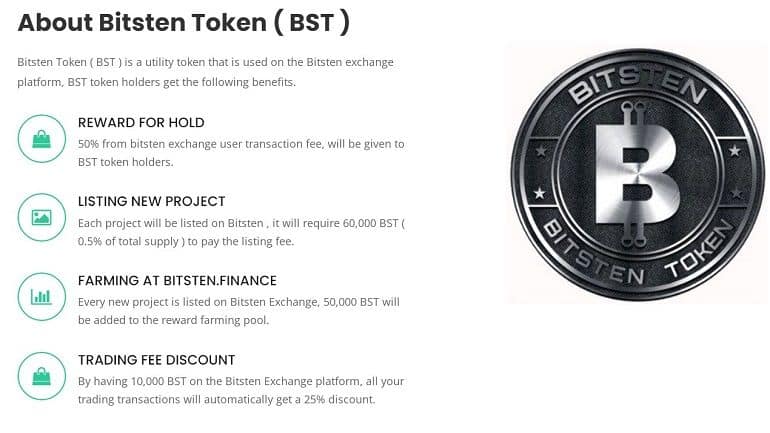 Referral program
Inviting friends to join bitsten.com., you can receive a referral commission per transaction in the amount of 25%.

Complaints about Bitsten
There are few reviews on the Internet about the exchange. Users note the ease of cooperation, fast withdrawal of funds, convenient trading terminal.

The disadvantages include slow update schedules, the lack of Russian-language support, the need for verification in English (although we did not find such requirements, but perhaps due to the fact that many sections of the site did not work).

If there are any complaints about Bitsten, we'll be sure to post on social media. Sign up so you don't miss anything!
Please keep yourself informed about news and complaints. We copy the most valuable information to social networks, so please sign up!
Regulation of Bitsten Crypto Exchange
Work on cryptocurrency exchanges only when you are sure in their reliability. To check this, it is important to study legal information, find out if the company has a license, and read the texts of documents on the exchange's website.
Regulator
The text of the user agreement and privacy policy is published on the website of the crypto exchange. There is no detailed legal information about the company.
Bitsten.com User Agreement
The site menu has a section with the agreement and privacy policy. The "Terms of Use" states that the exchange is operated by Bitsten Market. Only those over 18 can register and trade on the exchange platform. All intellectual property on the site belongs to the exchanger or content providers, so any data can only be used for information purposes. In order to place a link to any page of the site, you must obtain written permission. It is also forbidden to use the service for illegal purposes, and to have multiple accounts. We will not be liable for any losses or costs incurred in connection with accessing or using this site.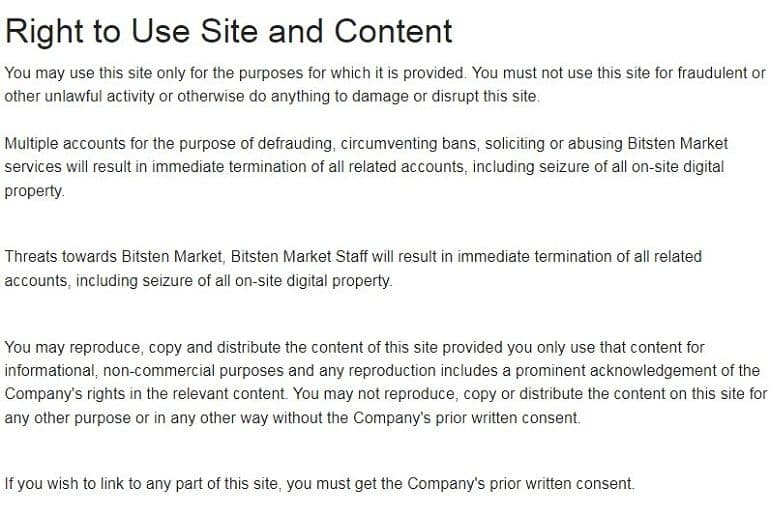 Customer Service
When we wrote the review, only the Facebook and Twitter pages were available. The FAQ section and the Telegram channel did not work.
Is Bitsten a scam?
Bitsten - a crypto exchange that offers cryptocurrency trading and direct exchange. A simple terminal is available, a service token with discounts for its holders and affordable commissions. Reviews about the company vary, many of them positive. Given the fact that the exchange has been in operation for a long time, you can read the user agreement on the website, and customers remain satisfied with its work, we can conclude that Bitsten is not a scam.
Conclusion
Bitsten - a cryptocurrency exchange that has been offering its services since 2018. A simple trading terminal is available and the exchange of digital assets through a form on the site. If you have used the services of the exchange, leave your opinion in the comments. This will help to find out if the service is not cheating its customers.
No reviews yet, be the first!
The company in the ratings
Robots for cryptocurrency
Activity
New

0

Resolved

0

Not resolved

0