Aryana is a crypto exchange where you can trade different cryptocurrencies, including BTC, LTC, ETH. A profitable 5-level referral program has been developed.
Read completely
Cryptocurrency exchange
Official website
Social media
Date of foundation

2020

Head Office

Craigmuir Chambers, Road Town, Tortola, VG 1110, British Virgin Islands

Types of support
Languages

English

The owner of the company
Minimum entry amount

Verified

Cryptocurrency

From 0.0005 BTC
From 0.001 ETH

Unverified

Cryptocurrency

From 0.0005 BTC
From 0.001 ETH

Maximum input amount
Minimum withdrawal amount

Verified

Cryptocurrency

From 0.001 BTC
From 0.02 ETH

Unverified

Cryptocurrency

From 0.001 BTC
From 0.02 ETH

Maximum withdrawal amount
Exchange Commission

Spot trading:

0.1

% for maker /

0.1

% for taker

Withdrawal fee:

0.0004

BTC /

0.013

ETH

Terminals

TradingView

Age restrictions
Number of cryptocurrencies
Margin Trading
Tokenized assets
Free Demo Account
Types of accounts
Execution of orders

Limit Order, Market order

Methods of replenishment

Cryptocurrencies

Withdrawal methods

Cryptocurrencies

Account currencies

Cryptocurrencies

Types of cryptocurrencies

BTC, ETH, LTC, BCH, DASH, DOGE, TRX, USDT, XRP, etc.

Mobile applications
Trader training
A way to store cryptocurrencies

Hot:

yes

5% of the total amount of funds

Fiat accounts
Scalping
Stop Loss and Take Profit Function
Exchangeability for fiat currencies
Basic verification
Extended AML verification

Proof of phone number, passport, selfies with the document

API
Affiliate Program
Benefits

Advantageous 5-level referral program

Advanced API for information gathering and tool creation

Reliable cloud infrastructure

Company requisites

Legal name:

Aryana Network Ltd.

Legal address:

Craigmuir Chambers, Road Town, Tortola, VG 1110, British Virgin Islands

Overall assessment
Date of update

21.02.2023
Address
Craigmuir Chambers, Road Town, Tortola, VG 1110, British Virgin Islands
Map
Subscribe to this company
Aryana is this a scam? Reviews and description
Aryana - cryptocurrency exchangeregistered in the British Virgin Islands, but focused on the Middle East. It has been operating since 2020 and offers a simple interactive terminal, trading 20 cryptocurrenciesincluding the popular BTC, ETH, LTC. Developed a profitable 5-tier referral program. To fully work on the exchange you must pass the KYC procedure. To understand how convenient and reliable exchange, we have compiled this review. He will help you understand if Aryana is not a fraud scheme.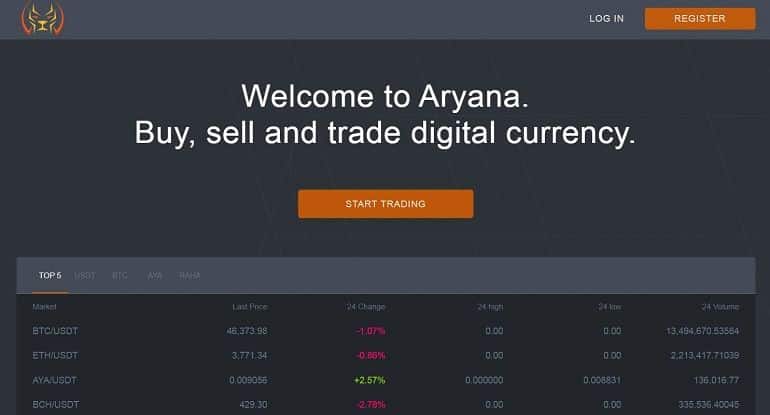 Why Aryana?
Aryana is a crypto exchange that offers trading in digital assets, including its own AYA token with zero commission since 2020. The company does not work with fiat. The exchange offers a liquid order book, allowing easy exchange of Bitcoin, Ethereum, Litecoin, Ripple and many other digital assets with minimal slippage. The exchange has several order types to give traders the tools to fit any scenario. The interface of the terminal is easy to customize: you can make a layout, choose a theme, customize notifications and data settings.
Platform Ariana is optimized to work from mobile devices, there is no need to download applications. Websocket web-channel allows you to easily access market data in real time, and trading API allows you to develop secure software trading bots. Also, the exchange offers to add their coins to the listing, for which there is an application on the website. The pluses of the exchange include:
A profitable 5-level referral system.
Simple trading terminal.
Advanced API, which allows you to collect information, create tools and apply advanced trading strategies.
Reliable cloud infrastructure. Servers are hosted in the cloud, resulting in greater security, speed and reliability.
How to exchange cryptocurrency on the Ariana platform?
For starters. trading on the exchange you need to register your account. By clicking on "Register", enter your email, password, and confirm that you agree with the rules of the service. After that, you will receive an e-mail with a link to confirm the account creation. The cabinet has a "Trade" section, where you can see the recent deals, charts, order book, and asset prices. It is also possible to create and place your own order. The trading terminal is interactive. It displays all important information accurately and without delay. The charts are based on TradingView, which simplifies advanced analysis.

Verification on the aryana.io platform
To trade on the exchange, you need to confirm your account by going through the KYC procedure. It is done in 4 simple steps:
Confirmation of email address. It is required during registration and allows you to log in, make deposits and trade on ariana.io.
Phone number confirmation. In your account settings, you can order a code to be sent to your number to confirm your account.
Add personal information. This step requires you to add personal information. It will be sent to the administrator for approval, which can take anywhere from 5 minutes to 24 hours.
Adding documents. After the personal information is approved by the administrator, you can continue to upload documents: ID card, bank card, selfies. On it, the user should keep a page with the following information: name of the exchange, date, bank card number, signature. After that, the account will be verified by the administrator and the withdrawal will be activated within 24 hours.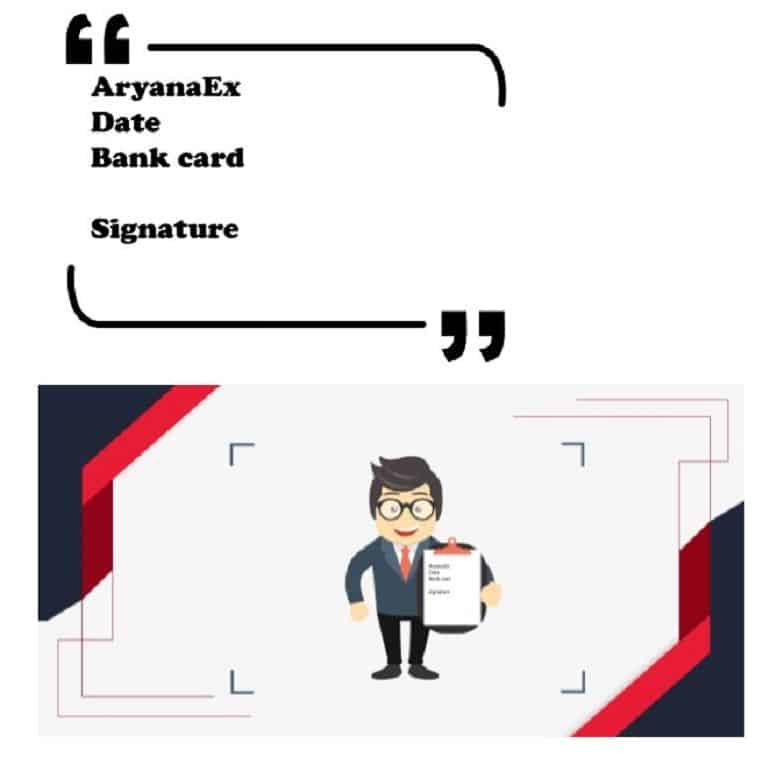 Deposit and withdrawal
The "Spot wallets" section is available in myAlpari, where you can make a deposit or request a withdrawal. To make a deposit, you need to select a cryptocurrency and generate a deposit address. The page with each asset specifies the minimum amount to deposit. Deposit is available immediately after registration, withdrawal can be ordered only after connecting two-factor authorization.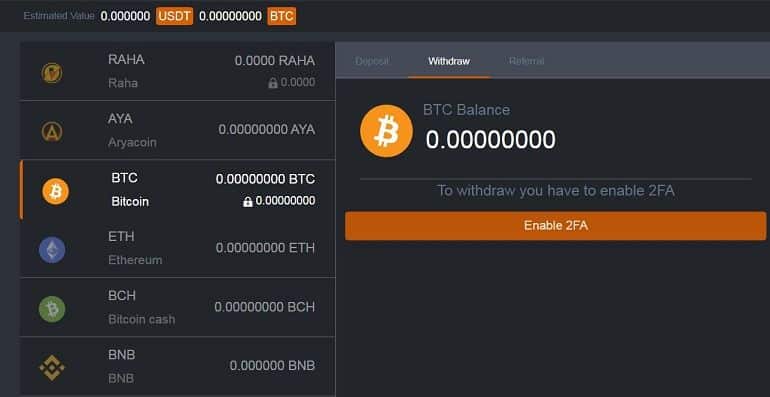 The site has a "Fees" section, which contains a table with the minimum amounts for deposit and withdrawal. So, for Bitcoin the minimum for deposit is 0.0005 BTC, for Ethereum withdrawal - 0.001 ETH. You can withdraw a minimum of 0.001 BTC and 0.02 ETH.
Cryptoexchange Commission
Aryana charges a flat fee, which means that both takers and makers pay the same for spot trading - 0.1%. These fees are below the industry average for centralized exchanges. For trading with AYA exchange coin the commission is 0%.
There is no deposit fee, but there is a withdrawal fee. The withdrawal fee for each token is displayed under "Withdrawals" on the "Wallets" page. Token withdrawal fees are subject to change based on current network fees so that transactions are quickly confirmed. The site has a table in the "Fees" section that shows the minimum amounts to deposit and withdraw, as well as the fees for each cryptocurrency. For example, for BTC the fee is 0.0004, for ETH - 0.013.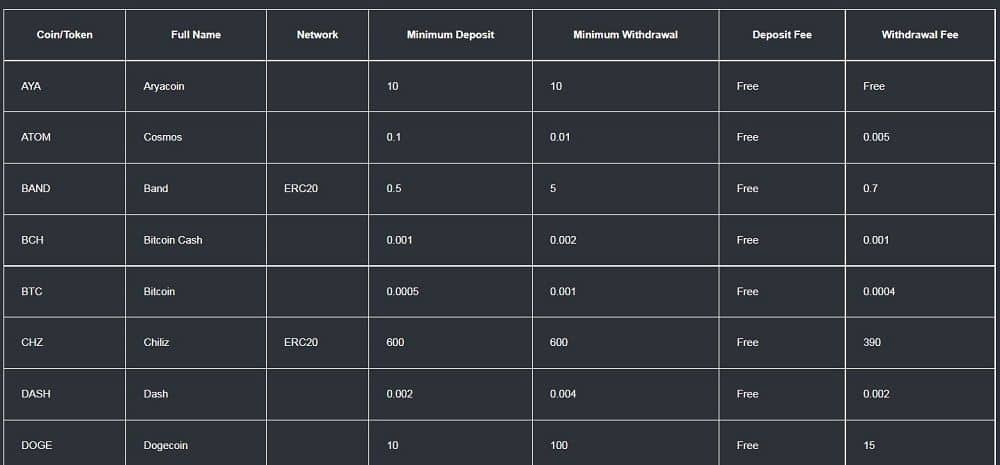 Bonuses ariana.io
Crypto Exchange aryana.io has developed an affiliate program. The bonuses also include a zero commission for trading your own AYA token.
Referral program
The exchange has a 5-tier affiliate program. Referral remuneration is determined by a unique structure that allows users to receive higher commissions. You can invite an unlimited number of users and receive remuneration from all users. The referral reward system has 5 levels:
1 - 20%;
2 - 10%;
3 - 5%;
4 - 3%;
5 - 1%.
Level 1 referrals will be those whom you directly invite to Ariana. Level 2 referrals will be those referred by Level 1 referrals, and so on. This chart is published in the table to show it clearly.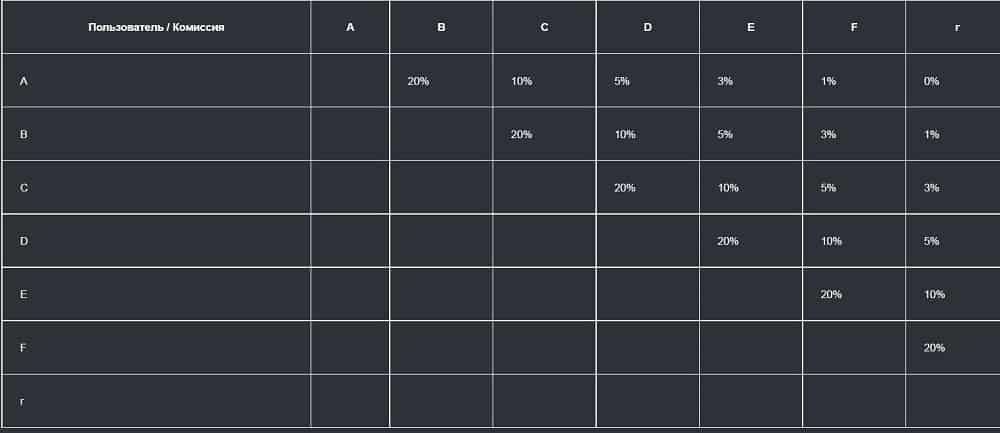 Complaints about Ariane
Reviews about the exchange are still very few. This is due to the fact that the company has not so long ago entered the market cryptocurrency trading. The comments that users post are positive. Clients like the speed of work and low commissions.

If there are any complaints about Aryana, we'll be sure to post on social media. Sign up so you don't miss anything!
Please keep yourself informed about news and complaints. We copy the most valuable information to social networks, so please sign up!
Regulation of Aryana crypto exchange
Today, more and more cryptocurrency exchange websites are appearing on the Internet, where cryptocurrency trading platforms are available. Among them, there are not only bona fide companies where it is safe to trade digital assets, but also scammers. Therefore, it is necessary to find out whether the exchange has a license, and to study all the documentation on the website.
Regulator
There is no information about the license on the site. It says that the exchange belongs to Aryana Network Ltd, which also created the Aryacoin and Ayapay services. There are several documents on the aryana.io website:
Aryana.io User Agreement
The terms of use describe the rules to be followed by the user, its features and requirements for the user. It is specified that the client must be at least 18 years old. He is also obliged to study the conditions and agree to comply with them. It is noted that any transaction is associated with a commission, which is determined at the discretion of the exchange. The service may refuse to process or cancel an incomplete transaction.

KYC terms and conditions, personal data processing, account security are also described. The user can enable the two-factor authentication function, provided the phone number is fully verified. The user is responsible for the security of any electronic devices used to access the wallet or Exchange services, as well as for ensuring security measures and control over personal data.

Customer Service
You can contact technical support by e-mail: [email protected], via Telegram and Twitter page. You can also fill out a feedback form through the "Support" section.
Is Aryana a divorce?
Aryana - cryptocurrency exchange, which started its work in 2020. The company's website has a convenient trading terminal, information about commissions and minimum amounts for deposits and withdrawals, referral program. You can also fill out an application to add your own coin to the listing, explore the terms of use and privacy policy. In the answers to the questions there is information only about passing KYC. Perhaps the team will fill this section with other articles later. There are not many reviews about the company yet. Therefore, it is difficult to objectively assess the work of the exchange. The information that is on the company's website makes it possible to conclude that Aryana is not a scam. This is a crypto exchange with a simple terminal and low commissions.
Conclusion
Aryana - cryptocurrency exchange, where you can trade different cryptocurrencies, including BTC, LTC, ETH. The company also has its own token, which can be traded with zero commission. It is also not charged for the deposit. Only withdrawal and spot trading fees need to be paid. The company has developed and 5-tier referral program, which has no limits on the number of users, which is beneficial for users. If you have managed to use the services of the exchange, write your opinion about it in the comments. This will give a complete picture of the company and allow for an objective assessment.
No reviews yet, be the first!
The company in the ratings
Robots for cryptocurrency
Activity
New

0

Resolved

0

Not resolved

0
New companies on the site