A large international forex broker, successfully providing trading services with different instruments on the market for clients all over the world.
Forex broker
Website
Date of foundation

2005

Head Office

+Bulevar Ivana Crnojevića 107 Podgorica, 81000 Montenegro

The owner of the company
Types of support

Chat

Feedback form on the site

Office

Support by phone
Languages

Russian, English, French, Spanish, Italian, German, Portuguese, Ukrainian, Turkish, Chinese, Arabic, Japanese, etc.

Terminals

MetaTrader 4, WebTrader, Streamster, Agea.Trade

Min. first deposit
Broker fee
Lot volume
Leverage
Spreads
Free Demo Account
Adjustable
Regulators
Types of accounts
Transaction volume
Execution of orders

Instant Execution (exact execution), Market Execution (at market price), Stop Orders

Methods of replenishment

Dixipay, FasaPay, Neteller, Perfect Money, Skrill, Webmoney, Bank Transfer, Bank Card (Visa/MC)

Withdrawal methods

Dixipay, FasaPay, Neteller, Perfect Money, Qiwi, Skrill, Webmoney, Bank Transfer, Bank Card (Visa/MC)

Number of assets
Types of assets
Account currencies

EUR, USD, CAD, AUD, GBP, JPY, CHF

Mobile Trading
Weekend trading
Tournaments / contests
Trader training
Contract Difference Commission
Swaps
PAMM trading
Analytics
Margin Trading
Affiliate Program

Registration

Percentage of each successful referral transaction

Benefits

Advantageous terms of cooperation

Affiliate program and demo account

Commission only on the first withdrawal

Trader can trade currencies, cryptocurrencies, indices and commodities

Affiliate program (for each real position that an attracted client closes on the trading platform, a commission of 15 points)

Monthly contests in social networks

Disadvantages

Problems with the withdrawal of earnings

Not enough information on the website

Company requisites

Legal name:

AGEA International AD

Legal address:

+Bulevar Ivana Crnojevića 107 Podgorica, 81000 Montenegro

Date of update

26.08.2022

Overall assessment
Address
+Bulevar Ivana Crnojevića 107 Podgorica, 81000 Montenegro
Map
Subscribe to this company
AGEA is it a scam? Reviews and description
Forex trading has gained great popularity today, which provoked the emergence of a wide variety of companies providing brokerage services. AGEA Forex broker was no exception. Many of the newly baked brokers do not play by their own rules and deceive their clients. Other companies earn their own money, and you will be given the opportunity to do so by honestly bringing your Forex trading profits to the Forex market (all truth about Forex).
Which camp does AGEA belong to? Is this a swindle or a reliable brand? You will find more information in the following materials.
AGEA trading conditions
AGEA broker appeared in the market in 2005 under the name of Marketiva and got its current name after rebranding. The company is engaged in providing traders with high quality online trading services for the following financial tools:
The work with AGEA begins with registration on the website agea.com and selection of an account to conduct transactions. Here you will find all the tools you need to work with the market, as well as materials for Forex trading training. The downside is that almost all the information is in English, which may be inconvenient for the players, which do not speak English.

You can get information on the issue you are interested in by contacting the 24-hour customer support team. Most likely, it will also be in a foreign language. Moreover, there is not much material on the site, although it is conveniently organized: there is information about the company, tools and terminals. Here you can find information about terminals, trading conditions and reports. However, there are not so many of them: there is no news in the «News» section, minimal information about trading, no Forex analytics, etc.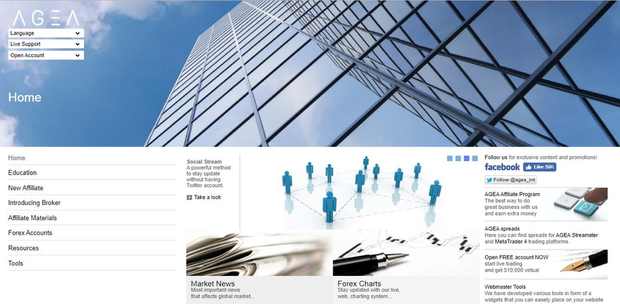 Trading on the platform takes place on such conditions:
possibility to choose a convenient trading account;
A wide range of tools, including currencies, indices, etc;
Spread from 2 points;
There is a choice of trading platforms;
Mobile trading is possible;
The account type determines the size of leverage.
Forex broker offers swap-free trading, which is available in an Islamic account. There are promotions and bonuses in the form of referral fees for clients. Tournaments are held every month.
AGEA platform
AGEA provides the following platforms for traders' work:
Streamster is a comfortable platform for beginners. It has a simple design and is equipped with strong enough tools, multi-channel international chat and real-time support. It has an account storage center that makes it easy for customers to administer their own accounts.
WebTrader is designed to work with mobile devices and PCs. Optimized for all existing systems and browsers. It does not need to be specially installed on a computer.
MetaTrader 4 is a complete platform for professionals. It has tools for market analysis and manual and automatic buy/sell operations. There is a library of Expert Advisors, scripts and indicators for Forex. It is one of the most popular platforms on the Forex market.
MetaTrader 5 is a continuation of the concept of MetaTrader 4. It allows you to change the order sequence and the function of processing different positions. It will be more efficient and faster in order execution. Many new tools and charts have appeared here. Load distribution is performed by means of individual settlement structures (agents).
AGEA broker quotations
To earn on the value of assets, the constant monitoring of their fluctuations is required. This information is displayed in the form of tables and charts. The success of Forex trading depends on the quotes and their changes. AGEA always provides reliable information on quotes, which is displayed in the program when you authorize on the site. Quotes are placed in the information window of the platform in the form of a table, which is located here at the top left.
AGEA demo account
It should be opened on the website agea.com for training and education of young and inexperienced traders. It can be used by registered users provided that they have a real account. With a demo Forex account you can trade without risk of losing money, try out a new strategy or follow the recommendations of training courses. It is an ideal solution for beginners, but it can also be used by experienced traders to test their new strategies.
AGEA mobile application
The Streamster and MetaTrader 4 platforms here also have convenient mobile devices. These applications can be downloaded for Android and iPhone. They can be used to analyze market charts, see the latest quotes, view trades already made, and trade. Besides, mobile trading is very convenient and allows a trader not to be tied to a desktop computer, making it possible to access the market at any time.
AGEA bonuses
We have already mentioned above that AGEA has bonuses. Let's talk about them in detail.
The first bonus is given to a new user during registration. A newly opened account will be credited with $5 to start.
There are also bonuses for attracting new clients. You will get deductions for new partners who came to AGEA via affiliate link.
Deposit and withdrawal
The following payment systems are used for deposit and withdrawal of the money earned trading with AGEA:
UnionPay;
Webmoney;
E-Diner;
Bank transfers, bank cards.
Complaints against AGEA
There are reviews of the broker online. Most of the dissatisfied reviews related to the activities of AGEA are related to the withdrawal of money. There are also problems with the work of payment systems. There are complaints about the work of technical support. Many users do not wait for answers from the technical service or do not get satisfactory answers. Can these complaints be considered justified if there is no specific evidence from the authors of the feedback, with supporting facts demonstrated by screens or copies of correspondence and documents? In addition, the site itself is negatively evaluated, and it is insufficiently informative for players. Positive players note the variety of platforms, favorable conditions, the presence of a mobile terminal, etc.
AGEA broker regulator
AGEA, being registered in Montenegro, is subject to the laws of the Securities Commission of the country (SCMN). In addition, the broker works with lawyers in order to comply with the MiFID Directive, which the EU member states are obliged to follow. However, the company does not have a license from major market regulators, and this approach makes it difficult for players to trust it with their funds and believe in its integrity. Let's hope that the company plans to obtain a license from one of the leading market regulators.
AGEA User agreement
Despite of the fact that the documents from the broker are offered in English, it is worth taking the time to study them. Among the documents available on the website agea.com is the User Agreement. In its text a number of important information is published concerning the work of the trader on the platform: these are his rights, obligations, etc. Let's show what we are talking about here. For example, the document says that, starting cooperation with the project, the player confirms the risks of trading, agrees that the broker is not related to these risks:
Besides, the broker will not be responsible for problems in the work of services, for example, payment systems, but is responsible for the results of his actions:
Is AGEA a scam?
AGEA has the considerable experience in working with financial markets, successfully provides its services to a number of players. It is not in vain that some of the players who have worked with him consider him to be a fraudulent person and publish negative opinions online. On the other hand, when requesting supporting documents, traders do not provide them, which also raises doubts about the veracity of their feedback.
Of course, there are positive reviews in the network, but to the negative comments should be added a fair inconvenience to working with the platform of the company. On the website agea.com the information is in English, the documentation is also published in this language. Without knowledge of this language, it will be difficult for a newcomer to work with a company and evaluate its capabilities. Apart from this, the company does not have a serious license of the leading market regulators, although it does not hide its location address.
Is AGEA a scam? We are not ready to give an exact answer to this question, because there are many pros and cons to this brand. Perhaps it is worth trying to work with the company at your own risk, but at the same time carefully study the documents, for example, the Agreement, which may not work in favor of the player. The situation will be clarified by the feedback of those traders who have already encountered the platform and are ready to share this valuable experience with other players. Please leave your feedback on the company's work below, right after the review.
Summary
AGEA is a major international Forex broker successfully providing its services to traders around the world. The platform offers a variety of tools, terminals and opportunities for the implementation of authoring strategies. Training materials are also available here. The project has enough negative points: the site is in English, negative comments on the network, lack of a serious license, etc. It is definitely not easy for a newcomer to work on the platform, especially without knowledge of the language. If traders want to try the work here, it is worthwhile to study its documents carefully and invest only minimal sums in trading.
Rating of reliable brokers