Stellarport is a decentralized crypto exchange where you can profitably trade cryptoassets. Fast transactions and no fees.
Read completely
Cryptocurrency exchange
Official website
Social media
Date of foundation

2018

Head Office
Types of support
Languages

English

The owner of the company
Minimum withdrawal amount

Verified

Cryptocurrency

From 0.000625 BTC
From 0.025 ETH
From 20 XRP
From 0.06 LTC

Unverified

Cryptocurrency

From 0.000625 BTC
From 0.025 ETH
From 20 XRP
From 0.06 LTC

Exchange Commission

Trade Commission: 0 % for maker /

0.015

% for taker

Withdrawal fee:

0.001

BTC /

0.02

ETH /

10

XRP /

0.1

LTC

Terminals

TradingView

Age restrictions
Number of cryptocurrencies
Number of trading instruments
Margin Trading
Tokenized assets

Own system token - Stellar (XLM)

Free Demo Account
Types of accounts
Execution of orders

Market order, Limit order

Methods of replenishment

Cryptocurrencies

Withdrawal methods

Cryptocurrencies

Account currencies

Cryptocurrencies

Types of cryptocurrencies

BTC, ETH, XRP, LTC, XLM

Mobile applications
Trader training

There are instructions on verification, deposit and withdrawal, commissions, etc.

A way to store cryptocurrencies
Fiat accounts
Scalping
Stop Loss and Take Profit Function
Exchangeability for fiat currencies
Terminal capabilities

Working with indicators, graphical tools

Basic verification
Extended AML verification

KYC (passport, passport or driver's license. Photo with document (selfies). Proof of address (bank statement, utility bill, etc.)

Regulatory laws

International data protection law

FATF (Financial Action Task Force)

API
Affiliate Program
Benefits

Attractive terms of cooperation

Popular cryptocurrencies and trading pairs

Fast transaction execution

Own system token - Stellar (XLM)

Productive trading in the NFT market

Advanced trading interface

Disadvantages

No support for fiat currencies

The interface is a bit confusing for new users

Company requisites

Legal name:

Stellarport LLC

Overall assessment
Date of update

20.02.2023
Subscribe to this company
Stellarport is this a scam? Reviews and description
Stellarport
-
cryptocurrency exchange
, launched in January 2018. It is a portal to all assets in the Stellar network. The platform offers a powerful trading interface. As well as an easy-to-use, non-storage wallet. On this decentralized platform, you can trade in real time. In today's review we will look at the features of the platform stellarport.io and find out if it is another scam online.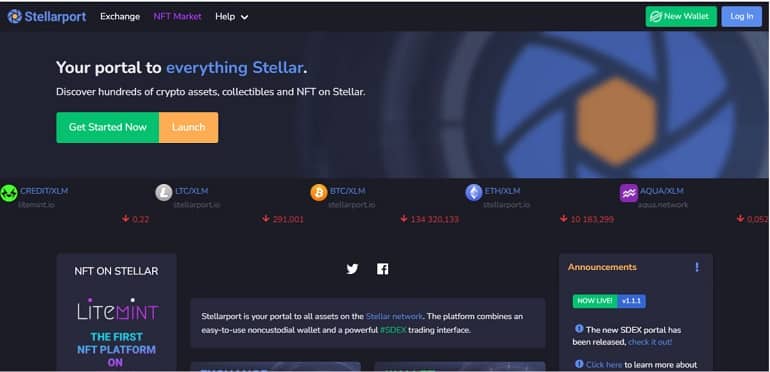 Why Stellarport?
Features Stellarport include a transaction processing time of five seconds, no trading fees for makers, a state-of-the-art trading interface and the ability to trade in real time. Users can also retain control of their private keys and funds rather than transferring them to third parties. Advantages of stellarport.io:
A decentralized trading platform;
Popular cryptocurrencies: BTC, ETH, XRP, LTC et al;
the system's own token - Stellar (XLM);
efficient market trading NFT;
Fast order processing, on average, a transaction takes five seconds;
available cryptocurrency wallet, from which you can manage your XLM tokens;
maintaining full control over your secret keys;
very competitive trade commissions.
How to exchange cryptocurrency on the platform stellarport.io?
To exchange cryptocurrency, you need to go to the "Exchange" section. There is no special form for a quick exchange of some coins for others. You need to select a trading pair, make buy and sell deals and exchange one cryptocurrency for another in the process of trading.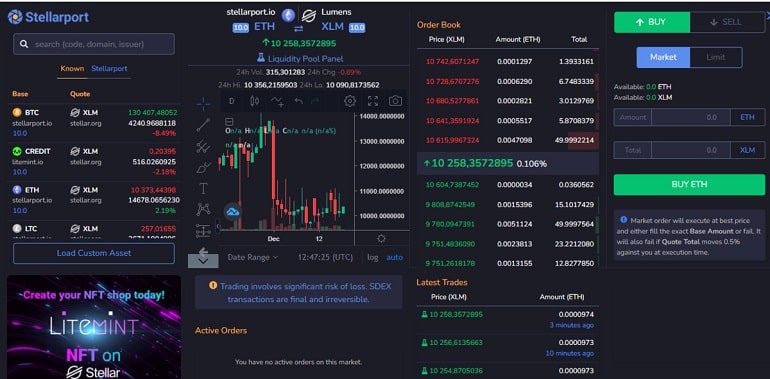 Buying XLM through Stellarport is easy. You can buy XLM in one minute with 3 easy steps:
Log in to your wallet (create one if you don't already have one).
Go to the deposit page and make one of the many deposit options available.
Exchange the newly deposited asset for XLM on the exchange page.
Verification on the Stellarport platform
On this site it is easy to pass identity verification. It is enough to register by entering a key phrase (the system creates it by itself, you just need to copy and paste it into the appropriate field), name and password. Registration takes a couple of minutes. After its passing, a personal account becomes available. After verification, you can trade in digital assets and make a profit. To complete KYC you need to contact the support team by email.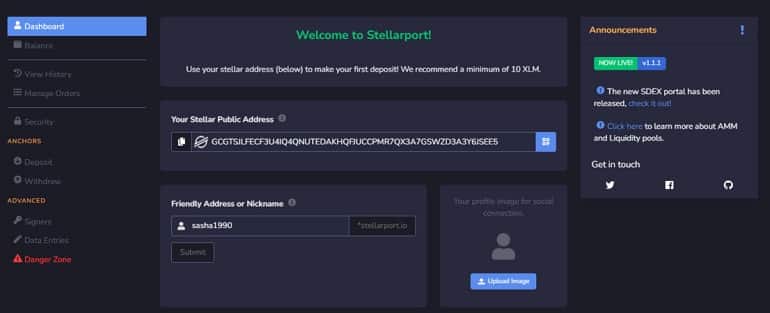 Deposit and withdrawal
Deposit cryptocurrency to your wallet Stellaport is very simple. To deposit, simply log in to your wallet and click the deposit option on the navigation bar. Follow the instructions to deposit the desired cryptocurrency. Then just wait for the deposit confirmation and that's it. In your personal cabinet, select Deposit on the navigation bar. Select the currency in which you want to make a deposit.

After selecting a currency, you will be presented with instructions on how to make a deposit. Follow these instructions carefully. For your coin, you will need to send data to a specific address and include a specific tag. In addition, for your new wallet, you will need to go back to the link after confirming the deposit and completing the procedure. If you activate your Stellar wallet, a small amount of your deposit will be converted to XLM and your wallet will be funded from that initial XLM.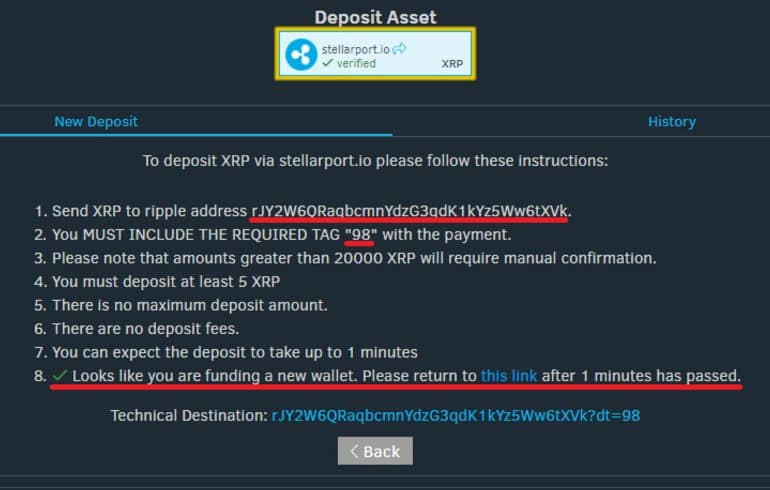 After making a deposit, you can view your deposit history by clicking on the "View History" tab.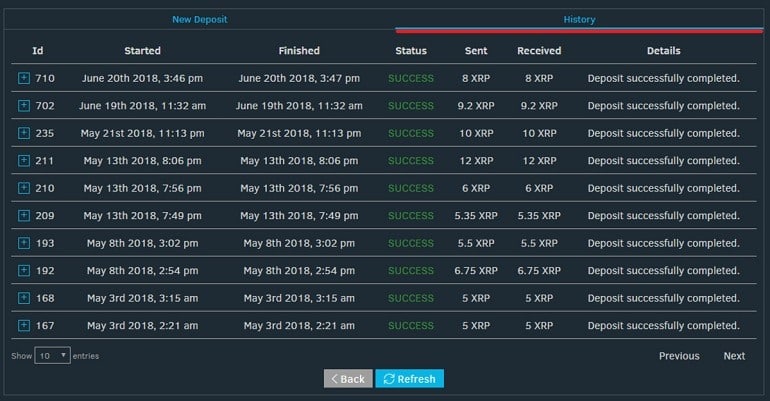 If you want to withdraw funds to another Stellar account, all you need to do is send a payment of some asset amount to another account. You can copy the address in the upper right corner of the platform.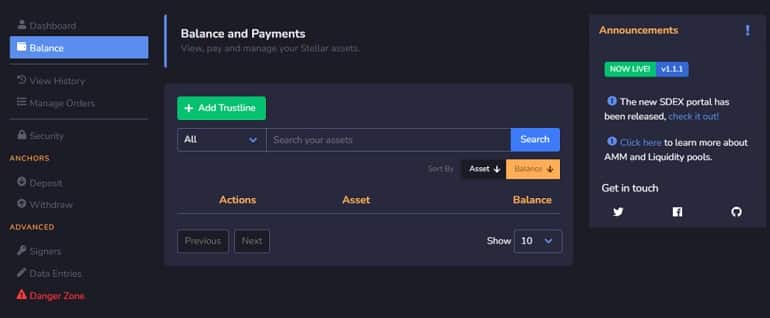 If you want to withdraw funds to an external account (for example, you want to withdraw BTC to a bitcoin wallet):
Log into your wallet.
Go to the output tab.
Follow the instructions to withdraw the assets.
Stellarport Crypto Exchange Commission
For the makers the commission is not provided, for the tickers it is only 0.015%. And the commissions for withdrawal are as follows:
BTC - 0.001;
ETH - 0.02;
XRP - 10;
LTC - 0.1.
Bonuses stellarport.io
About bonuses and affiliate program at stellarport.io nothing is said. The company does not offer earnings for inviting friends to this site through a referral link.
Complaints about Stellarport
Reviews about this exchange in the network are few. Negative reviews we have not found. They write that the exchange is decentralized and, despite this, works very quickly. Offered an excellent trading platform. But it is difficult for a beginner to understand it. It's a pity that there is no fiat trading, but overall the service is okay. The support service provides full and good help.

If there are any complaints about the Stellarport exchange, we will be sure to publish information on social networks. Sign up so you don't miss anything!
Please keep yourself informed about news and complaints. We copy the most valuable information to social networks, so please sign up!
Regulation of the crypto exchange stellarport.io
A cryptocurrency exchange can turn out to be a scam and a scam. You can lose your money if you deposit your account at a fraudulent office. That's why next we will look at the regulation of the company.
Regulator
The exchange is registered as Stellarport LLC. The site is presented only in English. The location address of the company is unknown, as well as information about the regulation. Apparently, the exchange does not have a license for financial activity. But this does not mean that it is a scam, as many companies work this way.
Stellarport User Agreement
As such, the "agreement" on the website stellarport.io is not provided. The Terms of Use contains the Privacy Policy, fee structure, and security information.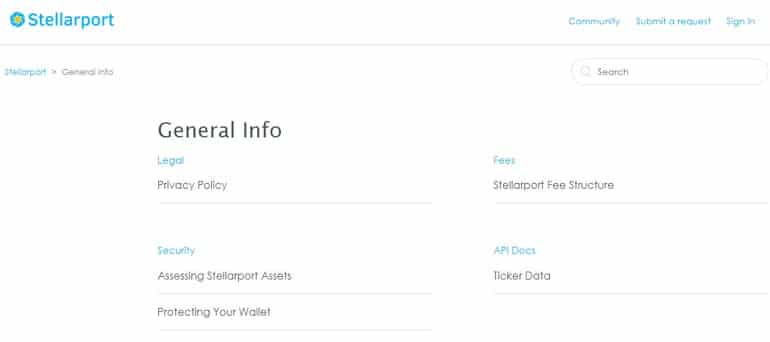 The Privacy Policy tells you how to use and share your personal information and how to contact support.

Customer Service
The support team can be contacted as follows:
Is Stellarport a scam?
О Stellarport practically nothing is known. The company is registered as Stellarport LLC, the site is presented only in English. It is unknown where the office of the exchange is located and whether it exists at all. The organization does not have a license to conduct financial activity. However, the support service can always be contacted by e-mail or in social networks.
Despite the lack of regulatory data, the exchange is not a scam or fraud. It has been on the digital assets market for 3 years and is popular among traders. It is easy to exchange some coins for others and get income. Users are presented with a convenient trading schedule, popular trading pairs, and a variety of charting tools.
Conclusion
Stellarport - is a decentralized cryptocurrency exchange created in 2018. It offers customers a modern trading interface and the ability to trade in real time. Only cryptocurrencies can be exchanged at stellarport.io, fiat money is not credited to the account. Any coins you can exchange for your own token system Stellar Lumens (XLM). Transactions are fast, commissions are minimal and trading conditions are attractive.
No reviews yet, be the first!
The company in the ratings
Robots for cryptocurrency
Activity
New

0

Resolved

0

Not resolved

0
New companies on the site