One of the first cryptocurrency exchanges for trading Bitcoin with the possibility of cold storage of assets and withdrawal of funds in fiat currencies.
Cryptocurrency exchange
Official website
Social media
Date of foundation

2011

Head Office

73 rue du Château, 92100, Boulogne-Billancourt, France

Types of support
Support by phone
Languages

French, English, German, Italian, Chinese

Founder
The owner of the company
Manager
Subsidiaries
External auditors

Autorité de Contrôle Prudentiel et de Résolution (ACPR)

Investors

NewFund, Kima Ventures, Gebel, Weg Bank

Minimum entry amount

Verified

Fiat

From 1 EUR / Maximum replenishment amount 100 000 EUR per day, 500 000 per month

Unverified

Cryptocurrency

Not available

Maximum input amount

Verified

Fiat

Up to 100,000 EUR / Daily
Up to 500,000 EUR / Monthly

Unverified

Cryptocurrency

Not available

Minimum withdrawal amount

Unverified

Cryptocurrency

Not available

Maximum withdrawal amount

Verified

Fiat

Up to 100,000 EUR / Daily
Up to 500,000 EUR / Monthly

Unverified

Cryptocurrency

Not available

Exchange Commission

Fiat currency withdrawal fee:

0.99

EUR

Trading fee (with leverage):

0.5

% for taker /

Until

0.1

% for maker

Age restrictions
Trading volume per day
Number of users

250000+

The number of users is constantly growing

Number of cryptocurrencies
Number of trading instruments
Margin Trading
Tokenized assets
Free Demo Account
Types of accounts
Execution of orders

Market order

Methods of replenishment

Sepa, Bank Card (Visa/MC)

Withdrawal methods

Sepa, Bank Card (Visa/MC), Cryptocurrencies

Account currencies

EUR

Types of cryptocurrencies

BTC

Licenses
Mobile applications
Trader training
A way to store cryptocurrencies

Cold:

Yes

Cold storage of 99% deposited BTC

Fiat accounts

Customers can open accounts in EUR

Scalping
Stop Loss and Take Profit Function
Exchangeability for fiat currencies

The crypto platform works with EUR

Terminal capabilities

Powerful charts, advanced terminal functionality for corporate accounts

Basic verification
Extended AML verification

KYC (passport, ID card or driver's license). Video of the client with the document (selfies). Confirmation of address (bank statement, utility bill, etc.), IBAN of client's bank. To verify a corporate account you will need the company's statutory documents

Regulatory laws

Regulated by acts of financial and tax legislation in France

API

Read more

Opening an account, getting access to market information and making transactions

Affiliate Program
Benefits

Reliable company, in operation since 2011

Negative transaction fees

Profitable referral program

Disadvantages
Company requisites

Legal address:

73 rue du Château, 92100, Boulogne-Billancourt, France

Overall assessment
Date of update

04.02.2023
The address is
73 rue du Château, 92100, Boulogne-Billancourt, France
Map
Subscribe to this company
Paymium is a scam? Reviews and description
Paymium - French cryptocurrency exchange. It has been operating since 2011. Offers Bitcoin trading, exchanging cryptocurrency assets for fiat, cold storage of BTC and other financial options.
The site has received an official license for financial activity and offers one of the lowest commissions for trading operations. To understand how the exchange works and whether it is a scam, let's take a closer look at paymium.com.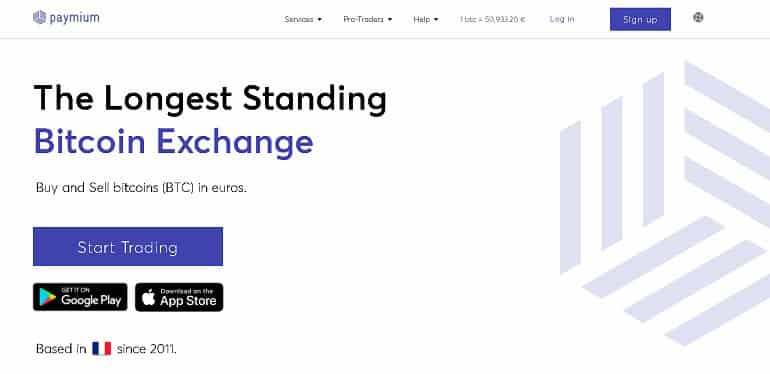 Why Paymium?
In 2011, Payium was one of the first exchanges to start working with Bitcoin. Today, the company describes itself as a BTC bank with trading and exchange capabilities. The cryptocurrency exchange works only with Bitcoin, but can offer a good choice of services: buying and selling coins, cold storage, wallet, mobile applications and buying BTC for fiat currencies (how to make money on cryptocurrency?). Benefits paymium.com:
one of the lowest payment transaction fees;
platform with an intuitive interface;
advanced functions for the trading charts;
two-factor authentication;
referral program and bonuses for active trading in the form of reduced commissions.
The exchange platform itself is regularly updated and recently changed the logo and interface, some sections of the site are only available to registered users. paymium.com only works with one trading pair BTC/EUR. To deposit to your account you can use bank card or transfer. Transactions are charged only on completed orders, and Bitcoin refunds are available in case of technical failures.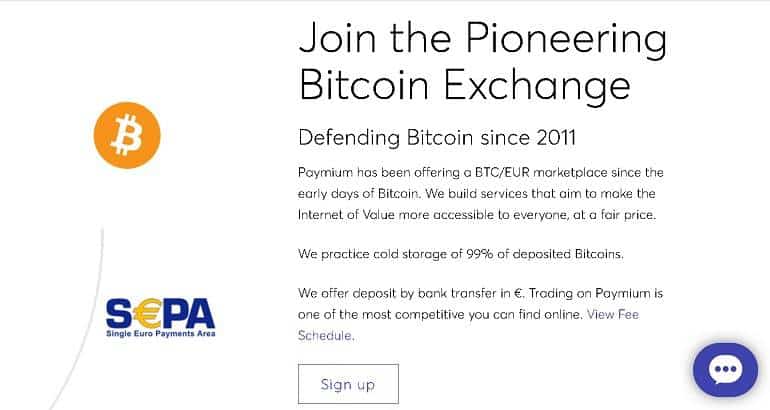 Another advantage Paymium - free deposit and withdrawal of BTC from the deposit. To make working with Bitcoin on the platform more convenient, operative and understandable the company has launched a mobile application. The program can be downloaded from the App Store or Google Play.
How to exchange cryptocurrency on paymium.com platform?
To exchange assets new customers need to register and be verified. Transferring euros to a bank account can take up to 72 hours. Bitcoins to euros are exchanged through the "Deposit" section and the creation of a market order. Sell cryptocurrency for the euro can be exactly the same through the creation of an immediate or extended order to sell the asset.
Verification on the Payium platform
The platform offers two types of accounts: "Business" and "Personal". To get started, you need to open a personal account by following the registration and login link. Most operations are available only after the account is confirmed. For this you will need the following documents: passport or ID card and any other document indicating the place of residence within the last three months. After taking photos of your documents, you will need to upload them to the site. After that, you will be able to set two-factor authentication for your account.
Deposit and withdrawal
Withdrawal on the platform is only possible for verified accounts. Before withdrawing or depositing you need to select the currency. The company does not take a commission for BTC withdrawal, but there are time limits for group transactions. Transfers are made several times a day around the clock, seven days a week. There are also restrictions on withdrawing euros: not more than 100 thousand euros per week or 500 thousand euros per month (cryptocurrency earning options). Withdrawal operations are not carried out in real time, but on a scheduled schedule.
Cryptoexchange Commissions
Payium offers one of the lowest commissions for trades. From - 0.1% for maker and 0.5% for taker. When withdrawing funds via payment system Sepa will take a fee of 0.99 EUR. For credit cards, there will also be a fee - 8% of the withdrawal amount.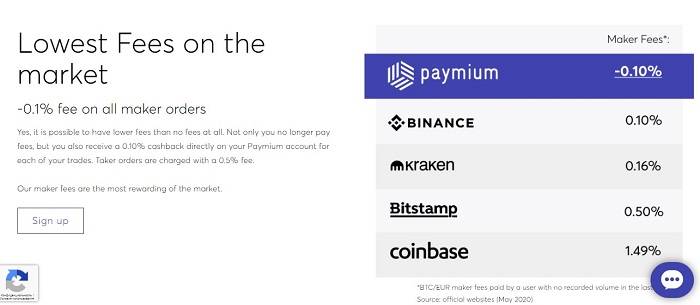 Paymium bonuses
The company has developed bonus offers for regular customers and partners.
Discount on trade commissions
The crypto platform has a negative commission for trading operations: - 0.1%. In addition, all clients will be able to receive a cashback of 0.1% for each transaction.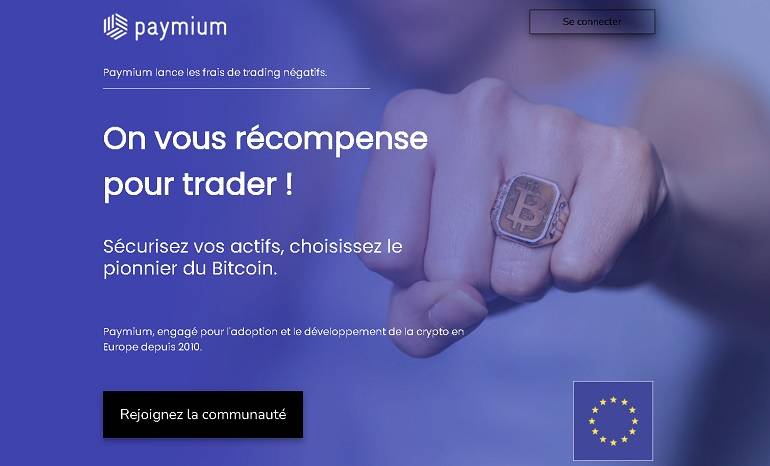 Referral program
Becoming a member of the referral program is simple. You need to register and get a link to be embedded on the site. For each new member exchange pays 30% commission. Another plus of this program: the platform has no limit on the number of partners involved.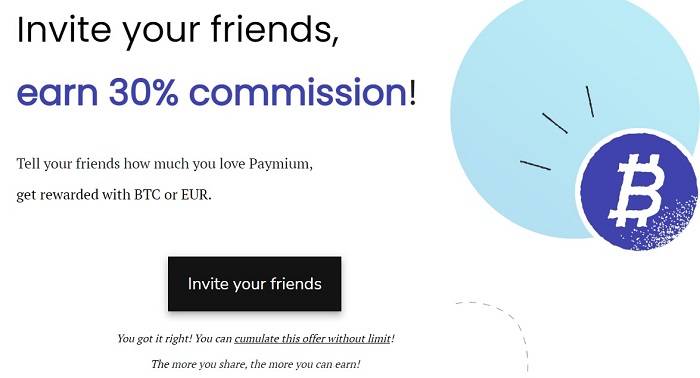 Complaints about paymium.com
This exchange has been operating for a long time and you can find a lot of feedback from its customers. Most of them are on English-language sites and almost all of them are positive. Clients of the crypto platform note the convenience and speed of transferring Bitcoin into fiat. They also write about the operative work of the support service, the reliability of the platform and the lowest commissions. We could not find any negative reviews.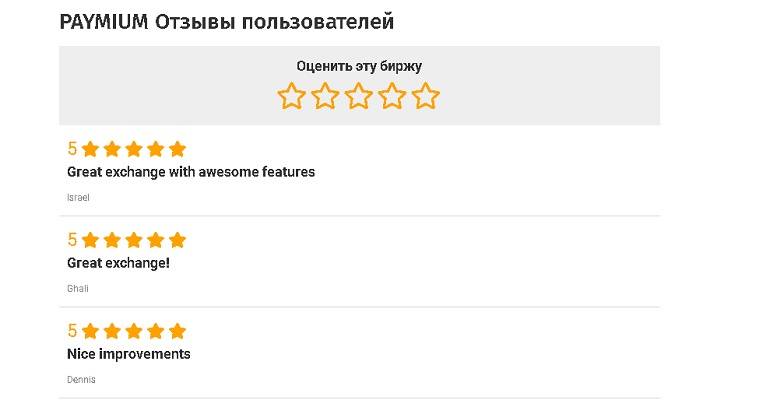 If there are any complaints about Paymium, we will be sure to publish information on social networks. Sign up so you don't miss anything!
Please keep yourself informed about news and complaints. We copy the most valuable information to social networks, so please sign up!
Regulation of the Paymium cryptocurrency exchange
Trading cryptocurrencies online is an area where it is easy to fall for fraudsters. That's why it's best to choose companies that are licensed to conduct financial activities and have a physical office.
Regulator
Paymium registered in France. Registered address: 73, rue du Chateau 92100 Boulogne-Billancourt, France. Registration number in the registry of organizations in France: 533 264 800. The company is registered with the AMF. License number: E2021-011.

User agreement with paymium.com
When registering and opening a personal account, clients accept the rules of work on the site. Like other documents, the contract is not translated into Russian, but it is made in sufficient detail and includes all the basic concepts used on the site, the rules of work and the features of the portal.

The client will have fourteen days to cancel his account and close all transactions on the site, in case he decided to delete his account and terminate the contract. If he warns the exchange administrators in advance, transactions will be closed without penalty before this period expires.

The partner bank or the exchange itself can close the client's account without warning in case of suspicion of misconduct. The role of the partner bank is, among other things, to support transactions for deposit and withdrawal of funds from it.


At any time the customer can request a refund of the invested Bitcoins. The transaction is performed by creating a transaction at the request of the customer.


In some cases, the bank may refuse to execute a trade order: if mistakes were made, the client's obligations are violated or he is not an adult, all points are spelled out in the pages of the contract.

The document is very detailed, it also specifies the rules for Bitcoin purchase transactions from a bank card. The rights for such transactions are delegated to the company's banking partners.


Customer Service
For general questions, a chat with a bot consultant and a help center are available on the site. You can ask a question or report an error via email, Twitter, or Telegram. According to customer comments, the exchange's support service works quickly.
Is Paymium a scam?
Paymium - is not a divorce. One of Europe's oldest cryptocurrency exchanges, which offers BTC/EUR trading pairs, has been operating since 2011 and offers: high level of security, simple and intuitive trading interface, mobile application, possibility of opening a corporate account, Bitcoin to fiat currency exchange and profitable referral program. When connecting and registering, users can choose between basic and extended trading opportunities terminal.
Commissions for all transactions are as low as possible. Feedback from clients is predominantly positive. paymium.com is not yet very popular on the Russian market. The portal is not translated into Russian and is focused mainly on European exchanges.
Conclusion
Paymium offers favorable conditions for those interested in Bitcoin trading. In addition to negative transaction fees, thanks to its partner banks, the company has very high euro withdrawal limits and no BTC withdrawal fees. The exchange offers cold storage of cryptocurrency assets and will suit those who want to work only with EUR/BTC currency pairs.
No reviews yet, be the first!
The company in the ratings
Robots for cryptocurrency
New companies on the site