International online store of quality children's clothing, shoes and accessories from the world famous brand. Discounts, promotions and bonus program.
Read completely
Online store
Official website
Head Office

1800 at Phipps Tower, in Buckhead, Atlanta

Date of foundation

2003

The owner of the company
Types of support

[email protected]

Live Chat

Feedback form on the site

Help Center

Facebook

Instagram

Twitter

Support by phone
Social media
Languages

English

Bonuses
Payment methods

Bank card (Visa/MC), PayPal, Bonus points

Buying on credit
Installment
Store category

Clothing, Footwear and Accessories, Goods for Children

Project Features

Online store children's clothing and shoes from the famous American brand

Additional services
Project regions

All countries in the world

Shipping methods

Courier delivery, Transportation companies

Transportation companies

FedEx, DHL

Delivery time

From

6 days

Depends on the delivery region

Mobile applications
Affiliate Program
Benefits

A wide range of children's clothing and shoes

High quality merchandise and order tracking

Regular promotions and discounts

Convenient payment methods, the possibility of return and exchange

Fast international shipping

Responsive customer service

Disadvantages

There are delays in the delivery of purchases

Regulatory agencies and laws
Company requisites

Legal name:

Carter's, Inc.

Legal address:

206 State Street, Oshkosh, WI 5490, USA

Overall assessment
Date of update

15.02.2023
Address
1800 at Phipps Tower, in Buckhead, Atlanta
Map
Subscribe to this company
OshKosh B'gosh is this a scam? Reviews and description
OshKosh B'gosh
is owned by Carter's, Inc. Here you can buy children's clothing and footwear brands such as Carter's, OshKosh B'Gosh and Skip Hop. The company is one of the largest and most recognizable manufacturers of children's clothing in the world. On the store's website you will find a wide range of clothing for girls and boys from underwear to jackets.
You can also buy shoes and necessary accessories. Online store regularly offers its customers various promotions and discounts. Here you can buy the latest models of goods, seasonal items, goods on sale, etc. at discounts. When buying, you can order gift wrapping with the company logo and a greeting card. But isn't OshKosh B'gosh a scam?
Why OshKosh B'gosh
As you know, very strict quality requirements are applied to children's products. Children's clothes and shoes should be made of natural materials, painted with non-aggressive dyes, and should not contain toxic compounds and hazardous components. That is the kind of products for children offers an online store OshKosh B'gosh. Products this online store is known throughout the world for its high quality and safety. Here you can buy clothing for children from 0 to 14 years, as well as quality shoes and accessories. Among the main advantages of OshKosh are:
A wide range of children's clothing and shoes.
High quality products.
Regular promotions and discounts.
Convenient methods of payment.
Fast international shipping.
Possibility of return and exchange.
Caring customer service.
In addition to OshKosh B'gosh brand products, on the website oshkosh.com You can buy baby products from brands like Carter's and Skip Hop.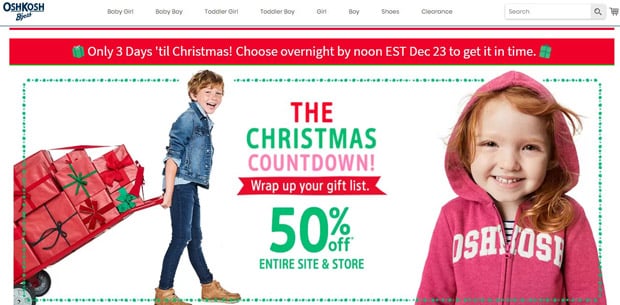 What you can buy at OshKosh B'gosh
OshKosh B'gosh offers customers a wide range of children's clothing, shoes and accessories. The website of the online store features the following headings.
Girls from 0 to 24 months
Here you can buy tops and bodysuits, jumpsuits and sweaters, leggings, pants, shorts and skirts, dresses, shirts and underwear.
Boys 0 to 24 months
This category includes baby clothes such as jeans, sweaters and sweatshirts, outerwear and rompers, as well as underwear and T-shirts.
Girls 2-5 years old
There are shirts and jeans, leggings and skirts, smart and casual dresses, outerwear, sportswear, and a variety of suits, jumpsuits and kits.
Boys 2-5 years old
Here you can buy stylish children's clothes for ages two to five. The category includes T-shirts, jeans, outerwear, sweaters, underwear, jumpsuits and kits.
Girls 4-14 years old
This category features stylish clothing collections for girls ages 4 to 14. Here you can buy jeans, sweaters, blouses, tops, dresses, skirts, and more.
Boys 4-14 years old
Here you will find modern clothing collections for boys and teenagers. In this category you can choose stylish jeans, sportswear, T-shirts, outerwear, warm clothing and much more.
Shoes
This category contains shoes for boys and girls from toddlers to 14 years old. Here you can buy sports shoes, shoes, boots, moccasins, sneakers, sandals, etc.

How to find the right product at oshkosh.com
Products on the site oshkosh.com can be searched in the following ways:
Search Function. If you speak English and know exactly what product you want, you can add your search query to the search bar. The search bar is located at the top right of the page. After entering a keyword, click on the magnifying glass icon and the system will find all products that match your query.
Search site directory. The site catalog opens at the top left of the page. After opening the catalog, select the appropriate heading and go to the page with the site's offerings.
Service Recommendations. On the main page of OshKosh you can see such recommendations as T-shirts for girls, tracksuits, jeans, shoes and other products. After selecting a category, go to the offer page and choose the items you want.
Product card
The detailed description of the product can be found in its card. To go to the product card, select the necessary section, your favorite product and click on its image. In the opened product card you can see detailed photos, available sizes and product description. From the product card you can put it in your shopping cart or add it to your favorites.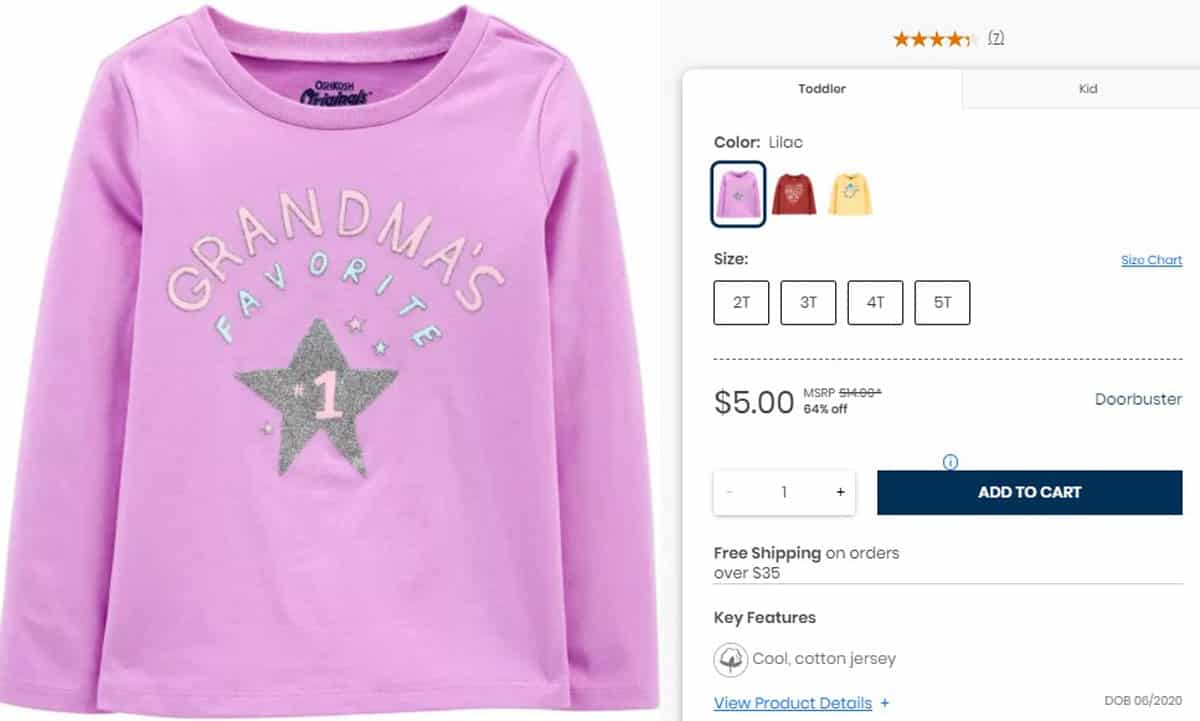 How to order from OshKosh
Only registered users can place an order at OshKosh. Registration on the site is required to be able to track order status, delivery status, as well as to participate in closed promotions and bonus program.
How to register at oshkosh.com
To register with OshKosh, click on the "Sign In" button in the upper right corner of the page. Then select the "Create account" function. Next, a registration form will open in front of you and you will need to fill it out. To register you will need to enter your first name, last name, email address and password. Please note that personal information must be filled out in English. After all fields of the registration form are filled out, click "Create Account".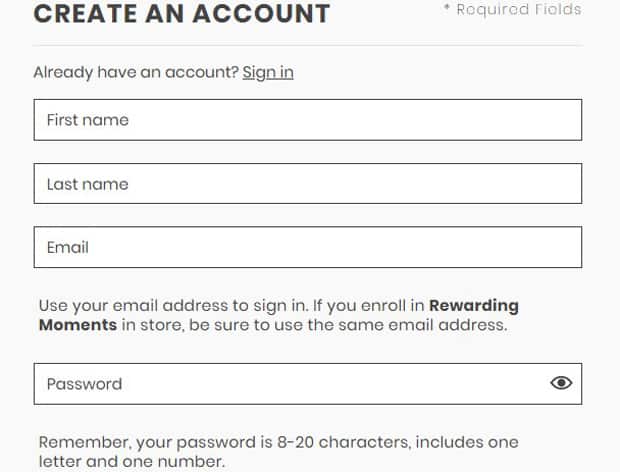 Personal Cabinet
After registering, you'll get right into your personal account. It allows you to track not only your orders, but also the accumulation on your bonus account, add delivery addresses, payment methods, view the history of orders and receive additional discounts, as well as fill out information about children and view the list of favorites. You'll also find information about returns, shipping, etc.
How to order from OshKosh B'gosh
After registering on the website oshkosh.comYou can select items and place an order without leaving your account. Once you have selected the necessary items, simply put them in the cart, and when the cart is formed, you can proceed to checkout. To do this, go to your cart and check the shopping list. At this stage you can adjust the quantity and list of items. Then you will see available shipping options and the total amount of your order. You can also find out how many bonus points you get for your purchase. At the last stage of ordering you need to pay for it and you will only have to wait for your delivery.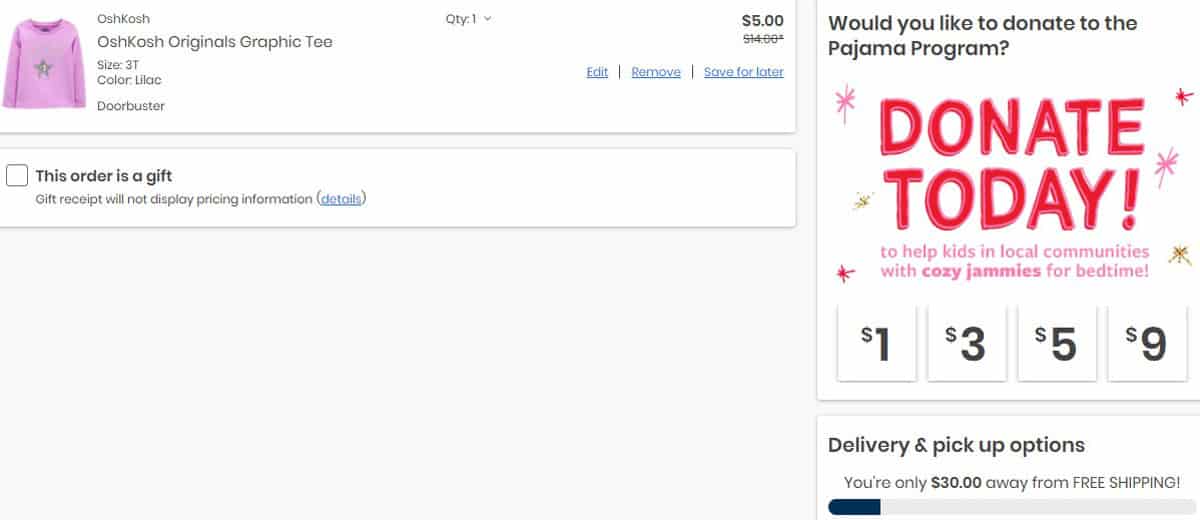 Additional features of OshKosh B'gosh
From additional services online store OshKosh can offer the following.
Gift cards
OshKosh gift cards can only be ordered for purchases in the United States. Unfortunately, gift cards are not valid for international orders. You can choose a classic gift card or order a personalized design and greeting message on the website.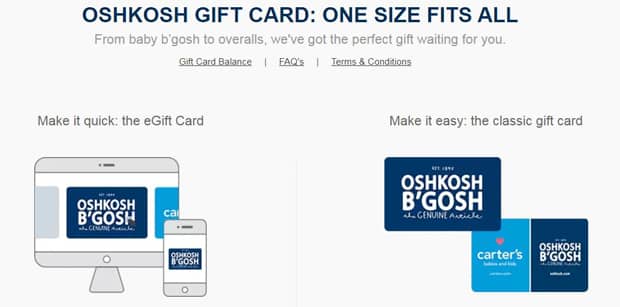 Size chart
Using the height and weight charts, you can find the right size for your child.
Career
Everyone can find their dream job on the site. With international offices all over the world, the company is always looking for those who understand and know how to work globally. Keep a close eye on the company's job openings, and you're sure to find a job in your country, as international growth is a priority for Carter's, Inc.
Blog
OshKosh magazine will tell you a lot of interesting facts about parenting, the trends of the season, how to choose clothes and shoes and how to care for them.

Mobile application
OshKosh B'gosh online store has no official mobile app, but you can always use the mobile version of the site.
Payment and delivery at OshKosh B'gosh
One of the advantages of OshKosh online store is convenient payment and fast international delivery. Delivery is made by trusted transportation companies.
How to pay for the order
You can pay for your order on the OshKosh website in the following ways:
Bank card online. For international orders bank cards Visa and Mastercard are accepted for payment. When choosing this method of payment you will be redirected to the payment page, where you have to enter bank card details to make a payment. In order not to enter payment details every time you can link your bank card to your account in your personal cabinet.
PayPal. If you wish, you can choose this method of payment and pay for your order using any convenient method available in this system. If you choose to pay with PayPal you will be redirected to the payment service site.
Payment with bonus points. When placing an order, you can use your bonus points to pay for it.
Ways to deliver the product
When you place your order on OshKosh website, you will see available shipping methods. International orders are shipped with the help of international shipping companies, which ensures fast and reliable delivery anywhere in the world. The approximate delivery time you will see also when placing an order. After paying for your order you will receive an e-mail, as well as in your personal account tracking number of the parcel. You can track the parcel in your personal cabinet.
OshKosh's return policy
You can cancel your order on OshKosh website at any time before you receive it. To do this, use the interactive return tool in your personal cabinet. If the product you received does not fit or you do not like it, you may return it with the original sales receipt, provided the original packaging is preserved. The return period for merchandise of proper quality is 90 days from the date of purchase. If you return a product of proper quality, you will receive a refund minus the cost of shipping and handling of your order.
If you received the goods of improper quality, immediately report it to the support service of OshKosh online store by phone or by writing a message in the feedback form or online chat. To your message, attach photos of factory defects or damage to the goods. If you received the goods of improper quality, online store will return you the full amount, including the cost of delivery and handling of the order.
Bonuses at OshKosh B'gosh
OshKosh online store gives its customers various discounts and gifts. To date, the site has the following promotions.
Free Shipping
For orders of $35 or more, shipping is free.
New Year discounts up to 50%
Go to the promo page and choose sweatshirts, tops and jeans at a discount of up to 50% for boys and girls of different ages.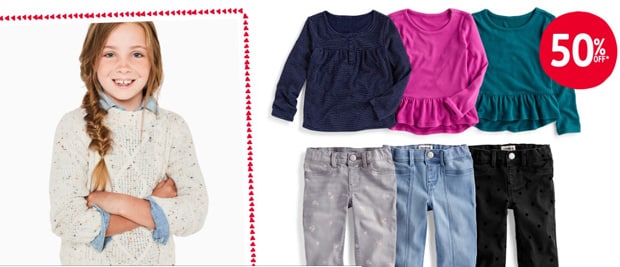 Discounts of up to 50% on tracksuits
As part of the promotion you can buy track suits for boys and girls, as well as for the little ones, with discounts up to 50%. Also here you can buy separately sports pants, sports jackets, T-shirts and other sportswear.

Two pairs of jeans for the price of one
Buy jeans for boys, girls, toddlers and teens during the promotion and get the same pair for free.

Hunting for discounts
Choose a T-shirt with a picture and match it with leggings, jeans and shoes. Get extra discounts and create a unique look for your child.
Coupons
You can get discount promo codes as part of current promotions on the OshKosh website, as well as in the service's mailing list. Subscribe to the mailing list of the online store and get secret numbers for additional discounts.
Bonus Program
Every order at OshKosh will give you bonus points to your personal account. Bonus points are credited immediately after shipment of goods. You can use bonus points to pay for subsequent orders. Please note that the period of validity of bonus points is limited. Also bonus $25 is credited to the bonus card.

Affiliate Program
William Carter is looking for partners to join our affiliate program. You can earn money from the affiliate program by promoting Carter's, OshKosh & Skip Hop's range of quality children's products. To join the affiliate program, you need to leave an application, and once it is reviewed, you will have access to a dashboard to promote the company's products. The basic affiliate program rate is 2%, but once your application is approved, the company will adjust your rate according to the promotion method you choose. The maximum affiliate rate is 15% of the paid order amount.
Complaints about OshKosh B'gosh
More than 95% users recommend this service. The vast majority of shoppers comment on the high quality of children's clothing, the large selection, and the excellent design. The only thing some customers complain about is the long delivery time.
Otherwise, the buyers of the online store OshKosh are absolutely satisfied with their purchases. Users write that OshKosh clothes are really high quality. Many buyers also single out professional support service, absolute size matching, reasonable prices, convenience of ordering on the site, availability of promotions and discounts, as well as durability of the products and ease of care among the advantages of the online store.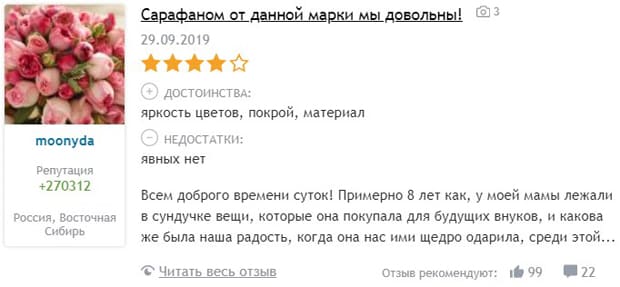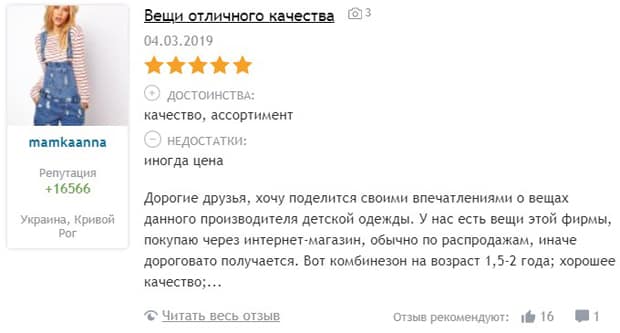 If there are reviews about OshKosh B'gosh online store, we'll be sure to post on social media. Sign up so you don't miss anything!
Please keep yourself informed about news and complaints. We copy the most valuable information to social networks, so please sign up!
Supervisory authorities
Online store OshKosh is owned by Carter's, Inc., known worldwide as a manufacturer and supplier of quality children's clothing, shoes, accessories and toys. The company operates in accordance with the laws of the United States of America, and the controlling authority is the authorized services of the United States of America. The relationship between buyers and seller is regulated on the OshKosh website by the User Agreement.
oshkosh.com User Agreement
The OshKosh Online Store User Agreement is referred to as the "Terms and Conditions. This document contains the terms and conditions governing the use of the website owned by Carter's, Inc. Pursuant to this document, the site is available for personal, non-commercial use only, which is limited to browsing the site and ordering products. In order to use the online services of the site, you must create an account. The user has the right to create only one account, providing accurate, current and complete information about himself/herself. If the service administration detects multiple registrations, it reserves the right to cancel the account and all of your orders.

In case of any disputes or disagreements, the user is obliged to contact the administration of the service by e-mail or other method of communication to solve the problem. The parties shall make every effort to resolve disputes, claims and issues directly, through consultations and good-faith negotiations. If no agreement is reached in the course of negotiations, claims can go to court. Pursuant to this document, arbitration will be heard and decided by a single arbitrator. The arbitrator's decision will be final and binding.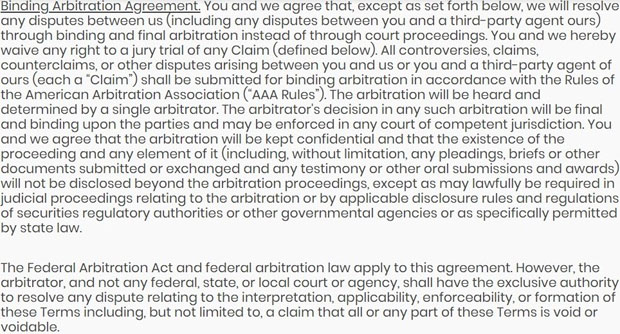 Customer Service
You can contact the support service of the online store if you have any questions as a result of using the service. You can get full consultation in the "Questions and answers" section, where you will find complete information on how to place an order, how to pay for it and what delivery methods are used. If you have not found an answer to your question in this service, you can always contact the OshKosh support team. Moreover, you can contact the support team for advice on the selection of products. You can contact the helpdesk on the following contacts:
Phone: 877-333-0117, 706-487-8712 .
Online Chat.
Feedback form.
Knowledge Base.
Social Media.
Email: [email protected]
Please note that if you received the goods of improper quality, you should contact the support team of the online store as soon as possible and confirm the fact of discrepancy of goods by video pictures. In this case the administration of the online store will offer you an individual solution to the problem. If you want to get your money back, you will get a full refund, including shipping and ordering fees.
OshKosh B'gosh is a scam?
Online store OshKosh B'gosh belongs to Carter's, Inc., which has long been known worldwide for the quality and variety of children's products. Having analyzed the reviews on the Internet, as well as the work of the store and support service, we came to the conclusion that OshKosh is not a scam. In our opinion, this is one of the most reliable online baby products store, where you can buy really high quality clothes and shoes and accessories for your child. All customers are satisfied with their purchases and have already managed to assess the high quality of goods.
Conclusion
Online store OshKosh B'gosh - is a service where caring parents can always buy clothes and shoes of high quality from a well-known manufacturer for their child. The quality of children's products sold in OshKosh is confirmed by numerous reviews of customers from different countries. Here you can buy clothing made of natural fabrics, without aggressive dyes and harmful components. Shoes online store OshKosh is characterized by high wear resistance and durability.
The site also offers accessories such as hats, mittens, bracelets, headbands, scarves, umbrellas, and more. When buying goods at OshKosh, you can be sure that your child will be safe. The main advantage of the online store is the fast delivery. You can receive your order within two weeks after purchase. Also among the advantages buyers highlight the presence of a bonus program, constant promotions and discounts, as well as seasonal sales, where you can save up to 80% of the cost of things.
The company in the ratings
Activity
New

0

Resolved

0

Not resolved

0
New companies on the site