LocalCoinSwap is a P2P cryptocurrency exchange with multiple blockchains, the ability to open an account in 161 world currencies and a lucrative referral program.
Read completely
Cryptocurrency exchange
Website
Social media
Date of foundation

2015

Head Office

Hamilton Development, Unit B, Charlestown, St. Kitts and Nevis, Antigua and Barbuda

Types of support

FAQ

Feedback form on the site

Telegram: @localcoinswap

Twitter

Facebook

Languages

English, Russian, Spanish, Portuguese, Japanese, Korean, Indian, Chinese

Founder
The owner of the company
Minimum entry amount

Verified

Cryptocurrency

AFN No minimum input limit

Fiat

AFN No minimum input limit

Unverified

Cryptocurrency

AFN No minimum input limit

Fiat

AFN No minimum input limit

Maximum input amount

Verified

Cryptocurrency

AFN No maximum input limit

Fiat

AFN No maximum input limit

Unverified

Cryptocurrency

AFN No maximum input limit

Fiat

AFN No maximum input limit

Minimum withdrawal amount

Verified

Cryptocurrency

From 0.0006 BTC
From 0.001 Dash

Unverified

Cryptocurrency

From 0.0006 BTC
From 0.001 Dash

Exchange Commission

Withdrawal fee:

0.00045

BTC /

0.0005

Dash

Commission for processing transactions:

1

% / Percentage of transaction volume

Commission for conversion through dollar/euro: 0 AFN At the market rate

Terminals

CryptoCashThai

Age restrictions
Trading volume per day
Number of cryptocurrencies
Margin Trading
Leverage

The value of the margin in percent is set by the user when creating a deal

Tokenized assets
Free Demo Account
Types of accounts
Execution of orders

Dynamic price, Fixed price, By user formula

Methods of replenishment

Abra, Advcash, Alipay, Bank Card (Visa/MC), American Express, Apple Pay, Alfa Cash-in, Facebook Messenger Payment, GPay, iTunes Gift Card, MoneyGram, Neteller, OKPAY, Paxum, Payeer, Neosurf, PayNow, Perfect Money, PayPal, Qiwi, Sepa, SWIFT, Western Union, Skrill, Webmoney, Yandex.Money, Bank Transfer, 300+ payment methods

Withdrawal methods

Abra, Advcash, Alipay, Bank Card (Visa/MC), American Express, Apple Pay, Alfa Cash-in, Facebook Messenger Payment, GPay, iTunes Gift Card, MoneyGram, Neteller, OKPAY, Paxum, Payeer, Neosurf, PayNow, Perfect Money, PayPal, Qiwi, Sepa, SWIFT, Western Union, Skrill, Webmoney, Yandex.Money, Bank Transfer, 300+ payment methods

Account currencies

RUB, AFN, ALL, DZD, AOA, ARS, 100+ currencies

Types of cryptocurrencies

Bitcoin, Ethereum, Polka dot, Kusama, USD Coin, Pai Stablecoin, DASH, LCS Cryptoshared, Nexo, Paxos Standard, Tether

Mobile applications
Trader training
A way to store cryptocurrencies

Cold:

yes

95% of deposited funds

Hot:

yes

5% of deposited funds

Fiat accounts
Scalping
Stop Loss and Take Profit Function
Exchangeability for fiat currencies
Basic verification

Multi-factor authentication is configurable at the user's request

Extended AML verification

In a transaction - depending on the requirement of the other party. When using the account - no or may be requested by the company if fraud is suspected

Regulatory laws

Law of the Russian Federation "On digital financial assets" from January 1, 2021

The Law of the Russian Federation from 07.08.2001 N 115-FZ "About counteraction to legalization (laundering) of incomes received by a criminal way and terrorism financing".

API
Bonuses
Affiliate Program

Registration

From 10 to 30% of the amount of referral commission

Benefits

Open an account in any of the 161 world currencies

3 ways to make a deal: by someone else's ad, your own ad, directly from a cryptocurrency

Protection of transactions by escrow

No minimum and maximum exchange amount

You can send a request to add a cryptocurrency that is not on the list of assets

"Cold" storage in a cryptocurrency exchange or personal wallet

User adjusts the margin level and chooses the crypto-exchange

Support for 300+ deposit/withdrawal methods

Fast processing of transactions: with toned assets - up to 30 minutes, with BTC - up to 2 hours

Exchange has been moderated and is present on serious thematic forums such as MMGP, Bitalk and Bits.media

Disadvantages

You cannot cancel an erroneous transaction through the exchange - you have to contact the user to whom the assets have gone

Few reviews of the exchange

Unconfirmed registration of the company-owner

Company requisites

Legal name:

TechHouse Limited

Legal address:

Hamilton Development, Unit B, Charlestown, St. Kitts and Nevis, Antigua and Barbuda

Overall assessment
Date of update

27.04.2022
LocalCoinSwap is it a scam? Reviews and description
LocalCoinSwap works with 11 cryptocurrency and tokenized units: Bitcoin, Ethereum, Kusama, Nexo, Tether, LCS, Paxos, Polkadot, USDCoin, Dai and Dash. The exchange also offers a P2P exchange of assets between physical users. Several blockchains are used. Transactions are protected by escrow scripts (smart contracts, open code).
Are the transactions handled quickly? How reliable is it all? Is LocalCoinSwap a scam or a serious representative of the industry? Let's look into it.

Why LocalCoinSwap?
To start with, at LocalCoinSwap you can open an account in any of the 161 world currencies - from American, Canadian, Australian, Barbados or Hong Kong dollar, euro or pound to Honduran lempira, Mongolian tugrik, Dutch antilles guilder and Ethiopian bull. There is no standard identity verification at registration, which speeds up the process of working with cryptocurrency exchange.
But multifactor authentication is set up, when each transaction must be confirmed by entering a one-time code from an SMS, which comes to the cell phone tied to the account. This should secure the user's assets. The latter are offered to keep the dollar in their own wallet or in the "cold" storage platform. And exchange from it at once, or specify a payment link every time. In short, complete freedom of choice. This principle is confirmed by the absence of replenishment limits: you can exchange even 1 ruble, if there is a buyer. Also among the advantages of cryptoexchange:
3 ways to make a deal - by someone else's ad, your own ad, directly from a cryptocurrency wallet.
Several ad search filters - type of asset, payment method, place of transaction (if desired, you can buy or sell currency from P2P traders from your region) and even the length and frequency of the seller's presence on the site. It is possible to select a specific participant of the service for a deal - to do this, enter his name/nickname in the search field.
Protection by escrow. Until the buyer receives a c.u. from the seller, the currency/cryptocurrency being purchased is also "frozen.
Ability to send a request to the company to add cryptocurrency, which is not in the list of assets.
Setting the level of margin and the choice of cryptocurrency (from 10 options) by the user.
Support for 300-plus deposit/withdrawal methods, including those that are only valid in certain regions and countries. There is even an exchange for cash in person.
Low commission, which does not include intermediary fees.
Fast processing of transactions. With toned assets - up to 30 minutes, with BTC - up to 2 hours.
On the plus side, you can also include the fact that localcoinswap.com has been moderated and is present on serious thematic forums like MMGP, Bitalk and Bits.media.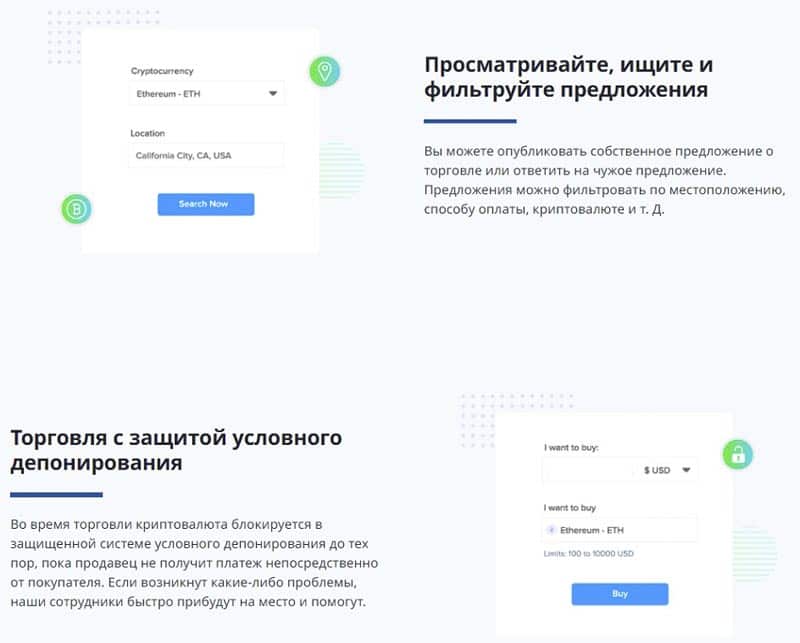 How to exchange cryptocurrency on LocalCoinSwap platform?
To exchange cryptocurrency and fiat currency in LocalCoinSwap using available ads you don't need registration - you just open "Buy Cryptocurrency" or "Sell Cryptocurrency" section, choose asset, payment method and country of transaction. And see what's available in the list that suits you. In this case, you will be limited by the requirements that other users have set. For example, to the number of crypto units, status (newbie or old-timer of the site) and the need to undergo advanced identity verification.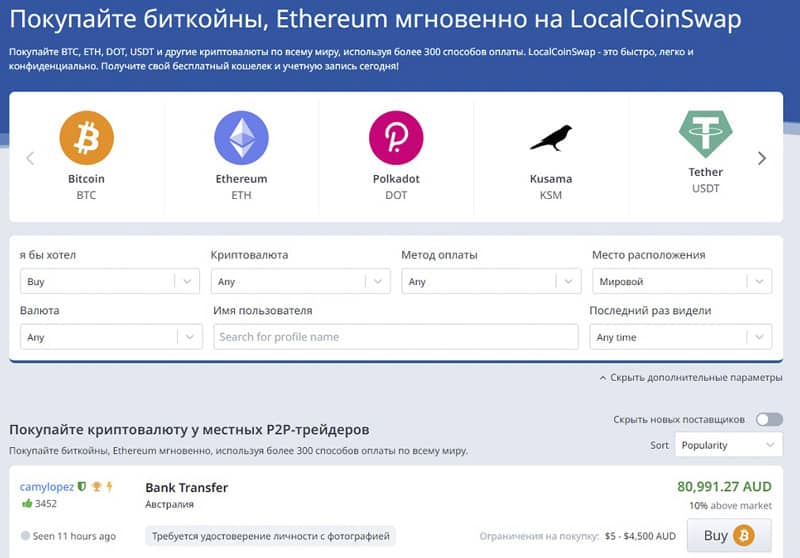 To put up your offer, you need an account. You register with your email address (which you will need to confirm by clicking on the link in the email sent by the service), your username and password. If you wish, you can sign up for our promotional newsletter. Once your account is created, you will have access to the "Create offer" section. There you can configure the type of deal you want: buy or sell, account currency type, transaction region, payment method, price type (dynamic, fixed, according to your formula) and the margin amount using any of 13 exchanges. In addition to LocalCoinSwap, it can be BitFinex, Binance, HitBTC, Coinbase, etc.
The third way to trade cryptocurrency at localcoinswap.com is to sell directly from your cryptocurrency wallet. In this case, your assets are either stored "cold" on the crypto exchange and used to cover the transaction at the right moment, or are in your personal vault, the link to which you indicate when you buy/sell. A cryptocurrency wallet also allows you to make an exchange with a specific user, if you have their address.
Verification at localcoinswap.com
At the registration stage at localcoinswap.com, as we've already said, you don't need to verify your identity. For security purposes, you can simply set up multi-factor authentication - confirming transactions with one-time SMS passwords or OTP applications like Google Auth. You can also enable notifications in your personal account (PUSH, email, SMS), so that if third parties get into your account, you'll know about it right away. Speaking of ID, you may need it when doing transactions with other users. In some ads you will come across such a condition. Most often traders ask for a passport/ID card with a clearly visible photo.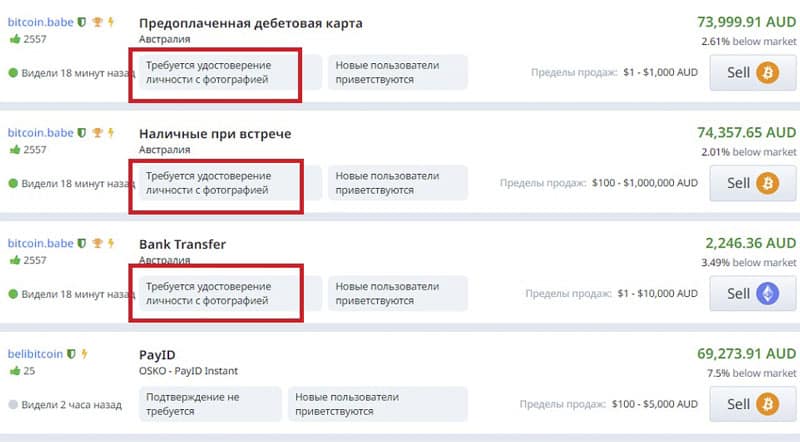 Deposit and withdrawal
In total, the cryptocurrency exchange supports more than 250 payment methods (deposits and withdrawals). Taking into account transaction region and selected buy/sell asset, the system offers "popular" methods. So, when buying bitcoins for rubles in Moscow, the "Create offer" section displays 6 of them: QIWI, bank transfer, Sberbank, AdvCash, Payeer, Yandex.Money, Alfa cash-in and cash on appointment. In addition, SWIFT and SEPA international transfers, postal orders, all kinds of gift cards and vouchers (Walmart, Xbox, Uber, iTunes, etc.), PayPal, e-wallets, SMS payments, cash deposits, Facebook Messenger payments, cryptocurrency wallets and much more are available.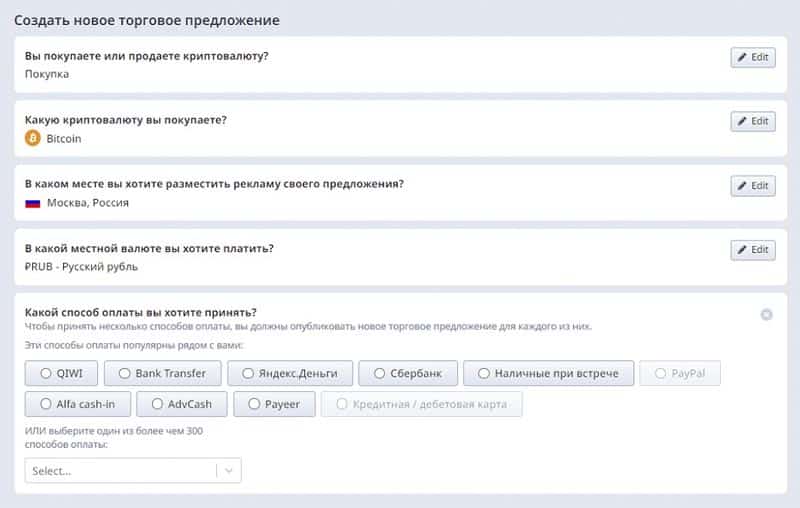 Depositing funds to a cryptocurrency wallet (either in the system or personal) is done in the "Wallet" section. Here you can choose from 11 types of crypto: BTC, ETH, PAX, NEXO, USDT, DAI, KSM, DOT, DASH, USDC, LCS. Everything is as usual: you enter address or scan QR-code to refill your balance. There are no deposit limits. However, when withdrawing the minimum amount must be 0.006 BTC, 0.001 DASH or their equivalent in another currency (cryptocurrency).
LocalCoinSwap Commission
The exchange does not charge a fee for depositing the currency into a trading account. A fixed transaction fee of 0.00045 BTC, 0.0005 DASH (or its equivalent in another unit) is charged for withdrawals. As the provider assures, this is the minimum price of the transaction execution guarantee without serious delays.
Withdrawal fees
If you withdraw tokenized currency, transaction costs will depend on the miners. Smart contracts, when you accept someone else's buy/sell offers, are not subject to commissions. But you will pay 1% of the transaction amount when you create your own offer.
LocalCoinSwap bonuses
Bonuses localcoinswap.com - This is primarily a referral program, in which both a partner of a cryptocurrency exchange and an invited user receive remuneration. Let us tell you more about it.
Bonus for the invited referral
If you register on the website of a cryptocurrency exchange by invitation of its partner, you get a 10% commission bonus on transactions. To activate it, you need to specify your referral promo code in a special field when registering your account.

LocalCoinSwap referral program
Those who act as a partner of LocalCoinSwap earn a percentage of commissions paid to the company by their invited referrals. The amount of commissions depends on the partner level, which is assigned taking into account the number of LCS crypto-assets on the balance:
Less than 24,999 LCS - 10%.
From 25,000 to 49,999 LCS - 20%.
Over 50,000 LCS - 30%.
To participate in the referral program you need to register on legalcoinswap.com. In the "Referrals" section of your personal account you will see your unique link and referral promo code, which can be copied in plain text or in QR format. Further, the link/promo-code can be posted at any public resource where it is not prohibited by law or internal rules. Each person who has followed the link and/or activated a promo code is considered a referral of a partner. Remuneration is accrued from his BTC and DASH transactions.
Complaints about localcoinswap.com
About cryptoexchange localcoinswap.com not too many reviews have been written. In the forums where LocalCoinSwap has created threads, there are no unsubscribes. We found just over 30 comments on the large international review site Trustpilot. And almost all of them are positive. Users consider it one of the most convenient platforms. And they share their experiences with the support team, which, in their words, resolves all issues. There is only one complaint on the site. It is associated with problems with the loss of funds due to incorrect depositing. However, the story does not look plausible: it is not clear how one of the parties to the transaction can cancel it after receiving funds from the other party, if the ue. are "frozen" until both participants fulfill their obligations to each other.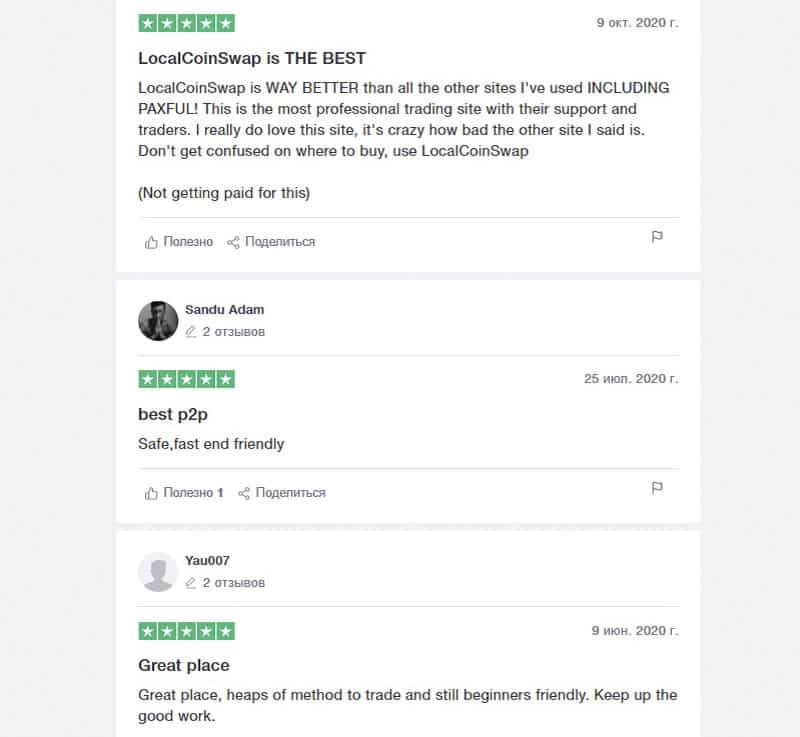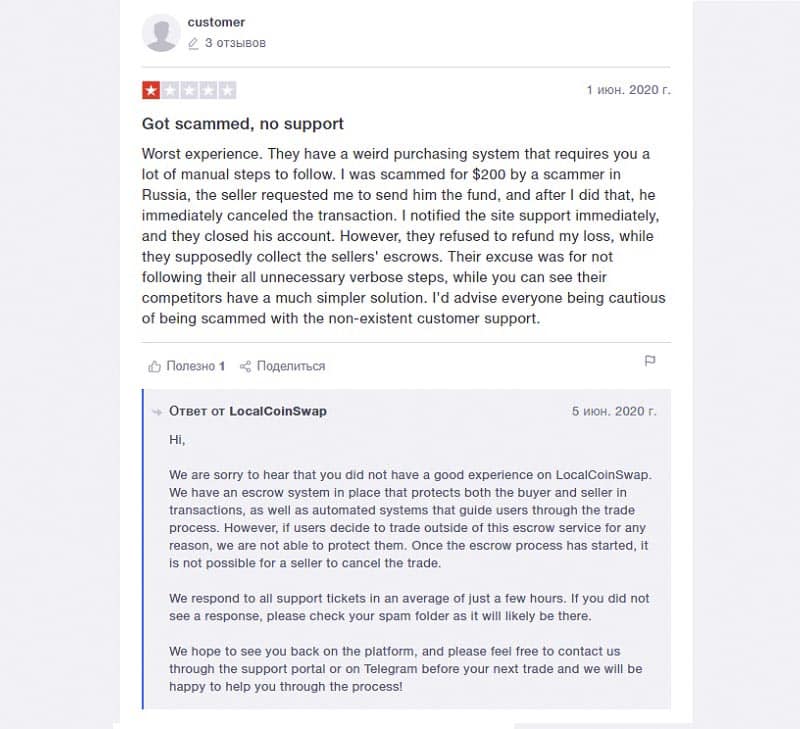 If there are any complaints about LocalCoinSwap , we will be sure to post the information on social media. Sign up so you don't miss anything!
Please keep yourself informed about news and complaints. We copy the most valuable information to social networks, so please sign up!
Regulation of the crypto exchange LocalCoinSwap
The cryptocurrency exchange, if you believe the privacy policy on the site, is owned by TechHouse Limited. The company is registered in Antigua and Barbuda. We did not find any mentions of this organization in the public jurisdiction registry referred to by FTS. As for the activity as a cryptocurrency exchange, according to the last section of the user agreement (Terms of service), it is based on the laws of Hong Kong. That does not negate the requirements set in the states of location/residence of traders.
LocalCoinSwap User Agreement
User Agreement localcoinswap.com, Terns of service, not russified. We will look at several conditions of the document, so that you can get an idea of it. For example, when registering, you must provide accurate, truthful and up-to-date data about yourself. If the company suspects you of the contrary, the trading account can be closed.

It is forbidden to register on the website of crypto exchange to persons under 16 years old. Only 1 account can be created for one user. All contact and personal information must belong to you: you can't use other people's contacts.

There is no obligatory verification when registering on the site. But LocalCoinSwap has the right to perform identity verification at its own discretion if fraud is suspected.

The data of the owner of payment details, from which you make a payment on the transaction, must be the same as those specified when registering a profile on the site.

Disputes regarding transactions are opened within 12 hours of their execution.

If you find the result of the review unsatisfactory, you can file a complaint with the helpdesk within the next 120 days.

The site and its services are provided on an "as is" basis, without any assurances or guarantees as to their uninterrupted operation, availability, availability of the features the user needs and the quality of their performance.

For your part, you reimburse the company for any losses and expenses it incurred as a result of working with you.

LocalCoinSwap support service
Customer support for localcoinswap.com is provided:
By e-mail. Given the nature of the question, you can write to one of the company's addresses - [email protected] (technical support), [email protected] (community), [email protected] (job seekers).
Through the feedback form - opens at the link "Contact support" in the "Support Portal" section (switch from the footer).
In the company's social networking communities and forums.
Answers to common questions are given in the FAQ.
Is LocalCoinSwap a scam?
Cryptocurrency exchange LocalCoinSwap belongs to a company registered in Antigua and Barbuda, but is governed by the laws of Hong Kong. At the same time, it is not possible to check the registration of the legal entity at the moment. LocalCoinSwap has existed since 2015, according to the website, but for some reason there have been just over three dozen reviews about it on major reviewers over the last few years.
Users are provided with transaction protection guarantees - escrow. In the case of a claim, it is possible to open a dispute. And yet, there is 1 comment on the web, whose author writes about the loss of funds and the refusal of the support team to resolve the situation. Although this comment does not look too plausible. In general, the small number of people who have shared their opinion about the exchange says it's positive. And there is no reason to believe that localcoinswap.com is a scam.
Conclusion
LocalCoinSwap - A P2P exchange in which transactions are protected by escrow (smart contracts or open code - the trader decides). You can open an account here in 161 world currencies, and crypto is represented by 11 units and tokens. There are three ways to trade: through someone else's ad, through your own ad, and directly from your cryptocurrency wallet. In doing so, you copy the link to a third-party vault or create a cold one on the platform. The margin level and the crypto exchange are also chosen by you. The promised execution time of transactions with tokenized assets is up to 30 minutes, with cryptocurrency - up to 2 hours.
Over 300 payment options are available, including gift cards and vouchers, e-wallets, domestic and international wire transfers, bank cards, SMS payments, and even cash settlement in person. The commission is low: 1% of the transaction amount for the ad you created and a fixed transaction fee for the withdrawal of 0.00045 BTC, 0.0005 DASH and their equivalents. Of the disadvantages of the exchange - the lack of verified registration, a small number of reviews and the inability to undo the wrong transaction through support. It is necessary to contact the user, who received the funds, and negotiate with him.
Robots for cryptocurrency