An online hypermarket of a variety of products at wholesale prices, offering all customers to become part of the team and join dropshipping.
Online store
Official website
Head Office

Eski Çırpıcı Yolu Sk. 8, Maltepe Mah, Daire 32, 34010 Zeytinburnu/Istanbul, Turkey

Date of foundation

2017

The owner of the company
Types of support

[email protected]

Feedback form on the site

Live Chat

Tickets in my personal cabinet

Facebook

Twitter

Instagram

Support by phone
Social media
Languages

English, Turkish, Arabic

Bonuses
Payment methods

Credit cards, Debit cards, VISA, Mastercard, Mir, JCB, American Express, PayPal, Wire transfer

Buying on credit
Installment
Store category

Auto supplies, Tools and gardening equipment, Furniture and household goods, Beauty and health, Clothing, shoes and accessories, Sports, Goods for children, Goods for creativity and books, Digital and household appliances

Project Features

Online site for dropshipping goods from Turkey

Additional services
Project regions

All countries in the world

Shipping methods

Courier delivery, Transportation companies

Transportation companies

DHL, TNT

Delivery time

Until

14 days

Depends on the remoteness of the region

Mobile applications

There are mobile apps

(iOS)

Affiliate Program
Benefits

Large selection of products in different categories

Wholesale prices and work with direct suppliers

Availability of business tools

High popularity among users

Reliable suppliers of fashion and home goods

Developed dropshipping system

Disadvantages
Regulatory agencies and laws
Company requisites

Legal address:

Eski Çırpıcı Yolu Sk. 8, Maltepe Mah, Daire 32, 34010 Zeytinburnu/Istanbul, Turkey

Overall assessment
Date of update

15.02.2023
Address
Eski Çırpıcı Yolu Sk. 8, Maltepe Mah, Daire 32, 34010 Zeytinburnu/Istanbul, Turkey
Map
Subscribe to this company
Knawat is this a scam? Reviews and description
Knawat
- is a company that represents a large
online hypermarket
a variety of products with wholesale prices, offering all customers to become part of the team and join dropshipping. Knawat started its development path back in 2017, and today it is one of the leaders in the dropshipping business internationally. As the first dropshipping company originally from Turkey, Knawat implements cutting-edge strategies and resources to connect trusted fashion and home goods suppliers with online retailers.
Well aware of the competitive e-retail market, the company is not standing still and is dynamically developing every day, offering advanced business tools and attracting new customers. In this review we will analyze Knawat in detail, look at the store's catalog and all additional options, get acquainted with the terms of delivery and payment, as well as check legal information and online reviews. After that we will be able to find out whether it is worth buying goods and doing business with this organization, and whether it is a scam?
Why Knawat?
Knawat is most often visited by those users who want to join cooperation and start trading with this company. Here you can find products from many foreign suppliers at wholesale prices, and with the help of dropshipping system you can sell them all over the world and get some income. But you can also buy products at Knawat at retail, as the company is also an online store. To understand why you should choose Knawat, you should highlight its advantages:
a wide range of goods;
wholesale prices;
work with direct suppliers;
availability of business tools;
a variety of delivery options.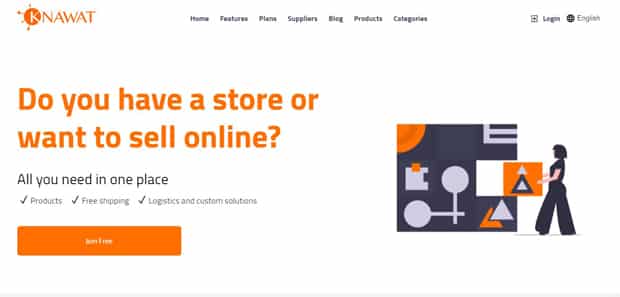 What can I buy in Knawat?
Website knawat.com is a huge online marketplace, which presents a large variety of products from many suppliers from all over the world. For a more convenient and quick search the online store has two sections, in which the catalog of the entire assortment is located. In one of them all product categories are displayed as a menu on the left side of the page. As for the second section, it has the entire list of products sold published in the form of interactive tiles with additional subsections. To understand exactly what you can buy at Knawat, you should look at all the product categories in the store.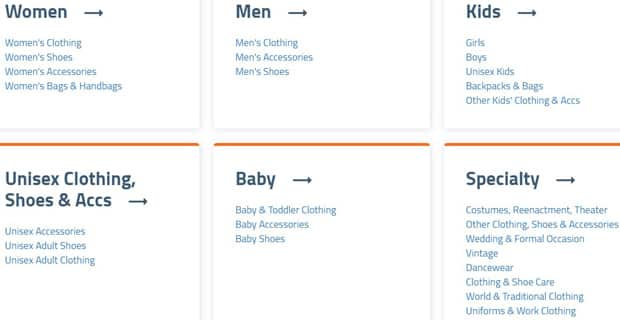 The following products are currently available in the Knawat online store:
"Women" (section with women's clothing, shoes and accessories).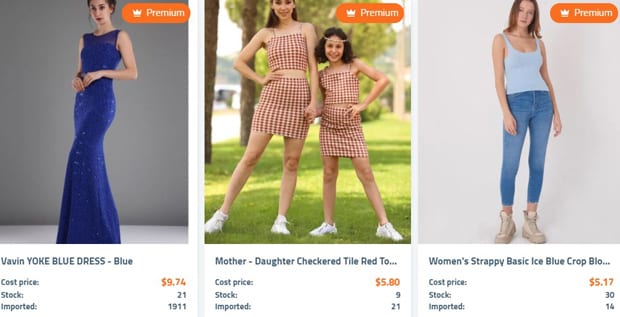 "Men" (men's clothing, shoes and accessories).
"Children" (closet items for boys and girls, backpacks and bags, unisex accessories).
"Unisex" (clothing and accessories for both sexes).
"Baby" (closet attributes for newborns, accessories, shoes and toys).
"Theme" (dancewear, ceremonial, uniform and work attire, props and costumes for performances, vintage clothing).
Clothing and other closet items are the main sections in the online store, because most of the products are sold in this category. Also on the site you can find many other product items, such as these:
"Jewelry" (men's and women's jewelry, watches and parts for them, vintage and antique items, beads, diamonds and precious stones).
"Home and Garden" (home decor, school supplies, bath and kitchen paraphernalia, rugs, holiday and seasonal decor, workshop tools and equipment, etc.).
"Fine Art" (paintings and art prints).
"Toys and Hobbies" (with cartoon characters and TV shows, preschool and educational toys, souvenir figures, models with electronics and radio control, soft toys, etc.).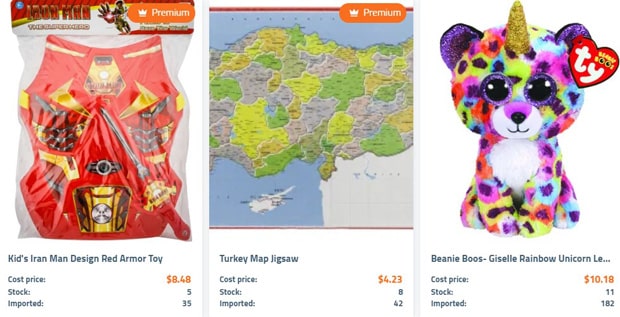 "Collectibles" (tableware, beads, religious paraphernalia, knives and blades, pens and writing instruments, barware, etc.).
"Health and Beauty" (body and hair care products, shaving products, vitamins and supplements, products for manicure and pedicure, body art, etc.).
"Musical instruments" (guitars, wind instruments, studio equipment, vintage musical instruments).
"Phones and Accessories" (smartphone parts, smart watches and accessories).
"Ceramics and Glass" (ceramic and glass products).
"Sporting Goods" (fitness, running, yoga, hunting and fishing products).
"Pet supplies (food, cages, memorials and garbage cans for animals).
"Engines" (parts and accessories for cars).
"Business and Industry" (networking equipment and office products).
"Travel" (suitcases, maps, travel accessories).
"Computers, tablets" (3D printers and consumables, keyboards, mice, accessories for tablets and e-books).
"Books" (children's books, documentaries and accessories).
"Crafts" (products for needlework and sewing, scrapbooking, children's crafts and art supplies).
"Antiques (vintage goods).
"Cameras and Photography" (tripods, supports, binoculars and telescopes, camera and drone accessories).
"Coins" (coins and paper money of various nations).
"Video games" (discs and cartridges with games for consoles).
How do I find the right product at knawat.com?
At the top of the home page knawat.com You can see two sections in which the sold products are located: "Products" and "Categories". By clicking on them, the user can get acquainted with all the products, and the necessary goods can be found in two ways: through the menu and categories, as well as by using the search line. The first way is more convenient because it allows you to explore the range of online store in more detail. For convenience, the site has special filters and sorting parameters that change depending on the selected category (color, size, volume, cost, availability of delivery, etc.).
Product card
Each product on the website has knawat.com has its own card with additional information about the product. The card of Knawat online store is rather empty and opens in an additional window, which is not quite convenient for users with a device with a small screen diagonal. Here the buyer will be able to read a detailed description of the product, see additional photos and add the item to cart for further checkout.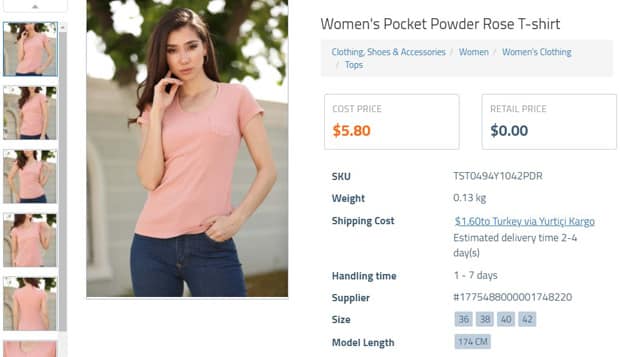 How do I order from Knawat?
You can place an order in Knawat online store only by adding it to your shopping cart and further checkout. To do this, select the desired product, its parameters (if provided by the item), and then add it to the cart. The next step is to fill out the form with contact information, where the client needs to write all the information for delivery and payment. It should be noted that there is an "Add to cart" button in the product card, but for unregistered users it is inactive.
How do I register at knawat.com?
To start, the customer needs to click on the "Login" button, which is located in the upper right corner of the site page knawat.com. After that, the user goes to a separate window where there will be a form in which it will be necessary to enter some contact information. It is also possible to create an account with the help of social networks Google and Facebook. To correctly carry out the registration procedure the buyer needs to enter the following data:
current email address;
password;
phone number (optional).
After that, the system will take you to the login page, where you only need to enter a previously specified password and email to authorize in the online store.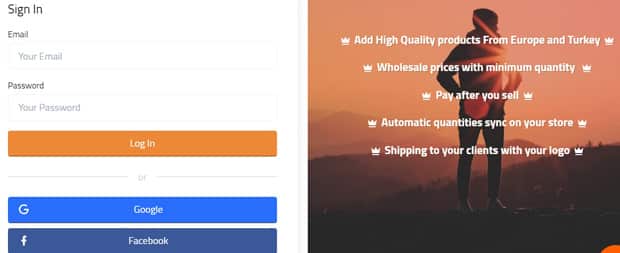 Personal Cabinet
The user account is more focused on those who not only buy products in the store, but also place their products there, as there are various seller's tools in the personal account. As for the shopping process, here the client will be able to place his order, see all the completed and current purchases, as well as edit the previously entered contact information. It's worth noting that the user can also search for products from the personal cabinet by clicking on the tab "Products Catalog".
How to place an order?
The ordering process in the Knawat online store starts with searching for the desired product on the site in any convenient way (I wrote about them above) and selecting additional parameters. After that it is necessary to choose a size and click on the add to cart button. Next, the user has to go to the "Sales Orders" tab of the personal cabinet, where all the selected goods will be placed. Since this is a dropshipping site, the ordering process itself is a wholesale payment for an item to a supplier to later sell it on behalf of their store. Therefore, it is necessary to have a subscription to Knawat to place an order, which will be notified by the system at the time of purchase confirmation. But if the customer wants to order the product for himself, it's enough to add the payment details in the personal cabinet in advance, and place the order in his own name and address without paying a subscription.

Additional features
In addition to providing a wide range of services and products to sell through dropshipping, Knawat's website offers several additional options that can help expand your interaction with the company, and add useful tools to your business. To understand exactly what Knawat offers, it's worth taking a closer look at all of its features.
Blog
At the bottom of the page there is a tab with the same name, where the Knawat team regularly publishes fresh news and useful articles about merchandising business, dropshipping and the work of the project in general. Here the user can read useful articles about modern business methods, online trading, brand promotion in social networks and much more, which is closely connected with this kind of business activity.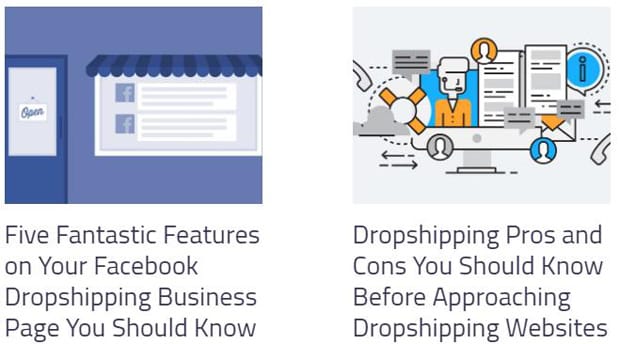 Help Center
More often than not, it is not possible to get a quick response from support. In addition, the online chat function is available only for a fee. In the help center the client will find the necessary information about the work of the service, about the company's catalog, its advantages and some points of work in the dropshipping sphere.
Rate plans
Knawat offers its members to buy one of several tariffs to start working with the site as an intermediary, allowing them to choose the most suitable subscription based on their own preferences. Starting with the lowest cost plan, the user can get acquainted with all the company's strengths and weaknesses without having to spend a large amount for a subscription.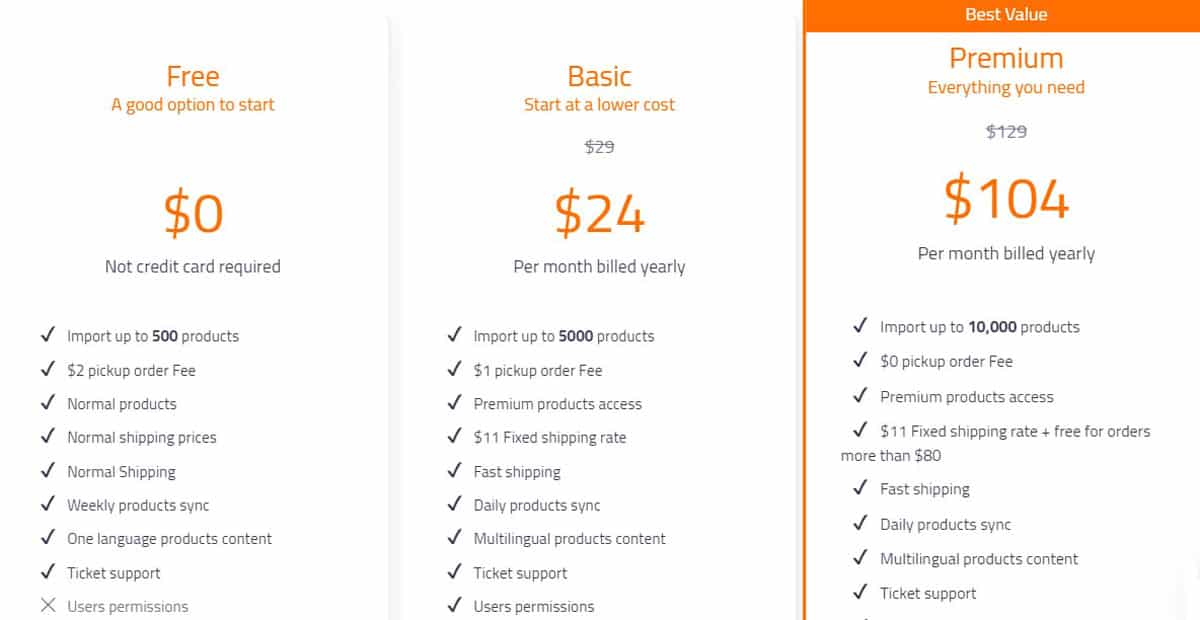 Mobile application
Knawat does not currently have its own mobile app on the Android platform, but the mobile version of the site is completely identical to the computer version, and its functionality is well adapted to modern mobile devices. The customer can also browse the catalog, manage their orders, work in the control panel and make purchases on the site from their smartphone or tablet. The app for iOS devices is free and available for download in all countries of the world.
Payment and Shipping at Knawat
Knawat sells all over the world, cooperating with international shipping companies and courier services. The choice of available logistics organizations will be available to the user during the ordering process, and their number depends on the selected region and the specific type of goods.
How to pay for the order
All orders must be paid for immediately on the site, without the possibility of sending goods by cash on delivery. At the moment the client can pay for his order only with a bank card, specifying its details in a special window that opens during registration.
Ways to deliver the product
Currently, for customers from Europe and Asia, Knawat sends its goods by international courier services DHL and TNT. There is also standard shipping, which involves shipping to the destination country, and upon arrival the goods are handed over to the local postal company for processing.
Ways to return merchandise
The Knawat Help Center states that an item can only be returned if it does not fit the order, or if it has any factory defects or damage. To complete the return procedure, the customer should contact customer service and describe the situation. Sometimes Knawat asks to send the item back to the headquarters address in Istanbul, but most often it stays with the buyer and the store sends the funds to the account, from which the payment was made. It is important to note that when sending the product the customer should make sure that it has all the consumer properties, as well as the accompanying documents confirming the purchase. Otherwise, the company has the right to refuse a refund.
Bonuses Knavat
The Knawat online store site rarely offers any promotions or sales, as the company specializes in wholesale sales and is more of a dropshipping platform than an online retail site. A lot of tools are created for sellers and entrepreneurs, while the minimum functions are presented for the buyer. This policy is due to the specifics of the activity, and all sold goods are displayed at the purchase cost, which excludes the presence of possible discounts. However, there are promotions on some products.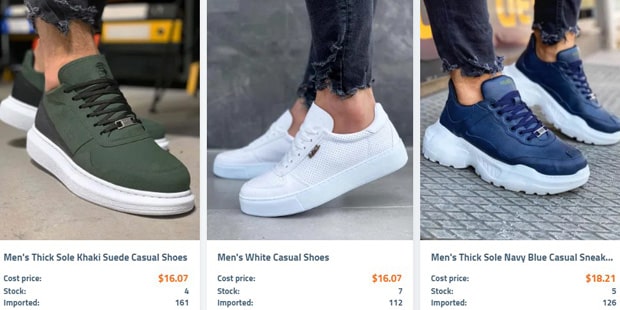 But since Knawat has internal fees for certain services, such as a collaboration subscription, you can periodically purchase one of the rates at a discounted price. Also, during the checkout process, there is a small window where the total amount of the order is displayed to the user. Here you can enter a special coupon that will give a certain discount, and you can only get it by letter from the company.
Affiliate Program
At the bottom of the page there is a tab "Affiliate", which contains information about a possible affiliate program that allows you to receive certain bonuses for performing a targeted action. The essence of Knawat referral program is a special link, which a partner-referral publishes on his resource. The service helps earn on each user who clicks on the link and purchases an annual dropshipping subscription plan. The partner gets 30% commission for every new client, and anyone who has a resource with any topic, regardless of which social network he is in, can join the partnership.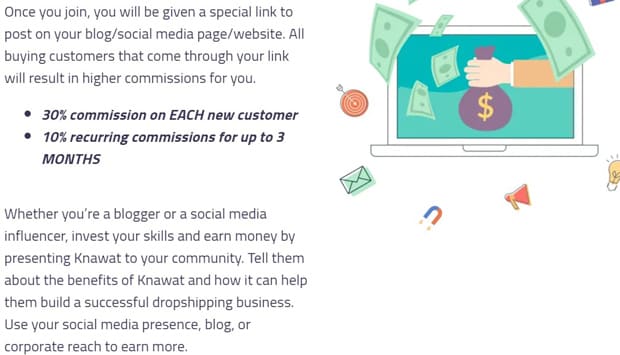 Complaints about Knawat
Mostly users described their impressions of Knawat as a dropshipping partner, which is understandable in principle, since the main focus of the service is on deliveries and cooperation. As for Knawat as an online store, there are practically no reviews, but based on other comments it is clear that this service is quite reliable and has a high popularity among foreign buyers. Most often you can see publications in English and Turkish. On the foreign platform TrustPilot, Knawat received a score of 4 out of 5. Below are some reviews that have been translated from English.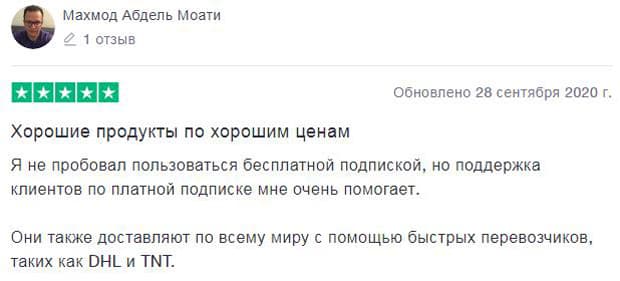 If there are reviews about Knawat's online store, we'll be sure to post on social media. Sign up so you don't miss anything!
Please keep yourself informed about news and complaints. We copy the most valuable information to social networks, so please sign up!
Supervisory authorities
The website does not contain any legal information about Knawat, its director and supervisory body. It is known that the main office of the company is located at Eski Çırpıcı Yolu Sk. 8, Maltepe Mah, Daire 32, 34010 Zeytinburnu / Istanbul, Turkey. From this we can conclude that the organization is under the control of the executive authorities of Turkey and detailed information of this kind is not published in public sources. It is also known that the commercial activities of the company are conducted from Knawat LLC, which was registered in 2017.
Knawat.com User Agreement
All legal documentation, including the Privacy Policy and Terms & Conditions, can be found at the bottom of the website page, under the "Terms & Conditions", "Privacy Policy" and "Fees & Returns Policy" tabs. All information in these documents is published in English, so for added convenience the user may use third-party translators. The Knawat User Agreement is referred to as Terms & Conditions, where the customer has an opportunity to read detailed information about the website, delivery and payment policies, detailed rights and obligations of both parties, as well as rules about content placement and copyright infringement.

An important point worth noting is Product Pricing, which states that Knawat has the right to change the price of any product without prior notice, as the company itself is not a manufacturer, but buys products through direct suppliers. This means that the customer should keep a close eye on changes in pricing policy and stick to the price that was finally set during the ordering process.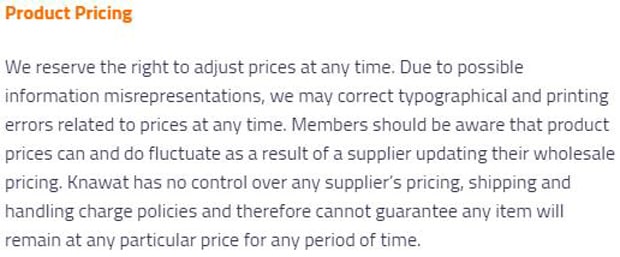 The same applies to making changes to the public offer - Knawat periodically amends the current document without prior notice to all users of the online marketplace. To avoid any unpleasant situations, the customer should occasionally check the contract clauses for updates. For users who use Knawat as a dropshipping platform, it will be useful to know that after purchasing a cooperation subscription tariff, the system automatically enables its subsequent renewal, which implies a debit from the previously specified details every time the subscription needs to be renewed.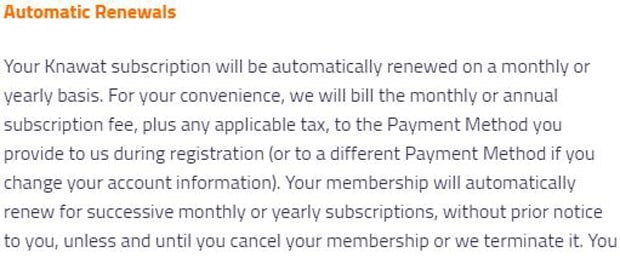 The site also has a privacy policy where customers can review all of the rules regarding the collection, storage, processing and transfer of personal information. According to the company, Knawat collects such information solely for the purpose of communicating with customers and registering all incoming orders.

Customer Service
You can contact Knawat Support in the following ways:
by e-mail: [email protected];
online chat (available by paid subscription);
feedback form;
tickets in your personal cabinet.
Is Knawat a scam?
Turkish platform Knawat for three years has been providing all willing entrepreneurs to join as a dropshipping partner, selling a variety of products from reliable and trusted suppliers. A deep understanding of the market and consumer trends has allowed the company to become one of the popular online marketplaces with an extensive range of diverse products, with an emphasis on clothing, footwear and accessories.
In this review, we have analyzed in detail the specifics of the Knawat store, studied its features and additional options, reviewed the catalog and carefully read the delivery and payment rules. We also read online reviews and legal documentation. Based on all the information we received, we can conclude that Knawat is not a scam, but a foreign platform that allows you to run your dropshipping business and buy retail goods for yourself with delivery worldwide.
Conclusion
Website Knawat has a modern and pleasant design, but the convenience for the average user leaves a lot to be desired: many familiar functions such as order placement or the online payment process on the site are designed rather impractically.
The next important point is the fact that there are no support channels, where online chat is available only after purchasing the most expensive subscription. All in all, Knawat is more suitable for running a business than for regular shopping. If you've had an experience buying or working with this site, you can share it with us below, in the "Reviews" column.
The company in the ratings
Activity
New

0

Resolved

0

Not resolved

0
New companies on the site