Delta Exchange is a young crypto exchange that specializes in cryptocurrency futures and perpetual contracts.
Cryptocurrency exchange
Website
Social media
Date of foundation

2018

Head Office

St. Vincent and the Grenadines

Types of support

Feedback form on the site

Telegram

Facebook

Reddit

Twitter

Languages

Russian, English, German, French, Italian, Turkish, Dutch, Japanese, etc.

Founder
The owner of the company
Manager
Minimum withdrawal amount

Verified

Cryptocurrency

From 0.001 BTC
From 0.01 ETH
From 20 USDT
From 500 DETO

Fiat

Bank card (Visa/MC):

to 2 000 USD

Unverified

Cryptocurrency

From 0.001 BTC
From 0.01 ETH
From 20 USDT
From 500 DETO

Fiat

Bank card (Visa/MC):

to 2 000 USD

Maximum withdrawal amount

Unverified

Fiat

Bank card (Visa/MC):

to 10 000 USD

Exchange Commission

Trade Commission:

From

0.05

to

0.15

% for taker /

From

0.02

to

0.15

% for maker

Withdrawal fee:

0.005

ETH /

0.0005

BTC /

From

1

to

25

USDT /

50

DETO

Terminals

TradingView

Age restrictions
Trading volume per day
Number of cryptocurrencies
Number of trading instruments
Margin Trading
Leverage
Tokenized assets
Free Demo Account
Types of accounts
Execution of orders

Market order, Limit order

Methods of replenishment

Cryptocurrencies, Bank card (Visa/MC)

Withdrawal methods

Cryptocurrencies, Bank card (Visa/MC)

Account currencies

Cryptocurrencies

Types of cryptocurrencies

BTC, ETH, USDT, LINK, BCH, DETO, etc.

Mobile applications
Trader training

Help and support center with answers to questions about registration, account replenishment, etc.

A way to store cryptocurrencies
Fiat accounts
Scalping
Stop Loss and Take Profit Function
Exchangeability for fiat currencies
Terminal capabilities

Working with indicators, graphical tools

Basic verification
Extended AML verification

KYC (passport, passport or driver's license. Photo with document (selfies). Proof of address (bank statement, utility bill, etc.)

Regulatory laws

Legislation of St. Vincent and the Grenadines

International data protection law

FATF (Financial Action Task Force)

API

Read more

You can use this API to place orders on Delta Exchange and view the market feed

Affiliate Program

15% from trading referrals during the first year, and then 10% during the following years

Benefits

Traditional and open-ended bitcoin futures contracts

Enterprise-class multi-factor security for digital assets

Demo account with virtual funds

Intuitive exchange interface

Disadvantages

There are complaints about the problems with the withdrawal of funds

Company requisites

Legal name:

Bit Protocol LLC

Legal address:

St. Vincent and the Grenadines

Overall assessment
Date of update

12.07.2022
Address
Sent-Vinsent i Grenadini
Map
Subscribe to this company
Delta Exchange is it a scam? Reviews and description
Delta Exchange
- is an online platform for trading innovative cryptocurrency derivatives. The company specializes in futures on
cryptocurrencies
and perpetual contracts. Offers a modern platform that gives a convenient way to trade derivatives. In this review, we will look at what exactly it offers
crypto exchange
delta.exchange and whether it is a divorce.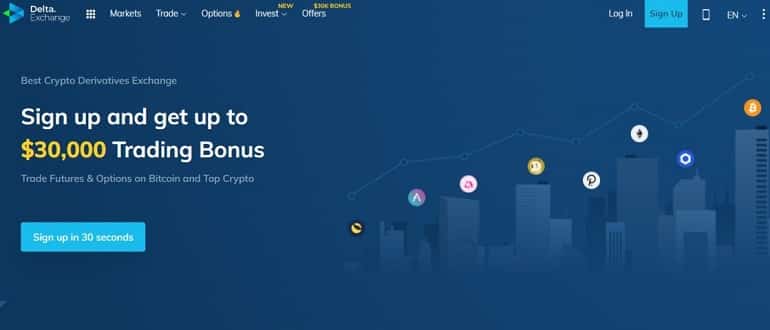 Why Delta Exchange?
This exchange offers several products and services. Users can trade futures and options, as well as exchange derivative interest rates for bitcoins and more than 50 altcoins with 100x leverage. Advantages of the crypto exchange Delta Edge:
intuitive and easy-to-use trading interface;
traditional and open-ended bitcoin futures contracts;
24/7 real-time support;
A demo account where you can practice making contracts;
Enterprise-class multi-factor security for digital assets, all withdrawal requests are processed and verified manually;
an efficient reconciliation mechanism, complete with an intuitive interface, modern order types and incredibly fast APIs.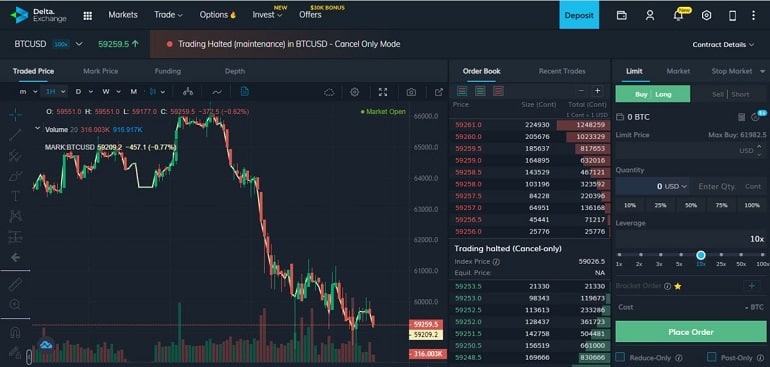 How to exchange cryptocurrency on the delta.exchange platform?
Cryptocurrency derivatives trading does not involve the actual purchase or sale of Bitcoin or any other cryptocurrency. The value of a cryptocurrency derivative contract changes when the price of the underlying cryptocurrency changes. On the platform delta.exchange There is no special form for exchanging cryptocurrency, coins are exchanged in the process of making transactions - you trade a currency pair (BTC/USD, ETH/USD, DASH/USDT, etc.), get the necessary cryptocurrencies and profit.
Verification on the Delta Exchange platform
Verification is not necessary if you are going to withdraw between $2,000 and $10,000 per day. If you plan to withdraw larger amounts, go to "Profile" and set up your individual account.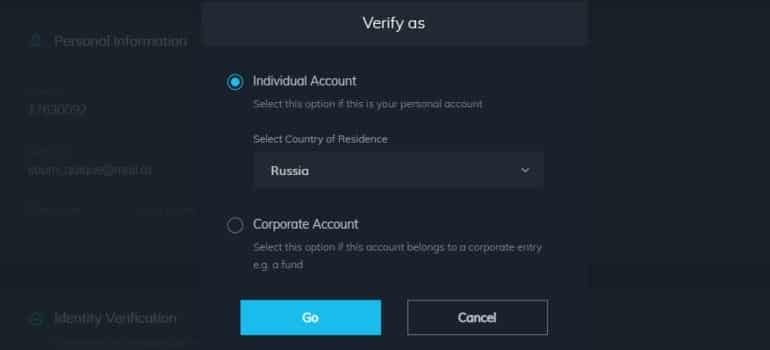 You will need to provide information about yourself, your address, and upload a copy of your ID card. After the information is verified, your status will change to "verified". Get verified in order to increase your withdrawal limit.
Deposit and withdrawal
Immediately after registration, a BTC address will be automatically created for you and you will be offered to make a deposit. It can be deposited in BTC, USDT, DETO or ETH in the Deposit section.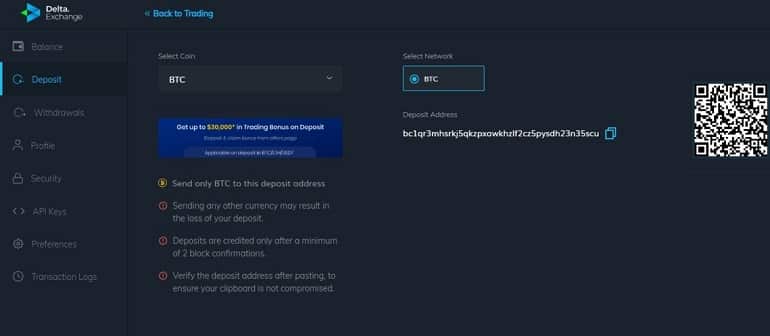 If you are an unverified user, you can withdraw from $2,000 to $10,000 per day. You can work with larger amounts after verification. The minimum withdrawal amount is 0.001 BTC, 0.01 ETH, 20 USDT, 500 DETO. Amount is withdrawn to cryptocurrency wallet.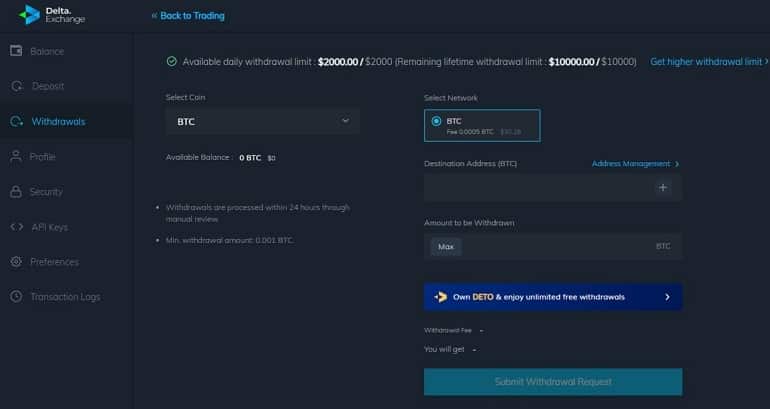 Delta Exchange Crypto Exchange Commission
The size of the commission depends on the category. For the toker is from 0.05% to 0.15%, for the maker - from 0.02% to 0.15%.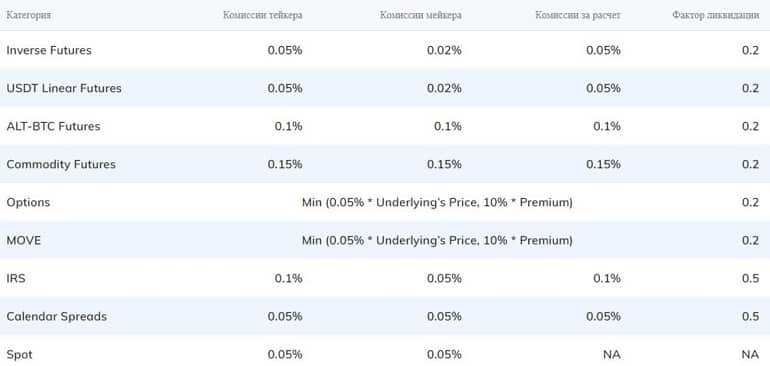 Withdrawal fees are as follows:
ETH - 0.005 ETH;
BTC - 0.0005 BTC;
USDT (ERC20) - 25 USDT;
USDT (BEP20(BSC)) - 1 USDT;
DETO - 50 DETO.
Bonuses delta.exchange
Delta Exchange offers trading bonuses up to $30,000 and an affiliate program. That's what we're going to talk to you about next.
Trading bonus up to $30,000
The amount you get as a gift depends on the amount of the deposit:
Get a 12% bonus of up to $1,200 on a deposit of $5,000 to $9,999.
Get a 15% bonus of up to $3,750 on a deposit of $10,000 to $24,999.
Get a 20% bonus of up to $10,000 on a deposit of $25,000 to $49,999.
Get a 30% bonus of up to $30,000 on deposits of $50,000 or more.

Bonus $500
Get a 10% bonus of up to $500 on deposits of $1 or more in BTC, ETH and USDT. This offer is valid only for the first deposit made by a new user.

200 DETO free for the first transaction
You can get 200 DETO free on your first transaction within 7 days of signing up. Pay $10 or redeem $25,000 within 7 days to qualify for the offer. Applicable to deposits made by a new user within the first 7 days of registration.

$10 for downloading the app
Download the app and sign in to receive a $10 gift. You can use them to trade up to $20,000 without paying commissions. The offer is valid on the Delta Exchange app for iOS and Android.

Withdrawal with zero fee
Hold 2500 DETO on your account delta.exchange more than 24 hours to get unlimited withdrawals with zero fees. The offer is valid for all BTC and ERC-20 wallets.

Affiliate Program
You receive a share of the amounts paid by your referrals. This share equals 15% for the first year, and then 10% for the following years.
Complaints about Delta Exchange
Users note the simple and clear interface of the platform, the quick execution of transactions, and the friendly support service. They write that specialists promptly answer any questions and advise 24 hours a day. However, there are a lot of complaints. Some people accuse the company of fraud. They write that the money is withdrawn from the account in the personal account, but it does not come to the cryptocurrency wallet. Most likely, such reviews are written at the request of competitors, they do not contain any clear evidence of fraud.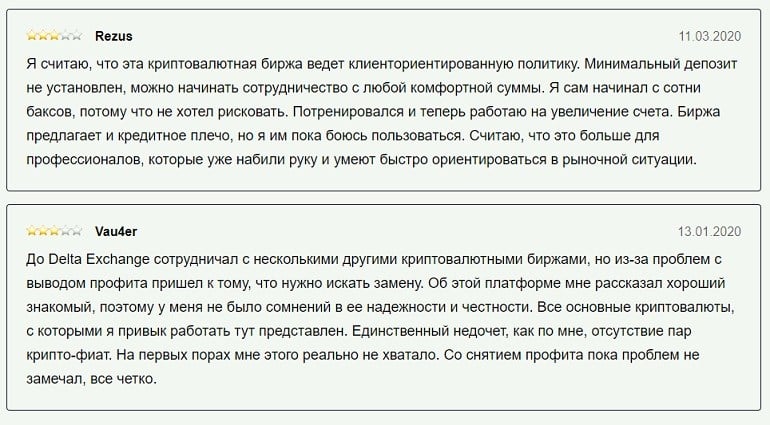 If there are any complaints about Delta Exchange, we'll be sure to post on social media. Sign up so you don't miss anything!
Please keep yourself informed about news and complaints. We copy the most valuable information to social networks, so please sign up!
Regulation of the crypto exchange delta.exchange
Among crypto exchanges there are both honest companies and scammers. To understand the integrity of a crypto exchange, it is necessary to study its regulation and check whether it has a license. That's what we're going to do next.
Regulator
Delta Exchange is registered in Saint Vincent and the Grenadines. This trading platform entered the digital asset market in 2018. It offers users the ability to trade anonymously around the world. It is regulated by the Anti-Money Laundering and Counter-Terrorist Financing Regulation No. 20 of 2014 and the Anti-Money Laundering and Counter-Terrorist Financing Code No. 24 of 2017.
Delta Edge User Agreement
The document states that the company has the right to periodically change, modify, add or remove information from the site without notice delta.exchange.

Only adult citizens, not from the USA, Saint Vincent and the Grenadines, Iran, North Korea, Syria, Crimea, Cuba, Afghanistan, Cambodia or Pakistan can become a client of the company. It is specified what data and documents may be required when undergoing the procedure of identity verification.

Clients are warned that any cryptocurrency can fall in value or lose its value completely due to various factors. The company has the right to delete or deactivate a user's account if it suspects fraudulent activity on his part.

Customer Service
The support specialists can be contacted as follows:
email: [email protected];
the feedback form on the site;
Twitter;
Facebook;
Telegram.
Is Delta Exchange a scam?
Crypto Exchange Delta Exchange is not a scam or fraud. The company is regulated by the laws of Saint Vincent and the Grenadines. However, for some reason, the company's services are not available to residents of this state, as they are in the U.S. and several other countries. Delta.exchange offers an authoring platform with a simple and clear interface and its own token DETO. Several cryptocurrencies and a variety of trading pairs, low commissions and various bonus rewards are available to the company's clients. DeltaExchange specializes in cryptocurrency futures and perpetual contracts, cryptocurrency derivatives can be traded on this platform.
It's hard to judge a project by its reviews. There are both positive and negative comments. However, this is true for any company, not only for cryptocurrency exchanges. Some customers like trading conditions, others do not. And this is quite normal. There are complaints about blocked accounts and inability to withdraw funds, but most likely, these reviews are written by competitors. As a rule, there are no problems with delta.exchange.
Conclusion
Delta Exchange - is a young cryptocurrency exchange that specializes in cryptocurrency futures and open-ended contracts. On this site you can trade in cryptocurrencies and get a good profit. Adding to your wallet and withdrawing funds is not difficult, transactions are fast. If any problems arise, you can always ask the Help Center for answers. If your question isn't addressed in the FAQ, be sure to contact a support specialist.
No reviews yet. Be the first!
Robots for cryptocurrency