Online store of designer cases for any smartphones. Here you can create your own design and get various discounts and bonuses.
Online store
Official website
Head Office

2950 NW 29th Ave, STE A633741, Portland, Oregon, 97210, United States

Date of foundation

2011

The owner of the company
Types of support
Social media
Languages

English, Spanish, French, Chinese, Korean

Bonuses
Payment methods

VISA, Mastercard, American Express, Discover, JCB, PayPal, Gift Certificate

Buying on credit
Installment
Store category

Clothing, Footwear and Accessories, Goods from China

Project Features

Online store designer cases for any smartphones, tablets and other gadgets

Additional services
Project regions

All countries in the world

Shipping methods

Courier delivery, Transportation companies

Delivery time

From

5 days

Depends on the remoteness of the region

Free shipping terms
Mobile applications
Affiliate Program
Benefits

A wide range of cases for smartphones, tablets, and other gadgets

Various promotions and discounts

Prompt support service, exchange and return of goods

Opportunity to sell your design

Disadvantages

There are defects and delivery delays (according to online reviews)

Regulatory agencies and laws
Company requisites

Legal name:

Casetagram Limited

Legal address:

2950 NW 29th Ave, STE A633741, Portland, Oregon, 97210, United States

Overall assessment
Date of update

15.02.2023
Address
2950 NW 29th Ave, STE A633741, Portland, Oregon, 97210, United States
Map
Subscribe to this company
Casetify is this a scam? Reviews and description
Casetify
- is a Hong Kong-based company specializing in the production of heavy-duty cases with customized design for cell phones. The company was founded in 2011 by entrepreneurs Ronald Yung and Wesley Ng. Today the company has offices in Hong Kong, Los Angeles, and Portland.
Most of the company's sales are organized online at the official website, but in addition to the online store, the company has several physical points of sale in Hong Kong. Buying a Casetify brand case, you can be sure that your phone is reliably protected from bumps and drops. In this review we will try to find out if the brand's cases are really that good or online store Casetify is a scam.
Why Casetify
Casetify online store specializes in the sale of mobile accessories. Originally the online store only offered cases, but today the range also includes technical gadgets, watch straps, cables and chargers, bags and much more. Among the advantages of the online store is the ability to create your own design for your watch case. The site you will find covers of all colors and shapes that will protect your cell phone from bumps and scratches. Among the advantages are the following:
A wide range of products.
Free shipping worldwide.
Various promotions and discounts.
Operational support service.
High quality products.
Possibility of return and exchange.
Opportunity to sell your design.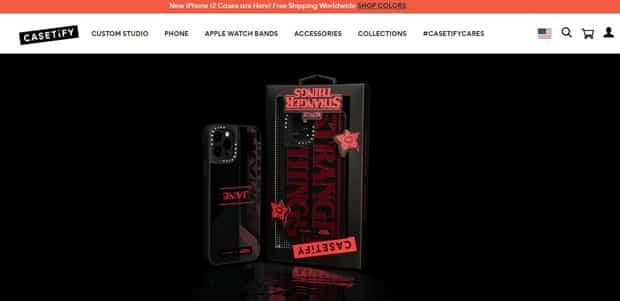 What you can buy in Keystife
If earlier online store Casetify offered its customers only cases for cell phones, but today the range of the store has expanded considerably.
Smartphone cases
On the site casetify.com you will find a huge variety of cases for iPhone and Samsung. Here you can buy shock-proof cases, leather, mirror, neon and designer cases of different colors and models. Here you can also order a case with your individual design.
Apple Watch straps
Casetify online store offers its customers a large selection of Apple Watch straps made of the best materials. Here you can buy bracelets with metal links, straps made of genuine leather, custom monogrammed products, straps made of morocco leather with print, accessories with sequins, as well as glamorous neon straps.
Cables and chargers
The Casetify website offers charging cables and wireless chargers. There is a huge collection of saffiano leather wireless chargers with unique designs.
Tech Gadgets
In this category you will find holders, selfie lenses, screen protectors, and iPhone bags. There are also ultraviolet disinfectant boxes that can help you get rid of any germs that live on the surface of your phone.
Reusable cloth masks
Casetify online store offers its customers reusable fabric masks with increased antiviral protection. The masks are made of breathable cotton, washable and have additional filters that enhance the effectiveness of the product. Please note that when you purchase a mask at Casetify, you are participating in a charity event whereby you also donate a mask to one of your healthcare providers.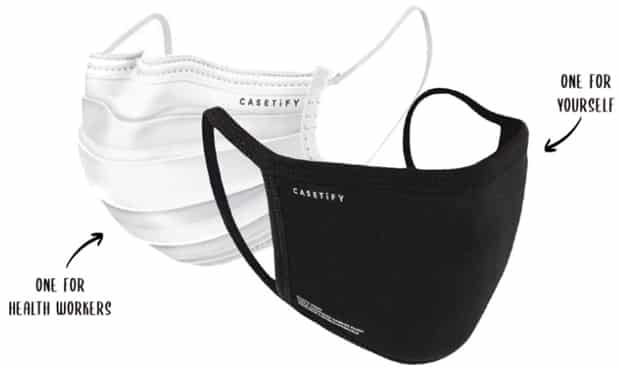 How to find the right product at casetify.com
Find the product you need on the site casetify.com is not difficult. Although the site is presented in English, working with an online translator will help you with the search for products. First of all, you can use the search function on the site to find the necessary goods. The site search is located in the upper right corner of the page under the magnifying glass icon. By clicking on this icon, you need to enter your search query in the appropriate field.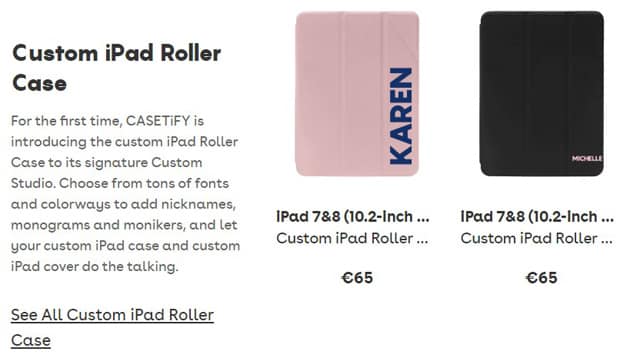 After that, the system will immediately start searching for the goods you need. You can also search for products on the site in the catalog categories. All categories are located in the central upper part of the main page. Hovering your cursor over the desired category, you will open a subdirectory where you can specify what product you need. Please note that it is advisable to enter a search query on the site in English. If you do not speak English, you can use the system prompts and go to the appropriate heading by the name of the collection. Also you can search for phone covers by model of your gadget. The site already has cases for iPhone 12 pro max, iPhone 12 pro, iPhone 12 and iPhone 12 Mini.
Product card
To get to the product card just click on the accessory you like for your phone. In the product card you can not only see high-quality photos, but also create your own design. Here you can choose the color, the level of protection, as well as additional parameters. Moreover, in the product card you can find out information about the designer, add additional accessories to the purchase and read customer reviews. Once you know all the information in the product card, you can add it to your shopping cart.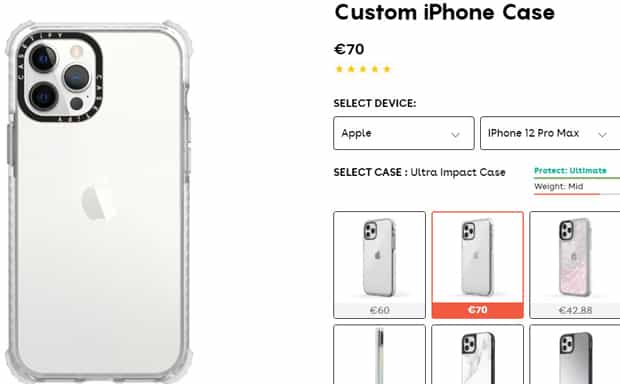 How to order from Casetify
You can order in the store Casetify only after registration on the site casetify.com. You can create an account in advance, as well as when placing your first order.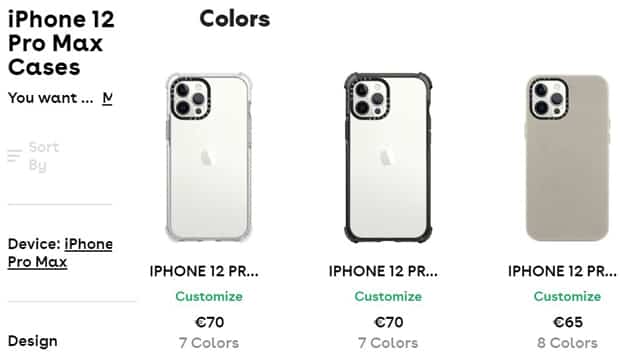 How to register at casetify.com
To create an account on the Casetify site, click on the user icon in the upper right corner of the page. After that, a registration form will open in front of you, where you can choose how to register. You can sign up for the service using your Facebook and Apple accounts. You can also register using your email address. After choosing the registration method, make up a password to log in to your account and click "Register".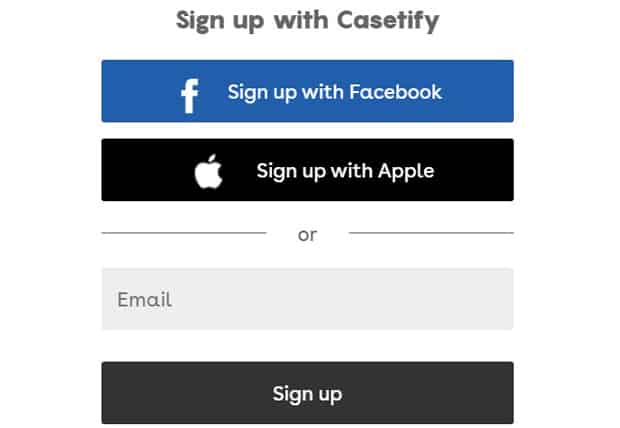 Personal Cabinet
Casetify's personal account is simple and straightforward. You can see the functionality of the personal cabinet by hovering over the icon of your profile. There are 4 main tabs, using which you can manage your orders, namely:
My gallery. Here you can upload your designs. By creating your own cases here you can earn from each sale of your design or order cases with a custom print.
My settings. Here you can manage your personal data, change your email address and specify the delivery address.
Track Your Order. In this tab you can always track the status of your order. Tracking is available as soon as you check out and pay for your purchase.
Support. On this page you can find answers to the most common user questions, as well as contact support.
How to place an order at keytify.com
Ordering from Casetify is easy. To do this, select the accessories you need on casetify.com and put them in your cart. Then go to your cart and start ordering. First of all, you will need to specify your personal information and shipping address. Please, note that all information must be filled in English. After filling in all the data click "Continue". Further you need to choose the delivery option. Possible delivery options are displayed depending on your country of residence. After choosing the delivery, click "Continue". After that, select the payment option and complete the order.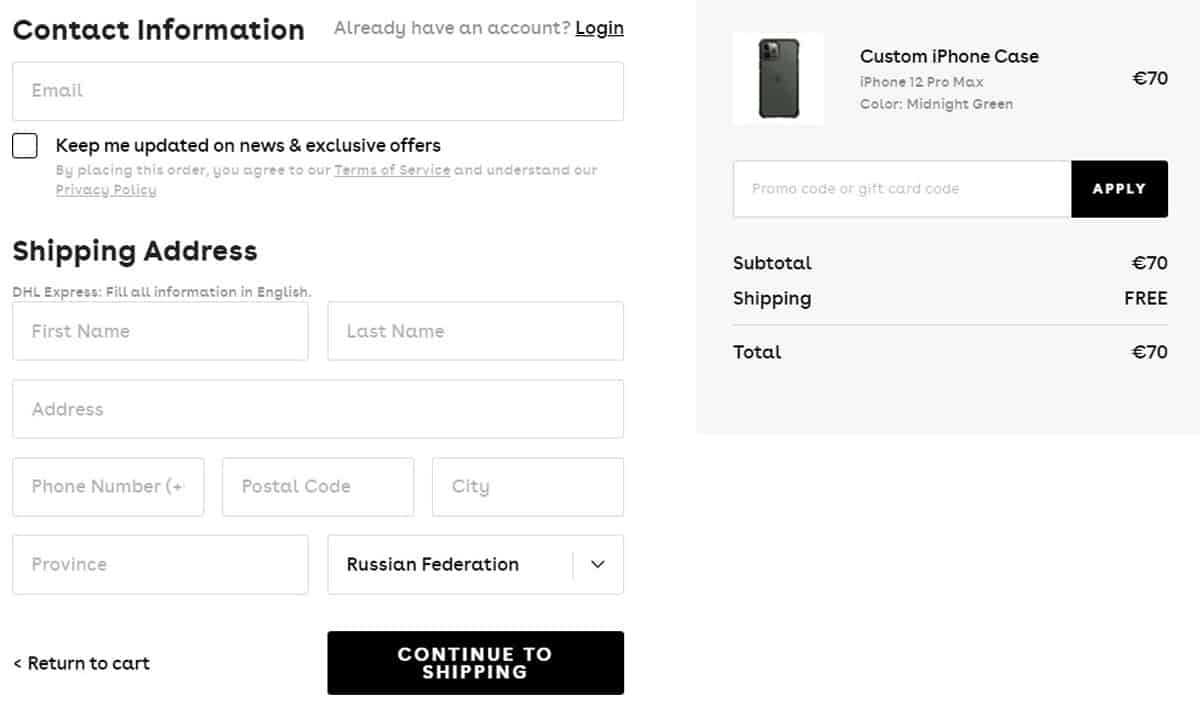 Additional features
Casetify offers its customers a number of additional services.
Gift card
Casetify offers gift cards so you can give a great and extraordinary gift to your loved ones. The gift card can be sent in paper and electronic versions. If you purchase a physical card, you will receive it in a gift box. The electronic version is perfect if you need a gift right away. The validity period of the card is 12 months.
Knowledge Base
On the "Questions and answers" page you'll find important information about the work of the store, the brand products and the terms of delivery. Here you can read the answers to the most frequent users' questions for comfortable work on the site.
Design for sale
If you're creative and have something to offer Casetify, the store is happy to offer you a partnership. Create your designs and post them in the store's gallery. Once your design is sold, you'll receive your commission. Rewards are paid on every purchase, and you keep your copyrights.
Blog
The Casetify website blog will introduce you to useful and interesting information, as well as new design ideas for cases for your phone. You'll also learn how to choose phone accessories, what to look for, and how Casetify cases are made.

Career
If you want to join Casetify's team of creative people, go to the Careers page and choose your dream job. The company guarantees its employees flexible vacation schedules, decent wages, and creative growth.
Service mailing list
If you want to be the first to know about new Casetify promotions and discounts, subscribe to the service's newsletter. Useful newsletter without spam and unnecessary advertising will allow you to always keep track of bargain offers and introduce new branded products.
Mobile application
Casetify does not offer its customers a mobile app. If you are used to shopping with your mobile device, use the mobile version of the site, which supports all the functionality of the official web service.
Payment and Shipping at Casetify
When you order goods from Casetify, you can be sure that you can pay for and receive your purchase in any way that is convenient for you. Casetify ships all over the world and only works with trusted shipping companies.
How to pay for the order
You can pay for items at Casetify in the following ways:
Bank card. The online store allows you to pay with both debit and credit cards of Visa, Mastercard, American Express, Discover and JCB payment systems. To pay by bank card, you need to specify the card number, the name of the owner and a secret code.
PayPal. If you have a PayPal account, you can make a quick and secure payment in any convenient way. When you select this method of payment you will be redirected to the payment system site.
Gift Certificate. If you are a Casetify gift card holder, you can always pay for your purchases with your certificate balance. You can activate the card when you make your first purchase on the site.
Ways to deliver the product
Online store Casetify offers delivery of its goods to any country in the world. Today two shipping options are available on the site:
Standard shipping. Standard shipping outside the U.S. is available from the destination postal service. Standard shipping time depends on the distance of your residence and can range from 5 to 23 days. Please note that delivery time may be extended.
Express Delivery. Express delivery is carried out by trusted transportation companies. The delivery time is from 3 to 5 working days from the moment the parcel is sent.
Please note that shipping costs are calculated at checkout. Free shipping is available for orders of $34.99. Only standard shipping can be free.
Ways to return merchandise
Casetify online store strives to ensure that every customer receives only quality products. Employees of the company manually check all the goods, and only after that the products are packed and sent to the customers. But, despite this, it can happen that you receive a damaged product, in this case immediately contact the customer service and provide a photo of the damage.
In these situations, Casetify's online store does everything possible to make sure you receive a quality product or a refund. If you received an item of good quality but want to return it, contact customer service with the reason for the return within 10 days of receiving your order. Disinfectants, cloth masks, and items from archival collections and clearance sales are not eligible for returns or exchanges.
Bonuses at Keystife
The online store Casetify regularly offers its customers a variety of bonuses and discounts. Let's look at what bonuses you can get on the site.
Free Shipping
Many products have a special offer: worldwide delivery for free.
Coupons
Casetify online store promo codes can be obtained in the individual newsletter, as well as on the sites of partners. You can apply a promo code when placing your order. Please note that a promo code can only be applied once. The promo codes do not add up with other promotions and discounts in the store.
Affiliate Program
Casetify offers everyone to participate in an affiliate program. If you're new to attracting traffic, the store can provide you with free tutorials and help on how to succeed.
Each registered user of the site can participate in the referral program, which allows you to earn from the purchase of each of your friends. It is not necessary to register separately in the referral program. When you register on the site, an individual referral link will be generated for you, which you can share with your friends on Facebook and Twitter. When you link to the site, your friend will receive a $10 discount and you will receive a bonus. From the Spa Network. CityAds you can get a reward equal to 8% of the user's paid order.
Complaints about Casetify
The Casetify website has a customer reviews page where you can read the opinions of customers from all over the world. Of course, this section contains only positive reviews, with a rating of 4 and 5 stars. Our team still decided to find reviews of the online store on English-language resources. On one of these sites we found a lot of positive reviews, but there are also a few complaints about the online store.
Dissatisfied users complain that the price of the cases is too high, while highlighting the wide variety of models and designs. Some customers write that the color of the case is very different from the image on the website. Otherwise customer feedback about the online store Casetify is positive. Many customers write that they received cases of high quality, which really protect the phone from shocks and damage. Also among the advantages customers highlight quick delivery, fast ordering, prompt support service, as well as the ability to create your own design.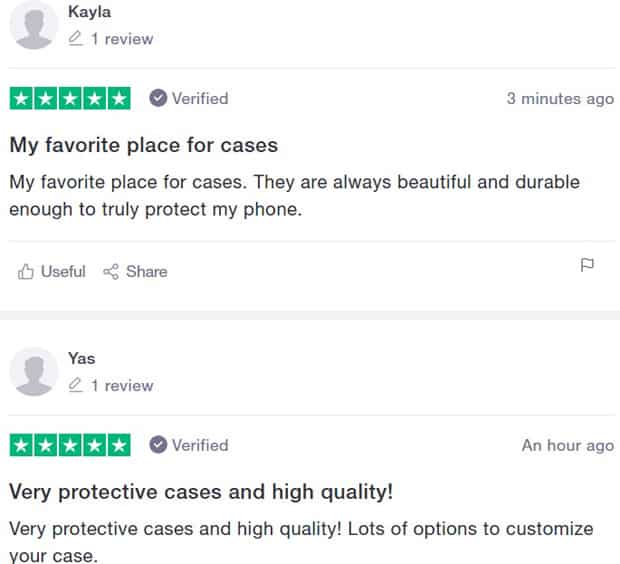 If there are any reviews about Casetify's online store, we'll be sure to post on social media. Sign up so you don't miss anything!
Please keep yourself informed about news and complaints. We copy the most valuable information to social networks, so please sign up!
Supervisory authorities
The online store is owned by Casetagram Limited, a Hong Kong company. The company is headquartered in the United States of America. The operation of the online store is governed by the laws of Hong Kong. The relationship between the seller and the buyer on the site is governed by the user agreement and privacy policy.
Casetify.com User Agreement
User Agreement of Casetify online store is referred to as "Terms and Conditions". Please note that the administration of the service urges you to read this document before registering on the site. By using this site, you agree with all clauses of the User Agreement and undertake to comply with the terms described in this document. If the administration of the site finds violation of these terms and conditions, it reserves the right to refuse to use the website to any person for any reason and at any time.

In case of any disputes and claims the buyer is obliged to contact the support service by e-mail indicated on the site. In his letter it is necessary to describe the essence of the claim. The parties are obliged to solve all disputes and claims in the course of pre-trial negotiations. If no amicable solution is reached during negotiations, either party shall have the right to bring the case to court. All disputes shall be considered by the courts of Hong Kong.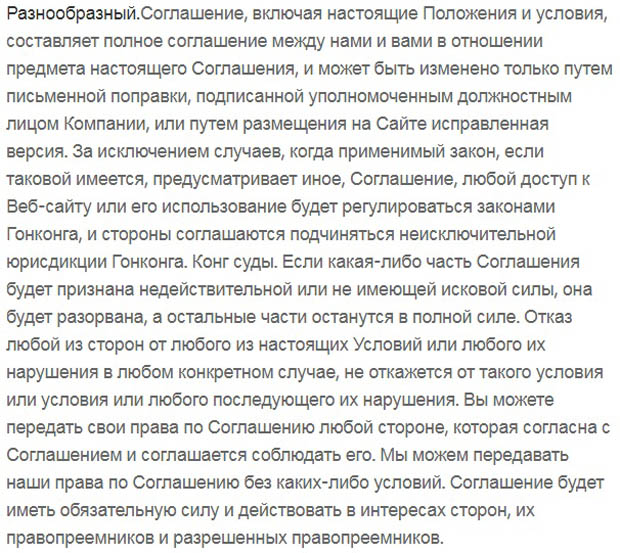 Customer Service
Support service of Casetify online store is available 24 hours a day, 7 days a week without holidays and weekends. You can contact the support service if you have any questions. Please note that a request to the support service must be sent in English. Support can be contacted via the following contacts:
Keep in mind, if you contact customer service about receiving a defective product, you must immediately include photos of the defect or damage to the product. Also note that if you want to return a custom-designed item, you can only get a 50% refund for it. Also, customers are not reimbursed for shipping and handling costs.
Is Casetify a scam?
Online store Casetify - is a unique marketplace where you can create a case for your smartphone yourself. You can order prints of photos, pictures, inscriptions, etc. Also here you can sell your exclusive prints, while retaining the copyright. In addition, the store offers its customers a lucrative referral and affiliate program. Some users are wondering if Casetify is a scam or if it is really possible to buy high-quality shockproof cases with unusual prints?
Having analyzed the reviews about the store in the English-language segment of the Internet, as well as the work of the support service and legal information about the company, we can declare that Casetify is not a scam. Here you can really buy quality cases for your smartphones, as well as create your own design for the accessory. In addition, you can buy additional accessories such as wireless chargers, cables and cords, smartwatch straps, etc. on the website of the online store.
Conclusion
If you want to stand out from the crowd and buy a quality shockproof case for your smartphone, the online store Casetify - is what you need. Here you can buy both products from existing collections, and create your own design for your smartphone case. Customization on the site takes from 1 to 3 days, and then your product will be sent to you by a reliable delivery service.
In addition to your case, you can buy a protective glass, wireless charger or charging cable. The online store Casetify is known in the U.S. for the high quality of its products, as well as participation in various social projects. When buying products on Casetify, you can also participate in charity programs. For example, when you buy a protective mask on the site, you will donate the same mask to medical personnel from different countries.
The company in the ratings
Activity
New

0

Resolved

0

Not resolved

0
New companies on the site