Store online lingerie, clothing and accessories with lucrative promotions and discounts, as well as the possibility of free delivery.
Online store
Official website
Head Office

Larnaca Cyprus, 48A Sittika Hanum St, Map Building 6051

Date of foundation

2017

The owner of the company
Types of support

[email protected]

Feedback form on the site

Live Chat

86-186-529-797-63

Facebook

Instagram

Support by phone
Social media
Languages

English, Spanish, Portuguese, German, French

Bonuses
Payment methods

PayPal, Bank Card (Visa/MC)

Buying on credit
Installment
Store category

Clothing, Footwear and Accessories, Jewelry

Project Features

Online store of women's clothing and accessories, where you can buy a lot of goods with discounts up to 70%.

Additional services
Project regions

All countries in the world

Shipping methods

Courier delivery, Transportation companies

Transportation companies

Air Mail, Sea Freight

Delivery time

Until

30 days

Depends on the remoteness of the region, customs clearance and the conditions of the shipping company

Free shipping terms
Mobile applications
Affiliate Program
Benefits

Large selection of products for women

Disadvantages

Sometimes there are glitches in delivery and order formation

Regulatory agencies and laws
Company requisites

Legal name:

Almand Estate LTD

Legal address:

Larnaca Cyprus, 48A Sittika Hanum St, Map Building 6051

Overall assessment
Date of update

19.02.2023
Address
Larnaca Cyprus, 48A Sittika Hanum St, Map Building 6051
Map
Subscribe to this company
Boutiquefeel is this a scam? Reviews and description
Boutiquefeel
- that
online store
, on whose platform you can buy fashionable clothes, lingerie, jewelry and accessories at bargain prices and with convenient delivery. The service is available in many languages.
A huge number of products from the catalog, presented on the page of the service, are available at very favorable prices. But isn't Boutiquefeel online store a scam? Let's find out.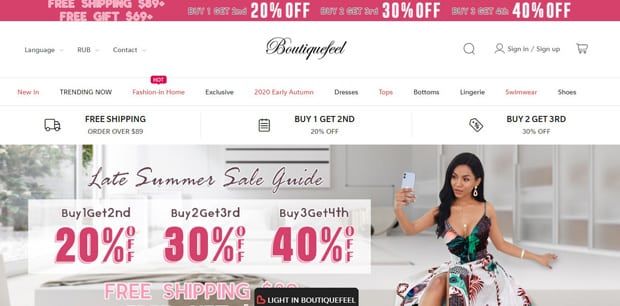 Why Boutiquefeel?
Buying things online is becoming more and more profitable and the online service platform Boutiquefeel confirms that you can buy things with delivery to different countries, with good discounts, additional gifts and other attractive offers. Advantages of the online store Boutiquefeel:
More than 100 thousand items: from underwear to shoes and jewelry;
exclusive offers, discounts and gifts;
a handy mobile app;
convenient delivery by ground or air mail;
a wide range of models;
You can pay for your order online with a bank card or via web wallet PayPal.
What can I buy at boutiquefeel.com?
In the company's online store you can buy a lot of products for any occasion: both for the solemn going out and for every day.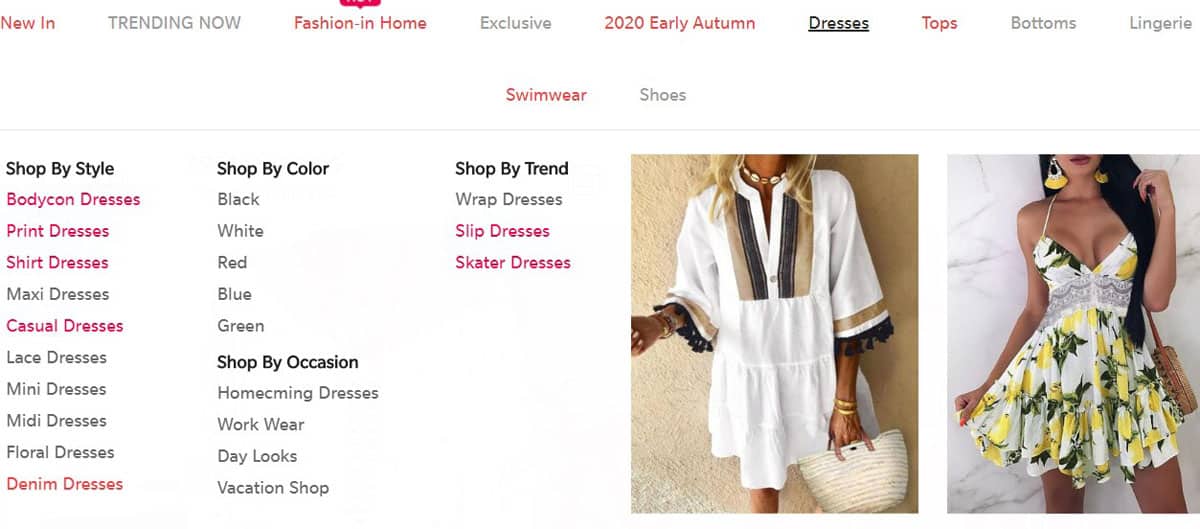 In the product catalog on the website of the store boutiquefeel.com you can find:
underwear;
women's clothing;
shoes;
jewelry;
swimwear and clothing for the home.
The site's catalog is very easy to use, and you can find everything you need with no more than two clicks.
How do I find the right product at Boutiquefeel?
On the site boutiquefeel.com convenient and detailed catalog. You can use it from the home page or the top menu. If you already know what you want to buy, you can use the search bar. All products participating in sales or special promotions are available from the main page of the site. When searching, you can choose the currency in which it will be more convenient to buy the goods and the prices will be displayed in your currency.
Product card
In the product card, in addition to the characteristics of the product: size, price, material, etc., you can find its part number and special offers that are available for this product. Also on the product card you can read reviews of those who have bought the same product and leave your own. The line with similar products at the end of each card will help you make the final choice.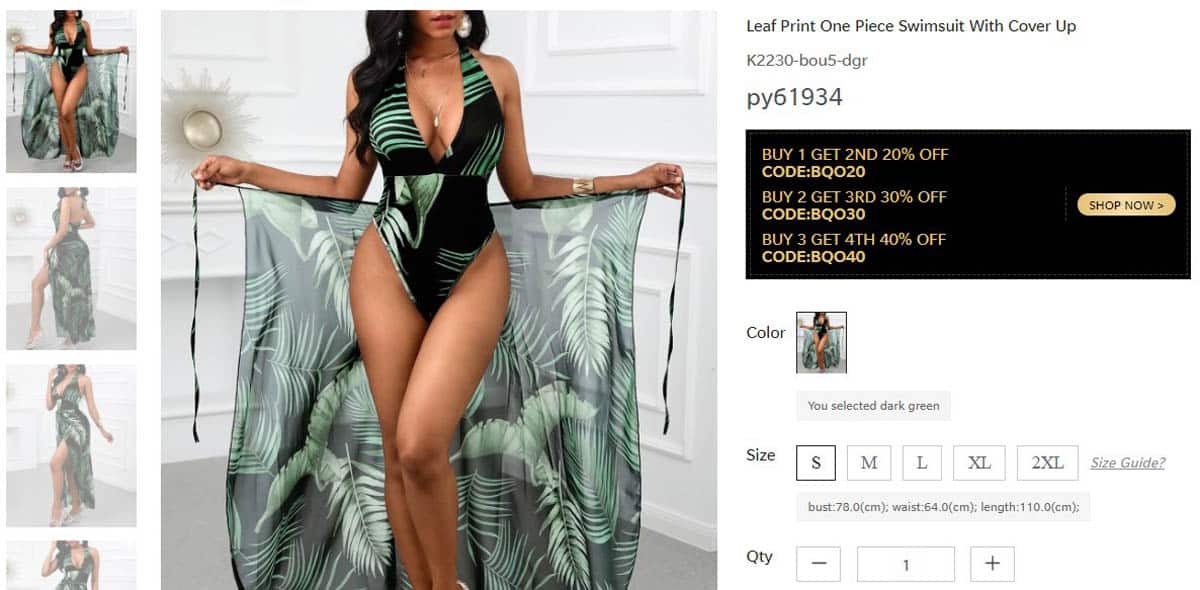 How do I order from Boutiquefeel?
To place your order online boutiquefeel.comYou need to register, open your personal account and place your order.
How do I register at boutiquefeel.com?
Registration on the site of the store does not take much time. To go to the registration page you need to click on the icon of personal account in the top menu. When registering, you can verify your account using your Facebook account or email.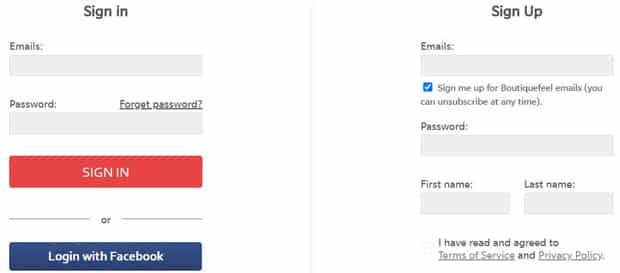 Personal Cabinet
A personal record on the site of the online store is created so that you can participate in the company's offers, place an order and track delivery.
How to place an order?
In order to place an order on the online boutique site, after selecting products and adding them to the cart, you need to register if you are shopping for the first time. Or you can download a mobile app and place an order through it. After forming the order, choosing the method of delivery and payment, you need to send it to the site. After that a confirmation of the order will come to your email.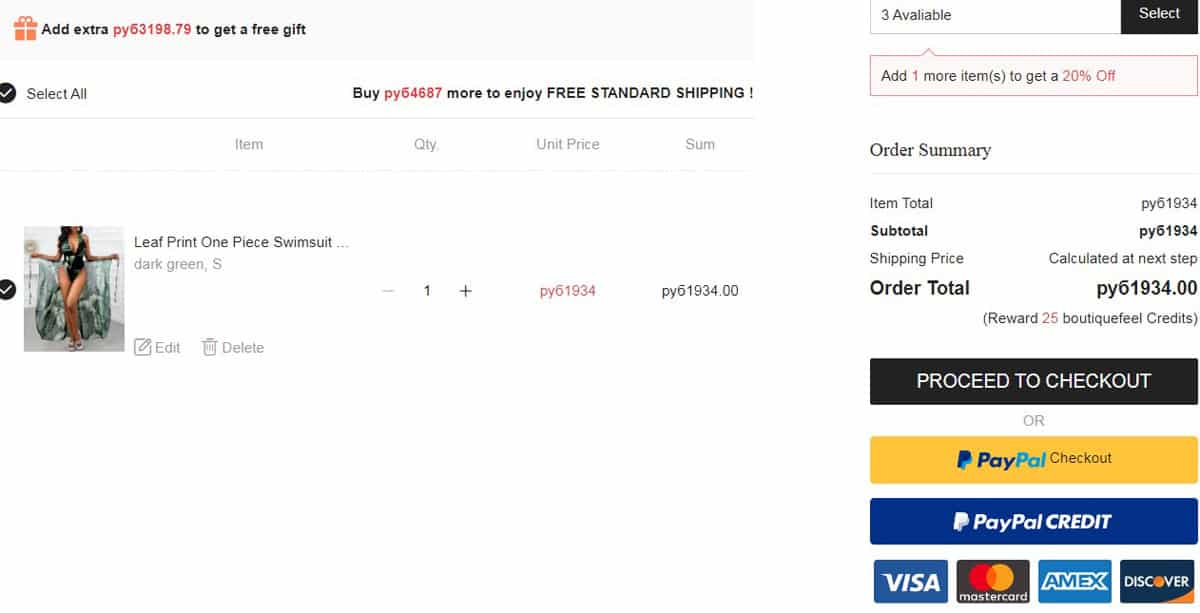 Additional features
There are no additional features on the online store site that are not related to the purchase of goods and tracking the delivery of your order.
Mobile application
The online store has its own mobile app, available on the App Store and Google Play. The app is an extended version of the company's catalog. You can use it to keep track of new products, place orders, track delivery, and pay for your order.

Payment and delivery at Boutiquefeel
The functionality of the online service allows you to pay for your order with a bank card or web wallet and arrange delivery in different ways, depending on the country of delivery.
How do I pay for my order?
Store service operates on a prepayment basis. At registration, you can pay for your order with a bank card of any payment system, except national (МИР) and via PayPal web wallet. In addition, you can partially pay for orders using bonus coupons received on other orders.

Shipping methods
On the site of the store you can find out about the possibility of delivery to your region. Depending on the country, delivery is by ground or air mail. The cost of delivery also depends on the country, but at the moment there is a promotion with free delivery at the order of $89. Please note that there are currently no deliveries to a number of countries. Check the website for the list.

Ways to return merchandise
You can cancel your order at any time, but before it is poisoned. You can return the product if the size or quality does not fit you, but please note that before sending back the parcel, you need to write a return application through the site and send the parcel with the order to the address that will be in the message from the support service.
Boutiquefeel bonuses
The store has prepared a large number of favorable offers for its customers. This includes discounts, good deals, gifts with purchase and much more.
Late Summer Sale Guide
At the moment, there is a special offer on almost all items in the online store from the summer collections. If you buy one item you get 20% discount on the second item, if you buy two you get 30% discount on the third item, and if you order three items, the fourth item will be discounted to 40%.

Hot sale tops
There are also discounts up to 70% on select items. Promotional items from the sale are marked with a special label. There is a separate section on the homepage dedicated to sales.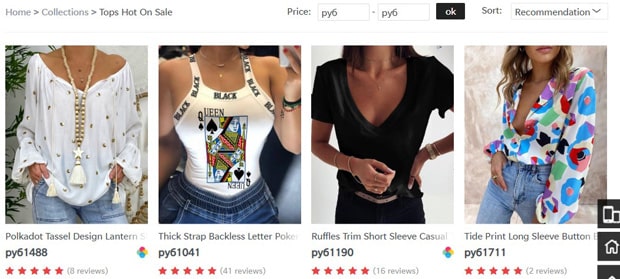 A gift for a purchase
If you buy goods worth more than $89 from the summer collections section of the online store, you get a surprise gift.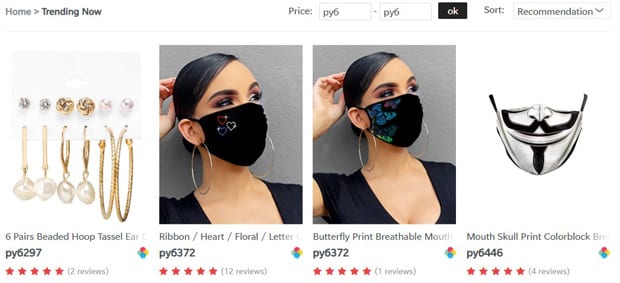 Discount 50%
For referring friends, you can get a discount on 50% merchandise payments, both for the customer and his friend.
Fashion-in Home
There is a sale on the site of lingerie collections with discounts up to 40%.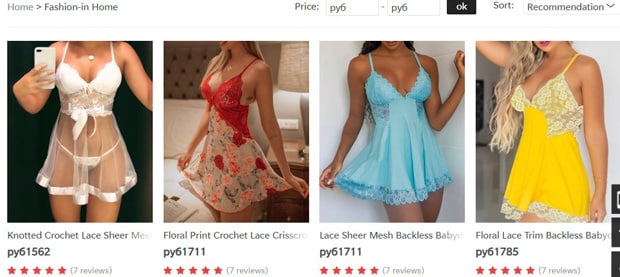 Coupons from Boutiquefeel
The site has a program of coupons and credits, which can be obtained by leaving reviews, recommending the service, making orders, etc. With the coupons you receive, the number of which will be displayed in your personal account, you can pay for part of your purchases. You can get the credits by sharing the reviews of the purchases in social networks, putting the corresponding tags and sending the links to the site. Credit can be spent at the rate of 100 credits = $1
Referral program
The store has its own referral program. By becoming a member of this program, you get an opportunity to become a partner of the company, participate in its promotional actions, promote your resource with the help of marketing tools of the service and get income up to 15% from each purchase attracted by your referral link customers. You can also get up to 12% from each paid order from an affiliate program of spa networks.

Complaints about boutiquefeel.com
There are almost no reviews for the online store. Rare reviews from customers are mostly positive and are associated with promotions and discounts from the store. Almost all note that buying goods on the site boutiquefeel.com very profitable.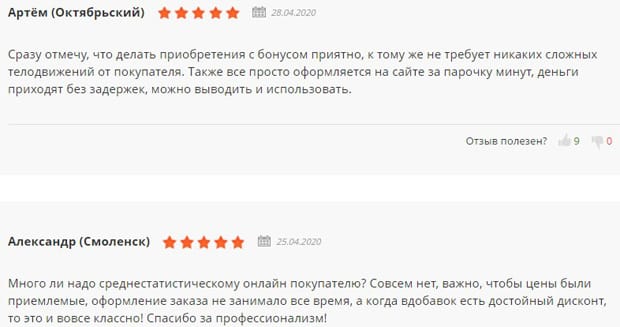 If there are any reviews about Boutiquefeel online store, we'll be sure to post on social media. Sign up so you don't miss anything!
Please keep yourself informed about news and complaints. We copy the most valuable information to social networks, so please sign up!
Free legal advice at revieweek.com
If you're having trouble returning a product, you may want to get help from a lawyer. Answer a few questions and get expert help. A lawyer will contact you with a ready-made solution.
Supervisory authorities
Almand Estate LTD, which owns the service, is located in Cyprus and operates under the laws of this country.
User Agreement boutiquefeel.com
The Service User Agreement is available for downloading and viewing from the basement of boutiquefeel.com. The agreement, like the rest of the functionality on the site, is available with a machine translation or in English. The document itself is quite small and concerns mainly the general points of work on the site of the store.

In addition to general information about the operation of the service in the agreement, there are also items relating to the protection of information and a list of cases for which the personal data of users is stored.

In the event of a dispute that cannot be resolved through customer service, the case will be referred to a third party arbitration tribunal.

Customer Service
If you want to contact the store's support team, you can do so by sending a message from the site or by ordering a callback. If you want to clarify something after you've received your order, you need to fill out a feedback form. The site of the store has a page with questions and answers.
Is Boutiquefeel a Scam?
Boutiquefeel - is a specialized online store of women's clothing and accessories, leafing through its catalog, you can pamper yourself or buy something as a gift. On the site of the service there are more than 100 thousand items of goods at bargain prices. In order to make shopping even more pleasant and convenient, the store is constantly running lucrative promotions for its customers.
After studying how the online store works, its website, services and offers, we can say with confidence that Boutiquefeel is not a scam. But it should be taken into account that the delivery can be up to 30 days. There are few reviews on the work of the store, but of those that there are, almost all are positive.
Conclusion
When buying clothes or shoes online, there is always a risk of not getting the size and quality of things. That's why it's important that you have Boutiquefeel there is an opportunity to return goods. In addition, thanks to constant promotions, you can buy goods with good discounts, get additional coupons or gifts when ordering. The convenient mobile application will also help to make the order faster, more convenient and profitable.
You can pay for your order online with your bank card. The site is protected by Amazon network security certificate. The store platform itself is made according to a custom template with convenient and easy navigation.
The company in the ratings
Activity
New

0

Resolved

0

Not resolved

0
New companies on the site