Slot from Pragmatic Play, designed in cartoon style, will delight dog lovers in a game with unique gameplay, a variety of colorful characters, nice bonuses, interesting design and great winning potential.
Read completely
| | |
| --- | --- |
| Slot | |
| Release Date | |
| Manufacturer | Pragmatic Play |
| Countries and regions | Eastern Europe, Europe, Latin America, North America, Asia |
| Other slots provider | |
| Demo | |
| Presented at the casino | |
| Best casino bonuses | |
| Similar slots | |
| Slot type | Video Slots |
| Genre | Animals |
| Drums | |
| Rows | |
| Payline | |
| RTP | |
| Maximum winnings | |
| Features | Unusual slot in the style of a cartoon with cute dogs of different breeds, nice bonuses and big winning potential |
| Symbols | Multiplier, Free Spin, Wild Symbol |
| How to play? | Spin the reel, tracking rotations to collect 3 to 5 matching symbols on the game line |
| Min. | |
| Max. rate | |
| Software | |
| Mobile applications | |
| Mobile version of the site | |
| Benefits | |
| Adjustable | License No. MGA/B2B/317/2016 from the Malta Gambling Authority, License No. MGA/B2B/317/2016 from the Malta Gambling Authority Licenses No. 46683 and No. 56015 from the UK Gambling Commission |
| Overall assessment | |
Subscribe to this company
The Dog House is this a scam? Reviews and description
The Dog House Free Demo:
Features of The Dog House Slot
"The Dog House" is a video slot consisting of five reels and 20 paylines (more about The Dog House). One of the key features of this slot is its volatility. It is a high volatility game, which means that although winnings may be less frequent when they occur, they can be quite significant. Another important feature is the presence of wild multipliers and free spins, which can increase your chances of big winnings.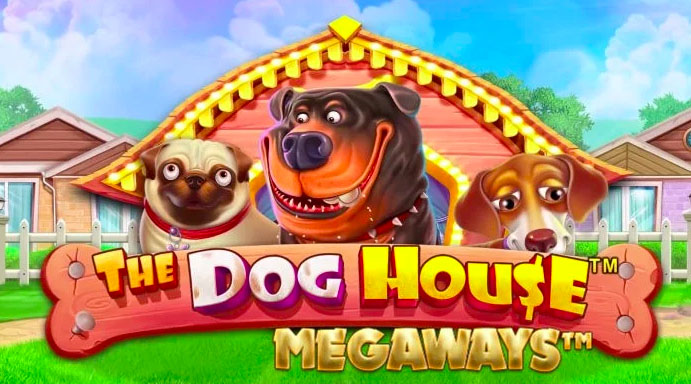 Theme
"The Dog House" is a fun and colorful slot that immerses players in the cozy world of pet dogs. The background of the game is a quiet suburb with a wooden dog house as the focal point. The graphics are bright and cartoonish, which gives the game a fun and casual feel.
The Dog House Symbols
The symbols in "The Dog House" include different kinds of dogs as well as the usual card symbols. Among the dogs you will find a Doberman, a Sheltie, a Poodle, and a Bulldog. The dog symbols are high paying symbols, while the card symbols usually bring smaller payouts. The dog house symbol is the wild symbol and can substitute for any other symbols except the bonus symbol to help form winning combinations.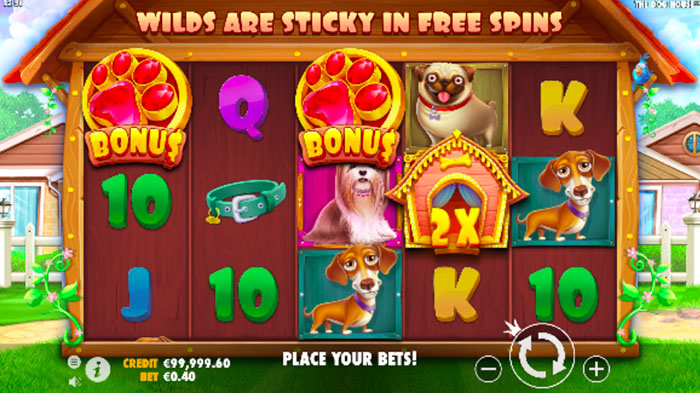 RTP and Volatility
"The Dog House" has a return to player ratio (RTP) of 96.51%, which is pretty standard for online slots. The volatility of this game is high, which means that winnings may be less frequent, but when they do occur, they can be big. This makes the game especially appealing to players who prefer more risk and bigger rewards.
How to Play The Dog House?
Playing The Dog House is simple. At the beginning of each spin, you choose your bet size, then press the spin button. An auto spin feature is also available, which allows you to set a certain number of automatic spins.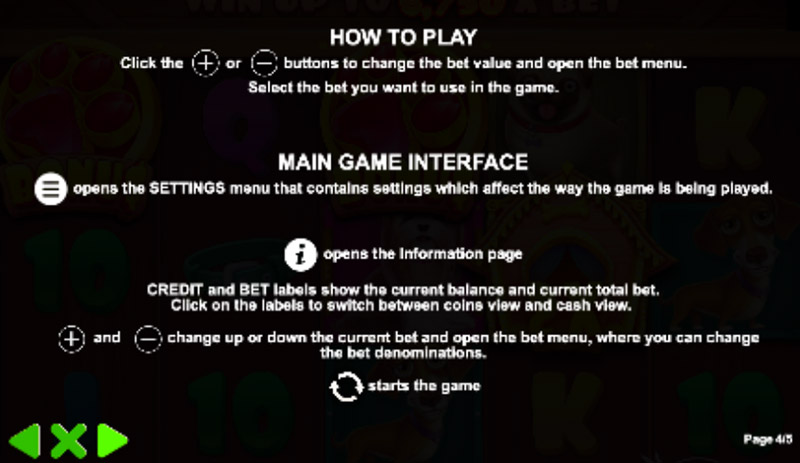 Screenshots of the Game
Screenshots of the game are easy to find on the internet. They show the game's graphic design, symbols and interface, which helps players better understand how the game looks and functions.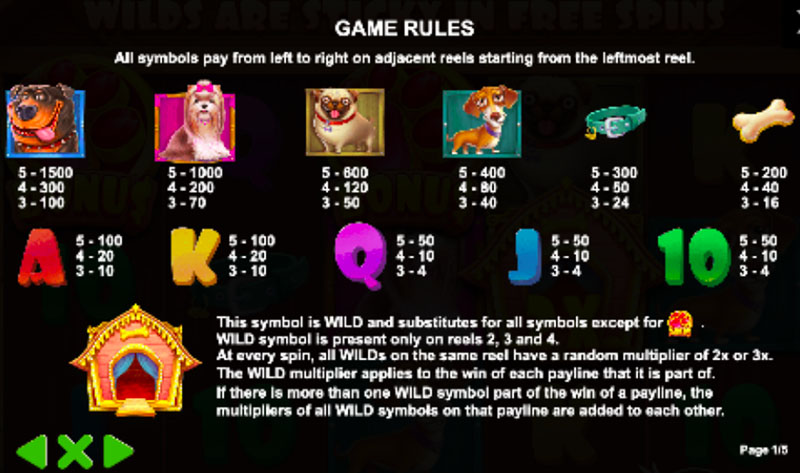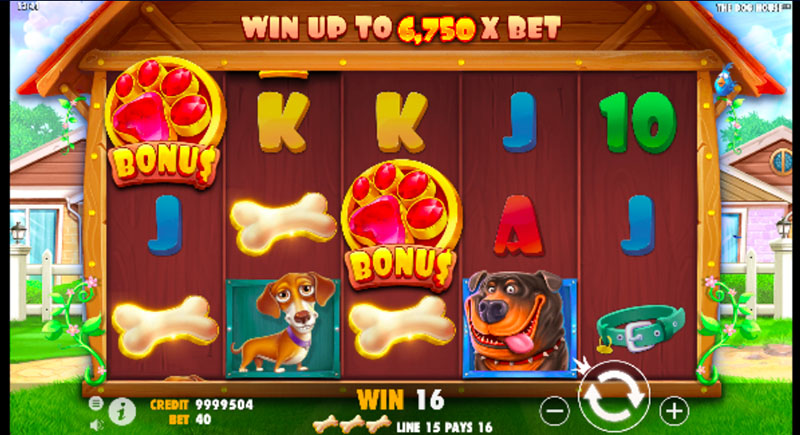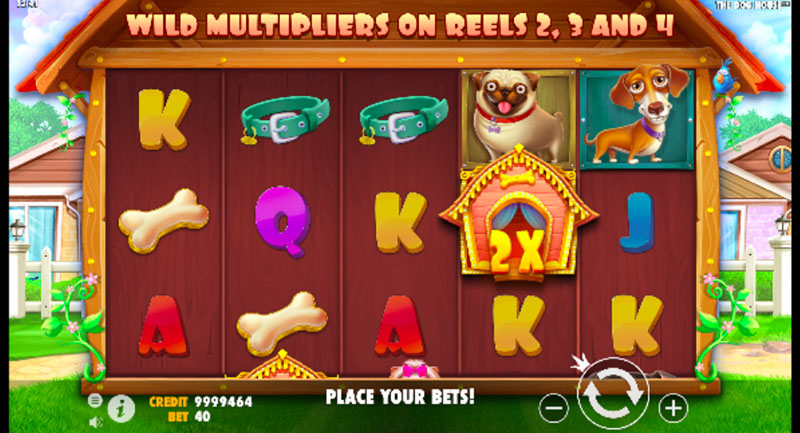 The Dog House Mobile App
"The Dog House" is also available on mobile devices, thanks to its adaptive design and HTML5 technology. The game is compatible with Android and iOS operating systems. To start playing on your mobile device, find an online casino offering games from Pragmatic Play and open "The Dog House" through the browser of your smartphone or tablet.
Where to Play The Dog House?
You can enjoy playing "The Dog House" at various online casinos that offer games from Pragmatic Play. Some of the popular casinos that feature this game include Casumo, LeoVegas, Mr Green and many others. Make sure the casino you choose has a good reputation and is licensed to provide gaming services.
The Dog House Free Demo
Most online casinos offer the opportunity to try out The Dog House in a free demo version. This allows players to explore the game's features, design and mechanics without the risk of losing real money. The free demo is ideal for beginners and those who want to see if the game is right for them. Start playing The Dog House Free Demo:
Playing The Dog House for Real Money
If you decide to try your luck and play for real money, you will need to register at an online casino, select "The Dog House" and make a deposit. Before you do so, be sure to familiarize yourself with the casino's terms and conditions. For example, you can register in 1win (site casino), at one of the best online casinos.

The Best Online Casinos for Dog House
When it comes to choosing a casino to play at "The Dog House," factors such as reliability, safety, range of games, bonuses offered, and quality of support are worth considering. Recommended casinos to play at "The Dog House" in these casinos:
The Dog House Strategies
Bankroll Strategy: bankroll management is a fundamental aspect of successful play at any slot, but it is particularly important at slots with high volatility, such as The Dog House. First, decide how much money you are willing to spend on each playing session and stick to this budget, regardless of the results. Never exceed your set limit, even if it seems that the next spin is sure to bring a win. Remember that all the results in the slot machines are determined by chance, and there is no guarantee of winning.
Patience strategy: the second important strategy to apply when playing "The Dog House" is related to patience. Due to the high volatility, big wins in this slot may happen rarely, but when they do, they can be really impressive. So, be patient and don't let small losses destroy your gaming motivation. After all, it's patience that can help you wait for that moment when the big payday arrives.
Streamers Play The Dog House
Many popular gambling streamers play "The Dog House" regularly and broadcast their games live. This can be a useful source of information on how the game works, and a great way to see the slot in action.
The Dog House's Best Bonuses
Many online casinos offer special bonuses for The Dog House, including free spins and deposit bonuses. These can help increase your bankroll and give you a better chance of winning.
Jokers and Free Spins
In "The Dog House", the dog house symbol is a wild symbol that can replace any other symbol except the scatter symbol to help form winning combinations. The scatter symbol (paw) can activate free spins if three or more of these symbols appear.
Wild multiplier
During free spins, the wild symbol can bring a 2x or 3x multiplier, increasing your winnings.
Free Spins
Free spins are activated when three or more scatter symbols appear. The number of free spins is determined at random.
The best Casino Bonuses for The Dog House players
Many casinos offer generous bonuses for The Dog House players. These can be a deposit bonus, free spins, or even exclusive promotions. Here are the best online casino bonuses:
1win Make a Deposit, Get a Bonus
The first 4 deposits into your main account gives you an extra bonus on two accounts at once: sports betting and casino games. Get a 500% bonus: the bonus is credited automatically after making a deposit to the main account:
+200% on the amount of 1 deposit
+150% on 2nd deposit
+100% from amount of 3 deposits
+50% on the 4th deposit

Welcome bonus 100% + 50 FS from Mirax Casino
1 st Deposit Bonus 100% up to 1.5 BTC + 50 FS!

Welcome Bonus Up to 200€ from Winhalla
Thor is enjoying another great victory and Winhalla is overflowing with celebration. To celebrate the victory, the God of Thunder will support your first deposit with a welcome bonus up to 200€. To claim the Winhalla bonus, create a free account on the casino website and enjoy playing!
The Dog House Payouts
"The Dog House offers high payout potential thanks to its high volatility and wild multiplier feature during free spins. Maximum winnings can be up to 6750x your bet, which makes this game very attractive to players willing to take risks for big winnings.
Reviews for The Dog House
Player reviews of "The Dog House" are quite varied. Many players praise the game's bright, cartoonish design, as well as its simplicity and user friendliness. They also love the exciting features, such as free spins and wild multipliers, which add a level of intrigue and excitement to the game. However, some players notice that because of the game's high volatility, there can be periods when winnings seem quite rare, and this can be frustrating.
The Dog House Provider
"The Dog House" was developed by Pragmatic Play, one of the leading companies in the online casino software industry. In its history, which began in 2015, Pragmatic Play has created dozens of quality games and set high standards in the industry. The company is known for its commitment to innovation, creating games with unique features and themes that make them appealing to a wide range of players.
The Dog House License
"The Dog House, like all Pragmatic Play games, is licensed and regulated by several reputable bodies to ensure fairness and safety of play. This includes licenses from the UK Gambling Commission, the Malta Gaming Authority, and Curacao. These regulatory bodies check and monitor the provider's activities to make sure that all games meet strict standards of fairness and transparency.
The Dog House's banned countries
Although "The Dog House" is available to players in many countries around the world, there are a number of countries where access to the game is limited. This may be due to local laws and regulations that restrict online gambling. Examples of such countries include, but are not limited to, the United States, Australia, France, Italy and Russia. However, this can vary from casino to casino, so it's always a good idea to check the availability in your country before playing.
Game Safety
The Dog House game uses a certified random number generator to ensure that all results are fair and random. In addition, all transactions and players' personal data are protected by state-of-the-art encryption technology.
The Dog House: Expert Conclusion from Revieweek
At the conclusion of our review of The Dog House slot, it is safe to say that it is a great game and one of the best slots. The designers at Pragmatic Play have put a lot of creativity and effort into the creation of this slot and it shows. The symbols in the slot are colorful and detailed, bringing a fresh note to the game. Four different dogs are a favorite design element. Their images are colorful and cute, adding a fun element to the game.
In terms of volatility and RTP, The Dog House also performs well: the game offers plenty of opportunities for big wins. But remember, high volatility means that wins can be big but rare. The mechanics of the game are simple and easy to understand, making "The Dog House" accessible to beginners. At the same time, complex features such as sticky wild symbols and free spins add a level of complexity that can appeal to experienced players. However, not everything at The Dog House is flawless. It is important to remember that in some countries access to play may be restricted and players should always make sure that they are playing at a reliable and licensed casino. Pay attention to our online casino rankings - these are only proven projects that you can work with on a long-term basis.
In terms of mobile gaming experience, The Dog House offers a high-quality interface that easily adapts to a smaller screen. This means you can enjoy the game anywhere and anytime. So, an expert conclusion from Revieweek: "The Dog House" is a great slot with a creative theme and attention to detail, it promises fun play and the potential for big winnings, making it a great choice for most players.
Conclusion
Overall, "The Dog House" is a great slot that can offer players many opportunities for significant payouts. Its fun design and interesting features make it a unique and exciting choice for all slot lovers. Remember that despite its high volatility, managing your bankroll and playing responsibly is the key to enjoying this great slot. Enjoy the game and good luck!
No reviews yet, be the first!
The company in the ratings
Activity
New

0

Resolved

0

Not resolved

0
New companies on the site