mSpy is a parental control software with functions for viewing messages, device location, etc., working on Android, iPhone and iPad.
Read completely
The company
Website
Head Office

Londynska 730/59, Vinohrady, 120 00 Praha, Czech Republic

Date of foundation

2018

Founder
The owner of the company
Manager
Types of support

Chat

FAQ

Facebook

Twitter

Instagram

Support by phone

Social media
Languages

English, German, French, Portuguese, Japanese, Arabic, Spanish, Italian, Turkish, Korean

Bonuses
Rates

mSpy™ software

/

From

11.6

USD

per month

Free version
Payment methods

Bank card (Visa/MC), American Express, Discover, Direct Debit, JCB, Wire Transfer, PayPal

Project Features

Parental control software with a wide range of functions, undetectable on the devices in use

Protection against viruses
Anti-spam protection
Password protection
File Protection
Restore infected files
Webcam protection
Online banking protection
Mobile device protection
Parental Control

Control of viewed content, blocking sites, limiting time online

Creating a bootable disk
Cloud scanning
Device type

Tablet, Smartphone, iPad

Operating system support

Android, iOS

Compatibility

All versions iOS, Android 4+

License term
Additional services
Mobile applications
Affiliate Program
Work experience
Affiliated entities.

Linters Praha

BRETONG MACHINERY

Regulatory agencies and laws
Benefits

Easy installation in 10 minutes

All data is encrypted and protected

The app is not displayed on the target device and runs in the background

Target phone activity data is updated every 5 minutes

Multilingual technical support

The software is used by more than 1.5 million users

The software works on iPhone, iPad or any Android device

Disadvantages

Complaints about the high cost of the software

Complaints about the difficulty of installing software on some devices

Company requisites

Legal name:

ALTERCON GROUP SRO

Legal address:

Londynska 730/59, Praha 2, Vinohrady, Praha, Hlavni mesto Praha, 12000, Czechia

Overall assessment
Date of update

02.08.2022
Address
Londynska 730/59, Vinohrady, 120 00 Praha, Czech Republic
Map
mSpy™ is it a scam? Reviews and description
mSpy™ - is software that allows you to track incoming and outgoing messages, call history, correspondence in social networks and messengers. The software does not identify itself in any way on the child's phone, and parents can at any time read correspondence, find out with whom the child communicates in social networks and track the location of the phone.
The program is designed for parental control. In a world dominated by online communication, it is important to monitor children in order to help your child with problems in time. In this review we will look at the program, learn about its features and analyze the reviews to understand mSpy™ - is it a scam or an assistant in parenting.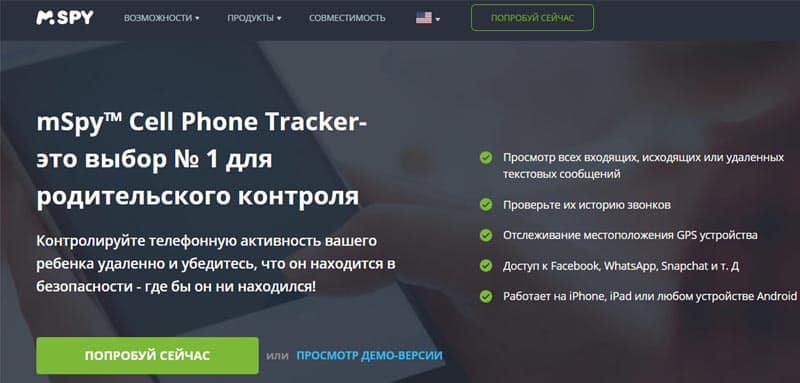 Why mSpy™?
The mSpy™ software, unlike similar programs, does not detect itself on the tracked phone. Your child won't see an unfamiliar logo and won't know they're being tracked. mSpy™ has already helped thousands of parents identify problems in their children and solve them before negative scenarios develop. With this software, you'll know if your child is being threatened online, communicating with suspicious people, or if he or she has fallen into bad company and is in unhappy love. The software works on any iOS or Android phone. Parents can track their child's phone from a computer or their phone. You will be able to read received and sent messages, deleted messages, chats, etc. With mSpy™ you will be aware of your child's life and be able to come to his or her aid in time.
Advantages of mSpy
According to the website mspy.com The software has several advantages over similar software. The manufacturers point out that it works in the background. This means that the program does not manifest itself in any way on the tracking device. The following advantages can also be highlighted:
Easy quick installation;
Data encryption;
Update the data every 5 minutes;
Round the clock support;
Tracking of all communication channels.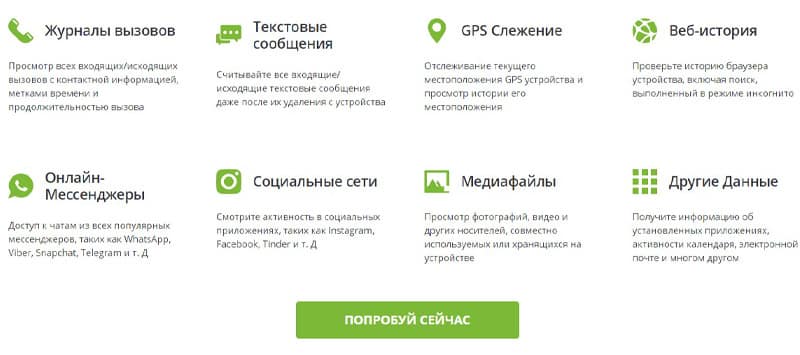 The software allows you to track call logs, text messages, web search history, messenger messages, messages on social networks, media files, geolocation and other data. Every parent buying their child a smartphone should understand that the Internet can be dangerous for schoolchildren and teenagers, so you need to be aware of the potential risks and know how to protect your child from them. Most often children are exposed to the following dangers on the Internet:
Cyberbullying;
Cyber Raptors;
Posting of private information;
Phishing;
Fraud;
Malware;
Returning messages;
Dangerous apps;
Sexting;
Unacceptable content.
Cell phone monitoring allows you to detect these threats and protect your minor from them. The software allows you to monitor your cell phone without access to the target phone. With the application, you can monitor conversations and messages and know who your child is communicating with, where he or she is, and what kind of danger he or she might be in.
Types of mSpy software
The company offers 4 options for cell phone monitoring software.
iPhone without Jailbreak
With this software, you can track iOS gadgets without accessing your phone. You don't need to install the software or get full access to iCloud to track your target phone. The app allows you to track:
WhatsApp, SMS, call logs, event viewer, browser history and notes.
Information about Wi-Fi access points.
Notifications about new apps installed.
With the app, you can monitor your target phone from any browser. Your child won't know you're monitoring their phone, and you'll be able to keep them safe without family conflicts.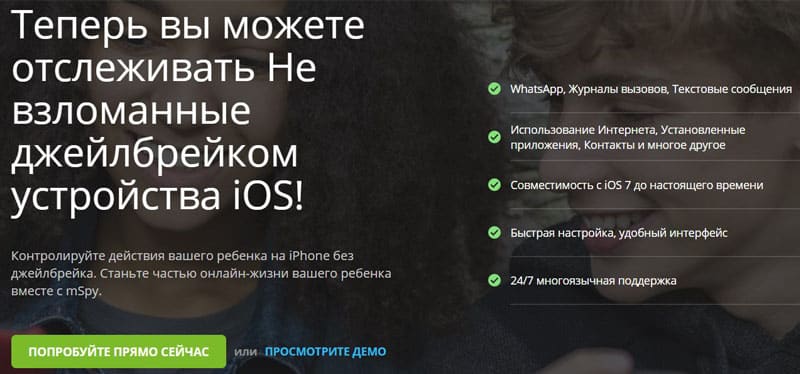 Monitoring iPhone
The application requires installation on the target device. With the software, you can keep track:
Incoming and outgoing SMS.
Location.
Messaging apps.
Email.
Multimedia messages.
Incoming and outgoing calls.
The app is also suitable for tracking a lost phone, for monitoring communication costs, and for counting calories. The software is suitable for all iPhone models. It takes a few minutes to install and then you can start tracking right away.

Android app
The application allows you to remotely monitor your Android cell phone. It is a multifunctional application that allows you to monitor:
Call Log.
Chat messaging, text messaging.
Location.
Web browsing.
Multimedia content.
The app requires installation on the target device, and premium features require rooting your Android device or jailbreaking your iOS device. The app is available for phones with Android 4+ operating system.

Family Package
By purchasing the family pack, you can monitor up to 3 target devices simultaneously. The app has 30+ features for tracking cell phones. With the app, you can track:
Location of children.
A map of the location of each tracked device.
Visited sites, social networks, bookmarks, etc.
SMS
Messaging and chatting.
In addition, you will be able to control the time of your children's access to the Internet. Now you can decide how much and when your children are allowed to spend time on the Internet, online games, and apps. Limit this time sensibly so that the Internet does not interfere with school, sports, and household chores.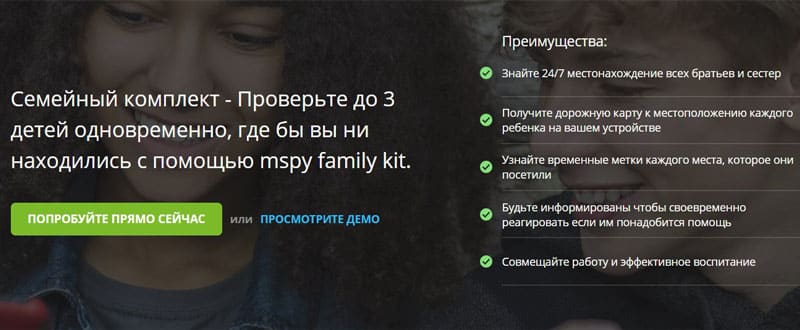 How to buy M Spy antivirus?
You can buy mSpy software only after registering on the website mspy.com. To register, you need to enter a valid email address, agree to the terms of use and privacy policy, and click the "Try" button. The second step of registration is to select a target device for monitoring. You can choose iOS or Android devices, or you can postpone this choice for later.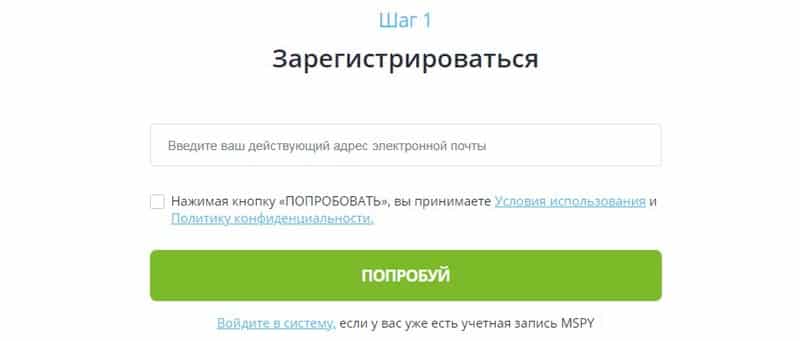 After that, you need to choose a subscription plan and complete the account creation. The price of the subscription depends on its duration. The base price is $48.99 per month. If you buy 3 months the price is $27.99 per month and if you buy 12 months the price is only $11.66 per month. After paying for the tariff plan you will receive a password to your e-mail account. Visa, MasterCard, American Express, Discover, WIRE Transfer bank cards are accepted for payment, PayPal. After you subscribe, you have the right to cancel your purchase within 14 days.
Personal account on the website mSpy Com
All tracking information is available in your personal cabinet. Here you can view:
Incoming outgoing calls.
SMS and MMS;
Hangouts;
iMessage;
Instagram Messages;
Facebook Messenger;
Kik;
LINE;
Skype;
Snapchat;
Telegram;
Tinder;
Viber;
WhatsApp;
Photos and videos;
GPS location;
Emails;
Calendar;
Contacts;
Notes;
Site visits;
Bookmarks;
Wi-Fi networks;
Appendices;
Screen recording.
You can also use the app to block sites and apps, get information about your device, get reports, and contact customer support.
Software installation instructions
It takes 10 minutes to install mSpy on your target device. After purchasing the plan, you will receive a step-by-step installation guide. If you have any problems with the installation, you can contact the company's support via live chat on the website or by phone in your country. Quick installation instructions for iOS and Android mobile devices:
An Apple ID and phone password are required to monitor your target iOS device. You will need physical access to your device for a few minutes to install the app. Physical access is required to enable iCloud backup and get confirmation codes. The process takes 5 minutes.
To control a target device with the Android operating system, you need to install the software on your phone. Installation takes up to 10 minutes. Immediately after installation, you will have access to phone tracking. If you have trouble installing it on your target device, contact Support, who will give you step-by-step instructions.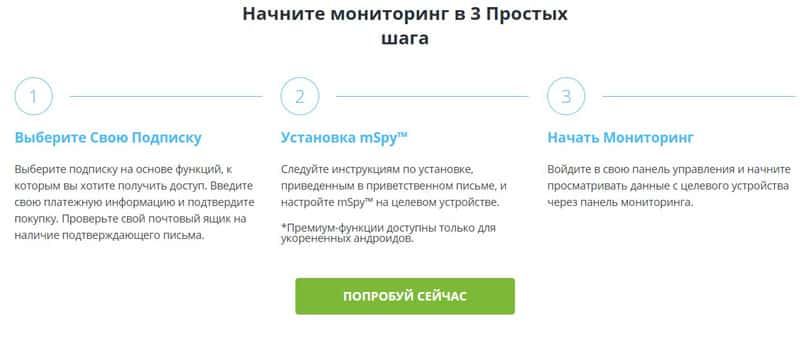 How do I start the software?
The software launches immediately after installation. mSpy runs in the background, and your child will not be able to see that a third-party program is installed on their device. Information about the device being tracked is updated every 5-30 minutes, depending on the update interval you set.
Additional services from mSpay
mspy.com offers users a number of additional services.
Compatibility check
Using the compatibility check service, you can determine in advance whether your target device is compatible with the mSpy software. The application is compatible with all popular iOS and Android devices. To check compatibility, enter the device model or iOS version in the search box. Click the magnifying glass icon and the system will tell you if your device is compatible with the software.

Blog
The mSpy blog is a collection of useful information for parents. Here you'll find helpful tips, system updates, industry news, and alternative software. The blog also includes helpful articles on how to raise successful children, what parents should be aware of when reading text abbreviations, and how to keep your child safe on social media.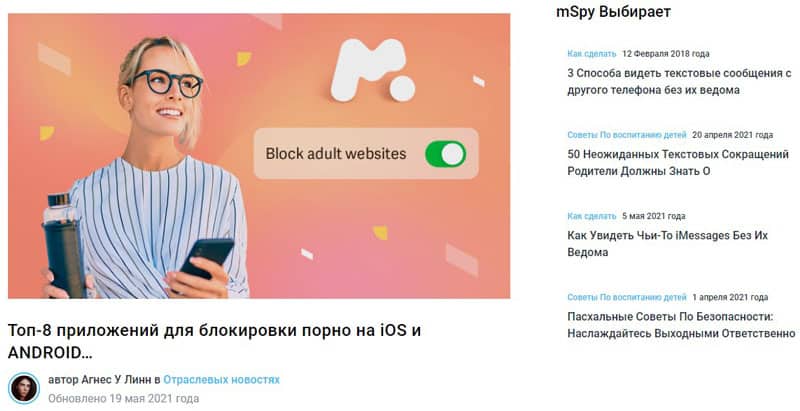 Knowledge Base
If you still have questions about how the app works and how to install it, you can read the information on the Frequently Asked Questions and How mSpy Works pages. The Frequently Asked Questions page tells you what mSpy is, if the app is safe, if it works in your country, and if your child's phone is compatible with it. The About mSpy page tells you how the app works, what you need to install it on your child's phone, and how to start tracking.
Service mailing list
Sign up for the service's newsletter and receive articles, personalized offers, and helpful tips in your inbox. By subscribing to the newsletter you agree to receive marketing emails.
Bonuses mspy.com
Users of mSpy software can get bonuses and discounts from the company.
First subscription discount
New mSpy users get a discount on their first subscription. If you purchase a one-month subscription, get $21 discount. If you make a 3-month purchase, get a monthly discount of $12, and if you make a 12-month subscription and get a monthly discount of $5. The price is reduced for the first subscription only. If you renew your subscription, the service will charge the full price.
Affiliate program for webmasters
The company cooperates with the CPA network CityAds. As part of the affiliate program, the company offers an affiliate fee of 40% on paid orders. When you join an affiliate program, you will be able to track sales for 120 days, receive tools and promotional materials, receive performance bonuses and advanced analytics.

Affiliate program for resellers
To participate in the reseller affiliate program, you need to buy software licenses and sell the application through your sales channel. The company offers promotional materials and a recognizable brand. For wholesale buyers mSpy offers discounts up to 70%. To join the affiliate program, you need to fill out a reseller application. After reviewing and approving the application, a company representative will contact you to coordinate your first order and personal discount. Minimum order is 5 licenses.

Complaints about mSpay
On the Internet we found a large number of reviews of the mSpy software. On the forums and in the feedback users actively discuss the features of the tracking application and its features. In these discussions, users' opinions are divided. Some praise the software and report that they were able to protect their children from the negative influence of the Internet, while others regret the money spent.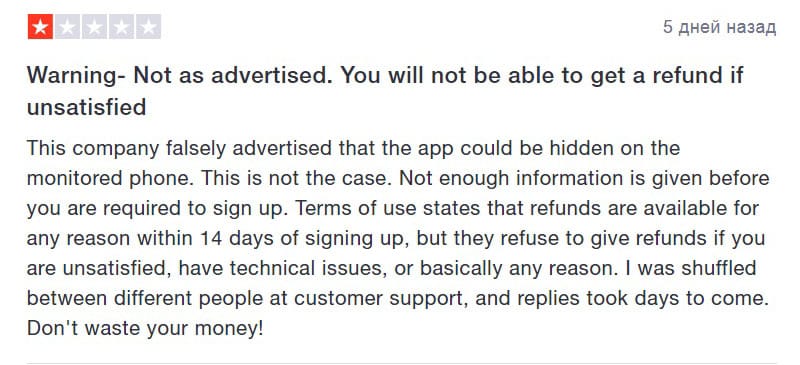 Users say that it is an excellent American service for phone monitoring. The main pluses of the software users highlight the full operability of all services and discounts when purchasing for 12 months. Users also highlight the responsive and prompt support service, which helps with software installation and answers questions.

On sites mSpy is described exclusively with a positive side, but this may be due to the fact that all reviews are written under reviews inviting to register on the site. On English-language reviewers the situation is different. Here we have found some comments from users saying that mSpy is a scam. Unhappy users tell us that the application does not work after installation, that the money is not returned, and that the money is deducted from the card even after unsubscribing. But still, most often users have a question, how legal is the use of this software and whether tracking someone else's phone violates the law?
If reviews of the mSpy™ software come in, we'll be sure to post them on social media. Sign up so you don't miss anything!
Please keep yourself informed about news and complaints. We copy the most valuable information to social networks, so please sign up!
Regulatory agencies and laws
The mSpy application is owned by ALTERCON GROUP SRO, officially registered in the Czech Republic, Prague. The registered office of the company is Londynska 730/59, Praha 2, Vinohrady, Praha, Hlavni mesto Praha, 12000, Czechia. The principal activity of the company: "Production, trade and services not listed in annexes 1 to 3 of the Trade Act".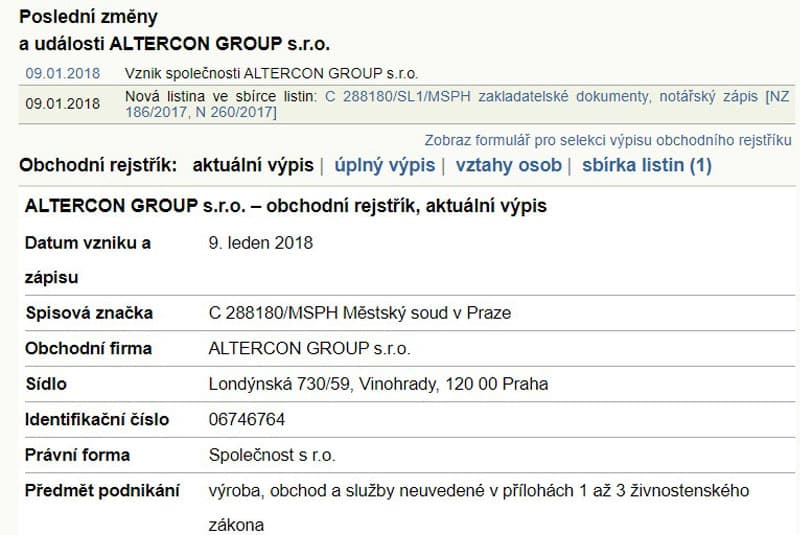 Legal information
Legal information about the company is publicly available:
Legal name: ALTERCON GROUP SRO LLC
Legal address: Londynska 730/59, Praha 2, Vinohrady, Praha, Hlavni mesto Praha, 12000, Czechia.
Status: Active
Authorized capital: 7000 CZK.
Date of registration: 09 Jan. 2018
IIN: 06746764
mSpy™ license
ALTERCON GROUP SRO has received a license for production, trade and services not specified in Annex 1-3 of the Trade Licensing Act. The date of issuance of the license is January 9, 2018.
User Agreement
When registering on the website mspy.com read the documents defining the terms and conditions of purchase and use of the software. The main documents on the site are:
Operating conditions.
End-user license agreement.
Privacy Policy.
Return Policy.
Cookie policy.
The document defining the rights and obligations of the parties is the mSpy End User License Agreement. Please read this document carefully before purchasing the software, and if you do not agree with any of its clauses, refuse to install and use the software. Acceptance of the agreement is when you download, install or otherwise use the software.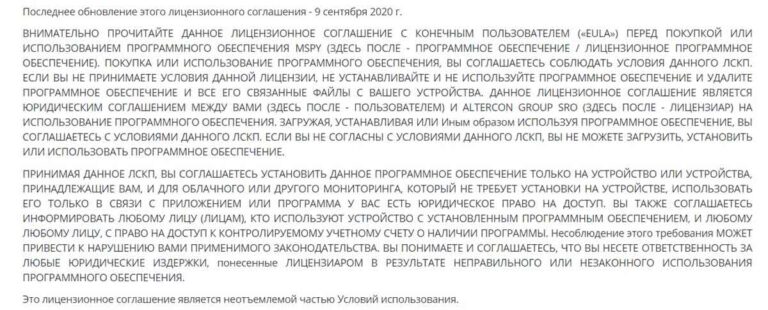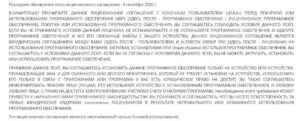 Under the terms of the license agreement, the software is intended for legal use only. The licensed software is intended for users who are legally authorized to operate the device, account on which it is installed. The licensor does not provide legal advice regarding the use of the software. Before downloading and installing the software, you should consult a lawyer regarding the legality of the use of the application. When you download and install the software, you assume full responsibility for your use of the software.


M Spy Customer Service
The mSpy support team can be contacted by mail or in the online chat on the site. Having decided to test the work of the support team, we wrote our message in the online chat, but, unfortunately, within a working day we did not receive a response to our request. In the complaints of dissatisfied users we also found information that the support service does not solve any problems, and it takes a few days after sending a request to get a reply from the support team.
Is mSpy™ a scam?
mSpy™ - is software for monitoring someone else's cell phone. By installing the application on the target device, you can track incoming and outgoing calls, SMS, messages in chats, social networks and messengers, as well as the phone owner's location, the history of Internet browsing and much more. At first glance, the mSpy app, is a convenient program for parental control. But after analyzing the work of the site, user feedback and the work of the support service, we came to the conclusion that the software does not always meet the expectations of users.
We can not say that mSpy is a divorce, but to this product we have quite a few questions. First of all, the information that the program does not detect itself in any way on the target phone is unreliable. The use of the application greatly affects the battery life, and even a teenager would suspect the presence of third-party software in the phone when the device is running out of power quickly. We also learned from user complaints that the app does not always work and is not worth the money the developers ask for it.
Conclusion
When purchasing a mobile device for their child, every parent wants to ensure their child's complete safety. Knowing the negative impact of social networks and the Internet on the adolescent psyche, parents want to fully control the child's stay online and know everything about the child's activity on the Internet, messengers and social networks.
Whether to use the application mSpy™ It should be up to each parent to decide, but when installing surveillance software parents should understand that if a child discovers this software on their cell phone, it can undermine their trust in you and cause a storm of negativity. If you do decide to use the tracking software, it is necessary to agree it with the child and explain to him that the program is for his safety.