Integrated CRM system for small and medium-sized businesses allows you to track sales, marketing and customer service performance with a free rate of 10 users.
Read completely
The company
Website
Social media
Date of foundation

2013

Head Office

12300 Ford Rd., Dallas, TX. Postal Code 75234

The owner of the company
Types of support

Live Chat

Callback from the website

Help Center

Facebook

Twitter

Support by phone

Languages

English,

Platforms
Type

Cloud

Implementation period
Cost

Starter

/

14.99

USD

per month

Regular

/

49.99

USD

per month

Enterprise

/

79.99

USD

per month

Demo access
Free version
Payment methods

Bank card (Visa/MC),

Project Features

Integrated CRM-system for small and medium-sized businesses allows you to track the performance of sales, marketing and support

Human Resources Management

Contact management software,

Marketing and analytics

Email tracking, Customer service analytics, Web traffic analysis for companies, Ads, Newsletters, Video newsletters, Multi-channel campaigns, Targeted marketing, Tag and Trigger, Automatic personalization, Online surveys, Media interaction, etc.

Document management and accounting

CRM reporting

Built-in communications

Google Plus, Gmail, Google Calendar, Google Analytics, Twitter, Facebook, TowerData, Linkedin, Google Apps, Microsoft Exchange, IP Telephony, Email Gateways, SMS Gateways, Billing Plugins, CMS Integration, Web forms and landing pages, etc.

Developer Tools

APIs

Additional services
Regulatory agencies and laws

U.S. Internal Revenue Service

local laws

Affiliate Program

Registration

10% from the first purchase of a referred customer

Benefits

Fast system startup and a wide range of integrations

Adaptation for small businesses and individual entrepreneurs

Inexpensive plans and price reductions when you pay for a year or more

Advanced sales, service and marketing automation on one platform

Adaptability for mobile devices

Easy implementation and professional support

The possibility of getting a free version for 10 users

Disadvantages

Outdated workspace design

Company requisites

Legal name:

Agile CRM Inc.

Legal address:

12300 Ford Rd., Dallas, TX. Postal Code 75234

Date of update

22.06.2022

Overall assessment
Address
12300 Ford Rd., Dallas, TX. Postal Code 75234
Map
Subscribe to this company
Agile CRM is it a scam? Reviews and description
Agile CRM
- is a comprehensive product for customer relationship management. It is
CRM system
of Indian origin, which appeared in 2013. The company claims to have more than 20,000 users and almost 300 full-time employees. Let's see what Agile CRM offers customers and whether it's a scam.
Why Agile CRM?
The founder of the company is Manohar Chapalamadougou. He is also the CEO of the company. His previous project was the rather successful firm ClickDesk. Manohar has accumulated a decade of experience working with startups, which helped him identify the problems of small businesses when dealing with CRM products. During the development process, Agile CRM had specific goals - to create a lightweight and inexpensive product, with the ability to integrate even small businesses. At the time, the market was offering expensive systems that required time to train staff.
Agile comes in handy for freelancers, small and medium-sized businesses. The first ones can use the free version. It allows you to connect ten users and keep a database of 50,000 client contacts. In addition, it can keep track of emails, and deals and tasks are not limited. One of the "features" is gamification. The system uses the evaluation of leads and gives them points depending on their potential to buy. This allows you to select the most attractive clients and save time. Various plug-ins are also connected to the system, extending the functionality.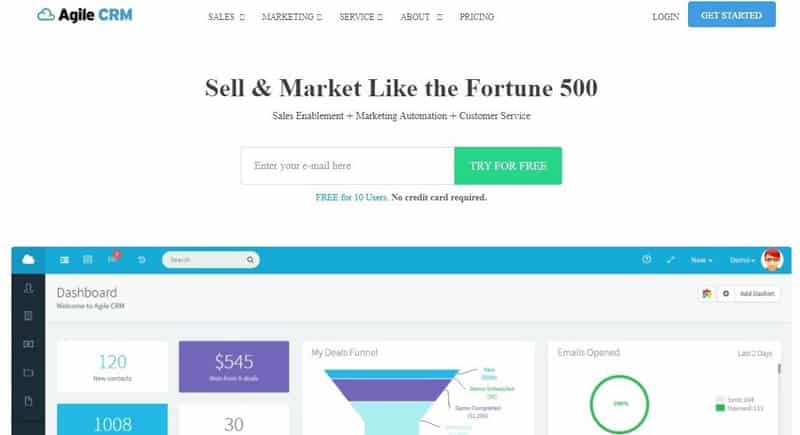 How do I sign up for Adjail SRM?
To join the system, just go to the home page agilecrm.com and click Get Started. A small registration form will appear. Here you need to specify:
The domain name in the system. Usually users just type in the name of their business and get their own subdomain.
In the column Your Full Name, enter the first and last name of the person responsible for creating the account.
E-mail address - you must specify an e-mail address. Agile does not accept emails registered with public operators. You will need an email address on the company's business domain.
Password - think of a strong password. At least six characters.
When the questionnaire is filled out, you have to click Get Started. The system will create an account. Immediately after logging into the created account, the user will see another form. In it, it is necessary to select the tariff plan, specify the number of users. Also, in the drop-down lists, user role, company type, and phone number must be selected. After submitting the form, a training video and a window for engaging colleagues appear. These steps can be skipped and returned to later.
Personal account agilecrm.com
The Agile CRM Personal Cabinet allows you to customize:
Account information: first name, last name, password, signature under messages.
Time zone, date.
Collection of incoming and outgoing emails from different accounts.
Widgets for telephony, social networks, and support. There are shopping widgets and the ability to create your own extensions.
Synchronize data with third-party services, such as Google Contacts or Office 365.
Online calendar, notifications.
Users also customize the visual theme of the service. You can choose a color scheme, menu layout, turn off or on animations.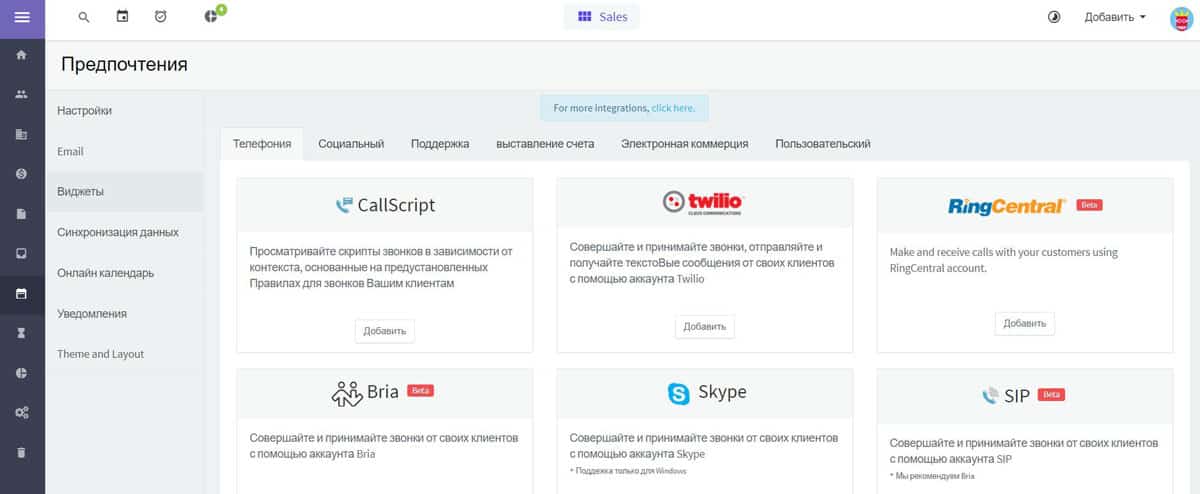 Mobile application
Employees connected to the system can always stay in touch using mobile apps. They are available in the App Store and Play Market. The Android application has been installed more than ten thousand times. The average rating is 3.2 out of five. The interface for iOS is rated worse by App Store - only 1.7 points out of a possible five. Users complain that the application is rarely updated. In terms of functionality, it lags far behind the desktop version.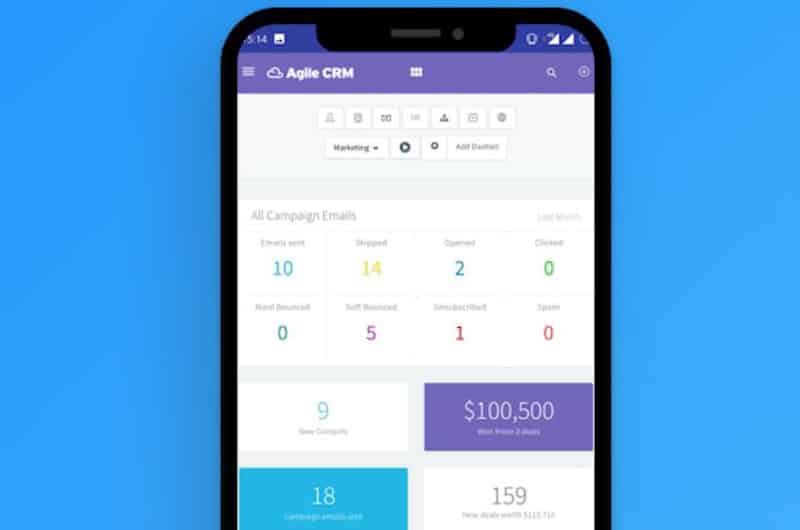 Agile CRM business opportunities
The features offered by Agile CRM are divided into three groups: sales, marketing, and service. Depending on the tariff purchased, the user receives a different set of available services from each group.
Sales
The sales toolkit includes more than fifty different functions. The main ones are:
360-degree contact review. A phone book that stores call history, conversations, notes, social networking account data, and Internet activity.
Deals. Keeps track of all transactions made. Helps you track sales, set checkpoints, and facilitate post-sales phases of the cycle.
Documentation. This tool will allow you to transfer documents in any format, attach them to emails, move them between employees and customers.
Schedule and calendar. A binder that allows you to analyze the distribution and solution of tasks in time. You can synchronize with your Google calendar to schedule joint events, meetings, conferences.
Project Management. An easy-to-use feature that allows you to form compact commands for small tasks.
Reporting. Visual interface for creating and viewing analytics. It's easier for employees to report on their work and for supervisors to accept the report.
Powerful additional features offer telephony with integration of third-party services, a scoring system for evaluating leads, gamification of relationships within the team, and features like auto-dialer. "The vendor kit" will expand if the user buys a more expensive package. Nevertheless, even in free mode there are useful features for the sales department.

Marketing
The basis of marketing functions in Adjail SRM is the automation of processes in little time. The system offers:
Web interaction. These are pop-ups, registration forms, coupons and promo codes, surveys. That is, tools to increase the visitor's activity on the site or landing page.
Social marketing. The company's activity can be integrated into social networks, and the results can be tracked.
Analytics. All actions of employees, customers and users to analyze in a special menu.
Newsletters. The service creates newsletters, emails, personalized content. Allows you to test it all.
Email campaigns. After the mailing, you can monitor the performance of the letters in order to correlate the cost of the campaign with the result, to find and "tighten" the weak points.
Page builders. CRM will create webpages with good conversion rates and automatic adaptation for mobile devices. Reduces costs for designers and developers.
The functionality is constantly growing. For example, there is a pop-up notification function.

Service
According to Agile CRM, customer service is what separates good companies from great ones. To take CRM users a step further, the firm has developed a set of tools to optimize the helpdesk:
Grouping. Managers can categorize requests by type of problem, directing them to the right specialist. This allows customers' issues to be resolved quickly and with a better return.
"Smart Browsing.". The system highlights the most important information for the manager. For example, the priority of the request or the topic of the problem.
Ready Answers. Quick answers can be attached to popular questions. In this way the manager will reduce the time for customer service.
Integration with social networks and third-party services. The program can capture customer questions from, say, your company's official Instagram. The information collection and responsiveness of the helpdesk is increased.
CRM prepares standardized but flexible reports for each department, depending on the request managers. For example, you can see the average response time, the first contacts, the status of requests.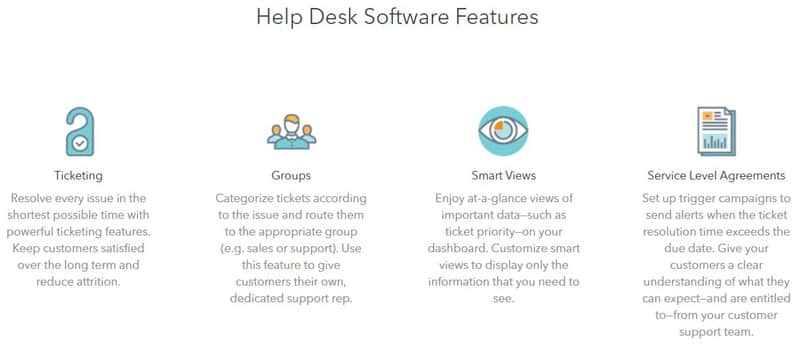 Additional features at agilecrm.com
On the site agilecrm.com there is a demo version of the service. But it looks more like promotional material than a test sample. If you want to test this product, it is easier to register with the Free package. When opening such an account, the system asks for neither mobile number nor email confirmation.
Blog
The site also has a blog with useful articles. They publish materials about the company, texts about business and marketing. There are plenty of interesting posts. Here you can learn about trends in entrepreneurship and online marketing, theories, practices, and technical tools.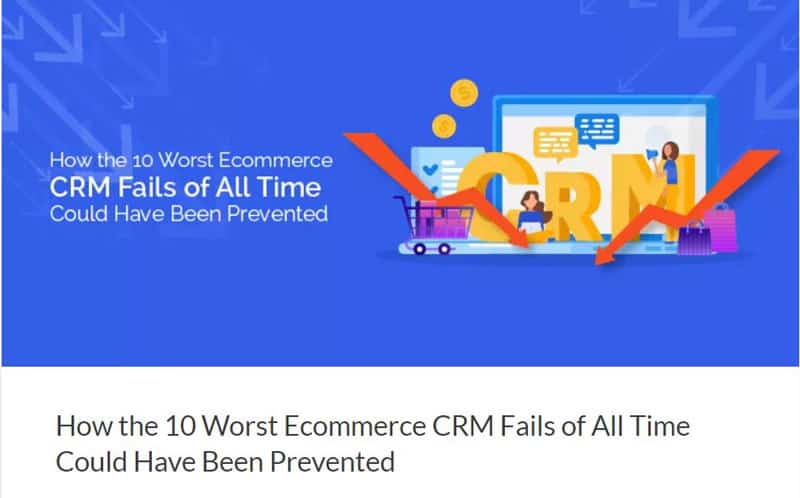 Customer reviews
The Social Wall section publishes customer feedback about Agile CRM. These are posts from social networks Facebook and Twitter. They are uploaded here if there is a mention of the product or a hashtag with the company name in the text of the message.
How much does it cost to connect Agile CRM?
Adjail has four basic rates:
Free. It's free. You can connect up to ten users. Basic features like a contact database, integration with telephony and email services are available.
Starter. The starting price is $14.99 per month. Discounts if you pay several years in advance. If you pay for one year at a time, the monthly price is $$9.99; if you pay for two years, it's $$8.99.
Regular. The company calls this tariff the most popular. It costs $49.99 a month. If you pay one year in advance, it costs $39.99 for thirty days. If you pay two years in advance, it's $$29.99 per month.
Enterprise. This rate is designed for medium to large companies. The standard price of $79.99 per month is reduced to 64.99 if you pay one year in advance. $47.99 per month if you pay two years in advance.
The higher the status of the rate, the more users can be added to the system. In addition, additional functionality grows with each step. Enterprise rate customers can integrate the system with Stripe and Shopify, add a special Chrome browser extension, and expand reporting in emails.
How do I connect the adjaydsrm.com?
To connect to Agile CRM, you need to go to the official website of the service agilecrm.com and click Get Started. Then you will need to register. After registering an account and choosing a pricing plan, the client will have their own subdomain to access the system.
How to pay the tariff
After creating an account, the user will see a special form to choose a tariff. If you specify the Free plan, no payment is required and you can immediately go to work with the system. If the client specifies another plan, he will be redirected to the payment page. Here they will need to enter their credit card details and confirm the transaction. Clients can choose a free plan at the start and then switch to one of the advanced, paid plans. To do this, open a personal account, click on the avatar in the right corner, and click Plan & Upgrade. A page with available plans will appear. Just below you can select the number of system users and specify the payment cycle.
Bonuses Adjail SRM
Agile CRM does not offer bonuses or run promotions. The only way to save money is to pay for the service a year or two in advance. The discount will be 20% and 40% respectively.
Affiliate Program
Agile CRM has a referral program. You can work with it in several ways. The first is a commission for brought clients. You need to register on the site, go to the Affiliates section, add your identifier in PayPal and get references. This method involves a one-time 10% on the amount spent by the referred client. That is, if a person followed the link and bought a rate for $49, then the partner will receive $4.9. As soon as the balance accumulates 100 dollars, they can be withdrawn to PayPal.
The second way of partnership is a reseller. The partner needs to register, be trained, and bring in clients, earning a percentage of sales. You can cooperate with Adjail SRM at the level of a certified partner. This is a variation of reseller, but for large marketing firms and sales departments. The company takes care of staff training, and the partner takes care of sales.
Complaints about Agile CRM
The company has been working since 2013 and its flagship product has accumulated a lot of reviews. We analyzed sites with customer comments. On the whole, AgileCRM collects positive reviews. Users praise the system for:
Fast startup and integration.
Adaptation for small businesses and individual entrepreneurs.
It's a great free package.
Inexpensive rate plans.
Significant discounts when buying in advance.
Advanced automation.
There are also negative comments. The minuses are outdated design of the workspace, weak reference materials. There is also feedback that the system sometimes duplicates emails in newsletters, which causes negative feedback from clients.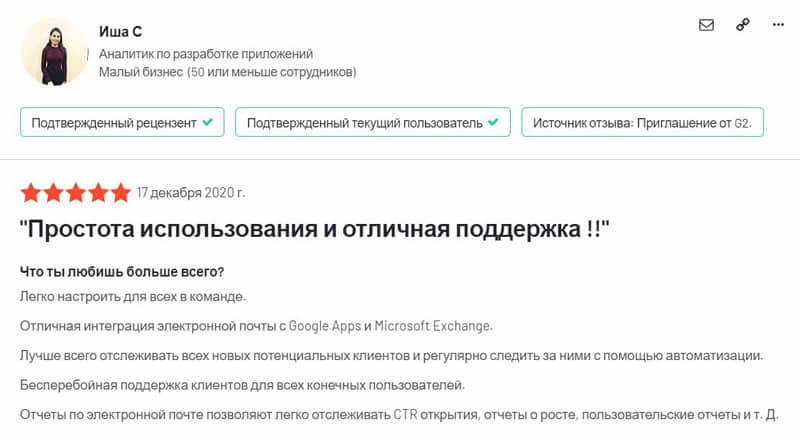 If there are any reviews about Agile CRM service, we will definitely publish the information in social networks. Sign up so you don't miss anything!
Please keep yourself informed about news and complaints. We copy the most valuable information to social networks, so please sign up!
Supervisory authorities
The service is controlled by Agile CRM INC. The legal entity is registered in the U.S. state of Delaware. This state is known for business information protection and flexible tax laws. The registration number is 5962397. The company also has subsidiaries in India, where the technical office and core staff are located.Since Agile CRM INC is legally a US resident, this company is supervised by the US IRS and the Consumer Financial Protection Bureau. The firm is also supervised by the U.S. Federal Trade Commission.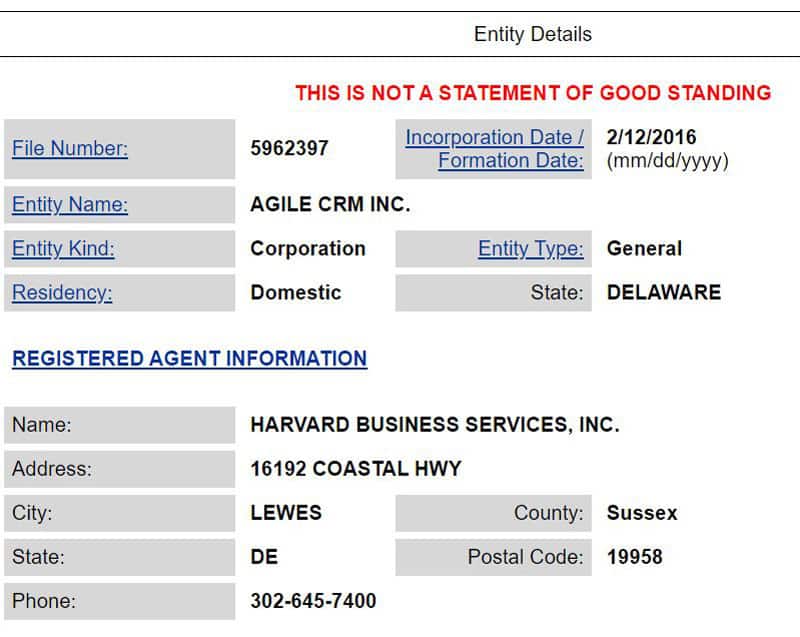 Agilecrm.com User Agreement
The User Agreement is posted on the official website of the product and is written on behalf of the company. This is the main document regulating the use of the service, the rights and obligations of the company and clients. In the "Terms of Use" section, the company states that it has the right to refuse any potential client at its own discretion. This gives the firm the right to interrupt the client's plan, as well as not to start a business relationship with clients of the "high risk" segment.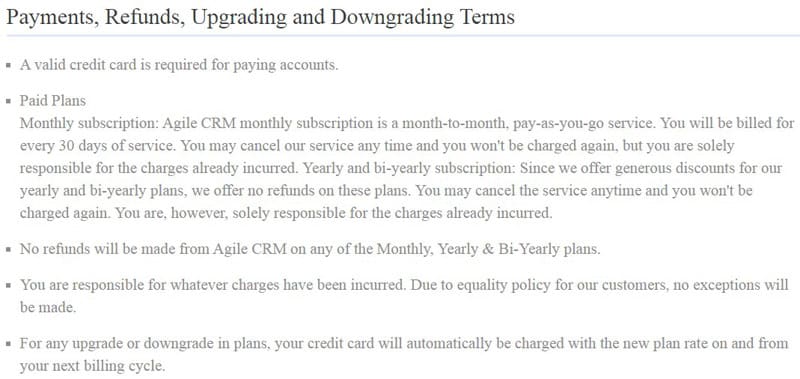 The payment section says that the company does not refund money paid for services. Customers will not be able to get a refund if they choose not to use the service.

The "General Terms and Conditions" section states that the system cannot be used to send spam messages to email addresses or SMS. Which messages are considered spam, the company determines independently. If such emails were sent by accident, you need to contact support and explain the situation in order not to get your account blocked.
Site security
The main site and user subdomains are protected by HTTPS and a TLS certificate. This means that all traffic is encrypted. Access to an account is only possible after entering a password. Accounts can only be registered to corporate mail, which prevents a user with a third-party mailbox from joining the project. Clients can additionally protect their corporate space via permitted IP addresses. Technically, it is possible to make it possible to log in only from the client's office. As with any multi-user system, Adjail SRM requires users to handle security settings cautiously.
Customer Service
If there are any questions, customers can contact the support team. This can be done through:
Chat in your personal cabinet. It is located in the right corner.
Own contact list - company specialists are added there by default.
E-mail: [email protected]
Hotline phone number. The number in the U.S. is +1-800-980-0729, the U.K. is +44-144-28-00729, +91-998-500-0259 in India, +61-285-990-729 in Australia.
The company has a presence on Twitter, Facebook, LinkedIn, and GitHub.
Is Agile CRM a scam?
Agile CRM has been operating since 2013. It has more than 20 thousand clients - it is one of the most popular products on the market. Our opinion: Agile CRM is not a scam. We analyzed the product, the company's website, legal information, and customer reviews on independent sites. The company's team has created a working system that has been recognized in many countries.
The founder of the firm is a well-known entrepreneur with a good business reputation. The company has not been seen in legal proceedings, has not been accused of fraud or tax crimes. Technically, the product is made competently and well protected. Security technologies are used for client information, and payment for services goes through a special payment gateway.
Conclusion
Agile CRM - is a system of customer relations, tailored to the needs of small businesses. The service has a good set of tools for solving problems in sales and marketing. Prices are normal, in line with the market and the benefits they bring. Small teams can avoid spending money at all and use the free plan.
No reviews yet. Be the first!