Cryptocurrency exchange, which provides users with the ability to make transactions to buy and sell cryptocurrency, as well as fiat funds.
Cryptocurrency exchange
Official website
Social media
Date of foundation

2018

Head Office

Harju maakond, Tallinn, Mustamäe linnaosa, Kadaka tee 72a-323 kab, 12618

Types of support
Languages

English, Spanish, Italian, French, German, Russian, Estonian

The owner of the company
Minimum entry amount
Maximum input amount
Minimum withdrawal amount
Maximum withdrawal amount
Exchange Commission

Trade Commission:

0.5

for maker /

0.5

for taker

Withdrawal fee:

Until

0.5

% / For cryptocurrencies

2

% / For electronic purses

Account replenishment fee:

3

% / For Payeer only

Terminals

TradingView

Age restrictions
Number of cryptocurrencies
Number of trading instruments
Margin Trading
Tokenized assets
Free Demo Account
Types of accounts
Execution of orders

Market Execution (at market price), Limit Order

Methods of replenishment

Advcash, NixMoney, Payeer, Perfect Money, Interkass, Bank Transfer

Withdrawal methods

Advcash, NixMoney, Payeer, Perfect Money, Interkass, Bank Transfer

Account currencies

RUB, EUR, USD, Cryptocurrency, UAH

Types of cryptocurrencies

Bitcoin, Ethereum, Litecoin, USDT, XRP

Licenses
Mobile applications
Trader training
A way to store cryptocurrencies
Fiat accounts
Scalping
Stop Loss and Take Profit Function
Exchangeability for fiat currencies
Terminal capabilities

Working with indicators, graphical tools

Basic verification
Extended AML verification
API
Affiliate Program
Benefits

Advantageous terms of cooperation

High-quality Russian interface

Round-the-clock technical support

Availability of fiat funds

Domestic promissory notes

Quick registration process

Security and official license

Disadvantages

Low trading volume and insufficient liquidity

Little information about leadership

Company requisites

Legal name:

Stockpoint OÜ

Legal address:

Mustamäe tee 82-125, Mustamäe linnaosa, Tallinn, Harju maakond, 12916

Overall assessment
Date of update

12.02.2023
Address
Harju maakond, Tallinn, Mustamäe linnaosa, Kadaka tee 72a-323 kab, 12618
Map
Subscribe to this company
Stockpoint is this a scam? Reviews and description
StockPoint is a cryptocurrency exchange that provides users with an opportunity to trade cryptocurrency, as well as to exchange, sell/buy fiat funds. The company entered the market quite recently – in 2018.
In our review, we will take a closer look at the opportunities realized by the project and find out whether Stockpoint is a scam and fraudsters, or it is a reliable cryptocurrency trading exchange.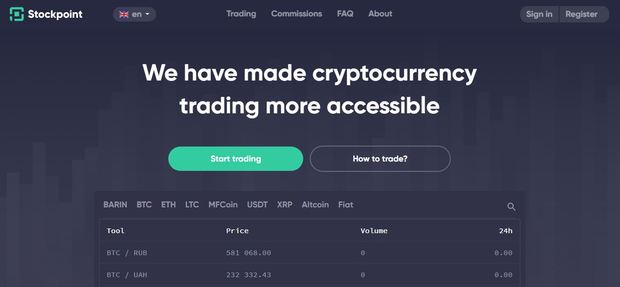 Why Stockpoint?
Stockpoint is a young stock exchange that appeared less than a year ago. Organization is officially registered in Slovakia, wherefrom the platform is regulated. The cryptocurrency exchange provides users with an opportunity to make trading transactions using four types of fiat and seven cryptocurrencies, which are combined into twenty-four trading pairs (how to make money on cryptocurrency?). The exchange will be suitable for both experienced traders and beginners, as well. You can find training materials on stockpoint.io website that describe in detail the trading process and exchanging cryptocurrencies.

The trading platform is fitted with a simple and intuitive interface. The website is quite concise and not overloaded with information. Thus, an experienced trader will be able to deal with the main functionality of the website for 15-20 minutes after registration. The platform consists of several sections:
bidding page;
bidding section;
information on the selected trading pair (the highest and lowest price in 24 hours is indicated);
currency pair selection;
chart of the selected trading pair;
actual market price, as well as exchange rate changes over the past 24 hours;
chat and support service;
bid form and transaction history;
purchase and sale form;
open orders to buy or sell the selected pair.

Creation of bills is also available on stockpoint.io website. In turn, bills enable you to create replenishment codes in any available currency within the exchange, in order to save or transfer outside the exchange. You can create a bill using any available system currency. The main advantages of the website are as follows:
low fees;
many options to replenish the balance and withdraw funds;
round-the-clock technical support;
availability of fiat funds;
domestic bills;
fast registration process;
security.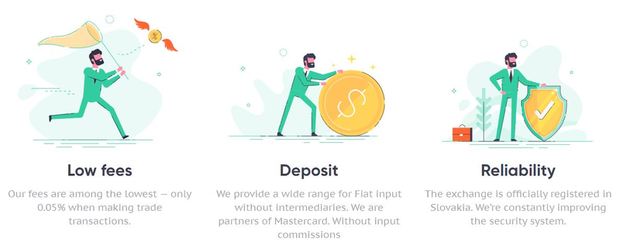 How to exchange cryptocurrency on the platform stockpoint.io?
A simple and clear exchanger is available on the website for those users who fall short from trading and just want to exchange cryptocurrency. You need to make several simple steps to exchange cryptocurrency:
to register on the exchange;
to go to the «Exchange» section;
to create an application and indicate the type and amount of cryptocurrency the client wants to exchange.
Verification on Stockpoint platform
Verification is a mandatory process for each registered member. To authentificate your identity, you need to go to the menu and select the «Profile» section. Then three stages of verification will be displayed for the client. Firstly, the user must enter his/her name; for this purpose you should do the following:
indicate first name, last name and patronymic;
upload a colour scan of your passport.
The second step is confirmation of your address. Thus, the user must enter the following data:
address;
additional address;
city;
postal code
utility bill.
The last step is to confirm your identity. Fill in the following fields for this purpose:
passport series and number;
issuing authority;
issuing country;
photo of a client with a passport.
It is worth noting that there are no specific requirements for document scans on stockpoint.io website. Data verification process generally takes up to three days on an average.
Deposit and withdrawal
It is quite easy to replenish a trading account and withdraw earnings. You need to perform several simple steps to credit cryptocurrency on your balance:
click on the wallet icon in the upper right corner;
select a currency and click on the «Deposit» button;
copy a generated digital wallet address;
insert address in the «Recipient's address» field to the place from which the transfer will be made;
wait for transfer of funds.
Fiat replenishment
You should act almost in the same way to replenish fiat funds:
click on the «Deposit» button opposite the desired fiat;
choose a payment system;
enter the required amount;
click on the «Deposit account» button and enter fiat.
You can replenish a fiat account using available payment systems:
Interkassa (UAH, USD, EUR).
Payeer (USD, EUR).
Perfect Money (USD, EUR).
ADVcash (USD, EUR).
NixMoney (USD, EUR).
Withdrawal
To withdraw earnings from the exchange, you should perform several steps:
select a cryptocurrency and click on the «Withdraw» button;
insert the wallet address to which the coins will be transferred;
enter the number of coins to withdraw and click on the «Withdraw funds» button.
To withdraw fiat, you should do almost the same actions, but you only additionally select the payment system whereto the funds will be credited.
Cryptoexchange commission
stockpoint.io website contains information that one of the lowest fees operates on the exchange. Thus, only 0.05% is deducted from the user when making trade transactions. Funds are deposited absolutely free of charge, but a 2% fee of the amount is charged for earnings withdrawal. The exchange also has certain limits on trade, which differ depending on the trading pair:
BTC/USD — 200 000 USD;
ETH/USD — 50 000 USD;
ETH/BTC — 10 BTC;
EUR/USD — 100 000 USD;
BTC/USDT — 200 000 USDT.

Stockpoint bonuses
Only one bonus for clients is currently available — a welcome bonus. As part of the promotion, new users who have just registered on the project will be able to conduct the first three transactions without paying a fee.

Referral program
An affiliate program has been developed for active users who want to earn extra money. Thus, the company provides an opportunity to make a profit by attracting new participants to the project. It is enough only to invite new customers by means of a referral link, who, in turn, will replenish their account. Thus, a person who invites other customers via a referral link can receive 20% of the fee amount.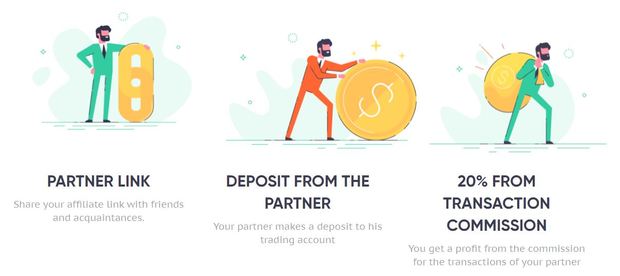 Complaints against Stockpoint
Since the project appeared recently, there are currently very few reviews on the Internet. The company currently has a positive reputation. Users note availability of the ability to credit and withdraw fiat funds, as well as low fees as the advantages. The clients indicate low activity and low trading volume due to the fact that the company appeared recently as its shortcomings.
Cryptoexchange regulation
The financial sector is one of the most popular among scammers. In order to protect yourself from a negative experience of cooperation with an unfair project, you should carefully check the availability of a license, as well as relevant documentation on the organization's official website. Let us consider in more detail how the project is regulated.
Stockpoint's Regulator
The company is officially regulated in Estonia, and has its representative office in Slovakia. The exchange is licensed by the Estonian government. Location of the main office, as well as documents are in the public domain for users.
Documents from stockpoint.io website:

Terms and conditions of stockpoint.io
«Terms and conditions» is the main document of the project; every user should familiarize himself/herself before starting registration on the company's website. The agreement contains basic rules of trade, as well as responsibilities of clients and organizers. Let's consider some points in more detail.

The agreement indicates information that the company reserves the right to restrict, block access to services and/or terminate the user account (including by closing open positions) or transfer accounts to another person at any time if the client does not provide information identifying his/her personality. StockPoint is not responsible for any losses that can be incurred by the client when closing such positions.

The user is entitled to store and use only one personal account and is not allowed to use two or more personal accounts. Such actions will be deemed to be a violation of this agreement under these conditions. A client may be asked to provide certain documents to verify from time to time the data of the credit card, electronic wallet or other means of payment used by him/her to deposit funds to his/her account. Subject to such verification, a client may be allowed or prohibited to deposit money or use any services.
If the user refuses to provide information within the required time limits or provides false or incomplete information, the company reserves the right to restrict, block access to services or terminate the user account and/or assign a user account in one of StockPoint's affiliates, if such information is not is provided.

All funds placed on the account are owned by the user. The organizer cannot block funds in the account without a user's order, and can also write off funds only in cases stipulated by the contract, under these conditions. The client cannot place more than 20 orders at a time. The system does not register orders exceeding the specified amount. The user can withdraw the order at any time before its full execution. All clients can take an order into account until it is fully executed or withdrawn. A placed order represents a user's offer to close a transaction. There are also a number of other restrictions for clients:
It is forbidden to make transactions without an official procedure for placing orders through the use of personal messages and other options on a website or a system. The message ceases to be private in these cases, and it becomes available to moderators and administration if one of the chat users complains about it.
It is forbidden to use a website or a system in any other way than those provided for in the agreement and under these conditions.
It is prohibited to advertise goods on the website unless the parties have signed an additional specific agreement for this purpose.
It is forbidden to use a website or a system for illegal purposes, including the laundering of money received from criminal activities, financing of terrorism and participation in extremist activities.
The user guarantees that he/she understands general principles of working with cryptocurrencies and is aware of the following characteristics of cryptocurrencies that affect their value and associated risks:
Price volatility: the value of cryptocurrencies is extremely volatile. They are prone to sudden price changes due to unexpected events or changes in market behaviour.
Financing fees and costs: Fees and charges may include spread, finance costs, and fees.
Price transparency: as compared with hard currency, there may be more significant differences in the pricing of cryptocurrencies used to determine a user's position value. There is a high probability that the user will not receive a fair and accurate price for base cryptocurrency when trading.

It is also important to have relevant experience when entering into financial contracts and transactions. A trader should not deal with these products if he/she understands their nature and degree of exposure to risk. The client understands that he/she uses company's services at his/her own risk. For this reason, the organization provides using of its services to those persons who really can incur losses from invested money and who correctly understand the risks associated with them, inherent in trade contracts, in relation to foreign currency and cryptocurrencies.

The company reserves the right to terminate these terms and conditions, as well as the client's account and registration (including username and password) in the following cases:
if the organizer decided to stop providing the Service for any reason by providing a notice at least 3 calendar days in advance (which can be provided by e-mail, by fax, etc.);
the company believes that the user has violated any conditions of these terms and conditions immediately without prior notice;
using the service by the user is in any way improper or violates rules of these terms and conditions;
in case of application, order, decision or other announcement in connection with the bankruptcy or curtailment of the production the client is involved in – immediately without prior notice;
death of the user – immediately without prior notice.
The client may also terminate these rules, his/her account and registration at any time by sending an email for such a termination.
Support service
You can contact support service by email: [email protected] On the website you can also find a separate section containing answers to the most popular questions.
Is Stockpoint a scam?
Stockpoint is a young company that appeared on the financial market less than one year ago. This project is currently gradually developing, gaining the users' trust. The exchange is registered in Estonia, and its main office is located in Slovakia; the platform is regulated wherefrom.
The company provides its clients with favourable and comfortable trading conditions. Users have an opportunity to make trade transactions using 4 types of fiats and 7 types of cryptocurrencies. 24 trading pairs are foreseen in total. The platform is suitable for both experienced users and beginners. You can find training materials, as well as a section with answers to the most popular questions on the website. The company provides various bonuses for beginners and for active traders, as well. Users can also participate in the affiliate program and receive rewards for attracting new participants to the project. Unfortunately, the service currently does not have a mobile application.
Since the organization entered the market less than a year ago, you can currently find a small number of reviews from clients on the Internet. The company generally has a positive reputation, although there are negative comments. Having studied in detail the possibilities that the project has implemented, can we conclude that Stockpoint is a scam and fraudsters? No, since the company is in good faith and holds appropriate licenses.
Summary
Stockpoint is a cryptocurrency exchange that appeared on the Internet less than a year ago. The project started gradually gain popularity during this period. The exchange provides users with favourable and comfortable trading conditions. However, many traders do not evaluate their own strengths, as well as possible risks. You should familiarize yourself with the relevant documentation before registering to exclude unpleasant experience. The project currently looks good as compared with its competitors, but it has some flaws. If you were or are a client of the exchange, you can post your independent opinion on the service operation on our website.
The company in the ratings
Robots for cryptocurrency
Activity
New

1

Resolved

0

Not resolved

1
New companies on the site