A centralized cryptocurrency exchange that issued its own token. More than 50 cryptocurrencies are supported, and tournaments for traders are organized on the platform.
Read completely
Cryptocurrency exchange
Official website
Social media
Date of foundation

2017

Head Office

London, Fitzrovia, W1W 8AF, Unit 111431, Second Floor, 6 Market Place

Types of support
Languages

English, Turkish, Spanish, Arabic, Russian, Chinese

Founder
The owner of the company

Exchange Technologies Lp.

Manager
Minimum entry amount

Unverified

Cryptocurrency

Unavailable

Maximum input amount

Unverified

Cryptocurrency

Unavailable

Minimum withdrawal amount

Unverified

Cryptocurrency

Unavailable

Maximum withdrawal amount

Unverified

Cryptocurrency

Unavailable

Exchange Commission

Withdrawal fee:

From

0.0005

% / Depends on the withdrawal amount

Trade Commission:

From

0.1

To

0.2

% for taker /

From

0.1

To

0.2

% for maker

Age restrictions
Trading volume per day
Number of users
Number of cryptocurrencies
Number of trading instruments

100+

More than 200 trading pairs, spot trading

Margin Trading
Tokenized assets

Own DXC token, over 200 trading pairs

Free Demo Account
Types of accounts

Demo, Standard, Corporate

Execution of orders

Market order, Stop Limit Order, Limit Orders

Methods of replenishment

Cryptocurrencies

Withdrawal methods

Cryptocurrencies

Account currencies

Cryptocurrencies

Types of cryptocurrencies

BTC, LTC, ETH, BNB, SOL, BCH, XRP, etc.

Licenses

Licensed

GDPR # ZB054784 (Data Protection Agency)

(Active)

Mobile applications
Trader training
A way to store cryptocurrencies

Cold:

yes

Before 95% assets

Fiat accounts
Scalping
Stop Loss and Take Profit Function
Exchangeability for fiat currencies
Basic verification
Extended AML verification

Photo of passport or ID card, selfies with the document and handwritten name of the exchange. For corporate clients: notarized company documents

Regulatory laws

UK law

International data protection law

FATF (Financial Action Task Force)

API

Read more

Opening a personal account, trading, data protection, deposit balance, market orders

Bonuses
Affiliate Program
Benefits

Round-the-clock technical support

A large number of tradable currency pairs

Multiple Language Support

Cold storage of up to 95% cryptocurrencies

Disadvantages

No fiat currency deposit/withdrawal capability

Some features of the platform are under development and not available

Company requisites

Legal name:

Exchange Technologies Lp.

Legal address:

London, Fitzrovia, W1W 8AF, Unit 111431, Second Floor, 6 Market Place

Overall assessment
Date of update

17.02.2023
Address
London, Fitzrovia, W1W 8AF, Unit 111431, Second Floor, 6 Market Place
Map
Subscribe to this company
Dex-Trade is this a scam? Reviews and description
Dex-Trade - relatively young cryptocurrency exchangeopened in England in 2017. In addition to traditional crypto-asset trading, the company launched: its own token, several games, a terminal, and a convenient mobile app.
The exchange works with its own terminal and charges low commissions for financial transactions. More than 55 cryptocurrencies are traded on the platform. To find out if Dex-Trade is a scam, let's take a closer look at its work.

Why Dex-Trade?
dex-trade.com has been operating since 2017, gradually adding new cryptocurrencies to trading, and opening up opportunities for traders.
Pros of the crypto platform:
24-hour technical support;
own mobile application and advanced trading terminal;
Multiple language support;
two-factor authentication;
the possibility of getting free coins;
tournaments for traders;
demo account;
cold storage Cryptocurrencies;
high liquidity;
developed by the internal asset of the exchange.
The mobile application can be downloaded from the site or through the App Store and Google Play. The exchange platform itself is made according to a typical template, clearly and simply, so that clients do not have to search for the necessary information for a long time. News and data on traded assets are updated daily. The platform offers a large selection of cryptocurrencies (what are cryptocurrencies?). The terminal is divided into several blocks, which displays information about the work of the exchange in real time. Support service and company documents are available in English, but the site itself is russified.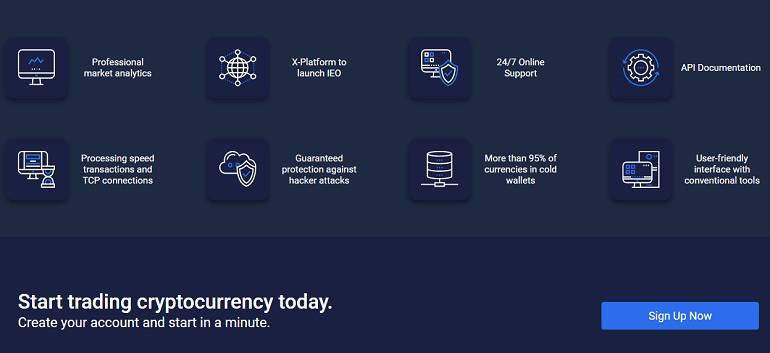 How to exchange cryptocurrency on the Dex Trade platform?
In order to perform any financial transaction, you must register and be verified. Assets are exchanged through the operation of creating a market order.
Verification on the dex-trade.com platform
In order to conduct all trading operations on the exchange site, traders will be required to undergo verification. After registration and confirmation of the account opening through the link sent to the e-mail, the exchange offers to go through the procedure of confirmation of their identity and authority (legal entity). Individuals will need: a passport photo or ID card and a selfie with the document and a piece of paper, on which the name of the exchange will be handwritten. When opening a corporate account you will need to upload the registration documents of the company.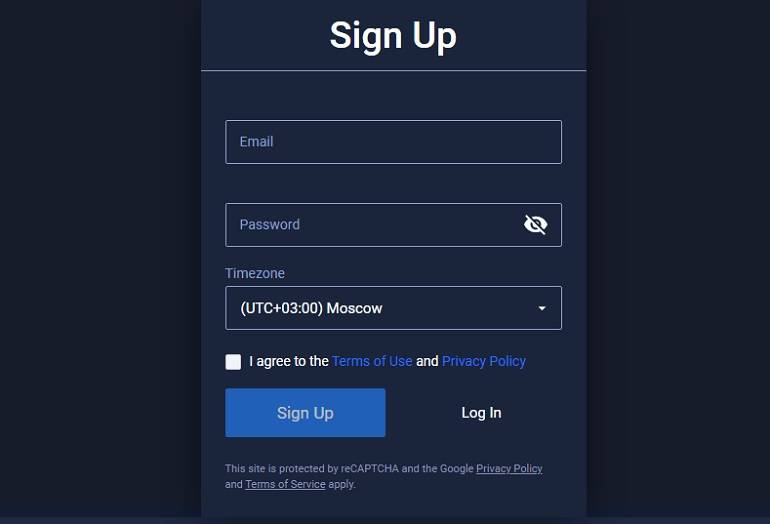 Deposit and withdrawal
All operations are available to registered users only and are performed through the "Deposit" tab. Withdrawal is available to a bank card, account or cryptocurrency wallet. The amount of commission for transfers to light or bank card will depend on the rules of the partner bank.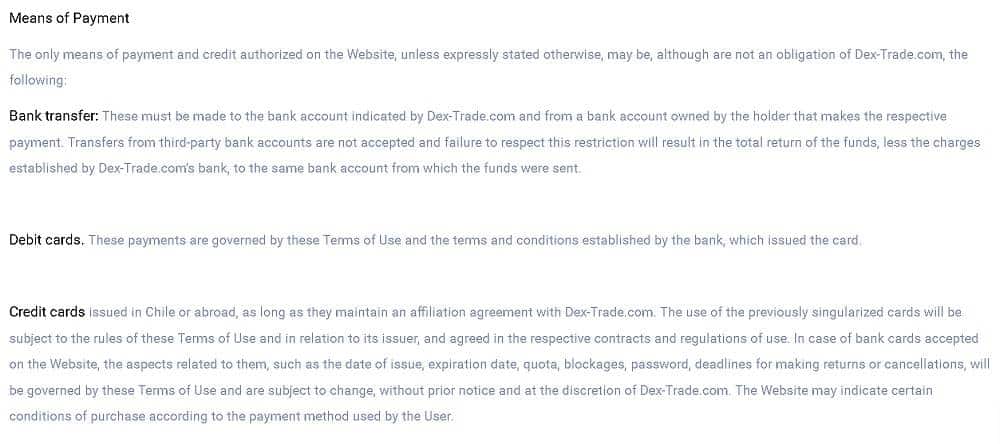 Cryptoexchange Commission
The amount of commission for financial transactions depends on the selected asset and is calculated according to the formula: fixed rate, plus a percentage of the withdrawal amount. If the withdrawal amount is less than the fixed rate, only the rate is charged. For example, the fixed rate for BTC withdrawal: 0.0005. Trading commissions on the platform: 0.1%-0.2%.
Dex-Trade bonuses
For registered traders the company has prepared interesting offers (How to Make Money on Cryptocurrency?).
Free Coins
You can get free coins immediately after registering. The limit of free tokens per day is limited, you can see the available coins on the bonus page by logging in to your account.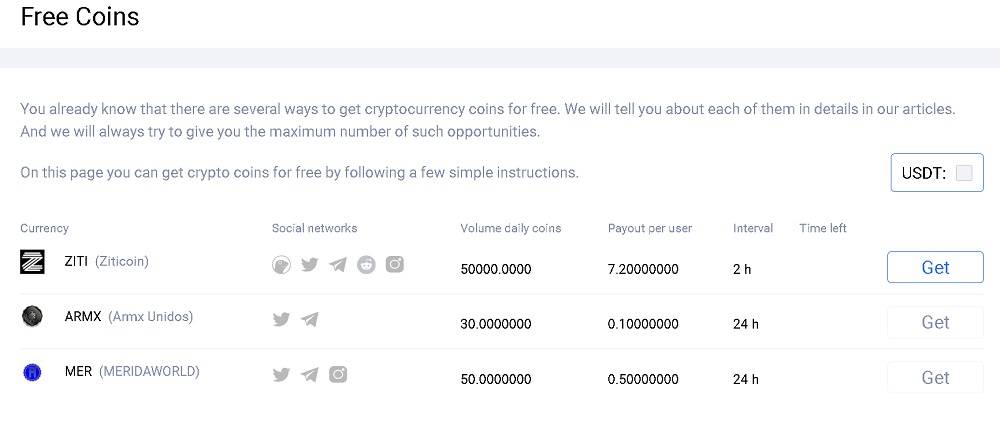 Tournament of traders
Tournaments of exchange members are conceived as a great way to get extra bonuses and compare your trading strategies with other participants. Tournaments are open to all registered users.

Complaints about Dex-Trade
The exchange has been operating long enough to gather a good number of reviews. Most of the comments are positive. Customers praise the simple terminal, mobile application, the number of currency pairs. They note that the exchange platform is constantly updated and something new is added. We met a few comments about the disadvantages of the exchange: the lack of fiat, many functions are in the testing stage and are not available.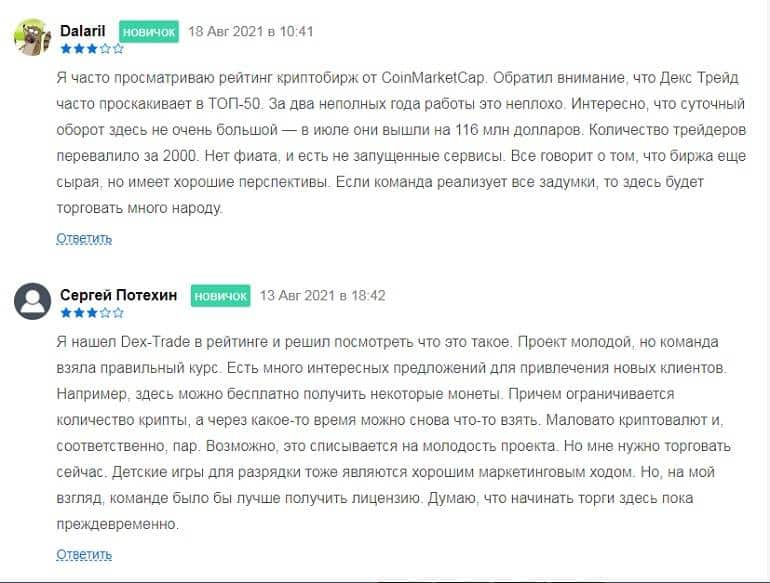 If there are any complaints about Dex-Trade's work, we'll be sure to post the information on social media. Sign up so you don't miss anything!
Please keep yourself informed about news and complaints. We copy the most valuable information to social networks, so please sign up!
Regulation of Dex-Trade crypto exchange
Even if the reviews on the work of the selected crypto exchange are positive, you should still check the documents and licenses, so as not to run into fraudsters and not to lose your investment.
Regulator
The Company is registered in the United Kingdom. Registered office: Unit 111431 Second Floor, 6 Market Place, London, Fitzrovia, W1W 8AF. Company name: Exchange Technologies Lp. The exchange has been licensed as a personal data operator. Crypto Exchange Documents: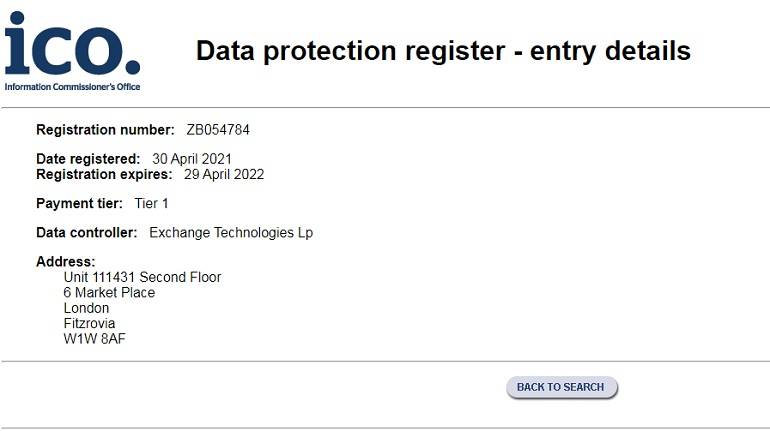 Dex-trade User Agreement
Before starting cooperation, all new clients of the exchange should familiarize themselves with the "Rules of Service". This is a standard legal document available only in English. The rules spell out the basic information on the company's work, concepts, rights and obligations and services of the service. Let's look at some points. The company can reject any transaction if there is a suspicion of impropriety or fraud.
Dex-Trade draws attention to the fact that it is not a financial institution and does not provide advisory services on trading strategies, providing a platform for traders.

In the paragraph about commissions and service charges Dex-Trade warns that the exchange charges a fee for transactions and its amount will depend on the total amount of the transaction. The fee will be automatically deducted from the client's deposit.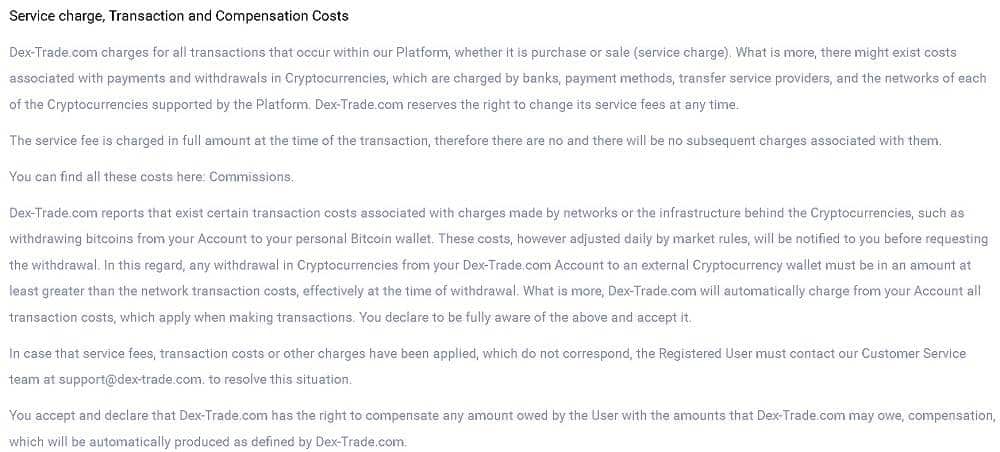 Customer Service
Contact the managers is possible in any of the presented ways:
write a message in chat or by e-mail;
leave an appeal through the feedback form or social networking groups.
The site has a help section, where you can find answers to the most frequently asked questions. The site of the exchange has recently been updated and not all items have been moved to the FAQ yet.
Is Dex-Trade a scam?
Dex-trade - not a scam. The cryptocurrency exchange was repeatedly included in the top 50 best companies from the profile area according to CoinMarketCap portal. It issued its own token - DXC, tournaments of traders, training, games are held for participants. The company has been operating since 2017, developing, adding new opportunities for traders. The main office is opened in the UK. Traders are offered:
high level of security;
convenient and clear terminal;
the possibility of getting free coins;
games;
news blog;
quick verification;
opening a demo account;
there is no limit on the amount of the minimum deposit;
relatively low commissions;
mobile application and 24-hour technical support.
The exchange team actively maintains accounts on social networks, posting training videos that may be useful to users. Since the platform has recently been updated, not all information has been uploaded yet, many functions are in the testing stage. Feedback from clients is mostly positive.
Conclusion
Dex-trade well-known British crypto exchange. Consultants answer queries promptly, APIs and cold storage of most cryptocurrencies are available. To make trading possible from any device, a mobile application was launched. The platform has an intuitive interface, but the documentation is loaded only in English. The exchange does not provide leverage, but the number of users on the platform is constantly growing.
No reviews yet, be the first!
The company in the ratings
Robots for cryptocurrency
Activity
New

1

Resolved

0

Not resolved

1
New companies on the site