Bitmymoney is a Dutch crypto exchange that offers buying and selling Bitcoin, Ethereum, Litecoin since 2013. It offers free coin sending via email, a handy mobile app and a lucrative referral program.
Read completely
Cryptocurrency exchange
Official website
Social media
Date of foundation

2013

Head Office

Wilhelmina van Pruisenweg, 104 2595, AN Den Haag, Netherlands

Types of support
Support by phone
Languages

Dutch

The owner of the company
Manager
Minimum entry amount
Maximum input amount
Minimum withdrawal amount
Maximum withdrawal amount
Exchange Commission

Buying and selling commission:

From

0.0002

To

0.0006

BTC

Terminals

Author's platform

Age restrictions
Number of cryptocurrencies
Margin Trading
Tokenized assets
Free Demo Account
Types of accounts

Unverified, Verification Level 1, Verification Level 2, Verification Level 3

Methods of replenishment

iDeal, Bancontact, Sepa

Withdrawal methods

Cryptocurrencies

Account currencies

Cryptocurrencies, EUR, USD

Types of cryptocurrencies

BTC, ETH, LTC

Mobile applications
Trader training
A way to store cryptocurrencies

Cold:

yes

95% of funds stored in cold purses

Fiat accounts
Scalping
Stop Loss and Take Profit Function
Exchangeability for fiat currencies

Buying and selling in euros

Basic verification
Extended AML verification

3 levels of verification with different limits. You need to provide personal information and a photo of an ID document

Regulatory laws

Central Bank of the Netherlands (DNB)

International data protection law

Canadian law

API
Bonuses
Affiliate Program

Registration

2.5 EUR per new user, 0.25% from each referral transaction

Benefits

Send free coins to another user via email

Easy transaction processing

Fiat account replenishment

Several ways to replenish

Disadvantages

A small number of cryptocurrencies

Complaints about lengthy account verification

Company requisites

Legal name:

Bitmymoney BV

Legal address:

Wilhelmina van Pruisenweg, 104 2595, AN Den Haag, Netherlands

Overall assessment
Date of update

20.02.2023
Address
Wilhelmina van Pruisenweg, 104 2595, AN Den Haag, Netherlands
Map
Subscribe to this company
Bitmymoney is this a scam? Reviews and description
Bitmymoney - crypto exchangewhich has been operating in the Netherlands since 2013. It offers a safe and secure account from which you can buy and sell BTC, ETH and LTC, as well as sending cryptocurrency for free via email. The company guarantees safe storage of 95% coins in cold wallets (not connected to the Internet) in different places. To understand if Bitmymoney is not a fraud scheme, we studied the features of the exchange.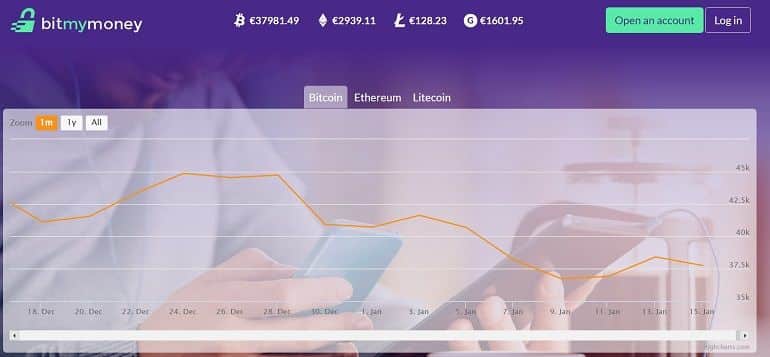 Why Bitmymoney?
Bitmymoney is a cryptocurrency exchange registered in Holland in 2013. It guarantees a high level of security, including by storing 95% funds in "cold" wallets. Customer service is available via chat, email and phone. After registering on the site you can sell, buy cryptocurrency or send it to people you know by email. There are several levels of account verification, which affects the limit of amounts to buy, sell and send.
The site has answers to questions, users, a personal account with the ability to quickly execute transactions, a link to the mobile application and the terms of the referral program. The list of stores, where it is possible to pay with BTC, is also published.
How to exchange cryptocurrency on Bitmaymani platform?
Cryptocurrency trading is available after registration. In myAlpari bitmaymani.com the limits for buying, selling and sending will be indicated. To increase them, you need to pass a check. A button for this is also available in the cabinet. The first time you can spend on a purchase a maximum of 50 euros.
The corresponding tabs are available for buying and selling. To buy coins, you need to specify the required amount and select your bank to transfer them through iDEAL. To sell, you need to specify the amount and your bank account.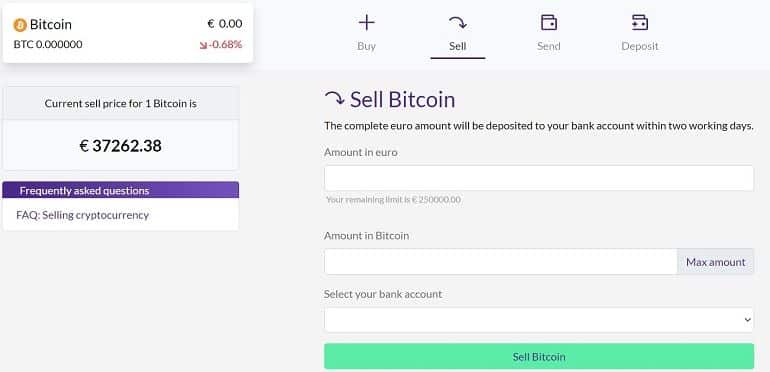 If you want to send BTC, ETH, or LTC to a friend or family member, you can do it for free using the "Send By Email" button. To do this, you need to do the following:
Select Send by e-mail.
Enter the amount, your friend's email address, and a private message. You can use the "Max" button to send all coins at once.
Confirm the sending action. For security purposes, you will receive a payment confirmation email. Check the amount and email address. Click the link in the email and the payment will be completed.
If two-factor authentication (2FA) is enabled, you will not receive an email, you must confirm the transaction with your security code.
Bitmymoney will send a friend an email with a personal message to accept the coins. If he already has a Bitmymoney account, the money will be transferred immediately. If you send cryptocurrency to an email address of a user who does not have a Bitmymoney account, he will receive an email to accept coins and a personal message. He will have a week to accept the assets. You will receive a confirmation when he accepts the money.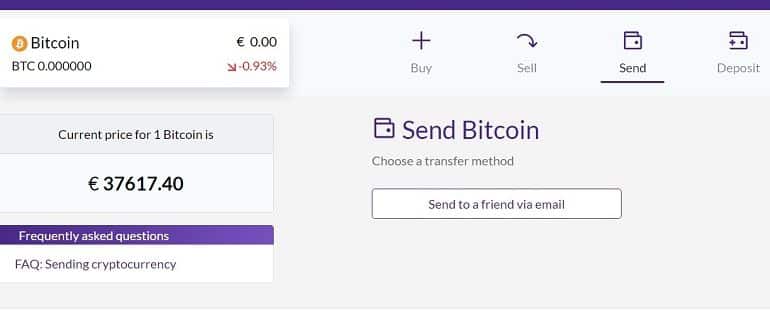 The exchange has also developed mobile applications for iOS and Android. In it you can go to your account to see your balance, limits, statistics on the referral program, to find out the prices. The history of all transactions is available. You can buy with iDeal and sell cryptocurrency via the app.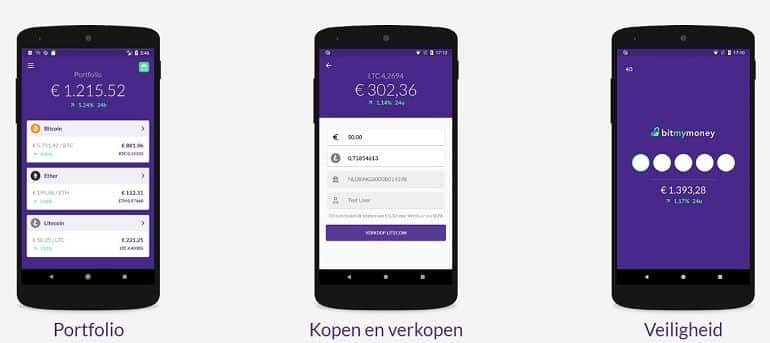 Verification on bitmymoney.com platform
To start working on Bitmaymani You need to register an account on the exchange site. In the form you need to enter your first and last name, e-mail and password. You can also download the application and register in it. It is necessary to specify the e-mail and confirm the creation of the account by the link that will come to the specified e-mail. It is valid for 30 days. In case you forget your personal account password, you can create a new one.
But the administration can put the account into safe mode without the ability to trade. To disable it, there will be a check, including a phone call to the user. In the personal office there is a section "Tax return", which collects information about the portfolio for the year. On the "Profile" page you can be verified, add personal data, a wallet to which funds will be withdrawn, download your report, learn your limits. There is also a referral link to attract acquaintances.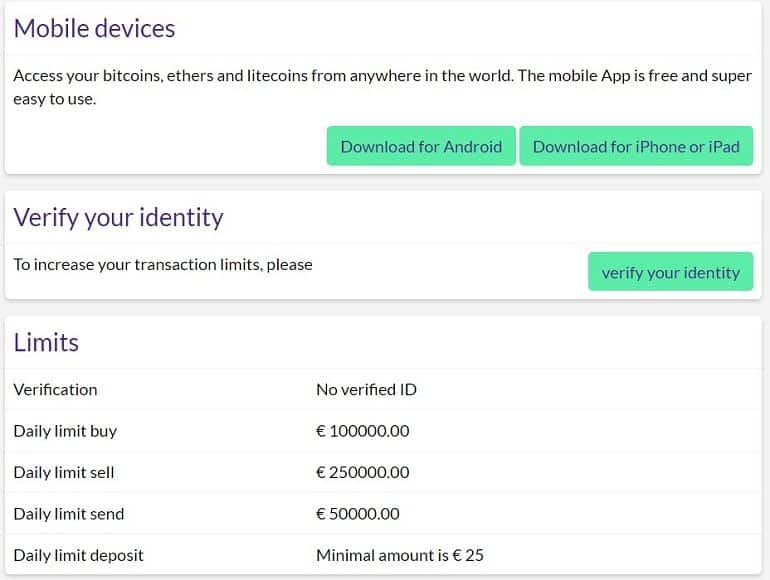 Additional identification is required to be able to send cryptocurrency and increase your limits. Follow these steps to verify your account:
Take a picture of yourself with your identity card in your hand. This is a valid passport, a valid Dutch or Belgian ID card or a Dutch driver's license.
Make sure the following information is legible: Full name (first and last names), date of birth, date issued, expiration date, and document number. The Social Security number can be made illegible.
Specify the text "for Bitmymoney" on the photo (watermark).
Send a snapshot to [email protected] from the email account you registered with.
After the inspection, which is carried out on weekdays, the limits will be expanded.
The exchange uses 3 levels of verification of user accounts. After the first purchase of not more than 50 euros the bank account number is checked. Restrictions apply for a maximum purchase of 500 euros. As part of the "know your customer" process, subsequent purchases are suspended for verification. The support department will contact you by phone, after which the transaction will be unblocked. You can also call us on weekdays at (+31) 702-500-456. Confirm your cell phone number to activate phone verification.
At the second level, the client ID must be verified. After this verification the limits can be extended:
purchase up to $25,000 per transaction, $50,000 in 24 hours;
sales up to $25,000 per surgery, $50,000 per day;
sending up to 5,000 euros per transaction, 5,000 euros per 24 hours.
The third level is an account with a verified ID and a set 2FA. After this verification the limits can be increased:
purchase up to $25,000 per transaction, $100,000 in 24 hours;
sales up to $25,000 per surgery, $100,000 per day;
sending up to 50,000 euros per transaction, 50,000 euros per 24 hours.
For large purchases or deposits, the administration may ask for additional information to determine the origin of the funds. To do this, you will be asked to provide a statement and documentation of the origin of the money.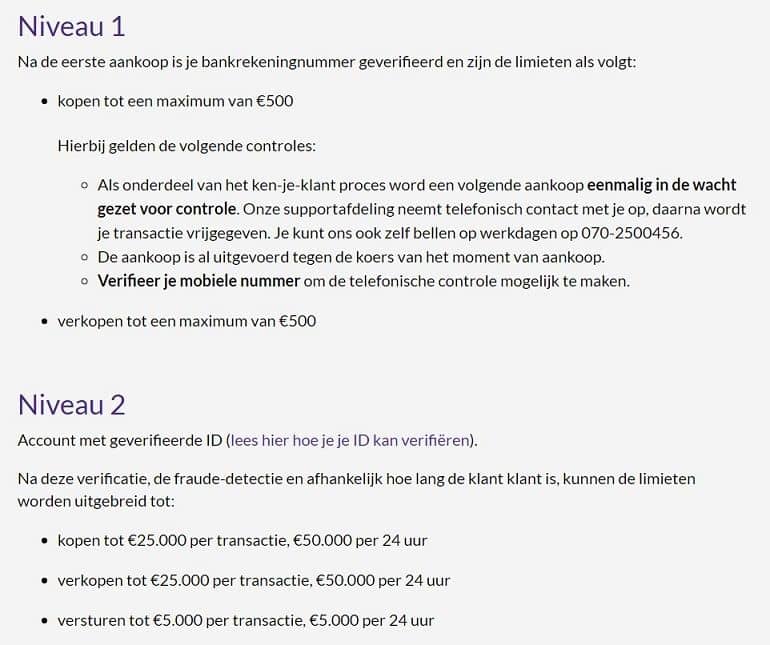 To transfer funds to another wallet, the user must confirm that he is the owner of this wallet. To do this, you must take a picture of your address with yourself or your ID and send the picture to [email protected]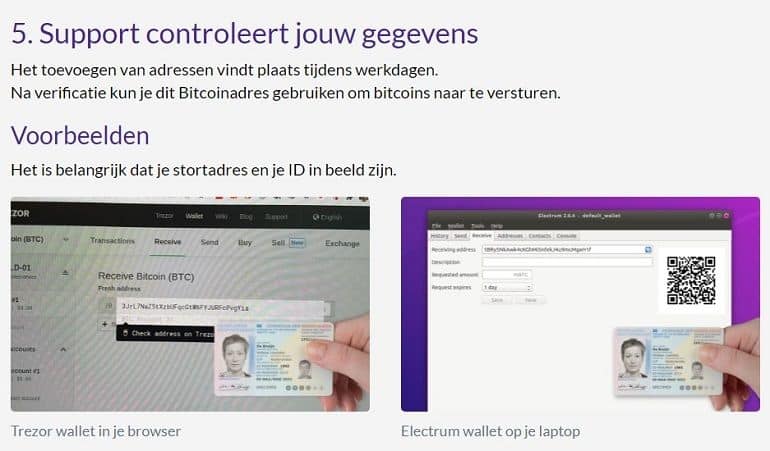 Deposit and withdrawal
In the Netherlands, it is possible to buy BTC using iDEAL in the app or on the website. Belgian customers can buy Bitcoin using Bancontact. It is also possible to make a purchase by transferring an amount in euros to the bank account of the crypto exchange. You can buy Bitcoin, Litecoin or Ethereum using a SEPA transfer to the exchange account. Once the payment goes through, you will receive a confirmation email. You can then convert your deposit into Bitcoin, Litecoin or Ethereum. You can transfer a minimum of 10 and a maximum of 50,000 euros.
After completing an iDEAL transaction, the coins are immediately displayed in your account and you can use them. For the first purchase of more than 200 euros the administration will first contact you by phone to confirm the identity of the user. To withdraw funds, you have to make a sales transaction, specifying the amount and your bank account.
Cryptoexchange Commission
Exchange bitmymoney.com does not charge a fee for storing BTC. Sending to an email address is free. When sending via the bitcoin network, a payment processing fee is charged. These costs are listed on the sending screen and range from 0.0002 to 0.0006 BTC, depending on what is needed to process the transaction quickly. These costs are not paid to Bitmymoney, but to the network (miners).
The deposit is free of charge. On purchase the commission is negotiated separately. The amount when using iDEAL is indicated with each purchase under the "Buy" button, currently it is 0.39 euros. Withdrawal costs €0.1 per transaction.
Bonuses bitmaymani.com
The exchange offers users to search for errors in the application for a fee and make a profit for attracting referrals.
Reward for detecting an error
The user who finds an error in the application can get 25 euros. The first one to report a new bug will get 25 euros in BTC to his Bitmymoney account. To do this you need to send an e-mail to [email protected], describing the error and attaching screenshots. Within a week you'll receive a message about the check and a reward if you'll be the first to find the specified error.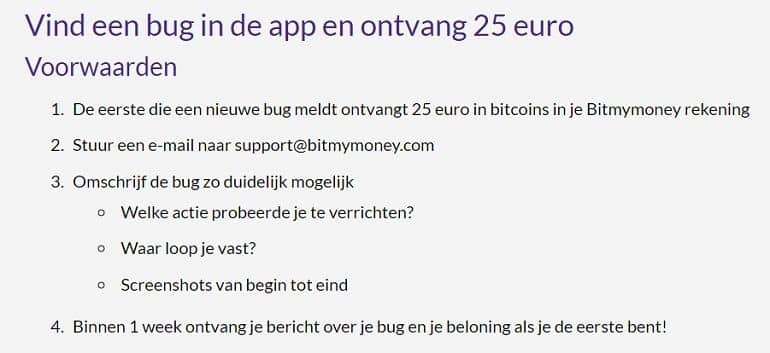 Referral program
Exchange offers to earn cryptocurrency by attracting new clients to use Bitmymoney. Each time a new user comes from you, you will receive a reward to your Bitmymoney account. For each client who makes a purchase for 20 euros, you will receive to your account:
2.50 euros per referral, paid in BTC;
0.25% from each purchase and sale of a referred customer.
Remuneration is added to the Bitmymoney account at the beginning of each month. The minimum amount to be paid is 1 euro. Affiliate websites that refer customers to the platform will be rewarded if a customer purchases cryptocurrency from Bitmymoney. If you want to participate in this program, you can register on the exchange site and send clients using a special variable in the URL. To make it easier for customers, you can place Bitmymoney banner with personal referral link on your website.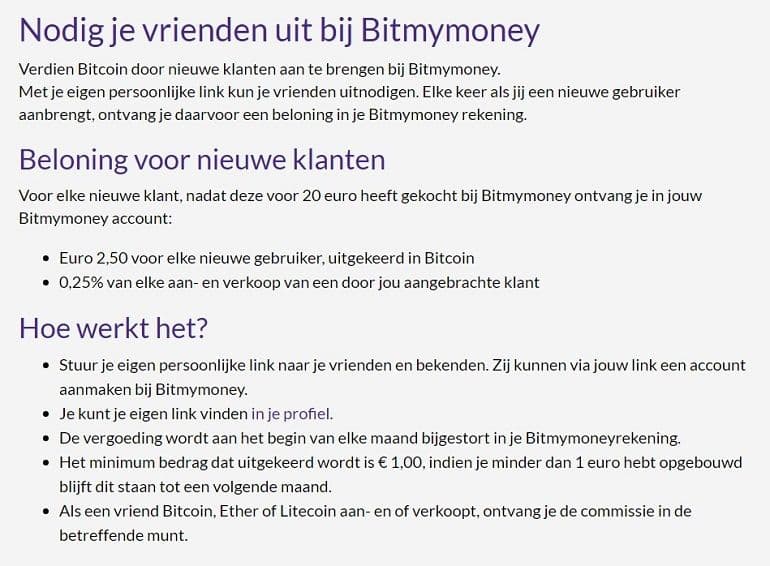 Complaints about Bitmymoney
There are reviews of the exchange on the Internet. Many users are satisfied with the convenience of the site and application, low commissions and fast processing of transactions, prompt responses from technical support, which can be contacted through several channels.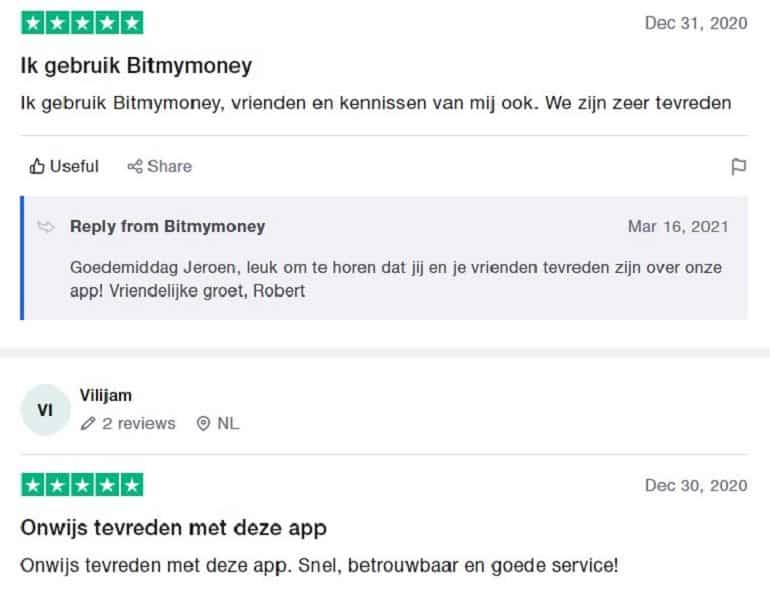 There are also negative comments about bitmaymani.com. They concern a small number of cryptocurrencies and the length of time it takes to verify an account. There are clients who had to go through verification several times.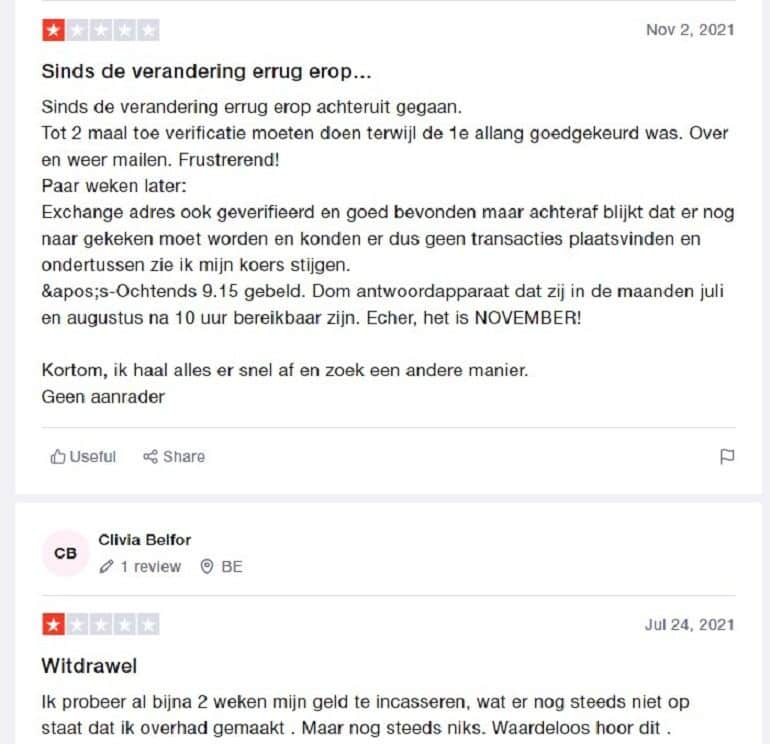 If there are any complaints about Bitmymoney, we will definitely publish information on social networks. Sign up so you don't miss anything!
Please keep yourself informed about news and complaints. We copy the most valuable information to social networks, so please sign up!
Regulation of the crypto exchange bitmymoney.com
Crypto exchanges are companies whose sites appear on the Internet every day. Some of them are opened by scammers who try to trick users and get their funds illegally. To check if you have contacted such a company, study the documentation on the website and check if the exchange has a license.
Regulator
The site has information that the exchange belongs to the company Bitmymoney BV, registered in The Hague. In the trade register it is listed under the number 67547893. Several documents are available on the site.
Bitmaymani User Agreement
The agreement states that only those over 18 can use the service. There is information about the risks and irreversibility of transactions. In order to use certain Bitmymoney services you may be asked to provide personal information including your name, identifier, phone number, email address, address information, and bank account information (such as financial institution and account number). Bitmymoney reserves the right to verify information in other databases (e.g., trade registry). The administration may additionally ask questions during the verification process, including confirmation of the source of funds.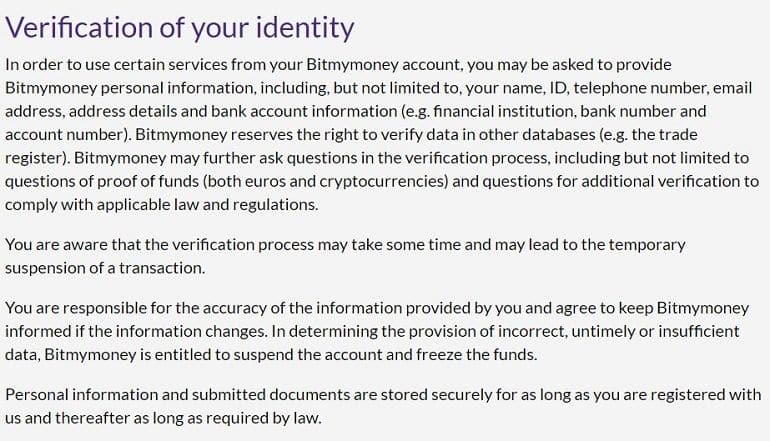 Details about buying, selling and sending cryptocurrencies are published. There is information about security, force majeure and unauthorized use. If a user won't log into his account for 5 years or more, Bitmymoney can contact him about account renewal. If he does not respond to contact requests, the account will be closed. The funds in the account will be converted into euros and minus any charges incurred will be credited to the customer's bank account.

Customer Service
You can contact the Exchange staff in the chat room on the website from 9:00 a.m. to 5:00 p.m. Monday through Friday. On weekdays you can also call (+31) 702-500-456. For other questions, you can contact Bitmymoney by sending an email to: [email protected] Technical support responds to emails the next business day.
Is Bitmymoney a scam?
Bitmymoney - a crypto exchange registered in the Netherlands in 2013. It offers trading in only three digital assets - BTC, ETH and LTC. It is also available to send coins free of charge to acquaintances via e-mail. The company has a website with a simple personal account, through which transactions are made, and a mobile app. Through it, you can also trade cryptocurrency. Participation in the referral program and remuneration for the detection of errors in the application is available.
The exchange has several channels for communication, including a phone number. Commissions are low, buy and sell limits depend on the level of verification of the account. Reviews about the company, mostly positive, but there are complaints about the length of time it takes to verify the account. Not everyone likes the fact that the exchange has a small selection of cryptocurrencies.
Conclusion
Bitmymoney - a cryptocurrency exchange in Holland, where you can buy and sell digital assets, send by email. A user who registers an account must pass checks to increase limits. Reports and a link to attract referrals are also available in the personal account. If you have used the services of the crypto exchange, write your opinion about the company in the comments of this review.
No reviews yet, be the first!
The company in the ratings
Robots for cryptocurrency
Activity
New

0

Resolved

0

Not resolved

0
New companies on the site