An online platform for learning Internet professions in design, programming, marketing and project management.
The company
Official website
Head Office

Russia, Moscow, Leninsky Prospekt, 6, building 20

Date of foundation

2017

The owner of the company
Types of support
Support by phone

Social media
Languages

English, Russian

Cost of training

Paid, Free

Prices

Programming

/

From

3764

RUB

per month

The cost may vary depending on the demand for the course, direction, discounts, etc.

Design

/

From

5000

RUB

per month

Marketing

/

From

5500

RUB

per month

Managing

/

From

4600

RUB

per month

Games

/

From

5200

RUB

per month

Multimedia

/

From

5400

RUB

per month

For business

/

From

2200

RUB

per month

Bonuses
Methods of replenishment

Bank transfer, Bank transfer for legal entities, Bank card (Visa/MC/MIR), Maestro, Google Pay, Apple Pay

Buying on credit
Banks that provide credit
Installment

First payment in 3 months, without interest and overpayments

Categories of training programs

IT and digital courses, Business courses, Marketing and sales, Creativity and art, Intellectual development, Foreign language studies

Languages being studied

English

Specialties

Web Development, Testing, Cyber Security Specialist, Web Analytics, Interior Design, Web Design, Internet Marketing, Targeted Advertising, Contextual Advertising, HR and HR Management, Accountant, Screenwriter, Sound Designer

Programming languages

Python, 1C, Java, C++, Javascript, PHP, C#, Go, Swift, Kotlin, Unity

Project Features

A platform for teaching online professions in design, programming, marketing, and project management

Number of courses

180+

The number of professions is specified, the total number of courses is more than 500

Course Types

Medium term, Long term

Additional education

Webinars, Video Lessons, Offline Meetings, Discussions, Life Hacks

Additional services

Internship and employment

The best graduates receive offers from major employers right at their graduation.

Lecture Hall

Various lectures, workshops, and other events are held

Advice

Communicating with professors and other students via messengers

Checking homework

The new material is reinforced with a practical assignment, which will be tested in 48 hours

Personal Tutor

You will have a tutor in a Telegram chat, and the teacher will personally comment on homework and give useful tips

Magazine

Articles and news from the online university

Help in choosing a course

Managers will help you choose a course to suit your needs

Playlists

There is a separate page with the most useful videos in different areas

Teacher training

The school teaches how to check practical work and give feedback to students

Starting the training

At any time (you can join the course at any time)

Course completion documents

Diploma

Age restrictions
Mobile applications
Affiliate Program
Benefits

Large selection of modern online courses in different areas of training

Internships and employment after training

Discounts, gifts and a profitable affiliate program

Qualified teachers, personal tutors, different formats and learning tools

Free lessons and consultations, checking homework

Quick feedback and the possibility of learning on credit

Real graduation projects from potential employers

Lifetime access to paid training materials

Disadvantages

Slightly overpriced tuition, but there are often discounts

There are delays in checking assignments

Regulatory agencies and laws

Inspectorate of the Federal Tax Service of Russia No. 31 in Moscow

Department of Education of Moscow

Company requisites

Legal address:

Russia, 121205, Moscow, the territory of Skolkovo Innovation Center, 42 Bolshoi Blvd. 377

Overall assessment
Date of update

03.12.2022
Address
Russia, Moskva, Leninskiy Prospekt, dom 6, stroenie 20
Map
Subscribe to this company
Skillbox is this a scam? Reviews and description
Skillbox - that educational platformwhich will help you get additional education in in-demand professions. The online university is a participant of the Skolkovo program. You can buy any of the 180 courses posted on the site, pass it and get a diploma of completion.
After you graduate, you can get a job through the online university's employment center. Special offers allow you to buy any course at a discounted rate at 50%. But to find out if Skillbox Online University is a scam, let's take a closer look at how it works.
Why Skillbox
An online university will help you get additional education in in-demand professions.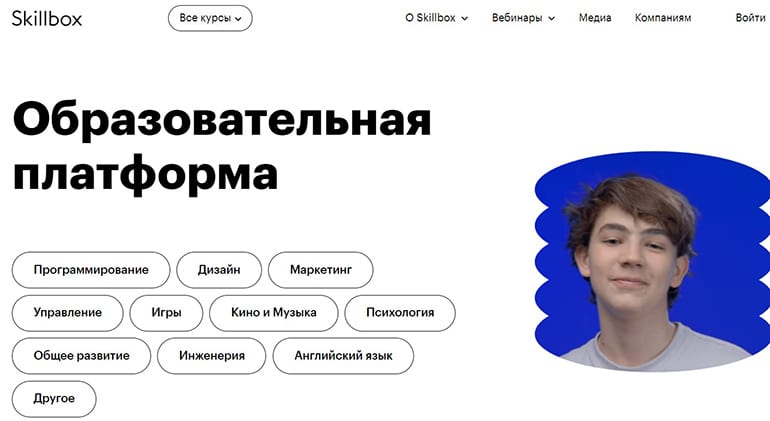 The benefits of an educational platform:
more than 180 online courses;
discounts and affiliate program;
different training formats - online lectures, webinars, master classes, online discussions, etc;
qualified teachers;
A diploma is issued upon graduation;
help in finding a well-paid job after graduation;
additional seminars and conferences in the lecture hall.

How to learn online at skillbox.ru
To start learning on the site, you need to register on the website skillbox.ru. Next, you need to choose a course, pay for it, and you can start learning by accessing the programs. Registration should not take more than 15 minutes.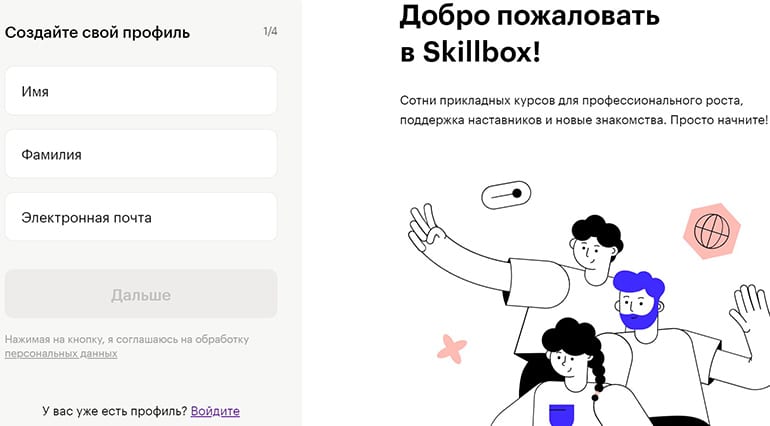 Personal Cabinet
Your personal account on the website skillbox.ru - is a study room. Personal data, details for payment, information about the courses that have been purchased and completed, assignments from teachers, and study plans are stored there.
Mobile application
Skillbox does not have its own mobile app.
Courses at Skillbox
The online site offers more than 180 courses in the following fields: design, marketing, management, and programming. Almost all of the company's courses are medium- and long-term, from 3 to 24 months. Skillbox has more than 200 tutors.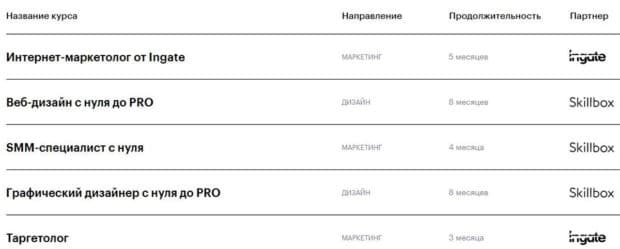 An online university offers interesting courses that are designed with leading companies in their fields. You can learn from real experience, and the final diploma is a project ordered by your potential employer. Almost all of the courses on the site of the online university you can buy with installments and favorable special price and almost all of them give a guarantee of employment in the university's partner companies after graduation and defense of the diploma.
Developer Course
On September 4, the new Developer program will begin, in which for the first time students will be able to choose their field of study directly during the program. The following areas are available: analytics, project/product management, or programming. In the first 3 months students will learn the basics of IT. The duration of the program will be 15 months: general block - 3 months, specialization - 9 months, employment or gas pedal - 3 months. This program is designed for people with zero experience in IT. You can watch the lessons online or record them whenever you want. Besides teachers, a team of specialists will work with students during the training, who will make the training as productive as possible and answer all questions.

"Digital Project Manager"
The course is designed and launched in conjunction with Sibirks Studio. It lasts for 16 weeks. During this time, you will hone the skills necessary for your future profession, you will learn how to communicate in stressful conditions of project work, you will learn how to set and divide tasks between performers, and how to manage digital projects masterfully. You will learn by real examples, considering the pros, cons and errors in the preparation of various digital projects.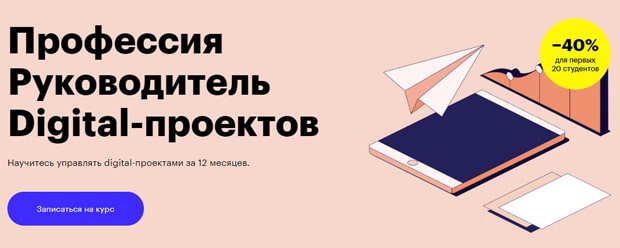 During the training, you can master different aspects of project management: theoretical (time management, document management system) and technical (adaptive website design, hosting providers, DNS servers, etc.). The program consists of 20 video modules with lessons and practical part, tests and general tasks. Your teachers will be constantly in touch for advice and checking homework. The full cost - 91 thousand rubles, including discounts 63,700 rubles.
"Internet Marketer from scratch."
The course "Internet Marketer from Zero" will help you learn a new profession in 6 months. You will learn how to create business websites and questionnaires, promote your business in social networks, develop a content plan, run contextual and targeted advertising, and master other Internet marketing tools.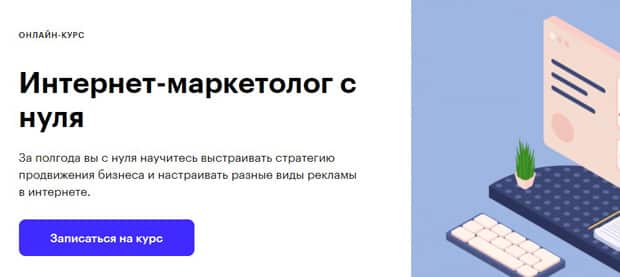 The program includes 152 online lessons in 18 thematic modules. You can get the curriculum and a free consultation by leaving your email. A discount of up to 30% applies.
"Web Design from 0 to PRO"
The course, consisting of 32 training modules, lasts 8 months. During this time you will develop 5 projects for a real customer.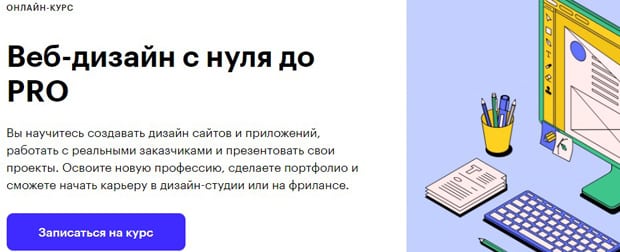 You will learn how to design for websites and mobile apps. The training program includes not only the basics of web design as such: programs for web design, basic tools, but also the communication side of project development: meetings with the customer, preparing the presentation of the project, transfer of the finished project to the layout, features of the layout, and other stages of project launch. Having mastered all the stages of web-designer's work, you will be able not only to develop your own projects, but also quickly get involved in the work on already launched ones. The discounted price is 3413 rubles per month.
"Targetologist from A to Z."
When you purchase and successfully complete this course, you get a job guarantee, even if you had no experience with targeting in the beginning. The program lasts for three months. It is suitable for SMM managers, copywriters, web analysts and other professionals who want to improve their level in this field.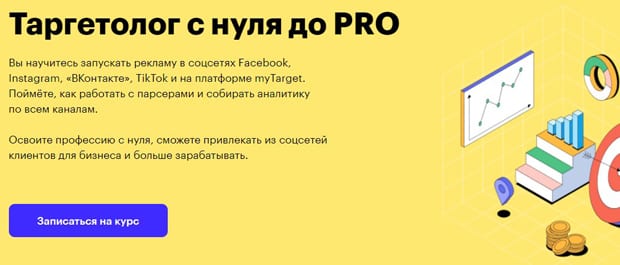 As an additional technical course, the general program includes professional training in Photoshop and Excel for web designers and taggers. After completing the course and completing a test assignment, you'll be able to work remotely for Ingate. There's a 40% discount on it now, too, and you can buy it at a price of 85,800 thousand rubles.
"The Profession of Testing."
This course will help you learn one of the professions in the world of digital technology. You don't have to be a programmer to learn to be a software tester. After training you will learn functional and non-functional testing of sites and mobile applications, advanced methods of optimization and automation of programs, work with task-trackers and many other things.

The duration of the training is 1 year (that's 250 online lessons in 40 thematic modules). All this time you can be in touch with the curator to check assignments and consultations. The price with the current discount is 5 870 rubles per month.
"PHP - Developer from 0 to PRO"
PHP is a popular language for creating web applications, websites, and programs. Here you will master PHP language sufficiently to integrate the layout into the code structure of the online store, develop web applications, work with files and directories, and write clean code.

Already after 4 months of training you will be able to work on codes for large IT companies. The training lasts for 9 months and consists of 98 online lessons in 24 thematic modules. Your final assignment can also become an independent order program from the employing company. The discounted price is 4 608 rubles per month.
"Floristry from scratch."
Together with the Moscow Flower School developed and launched a course "Floristics from scratch", which will introduce you to the basics of coloring, making flower arrangements, competent work with clients and suppliers so that your business will flourish.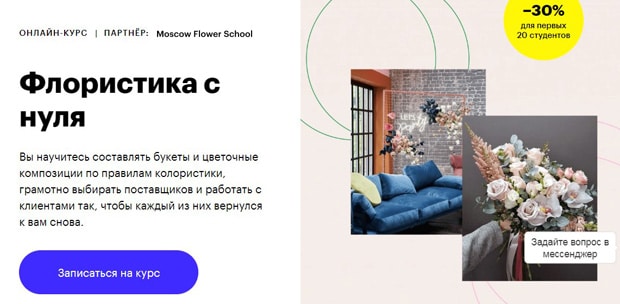 The duration of the course is two months, and when you buy it, you get a set of florist's tools as a gift. The program is suitable not only for beginners florists, but also for decorators who can learn to create elegant floral decorations and learn the basics of marketing to work with clients. The duration of the training is 2 months (64 online lessons). A supervisor will be in touch with you to help you learn the ins and outs of floristry. The price with the current discount - 32 900 rubles.
Free Skillbox Courses
Skillbox has different options for free education: it is free access to courses for 7 days (free education at Skillbox), discounts, sales and other hot deals. The school also offers free lessons as a gift and trial consultations with teachers.

Additional services
Skillbox has additional services.

Internship and employment
The opportunity to intern and get a job is only available to students enrolled in the Professions with Employment programs with a training duration of 12 months or more. After writing a resume (75% of the training program) the service helps arrange up to 3 interviews with the employer and provides appropriate recommendations.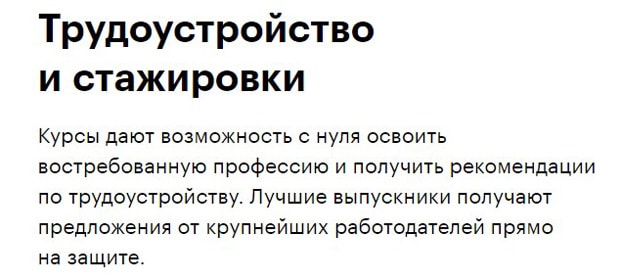 Lecture Hall
The lecture hall is an open space for performances. The lecture hall hosts various lectures, workshops and other events. Speakers can be instructors from Skilbox and guest speakers.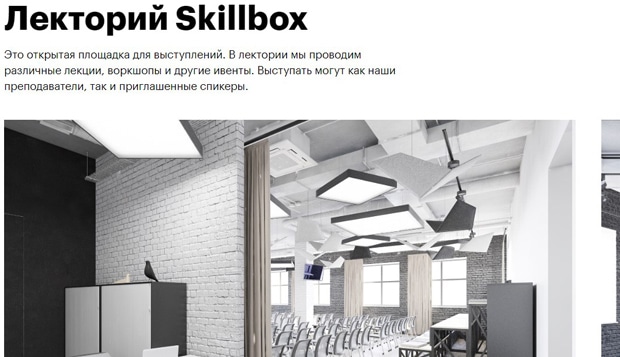 The following services are also available at the online university:
Journal.
Personal Mentor. Each student will have a tutor in a Telegram chat, and the instructor will personally comment on homework assignments and give helpful advice.
Homework Check. New material is reinforced with a practice assignment, which will be checked in 48 hours.
Advising. Communicating with instructors and other students in messengers.

Teacher training
The school trains teachers to check homework in school courses. Here you can get knowledge in andragogy, as well as learn how to check practical works and give feedback. At the same time the school assumes employment after completing the training. To start training, you need to fill out an application form and pass the selection process.

Higher education
The Skillbox School, together with the country's leading universities, has launched distance learning. Here you can get not only theoretical knowledge, but also practical skills with internships in large companies. There is a 4-year bachelor's program and a 2-year master's program. At the undergraduate level, you can get knowledge in three areas: data analysis, web development, and modern design. At the master's level, only two areas are open yet: computer game development and educational experience design. Entry to any of these courses can be on a competitive basis. The number of places is limited. You can apply online.
MBA program
The online school has another interesting direction - the MBA program "Leaders of Change" for the development of professional competencies and leadership qualities. This program is suitable for business owners, top managers of companies, and middle managers. Training takes place not only online, but also offline - at GSOM SPbU campus. To enroll, you must apply online.
The cost of training on the Skillbox website
You can find the cost of training on the website skillbox.ru in the "Courses" section. Prices vary depending on course demand, program packages, and more. There is an installment plan or 50% discount. Courses are sold in "packages"-assemblies on a particular topic. Many training programs offer a job guarantee.

How to Pay for Training at Skillbox.ru
You can pay by any convenient way: with a bank card or online bank. Skillbox has a money-back guarantee - you can get your money back within 14 days after submitting your application.
Paying for training in your personal account
The most convenient way will be to pay for the course through a personal account with a bank card.
Other payment methods
In addition to a bank card, you can pay by bank transfer or invoice for legal entities. Payment on credit is available through partner banks: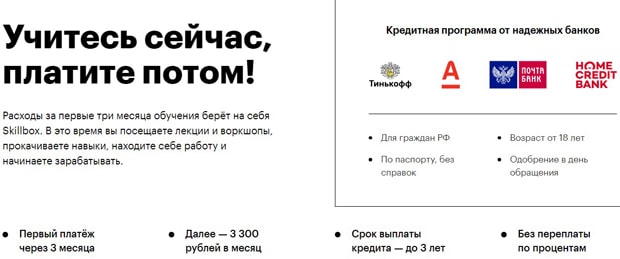 Skillbox bonuses
There are special offers on the Skillbox platform that are constantly updated.
Discounts up to 50%
Now you can get a discount of up to 60% on any course in the online school as part of the winter sale. Hurry up and sign up while the offer is still on!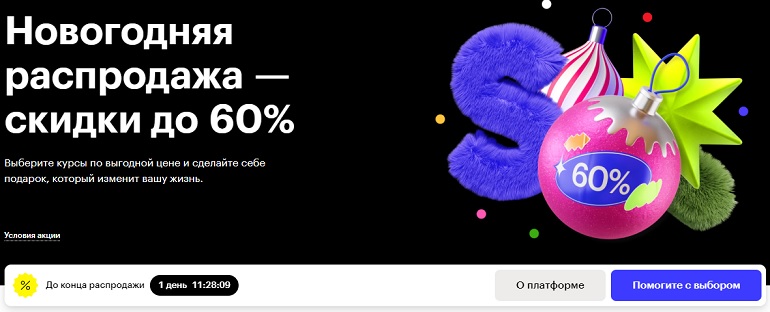 Complimentary course
You can get a free lesson after buying a class package and reposting the referral link on social networks, and your friends will get a discount on class fees.
Referral program
Skillbox has launched an affiliate program through which you can earn up to 5 thousand rubles for each purchased course by clicking on your site. In order to start earning, you just need to register in the program. When you register and get the code to paste on your site, you can start earning up to 16% for each course sold. You can also cooperate with the school, promote its services and get a profit for it by registering in the spa network Adv.Cake (go online).
Complaints about Skillbox
There are many reviews about the online university on the Internet. We have collected the most frequent ones. Among the positive reviews, customers note the technical convenience of the course site, the professionalism of the program supervisors, quick feedback, and the ability to pay in installments.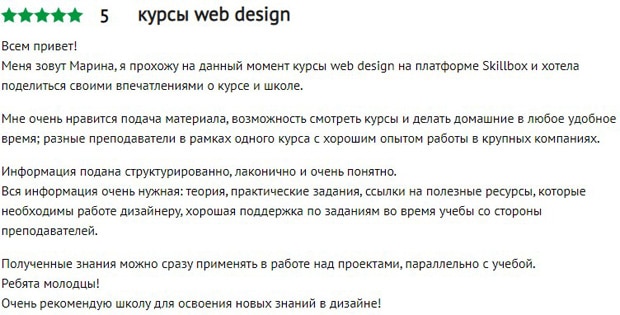 But there are also negative reviews, in which customers note the high price of courses without discounts and delays in checking assignments.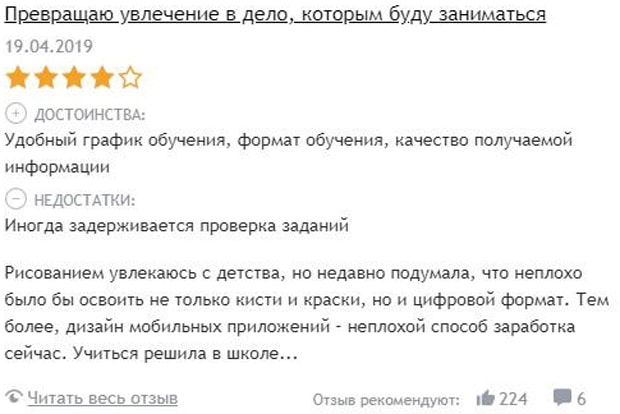 If there are any reviews about Skillbox Online University, we'll be sure to post on social media. Sign up so you don't miss anything!
Please keep yourself informed about news and complaints. We copy the most valuable information to social networks, so please sign up!
Regulatory agencies and laws
The University has a license to conduct educational activities from the Department of Education of the City of Moscow. License No. 039911 was issued on February 15, 2019. In addition, Skilbox LLC is an officially registered legal entity. Certificate of Registration No. 1177746566140 .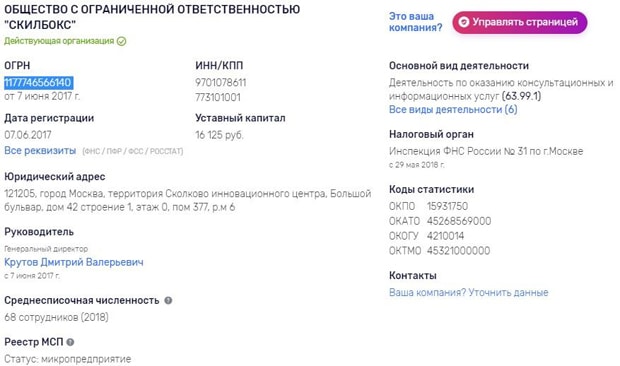 User Agreement skillbox.ru
Your user agreement with Skillbox Online University will be the offer agreement. From the document you can learn how to register on the university platform, open a personal account, start studying and much more.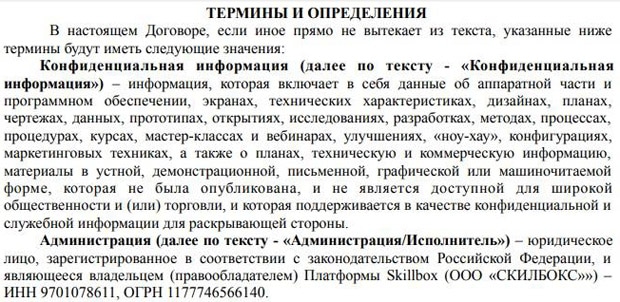 Access to training materials is available for 14 days from the date of payment for the course. In point 4. you can find all the information regarding payment. Prepayment is made in 100% amount.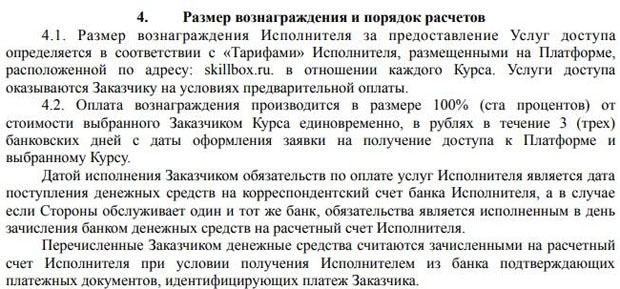 Another clause in the contract is 5. It contains a list of things that the customer is not allowed to do on the platform. In addition to the offer agreement, you sign a standard agreement on the processing of personal data.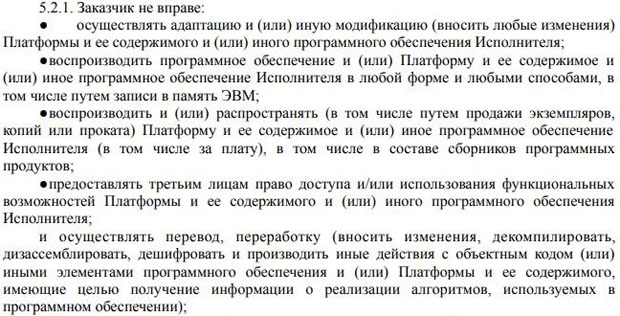 Customer Service
The online university helpdesk is up and running:
via chat with a bot consultant;
via email;
through the feedback form from the site and personal account;
through social networking groups;
messengers: WhatsApp, Viber;
through the office (Moscow, Leninsky Prospekt, 6, building 20).
You can contact the support staff by phone, but it is better to do it during working hours. You can also ask questions or leave feedback through social networking groups.
Site security
All data on the website skillbox.ru is protected by security certificate, online payments are completely safe - CloudPayments processing center protects and processes clients bank cards data according to PCI DSS 3.2 network security standard. All information is transmitted to payment gateways using SSL internet encryption technology.
Is Skillbox a Scam?
Online University Skillbox - the largest distance education platform in Russia. The university has been operating since 2017, during this time it has launched a large number of courses for in-demand IT professions. We have studied how Skillbox distance learning platform works, the portal, documents, feedback from customers, and we can say with 100% confidence Skillbox is not a scam. The platform offers long-term courses with a good discount and the opportunity to buy them in installments.
The price of training, even with a discount, is quite high, but Skilbox offers further employment to those who received their diplomas from it. A special feature of the training is the diploma work, which is done as a pilot project for a specific company-employer.
Conclusion
Online universities allow you to get additional education. Skillbox As a Skolkovo resident, the company tries to incorporate all modern technologies into its educational system from the moment they appear on the market. In addition to buying a package of courses, you can become a participant in additional webinars, study in a multimedia lecture hall, and participate in other additional activities from the company.
Opinions about training on the Skillbox platform are predominantly positive, and studying online, you can do assignments anywhere, all you need is a stable Internet connection and your computer or mobile device. It is also convenient that the courses are sold in "packages", that is, you buy a set of materials on the chosen discipline, which will allow you to master the profession most effectively.
The company in the ratings
Job Search on the Internet
Activity
New

2

Resolved

0

Not resolved

2