Martingale Strategy on Binary Options
What do you think it takes to make money at binary options? There are many opinions. It is necessary to understand how and what happens on the market, and the ability to make the right bets, and even the banal luck will not be superfluous. Every day in binary options trading A huge number of new people are involved, but it must be said that not every one of them immediately becomes a source of income. It is quite understandable, logical and explainable, to achieve something, firstly, you have to want it badly and get knowledge about how to achieve it in theory and practice.
Option trading training can take quite a long time. There is a category of traders who see trading in binary options as casino game. Well, maybe at first glance there are a lot of similarities. You bet on the price of an asset to fall or rise and if you are right, you win. If the prediction doesn't come true, you lose everything you bet.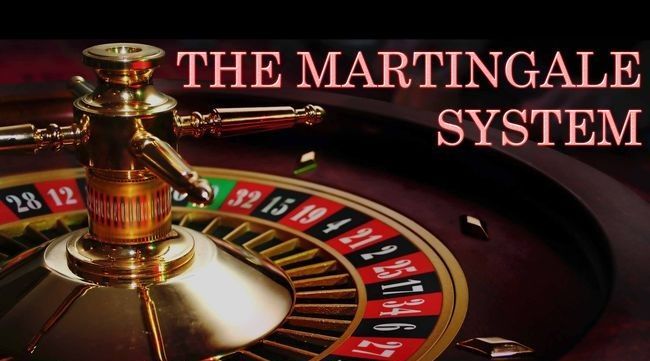 For gamblers, who are used to thrills and dreams of making quick money in the form of unexpected big winnings, trading in binary options seems to be a very attractive option of pastime. Plus, there is quite an interesting option - the player can fix his risks and also buy options at different prices. That is, partially regulate the process, including their bets. This allows the use in binary options trading a lot of those tricks, which are typical for gambling. For example - the Martingale strategy.
Martingale Strategy
The Martingale strategy is a high-risk strategy because it involves doubling your bet after a losing trade. Certain rules can make this strategy more manageable and profitable. This strategy is similar to the behavior of a player who makes a bet, loses, and to win back, increases the next bet. At the next loss, the bet is doubled again and so on, until the final win. In binary options trading, it is advisable to bet on explicit trends and not recommended to bet on a flat. Bets are placed in the direction of the trend.
In general terms, this strategy is quite simple. You start playing (and in this case it doesn't matter what, cards or options) by placing a minimum bet at first. If you lose, that bet is doubled. If you lose again, it doubles again and so on until you finally win. If you win, you start again from the beginning, with your minimum bet. This strategy has been used since a very long time by players in various gambling games - from "coins" to poker and more complicated card games.
We recommend testing the Martingale strategy on demo accounts at different brokers. To do this, select one or more brokers from the table below, click on the link "Start", then you can open a demo account with the broker you want.
Advantages of the Martingale strategy
The main advantage of the strategy is that it allows you to properly manage your deposit (your account and the amount of money in your wallet). If after winning the bet doubled again, it could entail the loss of everything you won earlier. But if you use the Martingale strategy, you will theoretically always win. Plus, it's easy to learn, and when you use it, if you stick to the rules and come back to the trade with a minimum bet, the chances of winning are acceptable.
In addition, the advantage of the strategy is that it usually justifies itself, because the probability of winning ten times in a row and the probability of losing ten times in a row is negligible. For the Martingale strategy, the second statement is fundamental. Since it is very difficult to lose ten times in a row, the chance that you will win sooner or later is very substantial. And the more you lose, the higher the chance of winning finally coming to you. Especially if you're trading on a trading strategy based on, say, indicators, there's many strategies giving 7-8 successful trades out of 10. If you play by the Martingale strategy, in most cases you will be able to make your deposit green in many gambling games.
The disadvantages of the Martingale strategy
As for the disadvantages of the strategy, there are several. Let's name them.
First minus - it works perfectly when you have a lot of money. If you, for example, play in a casino with a thousand rubles, lose a hundred rubles, lose two hundred, lose four hundred, then you can no longer successfully apply this strategy without additional "replenishment" of your deposit. And after all, you've only lost three bets, which isn't that much. It's the same in options trading. Unlike most trading strategies, which strictly forbid risking more than 5-10% of the deposit at a time, the Martingale strategy does not stipulate the size of the bet at all.
You will need a sufficient amount of money in your account to work. Indeed, a successful bet is inevitable, but exactly when it will happen is a big question. To get to the winnings, which will pay off the losses and make a profit, you will have to spend money in any case. It can be anything, and the more times you lose (and the larger the scale of your bets), the more money you will need with each new time.
Second disadvantage - The Martingale strategy may not work where luck comes second and skill or knowledge comes first. For example, at horse races, where it is still important to know which horse is stronger, who the rider is and whether both have health problems, and other things. When trading, it is equally important to take into account the tendencies and trends that are really present on the market, and not doing so means ignoring the obvious things for most traders, swimming against the current, trying to control your own balloon without paying attention to the wind and the presence of ballast. Logically, this does not always lead to successful results. When implementing the Martingale strategy, knowledge and observation may not be enough for profit, a lot of luck is involved.
Third minus The only reason for this strategy is its small profitability. If you lost $10, then $20, then $40, then won $80 - then you have essentially won only one first bet in 10$. That is, you've only won one of your minimum lots. So the Martingale strategy is not at all a tool to instantly create a huge amount of money, but just one tool for prolonged and painstaking binary options work.
Applying the Martingale Strategy in Binary Options
Only a blind player would use Martingale as his only strategy to cheat the market. If I want to use Martingale as my only strategy, I would rather choose sports or blackjack for investing money, because these options are more interesting than complex financial instruments. We should use Martingale in combination with other trading methods. For example, if you are a Price Action as a trader, you can often predict the market in the right direction, but you keep losing money because you don't have a way to manage it that you understand. In this case, the Martingale strategy can be useful to you because it is a fixed money management system in place; all you have to do is apply it accordingly.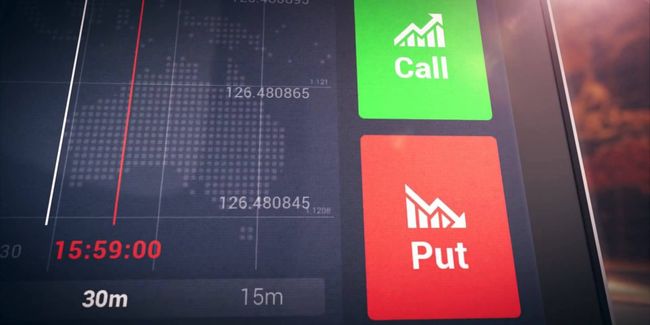 The Martingale system looks like an understandable trading method on paper because it seems to be able to help you recover all your losses with just one trade, this strategy has its own drawback. On a bad day, you can incur large losses which will accumulate very quickly and which you will not be able to imagine until you experience them personally.
As an additional strategy, this strategy remains quite popular. If you use other trader's tools in addition to Martingale (indicatorsThe strategy is interesting enough and has the right to exist, but remember that if you are not ready to work diligently, only luck can help you come up with it. This strategy is interesting enough and has the right to exist, but remember that you need to prepare for it carefully, and if you are not ready for painstaking work, only luck can help.
Preparing to trade with the Martingale strategy
So, what do you need to prepare for trading the strategy?
First, you must have enough money in your account. To calculate the amount needed to work on the method is not so difficult, you already understand it (that is, each new bet, which ended in a loss, is calculated by doubling the previous amount).
Secondly, in this kind of trading it is important to keep an eye on ManimanagementIf you have a position, it is worth calculating the size of the position separately in order to know your losses and profits in advance. This point will also help determine what amount of investment will be comfortable for you. There are different variants of increasing bets, special calculators and tables on the Internet, which show how the profit will grow after the increase of the bet on certain conditions. Thus, traders try to systematize the Martingale strategy. The Martingale table for binary options will allow you to plan your funds wisely and avoid losses. Here is a table showing the trading statistics of the Martingale strategy (Fig. 1):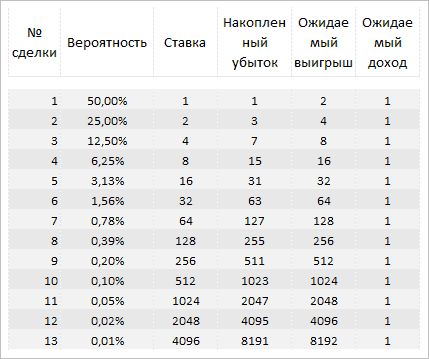 Image. 1
Note, the calculations are made with options that give profit in 100%.
Third, while trading the strategy you need a calm working attitude, not the excitement and worry about the possible loss of your deposit.
Fourth, it is worth testing the methodology on a broker demo account (current rating of binary brokers here) using virtual funds. It will help you to be more relaxed about real trading, you will work much more confident. A demo account is also a great option for practicing your Martingale table.
Conclusion
Unless you have a large sum in your pocket, Martingale can hurt you. For this reason, the Martingale strategy is not recommended for novice traders. If you are emotionally unstable (or if you are just starting out in trading), stress can accompany the application of this strategy, as losses can be very high.
On a more positive note, you will still have a slight advantage, because currencies never devalue to the point of going to zero. That means that at some point the price of the currency will become stronger than before, so if you take it all the way to the end, you will be a winner in theory. But this is only if you could take very large negative trades during the losing period, as mentioned earlier. Another advantage for binary options traders who trade currency pairs is that currency as a savings will give its growth over time. Therefore, many binary options traders buy currencies that carry a higher interest rate than others in order to gain interest over the long term when using a Martingale strategy to cover losses.
Due to the simple and clear principle of operation, as well as the opportunity to work out in advance the profitability and costs, the Martingale strategy is used on forex and in binary trading.
In conclusion, Martingale can be a great method of making money if used correctly, but it can also be a destructive method if used blindly. Therefore, it is advisable to always think carefully, and remember that experience is the first thing you need, and it is achieved through mistakes, and you need to go through this before applying any trading strategy.
In our Blog We have already published articles about using the Martingale strategy in binary options:
More on that
Binary options
2 September 2019 in 20:37