How much will bitcoin be worth in 2019?
Of all existing assets, the least predictable is
bitcoin
. During 2018, Bitcoin fell about 300%, reaching $3000-$3500 by early 2019 (Figure 1). It remains in this range today.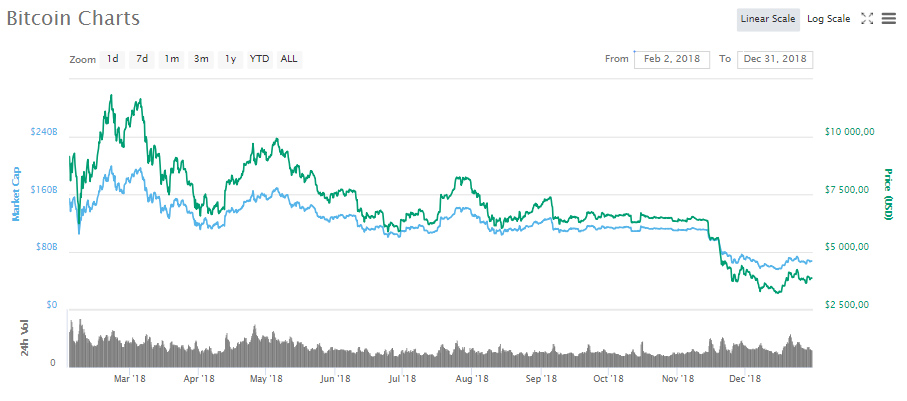 Image. 1
Most bitcoin holders, especially those who bought cryptocurrency closer to the end of 2017 (Fig. 2) and has not yet sold it, hope for a return of "those times" and expect a price increase (How to buy bitcoins on binary options?). But there are also many who expect a further decline in the price of bitcoin. Let's try to figure out what arguments both investors have, and which forecast may be more realistic.
Top 3 cryptocurrency exchanges
Bitcoin price growth factors in 2019
What could increase the price of bitcoin this year? Much of this depends on the position of the SEC, which is not yet ready to recognize bitcoin as an asset. For that reason, the dream of many crypto-enthusiasts to register a bitcoin-ETF, which could lead to a soaring bitcoin price, cannot come true. Proposals for a bitcoin-ETF from VanEck, SolidX and Cboe BZX are now under consideration by the SEC, with a decision to be made by April 5.
Two other events could positively contribute to the rise in bitcoin price: the launch of futures trading platform Bakkt stock exchange Intercontinental Exchange (ICE), a possibility now being considered by the CFTC (U.S. Commodity Futures Trading Commission); the upcoming launch of cryptocurrency storage by Fidelity Investments, presumably in the first quarter of 2019.
These three events could bring bitcoin back to a prolonged rise in price. But that is not necessarily the case. Some of these things will happen and some of them will not, and it may not have any effect on the cryptocurrency market. Or none of these events may happen.
Among the more global factors that could lead to a steady, sustained rise in the price is the "adoption" of bitcoin by banks, so that institutional investors can conduct bitcoin transactions (cryptocurrency trading strategies). Then the cryptocurrency would start to receive serious investments. But so far there is no evidence of any particular interest from banks in bitcoin.
Also in favor of the possible growth of bitcoin is an increase in the number of verified bitcoin users - up to 35 million users, compared with 18 million users a year earlier, according to Bloomberg. Potentially positive factor can be considered the growth of transactions in bitcoin network in February - up to 300 thousand per day, it's a lot, although far from the peak figures a year earlier (more than 425 thousand).
Factors of bitcoin price decline
There are many more factors that keep bitcoin from rising in price. And they are getting stronger, not weaker. In this case, the most important factor is that bitcoin is moving farther and farther away from the real economy, that is, from big money and institutional investors.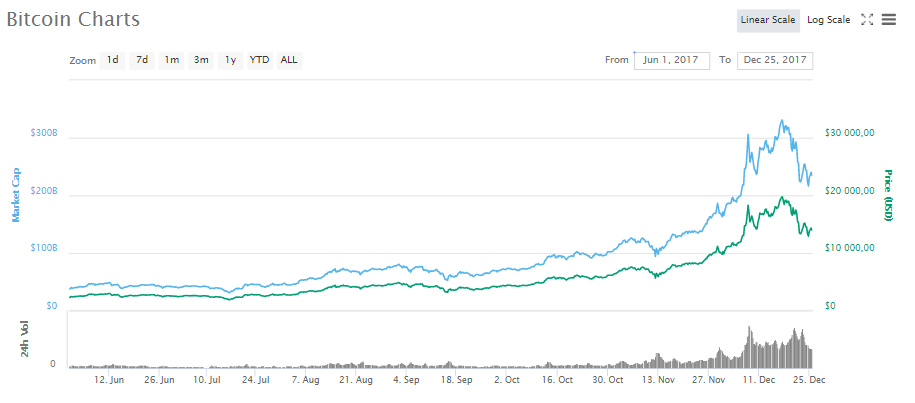 Image. 2
The number of commercial bitcoin transactions fell by 80% from January to September 2018, according to a Chainalysis study. The number of commercial bitcoin payments more than halved from January to October 2018, according to Coinpayments research. Chainalysis notes a steady decline in the use of bitcoin to pay for goods and services from more than $400 million to less than $100 million.
Such figures are due to the fact that bitcoin is not technically improving, transactions remain slow compared to regular bank transactions, and bitcoin's volatility makes it inconvenient for in-store payments (The whole truth about cryptocurrency).
A persistent threat to bitcoin remains the position of authorities in countries significant to the cryptocurrency industry. For example, China, which remains a very large crypto market and the driver of the industry, intends to tighten liability laws on cryptocurrency circulation due to the fact that cryptocurrency is used to illegally transfer capital abroad. There is no final clarity on the U.S. authorities' position on bitcoin. In Russia, there are plans to penalize cryptocurrency payments, as tokens are not legal tender.
Bitcoin's algorithms also work against it. In particular, the reward for a confirmed block in the network decreases, while the hashing complexity increases, which reduces the profitability of mining already available only to large farms and, consequently, decreases user interest in bitcoin, which is a long-lasting factor in the decline of bitcoin prices (options for earning on cryptocurrency).
Plus, many experts believe that bitcoin is simply outdated, which leads to discussions about the ways of its development, which leads to disagreements among developers and uncertainty among users about the prospects of bitcoin, which affects the price of the coin negatively (Training in cryptocurrency trading).
Optimistic bitcoin price forecasts
There is no shortage of bitcoin price forecasts and most of them remain optimistic, contrary to what can be observed in the crypto market. The most moderate optimists are in Saxo Bank (site), one of the few big banks loyal to bitcoin, here speculate that in 2019 the price of bitcoin could be more than $5000.
BitPay Commercial Director Sonny Singh estimates bitcoin price prospects of $15k -$20k within a year. Galaxy Digital Capital CEO and one of the staunchest crypto-enthusiasts Mike Novogratz expects bitcoin to rise to $40k by the end of the year.
Jit Singh, a well-known manager of portfolio investments in the cryptocurrency world, said at the World Economic Forum that during 2019, the price of bitcoin could reach $50 thousand. Spencer Bogart, vice president of Needham & Co, a large investment bank, also assumes that bitcoin will grow this year to $50 thousand.
Analytical agency Fundstrat predicts bitcoin price of $64 thousand by the end of 2019. The forecast is based on the fact that rising mining costs weaken volatility, make the coin more stable and it leads to an increase in the price. One major crypto trader, Masterluc, expects the bitcoin price to reach $100k during 2019 and the trend will begin to change from downtrend to uptrend in the coming months (cryptocurrency signals).
Mark Jeffrey, one of the first crypto-enthusiasts and bitcoin investors, predicts the imminent start of the bitcoin price surge, which will bring the cryptocurrency to $250 thousand. The prediction is based on the similarity of bitcoin development patterns and the dot-com bubble in the 90's. Now, according to Jeffrey, the period, similar to the one that followed the dot-com bubble collapse, is ending. Consequently, bitcoin has a long, steady growth ahead.
Another iconic figure in the crypto industry, venture capitalist Tim Draper also expects bitcoin's price at $250k, but by 2022. John McAfee, the creator of the eponymous antivirus and an odious crypto-enthusiast, postpones the sharp rise in bitcoin price to 2020, when the price of the coin, in his opinion, should reach $500 thousand or even $1 million.
Pessimistic forecasts
Warren Buffett, who needs no introduction, is one of the most famous cryptoskeptics, he predicts bitcoin to fall to $1-2 thousand. Disillusioned with bitcoin former enthusiast and now Bitcoin Cash supporter Calvin Eyre believes that bitcoin price will fall to zero, as bitcoin practical value is also equal to zero, in which it is difficult to disagree with him. However, it should be said that if bitcoin falls to zero, BCH will also "not do well" because bitcoin completely determines the state of the cryptocurrency market as a whole.
Bloomberg Intelligence believes that it is in 2019 bitcoin price will form a new price level, which will be below the level at which 2018 ended. That is, we should expect the price, at most, of the order of $3 thousand.
JPMorgan predicted bitcoin price to fall to $1260 for the same reasons that Ayre did. However, this forecast already needs to be corrected, because JPMorgan planned the price of $2800 for February. A famous bitcoin investor, CNBC economics commentator, expects bitcoin to fall to $1500. As you can see, there are fewer pessimistic bitcoin price forecasts than optimistic ones, but they are there and they are not unreasonable.
Moderate predictions
Arthur Hayes, founder of the exchange BitMEX (site), suggests that bitcoin will fluctuate throughout the year from $1 thousand to $10 thousand. Anthony Pompliano, founder of Morgan Creek Digital Assets, predicts bitcoin price fluctuations within $2.5 thousand -$4.4 thousand, that is, bitcoin will fluctuate in the existing price corridor.
Chinese billionaire cryptotrader Zhao Dong does not expect the crypto market to revive in 2019 and advises buying bitcoins as this price may be the lowest it has ever been and will be in the coming months.
Tom Lee, one of the founders of Fundstrat Global Advisors, is also a moderate optimist who expects the bitcoin price to be above $3900 in any case.
Bitcoin price in 2019. Conclusions
Bitcoin's peculiarities are such that one cannot reliably predict what its price will be within a year, hence the huge scatter of opinions. Some factors are known that can cause its price to jump as well as to collapse. But last year has shown that bitcoin may not react as expected to any factors - positive news does not lead to a price increase, negative news does not reduce it.
This year has already confirmed that the bitcoin price is completely unpredictable (Figure 3) and, most alarmingly, one could see unprovoked price spikes followed by a deep correction, raising suspicions of price manipulation. Under such conditions, all forecasts become even less likely.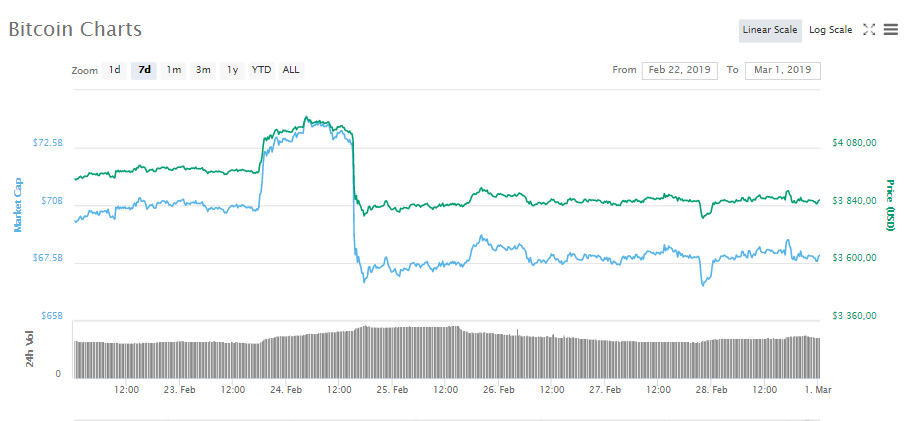 Image. 3
But if we assume that nothing significant will happen in the market during the year, which is quite possible, the previous year was exactly like that, the bitcoin price will, as before, slowly slide down to the range of $2 thousand -$2.5 thousand, with rare price rises and the return of the price to the downtrend (Cryptocurrency forecast for 2018). Because at the moment there is no reason for the price to go up.
The problem with bitcoin is that it does not move towards the real economy, entrenched in the role of a trading tool, that is, it is essentially used as a tool to increase the number of dollars and nothing more. All the plans and predictions that it will take a significant niche in the real economy, or at least in some industry, international payments, for example, are not justified.
The statistics that show that the number of users is growing does not tell us what kind of users they are and why they came to cryptocurrency. But even with the growing number of users, there are very few users in total, the cryptocurrency market as a whole is also very small and this makes us evaluate bitcoin's prospects more skeptically than optimistically.