Yoga International is an online yoga training service with more than 1,000 video lessons from professional teachers, a free trial period, and access from any device.
Read completely
The company
Official website
Head Office
Date of foundation

2013

The owner of the company
Types of support
Social media
Languages

English,

Cost of training

Paid, Free

Prices
Bonuses
Methods of replenishment

American Express, Bank Card (Visa/MC)

Buying on credit
Installment
Categories of training programs

Beauty and Health

Specialties

Yoga

Project Features

Online platform for yoga classes with a teacher

Number of courses
Course Types

Long-Term, Short-Term, Medium-Term

Additional education

Podcasts, Conferences, Tutorials

Additional services
Starting the training

At any time (you can join the course at any time)

Course completion documents

Certificate

Age restrictions
Mobile applications
Affiliate Program
Benefits

Huge selection of yoga video lessons with professional teachers

The site has a large number of informational materials

Convenient and fast payment for courses

A large number of filters to search for video lessons

Disadvantages
Regulatory agencies and laws
Company requisites

Legal name:

Yoga International

Overall assessment
Date of update

12.02.2023
Subscribe to this company
Yoga International is this a scam? Reviews and description
Yoga International
- is an online platform striving to make yoga more accessible to people of all ages and practice levels. The project team works every day to make the online resource a leading yoga resource, as well as a streaming video service. Yoga International, is a strong community striving to create a positive welcoming space where people can express themselves as authentically as possible.
The platform is committed to providing its members with the best yoga experience and offering high-quality content from experienced teachers. Today, Yoga International brings together more than 500 experienced teachers who specialize in a variety of styles and styles. On the platform, you'll find more than 1,000 classes ranging in length from 15 to 120 minutes, among which you're sure to find one that fits your choice of day.

Why Yoga International?
Today you can find hundreds online training servicesBut Yoga International is much different from the usual online classes. The platform has more than 300,000 registered participants who take classes in meditation, restorative healing, Ayurveda and yoga. Students on the platform expand their knowledge and deepen their practices through classes, courses and articles.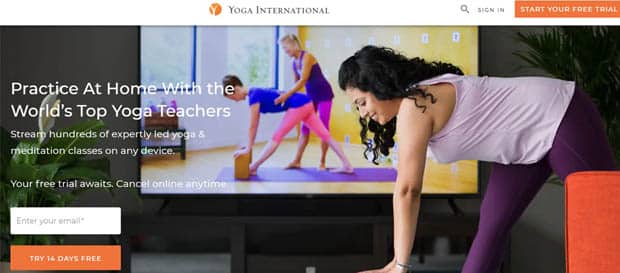 By signing up for the project, you can access your account on any device, including your phone, tablet or TV. The founders of the project sincerely believe that yoga should be a part of everyone's life and are dedicated to serving the community by striving to make yoga as accessible as possible. Among the benefits of learning on the Yoga International service, users highlight:
Free trial period.
Professional Teachers.
Large selection of courses.
A large selection of useful articles.
Convenient methods of payment.
Caring customer service.
Access on any device.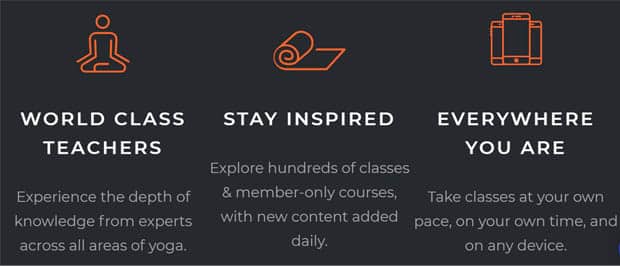 By registering online, you will get access to a free trial. If you enjoy practicing with Yoga International masters, you don't have to do anything, because when the trial expires, the cost of the monthly subscription will be deducted from your bank card automatically. You can cancel your subscription at any time in your account.
How do I study online at Yoga International?
To start practicing on the platform yogainternational.com you need to register. To register, click the "Login" button in the upper right corner of the page. After that, a login form will open in front of you, at the very bottom click on "Create account". To register you will need to enter your first name, last name, email address and come up with a password. Please note that by creating an account you agree to the terms of service. At this point you will be informed about the monthly subscription cost at the end of the free trial period. The free period lasts for 14 days.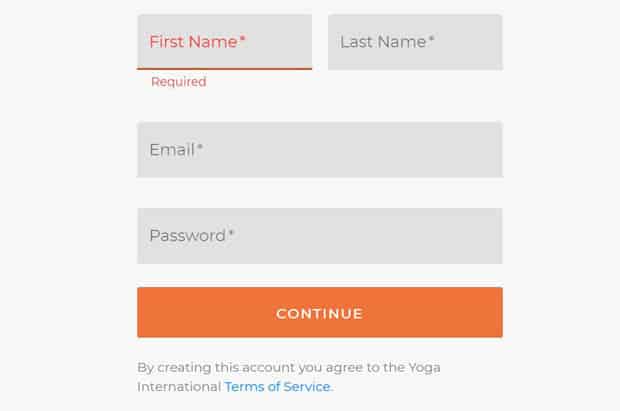 At the second stage of registration you will be asked to indicate your payment cards. At this stage, you will not be charged for your monthly subscription, but your bank card will be verified so that the service administration can verify that you are a real person. After entering your payment details, click on the "Start Now" button. After completing the registration process, you need to fill out a short questionnaire. On this questionnaire, you need to specify your level and the purpose of the class. Based on the results of the question, you will be recommended for enrollment in one of the available classes. The following classes are available for classes on the Yoga International platform:
"Beginner. This class is designed for those who are just beginning to learn yoga and get acquainted with the basic principles of meditation and healing the body.
"Hatha Yoga. One of the most widespread branches of yoga, the principle of which is primarily spiritual practice and the goal of enlightenment. In this class you can learn the basic steps of yoga and move steadily toward your goal.
"Prenatal. This class is perfect for expectant mothers. The 20-minute class allows you to strengthen your pelvic muscles and prepare you for natural childbirth.
"Restorative. This class is suitable for those who have recently become mothers, as well as for users recovering from various illnesses and surgeries.
"Vinyasa. This class is suitable for those who want to combine movement with breathing exercises. This type of yoga is the basis for transformation of the body and consciousness. The main goal of the class is to purify the soul and body.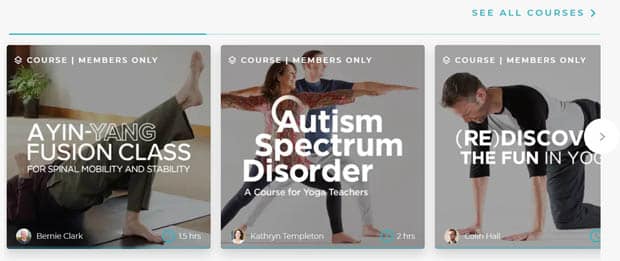 Each class has three levels: beginner, intermediate, and advanced. Once you've chosen your class and level, you can move on to choosing a course and starting classes. Yoga International teaches through recorded video lessons that you can download to your phone, computer, TV, or tablet. You can study at any time and place that is convenient for you. The service keeps statistics that keeps track of the courses you've taken and assigns you the next level. Also, in your personal account, you can always keep track of how many lessons you have left to achieve your original goal.
Personal account yogainternational.com
When you create an account after registering on the Yoga International platform, each user is given access to a personal account. In your personal account, you can create your personal training plan, set goals to achieve, create a list of favorites, and keep track of your goals. You can also always change your plan, purchase additional training materials, change your payment information, or unsubscribe from your personal account. In general, Yoga International personal account is an individual educational platform where you can learn yoga from the world's best masters and help teach other users.
YogaInternet.com mobile app
The service has yogainternational.com there are several official mobile apps. With mobile apps, you can download yoga classes to your cell phone, iPad, tablet, or even TV. You can download the Yoga International app from Google Play and the AppStore. You can also access the download in your personal cabinet of the platform.

Courses at Yogainternational Com
Yoga International offers more than 1,000 courses of varying degrees of difficulty. Here you will find individual courses as well as targeted training programs.
Recommended
In this category you will find a large selection of courses for people with different backgrounds and goals. In this category, you'll find courses from the platform's best teachers. There are courses for registered users only, as well as courses that can be purchased for a fee.
Asana
This category contains courses that will help you learn all the asanas of yoga and apply them to your daily practice. From these courses, you will learn the benefits of each exercise and what goal you can achieve with it.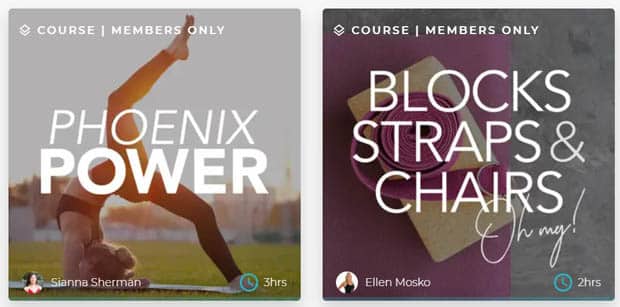 Ayurveda
Here you can gain invaluable knowledge of the traditional system of Indian folk medicine. With courses in this category, you will learn how to maintain and restore the body, how to stay young for years to come, and the importance of meditation in human health.
Conference
In this category you'll find premium online courses. At the conferences, world-class masters will share with you their experience of revitalization through yoga, and you can also discuss real, pressing problems and get not only advice, but also personal experience of solving difficulties.
Teachers
Here you will find courses to enhance your skills. If you want to become a yoga teacher on the Yoga International platform, be sure to take these courses from world masters to offer your students in-depth knowledge, ancient techniques and consistently excellent results.
Personal transformation
These courses will teach you spiritual practices through which you can transform your consciousness and achieve complete harmony with yourself and the world around you. The courses were created by leading practitioners of personal transformation.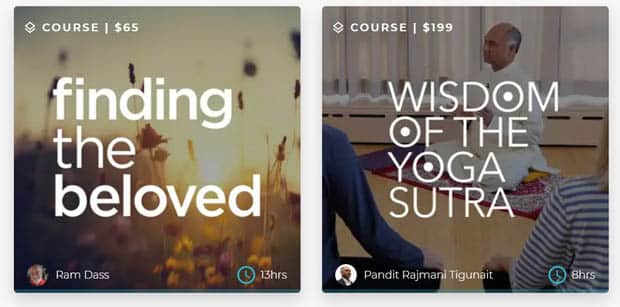 Yoga Therapy
These courses are based on the most ancient knowledge of healing the body through exercises and breathing practices. With these courses you will learn the nature of many diseases and learn how to prevent and treat them. After completing each of the courses you will receive an electronic certificate from Yoga International. The certificate will indicate the course taken and the level achieved.
Free YogaInternational Com courses
On the site yogainternational.com Access to free materials is limited. For free, you can use the 14-day trial version. During these 14 days, you can download lessons, watch podcasts, and create your own workout schedule. You can also read 5 articles on the site per month for free. The Yoga International platform presents a huge amount of training materials created in article format. Here you will find articles and tutorials from the following categories:
Yoga;
Practice;
Meditation;
Yoga Therapy;
Pranayama;
Lifestyle;
Positions;
Resources for teachers;
Textbooks;
Wisdom;
Yoga Sutra;
Chakras;
Philosophy;
Health;
Recipes;
Means;
Seasonal Tips;
Food.
Please note that Yoga International will automatically charge your subscription at the end of your free period without further notice.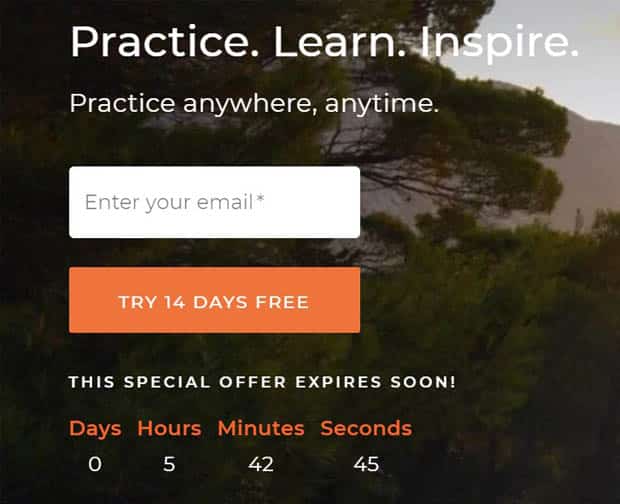 Additional services of Yoga International
Among the additional features of the service you can use the following.
Teacher Choice
On the Yoga International website, you can check out all the teachers and choose the yoga master who will be your mentor in achieving your goal.

Career
On this page you will find hot jobs from the company and be able to find the job you've been dreaming of.
Knowledge Base
If you have any questions about registration on the site, payment, course selection, etc., please refer to the knowledge base. Here you will learn a lot of useful information for comfortable use of the service.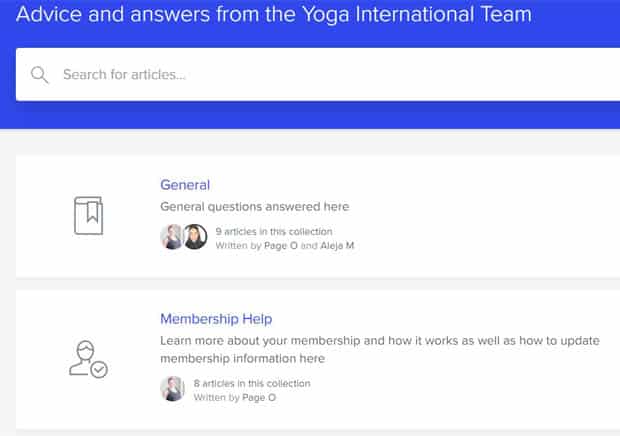 Service mailing list
When registering on the site, you need to specify your email address, to which you will receive useful news from the platform. You can also receive advantageous offers about promotions and discounts in the mailing list.
Cost of training on the website of Yoga International
You will see the cost of your monthly subscription after you sign up on the Yoga International website. The cost of the subscription varies for different countries. For users from Russia the cost is 1500 rubles per month. Please note that according to the terms of the User Agreement, Yoga International may change the subscription price on the website without prior notice.
How do I pay for training at yogainternational.com?
You can pay online by bank transfer debit/ by Visa, MasterCard, American Express credit card. Please note that the first 14 days you can use all services for free. To get access to the free version you need to confirm your e-mail.
Paying for training in your personal account
To subscribe to the free 14-day version of using the site, you need to specify your payment details. After your free period ends, the system will charge your subscription automatically. Please note that you will not receive any notifications about the end of your free period, and you will not receive any notifications from the service about debiting your card.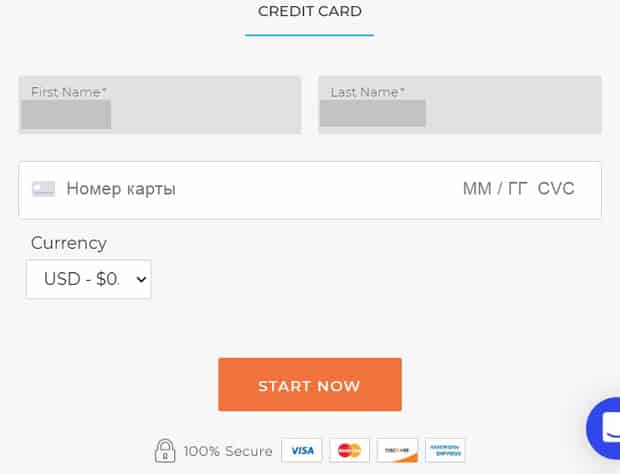 Other ways to pay for online courses
Yoga International does not offer any other payment methods.
Bonuses YogaInternet.com
Regularly on the site yogainternational.com There are various promotions, and regular users receive substantial discounts. At the time of writing the review, the following promotions were in effect on the site.
30 days free period
Register on the Yoga International website and get a 30-day free period instead of 14 days. Confirm your email and get free access to the service for a full month.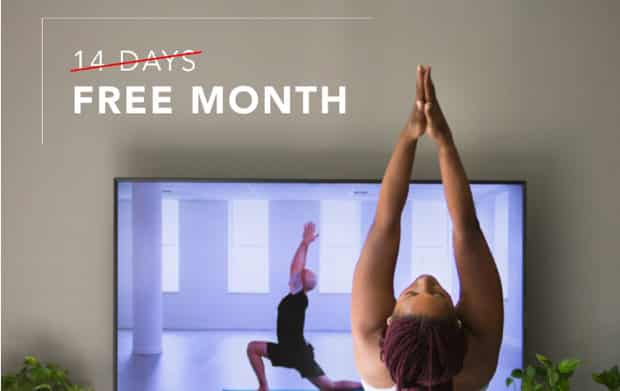 Referral program
Share the link to the 30-day trial with your friend and receive a $15 gift card after 30 days for each friend. The more friends you invite, the more gift cards you get. You can use them to pay for your monthly subscription.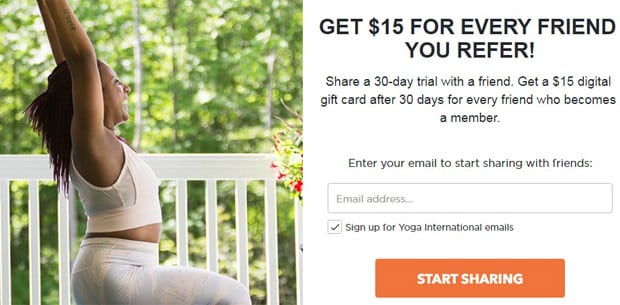 Affiliate program Yogainternational Com
On the Yoga International website, you can register as an affiliate and earn money by sharing your yoga practice with the world. To start earning, you need to fill out the registration form and receive an email with further instructions and a link to create an affiliate account.
Complaints about YogaInternational Com
Satisfied users note the variety of tutorials, the high quality of instruction, the many classes and programs to choose from, and the accessibility of the site and professional teachers. Users like the fact that the service does offer a free 30-day subscription. At the same time, the user highlights a really great variety of different courses and classes, professionalism of teachers and a rich selection of additional training materials. Some users note the impossibility of cancelling a subscription, because there is simply no "cancel subscription" button in the personal cabinet.
If there are any reviews about Yoga International, we'll be sure to post on social media. Sign up so you don't miss anything!
Please keep yourself informed about news and complaints. We copy the most valuable information to social networks, so please sign up!
Regulatory agencies and laws
Yoga International is owned by a company of the same name located in the United States, Pennsylvania. We were unable to find any other legal information on the site or when trying to verify the foreign counterparty. Nor was there any additional contact information on the site such as an office address or a contact phone number. The only document published on the site is the Terms of Service.
Yoga International User Agreement
Website User Agreement yogainternational.com is called "Terms of Service. It is recommended that each user read this document carefully before registering on the site. The first paragraph of the "Membership" document states that Yoga International renews your subscription monthly until it expires. You must have access to the Internet and one or more payment methods to subscribe.

Just below the "Free Trial" paragraph describes that Yoga International will charge your payment method a monthly membership fee at the end of the free trial period, and your membership will automatically renew unless you cancel it before the end of the free trial period. You should also understand that you will not be notified by Yoga International that your free trial has ended and that payment is required for your subscription. The service will continue to bill and charge your payment card until you cancel your account.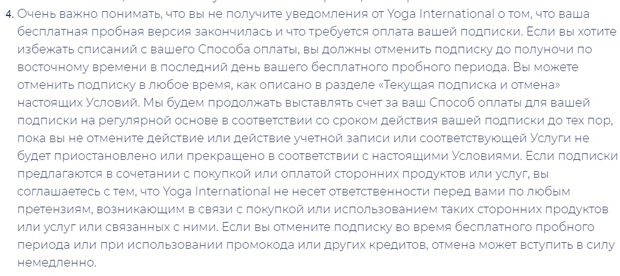 As used herein, these terms and conditions shall be governed by and construed in accordance with the laws of the State of Pennsylvania, without giving effect to its conflict of laws provisions. These terms will not limit any consumer protection rights you may have under the mandatory laws of your state of residence.

Yoga International Customer Service
You can only contact Yoga International's support team via the site's online chat. You can also ask your questions on the official social media pages. The platform does not offer its users telephone support, or communication via email or other methods.
Site security
Yoga International's user security is governed by its privacy policy. According to the information on the site, your personal information is used only to process orders and send you notifications of updates to the site and new products. Yoga International's online platform never shares your information with third parties.
Is Yoga International a scam?
Yoga International - is a learning platform where you can learn yoga and spiritual practices. Given the large number of negative reviews about the site, many Internet users wonder whether Yoga International is a scam or the platform really provides quality training materials and here you can get an invaluable experience. Having analyzed the work of the site, as well as the reviews on the Internet and the work of the support team came to the conclusion that Yoga International really offers a large variety of training materials that you can use for self-improvement and development. But on the other hand, the platform does not provide high-quality support service, and the service's desire to uncontrollably withdraw money from the cards of the project participants is also evident.
In general, we cannot say that Yoga International is a scam, but we advise each user who decides to register on the site to carefully read the terms of service and to register only if you fully agree with all the rules of the service. We can say that Yoga International platform suits those users who really want to do yoga on the platform and are willing to pay a monthly subscription. If you just want to try the service in action and are not going to pay regular fees, we do not recommend you to register on the site, because when registering you will be forced to specify the payment details that will be used to withdraw the subsequent payment.
Conclusion
Yoga International is a rather interesting platform where anyone can practice yoga and master spiritual practices. The site offers a wide variety of classes and teaching materials. Both beginners and advanced users can study here. Moreover, if you know yoga and have something to offer, you can register on the site as a partner and offer your teaching materials to users from all over the world.
However, given the complete absence of responsibility of the service administration for the damage caused, the lack of contact and legal information, as well as uncontrolled charges from the payment card, we still recommend users to be careful. If you really want to do yoga, and are aiming for long-term classes on the service, as well as want to participate as a partner, feel free to register on the site and pay a monthly subscription. If the purpose of your visit to this site is just to get acquainted with the services offered, do not rush to register, let alone to enter your payment data.
The company in the ratings
Job Search on the Internet
Activity
New

0

Resolved

0

Not resolved

0