Sources of Information about Cryptocurrencies
There is an abundance of information on the Internet about cryptocurrenciesIt's hard to know what to watch, read and study, especially for beginner traders or investors. There are a number of resources that have earned a good reputation with users. Usually experienced crypto-enthusiasts choose from them 2-3 sources of information, which they focus their work on.
News resources
News about cryptocurrency market is very important first of all for traders, because many events affect the value of cryptocurrency. The problem is that most often it is not known whether the news will increase the price of cryptocurrency or drop it (How to make money on cryptocurrency). If there is a need for the most up-to-date information, then English-language sources are preferable. Russian-language sources mostly reprint non-original information from the same English-language sources. But Russian-language sources are also important. At least in order to keep abreast of the laws that the authorities generate regarding cryptocurrencies in Russia, and for those who have not yet learned English. Besides, there are really valuable resources among them.
DailyCoin
A rather large website about cryptocurrencies DailyCoin (https://dailycoin.com) publishes news about cryptocurrency, and also publishes opinions of market leaders, educational articles about financial technologies, digital assets and blockchain technology. The site is English-language, but partially translated into Russian. In general, the portal is rather uncomfortable for the user. The latest news is posted on the first page, and to see information about specific cryptocurrencies, you need to hover your cursor over the "Crypto" section (Fig. 1), there is a drop-down menu. The same news is duplicated in the "Cryptopedia" section. Despite the confusing navigation, the site has high-quality, useful content.

Image. 1
CoinDesk
CoinDesk (https://www.coindesk.com) is considered by many to be the "number 1" cryptocurrency news source. If you know English, you can really call it quite comprehensive. The site has existed since 2013, publishes news and articles, videos, educational materials, newsletters, announces important industry events. CoinDesk has a high reputation and influence, and a professional summit is held on the resource platform every May. The site is optimized for a variety of devices and also works as an app. However, the content on the site is designed for a more or less prepared audience. It is optimal if the user already understands something about cryptocurrencies and blockchain. The disadvantage can be called strange navigation on the site, but for some reason it is typical for many sites about cryptocurrencies, and one can get used to it.
CoinTelegraph
CoinTelegraph (https://cointelegraph.com) is also one of the oldest sites about cryptocurrencies, operating since 2013. Unlike the previous two resources, it is easy to find information and is generally a resource at the level of the best in any industry. The site has information about cryptocurrency, blockchain, cryptobusiness, cryptotechnology and legal issues of the cryptoindustry, analysis of the crypto market, opinions of experts and leaders, educational materials. It is not published in Russian, but there is a whole section devoted to Russian realities news. Information about Bitcoin, Ethereum, Litecoin and Ripple (Will Ethereum take off in 2021?). The resource is characterized by the fact that it very rarely publishes clickbait content. Most of the information is serious, relevant and useful.
NewsBTC
NewsBTC (https://www.newsbtc.com) is a news resource mostly designed for cryptotraders, with the corresponding information presentation. Separate sections contain news about Bitcoin, Ethereum, Ripple, Chainlink, Cardano, EOS, Tezos. Technical analysis for Bitcoin (BTC), Ethereum (ETH), Ripple (XRP), Chainlink (LINK), Cardano (ADA), Tezos (XTZ) are presented in separate sections. The site offers a large selection of cryptocurrency rates (Fig. 2).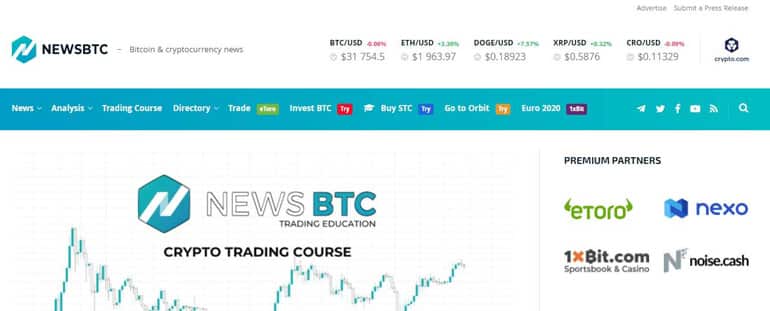 Image. 2
The resource supports a major Cryptоexchange eToro, so the site has a section of this platform, where you can get acquainted with the exchange and go directly to the trading service, which, by the way, also works in Russian, although the NewsBTC site is English-speaking. You can also go directly from the site to the Student Coin cryptocurrency buying service. The "Buy STC Student Coin (STC)" button is a token that was developed by 500 universities around the world to allow students to realize their startups. The peculiarity of the coin is that no advanced technical knowledge is needed to implement projects on its blockchain. The NewsBTC website also openly presents a list of major partners, including, in addition to eToro, credit cryptocurrency platform Nexo, Bitcoin Cash (BCH)'s experimental microblogging service Nois.cash, and betting platform 1XBit.com. Casinos and bettors are well represented on the resource.
Bitcoinist
Bitcoinist resource (https://bitcoinist.com), similar to NewsBTC. The same basic partners, you can also buy Student Coin and go on to buy Low Orbit Crypto Cannon. As for LOCC, it is something like a lottery based on DeFi deflationary token on Ethereum blockchain, and Coinmarketcap not yet registered is another unusual crypto project. There is also direct access to Bitstarz cryptocasino and 1xbit.com, an online betting resource, from the Bitcoinist website through the Play Games section. Bitcoinist information array is less than NewsBTC. Nevertheless, the site is very popular, with over 2 million users. The resource provides a lot of relevant information mainly for traders and can be positioned as an analytical tool. But by its content, it is more suitable for users who are more or less understood in the crypto industry. Despite the fact that the site is more focused on Bitcoin, information about Ethereum, Ripple, Litecoin cryptocurrencies is placed in separate sections.
AMBCrypto
The English-language AMBCrypto (https://ambcrypto.com) is an independent platform for publishing news about blockchain and cryptocurrency. Independence is positioned as the main advantage of the resource, which is fairly new, operating only since 2018. The site presents an array of information about Bitcoin, Ethereum and altcoins with price analysis, forecasts and outlooks. The site also has an events section that announces cryptocurrency-related events. The information is relevant, useful, but it implies, in addition to knowledge of English above the basic level, that the user is "in the subject" - understands about blockchain and cryptocurrencies.
Sgurtoranis
Surtoranis (https://cryptopanic.com) is a huge aggregator of information about the cryptocurrency market. In order to keep abreast of everything that is happening on the crypto market, it is enough to regularly browse this resource.
CryptoSlate
CryptoSlate (https://cryptoslate.com) is a news site launched in 2017, with access to a major exchange Bybit (go online). The site provides real-time information on thousands of cryptocurrencies and provides localized news in 26 regions. CryptoSlate maintains a large directory of companies, projects and people related to cryptocurrency. The site has a confusing navigation, the easiest way to navigate the information flow is through the drop-down menu in the far left corner (fig. 3).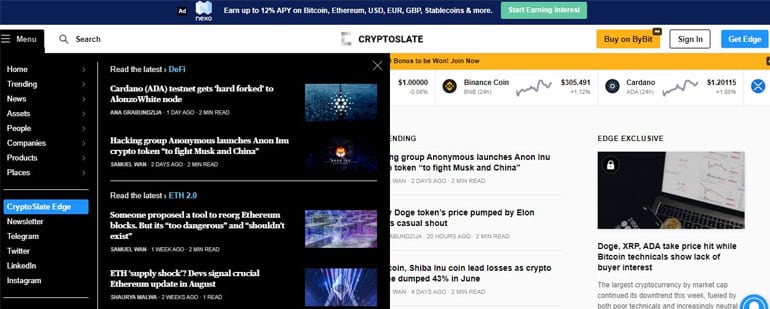 Image. 3
The site can be used directly for trading, because it provides up-to-date information about the dynamics of their value. A huge array of statistical information is presented in the "Data" section, where there are Coin Rankings, Recently Added, Biggest Gainers, Biggest Losers (this page does not work), Stablecoins, DeFi Coins, Smart Contracts. News is also featured on the resource's Telegram channel, Twitter, Facebook, LinkedIn, Instagram, Spotify and Apple Podcasts. Separate information about crypto markets in the UK, Germany, Japan, Korea, Singapore and China is highlighted.
Bitcoin Magazine
The co-founder of Bitcoin Magazine (https://bitcoinmagazine.com) is one of the Ethereum developers Vitalik Buterin, and many people have enough of this knowledge to read the resource. Interestingly, until 2015, it was really "Magazine" - a print magazine (there was a print special in 2019 as well). Despite the fact that Buterin developed Ethereum, his web magazine specializes specifically in bitcoin, although it talks about other cryptocurrencies as well. There is a certain group of fans around the magazine who read this particular resource. In this case, some exclusive information Bitcoin Magazine does not provide, just a good source of news. There are analytics, researches, educational materials, opinions of industry leaders. The site has an opportunity to buy bitcoin by clicking on "Buy Bitcoin" and going to the corresponding service. Some pages on the site do not work (Fig. 4).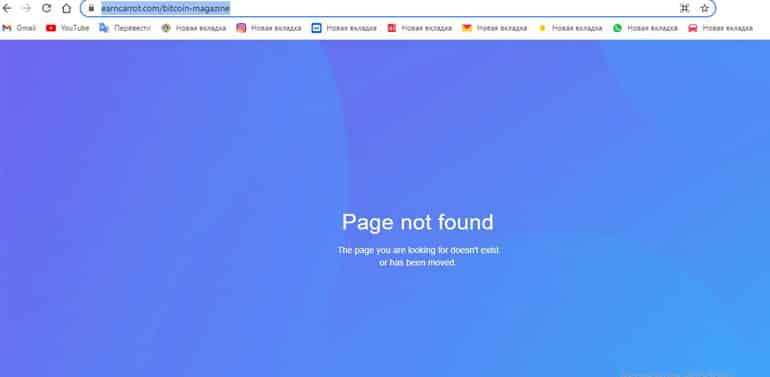 Image. 4
CryptoDaily
CryptoDaily (https://cryptodaily.co.uk) is a resource founded in 2017. According to its own information, the number one resource in the field of cryptocurrencies and blockchain, completely independent. The content differs from other news resources in that the news is presented by the author, the texts are prepared by professional journalists. Articles are most in demand in Nigeria and Australia, in general in the southern hemisphere, but it should be noted that the content is interesting and in Russia is clearly underestimated. For traders there is an analytical section, which is updated almost every hour.
BeInCrypto
BeInCrypto (https://beincrypto.ru) is a Russian multilingual cryptocurrency news project, similar to CryptoDaily, where professional journalists cover the cryptocurrency industry in all its diversity. There is information about bitcoin in a separate section. This resource forms its own rating of crypto-exchanges and there is a direct exit from the rating to the exchanges Prime XBT (go online), Stormgain (go online), Bybit. A total of 405 crypto exchanges are rated. The site also provides quotes for 8,190 coins. From the resource it is possible to get to CryptoGames resource - it is the site of online gambling where it is possible to play dice, blackjack, slots, roulette, lottery and others on cryptocurrency. The site is part of Project Trust, a nonprofit consortium of news outlets created to combat fake news. It includes more than 120 news worlds "to rid readers of false information and fake news." It's hard to say how serious an undertaking this is, but perhaps the resources in this group are taking more responsibility for the content they publish. However, it's still better to do fact-checking.
Practical Resources
When working on the cryptocurrency market, news sites are not enough. There are quite a lot of online resources that can be of great help to traders, holders, any crypto-enthusiasts, and often the usefulness of such resources is underestimated. These are reference, analytical, statistical and aggregators of various instruments, and if you take them seriously, you can avoid many mistakes when working on the crypto market. Let's take a look at some of the most popular sites.
Inside Bitcoins
Веб-проект Inside Bitcoins (https://insidebitcoins.com) — это справочный агрегатор для трейдеров и других участников коммерческого рынка, не относящегося только к биткоинам. На сайте есть раздел новостей, но информация в нём носит узкопрофильный характер. Русскоязычной информации сайт не предоставляет. В разделе «Cryptocurrencies» можно посмотреть, как и где купить криптовалюту различными способами, какие существуют дружественные криптовалютные ресурсы, можно ознакомиться со справочной информацией о криптовалютах, выбрать кошелёк. В разделе «Trading» представлен список лучших с точки зрения ресурса трейдинговых платформ.
CryptoBriefing
CryptoBriefing (https://cryptobriefing.com) was supposed to provide useful up-to-date information about fraud in the crypto industry, but now it is more of an analytical project. There is a lot of relevant information about events in the cryptocurrency world and events outside of the industry that can affect the crypto market. The information that helps to distinguish fraudsters from bona fide market participants also remained. But the main task became different - to provide ordinary participants of the market with the information to which insiders have access. Partially this information is on the CryptoBriefing site in sections "Business", "Markets", "Analysis", "Technology", "People" and "Education". But more in-depth information can be found in the section https://simetri.cryptobriefing.com/ (more precisely, it's not a section, but a separate subproject). Here it is possible to subscribe to paid analytical materials, which should help the trader to trade more successfully. There is also a section on investment ratings of digital assets, which is said to be made on the basis of deep fundamental analysis.
Bits.media
Bits.media (https://bits.media) is a Russian-language project and one of the few well-structured information projects in the crypto industry. According to its own information, the project has been working since 2011. The site has long surpassed the news format, so there is almost no original news on the site, and the portal is now a large aggregator of useful information. The site has an extensive bitcoin forum, where almost all current issues of cryptonomics are discussed. Another useful service is "Tools", where there is a mining calculator, subsection of useful programs for crypto-enthusiasts, counter of current bitcoin network complexity, subsection "Bitcoin Commissions Calculation". In terms of quantity and quality of information, Bits.media is suitable for novice traders, miners, holders and everyone who wants to get the most initial useful information within one resource to make a clear idea of what cryptocurrencies are.
Bloomchain
Russian-language service Bloomchain (https://bloomchain.ru) presents several tools to work on the crypto market. Among them are statistics (Fig. 5), analytics, and research. Research is a very useful function. Anyone interested can download for free a good analytical report on the situation on the crypto market for a current period of time. This information can be taken into account when forecasting further development of the crypto market. Analytical reports from past periods are placed in an accessible archive. News is also available on the site. Interesting analytical notes that can be used in work on the crypto market are presented in the "In Detail" section. The level of elaboration of the material is very solid.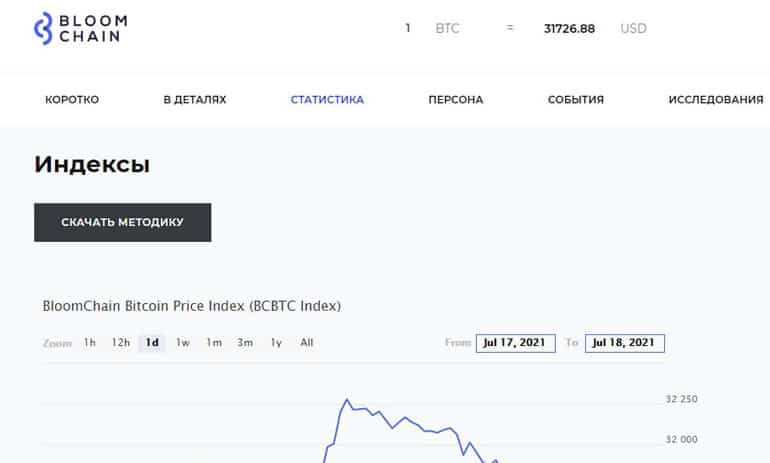 Image. 5
Coincheckup
Coincheckup (https://coincheckup.com) is one of the most useful resources for trading. The site has all the necessary sections for this activity - analytical, which deals with GitHub analysis, investment and fundamental analysis of assets. The rating of cryptocurrencies implies the possibility to go directly to trading (including futures) in the trading terminal of the cryptocurrency exchange Binance (go online) or the bitcoin buying service of this cryptocurrency exchange. The site has a prognostic section, where you can see what prices are expected for some cryptocurrencies. There is also a section for selling tokens with a subsection of the resulting ICOs. Also in a separate section is a converter of cryptocurrencies and fiat. Large "Market" section, which contains all useful information, including current cryptocurrency prices, market capitalization, volume, supply and more, market overview in general, growth and decline leaders for the last 24 hours, new coins, tokens and coins in trend and so on.
Coinmarketcap
Many sites position themselves as "number 1" for crypto trading. But in fact, we should admit that the real number 1 site is Coinmarketcap (https://coinmarketcap.com), which is recently owned by Binance Capital Mgmt (How to make money on the Binance cryptocurrency exchange). The resource is translated into Russian. Even those who do not deal with cryptocurrencies at all, but who are interested in, for example, how much bitcoin is now or a year ago, know about it. In general, for successful trading, investing and so on, it may be enough just this site, except, of course, the trading terminal of the cryptocurrency exchange. The site has comprehensive information about cryptocurrency: rating, recently added to the listing, best and worst coins by dynamics, most popular, trending, NFT and so on. The exchanges section includes crypto, spot and other exchanges. You can create your own crypto portfolio and asset watchlist on the resource. All in all, Coinmarketcap is the right resource for any crypto trader and crypto investor to register and set up an account on.
CoinDance
CoinDance resource (https://coin.dance) provides professional information about bitcoin, which can be very useful for any crypto-enthusiast - bitcoin distribution map, node statistics (Fig. 6), dynamics of bitcoin volume in exchangers, legal status of coins in different countries, block statistics and much more. CoinDance resource was created and is maintained by crypto-enthusiasts for crypto-enthusiasts, so it is not particularly useful for crypto-trading.

Image. 6
But it can give some information for reflection to miners, investors, holders of bitcoins specifically, because it shows how active the bitcoin community is, the dynamics of development and so on. And a particularly valuable section of the site is a list of cryptocurrency information resources https://coin.dance/resources where a comprehensive sampling of cryptocurrency sites and discussion platforms is presented.
CryptoCompare
CryptoCompare (https://www.cryptocompare.com) is another aggregator of cryptocurrency information about mining, pools, exchanges, coins, wallets. This is one of the interactive resources, which can be limited when working on the cryptocurrency market, because the resource is exhaustive. Specifically, the Markets section has a ranking of cryptocurrencies, DeFi-projects, and NFTs. There is also a top list of crypto exchanges, wallets, rating of mining companies and so on. There is a section of research and reports on coins, exchanges and so on. The CryptoCompare resource is also known for its forum, which actively discusses relevant information. The DATA section has an even more impressive array of information. At the most the resource is suitable not so much for traders, but for investors, who are interested in the constant monitoring of the situation in online mode, receiving the information from seven dozens of trading platforms. In general, CryptoCompare is a resource where it would be useful to register in any case.
CryptoWatch
CryptoWatch (https://cryptowat.ch) - browser and desktop aggregator of information of cryptocurrency exchanges, which provides users with graphs of trading volume, value of cryptocurrencies. The data on the resource is collected from three dozen crypto exchanges, and from the resource you can trade on exchanges, but only on nine. To trade futures, cryptoexchange is connected Kraken (go online). Users can form their own cryptocurrency package. Working areas of the service are loaded with a lot of information - candlestick charts, order books, summaries, tick charts, tickers, timeline, watch lists, text information are available. The resource is quite complex, more suitable for experienced traders. At the same time, professional traders argue in their reviews that the resource in the desktop version has few options for advanced trading and cannot yet be used as effectively as the browser version. The desktop version in its current form is possible to use as an observation platform.
Utility services
In addition to huge services, the cryptocurrency community has developed many smaller resources and applications, but not less, and sometimes more useful than the giant aggregators. For example, CoinWarz (https://www.coinwarz.com) , which hosts online calculators for calculating the profit of mining cryptocurrencies (Fig. 7).
Image. 8
Users who care about pool statistics, technical data and network power data can study them on the Bitcoin Carts resource (https://bitcoincharts.com). Opinion exchange is extremely important for the cryptocurrency community. Often the most up-to-date information is here before anyone else. The discussion platforms are important because all the innovations of the crypto market are discussed, experienced participants explain complicated issues, information about scams, fraudulent projects and other important information comes in regularly. The main forum on cryptocurrencies is Btcointalk (https://bitcointalk.org). Almost everything that was and is in the cryptocurrency world is discussed on the forum non-stop since the beginning of cryptocurrencies creation. Coindera (https://coindera.com) is a multiplatform application for tracking cryptocurrency rates. In its paid version, it allows to track the dynamics of more than 10 thousand cryptocurrencies.
Social media
There is an almost limitless amount of information about cryptocurrencies on social networks. First of all, all or almost all resources on cryptocurrencies are present in social networks. Secondly, the cryptocurrency community is very active and constantly generates various sources of information of different quality on all existing social networks. Among them, the bulk of them simply reprint information from existing aggregators, but there is useful and unique content. For example, Whale Alert (https://twitter.com/whale_alert) is a bot that tracks any unusual or just suspicious cryptocurrency transactions, shows large cryptocurrency transactions (whale actions) to marketplaces and cold wallets. Another resource Scam Alarm (https://twitter.com/scams_alarms?lang=ru) - draws users' attention to suspicious projects that may be scam.
The aggregator site cryptopanic.com will help you keep track of what's happening in the crypto world. It collects cryptocurrency publications in real time from information portals, YouTube channels, Reddit threads, social network accounts of influential cryptoindustry representatives and other sources. Telegram messenger is becoming more and more popular place for crypto-enthusiasts, there are a lot of useful resources, but a lot of useless or even fraudulent resources - for now, it's better to treat Telegram channels with caution. Among useful resources is Walletscan (https://t.me/walletsscan), which broadcasts useful information about big movements on BTC wallets, ERC-20 and USDT tokens, Satoshi mailings to "whale" wallets, and so on.
This information allows predicting changes in the cryptocurrency market, as very large transactions directly affect price dynamics. About the same information, in the form of apples, is shown by Telesig bot (https://t.me/telesig), but only for Bitfinex, one of the largest exchanges in the world. Another useful bot is FOMO_Bot (https://t.me/FOMO_Bot) - it generates information about open long and short positions on Bitfinex, OKEx, Kraken, BitMEX and others. There are interesting sources of information about cryptocurrencies in all social networks, the main thing is to make sure of their high reputation before trusting them.