The Strategy for Efficient Futures Trading "Sunrise"
Many traders, when they come to trade on the futures marketThe system must have a high level of signal productivity in order to quickly increase the volume of profits. Conventional systems do not generate very many indicators for the processing of trading lots within an hour, and this significantly slows down the dynamics and pace of trading. But there are systems that generate combined signals, allowing for a certain period of the working chart to get the maximum number of signal indicators.

In our review we propose to study trading strategy "Sunrise," which works on a simple combination of indicatorsbut allows you to receive two highly effective formats of signals for trading futures contracts. Using this technique, you can get more than 20 trading positions per hour, of which 86% will bring positive results.
System operation rules
The technical algorithm of signal generation for this strategy is based on classic patterns - the reversals of price quotes from certain trend levels, as well as a change in the medium-term vector of price movement when the breakdown moving average. However, we do not undertake to use graphical services to determine the necessary signal indicators resistance levels and classic MA indicators. This is not necessary, because we have a professional high-tech specialized indicator, which will automatically determine the necessary indicators. In addition, we will need oscillatorwhich in the short term will be able to clearly indicate a change in the market trend. In general, everything is very simple: apply this list of indicator services to your working liquidity chart:
VDUB_Rejection_Spike_V3 - This indicator automatically plots the necessary data on the chart trend levelsThe "MA" service offers a high-level signal algorithm in the form of specific points for contract execution, as well as an opportunity to simultaneously assess the market with the help of the classical MA technical service. Thus, we have an opportunity to obtain combined trade forecasts.
DSS Bressert - This oscillator is nothing but a combined Stochastic, which is able to determine the market indicators in several time perspectives at once. Its non-standard algorithm of calculations is extremely effective and allows, like the main technical service, to receive combined technical signals.
By installing the specified set of resources on the working chart, you will get a strategy template. In case the platform you are using for trading does not provide access to the strategy indicators, you can build a trading system script on the online service tradingview.com: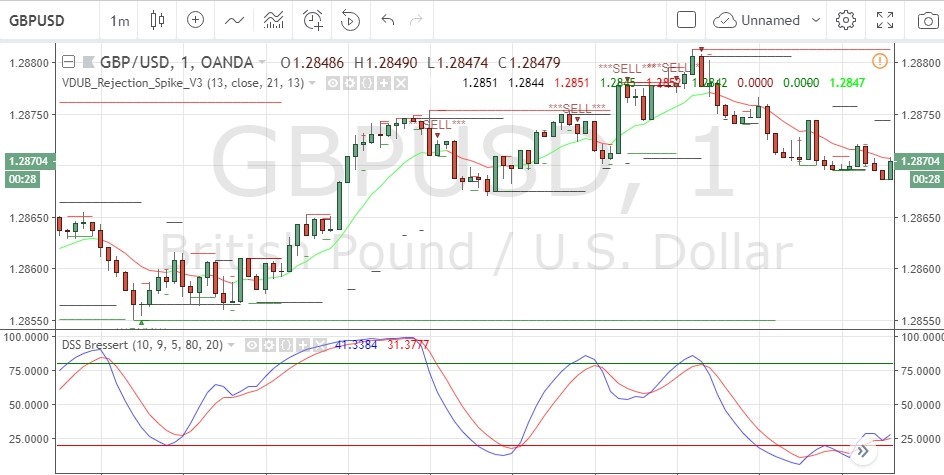 For the analysis we choose the short frame chart - the optimal range here are M1, M5, below - on the second periods - is not recommended to go, because you can significantly reduce the effectiveness of the analysis.
Strategy Signals
So, the strategy forms a combined technical signals for the design of lots, which have this visual format:
For trading UP:
1 signal type
The price reversed the fluctuation vector from the dynamic support level, formed by the VDUB_Rejection_Spike_V3 indicator, and the analysis service threw the signal inscription BUY on the chart.
DSS Bressert Oscillator has generated a classic upward reversal signal
(This type of trading signals on the screenshot is marked with squares)
2 signal type
After the reversal from the technical support level of the VDUB_Rejection_Spike_V3 service the quotes broke through the level of the moving average and the average line turned green
DSS Bressert muvings crossed the median zone of the technical scale upwards
(The second type of signals in the screenshot is marked with circles)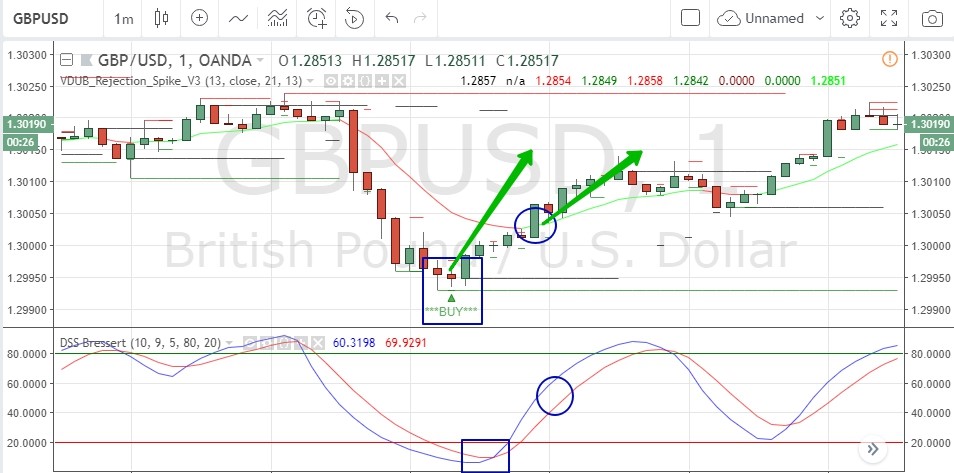 For DOWN trading:
1 signal type
The price reversed the fluctuation vector from the dynamic resistance level, formed by the VDUB_Rejection_Spike_V3 indicator, and the analysis service threw the signal inscription SELL on the chart.
DSS Bressert Oscillator has generated a classic downward reversal of the muwings signal
(This type of trading signals on the screenshot is marked with squares)
2 signal type
After the reversal from the technical resistance level of VDUB_Rejection_Spike_V3 service the quotes broke through the moving average level, and the average line was colored in red
DSS Bressert muvings crossed the median zone of the technical scale downwards
(The second type of signals in the screenshot is marked with circles)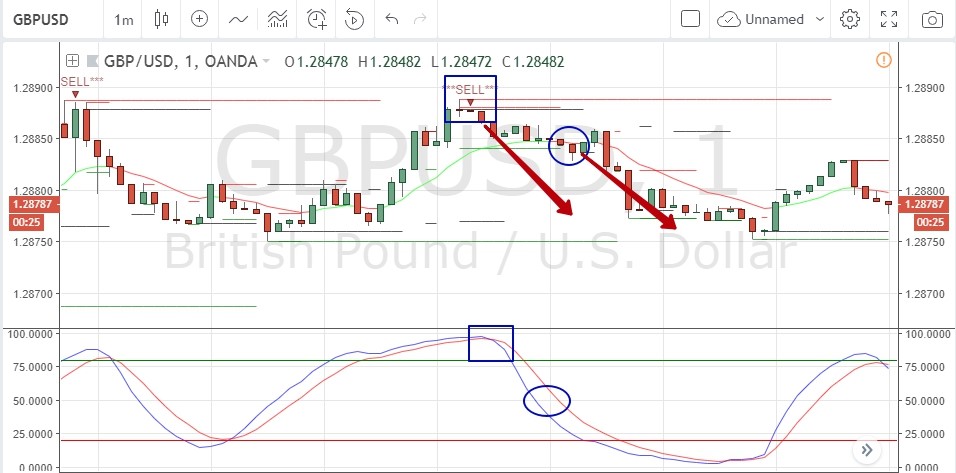 Expiration and money management
Technical signals of the trading system we work out redeemable in lots between 5 minutes — 15 minutes. This is due to the direct settings of the system components and the periodicity of the work schedule
To reduce losses, we use the standard financial limitations money managementOptimal level of risk per 1 trading lot should not exceed 5% of the trading account amount
More on that
Binary options