Cryptocurrency trading in 2020
Cryptocurrency trading is carried out on special crypto exchanges. The price of entry into the market is not high. But attention needs to be paid to mastering the cryptocurrency infrastructure.
Cryptocurrencies are a very specific asset. All of the above can be conventionally designated as classic trading and investing tools. But cryptocurrencies differ from them in three distinctive ways:
The highest volatility;
The relative unpredictability of coin prices;
The enormous importance of one asset - bitcoin.
The legal status of cryptocurrencies is not fully defined, so many do not consider cryptocurrencies a full-fledged asset of the financial market (The truth about cryptocurrency). Nevertheless, cryptocurrency derivatives and indexes are present even on some major exchanges around the world. But most importantly, cryptocurrencies have become a popular asset for trading (Figure 1).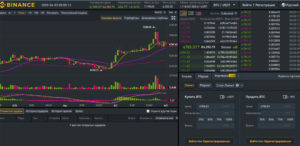 Image. 1
It is not bad to understand what blockchain is, what methods of coin issuance exist, and for what purposes it is used. But at the beginning it is important to understand a few basic things.
Cryptocurrencies and fiat
Cryptocurrencies are digital assets that are valued in fiat currencies. Of course, cryptocurrencies may not be valued by fiat, and the circulation of cryptocurrencies may be closed in some system, without exchange for real money. But for trading purposes, they will have to be exchanged - to withdraw them into fiat (exchange rating). Thus, cryptocurrencies are in trading a way of earning fiat money (How to make money on cryptocurrency). You can exchange or withdraw crypto-currencies at the crypto exchange itself if it provides such an opportunity or through an exchanger. Almost everywhere exchange or withdrawal of cryptocurrencies to fiat will be accompanied by commissions.
Types of cryptocurrencies
Cryptocurrencies are stored in special wallets that are placed on the Internet, on a computer or on removable media. In terms of trading, wallets can be cold and hot. A hot wallet is an online storage facility, such as this one: https://www.blockchain.com/ru/wallet. Also a trader's account at a cryptocurrency exchange is a hot wallet. The point is that from such a wallet you can quickly withdraw coins to trade on the exchange almost instantly. From a separate wallet, you can quickly credit money to a crypto-exchange account. This is the absolute advantage of a cryptocurrency wallet. The downsides are the flip side of the pluses: when there is no internet, cryptocurrencies are not available. In addition, the system of protection of online wallets is not ideal, because some of the private information is known not only to the trader-owner.
When choosing a hot wallet (or an exchange where the account will be held), one should pay attention to whether it is supported in the country where the trader works, how much liquidity it has, and what cryptocurrencies can be held in it. When working with a hot wallet, it is advisable not to put all of the trader's "crypto stock" in it, but to put as much as needed to participate in the trading session. A cold wallet should be the main one. A cold wallet is a computer program that is placed on the trader's computer or a removable medium - USB flash drive. The main purpose of a cold wallet is the safe storage of cryptocurrencies. In terms of security, such wallets are almost impregnable (although there have been precedents), but there are a number of drawbacks, or rather nuances, to which one should pay attention in order not to lose money:
Do not forget your password, sido phrase and other critical information about the wallet, so restore the wallet with the money after the loss of these data is sometimes impossible;
Accordingly, you should not forget, lose, or break the computer or flash card on which the file with the wallet is located;
You should copy the wallet file to a separate folder in case of technical problems with the main file. The copy of the wallet contains the same information as the main wallet, the money does not disappear anywhere, because in fact it is not the owner's real coins, but a record in the blockchain, and the blockchain does not disappear anywhere;
Transferring money from a cold wallet to an exchange account for trading takes time (the transaction requires some number of confirmations, which never happens instantly). Therefore, in order to trade cryptocurrencies, you need to have some coins in your cryptocurrency exchange account.
Choice of cryptocurrencies
Most novice crypto-traders are focused on bitcoin (buy bitcoin with a bank card). This cryptocurrency takes 50% share of cryptocurrency market capitalization and its dynamics almost completely determines the price dynamics of all other cryptocurrencies (Fig. 2), but it has two major drawbacks:
This is the first cryptocurrency, so it is characterized by slow transactions;
This is the most expensive cryptocurrency: its value is now hovering around $6,000, and that's after a big drop in price.
Nevertheless, choosing bitcoin for cryptocurrency trading would not be a mistake (cryptocurrency trading strategies). This coin is available on almost all cryptocurrency exchanges. Bitcoin has a huge (for the crypto industry) infrastructure, and there is an active large community around it.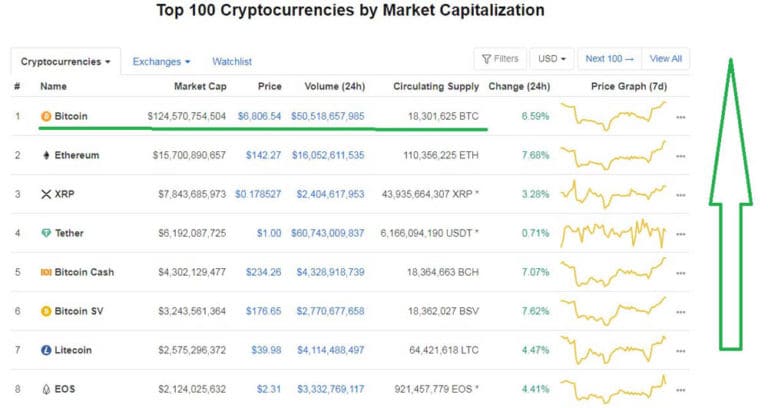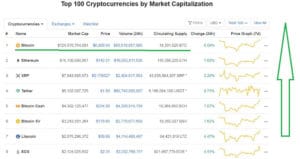 Image. 2
But you can also start with some currencies from the top list, including Ethereum and litecoin. But as a trader's skill grows, it may not be superfluous to study other coins and expand the investment portfolio. When evaluating coins, one should pay attention to:
Capitalization of the coin of interest: (number of coins X average market rate);
Reliability and perspectives (evaluated on the developers' website);
Developed infrastructure and scope of application;
Reviews of cryptocurrency exchanges and cryptocurrency trading;
Transaction rate.
Choosing a crypto exchange
There are many resources for trading cryptocurrencies, but you should choose, at least at the stage of mastering crypto-trading, the top 10. In order to study the market leaders, use our rating of cryptocurrency exchanges. Among them, we will note five:
The choice of a crypto exchange should be based not only on its place in the top lists, but also taking into account the trader's goals, where the trader lives, financial capabilities, client feedback, especially on how well the withdrawal is performed. If you take cryptocurrency trading seriously and take the time to educate yourself or a coach, this type of trading in the financial market can really be a profitable business (cryptocurrency trading training).