Crypto Trading in 2020: the Most Important Things
Explosive growth in the number of traders on the platforms by cryptocurrency trading passed 1.5-2 years ago (Is cryptocurrency a scam?). Many of them left crypto-trading after a prolonged fall in the value of cryptocurrencies. Nevertheless, there are many who want to make money on cryptocurrency, and new players appear (Options for Earning on Cryptocurrency).
Preparing for cryptocurrency trading
What is crypto-trading?
In principle, cryptocurrency trading does not differ from other types of trading - buy cheaper, sell dearer (cryptocurrency trading strategies). The main specifics of the crypto market are sharp fluctuations in the price of cryptocurrencies in short periods of time. With the right strategy, such dynamics can provide large profits (Cryptocurrency Trading Training). But the chances of big losses are also high.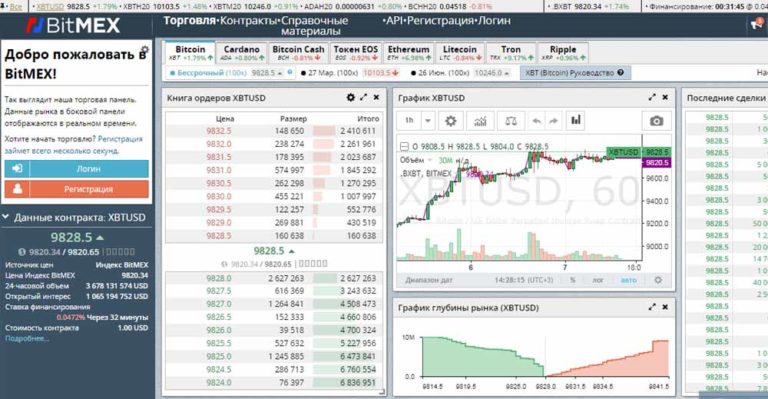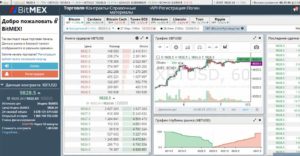 Image. 1
Another peculiarity of the crypto market is that it is almost unpredictably influenced by a variety of events, which are immediately reflected in the price. All the factors of influence on cryptocurrency are not known, so sometimes the price of cryptocurrency changes unexpectedly. The strong dependence of all cryptocurrency prices on bitcoin price dynamics is another feature of the crypto market. Bitcoin has a market share of about 50%, which provides its influence. Cryptocurrencies are traded on specialized platforms - cryptocurrency exchanges (Fig. 1). But it is possible to buy or sell cryptocurrencies through exchangers, which are not associated with crypto-exchanges.
How to buy cryptocurrency?
Cryptocurrency can be bought on cryptocurrency exchanges, but not all of them have options to buy coins with fiat money. Then the account at the cryptocurrency exchange is replenished with cryptocurrency, which is bought in some other way. For example, you can buy cryptocurrency through an exchanger. You can check the list of exchangers on BestChange website (https://www.bestchange.ru). On this site, you can choose an exchanger by reviews, by whether cryptocurrency is purchased manually or automatically, by the exchange rate to fiat currency, by the number of confirmations. Exchange transactions between fiat and cryptocurrency are delayed because you need time to confirm a cryptocurrency transaction. Directly to buy bitcoin, you can use the site LocalBitcoins (Fig. 2). Here you can choose a cryptocurrency at a suitable price. Exchange transactions on this resource are supported by private market participants, it is possible to negotiate a purchase at a personal meeting.


Image. 2
You can buy cryptocurrency in services in Telegram, but there are more fraudulent exchange services, it is necessary to carefully study the bots-exchangers. Messenger has a high degree of anonymity, including for fraudsters. To buy cryptocurrency directly on the cryptocurrency exchange (Fig. 3) it is necessary to transfer funds to the account. The list of payment systems from which you can deposit money to your account is specified in the user's account. It's necessary to take into account the commissions, which are charged when depositing money.
When buying cryptocurrency in any way, you need to be careful. The cryptocurrency industry attracts a lot of scammers, they have many ways to lure cryptocurrency from users. They can create false exchangers, offer very favorable terms of "exchange", offer fake addresses to credit cryptocurrency and so on. You should also keep in mind that cryptocurrency-related services do not always work reliably. For example, they experience a huge load during periods of rising coin prices, then transaction times increase - and this is the least of the problems that can occur.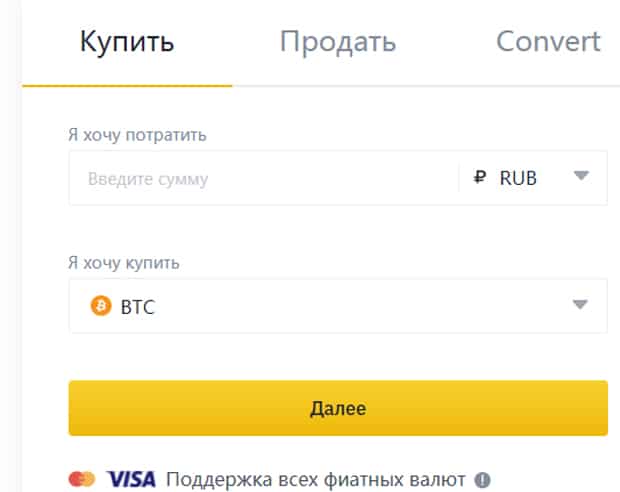 Image. 3
What exchange to trade cryptocurrencies on?
Crypto exchange is an online platform for trading cryptocurrencies. It is necessary to register on a crypto exchange. This is not always a quick and easy process, crypto exchanges now require full verification of personal data and place of residence. On other exchanges it is easy to register, but in order to get access to full functionality you need to go through full identity verification. In terms of complexity of verification, crypto-exchanges are now as difficult as banks. After registration, the user gets an account, the ability to deposit cryptocurrencies, fiat money, exchange and withdraw money to third parties Payment Systems. Coins are credited without commission, but when crediting fiat money is charged commission, each exchange is different, but on average from 1% to 5%.
When trading, the user places a sell or buy order, if the price is right (Fig. 4), a trade is made - profitable or unprofitable. This is how trading begins. If the trades are profitable, the client can keep the money in his account or withdraw it. The withdrawal is often possible not at once, but after accumulation of a certain amount of money. Most traders do not keep large amounts of money in their cryptocurrency account, because exchanges are subject to hacking attacks. Also, exchanges can freeze customer accounts on dubious pretexts, money can disappear from the accounts, and their return will be a real problem.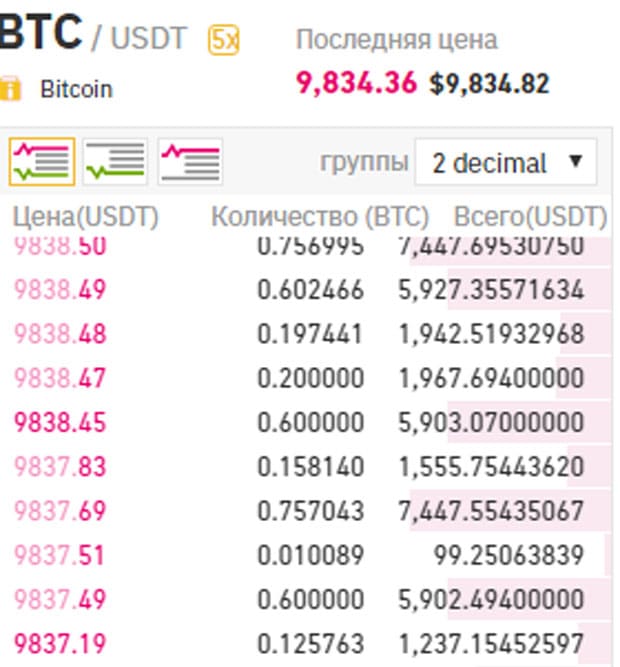 Image. 4
That's why it is necessary to choose a crypto exchange with caution. To find a suitable crypto exchange, you can focus on the rating, which there are many on the Internet. You can find out the features of the exchange and the pitfalls on the traders' forums, as well as from users' reviews. This is an important point, because you want to avoid fraudulent or unreliable exchanges, but also because the exchanges are different, so you need to choose the one, which is suitable in terms of functionality.
When choosing a crypto exchange, you need to pay attention to a number of parameters:
The language in which the exchange works;
In which countries does the exchange operate;
Complexity of registration and verification;
Safety measures (user feedback is more important here);
Choice of cryptocurrencies: what coins are on the exchange, whether there are internal tokens (coins that are issued by the exchange itself);
What are the commissions, for what operations, what are the amounts of commissions;
Does the exchange work with fiat;
What are the options for crediting and withdrawing money;
Possibilities of the trading functionality (tools of thehanalysis);
Is there a demo mode (for learning to trade and practicing strategies);
Support activity.
When working on a cryptocurrency exchange, it is necessary to keep in mind that the legal status of the platforms is not defined in most countries of the world. At the same time, it is possible to trade on many exchanges while remaining anonymous.
What cryptocurrency to buy in 2020?
There are more than 2 thousand cryptocurrencies in the world. Therefore, those who have decided to engage in crypto-trading, the question arises, what cryptocurrency to buy for profitable trading? The vast majority of novice traders plan to start trading with bitcoin. This is the largest and oldest cryptocurrency. BTC is present in the vast majority of cryptocurrency exchanges and you can pay for goods and services with it. However, it is also the most expensive. This means that losses, which are inevitable at the beginning of a trader's career, will be very expensive.
That's why many stop at the lower price coins from the top 10, most often Ethereum (ETH), Ripple (XRP), Litecoin (LTC) and Bitcoin Cash (BCH). Basically, it is not necessary to delve into the history and technical features of popular cryptocurrencies to start trading. Later on, as your trading skills grow, you can buy other cryptocurrencies. In this case, you need to consider the capitalization of the coin, the time of existence, history, the purpose of developers (what the cryptocurrency was created for), the development team, the speed of transactions, the frequency of presence on cryptocurrency exchanges and user feedback.
Where to store coins?
To store cryptocurrency, wallets - "hot" or "cold" - are used. Technically, wallets do not store coins themselves, but rather information about them, which is needed to connect to the cryptosystem blockchain (where the coins are located) and confirm a coin deposit or withdrawal transaction. Hot wallets are connected to the internet, located on the crypto exchange and are populated with transactions from outside or inside the exchange. Essentially, a user's balance on any cryptocurrency service is a hot wallet.
The advantage of a hot wallet is that the funds in it are always ready to be traded. The downside is that if the user has no Internet connection, their money is not available to them, and also that the private key - the user's main identification and security tool - is known to both the user and the service. This is an obvious security vulnerability. Cold wallets are not connected to the Internet. They have the advantage of greater security. Cryptocurrency from a cold wallet is credited to an exchange account for trading. The private key is known only to the owner. The disadvantage is that a cold wallet requires quite a lot of memory. And if the computer crashes or is lost, coins can be lost as well. This is partly protected by backing up the wallet to another medium.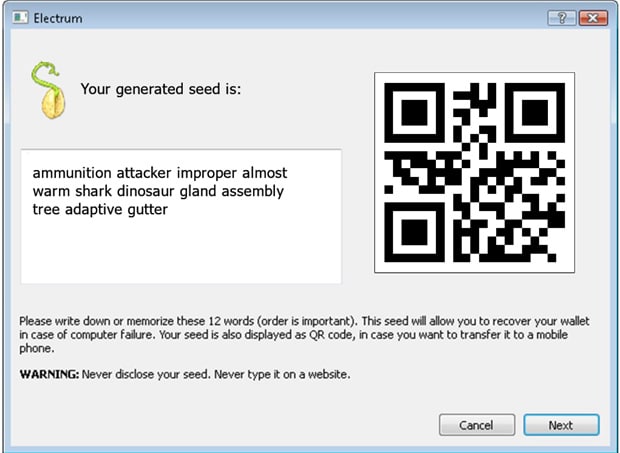 Image. 5
In addition, the developers of purses can release updates, it is necessary to monitor their release, so that the wallet continues to work smoothly. The trader decides which cold wallet to choose from a wide variety of them, based on their goals and feedback. It is optimal to use both cold and hot cryptocurrency wallets. But in any case, the most important thing is not to forget the password and other code information, usually a passphrase (Fig. 5), so that you can restore the wallet in case of its loss or malfunction.
The beginning of trade
Numerous statistical and analytical websites, advice from experienced users on crypto-traders' forums and so on will help to get a general idea about the crypto market. This kind of information should be constantly monitored to gradually build a complete picture of the crypto market, which will enable a timely response to changes in it. One of the main sources of information is CoinMarketCap resource (https://coinmarketcap.com) and its mobile app. It provides up-to-date information about all coins that are traded on cryptocurrency exchanges. Other useful resources include TTRCoin (https://ttrcoin.com) and the main forum for crypto-enthusiasts Bitcoin Forum (https://bitalk.org).
Not so long ago there appeared such a tool as indexes of the crypto market, for example, one of the significant Crypto Fear&Greed Index (https://alternative.me/crypto/fear-and-greed-index) - Bitcoin buying sentiment index, it is a useful tool for crypto traders. But, of course, there are a lot of sources of information about cryptocurrencies, and over time, every cryptotrader makes his own list of necessary tools. The first steps in crypto trading are better to start with inexpensive cryptocurrencies or with small amounts. And constantly monitor the correctness or incorrectness of the actions taken. Few traders have been successful from the very beginning of trading it is advisable to prepare for the fact that with constant trading for several months most trades will be unprofitable.
A good knowledge of theory can mitigate losses and prevent gross errors, but profitable trading requires skills that are only achieved in practice. Gradually, there will be more profitable trades and less loss-making ones. The universal rule for crypto-traders of any level is to trade only the amount that can be irretrievably lost and it will not lead to critical consequences for the trader - you will not have to live in debt, quality of life will not decrease, important plans will not be disrupted by playing on the exchange.
Many traders believe that they should diversify their investments in cryptocurrencies. This is not easy to do, though, because the crypto market as a whole reacts very uniformly to events following bitcoin dynamics. To make the right investments, you need to carefully study the behavior of specific coins, know their features, and constantly monitor the news. In any situation, it is necessary to stick to the basic strategy - buy when the price falls and sell when it rises. But it is wrong to trade at maximum and minimum prices. One of the main tasks of a trader is not to delay waiting for profitable prices to borderline highs or lows.
It is desirable to trade on more than one crypto exchange: first, crypto exchanges are not the most stable financial institutions, from time to time they "hang up", they are attacked by hackers, the rules and working conditions change, and so on; second, they have different opportunities to withdraw and deposit money; third, different rates for the same coins at the same time - the rate difference can make good money (arbitrage), although this is a difficult way, and with him no trading start.
Fundamental analysis of the cryptocurrency market
Fundamental analysis involves the study of the underlying factors influencing the price of cryptocurrencies: inflation, GDP, legal changes in the financial sphere, political events and so on. Proponents of fundamental analysis gradually create their own selection of factors. The goal of fundamental analysis is to determine how much the exchange value of a coin corresponds to its real value.
Of the more specific cryptocurrency factors analyze the roadmap of the cryptoproject, - this is a prospective development plan, which the developers present on the website of the project. A more formal and informative document Whitepaper - it gives the concept of the project and a technical description. The monetary component must be considered separately: pricing, issuance, capitalization, volatility, trading volume, and so on. Fundamental analysis is quite difficult to apply on the crypto market, and you can hardly find a trader who uses only it when trading.
Technical analysis in crypto trading
Technical analysis in crypto trading is used by the vast majority of traders, if not by everyone. Crypto exchanges are designed to trade with the help of technical analysis. Technical analysis is used as a tool to predict the future price of a coin based on the events that have already occurred in the past and influenced the price in a certain way. It is important to catch the signs of occurrence of the situation similar to the one that has already happened in the past - signals of price trend formation and to place an order on the trend (Cryptocurrency Signals).
The essence of the analysis can be defined as follows:
The price movement is not random;
The dynamics of the price are repeated;
The market is characterized by patterns.
There are a huge number of technical analysis tools - patterns (standard shapes on the price chart), price levels, different types of candlesticks, bars, Elliot waves, Fibonacci numbers, technical indicators and so on. There are popular tools, there are less popular, in the end, each trader chooses a few tools and improves the work with them. For crypto trading, thechanalysis has a number of advantages. The data is expressed in numbers, geometric shapes, even color - clearly and concisely. Indicators are displayed in real time. The principles of tehanalysis are the same for all cryptocurrencies. But there are disadvantages of thechanalysis, the main one being that it shows lagging signals. There are indicators that are considered to be leading, but if they were really leading, then trading would be very easy.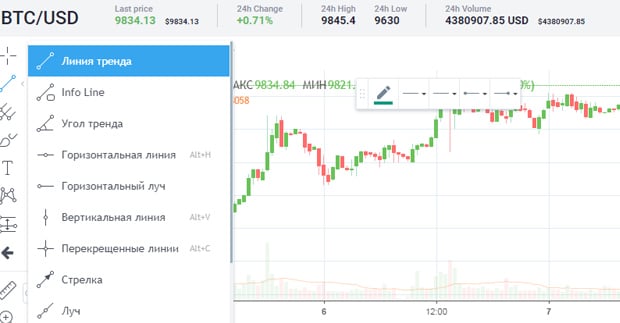 Image. 6
In the crypto market, as in any other market, no situation is exactly the same as in the past. This means that it is impossible to make accurate predictions. Any change, even a seemingly insignificant one, completely changes the situation on the market. And in the crypto market, this happens at great speed. Different traders interpret the same signals differently, some may see signals where there are none and vice versa, and all this is confirmed logically. But, in general, thechanalysis is effectively applied by traders, the longer they use the tools of tehanalysis, the fewer errors they make. In any case, thechanalysis allows for a better understanding of the market, and it certainly increases the accuracy of forecasts.
There are a lot of third-party services on the Internet, not only on crypto-exchanges (Figure 6). For example, TradingView A multifunctional tool for the analysis, where you can use a variety of lines, channels, a lot of indicators and get signals. Coinigy (https://www.coinigy.com) - this is another effective charting service, and with the ability to connect an exchange account.
Cryptocurrency Trading Strategies
You can create trading strategies based on technical analysis. There are a lot of strategies. At the beginning and at the peak of bitcoin's price, there were essentially two basic strategies: keeping the cryptocurrency in the wallet waiting for the maximum price (holders are called hodlers) or provoking pumping, which was done by holders of large numbers of coins who organized infoblasts, provoking excitement in the market and sharp price fluctuations.
Now the crypto market is more "mature", traders are more educated, there is a lot of information about how to trade and how to avoid losses. Therefore, there is an opportunity to implement more intelligent strategies. Crypto trading strategies can be temporary or situational. Temporary ones are based on some period of time, such as intraday trading: the trader is active during the day and closes positions closer to its end. High-frequency strategies, like scalping, are popular in the crypto market because of the speed of change, where trades are made on every price movement within a certain period of time.
Situational strategies aim to make profits under certain conditions. For example, a trader buys coins when the price falls after a rise, because he assumes that the fall was temporary and will soon rise again, and sells in the opposite situation. Or the trader considers only one situation for trading, for example, only the trend reversal point. There are a lot of typical strategies on the Internet, some are more popular and some are less popular. With time traders develop their own strategies. They are based on trader's understanding of the market, on preferable tools of thehanalysis, on trader's experience of market watching.
Where and how to learn to trade cryptocurrencies?
Not so long ago, you could only learn how to trade cryptocurrency on your own. But now there are a lot of online and offline courses, both group and individual, where you can learn the basics of trading for a fee or for free. When choosing courses, you should consider the competence of the instructors. They should have proven experience in successful trading on the cryptocurrency exchange. It is important to check independent reviews of the courses.
But most traders continue to learn on their own, and now there are great opportunities to do so. The Internet has all the necessary information about trading. But no matter how full-fledged theoretical preparation is, the real learning is constant practice and readiness to bear losses until the moment when trading brings stable profit, which not everybody is able to do.