Namecheap is a major hosting provider and domain registrar on the English-language Internet, discounts and great deals for customers.
The company
Website
Social media
Date of foundation

2000

Head Office

4600 East Washington Street, Suite 305, Phoenix, AZ 85034

The owner of the company
Types of support

Chat

Tickets in my personal cabinet

Help Center

Languages

English

Domains in the zone

com, net, ca, org

Thematic domains

design, shop, fun

Countries and regions

Europe, USA

Project Features

One of the largest domain registrars and hosting providers providing services in the English-speaking segment of the Internet

Bonuses
Adjustable
Regulators
Methods of replenishment

American Express, Bitcoin, Discover, Mastercard, PayPal, VISA

Mobile applications
Mode of operation of the company
Additional services

Transferring domains and mail

SSL security certificates

Dedicated server

/

To

90

EUR

per month

VPS

/

From

17.9

EUR

per month

CMS Wordpress website development

/

From

3.7

EUR

per month

Moving the site to company hosting

Free with the purchase of a domain name

Web editor for logo and business card design

Free

Availability of online payment
Personal account
Domain renewal
Auto Renewal
Exempt domains
Changing the domain registrar
DNS records
Domain transfer
Test domain
Domain Parking
Access to the control panel of the recorder
Domain certificate
The need to register on the site
Benefits

A company with a wide range of services has been working steadily since 2001

Round-the-clock technical support

The company's services can be used by both legal entities and individuals

Profitable affiliate program

The company provides virtual server services

High level security certifications

Assistance in migrating sites to new hosting

Monitoring and seo-promotion of sites

Additional services for user support, from logo design to development of additional web modules

Advantageous discounts on services

Disadvantages

The company website is not translated into Russian

When paying with bank cards of Russian payment systems and banks there may be problems

Affiliate Program
Company requisites

Legal name:

Namecheap, Inc.

Legal address:

4600 East Washington Street, Suite 305, Phoenix, AZ 85034, USA

Date of update

03.08.2022

Overall assessment
Address
4600 East Washington Street, Suite 305, Phoenix, AZ 85034
Map
Namecheap is it a scam? Reviews and description
American company Namecheap - that domain name registrar and hosting provider, one of the largest companies in the field of web services in the English-speaking segment of the market. The company has been operating since 2001 and was accredited by ICANN. In addition to domain registration, the company offers its customers a range of services related to the development and support of web projects at very competitive prices. Many services can be tried out for free for a test period.
It all looks quite profitable, but is it? Is it okay to use Namecheap, or is it just a scam? Let's find out.

Why Namecheap
Namecheap started in 2001 as an ICANN-accredited domain name registrar. The company is constantly developing and now represents a well-developed Internet platform of web services, offering a range of services, from hosting to migrating websites and corporate mail to new addresses.
Benefits of Namecheap:
Round the clock technical support;
Many of the services the company provides have a free test period;
The company's services can be used by both legal entities and individuals;
The company provides virtual server services;
Profitable affiliate program;
The company offers high-level safety certificates;
Profitable discounts on services;
Assistance in migrating sites to new hosting;
Monitoring and seo-promotion of websites, additional services for user support, from logo design to development of additional web modules.

The company's portal is made according to an individual design and is as rich in information as possible. There is a constantly updated blog, which will be interesting to both developers and those who are just interested in web technologies. Besides, the company has its own mobile application, which allows you to work with the control panel from your mobile device.
How do I register on the Neumchip website?
Sign up online namecheap.com you can do it quickly enough. In the top menu of the site there is a button "Sign Up", by clicking on it you will go to the questionnaire. Filling out the questionnaire, you open your personal account on the site and from it you can choose and order all the necessary services.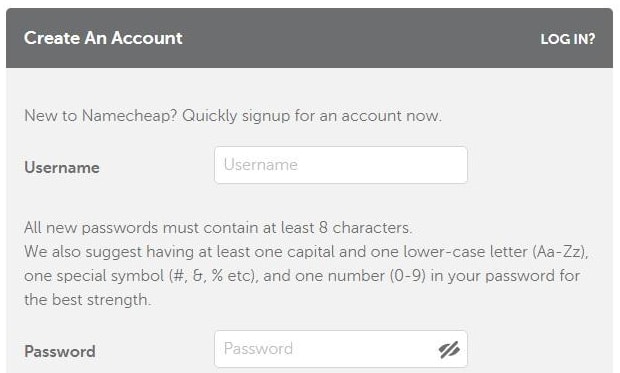 Personal account namecheap.com
After registering, you can get to work. Your personal account on the company's website is a control panel for all the services you've ordered. You can register new services and renew old ones, choose new tariffs, add data and much more. All data of your domains, personal data necessary for work is stored in the personal cabinet.
Namecheap mobile app
The company's mobile app is available for download in the AppStore and GooglePlay. You can also download it from the website by entering your phone number in a special field. The mobile app allows you to manage your website through the company control panel, order new services and extend the old ones. In fact, it is a mobile copy of the control panel.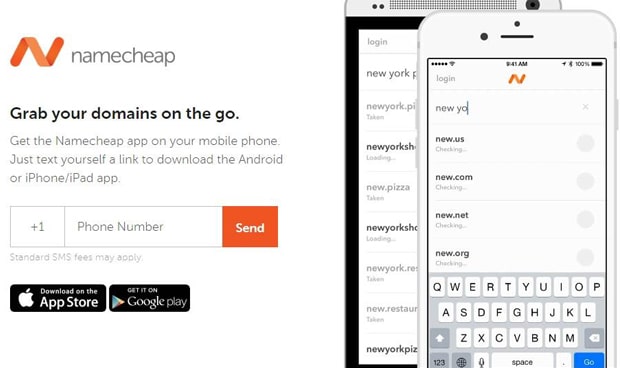 How do I buy a domain name on the Neumchip website?
In the "Domains" section of the website you can find, choose and pay for domain names for your web project. All domains are paid for one year, and later you can extend it.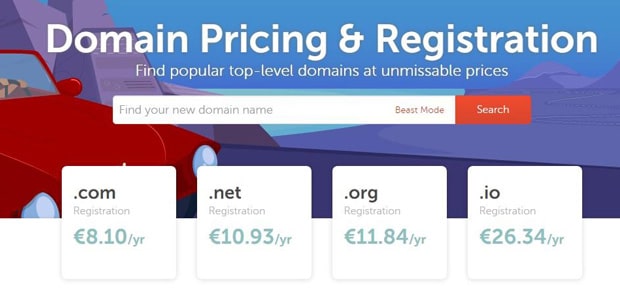 How do I choose a domain name at namecheap.com?
Company Domains namecheap.com are registered in 150 international zones. You can choose a free domain. You can check it beforehand, or if you need a particular domain name, you can find out if it is occupied after checking it through the Whois service.


Domain name verification.
It is very easy to check the domain name you have chosen - just enter it into the search box on the page with domains. In the list of results will appear all the free names in the domain zones of the company. In this case, you will immediately be able to see the price of registration. Entering the name of the whole site into the search box, you can see if this domain is busy or not.
Finding a free domain
To find a free domain through the service, you can use the domain search bar. To check your desired domain name is very convenient to use the service Whois, where by entering the name of the domain in the search bar, you can get all the public information about the domain: registration date, registration period, open contact information of the domain owner, with whom you can contact if you want to buy this domain.

Ordering Multiple Names
You can order and buy several domain names through the service namecheap.com. All information about them will be stored in your personal cabinet.
How to register a domain
Each service section has a FAQ section, where you can find answers to many questions right away, without having to go to the general help section. Once you have selected the domains, you add them to the order basket. In parallel, you can choose all the related services: hosting for your site, mail, security certificate and more. Many of the services that the company provides you can try for free on a test period (from 14 days to 1 month). Once all the services appear in your cart, you make and pay for your order with your bank card or any other convenient way. Additional services can be ordered separately. Domain registration takes from 2 hours to 2 days, depending on the zone.
More features on the Namecheap site
In addition to domain registrar services, Namecheap has other services to help you develop your web project. The company provides hosting and virtual server services. More than 1.5 million sites are deployed on hosting and virtual servers company. It does not have many offers. Three regular types of hosting and three working only with CMS WordPress. From the simplest hosting for the home page for 2.5 euros / month. to the corporate site, but it is convenient that you can buy additional modules, increasing the capacity of your site.

You can order a certificate of any level of protection for your website from namecheap.com. In addition to security certificates in this section, through the service of the company you can buy additional verification modules for your site, order DNS service and much more. In addition, when ordering hosting, you get free transfer of your site. Or free email for 1 month. After the trial period, the service is paid based on the selected tariff.
The services of a dedicated server, depending on the selected tariff, will cost you from 45 euros per month to 499. All offers come with free backups, the frequency of which in some tariffs you can configure yourself. Almost all of the company's servers run on a Linux operating system. The selection of additional services is not as broad as at other domain registrars and hosting providers, but Namecheap is more focused on personal sites or portals for small companies and small businesses.
How to pay for a domain on the Neumchip website
You can pay for the purchase of a domain and other services on the Namecheap website online, with debit or credit bank card either by PayPal. The company is one of the few that started working with bitcoins and many services can be paid for cryptocurrency.
Buying a domain on a website
The purchase of a domain can be paid for via your personal account, your bank card or your web wallet. If you pay by bank card, the amount may slightly differ from the one indicated on the website due to differences in currency exchange rates.
Domain renewal on the site
You can connect autopay for domain renewal and other services provided by the company. Payment for the domain is made once a year, and for hosting and other services - once a month.

Bonuses namecheap.com
The company has namecheap.com There is a page with promotions and special offers that is constantly updated. You can also keep track of discounts through the mobile app and by subscribing to the company's newsletter. At the moment, the company is offering discounts of up to 90% on many of its services, which will help to maximize the performance of sites in remote mode.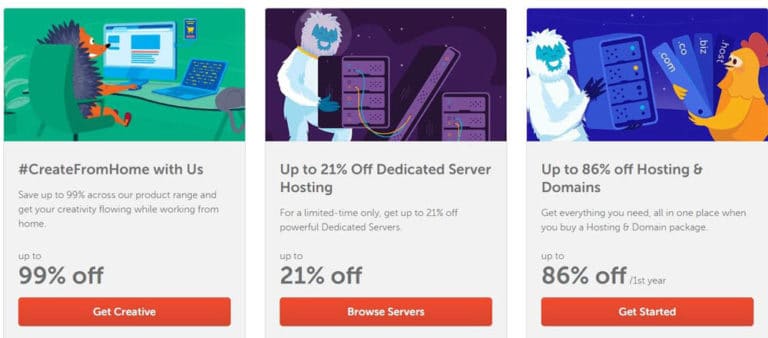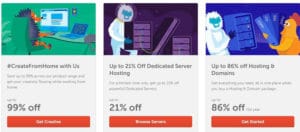 Referral program
The company's referral program is multi-level and well-developed. By taking part in the program, you can get remuneration for each client you attract and for each service you provide:
For domain registration - 20%;
Hosting Services - 35%;
SSL security certificates - 35%;
Corporate Email - 20%;
VPN - up to 50%.
Becoming a member of the program is very simple: you register and register your web resource, you get the code to be inserted into the site.

Complaints about Namecheap
Feedback on the work of the company is mainly in the English-speaking segment of the Internet, there are many of them, and almost all of them are positive. First of all, customers praise the fact that the use of services is very inexpensive compared to other services. Also, many customers note that the services are inexpensive, and hosting, domains, technical support sites, DNS and other work very well. Among the negative reviews note that from time to time there are failures on the hosting company. Support company keeps track of feedback and tries to help quickly if there are problems.
If there are any reviews about Namecheap domain name registrar, we will be sure to post the information on social media. Sign up so you don't miss anything!
Please keep yourself informed about news and complaints. We copy the most valuable information to social networks, so please sign up!
Neumchip's supervisory authorities
Namecheap Inc. is accredited to operate domain names by ICANN. All companies that sell domain names are accredited to operate domain names by ICANN, the primary supervisory body that governs the entire global Internet domain name system.
Namecheap is governed by U.S. law.
Namecheap.com User Agreement
The General User Agreement is located in the basement of the site. Like the rest of the company's website, is only available in English. The agreement is very detailed. On the first page there are links to all the documents, the contents of which you agree to when you open your personal account on the service site.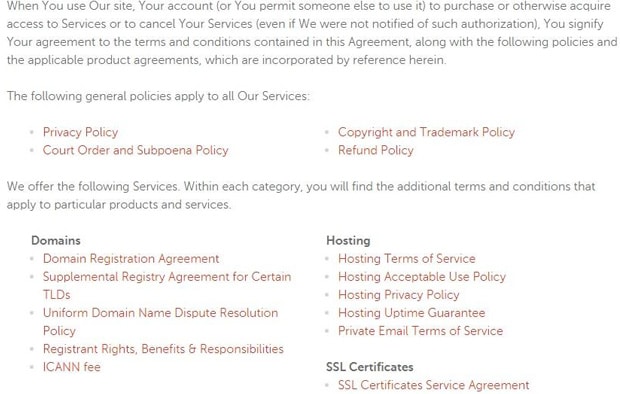 These are the "Company Privacy Policy", "Copyright Agreement", "Refund Policy", and "Rules for Drafting and Handling Court Claims". When ordering each of the services, you sign an agreement to purchase and use the service. The User Agreement contains links to the model Terms of Service and the agreements to all services that Namecheap provides.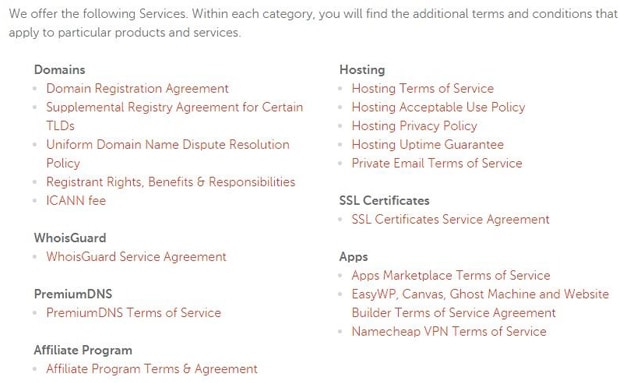 The payment agreement clause states that the company accepts bank cards, bitcoins, and PayPal, but in some cases, such as when paying for services that are just starting up in payment, only bank cards may be accepted. The company may charge your card a small amount for card verification.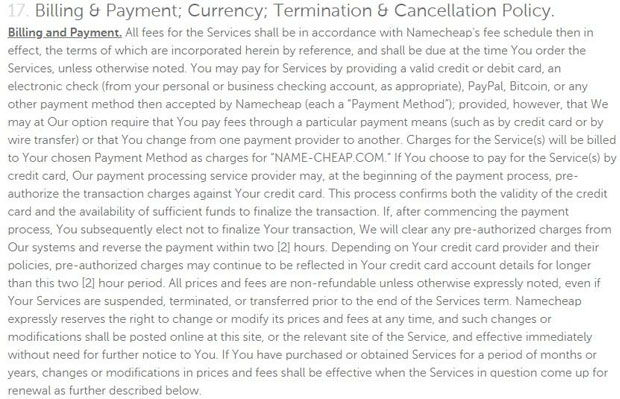 Another interesting point about paying for the company's services is the currency conversion point.

Given that all prices on the site are in dollars and euros, when you pay for services in other currencies, when converting currencies, the price in the end may be slightly different from that shown on the site. Otherwise, the agreement is standard, and if you still have questions related to the work of the service, the answer to them can be in the help section of the company's website.
Security of the Namecheap website
The company portal, all your data and bank payments are protected by a high-level security certificate - "Comodo Secure".
Neumchip Support
The company's support service is available 24 hours a day. You can contact the specialists of the service via chat with a consultant and via the feedback form, both from the website, and through the control panel and mobile application. The website has a "Support Center" section. Through this section you can ask a question to a consultant, find all additional reference materials, leave a message for the technical support service.

Is Namecheap a scam?
Namecheap - one of the oldest domain name registrars in the English-speaking segment of the Internet. The company specializes not in large portals and sites, but in private company websites, personal pages, online chat rooms, private online stores and other things. Namecheap has been in business since 2001, and in that time it has made a good name for itself among its customers. We have studied how Namecheap works, its rates, services, and customer reviews and we can say with confidence that this company can be trusted.
It does not have many rates for hosting and other related services, but all services are well thought out. The company's prices are very favorable. Many customers initially treated this with caution, but it turned out that Namecheap, despite the low prices, provides very high quality for its level of service. The company's hosting works properly, redirection, site migration and much more - you can fully customize your page through a convenient control panel and make changes as quickly as you need.
Conclusion
Hosting services and domain registrar company Namecheap is used by more than 1 million clients. It should only be remembered that its specialization is the English-speaking segment of the Internet. There are limitations on CMS and technical characteristics of servers, but at such discounts and low prices, all the technical characteristics of the services provided are at a high level.
This service will be really handy for those who want to deploy their site on a virtual server rented from the same company, but do not know where to start and what rate to choose. It has already found its customers and will find more.
Nazis

7 March 2022 at 08:32