WPML is a quality plugin for WordPress that makes it easy to create multilingual websites at an affordable price.
The company
Official website
The owner of the company
Types of support

Feedback form

FAQ

Twitter

Facebook

Social media
Languages

English, Spanish, German, French, Japanese, Chinese, Portuguese, Italian, Arabic, Russian, Hebrew

Bonuses
Rates

Multilingual Blog

/

39

USD

per annum

Multilingual CMS

/

99

USD

per annum

Multilingual for agencies

/

199

USD

per annum

Money Back

30-day money-back guarantee

Supported CMS

WordPress

SEO Support

Multilingual Search Engine Optimization

Benefits

Fast and accurate translation of sites

You can translate pages, entries, custom entry types, systematics, menus, and even template texts

Excellent compatibility with other plugins

Glossary and translation memory

Great for multilingual SEO

Company requisites

Legal name:

OnTheGoSystems Limited

Overall assessment
Date of update

16.05.2023
Subscribe to this company
WPML is this a scam? Reviews and description
WPML - is a WordPress plugin that makes it easy to create multilingual websites. Whether users are developing corporate sites or blogs, WPML offers the right solution. WPML serves as a versatile tool that allows users to easily translate pages, posts, custom post types, taxonomies, menus and template texts.
WPML compatibility extends to any theme or plugin that works with the WordPress API, effectively turning them into multilingual tools. The reliability of WPML is evident in its comprehensive support system, which ensures flawless delivery of the site in a timely manner.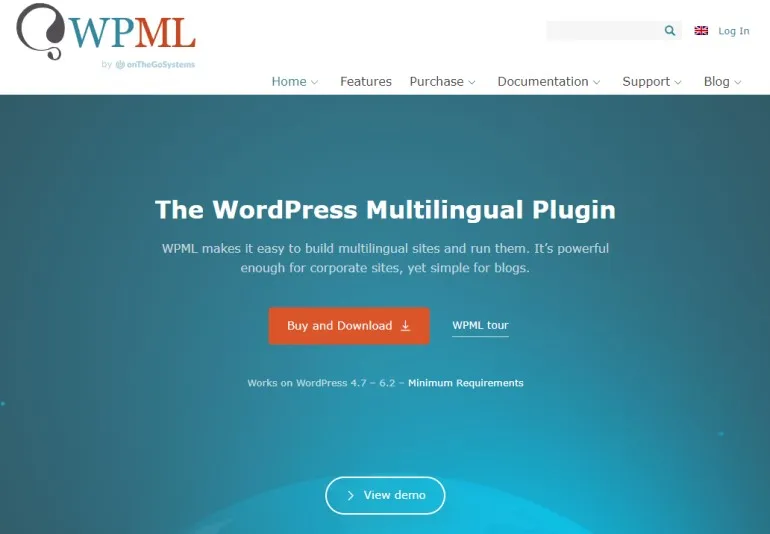 Advantages of WPML over other plugins
Cooperation with other developers is a priority for WPML, to ensure seamless integration with users' favorite themes, plugins, and page builders. Automated tests are run with multiple themes and plugins to identify and fix any issues that may arise during the upgrade.
Website owners can benefit from fast and accurate translation thanks to WPML's automated translation process. Using the capabilities of well-known services such as Google, DeepL and Microsoft, the plugin achieves impressive translation accuracy in 90%. Users are able to review and modify translations as needed.
Translations are managed using the intuitive WPML console, where users can conveniently select translation objects, assign translators and select the desired translation languages. For high-quality professional translations, WPML offers integration with an integrated translation service or the ability to assign translation tasks to your own translation team.

WPML ensures consistency of translations through features such as glossary and translation memory. By defining how terms appear in site translations, users can maintain a consistent translation style. The stability, reliability and security of WPML are paramount. With over a million installations, the plugin undergoes rigorous quality control before each release. Compatibility tests are conducted with various versions of WordPress, popular plugins, and themes to ensure a seamless user experience during updates.
WPML greatly improves multilingual SEO efforts. Users have full control over URL formats and can set SEO metadata for translations. Translations are linked to create a coherent structure, and sitemaps are accurately generated and verified by Google for webmasters. WPML allows search engines to effectively understand site structure and direct relevant traffic to relevant language versions.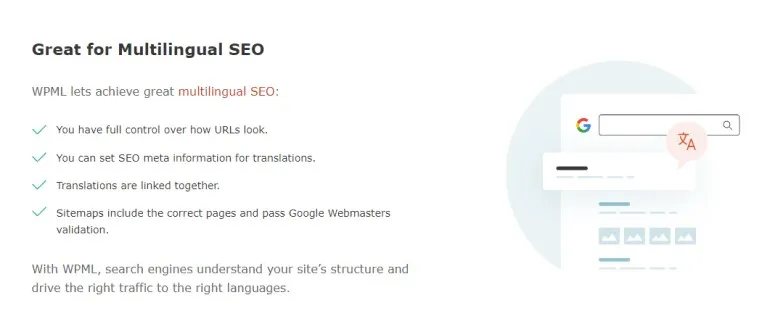 Prices for WPML tariffs
WPML offers the following prices and rates:
Multilingual Blogging - $39 for the year, providing basic multilingual functionality for WordPress blogs.
Multilingual CMS - $99 for a year, a complete solution for multilingual WordPress sites.
Multilingual for Agencies - $199 for one year, a complete solution for agencies developing multilingual sites.
WPML cares about customer satisfaction by offering a 30-day no-questions-asked refund policy. Users can purchase WPML, install it on their site, and if they are not completely satisfied, they can request a refund.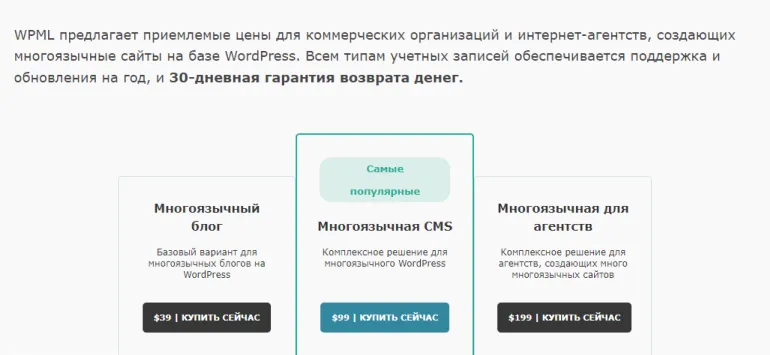 WPML plugin is a scam?
Based on the extensive functionality and benefits offered by WPML, we can conclude that this is not a scam. Purchasing this plugin is a justified solution for those who need to create multilingual sites on the WordPress platform. WPML has everything you need to work effectively with translations, ensures compatibility with a wide range of themes and plugins, provides fast and accurate translations, and helps in achieving a high level of SEO for multilingual sites.
In addition, a solid install rate and a 30-day no-questions-asked return policy demonstrate WPML developers' confidence in their product and guarantee customer satisfaction. Overall, purchasing WPML is a worthwhile move for those looking to build quality multilingual sites on the WordPress platform and get reliable support and functionality from experienced developers.
No reviews yet, be the first!
The company in the ratings
Chats and Chatbots for the Site
Activity
New

0

Resolved

0

Not resolved

0
New companies on the site