Where to sell and buy NFTs?
The answer to the question "where to buy NFTs" or "where to sell NFTs" is very simple - on the marketplace. But which one you need to choose, because there are already a lot of them, on different blockchains and for different authoring requirements. The main task of NFT marketplaces is to create, buy and sell tokens. But each NFT exchange has some specific features that you need to consider when choosing a site. See Rating of all NFT marketplaces with expert reviews on our website.
Top 5 Best NFT Marketplaces
NBA Top Shot
NBA Top Shot (Fig. 1) is one of the most hyped NFT projects. It runs on the FLOW blockchain with its own Flow token. You can earn money on this marketplace by buying and selling video clips of National Basketball League games. To work on the platform you need to register, you can use your Google account. The essence of the project is to buy cards and try to sell them later at a price higher than the purchase price.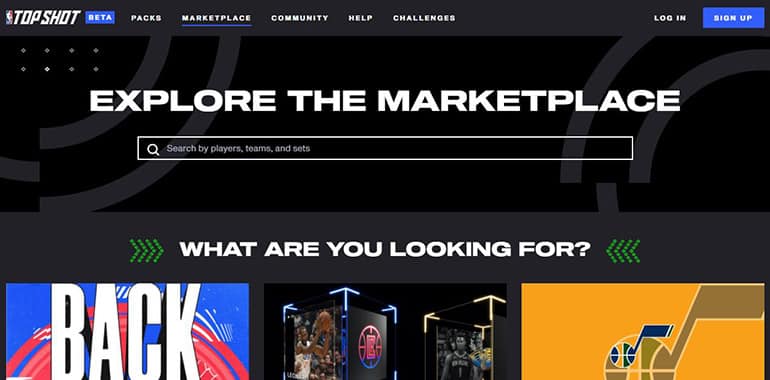 Image. 1
There are 4 kinds of moments on the platform:
Common are not uncommon moments that are inexpensive.
Rare - rare cards priced from about a hundred dollars to tens of thousands of copies of up to 5 thousand units.
Legendary - Legendary moments priced up to $250,000.
Ultimate are unreleased cards, most likely they will not have a price limit, and they will be produced in a single copy or in quantities of several pieces.
The video fragment has a description, which specifies the player's name, the type of moment in basketball terminology, the release series, the name of the set in which the card is located, and so on. Moments are purchased in packs (drops) on the platform itself or on the marketplace, which is like a secondary market to the main project. Packs go on sale rarely, and they are quickly sold out, as the price of a pack is relatively low.
In principle, the work on NBA Top Shot is similar to the auctions that are held for gamers. According to reviews, a big problem for NBA Top Shot bidders is the withdrawal of earned money, even after completing the mandatory verification. The commission for transactions in the marketplace is 5%, for withdrawal, if it works out, the commission is $5.
Rarible
Rarible (Fig. 2) is one of the popular projects for buying and selling NFTs. It is positioned as an open-source platform, that is, as if DEX exchange, an intermediary between the buyer and the seller of NFT, the execution of the transaction is ensured by a smart contract. An important component of the platform are native RARI tokens, which allow you to vote and participate in decision-making on this network. However, it is not possible to buy RARI tokens from the marketplace, but to participate in airdrop or liquidity mining for a fee.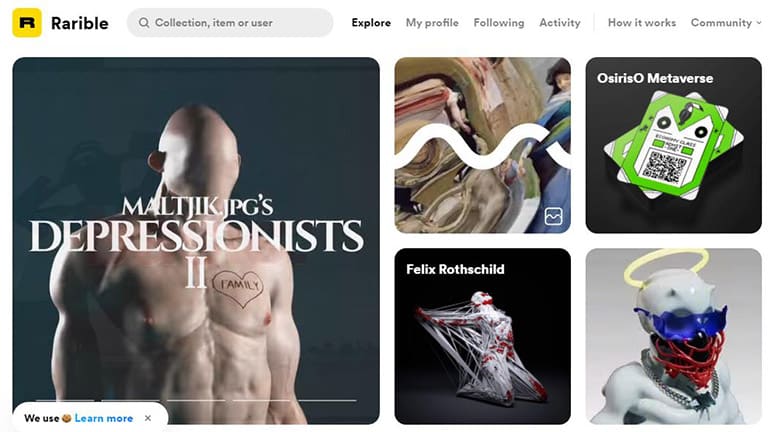 Image. 2
In terms of buying and selling tokens, the functionality of the exchange is standard - uploading a file, placing it for sale, buying it. Unlike other platforms, on Rarible the seller can provide more detailed information about the object being sold, such as a fragment, and release the token only when the user buys it. In addition, there is no moderation on the platform. To work with the platform, you need to have a network wallet EthereumFor example, MetaMask (online).
Sorare
Sorare (Fig. 3) is both an Ethereum blockchain game and an NFT platform where players cards are sold and bought. In order to take part in the project, you need to create a team of 5 players, together with which you will participate in various tournaments and championships. It is more of a game, but it is possible to work on the site solely for the sake of earning money.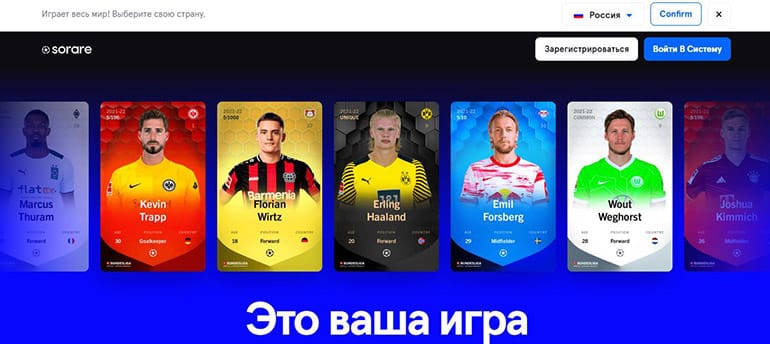 Image. 3
There are four types of cards:
"Common" - white, you can get them at registration, they are also awarded at tournaments.
Rare - red, have a limit of 100 units, worth up to hundreds of euros.
Super Rare - blue cards in circulation of 10 units, costing hundreds of euros per card, you can get only in the tournament.
Unique - brown, one-of-a-kind, costing several thousand euros.
Cards are bought in packs of 5, transactions are made through a Coinbase, Portis, or MetaMask wallet. The undoubted advantage of the game is that it is translated into Russian. Registration on the platform is done via email.
Gate.io NFT
The NFT Magic Box platform from Gate.io the first centralized trading platform where NFT is sold on the GateChain protocol. On the platform you can bid, sell or can buy an object of digital art in Buy Now or Auction mode. Some portion of the proceeds from the sale of NFTs on Magic Box goes to the Gate.io NFT Art Fund, which aims to support creators on the platform.
There are six subsections for tokens on the exchange, the selection, buying and selling is done in the Trading Market section, the coins used for transactions are BTC, GT, ETH, Stablecoin USDT. Magic Box supports the OpenPunks project, a community-driven NFT platform on which a digital object can be generated for sale as a token.
JuggerWorld
Decentralized platform Juggerworld (Fig. 4) as part of the BSC Juggernaut (Binance Smart Chain). The NFT trading platform provides the opportunity to create a profile, but it is not mandatory. On the platform it is possible to make a personal collection, to issue a single NFT token or a series of tokens. The exchange also has a custom pool, JuggerSWAP, and a drawing engine, JuggerDRAW. JuggerWorld will require a wallet compatible with BEP-20 tokens - MetaMask, Binance Chain Wallet and WalletConnect.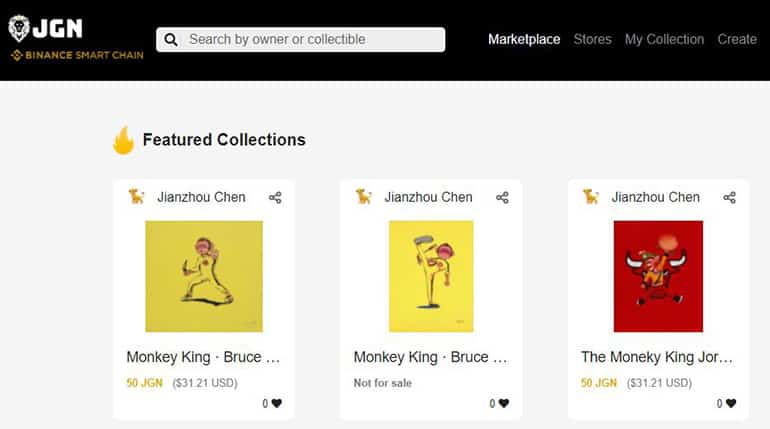 Image. 4
TreasureLand
NFT Platform TreasureLand operates on the Binance blockchain (BSC), but continues to support Ethereum and MATIC. TreasureLand is a DEGO - a project that combines the functions of the NFT exchange and DeFi. In order to generate a token, as well as to sell and buy it, you need to connect a MetaMask wallet, WalletConnect, to the system, Trust Wallet (online), MathWallet (go online), TokenPocket or similar.
The project is considered one of the most effective platforms to sell and buy works of art, collectibles, gaming items and other assets. The peculiarity of the project is NFT DEGO: when you create these tokens, you can lock a certain amount of ERC-20 or BEP-20 digital assets inside the token, which means it gets additional value.
Bakery Swap
https://www.bakeryswap.org/
BakerySwap (Figure 5) is an AMM DEX exchange on Binance Smart Chain, a decentralized platform whose main purpose is cryptocurrency trading, not NFT. Liquidity providers to the exchange are remunerated in the form of BAKE tokens plus receive a share of the trading fees on the platform and are allowed to participate in the management of the exchange.
The ability to generate NFTs, sell and buy tokens is additional, but the functionality is very well implemented, so the exchange is popular with authors and sellers/buyers. The exchange has pre-moderation of NFT content, plagiarism is prohibited.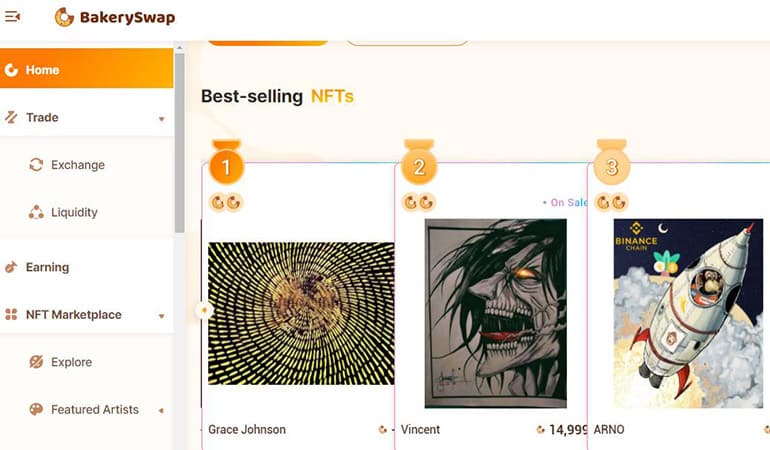 Image. 5
A special feature of the platform is that tokens can be used to earn BAKE through steaking. And there are NFT Combo Meals - this way of earning, which generates profits through farming. There are four kinds of combos - Basic, Regular, Luxury, Supreme, and they can be used as a staking or sold on the NFT Supermarket tab.
OpenSea
OpenSea decentralized NFT-project, probably the most popular marketplace of non-interchangeable tokens today. Verification and registration are not required on the platform, and the wallet connection, most often MetaMask, performs their functions. You also need to have Ethereum in your wallet for transactions.
On OpenSea NFT you can create works, sell them as NFTs for a fixed price or at auction, buy NFTs, not only visual content tokens, but also game items, game territories and even domain names. ERC-721 or ERC-1155 tokens are sold on OpenSea. More than 300 different types of tokens can be placed and bought on the exchange. Sorare blockchain game objects are also available for sale, CryptoKitties and Axie Infinity.
The peculiarity of turnover on the exchange is that it is mandatory to perform two transactions, which require payment of a GAS fee. The first transaction activates an account to allow tokens to be placed for sale. The second is to initiate a smart contract to gain access to the object being sold. The commission on each successful sale is 2.5% of the transaction.
Binance NFT
https://www.binance.com/en/nft/home
Binance NFT Marketplace one of the most popular and dynamically developing NFT platforms, in part because it runs on Binance Smart Chain, so the sale and purchase of irreplaceable tokens on the platform is cheaper than on exchanges operating in the Ethereum network.
The main service is centralized and there is also a decentralized featured.market app. To buy and sell tokens on the centralized platform, as well as to conduct any transactions, you need registration and verification. To work on the decentralized platform, you need to connect to a wallet.
The author on Binance can generate and offer tokens for sale at a fixed or auction value. When buying, tokens are selected in the online token store by NFT rating, by category. A feature of Binance NFT is the Mysteri box, in which a user can buy a token of unknown content. You can only find out the contents of a token after purchasing it and it can be a unique, very expensive token. The purchased token can be sold. Transactions on the platform are made in currencies BNB, BUSD or ETH. To generate a token, you will need to have BNB in your wallet.
SuperRare
SuperRare is positioned as an NFT platform for "social collecting," that is, it displays such objects for sale that are worthy of becoming an ornament to a collector's collection. Therefore, the platform specializes in exclusive works by leading artists and other creative personalities. The NFT exchange operates on the Ethereum blockchain.
One of the main sections of the NFT exchange is Community, where communication between the project participants takes place, buyers-collectors clarify information about authors, and artists can find out about the situation on the NFT market. Market is an online store where NFTs are posted, Features is an information section about exhibitions, announcements of new projects, and other information.
The positioning of the platform implies that the author's content displayed on SuperRare should be sold exclusively on this exchange. On the first sale of the first NFT token, the author receives 85% commission and the platform 15%. From each sale, the author also receives a commission of 3%. The main feature of the platform is that first the moderators evaluate the application of the artist who wants to place and approve/disapprove the participation of the author on the platform. He can also be invited to post on SuperRare.
Mintable
Mintable (Fig. 6) is an ERC-721-format NFT token exchange that supports Ethereum and Zilliqa blockchains. The trading platform is an online store, positioned as a lightweight NFT service, where anyone can register. The platform has relatively uncomplicated management and navigation. Here there is an opportunity to put up for sale the maximum number of tokens at minimum prices.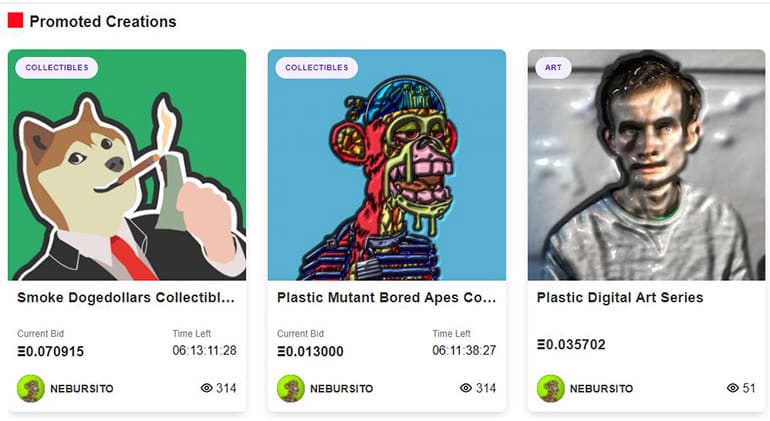 Image. 6
The peculiarity of Mintable is that although the service operates on Ethereum, the authors do not need to pay a commission for GAS. To work on the exchange, you need to connect a wallet - MetaMask, Trust Wallet or Rainbow. If you plan to buy tokens, you also need some ETH in your wallet in addition to the wallet. Also on Mintable there is a section called NFT University, which is quite useful considering the novelty of NFTs, because it tells you what NFTs are and how to trade them.
Therefore, the exchange is considered suitable for novice authors and buyers of non-mutually exchangeable tokens. Also on Mintable there is a section NFT University, which is very useful in view of the novelty of NFTs, because it tells what NFTs are and how to trade them. Therefore, the exchange is considered suitable for novice authors and buyers of non-interchangeable tokens.
The Sandbox
The Sandbox - is a game with the ability to earn NFT. It is a classic multiplayer sandbox game powered by the Unity engine, in which players build worlds using unique objects. Each world in the game belongs to one player - this is made possible precisely because of NFT technology. Right now, it costs about $100 to enter the game, and you need a wallet, such as MetaMask, to connect to the game. Sandbox has a special feature - a market of game objects, each of which is a non-interchangeable ERC-721.
To participate in object trading, you must first register, log in to your account, buy ETH and SAND (in-game currency), go to the market and buy the desired object. The price for an NFT object is set by the seller, based on its uniqueness and rarity. All transactions are charged a fee of 5% of the transaction amount. In-game currency can pay for the game, this currency can also be earned in the course of the game. Just as importantly, SAND holders have a say in the management of the project as a whole, for example, they can participate in determining the direction of The Sandbox's development.
Foundation NFT
Foundation - is a large NFT platform, the main feature of which is that you can become a member as an author only through an invitation (invite) - from an author who is registered on the exchange and actively sells his content. To start the process of "settling" on the exchanger, you need to register, it is not difficult - just connect your MetaMask wallet, which will be your account login on the platform. After connecting the wallet, you must initiate the process of obtaining the invoice.
To request an invitations, after registering, you need to click on the "Create" button and go to your Discord channel. Also, be sure to fill out your Foundation profile, including personal information and links to your work. If you manage to get an Invite, a button will appear in your profile to create an NFT. However, you should note that almost every action on the Foundation is subject to a fee related to the price of gas - NFTs, sales, purchases.