Advantages of Trading Cryptocurrencies through Brokers
Cryptocurrency are virtual money that are created in peer-to-peer networks by users. They have no ties to real money, and the amount of such currency is limited by the algorithm. Cryptocurrency appeared relatively recently, but recently its popularity is growing rapidly. Thus, for some time, it also acts as an exchange commodity.
Trade virtual currency allows earning both on the rise and on the fall of quotations, which significantly expands the opportunities for profit. But as with other assets, it is important to choose a proven broker that provides access to cryptocurrency exchanges.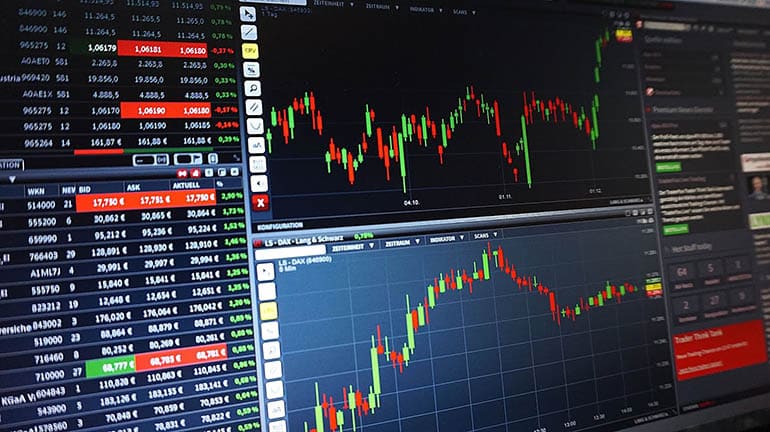 Crypto goes to Forex
Since the currency market and the cryptocurrency market are similar to a certain extent, recently there has been their integration. This raises the question, where can I trade cryptocurrency? There are two ways to do this:
Trade on special cryptocurrency exchanges.
Trade through forex brokers.
We should also mention the possibility of direct purchase of cryptocurrency to then store it in an electronic wallet. But this option will suit those who stick to long-term buy-and-hold strategy. If you are not ready to wait long, you will have to stick to short- or medium-term trading using the mentioned methods.
Advantages of Trading Cryptocurrencies through Brokers
If you choose the cryptocurrency trading through a forex broker, there is no need to open a personal electronic wallet to store currency. There is also no need to study specialized information. All the trader needs in this case is to be able to conduct technical analysis, which is similar to the technical analysis of currency instruments.
There is also a single platform for trading different assets, both conventional currencies and cryptocurrencies, at the trader's disposal. If you trade through a cryptocurrency exchange, you will be able to open deals exclusively in virtual currencies. Since the broker provides its clients with leverage, cryptocurrency trading can be started with a small capital. Usually, the amount of leverage provided by a broker for trading cryptocurrencies is similar to that provided for trading currency pairs.
That is, the trader gets to buy BitcoinIt is much safer to trade crypto-cryptoin through verified brokers than to trade on crypto-exchanges, because brokers are controlled by regulators who strictly enforce the rules of their services. Trading crypto through verified brokers is much safer than trading on crypto-exchanges, as brokers are controlled by regulatory authorities, which strictly enforce the rules of providing services.
Terms of trade
Each broker has its own conditions for trading cryptocurrency. One of the first brokers to offer this kind of service to their clients was the company AMarkets (go online). Consider its conditions for trading virtual currencies. At the moment the broker offers 12 cryptocurrencies.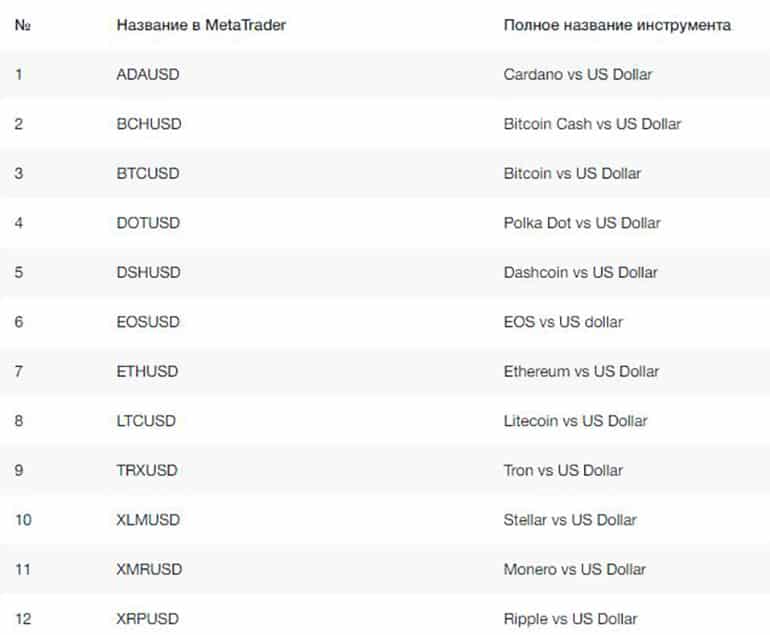 The broker supports 24/7 cryptocurrency trading. This is very convenient, as it is possible to trade even on weekends when there is free time. AMarkets reduced the commission five times to 0.1%, and for clients with VIP status the fees on crypto-assets and other instruments are reduced by 30%.
In conclusion, it should be noted that forex brokers are a good alternative to cryptocurrency exchanges. At the same time, they have a good potential for growth. We can talk about replacing exchanges by brokers when the amount of commission costs can be compared with exchanges, and also when it will be possible to trade assets not through CFDs, but liquidity providers will be available.