Online digital design school with a large selection of courses, convenient tuition, installment plans, and discounts up to 40%.
The company
Official website
Head Office

127051, Moscow, 30 Tsvetnoy Bulvar, bld. 1, floor. 3, room I, room. 14, office 231

Date of foundation

2016

The owner of the company
Types of support
Support by phone
Social media
Languages

English, Russian

Cost of training

Paid

Prices

UX/UI designer

/

From

4500

RUB

per month

Graphic Designer

/

From

4500

RUB

per month

Motion Designer

/

From

4900

RUB

per month

Bonuses
Methods of replenishment

Bank card (Visa/MC/MIR), Qiwi, Webmoney, PayPal, Cashless transfer for legal entities, JuMoneu

Buying on credit
Installment

Up to 24 months without overpayments, program details available after enrollment

Categories of training programs

Creativity and art, IT and digital courses

Specialties

Graphic Designer, Web Design, Interior Design, Photographer

Project Features

A school for digital design training, both online and offline, with opportunities for remote internships and consulting

Number of courses
Course Types

Short-Term, Medium-Term, Long-Term

Additional education

Webinars, Seminars, Online Consultations, Intensives, Video Conferences

Additional services

Corporate Program

Under development

Starting the training

By calendar, At any time (you can join at any time for the course)

Course completion documents

Certificate, Diploma of Retraining

Age restrictions
Valid licenses

License for educational activities № 041164 dated December 15, 2020.

Mobile applications
Affiliate Program
Benefits

Large selection of programs and courses for learning digital design

Ability to choose a convenient training format online or offline

Constant communication with supervisors and mentors

Paying for courses in installments and discounts up to 40%

Getting recommendations for further employment and internships in partner companies

Disadvantages

High prices for training, even with discounts

Regulatory agencies and laws

Inspectorate of the Federal Tax Service No. 2 in Moscow

Department of Education and Science of Moscow

Rospotrebnadzor

local laws

Company requisites

Legal name:

Skilfactorie LLC

Legal address:

127051, Moscow, 30 Tsvetnoy Bulvar, bld. 1, floor. 3, room I, room. 14, office 231

Overall assessment
Date of update

30.09.2022
Address
127051, Moskva, Cvetnoy bulyvar, d. 30, str. 1, et. 3, pom. I, kom. 14, ofis 231
Map
Subscribe to this company
Contented is this a scam? Reviews and description
Contented
- that
online school
which is a project
SkillFactory
. On its platform you can learn to design interfaces, websites, mobile applications, and other digital areas. Course supervisors are in touch with their students. Training takes place in a variety of formats, both fully online and face-to-face.
There are currently big discounts of up to 40% on the school's site for many courses. To find out if Contented Design School is a scam, let's take a closer look.
Up to 40% discount on all Contented courses.
Why Contented
Contented is an educational resource created for those who want to start learning about web design. Learning with Contented will be useful and interesting for digital beginners as well as those who want to continue their education. The benefits of the Contented educational service are:
a wide range of programs and courses;
The program is blended learning, you can study online and face-to-face, and supervisors stay in touch with their students all the time;
discounts up to 40% on many courses;
After passing the course and completing all tasks, each student receives a certificate and recommendations for further employment.
For many courses at Contented, the curriculum includes remote internships at partner companies, and those who perform well during the internship have all chances to get a job at their chosen companies.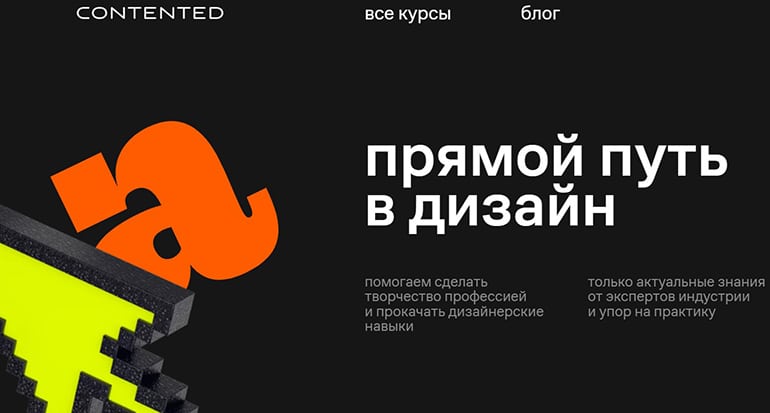 How to study online at contented.ru
In order to start training you need to register on the website contented.ru. But you can register only through the enrollment form. To do this, you need to select a course and fill out an enrollment form with your information and contact details. The website of the company is under development and the functionality to enter a personal account is not yet displayed in the top menu.
Contentead Private Office
By opening a personal account, you will be able to enroll in selected courses, pay for training, receive assignments and keep in touch with the curator of the selected courses.
Mobile application
The business school does not have its own mobile app.
Courses on Contented
On the site contented.ru There is a large selection of courses and everyone can find their own direction and their own course in a format that is convenient for them. Many courses start according to the schedule, all have a very rich and varied program, which includes online classes, in-person courses, video conferences, and so on. Let's look at the most popular courses.
UX/UI designer profession
The training lasts 9 months and consists of two courses and a thesis defense. The Figma course teaches how to work with the corresponding software. The course "Interface Designer", will introduce the profession in more detail. There is a discount on the course, and it is possible to buy it at a price of 6 600 rubles per month. You can also buy it by installments. Classes are held in a mixed format: online, face-to-face, and in the form of additional meetings, at the end of the course, each student receives a diploma and employment recommendations.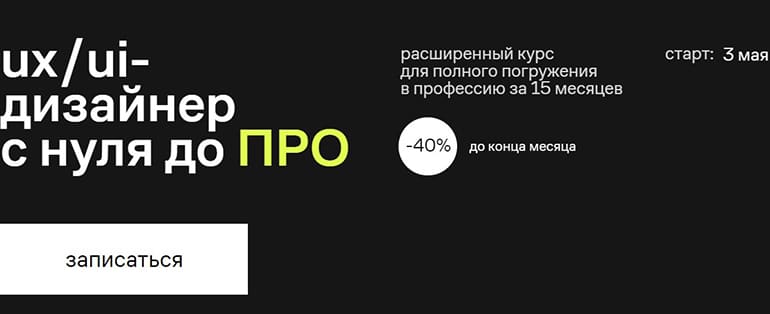 Author's course "System Design. Immersion."
Duration - 5 weeks. The rich program of the course will allow you to study and learn how to work with all the tools of design systems, learn to create your own systems and work on their effective implementation in the already working systems of companies. Training is based on the examples of Yandex, Mail.ru, and other companies that are already in operation.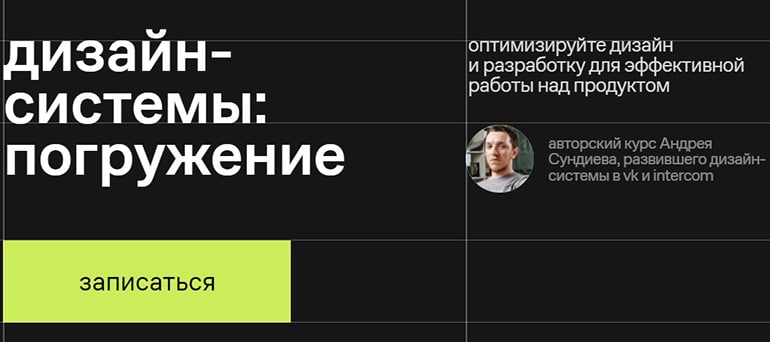 Profession Web-designer
Another school program that includes several courses. The program lasts seven months. During seven months of quite dense training you will learn the most famous web-designer tools, create your portfolio, learn web-version and much more. Classes are held both online and in-person, in addition, during the training you will be remotely interned in well-known companies involved in web-design. As in other platform courses, you will receive a certificate and recommendations from the school's recruiting service after graduation. You can also learn more about other areas, such as "Motion Designer in 2d and 3d.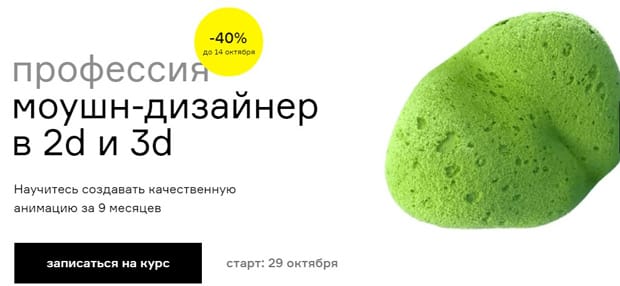 UX/UI designer profession from zero to PRO
Extended course for full immersion in the procession. The training lasts for 15 months. According to the course creators, at the end of the course you will become a confident UX/UI designer with 1.5 years of experience. You will also create 15 works for your portfolio during the course, mastering basic and advanced features of Figma, After Effects, Blender, Protopie.

Graphic Designer
In the course, which lasts 9 months, you will master the in-demand tools and skills for solving design problems. The creators state that only actual knowledge and practice await the students. A full analysis of each homework assignment is expected. At the end you will have a high-quality portfolio for job search in your specialty.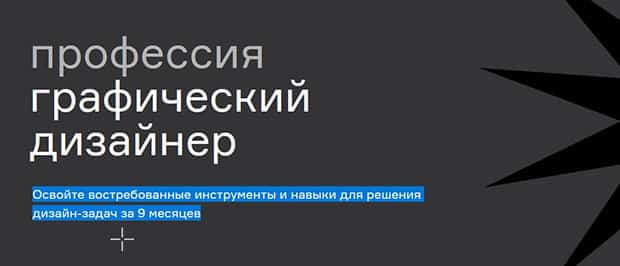 Graphic Designer from Zero to PRO
The course is suitable for beginners as well as for those who have been working in this field for a long time. At the end of the course it is assumed that you will have at least 18 high-quality projects in your portfolio.

Identity designer
In this course you will learn how to create a strong corporate identity for brands. The duration of the course is nine months. At the same time, the online school assists its students in finding a job in their specialty. There is an opportunity to buy the course in installments.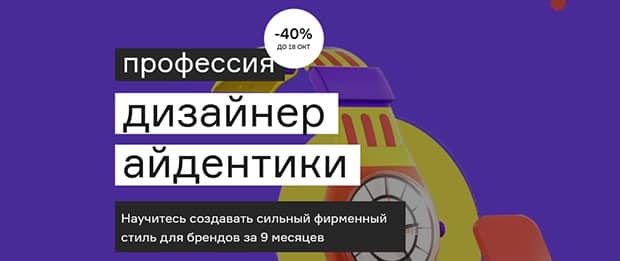 Interior Designer
The course is suitable for those who want to learn the interior designer profession from scratch. The duration of the course is 9 months. Students will go through all stages of the work - from the creation of the TOR to the final project.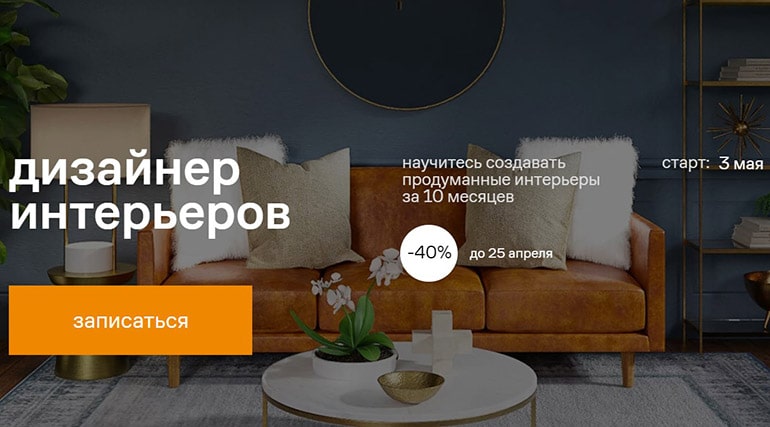 Free Contented Courses
The online school offers two free courses.
TILDA basics
In the course, you will not only learn the basics of creating a Tilda website, but you will also be able to pump up your design skills. This is a good start for those who want to start their way into web and UX/UI design.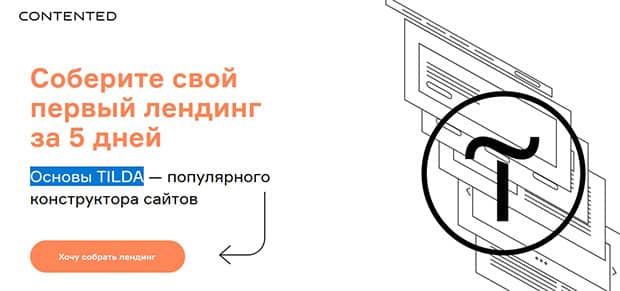 FIGMA Basics
Thanks to the course you will understand the interface of the online editor Figma and be able to create an icon and a banner. At the same time you will get feedback on your work.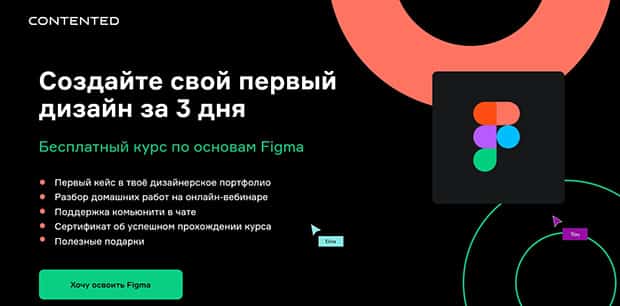 Additional services Contented
On the site contented.ru there are additional features. At the moment, the job offer sections of the site are in development.
Jobs
The website of the online school has a section with job offers, where you can find current vacancies not only the company itself, but also all the partners.
News & Reviews
The Media section contains the latest news and reviews of modern equipment.
Corporate training
The school works with both individuals and legal entities. Ordering training for employees of your company, you can get a discount on training as a corporate client. The section for such clients is currently under development.
The cost of training at contented.ru
The cost of tuition depends on the course you choose. At the moment there are discounts for almost all courses. The average cost ranges from 1,900 to 120,000 roubles. For example, a course in the profession of "Interactive Media Designer" costs 4,250 rubles per month in installments.
How to pay online
You can pay for training on the platform of the school with a bank card or bank transfer to the payment details of the company. For legal entities, payment by bank transfer is available. In addition, many courses can be paid in installments. Detailed information about this offer can be obtained from the managers.
Paying for training in your personal account
Through a personal office on the company's website you can pay for selected courses with a bank card from any of the payment systems.
Other ways to pay for online courses
Almost all courses can be paid for by installments of up to 24 months. More information about installment payments will be available after you register for the course. If the payment methods presented on the site are not available, you can always contact the support service and clarify other options. The company usually tries to meet the clients' needs.
Bonuses from Contented
The Contented School of Digital Design has no bonus program, but there are currently lucrative discounts available.
40% discount on all Contented courses
Everyone can get a discount of up to 40%. The promotion will end soon, hurry up!
Referral program
The online school has launched an affiliate program in the CPA network Adv.CakeThe program allows you to receive remuneration for each course purchased through your link. To start earning, you just need to register in the program. When you register and get the code to paste on your site, you can start earning a commission on courses up to 18%.
Complaints about Contented
The school has been in operation for a relatively long time, but since the direction of its training is quite narrow, there are not many reviews of its work. Most of the comments are directly related to the courses. Students praise their saturation, convenient training formats and teachers. There aren't many negative reviews. Few complaints are related to the fact that there was confusion with course coordination on the part of the training site and with technical difficulties.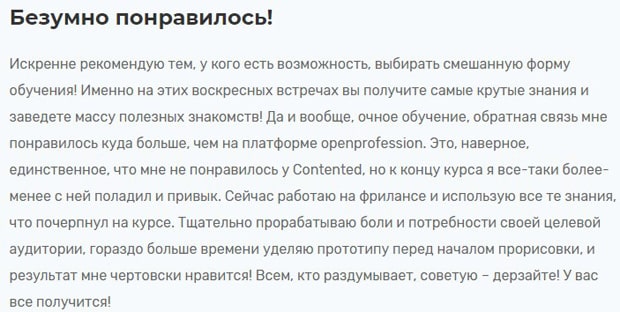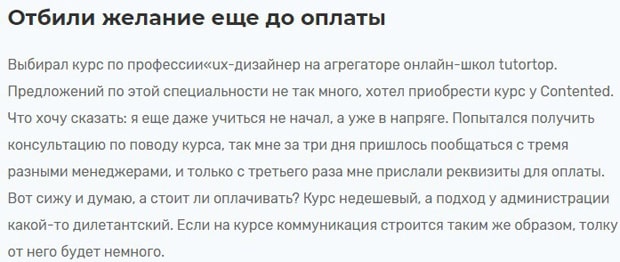 If there are any reviews about Contented Online School, we'll be sure to post on social media. Sign up so you don't miss anything!
Please keep yourself informed about news and complaints. We copy the most valuable information to social networks, so please sign up!
Regulatory agencies and laws
Skilfektori LLC has been operating since 2016. The company is registered as a legal entity in Moscow, Federal Tax Service No. 2. Certificate of Registration: 1197746648813. Primary activity according to OKVED: "Scientific research and development in the field of natural and exact sciences".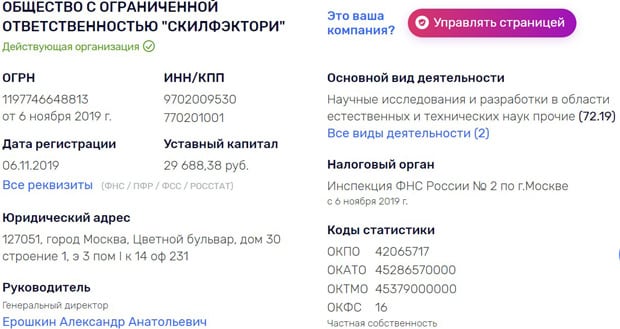 Contented.ru User Agreement
The User Agreement is available for downloading and viewing at the link in the basement of the site. This is a small document regulating the legal aspects of the platform. First of all, it is where you can find the company details of the service administrator. Please note that all materials presented on the platform are copyrighted and copying or reproduction of materials from the site is prohibited.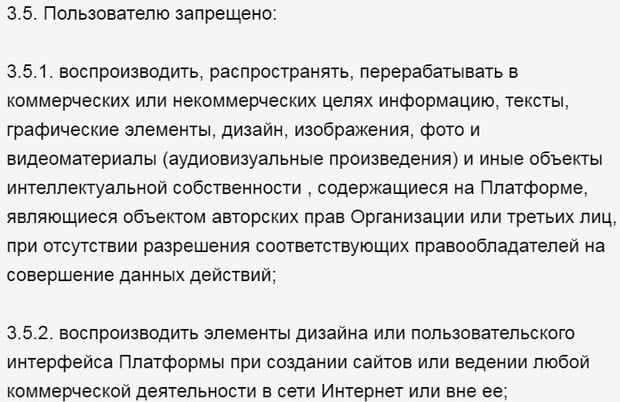 In general? the document is standard and simple. In addition, you can find the offer agreement on the site:
For individuals;
For legal entities.
Customer Service
Service support is available for contact by phone, chat with a consultant, and email. If there is a need, you can leave a message through the social networking publics. The support team always monitors feedback and tries to respond promptly to bug reports.
Site security
All user data and bank payments made on the remote center platform are protected by Let's Encrypt Authority X3 web-security certificate and additional bank protection protocols.
Is Contented a scam?
Contented - is an educational project that has been in operation for more than a year. The school has developed its own unique training format - a mix of online and offline courses with additional classes, remote internships in selected companies, seminars, and meetings.
The platform offers a large selection of classes with intensive curriculum and supplemental programs. Training on the platform is relatively expensive, but there are currently discounts up to 40% on courses and many can be purchased in installments of up to 12 months. We've studied how the school works, the company's website, the courses offered and the features and can say with confidence that courses from Contented are not a scam. Most of the feedback from the students of the school is positive.
Conclusion
Online learning is becoming more and more popular, but ContentedAs we have already written, offers a mixed type of training, face-to-face classes are held on the school campus on Sundays from 12:00. The website of the school is currently being updated and some sections are in development, but all necessary information is available.
Navigation on the site is very simple, and any necessary information can be found in just a couple of clicks. And all updates can be followed through social networking accounts, which are actively maintained by the company's employees.
The company in the ratings
Job Search on the Internet
Activity
New

0

Resolved

0

Not resolved

0