How to Psychologically Cope with Losing Money in Trading
This article will be for those who gave up already after the first lost deposit and decided that trading is just not for them. We are not going to "put Band-Aids" on the wound and tell you that everything will be fine. You will find only real ways to accept the fact that the investment is irrevocably lost, and how to make yourself go back to trading.

So, it can happen at any stage of trading, when you just started to make the first steps in the market and lost all the capital on a few test trades.
About trading binary options read hereabout forex trading read hereabout cryptocurrency trading read hereabout trading in the stock market read here.
Or when you already had some experience in the market and you just got a series of "losses" for one reason or another and practically zeroed out your account. It doesn't even matter how or when it happened, because you can't get your money back anyway. And yes - all this "pulling yourself together", "breathing deeply", "believing everyone is so wrong" and "believing in a brighter future" - it's all useless when you have a lump in your throat, your stomach is getting more gastritis, and you want to throw your computer out the window.
Therefore, if the above primitive phrases and similar consolations do not work for you, then we offer you a step-by-step coping with loss.
Step One - Release Your Emotions
Do not try to suppress feelings of anger and resentment. If you want to cry, cry. If you want to break something - go to the gym and punch a punching bag. The main thing is to release your emotions and get over that acute phase right after the loss in any way that works for you. We all have things that "save" us and make us happy. So use them. Also, don't even think about opening trading terminal. You need to take a break from trading and distract yourself with other things that have nothing to do with the financial market.
Stage Two - Rethink Your Views on the World of Trading
When you really settle down, you have to take a fresh look at the world of trading and forget your attitude to it before you lost money. That is, accept the fact that tactics (not just strategyYou need to rethink your behavior and build a new earning tactic (a trading plan, a selection of appropriate strategies ("strategy"). You need to rethink your behavior and rebuild new earning tactics with a trading plan, selection of appropriate strategies (More than 350 strategies on the blog), risk management and other aspects.
If you're completely new to this, then you'll need to take a training course and then delve into the maze of technical analysis. In this regard, we advise you to choose the most effective training program with video lessons, vocabulary and a selection of ready-made strategies.
Step Three - Believe in Yourself anew
It will be very difficult to change your mind that you are not a loser. And all sorts of fashionable affirmations like "I'm doing very well, and I'm making a lot of money in trading" won't help either. You really need to make sure that all is not lost on you. To do that, try for starters trade on a demo account. Choose a good strategy, and just trade until you start getting at least 7 profitable trades out of 10. This will allow you to feel that you can still trade, and believe in yourself anew.
Of course, the virtual profit on a demo account can not bring you as much joy as the real one, but you can train your skills better, and this will certainly increase your future performance.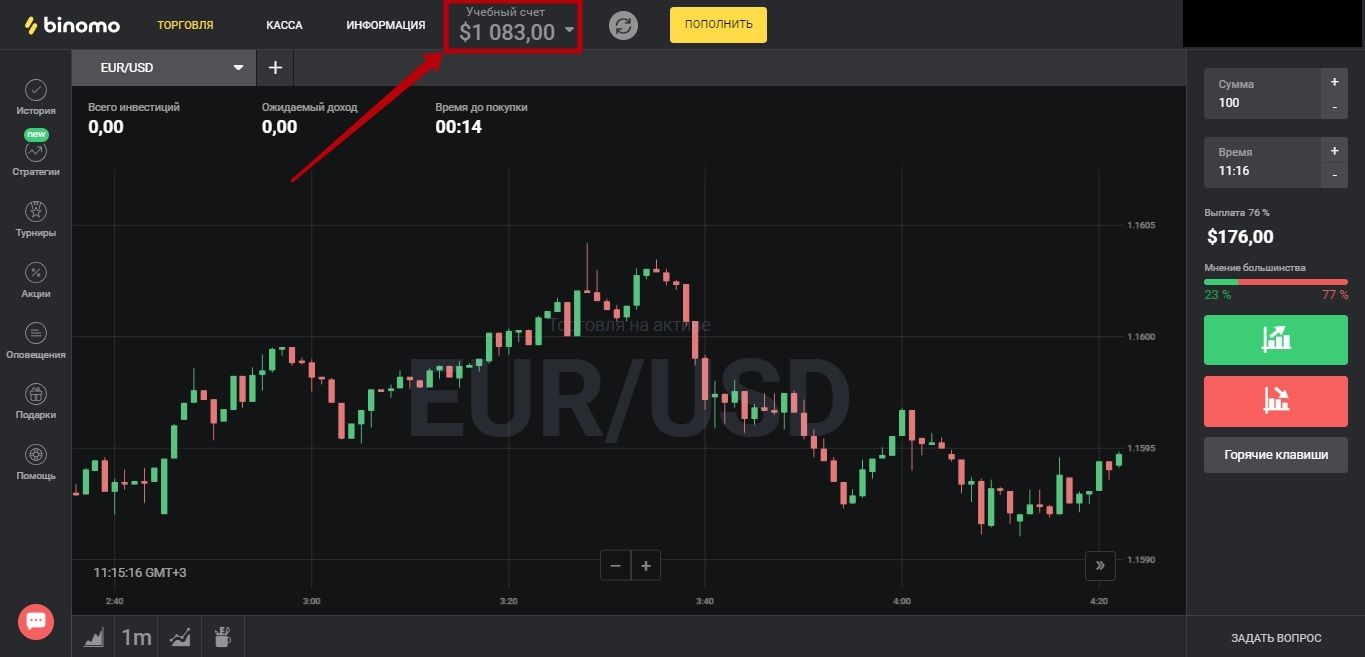 For example, we use a platform from the company Binomo (bonus 100% to deposit by promo code REVIEWEEK100 - Activate)
Step four - replenish the deposit
Deciding to take a risk again will also not be easy, but it is even more difficult to decide on the amount of investment. But in this case you should follow a simple rule - do not invest more than you will be ready to lose again. Just hypothetically imagine that you will lose that amount - if just thinking about it makes your heart ache, then the amount should be reduced to at least a "screw it" level. And, of course, it shouldn't be your last money, and if you lose it you won't have enough to buy food or pay your rent. It should be an adequate amount to trade with, in accordance with the rules of money management, and which can be steadily increased.
Step Five - Start Trading
At this stage you will be thrown at first into a fever and then into a cold sweat. But trust me, when the first deal closes with a profit, you will "let go", your heartbeat will normalize, and you will be able to continue trading more or less calmly. We also recommend you to start with the smallest lots of $1 each and it does not matter if your deposit amount allows you to make bigger deals. The most important thing for you now is to start and be sure of your abilities. Only the smallest lots will allow you to do that, so that thoughts of potentially big losses will not cloud your mind.
These five steps should get you back into the world of trading as gently and without consequences as possible.
The main thing is to go through each of them, and then you can trade again and do it more meaningfully and effectively.