The Best Forex Advisors: Three Favorite Robots
Automatic forex trading With the help of advisors (more about forex robots) - is not just an opportunity to minimize the trader's time and labor resources, but also an excellent prospect even for those who are very superficially familiar with the foreign exchange market.

Yes, yes! Even the dummies will be able to install a special program in the MT4 terminal, which will open and close transactions for them. And the person in this duo will only have to withdraw their profits.
Choosing an Expert Advisor: description, settings, debriefing
It's no secret that now there are dozens (or even hundreds) of Expert Advisors on the Internet, designed for both pips and medium-term trading. All of them differ in the trading algorithm and the level of conservativeness. Below we have selected three variants, which, in our subjective opinion, are very interesting to work with and promising in terms of profit.
PIPSI Advisor
As you can guess from the name, this trading robot is ideal for scalpers. It works on small timeframes (M1-M15) and opens several deals a day, and it is at night time. Theoretically, it can be installed on any pair. The only thing is to try to choose a tool with a minimum spread.
The installation of the tool does not differ from the standard one, so we will not dwell on this question. It is better to pay attention to the trading algorithm and the settings of the Expert Advisor.
As stated above, PIPSI is a night pipswitch, so it activates after 9 p.m. and continues to trade until about 9 a.m., after which it stops until the next evening.
When opening a position, the advisor is guided by the readings of one forex indicatorThe market entry is made when the corresponding signal appears. The entry into the market takes place when the corresponding signal appears. Exit from the transaction is performed according to the set value.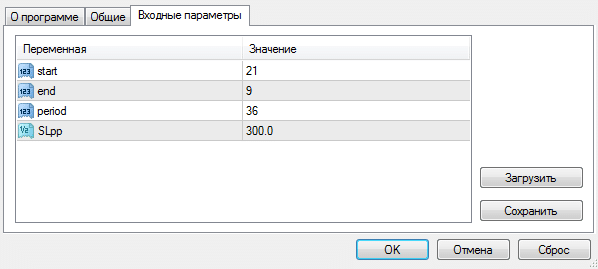 The figure above shows already optimized settings, which are better not to change if you are not good at it.
Naturally, this tool has been tested more than once. You can see the results in the image below:
Basically, the resulting curve looks quite optimistic, so we recommend to pay attention to this trading robot. And what could be better: you are sleeping and the profit is dripping?
TdsGlobal Advisor
Another option for successful automation of trading on the foreign exchange market is the TdsGlobal robot. There are two simple indicators in the algorithm of its work: the well known Stochastic and MACD (And it is the combination of these indicators is the most successful, because they mutually filter out each other's false signals).
Let's look at an example:
In order for the Expert Advisor to open a buy trade, the stochastic must be in the overbought zone and the MACD must form a histogram above the zero level.
for sales, the conditions for entering the market are mirror-like.

As a result of testing, this Expert Advisor has shown excellent results. Moreover, the most optimal time interval is D1.
Advisor Shift
This robot was also developed more for scalping, it has a clear principle of operation and shows excellent rates of return on history.
It is based on the readings of two indicators RSI and MACD. It is believed that the best timeframe for it is M5, and the most suitable currency pair - EUR / USD, including due to the small spread on this instrument.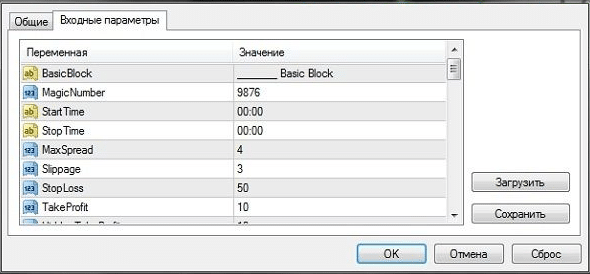 It is worth noting right away that there are quite a lot of settings in this indicator. And the standard parameters are very effective in trading, so it is better not to change anything here without an absolute necessity.

Where can I download any advisors?
Naturally, everyone interested in solving the issue of automation of trading wants to find a resource where you can download any advisor absolutely free, without worrying that along with the robot file on your computer will penetrate any virus. And in this case we recommend you to pay attention to the corresponding section on the website Amarkets brokerThe most popular Expert Advisors for any trading method (from Pips to Medium Term) are freely available there.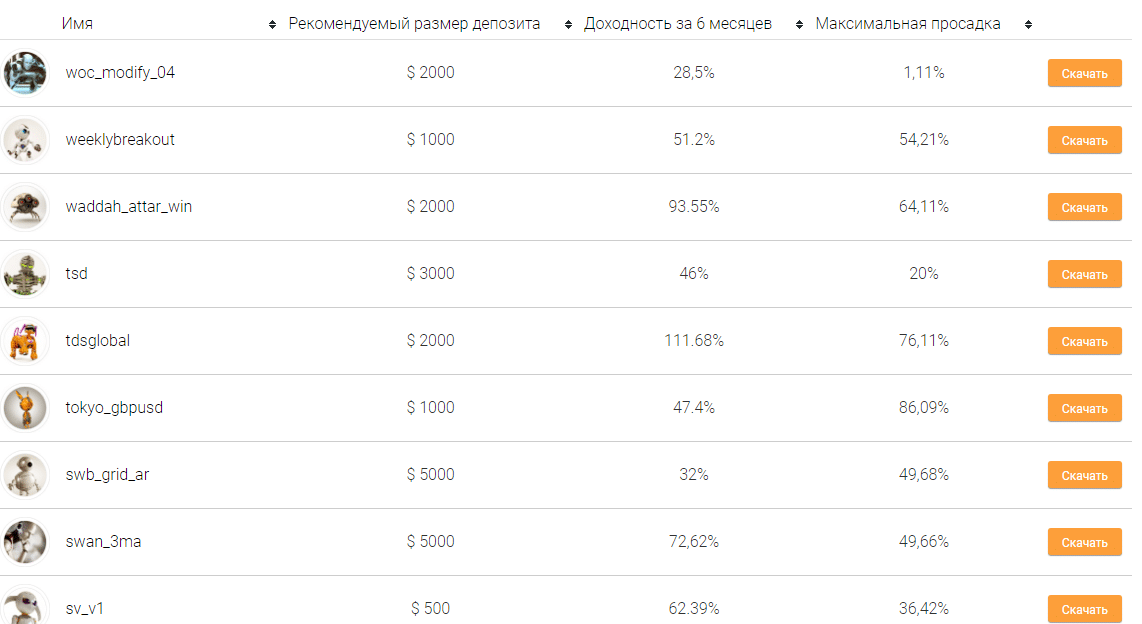 As you can see in the screenshot, trading robots with recommended deposit size, potential profitability over 6 months and maximal drawdown are placed here in a handy form. Thus, you can quickly and safely choose an automatic trading robot, with which, we hope, it will be easy to find a profitable path!