Teachable is an educational platform for teachers and coaches. Everyone will be able to learn how to work with online courses, choose a rate and launch an educational project.
Read completely
The company
Official website
Head Office

470 Park Avenue South, 6th Floor New York, New York 10016

Date of foundation

2014

The owner of the company
Types of support
Social media
Languages

English

Cost of training

Paid, Free

Prices

Subscription Basic

/

29

USD

per month

Subscription Pro

/

99

USD

per month

Subscription Business

/

249

USD

per month

Bonuses
Methods of replenishment

Bank card (Visa/MC),

Buying on credit
Installment
Categories of training programs

Business courses

Specialties

Online Schools,

Project Features

An online platform where everyone can choose a direction and create their own educational project

Number of courses
Course Types

Short-term,

Additional education

Webinars

Additional services
Starting the training

At any time (you can join the course at any time)

Age restrictions
Mode of operation of the company

Round the clock

Availability of online payment

There's

Personal account

There's

The need to register on the site

There's

Checking Assignments

There's

Mobile applications
Affiliate Program
Benefits

Convenient tariffs that can be customized to the needs of educational projects

Convenient payment system and fast payment processing

Profitable affiliate program

The company is active in social networking and promotions

Disadvantages

There are restrictions on video and audio formats when uploading to the platform

Regulatory agencies and laws
Company requisites

Legal name:

Teachable, Inc.

Legal address:

470 Park Avenue South, 6th Floor New York, New York 10016

Overall assessment
Date of update

26.11.2022
The address is
470 Park Avenue South, 6th Floor New York, New York 10016
Map
Subscribe to this company
Teachable is a scam? Reviews and description
Online project
Teachable
is open so that you can prepare and launch your own course or open an online school as quickly as possible. The company has developed convenient rates, a portal with a simple interface, and additional features that will be useful for students and teachers.
One of the rates is a trial, free of charge, and clients will be able to check whether the services provided by the educational center are suitable for them. To see if teachable.com's educational services are a scam, let's take a closer look at how the company works.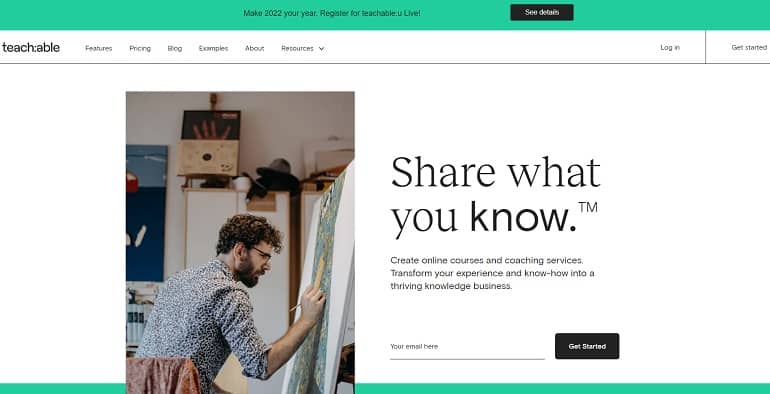 Why Teachable?
The project is fully online. Teachable.com. - is a non-traditional portal for online training. The company has developed a training package with flexible rates that is suitable for teachers, coaches, and other users who want to run their own programs. The organization has been operating since 2014, evolving by adding new features and services. Pros of working with Teachable:
free basic rate;
relatively low prices;
convenient payment system;
There is no need to install additional software, the work takes place online through the company's portal;
profitable affiliate program;
All rates are modular and you can add additional educational modules;
prompt work of the support service;
The company actively maintains social networks, conducts various promotions, publishes news, and is working on a blog describing new educational methods and developments.
The project is not only suitable for teachers of academic disciplines. The modules are made so that clients can choose for themselves what they want to emphasize: lectures, online classes, workshops, or webinars.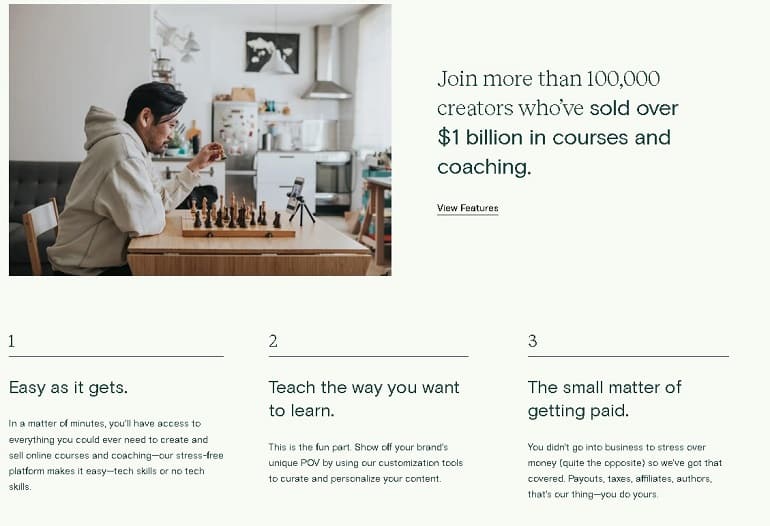 How do I learn with Teachable?
There are no educational courses on the site other than those linked to as examples, and there are no podcasts or web resources that you can use as training examples to create your own projects. To get started with the portal, upload your own course, or participate in any of the programs, you need to register.
Personal Cabinet
Access to the closed part of the portal is possible only after logging in to the site under your account. To register, you need to fill out the fields with personal data and send the completed form to the site.
Mobile application
The project has not yet launched an application. But the portal is made so that it is easy to work with it from a computer, smartphone or tablet.
Courses at teachable.com
Posted on the site teachable.com Training programs are constantly being updated. For users who want to run their own training programs, there are four tariffs with a different set of training modules. Let's take a look at the current curator training programs that the project team has prepared for its trainees.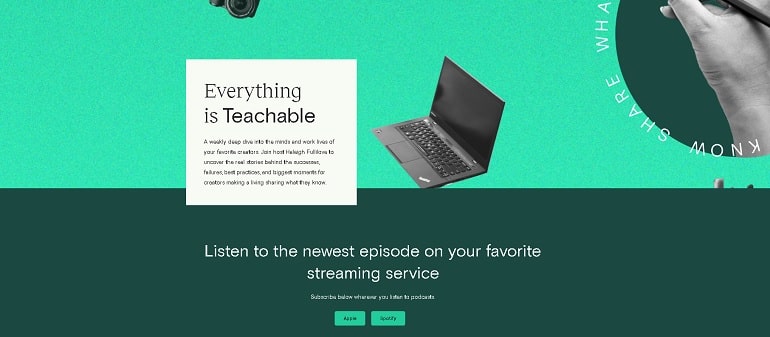 Podcasts
In the catalog of training programs, you'll find a list of podcasts that are constantly being updated. The podcasts are recorded by the curators of a variety of training programs, from vocal training courses to digital literacy programs. Each podcast consists of a series of 48-minute lessons.
Programs for course supervisors
The company launches training programs for future curators of its own training programs. Classes start according to the schedule, which is constantly updated. All registered users of the portal will be able to sign up for lessons. The course, which begins Jan. 18, consists of seven lessons.
Free courses
Mentor, Curriculum programs are available to authorized users free of charge.
Additional services
The Education Center platform has information about additional services that will be helpful to aspiring course supervisors and their students.
Community for Authors
Community members can share interesting proposals, create new programs, and launch startups. The project team helps with project development and further promotion. There the authors of their own programs also share useful tips.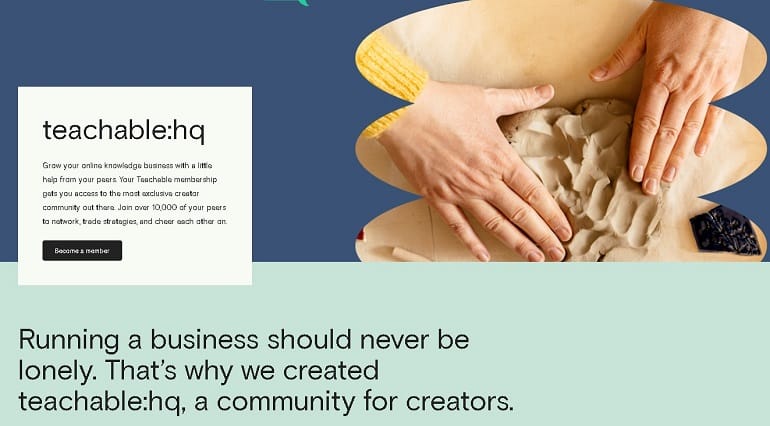 Jobs
The company invites new members. The job page publishes ads for new developers and you can also send a resume request there.
Blog
The blog publishes useful articles, news, information about new courses, reviews and other interesting entries.
Newsletter
To get acquainted with the work of the portal and to keep abreast of new events, subscribe to the newsletter.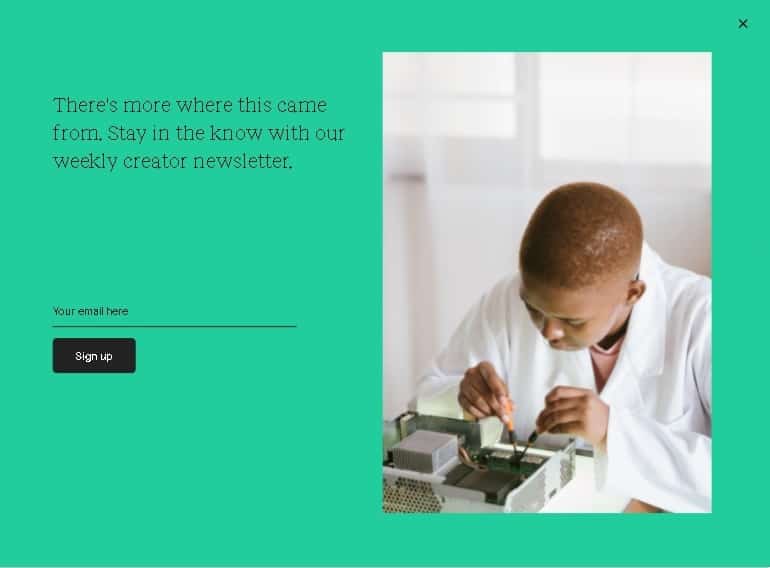 Cost of training
The company offers four rates, each of which can be customized to the needs of your curriculum. The first free plan is suitable for small programs, for those teachers who are just starting out. The rates can be paid monthly or for one year at a time. The most expensive package of offers - 249$ per month is launched for large educational projects with the maximum number of students.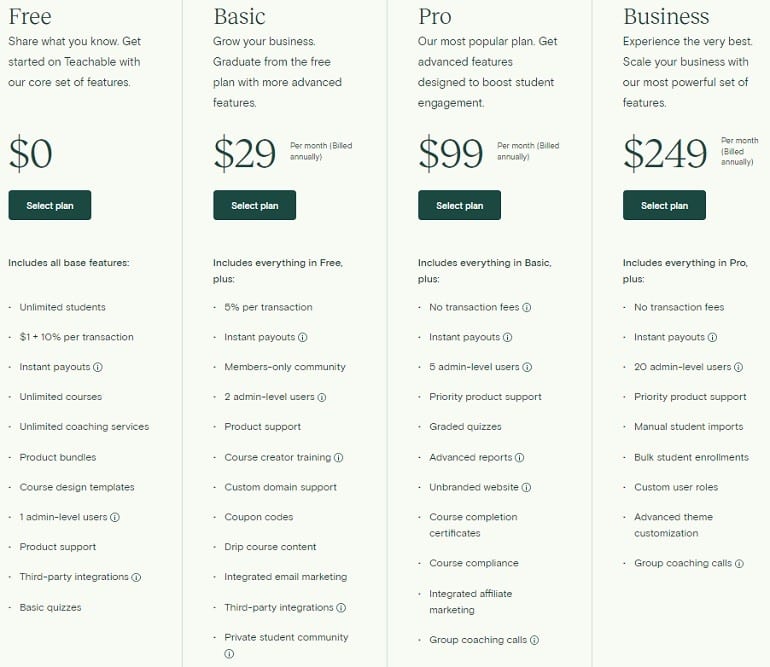 How do I pay for my education on Teachable?
You can pay for the selected ones online after registering and confirming the application.
Paying for training in your personal account
At the education center teachable.com payment from a bank card (Visa/Mastercard) is available through a personal account.
Other ways to pay for online courses
It is also possible to pay for classes by transfer through PayPal. In addition, the company has developed a system for projects that choose to pay for courses through them. Thus, curators do not need to connect bank acquiring.
Bonuses teachable.com
The company does not have a bonus program, but the project team launches promotions and offers, the fastest way to find out about which you can subscribe to a newsletter.
Referral program
The company has launched an interesting affiliate program. By inserting a referral link and putting it on your site, you can receive up to 50% commissions. The portal gives 90 days with cookies, when the data about the client's transition through the link will be used to pay the commission. You can also cooperate with the company through the CPA network CityAds. You will receive up to 50% commissions for each new client.
Complaints about Teachable
Among the most common complaints are records that the functionality of the training modules does not provide for the creation and issuance of certificates and training. There are complaints that there are failures to maintain statistics on students and completed programs. In positive comments, customers note the convenience of the course control panel and the useful services of the project.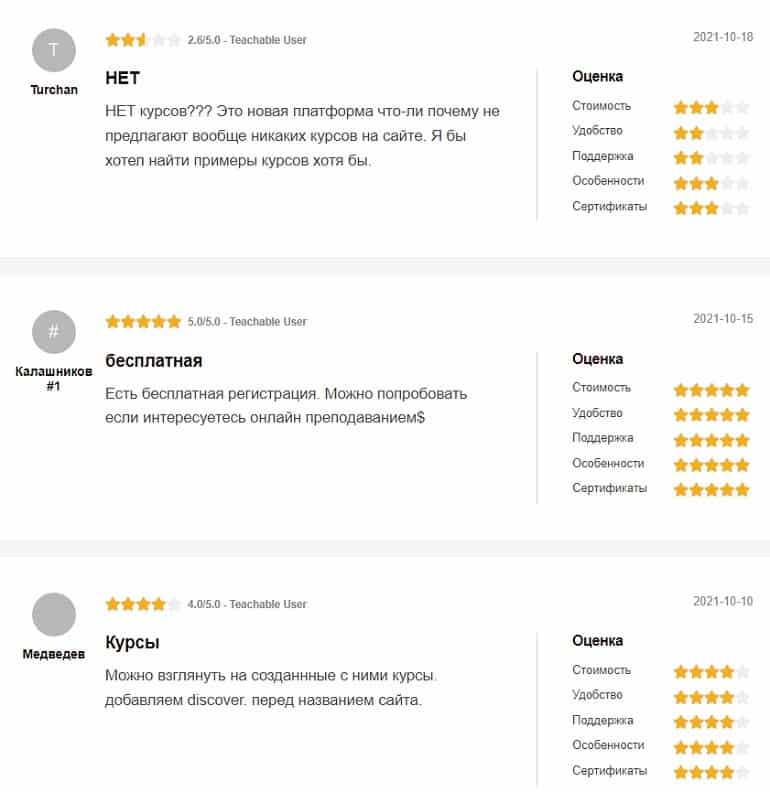 If there are any reviews about Teachable's online education site, we'll be sure to post on social media. Sign up so you don't miss anything!
Please keep yourself informed about news and complaints. We copy the most valuable information to social networks, so please sign up!
Regulatory agencies and laws
Teachable, Inc. is governed by the laws of the United States. The law address of its principal office is 470 Park Avenue South, 6th Floor New York, New York 10016.
Teachable.com User Agreement
When registering on the website Teachable all clients agree to the terms of service, spelled out on a separate page. This is a small document presented, as well as all other information on the site only in English.

Standard legal documents for online services: "Privacy Policy" and "Agreement on Protection of Personal Data" are part of the "Terms and Conditions". Subject of the User Agreement: transfer of non-exclusive rights to the company's developments. Only adult users over 18 years old can become clients.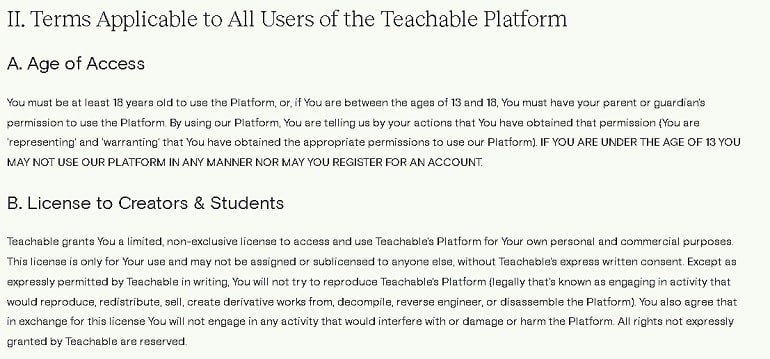 The project team has developed a flexible payment system and additional modules to each tariff, so that customers can get money from their students for sold courses using bank acquiring or via Teachable.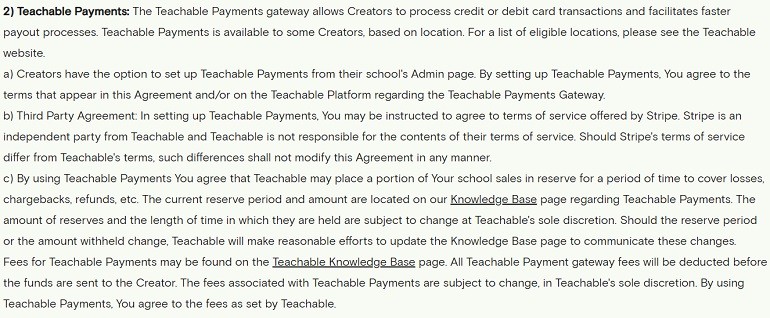 The agreement is quite detailed, in legally standard language. At the end you can find references to the laws of the state of California, which regulate the work of the service. The developers of the web resource are always ready to help if you have any questions.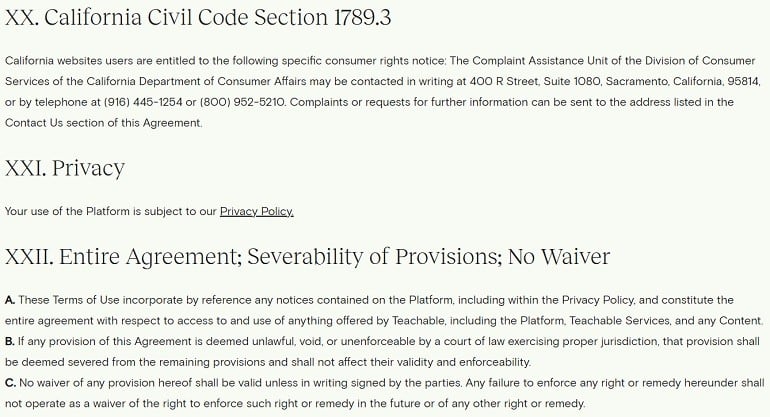 Teachable Customer Service
You can leave a message for the portal's support service via the official Facebook and Instagram communities, by e-mail or via the feedback form. The site has a help center, where answers to all the most frequently asked questions are published.
Site security
The Teachable platform, customer personal data and bank payments are protected by a valid web security certificate. Payments go through bank acquiring pages or PayPal with additional security.
Is Teachable a scam?
Teachable - an online service that helps you create any curriculum site, learn how to run courses and develop your own projects and launch and promote them. Teachable.com is not a scam. Advantages of the portal:
a complete set of tools needed to create interactive courses of any kind;
saving backup copies of training materials on the company's servers;
convenient and easy payment system;
profitable affiliate program;
training programs for future tutors;
prompt work of the support service;
several languages for learning projects;
import video and audio materials from other portals.
The functionality offered by the project team includes: modules for creating advertisements, webinars, mailings, and other services. The interface of the control panel is intuitive. The project is not an educational center, but helps to create your own courses, not only offering technical services, but also launching your own lessons on curriculum development.
Conclusion
Teachable is suitable for beginning teachers and those who have been working in the field of educational services for a long time. Most course types are supported. By subscribing to Teachable's blog or social media accounts, you'll be aware of all new offers, promotions and services. Another advantage: integration with other educational platforms. Most of the feedback from teachers is positive. The project continues to evolve, adding new services, launching podcasts, and developing the community.
No reviews yet, be the first!
The company in the ratings
Job Search on the Internet
New companies on the site