India's largest online store for handmade gifts and flowers with worldwide delivery and many promotions.
Online store
Official website
Head Office

A006, Lower Ground Floor, Kanakia Boomerang, Chandivali Farm Road, Powai Mumbai - 400072

Date of foundation

2016

The owner of the company
Types of support
Support by phone
Social media
Languages

English

Bonuses
Payment methods

American Express, PayTM, SBI Buddy, Mobikwik, PayPal, Bank Card (Visa/MC)

Buying on credit
Installment
Store category

Gifts and flowers

Project Features

Handmade gifts store, worldwide delivery

Additional services

Newsletter

Information about current discounts, gifts, promotions and news

Project regions

The whole world

Shipping methods

Transportation companies, Courier delivery

Courier services

In-house courier service

Transportation companies

DHL, Blue Dart, FedEx

Delivery time
Mobile applications
Affiliate Program
Benefits

A wide range of exclusive handmade gifts

Detailed product cards and low prices

Fast delivery and return and exchange options

Product reviews from real people and fast online ordering

Prompt support and worldwide delivery

Advantageous discount program

Disadvantages

There are failures of delivery

Regulatory agencies and laws
Company requisites

Legal name:

Intermesh Shopping Network Pvt. Ltd.

Legal address:

A006, Lower Ground Floor, Kanakia Boomerang, Chandivali Farm Road, Powai Mumbai - 400072

Overall assessment
Date of update

14.02.2023
Address
A006, Lower Ground Floor, Kanakia Boomerang, Chandivali Farm Road, Powai Mumbai - 400072
Map
Subscribe to this company
IGP is this a scam? Reviews and description
IGP
- is one of India's largest gift manufacturing and sales companies. The company sells handmade gifts, fresh flowers, cakes, gourmet sweets, etc. Deliveries are made to over 300 cities in India and to over 150 countries worldwide.
The company's main mission was to create an expanded gift system and offer its customers one-stop solutions for buying and receiving handmade gifts. Consider the pros and cons online store and find out if IGP is a scam or a reliable service.
Why IGP?
If you prefer to approach the selection of gifts for their loved ones non-standard and do not like to give them trivial jewelry, creams and clothes, the online store igp.com just for you. Here you can buy chic handmade gifts for your family and friends. The store offers unique Indian jewelry, sweets, stylish accessories, interior items and much more. Among the special advantages of IGP.com online store are the following:
Delivery worldwide up to 7 days.
A huge variety of gifts and sweets.
Polite prompt support service.
Gifts for all occasions.
Discounts and sales.
Secure payments (IGP.com website is protected by SSL).
If you really want to find the perfect gift, register on IGP.com and you are sure to find exactly what your loved one will love.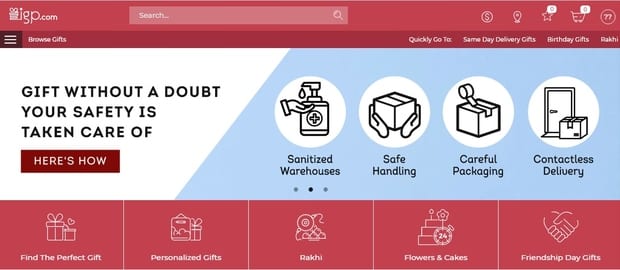 What can I buy at igp.com?
Nowadays, IGP.com online store offers thousands of items from which you can choose the perfect present for your friend, loved one, relative or boss. There are 8 main categories of goods in the online store, let's consider them in detail.
Cakes
There are a total of 386 cakes in the category, which you can order with same day delivery. Same day delivery is available in India only. The category includes chocolate cakes, exotic cakes, mango cakes, Black Forest cakes, designer cakes, birthday cakes, photo cakes and cakes for children.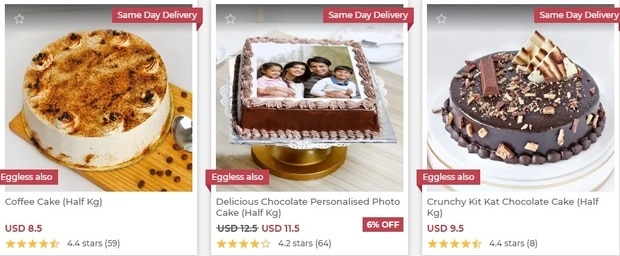 Flowers
There are 42 items in this category, including roses, flower arrangements, premium flowers, and flower baskets. Flowers are also delivered on the day of order to over 300 cities in India. Floral gifts from IGP.com will be an unforgettable experience for the birthday boy, because they are not just floral bouquets, but a real work of art.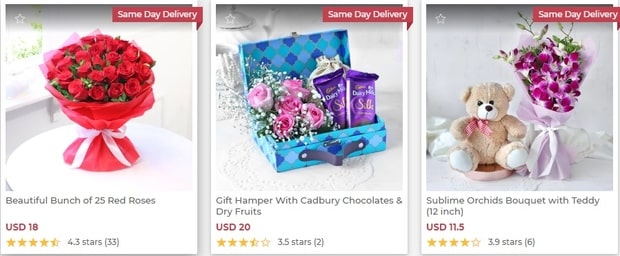 Toys and games
In this category you will find gifts for boys and girls of all ages. Here you will find items such as dolls, cars, toys for babies, sports accessories, soft toys, as well as board games. In this category you can also order personalized gifts for your loved ones and relatives.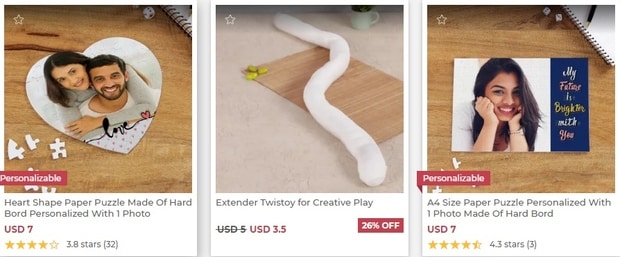 Jewelry
Jewelry is a special category in the online store of IGP.com. Here you will find earrings and pendants, necklaces, bracelets and various accessories. All the jewelry at IGP.com is exclusive handmade; you will not buy such jewelry anywhere else.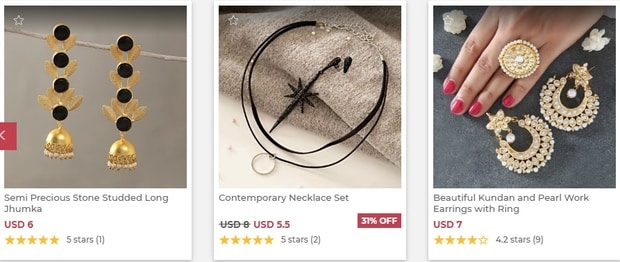 Gourmands
In this category you can buy a variety of drinks, chocolates, pastries, dried fruit, sugar-free sweets, snacks and more. As a gift, you can purchase handmade candies in a personalized box, personalized chocolate boxes, and personalized handmade candy photo crystals.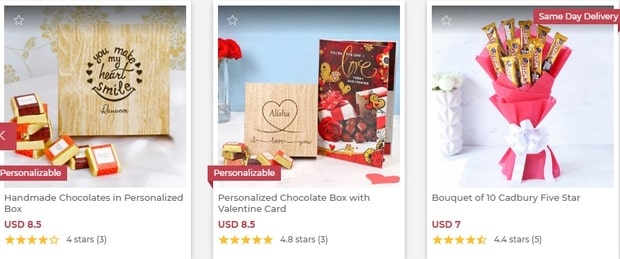 Fashion & Style
There are dozens of fashion accessories, bags and clutches, ethnic clothing, beauty and personal care gifts, women's clothing, men's clothing, children's clothing, etc. As a personalized gift, you can buy purses, bags, passport covers, etc. here.
Personal gifts
In this section you can buy personalized gifts with photos, pillows, soft toys, various accessories with the name of the giver, home and interior items, stationery and cards, various accessories and much more.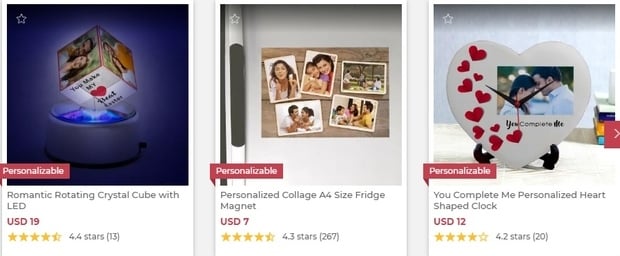 Home and Life
In this section you will find interesting decorations, gifts for the kitchen and bar, interior items, stationery, desk accessories, paintings, home textiles, calendars, electronics, appliances, etc.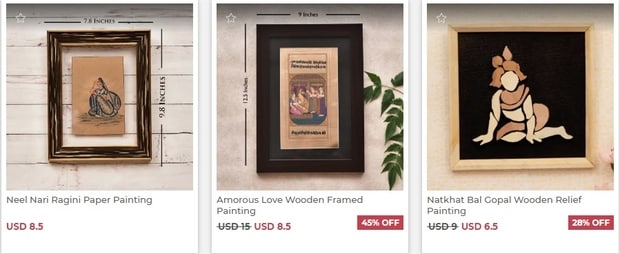 How do I find the right product at IGP?
To find the gifts you need on the site igp.comYou can use the search function or go to categories. Despite the large range of products, you can easily find what you need. Also, you can search for the necessary goods by going to the thematic headings, which are located at the bottom of the page. Here you can choose gifts for Mother's Day, for parents, on Teacher's Day, for grandparents, on the birthday, for the boss, for the New Year, for Valentine's Day etc. Once you've chosen the gift you like, just go to its card to read the detailed characteristics.
Product card
In the card of the product you can see detailed photos, product characteristics, information about who the chosen gift can suit, about delivery, as well as with reviews of real customers. Here in the card you can see the discount on the product, if any, as well as ask your question about the product to the support service.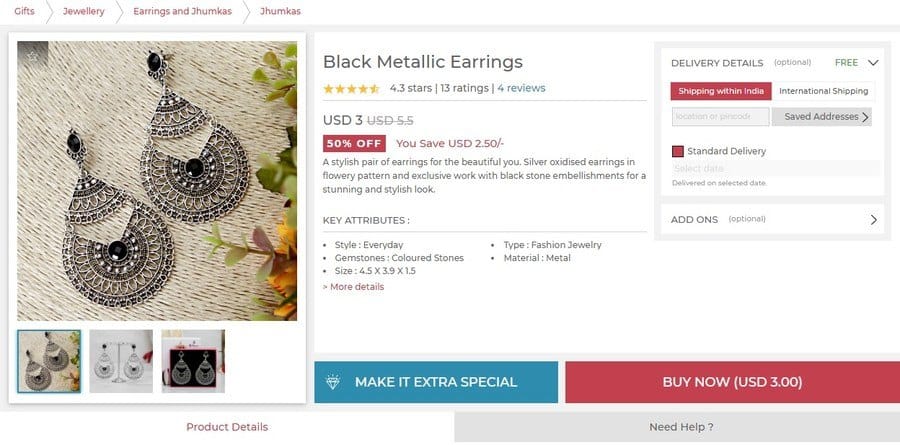 How do I order from IGP?
Anyone can browse all the products on IGP.com. But in order to buy a product or add it to cart, you will need to register on the site. The registration process will take you no more than 5 minutes, after which you will be able to place an order and receive your purchases in any country of the world.
How do I register at igp.com?
To register on the online store site igp.com, you need to click on the user icon in the upper right corner of the page. A login and registration form will open. To open the registration form, click on "Register".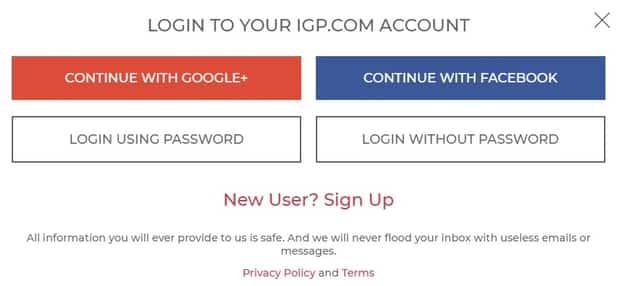 In front of you will open a small questionnaire, which must be filled out. In order to register, you must provide the following information:
Your email address.
Password at least 6 characters.
Country of residence.
Your contact phone number.
The name of the country must be in English, and the phone number without country code and spaces. After filling in these data, click on the "Send" button.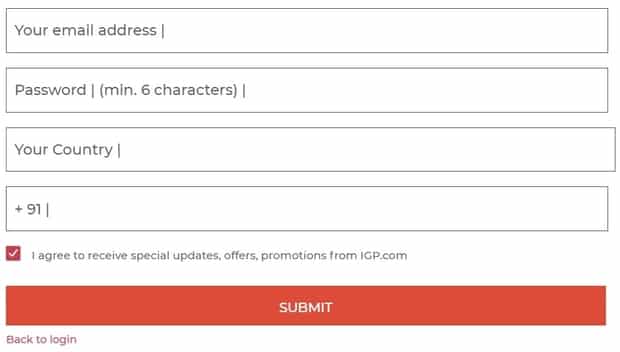 Next, you will be asked to fill out personal information about yourself. On this form, you must enter your gender, your first and last name, and your date of birth. After filling in your information, click on the "Sign me up" button.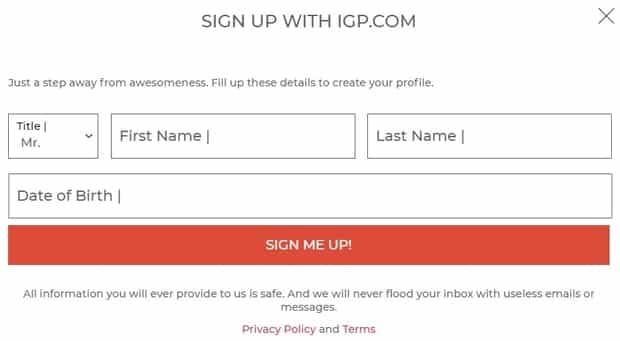 After filling in all the data in the IGP.com online store, your profile will be created. You will be able to access your personal account immediately after registration.
Personal Cabinet
In the personal cabinet of IGP online store you will see only 4 tabs, which are enough to manage your orders. The first tab is your profile. Here you can change your personal data, change your password, specify an alternative mobile number, and unsubscribe. In the second tab "My Orders" you will see the history of your orders, can place repeat orders and delete completed ones. Information for order tracking will also appear here.
The third tab is your address book. This is where you can add an address for delivery of your purchases. You can add multiple addresses if you plan to receive your purchases at home, work, or send them directly to the giver. The fourth tab is the order tracking page. On this page you can enter your order number and track it in real time. Thanks to this page you will always know where and at what stage of delivery your order is.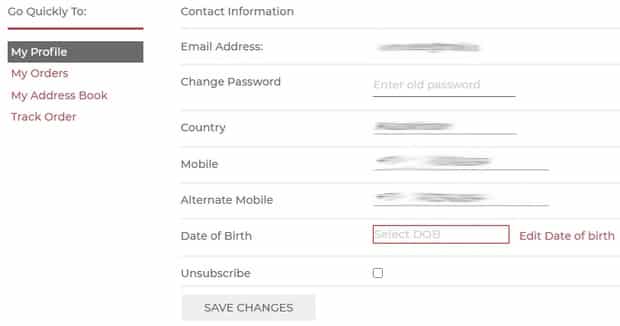 How do I place my order at igp.com?
After you have registered on the site igp.comYou will be able to place your order in the online store. In order to place an order, you need to choose the right product for you and put it in the shopping cart. If you order a personalized gift in the product card, you need to specify additional information such as greeting text, the name of the giver and his photo. Once your order is formed, go to your cart and proceed to checkout. The first step of ordering is to specify the country to which you want delivery. After entering this information you will be able to see an estimated time of delivery to your country. You will be prompted to add a delivery address. Then you need to check all the data and proceed to payment.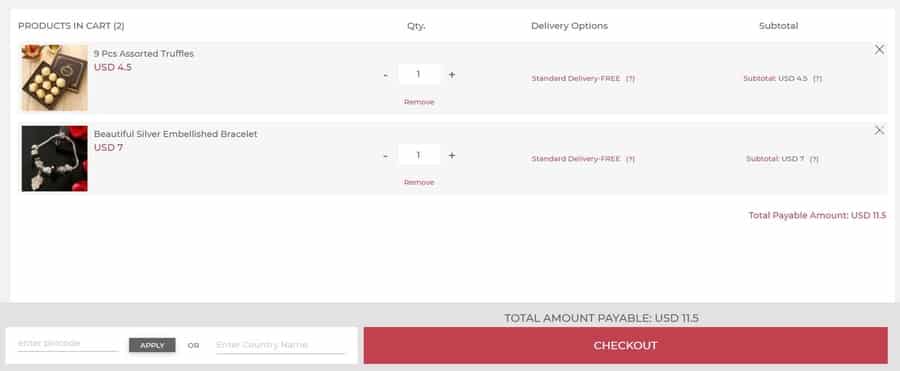 It should be noted that IGP.com does not allow you to order a bulk batch. If you want to buy goods in bulk from 50 to 10,000 units, you can contact the support service of the online store and you will be provided with the necessary assistance.
Additional features
IGP online store is one of the largest handmade gift stores in India. The store has been in operation for 19 years and in that time has greatly expanded the features of its website for its customers. Additional features of the site include:
Exchange and Returns. You can exchange or return any purchased item within 10 days from the date of delivery of the order. Returns and exchanges are not possible only for perishable products.
A blog with useful information. At IGP.com, you can find a lot of useful information to help you choose the perfect gift for your loved ones. For example, in the blog you can learn the meanings of flowers, the importance of flowers in Indian culture, what flowers are given for different holidays, information about the best Rakhi and how to choose this decoration correctly.
Order Tracking. Thanks to order tracking, you will always know at what stage of delivery your order is. You can track your order using the "Order Tracking" button or a special page in your personal cabinet. Both tabs are available at the top right of the home page. At the moment you can't track the delivery of flowers and cakes on the site.
Newsletter. By registering on IGP.com, you agree to receive notifications and news from the online store. Thanks to this newsletter you will be able to find out about new promotions, bonuses and discounts. If you do not want to receive information from the online store, you need to unsubscribe from the mailing list in your personal cabinet.
Mobile application
IGP online store has an official mobile app, with the help of which the online store of Indian gifts will always be at your fingertips. Now you can choose unique handmade gifts right from your cell phone. The application is available for download on Google Play and App Store. Before installing, check the necessary system requirements.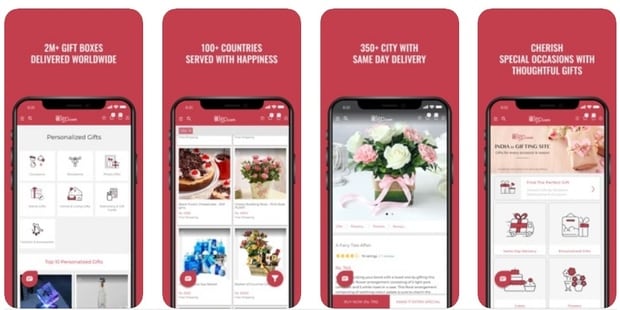 Payment and delivery at IGP
The online store offers its customers many types of payment and order delivery. Let's see how you can pay for your order at IGP.com and what delivery options are available in this store.
How do I pay for my order?
You can pay for your order at IGP.com online store immediately after making a purchase. At the last stage of registration you will be redirected to the payment page, where you can choose the payment method and, following the instructions, make the transaction. Currently, payment is accepted by the following methods:
Credit cards. The online store accepts all credit cardsThe website is available by credit card, including Visa, MasterCard, Maestro, and American Express. You can also pay with any domestic and international credit card on the site.
Debit cards. You can pay for your order with any domestic and international debit card.
Internet Banking. Payment via Internet Banking is only available to residents of India. This payment method is not available for international buyers.
Internet Wallets. You can pay for purchases using online wallets, including PayTM, SBI Buddy and Mobikwik.
PayPal. If you have a registered PayPal account, you can easily pay for your purchases at IGP.com online store in just a few minutes.
If you have any questions about your payment, you can contact customer service. Our support staff will advise you on how to make a payment, help you verify and confirm your transaction, and advise you on how to use a discount or promotional code.
Ways to deliver the product
IGP.com online store has no physical outlets, which means that you will not be able to use the self-delivery option. Today, orders from the IGP.com online store can be delivered in the following ways:
In-house courier service. This type of delivery is only available for cities in India. If you order delivery by our own courier service, you will receive delivery on the day of your order.
Third-party courier services. This delivery method is available for cities in India that are not serviced by the store's own courier service. In this case the delivery is made by independent courier services.
International shipping. If you don't live in India, your order will be delivered by shipping companies. Today IGP.com works with shipping companies such as DHL, Blue Dart, FedEx, etc.
Ways to return merchandise
You can exchange or return any item purchased at IGP.com online store within 10 days of receiving your order. Exchange and return does not apply to perishable products and personal care items. Let's look at ways to return and exchange items.
Return of goods of improper quality
If you received an item of improper quality, you can request a refund on your card, wallet, or account that you used to pay. You can also request a gift certificate from IGP.com for a specified amount as compensation. To request a refund, you must back up your complaint with a picture of the goods of improper quality.
Return of goods of proper quality
If you decide to make a return of a good-quality item, you will only be able to receive the full amount for the returned item in the form of gift vouchers. You will be able to use this certificate for one month. Also note that personal gifts are non-refundable. You may apply for a refund only within 10 days of receiving your order.
Bonuses at IGP
Online store igp.com gives its customers a lot of bonuses, promotions and discounts. Thanks to these offers you can save significantly on gifts for your family and friends and buy handmade gifts at affordable prices. To date, IGP.com has the following promotions:
Discount 20%
Thanks to the discount program, you can get a 20% discount when you pay with your HDFC credit and debit card. The promotion is valid until September 30, 2020. Under the program, customers can avail the discount on purchases of Rs. 1,200 or more.

Discounts
On the SALE page you will find many products with discounts. Follow the updates of the section and you will always be able to buy unique handmade gifts at affordable prices. Hurry up, the number of promotional items is limited.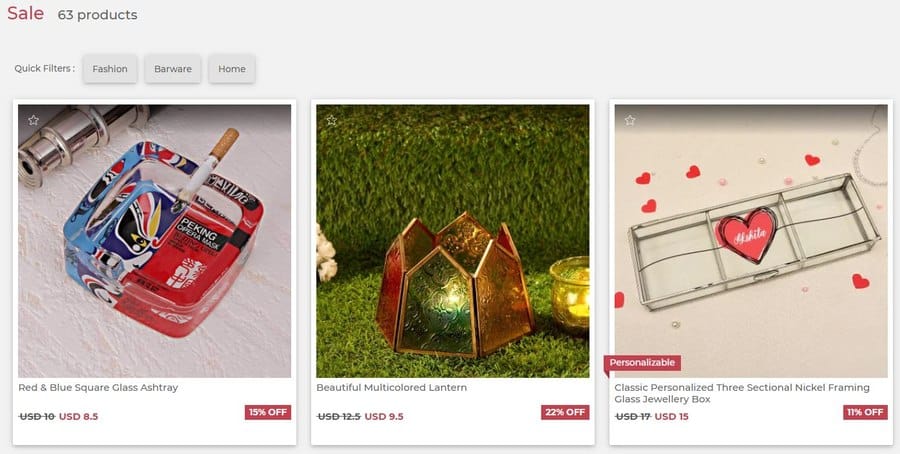 Right now there are discounts of up to 60% on Rakhi. A Rakhi is a Hindu talisman bracelet that protects its wearer from witchcraft, the evil eye, disease, poverty and other misfortunes. Bracelets are made of beads or semi-precious stones and assembled by hand. Here you will find designer bracelets with unique design.

Free shipping to the USA
The IGP.com online store offers free shipping to U.S. shoppers. IGP.com delivers free shipping to many cities in the United States. To take advantage of free shipping, you must specify the U.S. country and city of delivery at checkout. If your city is on the free shipping map, your loved ones will receive their gift in no time at all, and you won't have to pay the shipping company.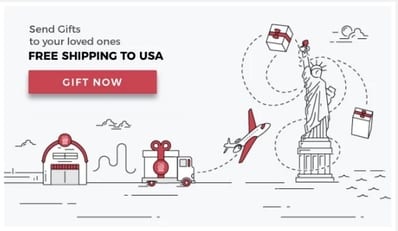 Coupons
In addition to discounts and bonuses, IGP.com online store offers its customers promo codes for certain product groups. To use a promo code, you need to go to the "Coupons" page, choose a promo code, copy its number, and paste it into the appropriate field at checkout. The following promo codes are currently available at IGP.com:
Discount 10% on cakes.
Gourmet Discount 10%.
12% discount on jewelry.
Discount 10% on gifts for home and household.
Discount 10% on plants.
Discount 12% on handmade gifts.
Discount 10% on flowers.
Discount 15% on toys and games.
Discount 10% on personalized gifts.
Referral program
If you are a webmaster, you can take part in an affiliate program from CPA-networks Admitad. IGP.com offers its partners 5.5% of a paid order.
Complaints about IGP
Online gift store IGP.com is a whole world of unique handmade gifts. Here you will find delightful flower bouquets, unusual sweets, unique jewelry and much more. On the website of the online store you can read the customer reviews. Having analyzed these reviews, we came to the conclusion that they are all positive, but this is not surprising not many online stores put on their pages real complaints from customers. That's why we decided to look at online reviews.
On the expanses of Indian and English-speaking Internet we found several complaints about IGP.com online store, most often concerning delivery problems. Some users write that they cannot receive the ordered items and ask for a refund. Particular indignation is expressed by customers who ordered gifts with same-day delivery. Some of them ordered cakes or flowers for their birthday, but the birthday boy was never able to get his gift, which really upset the customers. However, despite the large number of complaints, there are positive reviews on the Internet about the online store IGP.com. Many write that it is the best online store for buying gifts. Satisfied customers note that they received their orders exactly on time, and the quality of products was at the highest level.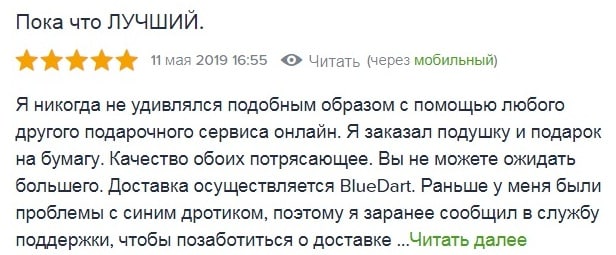 If there are any reviews about IGP online store, we'll be sure to post the information on social media. Sign up so you don't miss anything!
Please keep yourself informed about news and complaints. We copy the most valuable information to social networks, so please sign up!
Supervisory authorities
IGP online store is officially owned by Intermesh Shopping Network Pvt Ltd, registered in Mumbai, India? The company is active with registration number 332327. The company is regulated by the tax authorities of India. The relationship between IGP.com administration and buyers is regulated by the user agreement.

View information about Intermesh Shopping Network Pvt Ltd (at ZaubaCorp);
igp.com User Agreement
The User Agreement of IGP.com online store is published in "Terms and Policies" section. Before registering on the site, the administration of the online store urges you to read this document and unconditionally accept the terms of use. According to the terms of the User Agreement, any materials or information from the IGP.com website may not be copied, reproduced or transmitted for commercial use without the written consent of the service administration.

The products and services presented on the website IGP.com do not have any warranty, which means that the store declines all responsibility and does not guarantee that the offered products are free of errors or defects. Also, the administration of the service disclaims any responsibility for the possibility of viruses or other malicious components on the site.

By agreeing, the user of IGP.com online store waives any claims against the store administration. You should also remember that a 10% commission is charged for refunds due to bank charges and other processing overheads.

Customer Service
If you have any questions about ordering goods in IGP.com online store, payment or delivery, the administration of the service recommends that you read the useful information on the relevant pages. If you have not found an answer to your question, you can contact the support service via the feedback form or by phone. To ask a question in the feedback form on IGP.com, you need to choose the subject of your inquiry, specify the name, your e-mail address and phone number. After filling in all the data, you can write your message and send it to the support service. You can also contact the support service by using the phone numbers listed on the website, by sending an email or by asking your question on the official pages in social networks.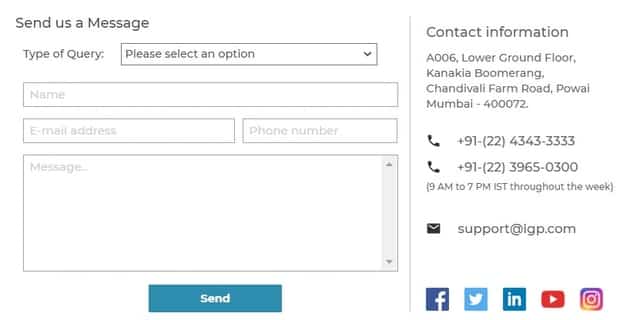 Is IGP a scam?
IGP - is an online store of gifts and flowers. The store delivers its products to more than 150 countries around the world. To date, the store has already delivered more than 2 million gifts around the world. However, given the large number of negative reviews on the Internet, many users wonder whether IGP.com is a scam or whether you can really buy unique handmade gifts here.
Having analyzed all the reviews in the English and Indian sectors of the Internet, we came to the conclusion that IGP.com online store does sell handmade gifts, as well as personalized gifts with personalized greetings and photos of the namesake. However, judging by the reviews, it has become clear that the online store sometimes has delivery problems, and also faulty goods can be found there. In general, the store can not be called a scam. Here you can really buy unique and exclusive gifts, which can not be bought in ordinary stores near your home.
Conclusion
If you want to give your family and friends unique handmade gifts, the store IGP will help you with this. By subscribing to the newsletter of the online store, you will get thousands of ideas of what you can give as a holiday gift to your family and friends. Thanks to the large range of products in IGP store, you are sure to find exactly the gift that will be radically different from other gifts at the celebration. Here you can buy personalized gifts with congratulations on the birthday child or with the child's photo. The range of the online store includes not only flowers and sweets, but also traditional Hindu jewelry, jewelry, interior, home and household goods and much more.
The company in the ratings
Activity
New

0

Resolved

0

Not resolved

0
New companies on the site