An online learning platform for 33 IT majors with lifetime use of learning materials.
The company
Official website
Head Office

3rd Floor, No.38/4, Adjacent to Dell EMC2, Dodanekundi, Outer Ring Road, Bengaluru, Karnataka - 560048

The owner of the company

Brain4ce Education Solutions Pvt. Ltd.

Types of support
Support by phone
Social media
Languages

English

Cost of training

Paid, Free

Prices

Online courses

/

From

500

USD

Bonuses
Methods of replenishment

PayPal

Buying on credit
Installment
Categories of training programs

IT and digital courses, Marketing and Sales

Specialties

CRM and email marketing, Cloud Developer, Web Development, Programming, Big Data, Data Analytics, Cyber Security Specialist, Blockchain Developer, Mobile Developer, Data Science, CSS Coding, HTML Coding, Web Design

Programming languages

Python, R, Java, PHP, SQL, C, C++, Javascript

Project Features

Online platform for training in various IT professions

Number of courses
Course Types

Short-Term, Medium-Term

Additional services
Starting the training

According to the calendar

Course completion documents

Certificate

Age restrictions
Mobile applications
Affiliate Program
Benefits

Lifetime access to class materials

Large selection of courses

Programs with multiple courses at discounted prices

Disadvantages
Company requisites

Legal name:

Brain4ce Education Solutions Pvt. Ltd.

Legal address:

3rd Floor, No.38/4, Adjacent to Dell EMC2, Dodanekundi, Outer Ring Road, Bengaluru, Karnataka - 560048

Overall assessment
Date of update

12.02.2023
Address
3rd Floor, No.38/4, Adjacent to Dell EMC2, Dodanekundi, Outer Ring Road, Bengaluru, Karnataka - 560048
Map
Subscribe to this company
Edureka is this a scam? Reviews and description
Edureka
- that
online learning platform
in 33 qualifications. Training courses range from 6 hours to 6 months, with an average of 6 weeks. Edureka's tuition is about $500 depending on the course. The service's main advantages are called flexible class times and professional instructors.
Students also like the accessibility of the training and the content of the courses, which allows them to apply what they have learned in practice. Although there are those who do not like these points. To find out whether the positive reviews about the service are true and whether Edureka is a scam, study this review.
Why Edureka?
Team Edureka has created an alternative platform for students who enjoy taking courses online in real time, gaining knowledge from dedicated educators. They are always ready to help, as the service offers a 24×7 support system. World-class industry experts are committed to teaching students the skills they'll need to advance their careers to the next level.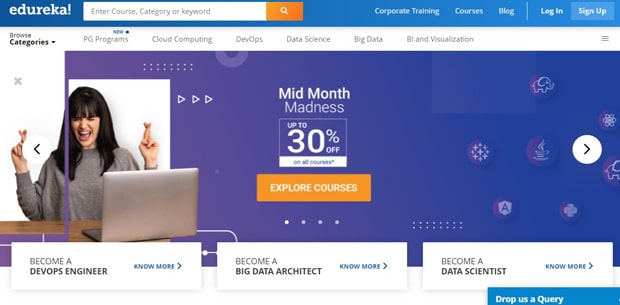 The benefits of the service are called:
affordable prices;
professional teachers;
The opportunity to save money by choosing a program of several courses on the same topic;
lifetime access to class materials;
The possibility of choosing the time of classes - weekdays or weekend class.

To allow users to choose the right course, the administration has developed an informative website edureka.co. It has detailed information about the company and its team, options for cooperation and participation in an affiliate program, courses and programs. There is also a blog with interesting articles.
How do I study online at Edurek?
To start training, you need to register on the website edureka.co or click the "Apply now" button, after which the form is filled out with your name, email, phone number, and work experience. The registration form asks for email and phone number, but at the time of the review it was not possible to complete the procedure, there was an error.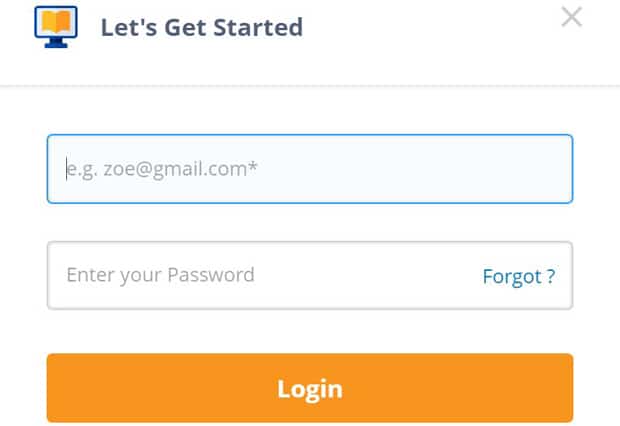 Personal cabinet edureka.co
It was not possible to test the personal account, because an error occurred during registration.
Mobile application
The service has developed apps for iOS and Android mobile devices. By installing the Edureka app, you can access course content at any time, download video sessions and other course content for offline viewing, and search, discover and buy new courses. You can also use the software to participate in educational communities, get 24/7 on-demand support during and after the course, and invite friends to get discounts.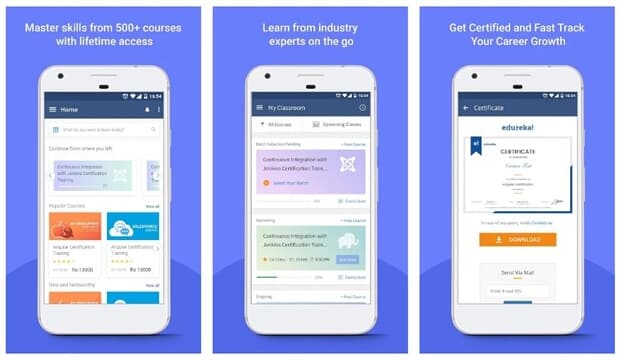 Courses on the Edureka website
Once you register for any course, access to the LMS will be granted instantly and for life. You can access a full set of previous class notes, PPTs, PDFs, and assignments. The edureka.co website has future course dates, course descriptions, and syllabi.

Students cannot miss a lecture in Edureka. You can choose between two options: view a recorded class session available in the LMS, or attend a missed session in any other live package. Expert support 24x7 addresses all technical issues with the Lifetime Ticket Tracking System. All practice assignments are completed on two platforms depending on the course:
On a preconfigured Edureka virtual machine. Detailed installation guides are provided in the LMS for setting up the environment.
On a Jupyter Notebook installed in a Cloud Lab environment, the access information is in the LMS. CloudLab is a cloud notebook that is pre-installed with Python packages in the Cloud Lab environment.
Access to the LMS is for life. There are presentations, quizzes, an installation guide, and class recordings. After training, the student receives a certificate of completion. A list of courses is collected in the corresponding section on the website edureka.co.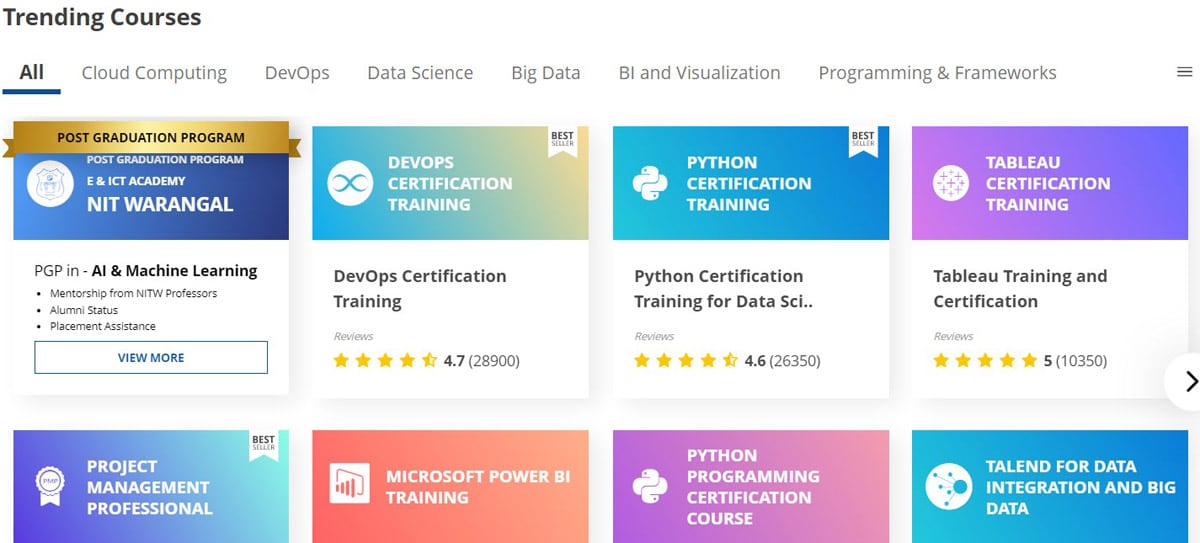 They fall into the following categories:
PG programs;
cloud computing;
DevOps;
the science of data;
Big Data;
BI and visualization;
programming and frameworks;
project management and methodologies;
software testing;
robotic process automation;
web page layout;
data storage and ETL;
cybersecurity;
artificial intelligence;
Blockchain;
database;
mobile development;
operating systems;
digital marketing;
architecture and design patterns.
Certification courses
Edureka offers several certification courses.
DevOps certification training
Methodology for Interfacing Development Professionals with Information Technology Service Experts is a training program that provides in-depth knowledge of various DevOps tools, including Git, Jenkins, Docker, Ansible, Puppet, Kubernetes and Nagios. This training is completely hands-on and designed to help the student become a certified professional. DevOps improves collaboration and productivity by automating infrastructure and workflows and continuously measuring application performance.
The course covers version control, code automation, continuous integration, continuous deployment, configuration management, and application monitoring. Software testers, system administrators, solution architects, security engineers, application developers, and integration specialists can take this course. Features of DevOps training:
Instructor-led sessions. 36 hours of instructor-led online classes. Weekend class: 12 sessions of 3 hours. Weekday class: 18 sessions of 2 hours.
Case studies. A live project based on any of the selected use cases, including the implementation of various DevOps concepts.
Assignments. Each class will be accompanied by practical assignments.
Certification. After completing the course, Edureka certifies the user as a DevOps engineer.
AWS Architect Certification Training
Conducted by industry professionals according to industry requirements. This will help prepare you for the AWS Certified Architect Solutions Architect. Through Edureka instructor-led sessions, you can effectively develop and deploy secure and reliable applications using AWS. This course will help define the appropriate AWS service based on databases, network, storage, cost optimization, computing and security requirements. The course costs $499. Course Features:
30 hours of instructor-led online classes. Weekend class: 10 sessions of 3 hours each.
Assessments. Each class will be followed by a quiz to assess learning.
Hadoop Big Data Certification Training Course
The course covers knowledge of big data tools and ecosystems HDFS, YARN, MapReduce, Hive, Pig, HBase, Spark, Oozie, Flume and Sqoop. In this instructor-led online training, students work on real-world use cases in retail, social media, aviation, travel and finance using the Edureka Cloud Lab. As organizations realized the benefits of Big Data Analytics, there was a strong demand for Big Data & Hadoop professionals. The Edureka Hadoop training course is designed to make you a certified Big Data professional by providing rich, hands-on training on the ecosystem. The course is 30 hours of instructor-led online classes. The weekend class is 10 sessions of 3 hours each. It costs $499.
Edureka Tableau Training and Certification Course
Prepared by business intelligence experts and covers Tableau Prep Builder, Tableau Desktop, and Tableau Online. In this online training, students will work on use cases in the areas of retail, entertainment, transportation, and life sciences. This course is for anyone who works with data, regardless of technical or analytical skills. Users can create and distribute interactive and shareable dashboards that display large amounts of data into easy-to-read charts and graphs. The business intelligence market is growing significantly around the world, and this strong momentum, accompanied by demand, is a great opportunity for the next IT professional:
business analysts;
data analysts;
project managers;
statisticians.
For $499, the student receives 36 hours of instructor-led online classes. Weekend class: 12 3-hour sessions.

A course on learning data using the Python programming language
Allows you to learn data science concepts from scratch. It will also help you master important Python programming concepts such as data operations, file operations, object-oriented programming, and the various Python libraries: Pandas, Numpy, Matplotlib, which are essential for Data Science. Edureka's Python certification course is also a gateway to a career in Data Science.
The $599 program is a step-by-step guide to Python and Data Science with extensive hands-on activities. The course contains several problems, assignments, and scenarios that will help you get hands-on experience solving a predictive modeling problem. The course is 42 hours long in online classes. Weekend class: 14 sessions of 3 hours each, and weekdays: 21 classes of 2 hours.
Selenium certification training
Includes Selenium WebDriver, Selenium Grid, Selenium IDE, working with IFrames, Alerts and Modal Dialog Box. The student will learn to use plugins supported by Selenium such as TestNG Framework, Robot Class, Cucumber and Gherkin to manage the automation environment. Gain hands-on experience with common automation environments Data-Driven Framework, Keyword-Driven Framework, Hybrid Framework and Behavior Driven Development (BDD) Framework. In this training, students will work on industry use cases. For $449, the student receives 36 hours of online classes. Weekend class: 12 sessions of 3 hours each.
The PMP certification exam is also offered. Project Management Professional (PMP) is a global credential offered by PMI Inc. PMP Certification, a globally recognized educational and/or professional experience, and an exam-based certification program. It helps you understand the global language of project management and connect with professionals. The purpose of this course is to enable current and future managers to manage more effectively and efficiently through the project life cycle. A total of 35 hours of classes are offered. Weekend class: 8 sessions of 4.5 hours each.
Training for robotic process automation using UiPath
Prepares for the RPA Advanced Certification exam for UiPath developers. Students will master key concepts when developing an RPA solution, learn how to perform image and text automation, create RPA bots, manipulate data, and handle exceptions. This $499 course is designed to introduce the concepts of robotic process automation. Robotic automation eliminates the need for human intervention for repetitive, less complex tasks. Students have 24 hours of instructor-led classes available. Weekend class: 8 sessions of 3 hours each.
Apache Spark and Scala training
Designed to prepare for the Cloudera Hadoop and Spark Developer certification exam (CCA175). Students will gain knowledge of Apache Spark and the Spark ecosystem, including Spark RDD, Spark SQL, Spark MLlib and Spark Streaming, as well as the programming language Scala, HDFS, Sqoop, Flume, Spark GraphX and messaging systems such as Kafka. Course Duration: 36 hours of online classes. Weekend class: 12 3-hour sessions. Weekdays: 18 classes of 2 hours each.
Microsoft Power BI Training
Will help gain experience in business analytics. At the end of this $499 training, students will have mastered such concepts as Power BI Desktop, Power BI DAX, Power BI Q & A, Power BI content packages, Power BI customizable visuals, Power BI integration with Azure machine learning and SQL services. Power BI is a business intelligence service provided by Microsoft. It provides interactive visualization with self-service business intelligence capabilities, where end users can create reports and dashboards on their own without having to depend on anyone else. The course contains 27 hours of instructor-led online classes. Weekend class: 9 lessons of 3 hours each.
Java, J2EE & SOA certification training
Includes knowledge of basic and advanced Java core and J2EE concepts as well as popular frameworks such as Hibernate, Spring, and SOA. This $499 course provides experience with array, OOP, functions, Java loops, Java collections, Java threading, and Web services using industry scripts. Advanced Training is designed for students and professionals who want to become a Java developer. This 42-hour course will cover both basic and advanced Java concepts. Weekend class: 14 sessions of 3 hours each. Weekday class: 21 sessions of 2 hours.
Python Programming Certification Course
Help students learn Python programming concepts such as data operations, file operations, object-oriented concepts, and various Python libraries. Students will learn data visualization and how to work with different data types. For $349, the student receives 24 hours of instructor-led online classes. Weekend class: 8 sessions of 3 hours each.

Course Programs
There are several programs collected on this site.
Data Scientist Masters
Includes an extensive program with 12 courses and 250+ hours of interactive learning. This course allows you to master the tools and systems used by Data Science professionals. It includes training in statistics, data science, Python, Apache Spark & Scala, Tensorflow, and Tableau. It costs $1,499 (if you buy the courses separately, the price is $3,518).
Offerings include the following topics: machine learning, K-means clustering, decision trees, data mining, Python libraries, statistics, Scala, spark streaming, RDD, MLlib, Spark SQL, Random Forest, naive Bayesian classifier, time series, text Mining, Web Scraping, PySpark, Python Scripting, neural networks, Keras, TFlearn, SoftMax, Autoencoder, constrained Boltzmann machine, LOD expressions, Tableau Desktop, Tableau Public, data visualization, R integration, Bayesian inference, regression modeling, etc.д.
DevOps Engineer
Includes 10 courses. It will help you master DevOps principles such as CI/CD, continuous monitoring and continuous delivery, and learn how to use tools such as Puppet, Nagios, Chef, Docker, Git & Jenkins. It includes training on Linux, Python, Docker, AWS DevOps certification, and Splunk.

Cloud Architect
Includes 11 courses and 200+ hours of interactive training. It gives experience in designing, planning and scaling a cloud implementation. The program includes training in Python, cloud computing, AWS architecture principles, cloud application migration, and DevOps. The cost of the offering is $1,099 (separately priced at $3,029). Students will receive a certificate of completion for each course that is part of the learning pathway after they successfully submit a final assessment and it is verified by experts in the field.
Big Data Masters
The 9-course program allows you to learn the tools and systems used by Big Data experts. It includes training on Hadoop and Spark messaging systems, Cassandra, Talend and Apache Kafka.
A program for machine learning engineers
Allows you to master techniques such as supervised and unsupervised learning, and natural language processing. It includes information on the latest advances and technical approaches in artificial intelligence and machine learning, such as deep learning, graphical models, and reinforcement learning. The program's 9 courses will cost $1,499 instead of $2,901.
Full stack program for web developers
A program with 8 courses and 200+ hours of interactive learning will create interactive and adaptive web applications using both interface and background technologies. The course starts with the basics of web development, covers the basics of JavaScript and jQuery, helps build user interfaces using Angular or React, scalable server-side applications using Express & Node.js, and data management using MongoDB. It costs $999.
Business Intelligence
The 11-course program allows you to learn the tools and systems used by Business Intelligence professionals. It includes in-depth training in data warehouses and BI, Teradata, Informatica, Microsoft BI and Tableau. The cost of the course is $1,099. The following programs are also offered:
Data Analyst;
courses on the test automation program;
Graduate School of Artificial Intelligence and Machine Learning;
Graduate School of Big Data Development;
Postgraduate certification in data science;
PG in marketing with a specialization in digital marketing;
graduate school in cybersecurity.
Edurek's free courses
The course program pages offer a list of free classes available with this training. Different seminars are available for each program.

Additional services edureka.co
As an additional service, the platform offers corporate training.
Corporate training
This option is offered in several variants:

Features of corporate training Edureka:
Setting up. Flexible model of interaction taking into account the needs of users. It is possible to customize the content according to the project, select the location, mode, date.
Learning Analytics. A customizable dashboard for visualizing learning progress. It allows you to track the progress of students, understand the effectiveness of training. There is automatic reporting for management.
Cloud Labs. Hands-on experience with the Edureka cloud lab, pre-configured for immediate launch.
24/7 support that is available even after the course is over. There is an additional community for questions and answers.
Certificates. Industry-recognized certification to increase the value of the workforce.
Projects. The right combination of theoretical and practical training.
To order such a training option, you need to fill out the appropriate form on the company's website. You can also choose a suitable course and specify your contact information in the proposed window. Also, customers who are interested in this training option can contact the administration by mail: [email protected] and phone: +91 (866) 067-47-18.
Webinars
The service offers Edureka Masterclass, a series of webinars designed to help clients understand and immerse themselves in trending technologies. The company's website has a section with a list of all webinars with descriptions, times, and the ability to reserve a seat at the master class.

Opportunity to become an instructor
Anyone with deep working knowledge in a particular field, a passion for teaching and sharing their expertise with students and professionals can become an instructor at Edureka. In addition to working with a young and talented team, such a person will also get the opportunity to share income with the fastest growing online learning company in India. The client will be given a great platform to showcase the practical knowledge and skills they have acquired over a period of time. At the same time, one can conduct his training from any part of the world.
To get started, you need to fill out a form in the appropriate section on the site. If the user is shortlisted and selected, he will have to take a training session based on Edureka's training methodology. He will also get the opportunity to co-create content with the company's team to make learning a fruitful experience for students.
Tuition at Edureka
The average cost of tuition at Edureka is $500. If you buy programs that include more than one course, you can save significantly. The price of the classes is listed on the description pages.
How do I pay for my education on the Edurek website?
You can pay for your tuition by PayPal.
Paying for training in your personal account
To pay for it, we use payment system PayPal.
Other ways to pay for online courses
There is no information about other payment methods.
Bonuses edureka.co
The company offers a number of promotions and discounts.
Scholarship
Every student can try out for a $75,000 scholarship. To do so, he must apply to take the test. Based on its results, the Edurek team can award such an award.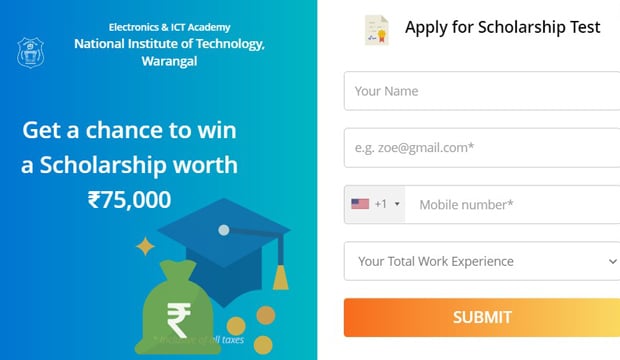 Promotion
At the time of writing the review, the service offered to pay for one course and get two. At the same time, there is a cashback available in 20%.

Affiliate Program
The company offers to become a partner and promote courses from a popular learning platform.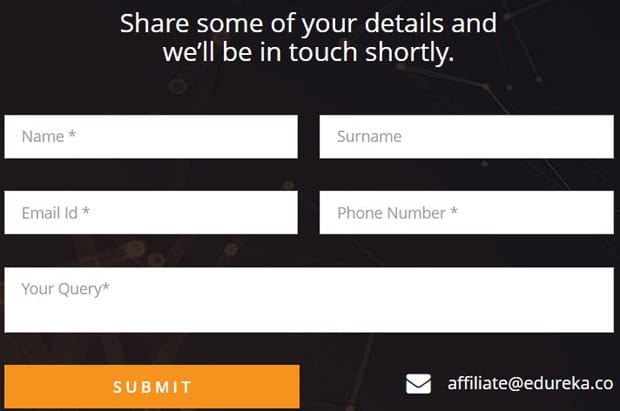 Program benefits:
Easy promotion. You can share Edureka content by adding tracking links and ready-made promotional materials to your website or blog, email newsletter, or social media promotions.
Generous commissions. The more an affiliate promotes, the more money he makes. He will be rewarded with a commission from 10% of the sales value for purchases through affiliate link tracking and banners.
Marketing Assets. You can choose to track resources, including links to specific courses, site-wide links, custom links, ads, hundreds of banners, advertising resources, and tools to help increase sales.
Detailed analytics. You can track commissions, payments, links and plugins from one place. Real-time data allows you to track results over time.
How to join the program:
fill out the form on the website;
Choose from 100+ courses and specializations to promote using either Edureka's own banners and text links, or your own unique format;
Publish professionally designed banners, text links and other ads to add to your site;
receive a commission of up to 15% of the sale price for purchases.
Payments are made to partners through Rakuten.com on a monthly basis. Checks are issued for a minimum of $25. If the total commission amount is less than $25, the commission is carried over until that amount is reached on the corresponding payout date. You can also become an affiliate of the service through the popular and reliable network of affiliate programs Admitad.
Partnerships for learning platforms
Partnering with Edureka will help ensure mutual growth in the training industry. What the service offers:
the opportunity to earn a high commission rate;
joint installation of the platform within 1 hour;
access to in-depth analytics in real time;
a dedicated account manager to provide support;
marketing and commercial collateral to help better sell;
exam vouchers.
To get started, click on the "Contact" button in the appropriate section and fill out the proposed form.
Complaints against Edureka
On the company's website edureka.co there is a section with reviews, which here are mostly positive.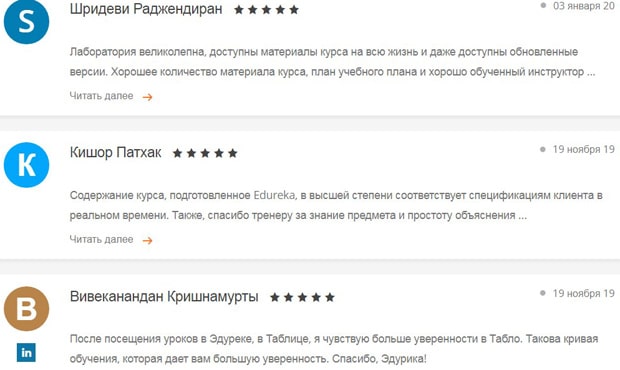 Along with positive reviews about technical support and qualified instructors on the site of the service and third-party resources, you can also find negative comments from clients. They note that the tech support responds with delays and is not always able to solve all problems, and the courses contain insufficient information. There are also complaints about the rather high prices, which are lower in other similar companies.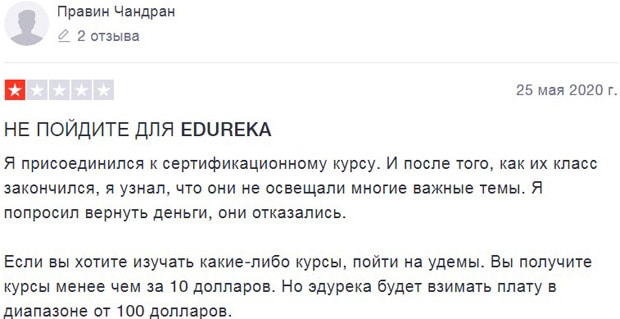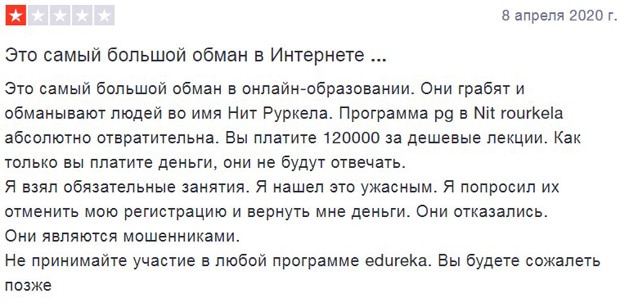 If there are any reviews about the Edureka platform, we'll be sure to post them on social media. Sign up so you don't miss anything!
Please keep yourself informed about news and complaints. We copy the most valuable information to social networks, so please sign up!
Regulatory agencies and laws
Edurek's website has a "Legal Information and Privacy" section. It contains all the information about the company that the user should be familiar with before starting to cooperate.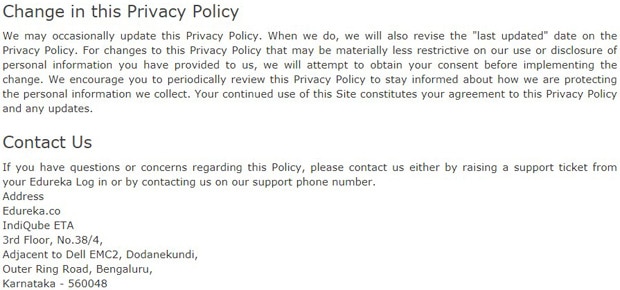 Documents from edureka.co:
Edureka.co User Agreement
The text of the agreement is presented in the "Terms and Conditions" section. In addition to the basic terms of cooperation with the company, the document contains data on the costs, fees and taxes, disclaimer of liability, obligations of users, registration and protection of personal information, copyrights, prohibited uses. There are also sections on indemnification, dispute resolution and termination of services.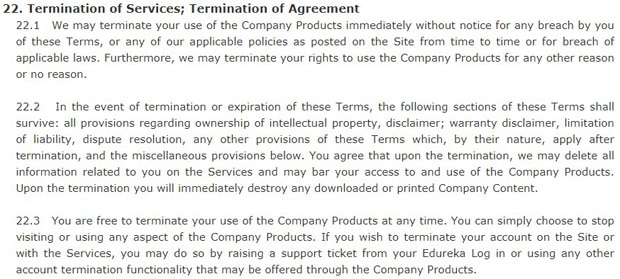 Customer Service
The company's website has a "Contact Us" section where you can find phone numbers and email addresses. Students who need help are encouraged to call numbers in India: 080-474-74-500 and in the United States: +1 (877) 959-4010. For those who can't decide on a course, there are other contacts:
email: [email protected];
phone in India: 080-404-23-754;
Phone number in the U.S.: +1-1415-697-0520.
Clients who are interested in corporate training can contact the company through these channels:
Security
Any personal information provided in connection with the use of the site is governed by a privacy policy. All information that a customer provides to Edureka is stored on secure servers. The service keeps personal information of visitors as long as they are registered customers or users of products and services.
Edureka is this a scam?
Edureka - is an online platform that offers training in a variety of qualifications from anywhere in the world. The company offers many different courses and programs that include multiple classes, which helps to save money. By purchasing training, a customer gets lifetime access to their classes and the ability to communicate with tech support and other students in different communities. After completing the course, students receive certificates and can use the knowledge gained in practice, increasing their level of professionalism and, consequently, their earnings.
Some customers like the content of the courses, the cost, and the professionalism of the teachers. But there are also those who, on the contrary, find the lessons insufficiently complete, and the work of technical support poor. So you can't say that Edureka is a scam, but you can't call it the best service of its kind either. There are problems that the administration should pay attention to.
Conclusion
Online learning is in demand among Internet users who want to gain new knowledge without leaving home. Edureka - is one platform that offers many courses to choose from and unlimited access to all classes. The company also promises 24/7 tech support, although you may encounter complaints about its work. If you've bought courses from Edurek, tell us about your experience on this page. This will help others who want to learn to evaluate the project and decide whether to buy classes from him.
The company in the ratings
Job Search on the Internet
Activity
New

0

Resolved

0

Not resolved

0