Online store of audio equipment, digital electronics and other products of own production. Low prices, discounts and promotions.
Online store
Official website
Head Office

1390 Market St, Suite 200, San Francisco, CA 94102

Date of foundation

2012

The owner of the company
Types of support
Social media
Languages

English

Bonuses
Payment methods

Bank card (Visa/MC), American Express, Diners Club, GPay, PayPal

Buying on credit
Installment
Store category

Digital and household appliances, Clothing, footwear and accessories, Sports

Project Features

Online store of audio equipment, digital electronics and other goods, appeared on the basis of the service of joint purchases

Additional services

Community

Product discussions, surveys, photos, private correspondence

Collaboration with designers

Project regions

All countries in the world

Shipping methods

Courier delivery, Transportation companies

Courier services

USPS

Transportation companies

DHL

Delivery time

Until

6 weeks

Exact dates depend on the recipient's region

Mobile applications
Affiliate Program
Benefits

The catalog contains highly specialized equipment, taking into account different user requirements

Low prices compared to competitors

Detailed product cards and many additional options

A social environment where people socialize and learn from each other

Ability to participate in the development of new products and features of the resource

Profitable bonus program and interesting referral policy

Disadvantages

Full functionality of the site is not available without registration

Long delivery time and extra fees for customs fees

Regulatory agencies and laws
Company requisites

Legal name:

Massdrop, Inc.

Legal address:

655 Montgomery str., Suite 800, San Francisco, CA 94111, USA

Overall assessment
Date of update

15.02.2023
Address
1390 Market St, Suite 200, San Francisco, CA 94102
Map
Subscribe to this company
Drop is this a scam? Reviews and description
Drop
(or Massdrop, as the service used to be called) used to be a site for joint purchases from abroad with a broader assortment. At the moment, it has been completely repurposed as an online grocery store of its own production, retaining its social focus. Users make up a community where they can discuss products, chat, upload photos, take part in surveys, etc.
The company emphasizes that its customers influence the development of new products offered on the site. How much of this corresponds to reality and can a foreign supplier be trusted? Online store Drop - is it a scam or a serious market player? Let's try to find out.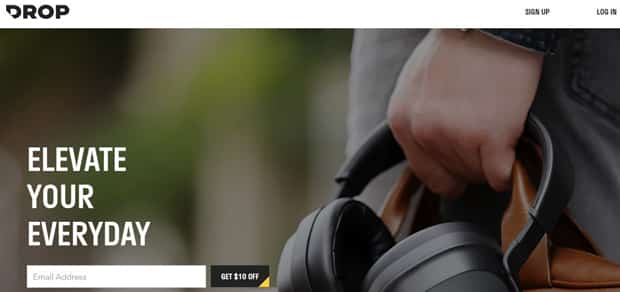 Why Drop
The online store has a number of advantages:
The catalog contains highly specialized equipment, taking into account different user requirements.
Low (often below the market average) prices for popular products.
Detailed product cards and many options (ratings, discussions, favorites option, etc.).
A social environment where people socialize and learn from each other.
Ability to participate in the development of new products and features of the resource.
Profitable bonus program and interesting referral policy (rewards for partners and attracted clients).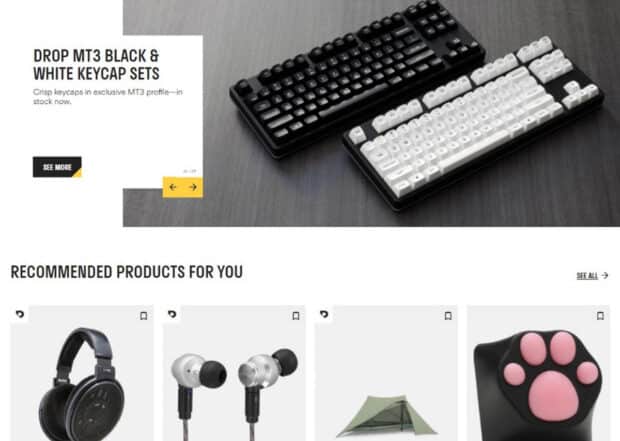 What you can buy at Drop
Despite the fact that the seller focuses on digital and audio equipment, in his catalog you can also find travel goods (tents, knives, backpacks clothing), office supplies (pens, notebooks, pencil cases, etc.) and various accessories (watches, belts, multitools, etc.).
Audio equipment
Headphones (over-the-ear, earplugs, earbuds, wired and wireless) and stands, audio and video cables, amplifiers (DACs), adapters, audio players, vinyl record players, and much more. Choose from several dozen items, with a starting price of $7.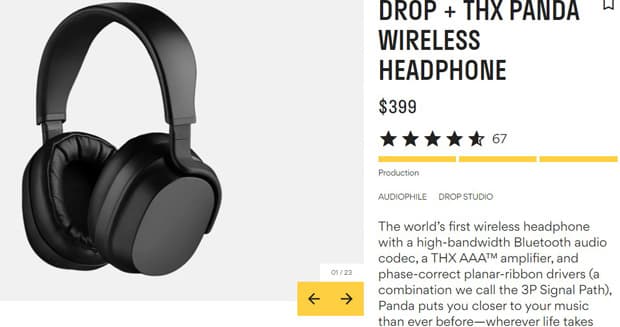 Keyboard and accessories
Mechanical keyboards in a wide variety of modifications make up the largest group of products at drop.com. In addition, the site sells key pads and wrist rests to help reduce strain on your hands when typing.

Hiking goods
Tents, inflatable pillows, backpacks, hiking knives and multitools, sharpening tools, flashlights, can openers, belts, utensils, LED lights, clothing, etc. - The exact list, quantity, and cost range are difficult to estimate, as items are scattered in different categories.
Stationery
Pens (fountain pens and ballpoint pens), leather cases and notebooks, stationery bags, chromatic ink, and other office supplies. The current average price tag is $39.
Watches
About 40 models of automatic wristwatches with Arabic and Roman numerals or signs instead of them. As well as gift boxes for them. The cost of the watch ranges from 65 to 1499 USD.
How to find the right product at drop.com
To find the right products in the online store, as in most others, are used:
The navigation bar (a keyword or phrase - name, brand, product type).
A catalog divided into headings. And on the most prominent place are displayed those that are specified as your preferences in the settings of your personal account.
Sorting (by rating, newness, seller recommendations, soon to be out of the market) the results in each of the headings.
Selected items can be saved in Favorites, so as not to lose them.
Product card
Product cards on the site drop.com are very detailed. In addition to the standard photo gallery and general information (name, price, characteristics, text description), they contain:
feedback (in the form of comments on the topic;
terms of delivery, returns and bonus points accrual;
buttons to add to favorites and share on social networks (if you want to share the page);
history of origin;
discussions and the Question-Answer block.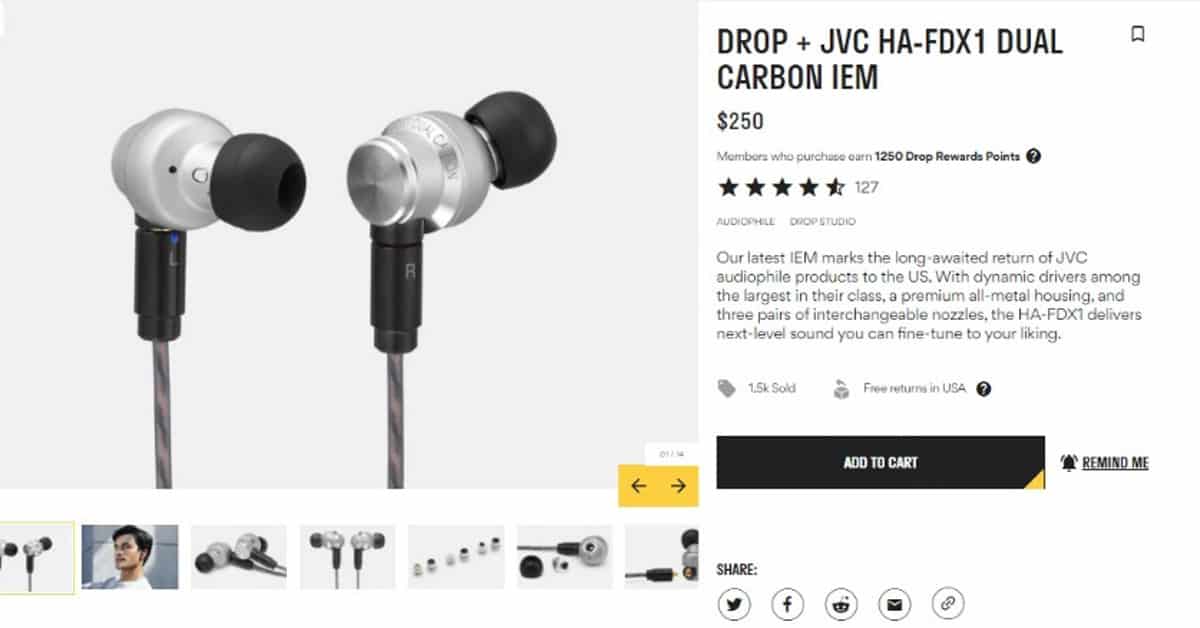 How to order in Drop
You can place an order in Drop only through the shopping cart. You add the selected items to it, and then place and send an online request to the seller, which he processes and then passes on to the courier service or international company for delivery.
How to register at drop.com
From the website registration drop.com all interaction with it begins. Without authorization, you can't even browse the catalog. To register, click Sign Up in the upper right corner of the resource. And fill in the fields in the form that opens: email address, password (we make it up ourselves). Or you can authorize using your Facebook profile or Google-account (in this case you'll have to give your consent to access the personal data of the pages).
After that, set up a subscription to notifications (what topics you are interested in: technology, mechanical keyboards, audio, watches, daily care, outdoor products). This step is mandatory: you must select at least one item. And go directly to the catalog of the online store.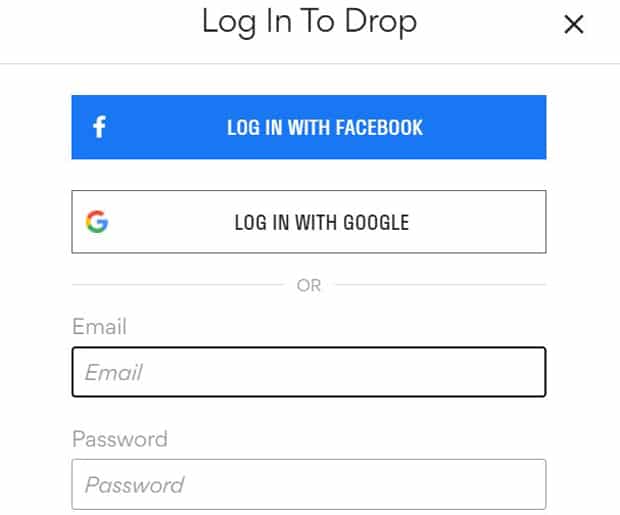 Personal Cabinet
Personal user account drop.com is an analogue of a social networking page. Here is the profile itself (Profile), where you add information about yourself and from where you can correspond with other people, participate in the development and discussion of new Drop products, take surveys (all history is reflected in the appropriate tabs). You can also see the statistics of your account views, comments, subscribers and feedback. In addition to your profile, the following sections are available:
Rewards. Your balance in the bonus program (we told about it below, in the block with description of bonuses) and its detailed conditions.
Saved Products (Saved). A list of what you've added to your favorites, broken down by category.
Order history (Transactions). Your current and past purchases with details and payment statuses.
Page settings (Settings). Information about you (login, full name, e-mail, password) with the possibility of editing, the option of linking social networks and bank cards (all the above - in the tab My Info), adding an address (Shipping Addresses), selection of mailing topics (the same step as we did during registration - tab My Communities) and actions at the site to notify you about (someone signed up for you, you were marked, new person joined the community using your link, etc. - the Email Settings tab), your blocked users (who you've told not to send you emails - the Hidden Members tab), and your profile visibility settings (whether or not to show your purchases and voting activity to other users - the Privacy tab).
Go to the referral program description page (Give $10, Get $10).
Go to the Help Center. This is essentially an FAQ that answers the most common questions.
Careers. Conditions of Employment at Drop.

How to place an order at drop.com
After adding the selected goods (or goods) to the cart by the button "Add to Cart" in the cards, proceed to checkout by clicking on the cart icon in the header and then on the button "Checkout". Indicate information about yourself in Latin letters: full name, company name (if you are an entity), address, phone number. At this step authorization through payment agents' profiles is also available, from where all personal information will be transferred to avoid possible mistakes when entering it.
Everything is checked and confirmed by pressing the "Continue to shipping" button to select the shipping method. Put a marker in front of the desired item (it is possible that it will be only one). And click "Continue o Payment" ("Go to payment"). Now it remains to select the payment option, enter details and confirm the payment. After which the system redirects us to the confirmation page. All the details will be sent to the specified e-mail address and will be displayed in your personal cabinet. Important moment: an order is considered confirmed only after a store representative informs you of the availability of the purchased product and its delivery.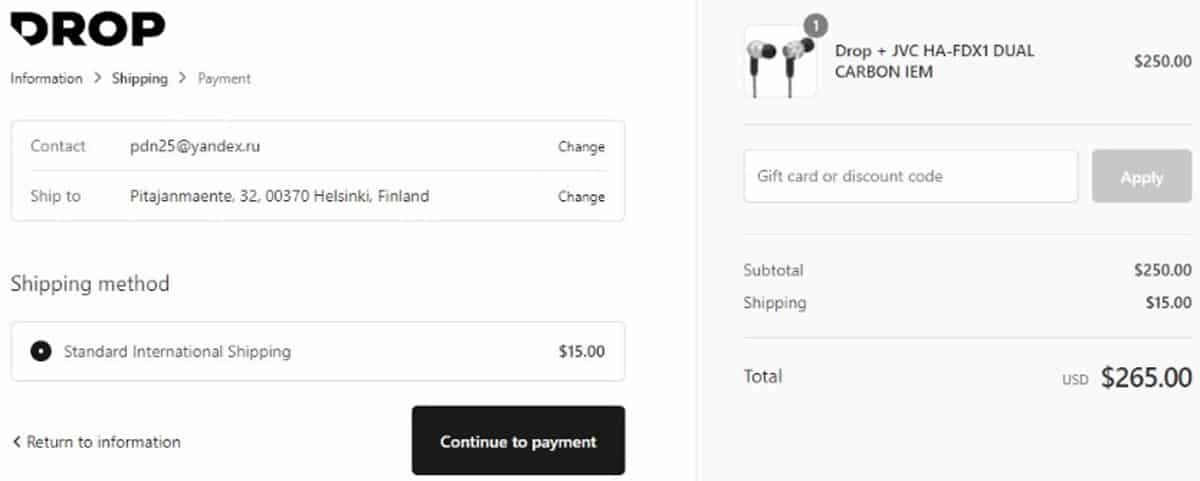 Additional features
Additional options for the online store (if you count searching and purchasing, shipping, payment, and creating/managing a personal account) are a newsletter, a user community, a blog with reviews and guides, a program for designers and brand owners, and an online order tracking feature.
Newsletter
If you want to receive notifications from the merchant not only about changes in the status of orders and important legal information, but also special offers, invitations to participate in promotions, and interesting content, it's worth subscribing to the newsletter. This is done through the form that appears when you open the site, as well as in your personal cabinet, in the settings section (the Email Settings tab). Subscription also gives you the opportunity to get bonus c.u.s. to pay for purchases. It is free and can be deactivated at any time (again, through the profile).
Community
Drop.com customers have the opportunity not only to leave feedback on the products they buy, but also to correspond (just like in social networks), to post photos of products, discuss them in collaborative forums and participate in polls. Really formed a whole community. And, to keep it active, the seller encourages some of the actions with bonus points (more about them below).
Blog
Although the drop.com blog is located in approximately the same directory of the online store, it consists of slightly different blocks: news, guides, and reviews of released products. The selection of materials is very large, and for the convenience of search we have introduced sorting and breakdown into headings.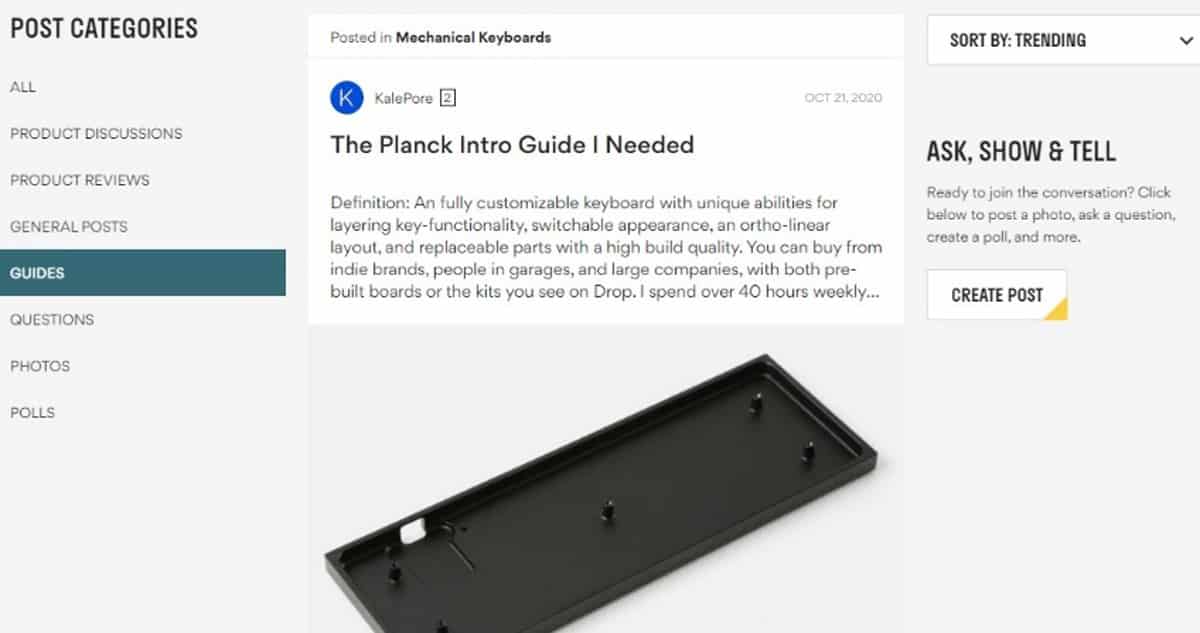 Collaboration with designers and brand owners
The company is expanding its sphere of influence on the market and is accepting applications for cooperation from designers and brand owners. What is the format of this cooperation (franchising, White Label, something else) is not specified - the future partner will receive all the details in response to his e-mail request.
Product ratings
Each item on drop.com can be rated by giving it from 1 to 5 stars. The ratings are used to form an average score (rating) of the product, which allows you to understand how popular it is and whether it's worth the money.
Mobile application
The store is available not only as a web version, but also as a downloadable mobile app - it is supported by devices running Android (5.0 and up) and iOS (no older than 10.0). The functionality of the mobile app is the same as that of the desktop:
Search and select products using a catalog, filters, sorting and ratings.
Joining a community of active users who exchange messages on the forum and in private correspondence, leave feedback and upload photos.
Reading the blog.
Create and manage your personal account.
Ordering groceries with worldwide delivery.
The software is not rated too well: an average of 3.7 out of 5.

Payment and delivery at Drop
Seller works with 100% prepaid (regardless of recipient's country). Supported systems:
GPay (payment with VISA, MasterCard, Maestro, American Express, Diners Club).
After confirming the fact of crediting of funds to the company's account, the goods are handed over for delivery. Please note that the price in the cart does not include tax and customs charges that may be imposed on your parcel.
How to pay for the order
Payment for the order is one of the steps of its registration. After you have filled in all the required fields in the questionnaire and indicated the method of delivery, the system will offer to choose a payment option and enter the details (in the case of PayPal, you will also need to log in to the account of the system). And then confirm the transaction by entering a code from SMS or other method supported by the agent.
Shipping methods
Methods of delivery of goods purchased at Drop are described in the FAQ section of the website. After the transfer for shipment, the receiving time can be from 3 to 6 weeks. Or longer, if unforeseen circumstances arise. Free shipping is not available.
Ways to return merchandise
The company operates on the basis of local (U.S.) law and therefore provides returns and exchanges only for some brand products if they are of proper quality (goods without faults). Usually this option is specified in the product card (checkbox Free Returns & Exchanges).
You have 30 days from the date of delivery to file a claim with customer support. Defective items will be exchanged and returned with a cash refund during the warranty period. If you send the item back to the seller, you may be charged a 25% fee on the purchase price.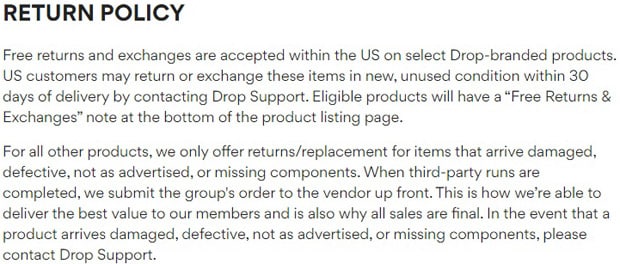 Bonuses Drop
The Drop bonus program is a reward for customer activity in the form of cash gifts or loyalty points. The former is essentially the equivalent of the latter, as it too can only be spent on purchases in the online store.
$10 for subscribing to notifications
If you sign up for a free subscription to email notifications (letters) from the merchant, you will receive $10 to your account. This virtual money will be deducted from your cart on your next order on the site.

From $200 for detecting website vulnerabilities
The provider continues to fix bugs in the site. And attracts users to help, encouraging them to find bugs, vulnerabilities. So, if you find a low-level vulnerability and report it to Drop's support team at [email protected], you'll get a reward of $200. Something more serious - the sum is bigger. The promotion page describes the criteria of errors, for finding which you will be paid.
Loyalty Program
Its essence is to accumulate loyalty points, which are later converted into dollars (500 points = 5 USD) and spent on products from the drop.com catalog. The points are given for:
Paying for your order (5 points per dollar of your check).
Invited friends who also paid for the orders (1000 rubles for each friend).
Publication of a photo of the product you bought on the page of this product in the catalog of the site (100 points for each photo).
Reviews and reviews (100 points for each review).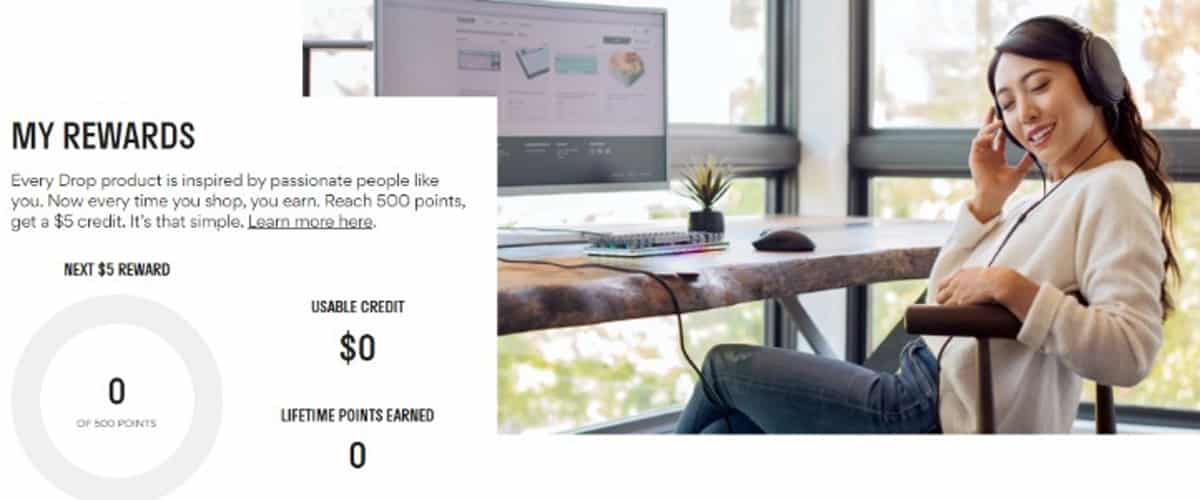 Referral program
The program involves a cash reward for each new customer referred to the online store. And this remuneration receive both you and the person invited by you (if will make a purchase for 50 dollars or more). To participate in the referral program drop.com, you need to register and get a unique referral link and then share it in any public sources, where it does not violate the rules and rights of users: a page or community social network, forum, chat, your own channel or website, etc. According to the affiliate program from the spa network Admitad you can get from 1.53 to 5% for a paid order.
Complaints about Drop
There are few reviews about drop.com (just over a hundred). Mostly the Internet site is discussed on thematic forums, although there are also reviews, where comments about the seller are published. And among them there are a large number of complaints about the work of the customer service, which, according to users:
Slowly responds to requests (over several days).
Refuses a refund.
Sometimes they are rude to customers.
Some customers never received the goods they paid for.
There are also positive reviews, but they are much fewer. The authors of complimentary comments write about the quality of the products, fast delivery and, conversely, the competent work of the support team and their willingness to meet the customer's needs.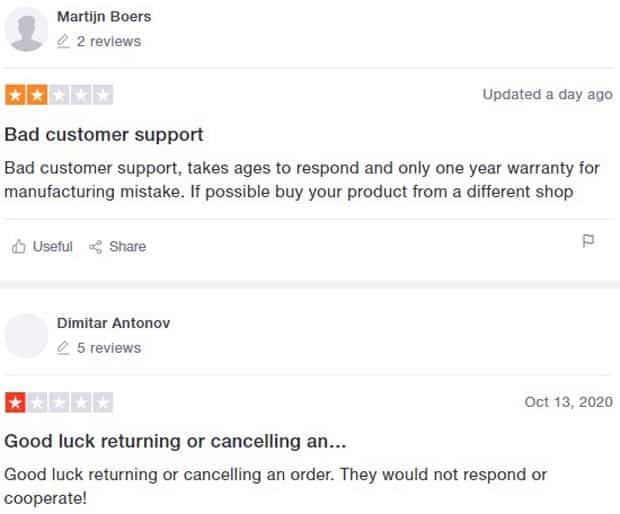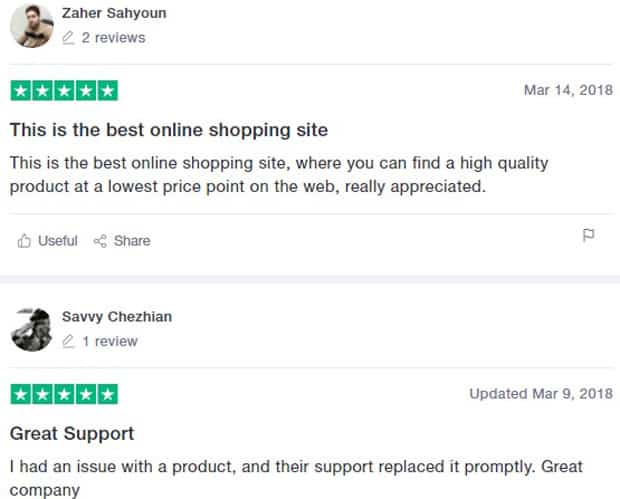 If there are any reviews about the Drop online store, we'll be sure to post the information on social media. Sign up so you don't miss anything!
Please keep yourself informed about news and complaints. We copy the most valuable information to social networks, so please sign up!
Supervisory authorities
Drop.com is owned by Massdrop, Inc. of America, a corporation registered in San Francisco, California, under C3488763. A statement confirming this is in the Secretary of State's public registry. The organization was last audited in 2018.
The site itself acts only as an information resource monitored by Roskomnadzor for inappropriate content and the use of unlawful ways to process users' personal information. Thus, if a complaint arises, it will have to be resolved on the basis of American law and by appealing to foreign authorities, such as the California government, which regulates the legal entity.
Drop.com User Agreement
The drop.com User Agreement (Terms of Service) defines the online store's user experience, as well as the rights and obligations of the buyer and seller. Let's look at some of the wording of the document. So, the site is allowed to use the adult and legally capable persons who have the right to purchase goods and services. At any time you can be denied access to a web resource, refuse to register or delete your account without warning. However, this should not affect your legal rights.

You must reimburse the company for any losses it suffers in the course of doing business with you and/or due to your violation of the terms of service.

All the information you provide must be accurate, complete and true. You are responsible to the seller for updating (updating) them in your personal cabinet.

Customer Service
There is no direct communication with Drop (phone line, online chat). At least it doesn't say anything about it on the website. You can talk to the seller's customer service:
By e-mail - [email protected] (orders), [email protected] (website errors), [email protected] (partnerships)
Through the feedback form in the relevant FAQ section.
In Drop communities on social networks (by sending a message to the administrator of any of them).
Or send a letter to the San Francisco headquarters. The FAQ (help center) also provides answers to common questions about orders, collaboration, and personal account management.
Is Drop a scam?
Online store Drop belongs to an officially registered company, but its activities are based on the principles of foreign law. Therefore, when asserting your rights, you will have to go to unfamiliar authorities and study the local rules. And the processing of applications may be delayed. That, in fact, is demonstrated by online reviews, whose authors note the slow response to their requests from the support team. Another unpleasant factor is the need to register on drop.com to see the catalog. It turns out that we provide our personal data and consent to its processing before we even know whether or not we want to order from the seller.
On the other hand, the user agreement is available to everyone, and much information can be gleaned from it (though not all). Also unlikely to please customers the need to pay in advance and not always available return (when it is, you may have to pay a commission of 25% of the price of the product for return shipping to the seller). Of course, you can't claim that drop.com is a scam. However, many of the features of the site's operation demonstrate a focus primarily on protecting the interests of the company rather than the customers.
Conclusion
Drop - is a service with an interesting concept that has undergone a number of changes (from a cooperative purchasing service and third-party brand auctions to an online store of personal-branded goods). It has good prices, many interesting and useful features (ratings, discussions, personal correspondence between users, etc.), offers rewards in the form of bonus points or dollar amounts to pay the check, and often features highly specialized products (for example, an elbow rest for those who sit a lot at the keyboard and get tired).
However, there is no way to see the catalog before registering (and providing personal information), there is no direct and quick (by phone, online chat) communication with company representatives, 100% pre-payment applies and there is not always a full refund for the item you are giving up. Plus the customer, in addition to the item itself and shipping, pays tax and customs fees (these are not included on the website). Reviews of Drop on international reviewers are not always positive: many complaints about long delivery times have been published (and in some cases the package has never reached the recipient).
The company in the ratings
Activity
New

0

Resolved

0

Not resolved

0
New companies on the site