AbeBooks.com is an online bookstore with a wide range of rare, vintage and collectible titles, great discounts and coupons.
Read completely
Online store
Official website
Head Office

655 Tyee Road, Suite 500, Victoria BC V9A 6X5, Canada

Date of foundation

1996

The owner of the company
Types of support
Support by phone
Social media
Languages

English

Payment methods

American Express, Wire Transfer, PayPal, Cash, Bank Card (Visa/MC)

Buying on credit
Installment
Store category

Creative goods and books

Project Features

An online bookstore with rare, vintage, and collectible titles, as well as the ability to sell your own books

Additional services

Showcases and seller ratings

Exhibitions of rare and antique used books

Project regions

The whole world

Shipping methods

Courier delivery, Transportation companies

Courier services

Depending on the buyer's location

Transportation companies

Depending on the buyer's location

Delivery mode
Delivery time

From

5 days

Depending on the buyer's address

Free shipping terms

Depending on the seller's terms and conditions

Mobile applications
Affiliate Program
Benefits

Extensive database of books, including rare and collectible editions

The store has a community of people interested in the subject

Rare Book Exhibitions and Sales

You can negotiate with sellers about convenient ways of delivery and payment

Disadvantages

No direct/quick communication (phone, chat) with service representatives

The user agreement states that the service is not responsible for the actions of users

Regulatory agencies and laws

Canadian federal legislation

Legislation in British Columbia

Company requisites

Legal name:

Amazon Com Inc.

Legal address:

410 Terry avenue North, Seatle WA 98109, 2062661000

Overall assessment
Date of update

14.02.2023
Address
655 Tyee Road, Suite 500, Victoria BC V9A 6X5, Canada
Map
Subscribe to this company
AbeBooks.com is this a scam? Reviews and description
AbeBooks has been in existence since 1996 in various formats of organization. Today it is a subsidiary service of Amazon and, in addition to its buyout stores, it also operates on the Internet, uniting buyers and sellers from 50 countries. Even very rare items - from ancient manuscripts and Gutenberg press inventions to modern bestsellers with autographed authors - are expected to be found in the catalog.
How true is this and can the resource be trusted? AbeBooks.com - is it a scam or serious and reliable online store, confirming the reputation of a long-established antique store? Let's try to figure it out.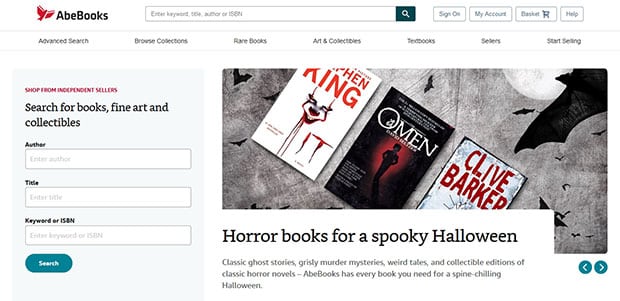 Why AbeBooks?
Consider what advantages the store offers:
Extensive database of books and antique items.
Antique and modern (with autographs of the authors) editions.
A whole community (community) of people interested in the topic.
There is an opportunity to rate the seller, examine his rating and page, the so-called showcase (as in online stores like AliExpress).
You can negotiate with sellers about shipping and payment methods.
You have 30 days to return a product you don't like or don't meet the requirements. Or you can get a partial refund by keeping the book that didn't quite fit (this is negotiated individually).
There is a form for finding products with free shipping.
Exhibitions and sales of rare books are organized.


What can I buy at AbeBooks?
The basis of the catalog abebooks.com are books of all kinds of formats and genres. However, in addition to these, one can also find reproductions of paintings, maps, sheet music, photographs, and manuscripts.
Books
Books of all fiction genres and journalism, scientific literature, biographical, economic and historical works, reference books and textbooks, self-help books, travel reviews and religious (spiritual) trends. New and used, late and first editions, as well as rare and antique copies. Prices vary. For example, novels range from $4 to $10, and autobiographies can cost $50 or even $70. There are works autographed by their authors in the section.
Manuscripts
There are more than 90 collections of manuscript books and folios, many with inscriptions by the author. There are quite rare specimens, such as the works of John Oldham of the 17th century. The price tag can reach several thousand dollars.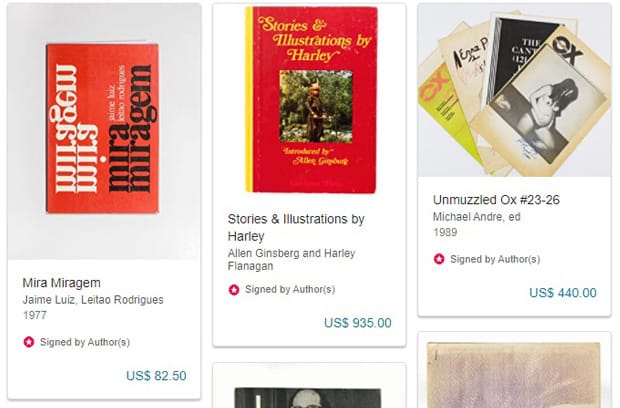 Comics
A separate area of the catalog is comic books, graphic novels (cartoons), classic and contemporary (like DC, Marvel and Dark Horse).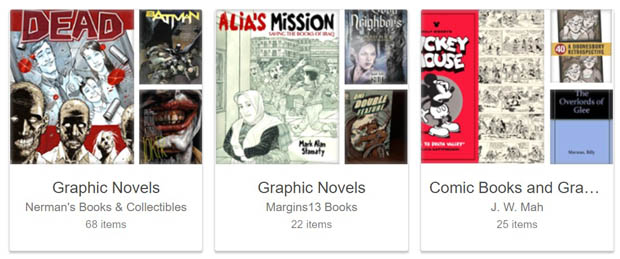 Printed formats
These include magazines, periodicals, atlases, maps, posters, photographs, and vintage (vintage) sheet music. A selection of several dozen titles.
How do I find the right product at AbeBooks.com?
A special form is used to search for products on abebooks.com:
Standard. Here you enter a keyword/phrase (those contained in the title, ISBN, or just the author's name) or select a search category: Art, Magazines & Periodicals, Comics, Sheet Music, Maps, Photographs, or Manuscripts (Paper Collectibles).
Extended. Over and above the above, specify cost range, publisher, condition, cover type, and country of sale.
The results can be further filtered by: type and date of publication, condition (new or used), rating or seller's country, availability of free shipping. You can also sort alphabetically (A-Z, Z-A), by price, popularity and other features. You can also search by vendor. It's convenient if this is not your first time using the service and buying only from trusted individuals.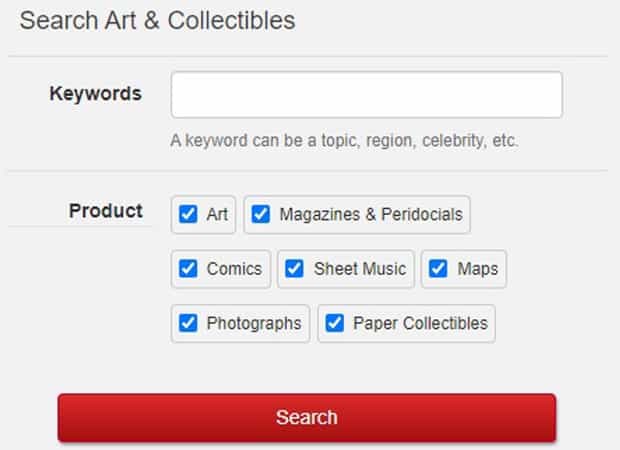 AbeBooks product card
In the product cards with AbeBooks detailed text descriptions are given, including, in addition to the bibliographic name and code, information about the authors, illustrators and others involved in the creation of the subject, information about the condition, content, materials and production technology, date of issue (publication) and publisher, payment terms, return shipping to each specific country, seller (store description, links to page and catalog of the seller). And in addition, cost, buttons to add to cart (order), links to other sellers of the same product with prices (if any), blocks with similar and recently viewed catalog items.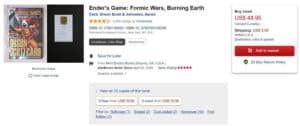 How do I order from abebooks.com?
Buy a book or piece of art at abebooks.com you can get in the physical antique store of the company in Canada, at public exhibitions and sales (information about their organization is published on the website and in social networks of the service), as well as directly online. In the latter case you just choose (find) the desired product (how to do it, we described above), add it to the cart button "Add to basket" and place an order. To do this you need to have an account created and log in to it.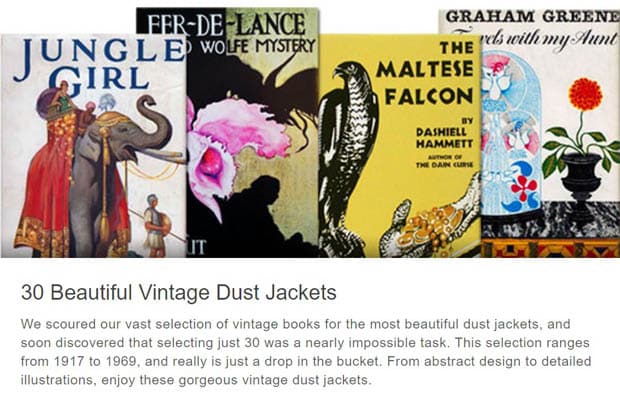 How do I sign up for AbeBooks?
Without an account and authentication to the site (logging into your account), you can't do anything except use the search form in the catalog. To register, click the "Sign On" button in the site's header and click the "Create your AbeBooks account" link under the form that appears. Then fill in the form: enter your name (field "Your name"), e-mail address ("E-mail"), password and its confirmation - re-enter password. And then you get to the main page, from where you can go to your personal account or directly to the purchases.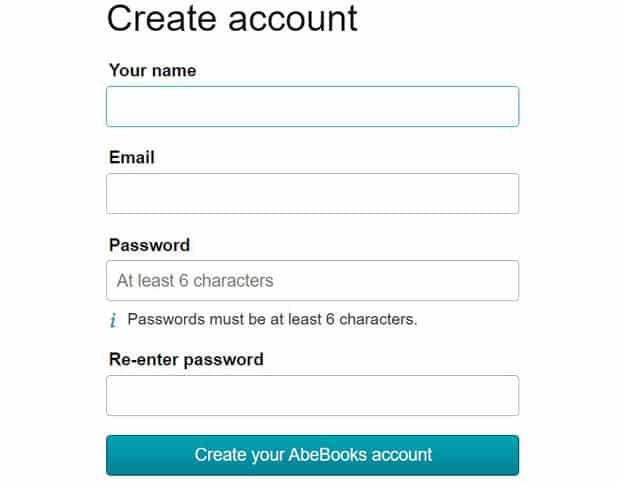 Personal Cabinet AbeBooks Com
The abebooks.com user's personal account is located under the "My Account" link in the upper right corner of the site and contains the following sections:
My Purchases. Order history with details ("View My Purchases"), as well as a view of what is added to your shopping cart ("View My Shopping Basket").
My Emails. View a list of messages sent to you from the service ("View My Emails"), connect and disconnect newsletters ("My Newsletters").
My Personal Info. Editing the information specified during registration ("My name, email and password"), choosing currency, nickname, changing login and password ("My Account Information"), adding and changing delivery address ("My Address Book"), linking the details of the P/C, bank card, phone number ("Manage My Credit Cards").
My Wants. Added catalog items to favorites and their removal ("List and Maintain My Wants"), lists of matches for the search queries you entered ("My Recently Matched Wants"), detailed conditions for adding to favorites from the knowledge base ("Learn More About Wants"), downloading report with favorites and matches ("Download My Wants Report").
Help. Go to the knowledge base help center ("AbeBooks Help"), contact support ("Contact Customer Support"), go to the Community Forums ("Community Forums"), "GiftSleuth" (go to the Rare Publication Search Forum, where authors of topics ask where to find an item), "BookSleuth" (go to the general forum thread).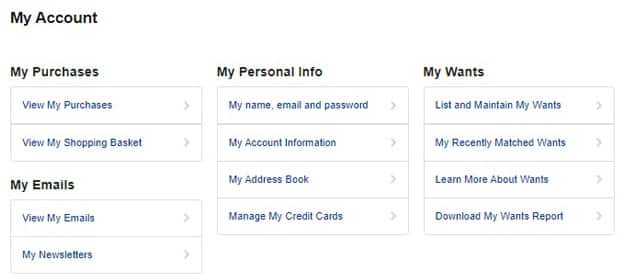 How do I order from AbeBooks?
To place an order on the site, add the catalog items to cart ("Add to basket"), and then check the list of items, select the desired quantity, choose the delivery option from the list of available ones, enter a discount coupon (if any) and proceed to select the payment method by clicking "Proceed to Checkout". We choose how we will pay the seller. Selecting the payment upon receipt, we move on to the next step.



For prepayment fill in the account or card details and billing information (address, e-mail and phone number to send a receipt). Fill in contact and address data. If you filled it in your profile, it will be automatically taken from your profile in the Personal Area. Check everything and place your order. If you choose cash payment, we will go to the confirmation page. The data will be also available in your personal client cabinet and will be sent to the specified e-mail address. If you have specified prepayment from PayPal, bank card or transfer, it will be necessary to make a money transfer first.

More AbeBooks features
In addition to the basic functions of an online service (search and buy/sell, providing interaction and control of sellers and buyers), the abebooks.com There is a newsletter, a community, a blog with articles, and seller ratings. The company also organizes open trade shows and other events where participants meet, share experiences, and socialize.
Newsletter
If you want to receive emails from the service about sales, exhibitions, and news, you should sign up for the newsletter. You can do this through a special form, located under the link "Avid Reader Newsletter" at the very end of the "Community" section of the bottom menu. Or through your personal account (under "My Newsletters"). You can deactivate the free subscription at any time.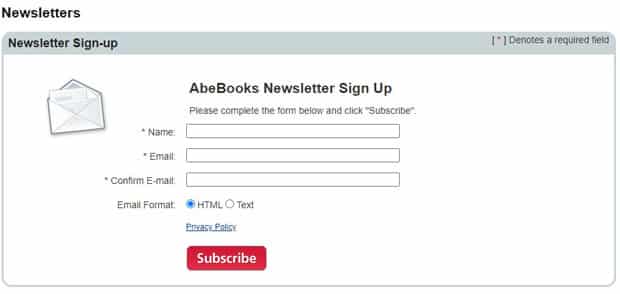 Exhibitions of rare and antique used books
In addition to the site, AbeBooks organizes sales of used books of rare editions as part of open exhibitions, which can be visited by any member of the community or a person invited by him. The dates and location of the event are usually announced on the site or in social networks (official service groups).
Community
AbeBooks - it is not just an online store or antique shop, but a whole community of enthusiastic people with whom you can discuss an interesting book or collectible item on the forum or in person (for example, for this purpose, organized exhibitions), and get something rare that you can not get anywhere else, asking other users community.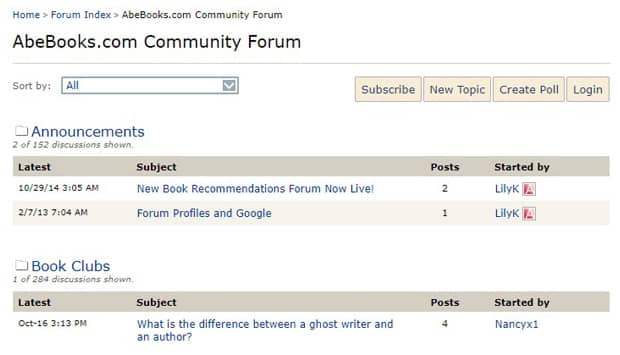 Blog
Blog abebooks.com contains a selection of reviews, releases, news, reviews, and other materials related to the world of literature, art, and collecting. There are a lot of texts, so to make it easier to navigate, the owners of the service have added a keyword search, tags, and sorting by date.
Seller Ratings and Showcases
Each merchant offering his products has a separate storefront page. On it you can see his rating (based on ratings given by users who have completed a transaction with him), address and other contacts, a general description (first-person), product categories, payment and delivery conditions, and a search form.
Mobile application
AbBooks does not have a downloadable mobile app. To work with narrow-format devices (phones, tablets) a mobile adaptation of the web version is used. It works correctly: section navigation, pressing buttons, opening forms and logging into a personal cabinet are carried out without problems, design elements do not overlap each other, nothing "moves" beyond the screen.
Payment and Shipping at AbeBooks
Payment and shipping terms at AbeBooks are determined by each individual merchant - you'll find them in the product cards and on the merchants' storefronts. 100% prepayment is possible, as well as payment upon receipt. Usually bank cards (VISA, MasterCard, American Express) are used for payment, PayPal, international/domestic bank transfers and cash. All fees and charges, including currency conversion fees, are borne by the sender of the payment.


How do I pay for my order at AbeBooks?
In the case of prepayment, immediately after selecting the payment method in the cart, you will need to fill out a form with the details and contact/address information for sending the receipt. And then confirm the payment using the method provided by the provider (for example, for cards it is a code from an SMS sent by the bank).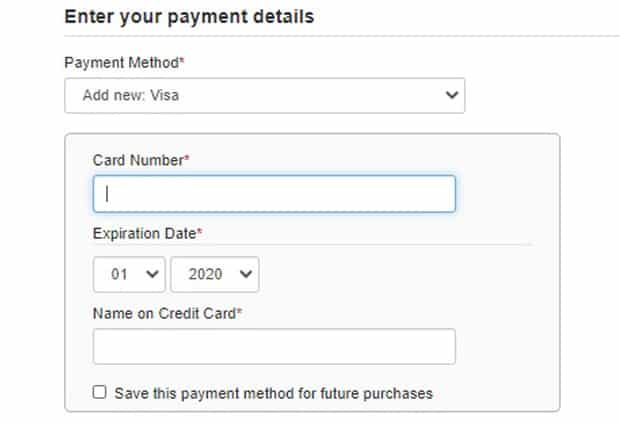 AbeBooks shipping methods
As we mentioned above, the specific method of delivery of your order is negotiated with the retailer who placed the product on abebooks.com. Some information can be taken from the card, some will have to be clarified in person. Terms and costs depend on the carrier and the remoteness of the seller and the buyer from each other. You can find books and collectibles with free shipping - there is a special form for this.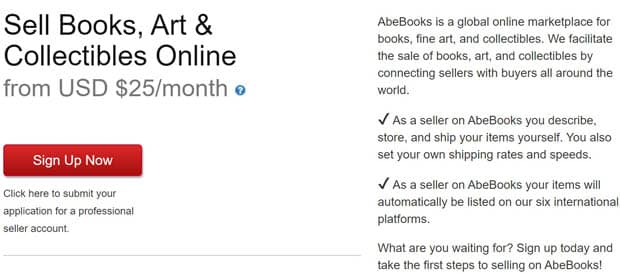 AbeBooks.com's return policy
You have 30 days from the official delivery date (and it doesn't matter how quickly you received/picked up the item) to return something you didn't like or didn't meet the description, requirements, features, etc. Moreover: it is possible to agree with the seller that you keep the book, but get a partial refund for it if you are not satisfied with something. To make a request you need to go to the Personal Area and find the corresponding order in the purchase history. Then select the item ("Request Return/Return") and fill out the request, specifying the reason for the return with a comment from yourself.
You will then receive an email confirmation from the seller with his return address where you must return the product. The shipping costs are your responsibility. If the seller is in your country, he must receive the parcel within 28 days from the date of acceptance. If in another country, 77 days. Otherwise no one guarantees you a refund. On the return form in the Personal Area, you will need to provide the details of the shipping/courier company and a tracking code for tracking.
AbeBooks bonuses
AbeBooks bonus program is limited to discount coupons, sales and "affiliate" with rewards for attracting new users (customers) to the site.
Discount coupons
For activity (frequent purchases, participation in forums) abebooks.com users can receive coupons with unique codes that activate a discount on all goods in the cart. They are entered in a special field when placing an order.


Sales
The Seller Sales section of the site has a selection of discount deals from sellers. For example, there are currently several offers with discounts of up to 50%. There is also a form for searching among bonus offers: by author, title, keyword, or article code (ISBN code).


Affiliate program abebooks.com
The online store has an affiliate program from a CPA network Admitad. Partners receive a reward of 5.2% on the amount of the paid order.
Complaints about AbeBooks Com
Rating abebooks.com on major international reviewers ranges from 1.8-3 points out of a possible 5. Complaints are mainly caused by problems with receiving orders and compensation (the platform is only an intermediary, and sellers are located in different countries, each with their own legislation), long delivery times and problems with returns (for example, when the buyer has to pay for return shipping of goods that do not meet the terms of purchase).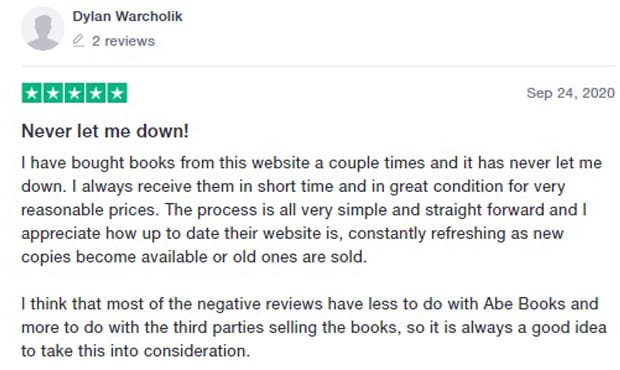 That is, in fact, the non-interference of AbeBooks in the affairs of the seller and the buyer, because of which the former do not always manage to defend their rights. There are also positive reviews, although in small numbers. Their authors talk about fast delivery, good condition of the received goods and professional service, but some of them note the rather high prices.
If there are any reviews about AbeBooks.com online store, we'll be sure to post on social media. Sign up so you don't miss anything!
Please keep yourself informed about news and complaints. We copy the most valuable information to social networks, so please sign up!
Supervisory authorities
AbeBooks Inc. is purchased by the world-renowned Amazon Com inc. It is controlled by the U.S. Securities and Exchange Commission. The registration record of the organization is in the public registry of the regulator (we have posted the link below). The registration number is CIK 0001018724. Legal issues related to the activities of the site are solved in the framework of the legislation of British Columbia, Canada and the UN convention. Such a condition is spelled out in the user agreement.
User Agreement
User Agreement abebooks.com defines the rules for working with the resource. Let's look at a few provisions of the document so you can get an idea of it. For example, the age limit of the site is set at 19, not 18. Before that age, it is forbidden to use the site without the presence of older people.



All services on the online site are provided as is, with no guarantees or obligations on the part of the administration. You use them at your own risk.


You may not post comments, reviews, photos or other content that violates someone's privacy or contains illegal, obscene, defamatory, propagandistic or other inappropriate material.



AbeBooks is not responsible for violation of copyrights of its users. Claims should be filed with the appropriate authorities.



AbeBooks Customer Service
It is difficult to contact AbeBooks directly through the site - the online consultant is not provided here, and the feedback form is extremely difficult to find (the system constantly tries to redirect you to the knowledge base, the help center). The company stresses that it is much more effective to communicate with another party to the transaction (all the contact information is given in the product and order cards), resolving the issue directly. And yet there are ways to contact the owners of the resource directly:
Call our Seattle, WA representatives at +1-206-508-4035.
Through administrators of communities in social networks.
Is AbeBooks.com a scam?
AbeBooks.com is currently part of one of the largest conglomerates in its industry, Amazon. This alone determines its official status. But in the user agreement AbeBooks acts as a legal party, and legal disputes are resolved within the legal framework of several countries. The provider of information services disclaims responsibility for the actions of the parties of transactions (seller and buyer). If the client is deceived, it will have to resolve the issue directly with the person to whom he transferred the money.
Numerous reviews show that there were situations in which the order was never delivered or simply "hung up" for a long time in transit, as well as problems with receiving feedback from the support team and organizing returns. And the lack of direct communication in the form of online chat or an international call center number is not conducive to prompt service and the resolution of unpleasant situations. Of course, one cannot consider abebooks.com a scam, because it is a legal site. Still, there are things that are troubling.
Conclusion
AbeBooks.com offers an extensive database of books (modern and rare), comics, periodicals, antique paper items (sheet music, posters, photographs), which can be bought quite profitably - especially during sales. There are seller ratings to help assess the reliability and veracity of the latter, as well as showcases with detailed terms of cooperation from each of them. Exhibitions and meetings are organized for connoisseurs, and a community with an extensive "tree" of forums has been created on the site.
You have 30 days to return the goods you bought. True, the buyer still has to pay for return delivery. Other disadvantages are the lack of quick communication with support (on a dedicated telephone line, online chat) and responsibility for securing the transaction, as well as the large number of complaints about undelivered orders, delays in transportation, and problems with returns.
No reviews yet, be the first!
The company in the ratings
Activity
New

0

Resolved

0

Not resolved

0
New companies on the site