Promising cryptocurrencies for 2021-2022
To date, there are about 8,000 known cryptocurrencies and their number is constantly growing. As the last year shows, cryptocurrencies can be a profitable and quite stable investment asset (trading of the future: cryptocurrencies). But which of them should be invested in? There are a few coins that most experts agree on the prospects for. A few words about each of them.
Underlying assets
Consider the prospects for the underlying cryptocurrency assets.
Bitcoin
Investing in Bitcoin (https://bitcoin.org) (Fig. 1) remains the most effective investment in cryptocurrency, provided that the investor initially has a substantial financial reserve (bitcoin growth forecast). This cryptocurrency still determines the dynamics of the entire cryptocurrency market and has a well-deserved reputation as the main cryptocurrency. Bitcoin is very important, its behavior should be monitored even if an investor has not invested in it, because the market as a whole and any coin repeats the movements of bitcoin.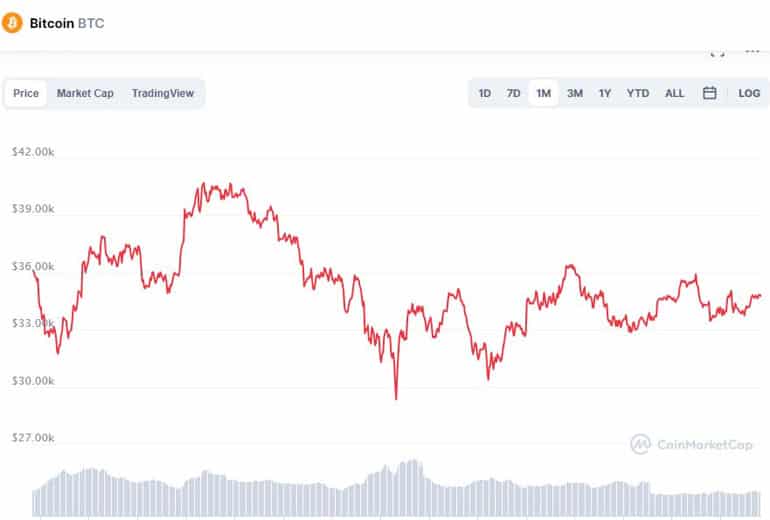 Image. 1
There are two problems with the initial investment in bitcoin. The first is that it is very expensive. The second problem is that if you buy bitcoin, you can lose substantially the very next day. Recently the price of bitcoin reached $64,000 and now its price is about $35,000. Therefore, an investor who bought bitcoin at a price of about $60,000 is unlikely to be happy now. With the decline in bitcoin's value the losses are tangible, but on the other hand, when the price rises, each percentage significantly increases the investor's profit. The good thing about bitcoin is that it becomes more and more expensive in the long run, so investing in bitcoin can be seen as a long term investment, joining the large army of holders - bitcoin holders counting on the maximum price increase. There are no serious risks to bitcoin right now. The only really serious potential problem is the attitude of the authorities of significant countries to cryptocurrencies. But so far no threatening initiatives have been announced in this direction.
Ethereum
Ethereum (https://ethereum.org) is attractive for the same reasons as bitcoin - it is the main cryptocurrency system of the world, so it is stable and suitable as a way of long-term investment (Will Ethereum take off in 2021?). The advantage of Ethereum is that it is cheaper, therefore more available for purchase, and the financial loss is less if the price falls. The Ethereum ecosystem is different from bitcoin. The Ethereum blockchain is a platform for the creation of various online projects, working on a system of smart contracts. All of this in some way makes Ethereum more stable, more reliable for investment. The benefits of investing in this coin this year and next include the fact that Ethereum will complete its transition to the Proof-of-Stake algorithm. This will probably speed up Ethereum transactions and increase the value of the coin for smoother decentralized applications.
But there are also disadvantages to keep in mind when investing. First of all, it is quite a centralized system, tied to Buterin's personality, which actually contradicts the very idea of decentralization. Second, smart contracts are a mechanism that allows the creation of pyramid schemes that cannot be stopped. Third, the high cost of commissions within the network. These features provide Ethereum with a large army of skeptics and potentially threaten stability. From an investing point of view, all of this only matters in the sense that one should monitor news related to Ethereum more closely and not succumb to rave reviews, of which there are many online.
Litecoin
Litecoin (https://litecoin.org) (fig. 2) is a cryptocurrency based on the bitcoin protocol, characterized by the same stability and stability. When creating his coin, programmer Charlie Lee's goal was to create a lightweight version of bitcoin, which would relate to bitcoin in a way that silver relates to gold. This task from a technical point of view was completely successful, but in terms of importance is not the second place, although it is sometimes in the top 10. This is due to the fact that the majority of investors underestimate the potential of the coin. Litecoin has a relatively low cost, around $135, with transaction speeds four times faster than bitcoin. Commissions are also very low not only in comparison with cryptocurrencies, but even with some fiat currencies. payment systems. The issue is about 84 million litecoins, and so far miners have mined about 65 million coins. The price growth potential of litecoin is significant. All these advantages make LightCoin not just a good investment target, many serious investors prefer it over Bitcoin. It is much easier to save your earnings in litecoin.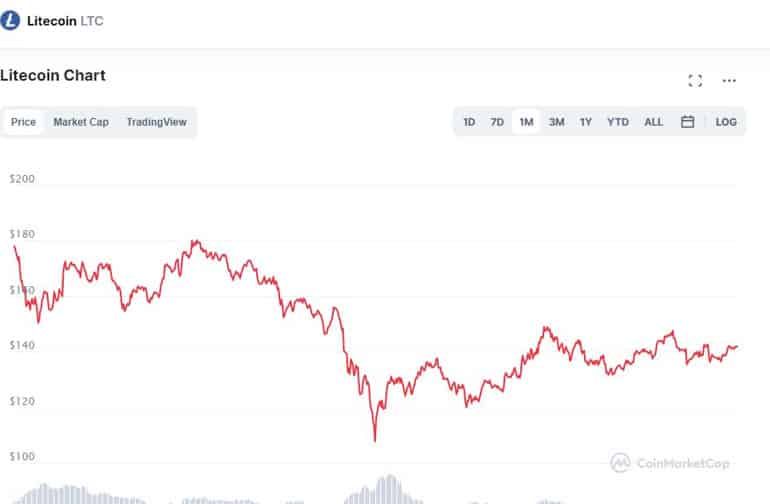 Image. 2
Bitcoin Cash
Bitcoin Cash (https://bitcoincash.org/) is a fork of Bitcoin, which made a lot of noise in its time, because its creators promoted it as "real Bitcoin", which will soon take the place of "fake" Bitcoin. The place of Bitcoin new coin of course did not take, but now it is quite a stable coin with high capitalization. It does not differ much from Bitcoin technically, which is more of a plus than a minus. But Bitcoin Cash is much more available for investment than Bitcoin because it is cheaper, about $500. Still, it's quite expensive for those just starting to invest in cryptocurrencies. Bitcoin Cash is available on most cryptocurrenciesIt has low transaction fees and confirmation is usually faster than Bitcoin. The disadvantages include technical specifics (automatic adjustment of network complexity), which makes Bitcoin Cash more volatile than many other cryptocurrencies. On the other hand, the coin is well accepted by fiat payment systems. In particular, PayPal added the ability to work with this cryptocurrency. As a rule, Bitcoin Cash is not considered as a coin for long-term investing, at least as the basis of a portfolio. But this coin has a large army of supporters who hold the coin and are the key to its stability.
Long-time players.
Consider crypto-assets that have long appeared on the market.
Dogecoin
Dogecoin (https://dogecoin.com/) (Fig. 3) is one of the favorite coins of crypto-enthusiasts, which shows the huge opportunities of the cryptocurrency world. Invented literally for the sake of a joke without any meaningful purpose, Dogecoin has turned into one of the most promising cryptocurrencies for investment. The coin enjoys a special favor of Ilon Musk, who periodically recalls Dogecoin, which makes the cryptocurrency rate grow. This instability of the coin makes it more suitable for trading rather than investing. But it is also purchased as an investment asset because it is very affordable, its value is only $0.2, and large losses even in the worst-case scenario can be easily avoided. You can start with it to get acquainted with the world of cryptocurrencies.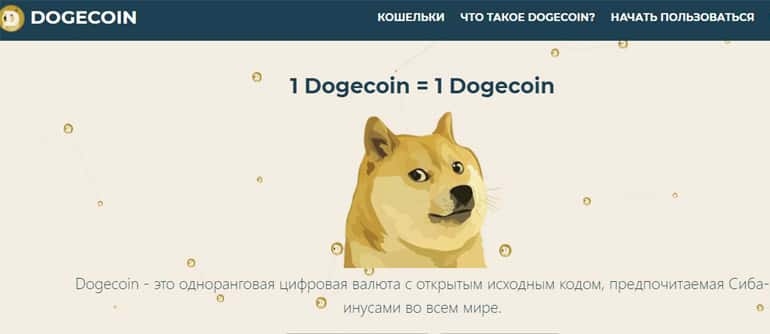 Image. 3
Dash
Dash is a fork of Bitcoin, the purpose of which is to anonymize transactions as much as possible. The point is that quite early on it became clear that the Bitcoin network is not as anonymous as it was thought, and with some effort it is possible to calculate the participant of a transaction. Dash was generated back in 2014 as a solution to this problem. It was very popular for a while and was thought to be the most promising coin. Now it is not, but Dash has a strong position on the crypto market, steadily in the top 100 by capitalization. Therefore, the cryptocurrency is in demand as an investment asset. The great advantage of the coin is that there are relatively few coins in circulation, so Dash has significant potential for price growth. In addition, Dash is quite accessible for many novice investors, its price is about $140, and the coin is characterized by high transaction speed.
However, caution is required when investing in this system and watching the news backdrop, as the coin has a number of potentially dangerous flaws. For example, the coin is overly monopolized - at the beginning of the coin's release, an error in the code led to 25% coins being distributed to a small number of holders. The second disadvantage - there are no open statistics on the use of funds, which, in theory, should go to the development of the network (10% of mined coins). And third, the mining of the coin is monopolized, most of the coins are mined on ASIC devices. All this makes the coin dependent on the actions of a small group of users.
Monero
Monero (https://www.getmonero.org/) (Figure 4) was once considered the most promising coin on the crypto market because it offered a technically flawless solution to the privacy problem with ring signature and ring transactions, when it turned out that cryptocurrency transactions are not as anonymous as most crypto market participants thought. The coin was accused of criminal transactions, but that was disproved. They also tried to destroy it in a software attack, but that failed and only made Monero more famous. The peak of popularity of Monero has passed, but it has taken a firm place in the crypto market and is considered to be a good investment asset, though not the cheapest to begin with, the price of Monero is about $225 today.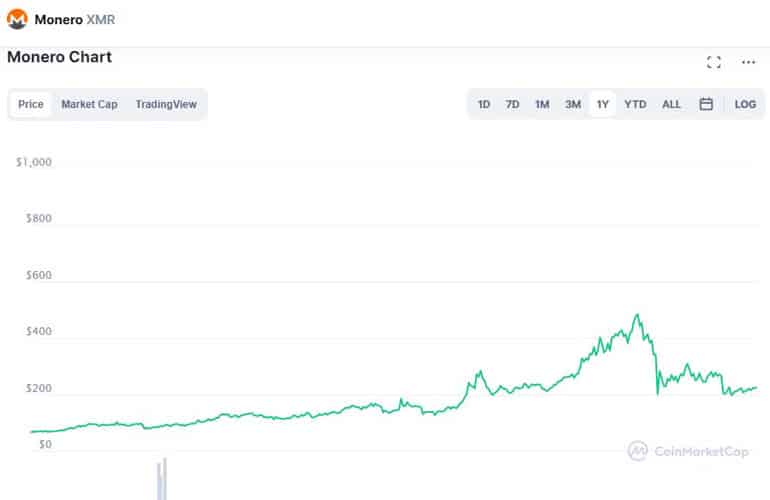 Image. 4
The disadvantages of Monero include the fact that due to its high anonymity, it is not traded, for example, in Japan and some major cryptocurrency exchanges have removed Monero from their listings. But more importantly, Monero is not considered completely safe, is subject to attacks and does not always cope with them. However, an additional plus is that Monero has a very close-knit group of fans, which is a significant factor in the stability of the coin. All of this should be taken into account when wishing to invest in this coin.
Cardano
Cardano (https://cardano.org/) is originally not just another cryptocurrency, but a system that should perform some useful functions, in particular serve as the basis for smart contracts, decentralized applications, computing. This year, Cardano got a boost to its reputation by cooperating with the Ethiopian government in terms of creating a data identification system on the blockchain. The coin has also received investor support for blockchain projects in India. Cardano is extremely affordable for almost anyone to invest in, the coin is only about $1, and experienced investors are confident that the price will continue to rise. This explains the fact that Cardano is consistently included in almost all ratings of promising cryptocurrencies. Perhaps now is not the worst time to enter the cryptocurrency market, starting with Cardano. The small price of the coin makes it easy to time-manage and not to be afraid of too big losses. The disadvantages of the coin include the fact that in fact this project is still under development, so there are problems with the connection of the wallet and synchronization of the network.
Nano
The Nano project (https://nano.org/) was founded to solve the scalability problem that was characteristic of the Bitcoin blockchain. The project proposed a rather original solution (DAG, earlier than in Hedera Hashgraph) in the form of a lattice network structure. Within the "grid," each user has his own "cell," as if his own separate blockchain, parallel but independent of the main blockchain. This made it possible to update a particular user's blockchain asynchronously to the overall blockchain. This scheme increases the speed of transactions in the network as a whole and solves the problem of scaling. Among the disadvantages of Nano, its vulnerability to attack, which is precisely determined by its lattice structure. Since each user is responsible in the system only for "his" blockchain, it imposes restrictions on the ability to solve the security problem. But in terms of investment, Nano is not a bad option even for beginners. The coin has a good reputation, its price is currently around $4, it is present on many exchanges, and it has no infrastructure problems.
Interesting projects
Consider not so popular, but no less interesting cryptocurrency projects.
Chainlink
Recently, Chainlink project (https://chain.link/) has been frequently ranked as a promising cryptocurrency for investors. Chainlink is one of the projects that is positioned as something useful for the cryptosphere and not just a coin for speculation. Chainlink, is a so-called decentralized blockchain oracle - a mechanism for linking smart contracts and external projects in areas such as economics, logistics, insurance, office administration and others. The Chainlink oracle is actually used in serious projects, for example, the blockchain was used to ensure the independent publication of Associated Press data on the results of the 2020 U.S. presidential election. This is partly why the World Economic Forum recognized Chainlink as one of the hundred most promising technologies of 2020. The clever mathematics behind blockchain and its good reputation have ensured that investors are interested in Chainlink as a coin. From an investment perspective, Chainlink is an easy option. The coin's price is relatively low, $20 (and the coin got to that price in a year, from $1.5), which allows it to be considered as a coin for initial investment.
Polkadot
Polkadot (https://polkadot.network/) (Figure 5) is another of today's projects with broader goals than just profitable fiat exchange. It is a decentralized Web3 platform that is supposed to provide information exchange and transactions between blockchains via a relay chain. The bottom line is that Polkadot should make it as easy as possible to develop and connect decentralized projects. Non-blockchain projects can also be connected to the project if they have certain attributes. The concept of the project is considered quite interesting and promising, has the potential for development, so it is of interest to investors. The advantage of the project as a coin is its affordability, including for novice investors, as the price is about $15. The disadvantages of Polkadot include the fact that the system is difficult to understand, not too common, developed on its own blockchain and therefore supported by a small number of exchanges (although included in the listing of the largest).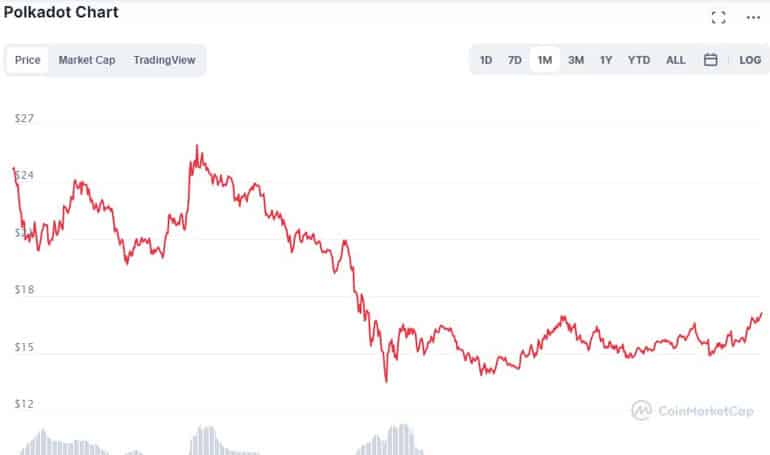 Image. 5
Tron
Tron (https://tron.network/) is one of the coins, which aims to perform more or less useful function, as a decentralized platform for providing independent, equal and mutually beneficial creation and distribution of entertainment content. In this regard, the coin has no special achievements, it develops within a very small circle of supporters and it is unlikely that anyone on a mass scale wants to dive into the intricacies of this cryptocurrency system. Nevertheless, the coin has a good reputation because the blockchain has partnerships with Samsung, Baidu and Baofeng. But mostly the coin is quite popular among novice investors, as its value is $0.06. They provide Tron with a very large capitalization and significant stability.
Ve Chain
Ve Chain (https://www.vechain.org/) is one of the cryptocurrencies that is designed to perform some useful function other than speculative. Ve Chain is supposed to ensure the stability of supply chains, confirm the authenticity of products, and it should be the basis for the development of solutions for the Internet of Things (IoT). The coin cannot be called popular, but it is positively perceived by the fiat economy, it already has real partnerships with serious brands, and the Ve Chain network is gradually developing. This determines the long-term prospects of the coin and it can be considered as an investment asset. The main advantage of the coin is its availability. Ve Chain costs only $0.08, so you can start investing in cryptocurrencies with no fear of major losses. The coin is also considered to be quite reliable, as VeChainThor blockchain includes integrated management tools, KYC, voting system, so the system is quite transparent from the financial point of view. Like any coin, it has its drawbacks. One significant one is that consensus in the network is achieved through the Proof-of-Authority algorithm, which implies that not every user can create a node, and this leads to centralization of the system.
Hedera Hashgraph
Hedera Hashgraph (https://hedera.com/) is quite unusual from a technical point of view, which has attracted the attention of crypto-enthusiasts. The method of coin mining is an alternative blockchain system DAG, in which transactions are not recorded in a chain, but in the form of a specific grid generated using an acyclic graph. The project has the support of IBM and Google. There are high expectations for Hedera Hashgraph by the community, as it is free of the problems inherent in traditional blockchains and is positively perceived even by the authorities of developed countries. Moreover, it is claimed that the coin generation system is environmentally friendly, unlike extremely costly mining mechanisms like Bitcoin. This determines its prospects as an investment asset. Disadvantages also need to be considered. Among them are smart contracts, the maximum processing speed of which is only 10 transactions per second. Due to the specifics of the system, a copy of the blockchain is not supported by the nodes, the code of the system is closed. Therefore, a news fund should be evaluated when investing. Hedera Hashgraph is an affordable $0.1 coin. But it is necessary to read carefully the technical features of the coin and the infrastructure - where it is traded, what wallets it supports and so on.
Solana
Solana (https://solana.com/) is essentially a set of algorithms for solving software difficulties in blockchain creation so that network throughput matches transaction throughput. The Solana system generates its own SOL token, which is now worth about $36, making it quite affordable for most investors. The Solana project is quite useful, highly valued in the crypto-economy, with about 250 projects connected to it. It is considered a direct and dangerous competitor to Ethereum by its technical features, it has a huge transaction processing speed, so Solana is one of the fastest growing DeFi ecosystems, which determines its prospects as an investment asset. The disadvantage of the coin may be that it is a new project, relatively little known, this leads to increased volatility of the coin. Therefore, when deciding to invest in a coin, one should pay attention to the idea and technical side of the issue, and closely follow the news background.
Celsius
Celsius.network (https://celsius.network/) is a decentralized banking platform with selected services to facilitate loans and credits. You can make money with deposited cryptocurrencies, but standard blockchain transactions are also available. It is positioned as some kind of new financial superstructure, as if alternative to the existing financial system, so it promises low or even zero fees, fair interest, fast transactions, and so on. The Celsius token (CEL) is a service token of the Celsius network with rewards to holders. The tokens also give Celsius users access to maximum deposit rates and minimum loan rates in the system. The token price is around $7 at the moment, and CEL seems like a good way to start investing in cryptocurrencies. The Celsius network is expanding nicely, financial cryptocurrency services are quite in demand for investors who are not ready to dive into technical details, but would like to make money from crypto. But you need to keep an eye on the news backdrop. Projects that promise passive income and fair interest, and oppose themselves to the financial system, are better treated with caution.
Lisk
Lisk (https://lisk.com/) is a rather old project by cryptocurrency standards, which has been developing since 2014, but as a project of investment value it has been considered recently. Lisk is a platform for creating decentralized applications, which is based on a system of sidechains. A sidechain, remember, is an independent blockchain, that is, located outside the main network. Only sidechain information is synchronized with the main network. The main target audience of the project is JavaScript coders. Lisk is connected to many serious programming companies, such as Microsoft Azure, and has a reputation as a reliable, promising project. That's why investors are paying more and more attention to Lisk coin. Right now, the coin's price is about $3, which makes it an interesting option for initial investment. The disadvantages of the system include the fact that for some reason it does not have a large user audience, which leads to increased volatility. Further limiting the investment opportunity is the fact that only "delegates" can mine the coin, which are chosen by vote, and the number of such, for obvious reasons, is limited. This makes Lisk not exactly a decentralized system. If you want to invest in Lisk, you need to understand exactly how the system works.
QTUM
The peculiarity of the QTUM project (https://qtum.org/) is that it is built on a blockchain that combines elements of Bitcoin and Ethereum. The system should enable developers to create scalable decentralized applications. QTUM is compatible with IoT (Internet of Things applications) and mobile devices. In general, the project is well accepted by the community and has certain prospects, so it may be a good investment option, including for beginners, especially since the price of the coin is only about $7. The disadvantages include the fact that blockchain combining can be an unsafe solution (but this has not been proven yet) and the fact that individuals with not very good reputations were involved in the implementation of the project.
Features of investing
In terms of investing, cryptocurrencies are a specific asset developing in a specific ecosystem. This limits the possibilities for investing. Crypto exchanges are now aware of this problem and offer opportunities to invest in cryptocurrencies using the usual tools (for example, https://www.binance.com/ru/earn ), that is, the client himself does not need to dive into studying cryptocurrencies, he can act the same way as when investing in ordinary stocks, derivatives and so on. However, when investing in cryptocurrencies, it is better to try to understand at least the basics of cryptocurrencies yourself in order to better understand the characteristics of this investment asset. Some of the new projects will need to be studied in more detail - starting with the technical features, as well as find out where and how to buy them, on which exchanges they are traded, which wallets are used and so on. For many cryptocurrencies, it will be necessary to pay attention to the news background, especially for new projects.
It is also necessary to decide more clearly on the term for which you intend to invest. This is important because cryptocurrencies are characterized by volatility. You can choose to be a coin holder because the price of cryptocurrencies goes up in the long run. Or you can make money from spikes in the value of coins during periods of volatility. Once you've decided on an investment term, you can begin choosing a coin. The current value of coins, capitalization and dynamics for the desired period can be clarified on the aggregator https://coinmarketcap.com . This information is enough to pre-select interesting coins, but not enough to make a decision to invest. When making the final choice, it is better to rely on users' reviews and not on the information provided by coin issuers, as it, understandably, does not contain information about real and potential problems. You should also keep in mind that many websites describing cryptocurrencies write a lot about the prospects and goals of cryptocurrencies, but rarely write about the disadvantages - and this should be paid special attention to.
Nowadays, the legal aspect has also become important. The authorities are tightening the circulation of cryptocurrencies in the country, profits from cryptocurrencies are taxed, they will have to be accounted for, and all aspects of this innovation need to be clarified so as not to violate the law. You should also remember that investing in cryptocurrencies remains a high-risk business in any case, and it is better to be prepared for losses, which are almost inevitable. Various ratings and lists of promising cryptocurrencies cannot be the basis for making an investment decision, because the cryptocurrency market was and still is unpredictable. However, knowledge of the crypto market and constant monitoring of the news background can help invest effectively in the short and medium term. For holders, it is not so important because the main trend remains unchanged - cryptocurrencies are becoming more expensive in the long term.