Detailed Review of NPB Invest's Innovative Copy-Trading Platform
Not so long ago, a well-known broker NPBFX (go online) announced the launch of NPB Invest deal copying platform. There's not much information about it in the Internet yet, but traders' interest to the platform is growing every day (platform reviews). That's why we are working ahead of the curve and decided to make a detailed review of NPB Invest. In this article you'll find out how the platform works, what its advantages are, for whom such service is suitable and how to connect NPB Invest to your trading account. About all this and not only in the review below.
NPB Invest is a service for copying trades of experienced traders to your trading account (Forex Trading). The platform working principle is very similar to the world analogues of copy-trading services: you connect your trading account to NPB Invest, choose a trader (signal provider) from the rating for copying orders, subscribe to his trading signals, make profit together with him.
Who is suitable for NPB Invest copy-trading platform?
The platform is suitable not only for experienced traders who know the nuances of trading on the world's largest exchanges, but also for beginners.
For beginner traders:
If you are just beginning to learn the basics of trading and learn to make profitable deals, you can connect to an experienced trader and start earning with him (forex analytics). That's the beauty of NPB Invest's copy-trading platform - no professional trading skills are required to make a profit.
For experienced traders:
If you have tried active trading and realized that it is not your thing.
It is investing that attracts you.
You don't want to devote too much time to trading, but you have a desire to earn passive income on a regular basis.
You want to rest and take a break from active trading, etc.
NPB Invest will satisfy most of your requests that you want to get from copy trading.
Advantages of NPB Invest
The platform has a number of advantages Let's look at them:
The service can offer you a huge variety of professional experienced traders and trading strategies. Thanks to this you can diversify trading risks by allocating your capital to several signal providers and copy-trading assets at once.
You can make a profit even when you're resting. You don't need to sit for hours in front of the monitor and look for a profitable moment to open a deal. All this will be done for you by an experienced trader.
You choose your own asset, trading strategy, acceptable risk level, trader's rating and profitability level for a certain period. I.e. you fully manage your account in NPB Invest.
Earnings at NPB Invest are available to everyone. You do not need to have a huge initial capital to make a profit. Depending on the amount of investment you have, you can choose a suitable signal provider.
With the service you can follow the trading activity of professional traders, analyze their trades, profit margins, what assets they use most often, trading strategies, robots, etc. This is a great opportunity to borrow from signal providers their years of experience and trading techniques, which will be useful to you in your own trading.
The platform is provided by a reliable broker NPBFX, which is one hundred percent trustworthy. Thousands of traders have trusted this company since 1996. Advantageous trading conditions (spreads from 0 pips, KP 1:1000, min deposit as low as $/€10 or 500 rubles), client orders via STP technology, reliability (NPBFX is a FinCom member, every client is insured for €20K), multilingual support service - made the company the leader at the brokerage market.
How to become a copy-trader with NPB Invest?
To join the number of investors who earn by copying trades of experienced traders, first you need to open a signal account with NPBFX. To do that register with forex broker (if you are a new client of the company)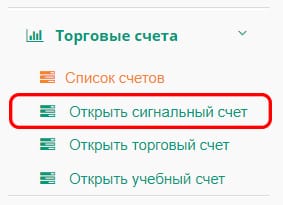 and choose the "Open a signal account" tab in the "Trading accounts" section of your personal profile.
In the opened list of services choose NPB Invest and fill in necessary data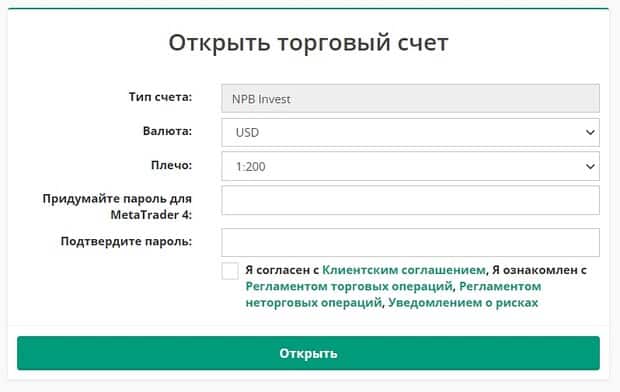 (currency, KP size, password) to create an account.
After that you will receive information about your trading account (type, number, server), as well as detailed instructions on how to connect it to your mailbox. The instructions will look like this: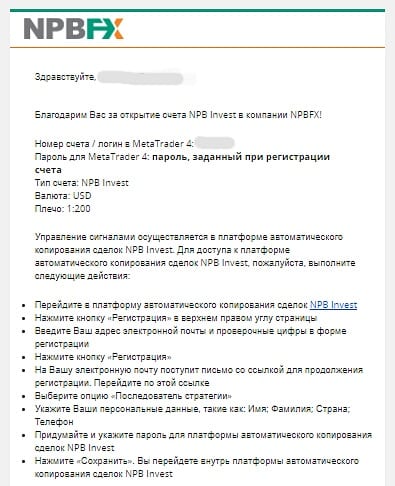 Instructions for connecting a signal account
The instructions for connecting a signal account to the NPB Invest platform are very simple and straightforward. Just follow each point of the instruction step by step. If you still have any questions, please contact the support service on NPBFX website and they will help you promptly.
Once all the necessary conditions have been met and your account is connected to the service, you can select a signal provider for copying. It is very easy to choose them in the platform, because the entire list of available traders is already sorted by rating and profitability growth.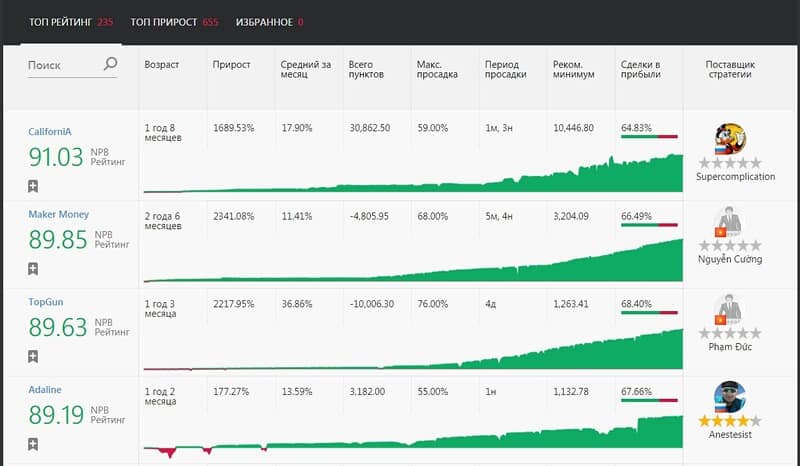 All that remains is to choose the right one for you.
Clicking on the trader's profile will open detailed information with a description:
The percentage of maximum drawdown;
level of risk;
Recommended minimum funds for effective trades copying and compliance with the rules of the strategy provider's money management;
tool basket;
What trading strategies the trader uses;
Profitability statistics for each period with graphs and trading reports;
and much more.
As a side note: when studying and choosing a signal provider, you can add your favorite one to your "Favorites" in order not to lose it and track its trading statistics. Now we will explain in detail how to do it on the screenshots.

Click on the gray checkbox (yellow when active) under the trader's rating.
It will automatically be added to your "Favorites" section.

Also note that next to the rating columns
is a filter for each category.

That is, you can select
the signal providers:
By age on the platform.
Increase (in percent).
Average growth for the month.
Maximum drawdown.
Recommended minimums, etc.
To connect the selected trader to copy trades to your trading account, select "Add to Portfolio"

in the upper line next to the trader's profile name.
When adding to your portfolio, you can configure how trades will be copied (by ratio, open lot volume, risk level, etc.) to your trading account.

Once the setup is complete, the selected signal provider will be added to the list in the "Portfolio" section.
To view all open orders that are copied to your trading account, go to the "Trade Terminal" section in the same toolbar. There you will have access to all trading information:
Online Quote Schedule.
List of open transactions.
Pending Orders.
Open trades, etc.
This is actually the whole algorithm for connecting a signal provider to copy his trades to your trading account. Follow this checklist carefully and you will succeed.
General conclusion of the NPB Invest review
NPB Invest copy-trading platform works in a very simple way - you copy deals of professionals to your trading account and make profit together with them. It's an easy and effective way to make profit without going into the intricacies of trading and complex trading strategies. Such investing will be good both for beginners and experienced traders, who don't want to spend too much time trading, but still want to receive regular profits.
To fully explore all the possibilities of NPB Invest service from NPBFX, you can first connect a demo account. In this way you will get acquainted with the platform working principles with zero risk for your wallet. To join the number of successful investors, register with a reliable NPBFX broker, open a signal account in your personal cabinet and choose a suitable signal provider on the NPB Invest platform. Profits to everyone!